Sanderson Farms Championship 2019: Your form stats for this week's event in Mississippi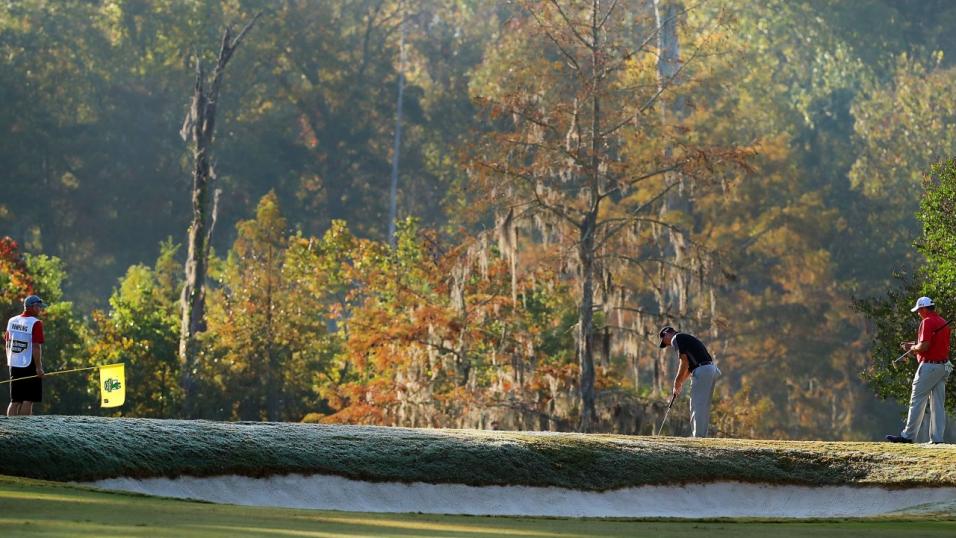 Jackson Country Club: A parkland course in America's Deep South
Andy Swales supplies course and current form stats for this week's PGA Tour event in America's Deep South ....
"Harman stood on the podium at Greenbrier over the weekend when securing a fourth top-eight finish in
eight starts."
From West Virginia to Mississippi, the PGA Tour heads 800 miles south-west for this week's Sanderson Farms Championship.
For a sixth successive year, the tournament takes place at the Country Club of Jackson, a 57-year-old parkland course situated in the heart of the Deep South.
Laid out approximately six miles north-west of downtown Jackson - the Mississippi state capital - Dick Wilson's original design was given a major facelift by two-time PGA Tour winner John Fought in 2008.
The slick Bermuda grass greens require respect, while contenders will need to possess a strong short game too.
Putting is usually a key stat at Jackson where water comes into play on eight holes.
Poor Field
As only to be expected at this stage of the new season, the field for Jackson is pretty weak by PGA Tour standards.
Just one member of the world's top 40 - Chez Reavie - is teeing-up, with world No 41 Brandt Snedeker the next highest-ranked golfer taking part.
Snedeker, who is making his Jackson debut, posted back-to-back top-10s during the recent FedEx Cup Play-Offs so will fancy his chances this week.
Among those with a respectable course history are experienced Americans Lucas Glover and Vaughn Taylor, while last year's runner-up Corey Connors will be chasing a second PGA Tour title of 2019.
Most of those who registered top-10s in West Virginia on Sunday are back in action, including Korn Ferry Tour graduate Scottie Scheffler and Brian Harman.
Check out latest betting ahead of this week's Sanderson Farms Championship
The 32-year-old left-hander from Georgia has been fighting his way back into form since late June.
A former world No 20, but currently at 90, Harman stood on the podium at Greenbrier over the weekend when securing a fourth top-eight finish in eight starts.
Harman is a two-time winner on Tour and it would be no surprise if the 2017 US Open runner-up returned to the world's top 50 by the end of the calendar year.
Trio Of Eastern Promise
The prodigious talent of South Korea's Sung Jae Im should also be taken seriously this week.
With 20-year-old Chilean Joaquin Niemann claiming a maiden victory over The Old White on Sunday, these low-key events provide the perfect platform for first-time winners to emerge.
Im, who is barely seven months older than Niemann, won twice on the Web Tour in 2018 since when he has registered 15 top-20s during his debut season in the top tier.
Im's compatriots Byeong Hun An and Si Woo Kim are other leading contenders in the Deep South this week.
Kim and An are already established winners in world golf. Kim is a former champion at TPC Sawgrass, while An triumphed at Wentworth during his time on the European Tour.
Twitter: Andy Swales@GolfStatsAlive

MC* - Missed Additional 54-Hole Cut
Note: List contains leading reserves

| Player | W37 | W36 | W35 | W34 | W33 | W32 | W31 | W30 | W29 | W28 |
| --- | --- | --- | --- | --- | --- | --- | --- | --- | --- | --- |
| Chez Reavie | | | | 5 | 57 | 38 | 48 | 27 | MC | |
| Brandt Snedeker | | | | 23 | 5 | 6 | 39 | 27 | MC | |
| Cameron Smith | 24 | | | | | 59 | MC | 12 | 20 | |
| Byeong Hun An | 47 | | | | 28 | 38 | 3 | | 32 | |
| Sung Jae Im | 19 | | | 15 | 11 | 38 | 6 | | MC | 26 |
| Lucas Glover | | | | 29 | 7 | 43 | 72 | | 20 | 10 |
| Emiliano Grillo | | | | | 31 | MC | | 18 | MC | |
| Kyle Stanley | | | | | | 71 | 13 | | 41 | 18 |
| Si Woo Kim | | | | | 28 | 84 | 5 | | MC | MC |
| JT Poston | | | | | 16 | 59 | 1 | | 29 | MC |
| Corey Conners | | | | 23 | 7 | 21 | 22 | 27 | MC | |
| Aaron Wise | | | | | | 43 | 48 | | 41 | |
| Joaquin Niemann | 1 | | | | 31 | 30 | 13 | | MC | 10 |
| Scottie Scheffler | 7 | | 7 | 11 | 1 | MC | | | 27 | 29 |
| Luke List | | | | | | 77 | MC | | MC | |
| Dylan Frittelli | | | | | 52 | 43 | MC | | 32 | 1 |
| Brian Harman | 3 | | | | | 52 | 6 | | MC | 26 |
| Kevin Streelman | MC | | | | | MC | MC | | 57 | |
| Charley Hoffman | | | | | | 77 | MC | | 51 | |
| Vaughn Taylor | | | | | 16 | 30 | 39 | | | 6 |
| Chesson Hadley | | | | | | 43 | 53 | | | |
| Adam Long | 14 | | | | 65 | MC | MC | 24 | | 53 |
| Jimmy Walker | MC | | | | | | MC | | MC | MC |
| Beau Hossler | 67 | | | 25 | 2 | | MC | 35 | MC | 26 |
| Sam Burns | MC | | | | | | | | | MC |
| Zach Johnson | MC | | | | | | 53 | | MC | 37 |
| Xin Jun Zhang | MC | | 46 | 30 | 45 | 43 | | MC | MC | 10 |
| Michael Thompson | | | | | | MC | 75 | | | 37 |
| Stewart Cink | | | 33 | MC | | | MC | | 20 | 63 |
| Russell Henley | 57 | | | | | 59 | 31 | 15 | | 2 |
| Zack Sucher | 24 | | MC | MC | 71 | | MC | 54 | 24 | 56 |
| Andrew Landry | MC | | | | | 30 | 19 | MC | | 3 |
| Harry Higgs | 19 | | | 11 | 23 | MC | | 1 | 22 | 3 |
| Wyndham Clark | | | | | 31 | 18 | MC* | | | MC* |
| Kristoffer Ventura | MC | | 56 | MC | 53 | 3 | | | 1 | MC |
| Robby Shelton | 7 | | 39 | | MC | 11 | | | MC | MC |
| Doc Redman | 24 | | | | | | MC | | 20 | 37 |
| Ryan Armour | MC | | | | | 43 | 22 | | 53 | MC |
| Patton Kizzire | MC | | | | | MC | 13 | | MC | |
| Jason Dufner | 57 | | | | | | MC | | 18 | MC |
| Cameron Champ | | | | | 65 | 21 | MC | | | MC |
| Brian Stuard | MC | | | | | 52 | 31 | | MC | MC |
| Denny McCarthy | 31 | | | | | MC | 22 | 35 | 11 | MC |
| Brice Garnett | 36 | | | | | MC | 6 | | 18 | 37 |
| JJ Spaun | 57 | | | | | MC | 69 | 46 | | |
| Matt Jones | 10 | | | | | 30 | MC | | 4 | MC |
| Bronson Burgoon | 19 | | | 5 | 19 | | MC | 5 | | 47 |
| Scott Stallings | MC | | | | | MC | 31 | | | 18 |
| Peter Uihlein | 36 | | 15 | MC | 37 | | 72 | 18 | 53 | Dq |
| Kramer Hickok | MC | | 3 | 5 | 19 | | MC | MC | 24 | MC |
| Sepp Straka | MC | | | | | MC | 39 | 12 | 3 | 26 |
| Austin Cook | 14 | | | | | | 72 | | 4 | 67 |
| Brian Gay | | | | | | MC | MC | | MC | |
| Sebastian Munoz | 7 | | | | | 43 | 48 | 11 | 9 | 37 |
| Robert Streb | 66 | | | 30 | 5 | | MC | 3 | MC | MC |
| Ted Potter | MC | | | | | | 60 | | 24 | MC* |
| Sam Ryder | 31 | | | | | MC | 60 | 45 | | 18 |
| Adam Schenk | MC | | | | | 24 | MC | | 18 | 6 |
| Peter Malnati | Wd | | | | | MC | MC | | MC* | 56 |
| Martin Trainer | MC | | | | | | MC | MC | | MC |
| Lanto Griffin | 13 | | 7 | | 37 | MC | | | 4 | MC |
| Carlos Ortiz | MC | | | | | 67 | 39 | | | MC |
| Nelson Ledesma | MC | | MC | MC | 45 | 58 | | | MC | 1 |
| Martin Laird | 47 | | | | | 83 | MC | 7 | 6 | 37 |
| Cameron Davis | MC | | 13 | 25 | 56 | | 22 | MC | 11 | 53 |
| Henrik Norlander | MC | | 7 | MC | 23 | MC | | 12 | | |
| Patrick Rodgers | 47 | | | | | MC | MC* | 59 | MC | |
| Chase Seiffert | MC | | | MC | 19 | MC | | | MC | 29 |
| Fabian Gomez | MC | | 2 | 51 | 45 | 7 | 13 | | 36 | MC |
| Ryan Brehm | MC | | 46 | 5 | 19 | 18 | MC | | | |
| Wes Roach | MC | | 26 | 61 | MC | | 53 | 46 | 45 | 10 |
| Matt Every | MC | | | | | MC | | 38 | | MC |
| Richy Werenski | 3 | | 7 | MC | 37 | | 39 | 41 | 24 | 47 |
| Kyoung-Hoon Lee | MC | | | | | MC | MC | 31 | | MC |
| Tyler McCumber | 47 | | | | MC | 18 | 53 | 65 | 53 | |
| Nick Taylor | 24 | | | | | MC | MC | | 15 | 33 |
| Josh Teater | MC | | 74 | MC | MC | | 6 | 13 | 6 | 67 |
| Jim Herman | MC | | | | | | | 51 | 1 | MC |
| Matthew NeSmith | MC | | MC | 1 | 45 | MC | 8 | MC | MC | |
| Anirban Lahiri | MC | | | 5 | 7 | | 53 | | | 47 |
| Johnson Wagner | 64 | | MC | MC | 14 | | 13 | 25 | MC* | 37 |
| Scott Brown | 31 | | | | | 76 | 60 | | | MC |
| Rhein Gibson | 57 | | MC | MC | 37 | 11 | 60 | | 27 | 16 |
| Cameron Tringale | 36 | | | | | MC | | 18 | | 16 |
| Shawn Stefani | MC | | MC | MC | 37 | | 22 | | 39 | 33 |
| Michael Gellerman | MC | | | 61 | MC | MC | | MC | MC | 3 |
| Mark Anderson | 36 | | | 60 | MC | 55 | | | MC | |
| Zac Blair | MC | | | 9 | 45 | 24 | 1 | 10 | 9 | MC |
| Sebastian Cappelen | 64 | | MC | MC | MC | MC | | | MC | MC |
| Mark Hubbard | 10 | | | 4 | 45 | 18 | 14 | | 22 | 37 |
| Scott Harrington | 24 | | | 43 | 14 | 2 | 11 | 28 | MC | 3 |
| Doug Ghim | 31 | | 19 | 37 | 23 | MC | MC | | MC | 19 |
| Seamus Power | MC | | 51 | MC | MC | | 60 | 25 | 53 | 61 |
| Grayson Murray | 36 | | 7 | 11 | 23 | | | | | |
| Roberto Castro | 57 | | | | | | 53 | | 22 | 26 |
| Bill Haas | MC | | | | | | 53 | 61 | 11 | 10 |
| Cameron Percy | 63 | | MC | 11 | 11 | | | | | 44 |
| Tyler Duncan | MC | | 4 | 30 | 71 | | 39 | 64 | MC | 26 |
| Hank Lebioda | 36 | | 19 | 11 | MC | | MC* | MC | 70 | MC |
| Bo Hoag | MC | | 39 | | 64 | 1 | 14 | 28 | 22 | MC |
| Ryan Blaum | MC | | | | | | MC | 54 | 15 | 56 |
| Harris English | 3 | | 26 | MC | 14 | | 39 | 67 | 29 | |
| Michael Gligic | MC | | | 43 | 53 | MC | | 44 | MC | 10 |
| Tom Hoge | 2 | | | 20 | 7 | | MC* | 6 | 36 | MC |
| Jamie Lovemark | MC | | 67 | MC | MC | | MC | | | |
| Whee Kim | MC | | 53 | MC | 74 | | MC | | 45 | 63 |
| DJ Trahan | 36 | | 7 | MC | 37 | | | 41 | 6 | MC |
| Dominic Bozzelli | 47 | | Wd | MC | 23 | | MC | 25 | 9 | MC |
| Jonathan Byrd | 47 | | MC | 20 | MC | | MC | 15 | 64 | MC |
| Maverick McNealy | MC | | 60 | | MC | 48 | 3 | | MC | 49 |
| Vince Covello | 47 | | 67 | | 69 | MC | MC | | MC | MC |
| Joseph Bramlett | 14 | | 26 | 25 | 23 | MC | 23 | | 4 | 16 |
| Brandon Hagy | MC | | | 2 | 5 | | | | | |
| Tim Wilkinson | MC | | | | MC | MC | MC | 49 | MC | |
| Sangmoon Bae | MC | | | | | | MC | 51 | | 47 |
| David Hearn | 57 | | 4 | 61 | 32 | | | 54 | 45 | MC |
| Ben Taylor | MC | | MC | MC | 2 | MC | | MC | 41 | 49 |
| Vincent Whaley | MC | | 22 | | 23 | MC | 47 | 56 | MC | MC |
| Rafael Campos | MC | | | MC | MC | 11 | MC | 7 | 35 | MC |
| Brendon Todd | MC | | 67 | 20 | 2 | | | 25 | 53 | 18 |
| Michael Kim | MC | | | | | | MC | | | MC |
| Ben Crane | MC | | 22 | MC | MC | | | | | |
| Chad Campbell | | | | | | 32 | MC | MC | MC | MC* |
| Alex Cejka | MC | | | | | | 60 | 18 | | MC |
| Rob Oppenheim | 24 | | 33 | 9 | MC | 6 | 23 | 49 | MC | MC |
| KJ Choi | | | | | | | | | | |
| David Lingmerth | MC | | | MC | | 15 | MC | 48 | MC | MC |
| Billy Hurley | MC | | 22 | 43 | 23 | | | 25 | 24 | 63 |
| Robert Garrigus | MC | | | | | MC | 33 | MC | 64 | MC |
| JJ Henry | MC | | | | | | MC | MC | MC | 61 |
| George McNeill | MC | | | | | | | 13 | 53 | MC |
| Braden Thornberry | | | | | | MC | MC | 18 | MC | 7 |
| Davis Riley | | | 46 | 68 | 32 | MC | MC | 28 | 30 | 66 |
| Ben Martin | | | 46 | 43 | 14 | | | MC | 41 | MC |
| Arjun Atwal | MC | | | | | | | MC | 72 | MC |
| Boo Weekley | MC | | | Wd | MC | | 69 | | 69 | MC |
| Derek Ernst | | | | | | 64 | 47 | MC | MC | 37 |
| John Senden | MC | | | | | | | MC | MC | 70 |
| Freddie Jacobson | MC | | MC | MC | MC | | | | 70 | 33 |
| Tim Herron | | | | | | | | MC | MC | MC |
| John Merrick | | | | | | MC | 64 | MC | MC* | MC |
| Ricky Barnes | | | | | | MC | | MC | 45 | MC |
| Morgan Hoffmann | 31 | | 67 | MC | MC | | | | | |
| Tommy Gainey | | | | | | MC | MC | 61 | 39 | |
| Stuart Appleby | | | | | | | | | | |
| Parker McLachlin | | | | | | | | MC | MC | MC |
| Daniel Chopra | | 61 | MC | | | | | MC | 53 | MC |
| Smylie Kaufman | | | Wd | MC | MC | | | | | MC |
| Kevin Stadler | | | Wd | | | | | | | |
| John Rollins | MC | | | | | | | 39 | MC | |
| Chris Couch | | | | | | | | | 39 | MC |
| Charlie Beljan | | | | | | | | MC | 45 | MC |
| Robert Allenby | | | | | | | MC | 67 | MC | MC |
| Omar Uresti | | | | | | | | 71 | MC | |
| Charlie Wi | | | | | | | | MC | MC* | |
| Justin Suh | | | | | | | 23 | MC | | MC |
| Chris Baker | | | | | | | | | | |
| Akshay Bhatia | | | | | | | | | | |
| Joseph Deraney | | | | | | | | | | |
| Greg Sonnier | | | | | | | | | | |
| Player | 2018 | 2017 | 2016 | 2015 | 2014 |
| --- | --- | --- | --- | --- | --- |
| Chez Reavie | | | | | |
| Brandt Snedeker | | | | | |
| Cameron Smith | | | 11 | | MC |
| Byeong Hun An | | | | | |
| Sung Jae Im | MC | | | | |
| Lucas Glover | 14 | | 5 | 39 | 22 |
| Emiliano Grillo | | | | | |
| Kyle Stanley | | | | MC | MC |
| Si Woo Kim | | | | MC | |
| JT Poston | 54 | 53 | 29 | | |
| Corey Conners | 2 | 65 | | | |
| Aaron Wise | | 25 | MC | | |
| Joaquin Niemann | | | | | |
| Scottie Scheffler | 45 | | | | |
| Luke List | | | 2 | 28 | |
| Dylan Frittelli | 54 | | | | |
| Brian Harman | | | | | |
| Kevin Streelman | MC | 10 | 18 | MC | |
| Charley Hoffman | | | | | 35 |
| Vaughn Taylor | 26 | 10 | | 20 | 20 |
| Chesson Hadley | | 2 | MC | | |
| Adam Long | MC | | | | |
| Jimmy Walker | | | | | |
| Beau Hossler | | 10 | | | |
| Sam Burns | 3 | 43 | | | |
| Zach Johnson | | | | | |
| Xin Jun Zhang | | | | | |
| Michael Thompson | | | | 20 | 66 |
| Stewart Cink | | | | | |
| Russell Henley | | | 14 | | |
| Zack Sucher | | | 42 | | MC |
| Andrew Landry | | 59 | | MC | |
| Harry Higgs | | | | | |
| Wyndham Clark | 54 | 17 | | | |
| Kristoffer Ventura | | | | | |
| Robby Shelton | | | 70 | | |
| Doc Redman | | | | | |
| Ryan Armour | 54 | 1 | MC | | MC |
| Patton Kizzire | | 10 | MC | 4 | |
| Jason Dufner | | | | | |
| Cameron Champ | 1 | | | | |
| Brian Stuard | MC | 4 | | 39 | |
| Denny McCarthy | 7 | MC | | | |
| Brice Garnett | | 43 | MC | 9 | |
| JJ Spaun | | 34 | MC | | |
| Matt Jones | MC | MC | MC | | |
| Bronson Burgoon | | Wd | | 20 | |
| Scott Stallings | 39 | 43 | MC | 28 | |
| Peter Uihlein | | | | | 4 |
| Kramer Hickok | MC | | | | |
| Sepp Straka | MC | | | | |
| Austin Cook | | 25 | MC | MC | |
| Brian Gay | | 18 | | | |
| Sebastian Munoz | 50 | | 35 | | |
| Robert Streb | 26 | | | | 8 |
| Ted Potter | | MC | | | |
| Sam Ryder | | MC | | | |
| Adam Schenk | 7 | 43 | | | |
| Peter Malnati | MC | 34 | 68 | 1 | |
| Martin Trainer | MC | | | | |
| Lanto Griffin | | MC | | | |
| Carlos Ortiz | 3 | | | | |
| Nelson Ledesma | | | | | |
| Martin Laird | 7 | | | MC | MC |
| Cameron Davis | MC | | | | |
| Henrik Norlander | | | | 39 | |
| Patrick Rodgers | 14 | | | 20 | |
| Chase Seiffert | | | | | |
| Fabian Gomez | 70 | 72 | | | 14 |
| Ryan Brehm | | | 18 | | |
| Wes Roach | 45 | | | MC | |
| Matt Every | 20 | 53 | | | |
| Richy Werenski | 61 | MC | 75 | | |
| Kyoung-Hoon Lee | 35 | | | | |
| Tyler McCumber | | | | | |
| Nick Taylor | 26 | | 23 | 20 | 1 |
| Josh Teater | MC | | | | 35 |
| Jim Herman | MC | | | | 51 |
| Matthew NeSmith | | | | | |
| Anirban Lahiri | | | | | |
| Johnson Wagner | 35 | 34 | | 15 | MC |
| Scott Brown | | | | | MC |
| Rhein Gibson | | | | MC | |
| Cameron Tringale | 50 | 53 | | | |
| Shawn Stefani | 7 | 10 | MC | MC | 25 |
| Michael Gellerman | | | | | |
| Mark Anderson | | | MC | | |
| Zac Blair | | 18 | | | MC |
| Sebastian Cappelen | | | | | 35 |
| Mark Hubbard | | | | 54 | 51 |
| Scott Harrington | | | | | |
| Doug Ghim | 71 | | | | |
| Seamus Power | 19 | 18 | 29 | | |
| Grayson Murray | Wd | | 8 | | |
| Roberto Castro | 5 | | | 4 | 58 |
| Bill Haas | 14 | | | | |
| Cameron Percy | | 34 | 42 | 15 | MC |
| Tyler Duncan | MC | MC | | | |
| Hank Lebioda | MC | | | | |
| Bo Hoag | | | | | |
| Ryan Blaum | 20 | MC | 11 | | |
| Harris English | 39 | MC | | | |
| Michael Gligic | | | | | |
| Tom Hoge | MC | MC | MC | 70 | 35 |
| Jamie Lovemark | | | | MC | |
| Whee Kim | | | 14 | MC | MC |
| DJ Trahan | 7 | MC | MC | 10 | |
| Dominic Bozzelli | | | 57 | | |
| Jonathan Byrd | 39 | MC | 35 | 39 | 25 |
| Maverick McNealy | MC | | | | |
| Vince Covello | | | | | |
| Joseph Bramlett | | | | | |
| Brandon Hagy | MC | 18 | 14 | | |
| Tim Wilkinson | 72 | | MC | 33 | |
| Sangmoon Bae | | | | | |
| David Hearn | MC | 59 | | | 14 |
| Ben Taylor | | | | | |
| Vincent Whaley | | | | | |
| Rafael Campos | | | | | |
| Brendon Todd | | MC | MC | MC | |
| Michael Kim | | | | 63 | |
| Ben Crane | MC | 43 | 23 | | |
| Chad Campbell | MC | | | | MC |
| Alex Cejka | 54 | Dq | | | MC |
| Rob Oppenheim | | 18 | 72 | 54 | |
| KJ Choi | | | | 50 | |
| David Lingmerth | MC | | | | |
| Billy Hurley | 54 | 25 | | 63 | |
| Robert Garrigus | 20 | MC | | 70 | |
| JJ Henry | 50 | Wd | 42 | | 43 |
| George McNeill | MC | 43 | 50 | | |
| Braden Thornberry | | | | | |
| Davis Riley | | | | | |
| Ben Martin | | 59 | 18 | | 29 |
| Arjun Atwal | | MC | MC | MC | |
| Boo Weekley | | | MC | 39 | 2 |
| Derek Ernst | 68 | 34 | MC | 20 | MC |
| John Senden | | | | | |
| Freddie Jacobson | | | | MC | |
| Tim Herron | MC | 53 | MC | 70 | MC |
| John Merrick | MC | MC | 42 | Wd | MC |
| Ricky Barnes | MC | 10 | | 33 | |
| Morgan Hoffmann | | | MC | | |
| Tommy Gainey | | MC | 65 | 74 | MC |
| Stuart Appleby | 68 | 59 | 74 | | |
| Parker McLachlin | 63 | MC | | | |
| Daniel Chopra | | | | | |
| Smylie Kaufman | | 4 | | 54 | |
| Kevin Stadler | MC | | | | |
| John Rollins | | 74 | 65 | MC | 4 |
| Chris Couch | | | | | |
| Charlie Beljan | | | | Wd | |
| Robert Allenby | | MC | 68 | MC | |
| Omar Uresti | | 71 | | | |
| Charlie Wi | | MC | 57 | Wd | 43 |
| Justin Suh | | | | | |
| Chris Baker | | | | | |
| Akshay Bhatia | | | | | |
| Joseph Deraney | | | | | |
| Greg Sonnier | | | | | |
Discover the latest articles
Read past articles