RSM Classic 2018: Course and current form stats for this week's PGA Tour event in Georgia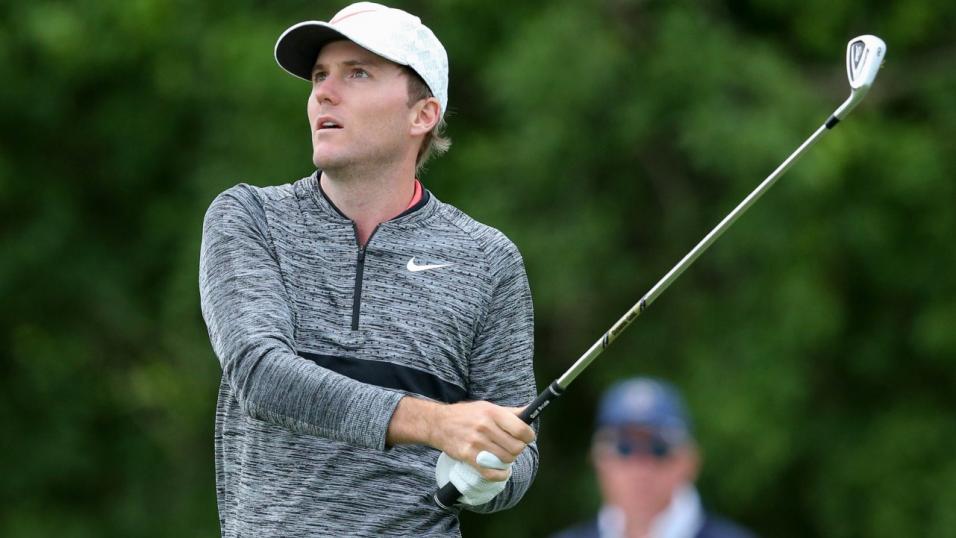 Russell Henley: Three times a top-10 finisher at Sea Island
Andy Swales provides course and current form stats for the RSM Classic which gets underway at Sea Island Resort this Thursday ....
"Russell Henley has a good record in this event and, despite some patchy form since early July, cannot be ruled out in Georgia."
The PGA Tour returns to the Deep South for the final FedEx Cup event of the calendar year.
This week's RSM Classic will be the ninth to be staged at Sea Island Resort in Georgia and, for the fourth straight year, will be contested over two courses.
From 2010 thru 2014, the tournament was held over the resort's Seaside Course, with the Plantation layout becoming part of the itinerary a year later.
During the opening two days, golfers' will play one round on each course, before the Seaside takes charge over the weekend as the sole venue for the final 36 holes.
Seaside started life as a nine-hole course and has been in existence since 1929.
Low-lying, and with larger than average-sized greens, the course was given an upgrade by Tom Fazio 20 years ago when it joined forces with the nine holes of nearby Marshside.
Plantation was also originally just nine holes before Rees Jones was commissioned to make it 18.

Water is a huge threat on both layouts, with the surrounding marshland one of the most prominent features of Sea Island Resort.
The two courses are located close to the southern tip of St Simons Island and have a distinct links feel to them - although the fairways are considerably more manicured than a typical British seaside venue.
This popular tourist destination, close to the Atlantic Ocean, is located around 65 miles north of Georgia's state border with Florida.
Horses For Courses
Former champion Kevin Kisner was fourth last year, although his current form has not been great.
Kisner's most recent top-10 came at Carnoustie while Chris Kirk - another winner at Sea Island - also tied-for-fourth 12 months ago.
And fresh from his responsibilities as American Ryder Cup skipper, Jim Furyk is slowly rediscovering competitive strokeplay golf.
The 48-year-old, who missed 10 weeks of action during the summer months, tied-sixth in Mexico on Sunday.
On his three previous trips to Sea Island has posted finishes of 6th-3rd-11th.
Top Ranking
The highest-ranked pro teeing-up is world No 20 Webb Simpson who finished runner-up at Seaside in 2011.
The 33-year-old makes his second start of the 2018/19 season, having enjoyed one of the best years of his career and is expected to contend this week.
Russell Henley has a good record in this event and, despite some patchy form since early July, cannot be ruled out in Georgia.
Harold Varner has enjoyed a positive start to the new campaign - three top-15 finishes from four outings - and don't be surprised if a few of the recent Web.com graduates challenge for the title this weekend in what is a fairly mediocre field by PGA Tour standards.
The two most recent winners of this event had spent the previous season earning their passage out of America's second tier tour.
Twitter: Andy Swales@GolfStatsAlive
MC* - Missed Additional 54-Hole Cut
Note: List contains leading reserves
| Player | W45 | W44 | W43 | W42 | W41 | W40 | W39 | W38 | W37 | W36 | W35 | W34 |
| --- | --- | --- | --- | --- | --- | --- | --- | --- | --- | --- | --- | --- |
| Webb Simpson | | 15 | | | | | | 4 | | 6 | 49 | 28 |
| Kevin Kisner | MC | | | | | | | | | 58 | 24 | 73 |
| Brian Harman | 68 | | 72 | 36 | | | | | | 68 | 49 | 48 |
| Luke List | MC | | | | | 4 | | | | 45 | MC | 48 |
| Chesson Hadley | | 7 | | 73 | 2 | MC | | | | 61 | MC | 56 |
| Zach Johnson | MC | | | | | | | | | 33 | MC | 40 |
| Chez Reavie | 26 | | 35 | 7 | 43 | 33 | | | | 38 | MC | 20 |
| Peter Uihlein | | 23 | | 55 | 69 | MC | | | | 38 | 12 | 48 |
| Russell Henley | 29 | MC | | | | MC | | | | | 58 | MC |
| Stewart Cink | | | | 70 | 13 | | | | | | 62 | MC |
| Charles Howell | MC | | | 61 | 5 | | | | | 24 | 58 | MC |
| Andrew Landry | MC | | | | | 66 | | | | 35 | 58 | 76 |
| Sung Jae Im | MC | 15 | MC | 41 | | 4 | | | 43 | | 16 | 51 |
| Jason Dufner | 21 | MC | | 55 | 43 | MC | | | | | MC | MC |
| Patton Kizzire | 55 | | 67 | 23 | | | | 21 | | 61 | 71 | 60 |
| CT Pan | 16 | | 22 | 23 | 30 | | | | | 38 | 4 | 60 |
| Ted Potter | | | | 14 | 54 | MC | | | | 35 | 66 | 40 |
| Bronson Burgoon | | MC | | | 2 | 53 | | | | | 58 | 11 |
| Austin Cook | | MC | | 41 | 13 | | | | | 29 | 62 | 60 |
| Ryan Armour | 21 | | 54 | 29 | 33 | | | | | 51 | 35 | 78 |
| Sam Burns | MC | MC | 3 | | | MC | | | MC | | Wd | 35 |
| Cameron Champ | 10 | 28 | 1 | | | 25 | | MC | 33 | | 16 | 30 |
| Whee Kim | 10 | 41 | | 72 | 59 | 33 | | | | | 75 | 48 |
| Nick Watney | | 28 | | 48 | 19 | MC | | | | | 62 | 11 |
| Lucas Glover | | 7 | 14 | | | 17 | | 2 | 53 | | MC | 17 |
| Brian Gay | 41 | 51 | | 61 | 69 | | | | | 45 | 62 | 70 |
| JJ Spaun | 3 | 15 | | 10 | 72 | 41 | | | | 45 | 66 | 60 |
| Keith Mitchell | 65 | | | 14 | 22 | | | | | 45 | 20 | MC |
| Jamie Lovemark | 41 | | | 23 | 39 | MC | | | | | 76 | 34 |
| Sam Ryder | 54 | 3 | | | 43 | 4 | | | | | | 28 |
| Brice Garnett | 5 | MC | | 41 | 39 | | | | | 35 | 12 | MC |
| Chris Kirk | 48 | 41 | MC | | | MC | | | | 41 | 35 | 78 |
| Joaquin Niemann | 60 | 10 | | 36 | | MC* | | | | | | |
| Kramer Hickok | 29 | 23 | MC | | | MC | | 8 | MC | | 1 | 14 |
| Ollie Schniederjans | MC | 57 | | | 74 | MC | | | | | MC | MC |
| Bill Haas | 60 | | 14 | | | 10 | | | | | | |
| Sean O`Hair | MC | | MC | | | MC | | | | | | 28 |
| Kevin Streelman | MC | 51 | MC | | | 25 | | | | | MC | 40 |
| Robert Streb | MC | 4 | 26 | | | MC | | 54 | MC | | 36 | 1 |
| Harold Varner | 6 | 15 | MC | | | 14 | | | | | | 40 |
| Denny McCarthy | 41 | 15 | 7 | | | MC | | 1 | 13 | | 9 | 5 |
| Patrick Rodgers | MC | 41 | 14 | | | 25 | | | | | | |
| Sung Kang | 29 | MC | | 29 | | MC* | | | | | | 75 |
| Kelly Kraft | 38 | 66 | | | 33 | MC | | | | | MC | MC |
| Troy Merritt | | 57 | | | 54 | 4 | | | | | MC | MC |
| Padraig Harrington | 35 | 35 | | 66 | 22 | 7 | | MC | 5 | | | 2 |
| Scott Stallings | | 69 | 39 | | 75 | | | | | | 49 | 28 |
| Joel Dahmen | 41 | 69 | | 29 | 26 | 46 | | | | | MC | MC |
| Bud Cauley | 29 | 10 | | | | 46 | | | | | | |
| Sam Saunders | Wd | | 26 | | | MC* | | | | | | 60 |
| Richy Werenski | 3 | 23 | 61 | | | 33 | | | | | | MC |
| Grayson Murray | Wd | MC | Wd | | | 41 | | | | | | Wd |
| Graeme McDowell | MC | 41 | | 41 | | MC | | | | | | |
| Chase Wright | 63 | MC | MC | | | 10 | | 3 | 76 | | MC | MC |
| Wesley Bryan | MC | MC | MC | | | MC | | | | | | |
| Anders Albertson | 55 | 28 | 5 | | | MC | | 31 | 2 | | 9 | 21 |
| Trey Mullinax | | MC | MC | | | MC | | | | | | 56 |
| Tom Hoge | MC | MC | MC | | 63 | 17 | | | | | 66 | MC |
| Stephan Jaeger | 16 | MC | 14 | | | MC | | 8 | 58 | | 4 | MC |
| Hudson Swafford | 55 | 28 | 26 | | | 69 | | | | | | |
| Chris Stroud | Wd | 55 | MC | | | MC | | | | | | |
| Brandon Harkins | 65 | 10 | MC | | | 74 | | | | | | 60 |
| Matt Jones | 71 | 57 | MC | | | MC | | | | | 2 | 10 |
| Michael Kim | | MC | | 76 | 62 | 73 | | | | | MC | MC |
| Jim Furyk | 6 | MC | | | | | | | | | | |
| Chad Campbell | | | MC | | | MC | | 8 | MC | | 59 | MC |
| Adam Schenk | 48 | MC | 7 | | | 14 | | 8 | 2 | | 9 | 35 |
| Aaron Baddeley | | | MC | | | 4 | | MC | 17 | | 16 | 24 |
| Ben Silverman | | | 39 | | | MC* | | 3 | MC | | MC | 58 |
| Corey Conners | MC | MC | 2 | | | MC | | MC | 33 | | MC | 24 |
| Martin Trainer | MC | MC | MC | | | 60 | | Dq | 53 | | | MC |
| Sebastian Munoz | 64 | 41 | 50 | | | MC | | MC | MC | | MC | 35 |
| Brian Stuard | MC | MC | MC | 52 | 39 | 53 | | | | | 31 | 25 |
| Ryan Blaum | MC | 74 | 20 | | | 33 | | | | | | MC |
| Peter Malnati | MC | 15 | MC | | | 25 | | 54 | 17 | | 6 | 2 |
| Roberto Castro | | 51 | 5 | | | 53 | | | | | | |
| David Lingmerth | | | MC | | | | | MC | 33 | | MC | MC |
| Vaughn Taylor | 26 | 57 | 26 | | | MC* | | | | | | MC |
| Jose de Jesus Rodriguez | 55 | 41 | 63 | | | MC | | 46 | MC | | MC | MC |
| John Huh | MC | MC | MC | | | MC | | | | | | MC |
| Talor Gooch | | | 14 | | | | | 31 | 33 | | MC | 21 |
| Scott Brown | 68 | MC | | | | MC | | | | | | MC |
| Michael Thompson | | | | | | 17 | | 21 | 6 | | MC | MC |
| Harris English | 68 | 36 | 39 | | | 66 | | | | | | MC |
| Kyle Jones | MC | 71 | MC | | | MC* | | MC | 9 | | MC | MC |
| Alex Cejka | MC | MC | 54 | | | | | | | | | 56 |
| Shawn Stefani | MC | MC | 7 | | | MC | | 31 | 13 | | 25 | 4 |
| Tom Lovelady | | | 25 | | | | | MC | MC | | 63 | MC |
| Scott Langley | 29 | MC | 63 | | | MC | | 61 | MC | | MC | 63 |
| Andres Romero | 25 | | 26 | | | | | 54 | 17 | 45 | 59 | 35 |
| Robert Garrigus | | | 20 | | | MC | | 35 | 66 | | MC | 30 |
| Sangmoon Bae | MC | MC | | | | MC | | | 1 | | 6 | 35 |
| Seamus Power | MC | MC | 19 | | | MC | | | | | | 34 |
| Kyoung-Hoon Lee | 29 | MC | 35 | 61 | | MC | | 60 | MC | | 32 | MC |
| Julian Etulain | | | MC | | | 14 | | MC | 77 | | MC | MC |
| Mackenzie Hughes | MC | MC | | | | 33 | | | | | | |
| Martin Piller | | | 54 | | | MC | | MC | 53 | | 16 | MC |
| JT Poston | 21 | MC | 54 | | | 46 | | | | | | MC |
| Nicholas Lindheim | | | 26 | | | | | 8 | 17 | | 36 | 14 |
| Wyndham Clark | MC | 57 | 54 | | | 33 | | MC | MC | | MC | 35 |
| Ben Martin | | | | | | | | | | | | |
| Chris Thompson | | | 45 | | | MC | | MC | MC | | 36 | MC |
| Tyler Duncan | 38 | MC | MC | | | 69 | | | | | | MC |
| Brady Schnell | | | 45 | | | MC | | MC | 69 | | MC | MC |
| Carlos Ortiz | MC | MC | 3 | | | 53 | | 57 | 43 | | 25 | 44 |
| Ben Crane | | | MC | | | 46 | | 57 | 33 | | 9 | 44 |
| Hunter Mahan | MC | MC | 61 | | | 17 | | | 33 | | 2 | 17 |
| Jonas Blixt | 60 | MC | 35 | | | 33 | | | | MC | MC | |
| Adam Long | | | MC | | | 63 | | MC | MC | | MC | MC |
| Josh Teater | 48 | MC | MC | | | MC* | | 29 | MC | | 47 | MC |
| Retief Goosen | | | MC | | | | | | | | | |
| Alex Prugh | MC | 57 | 39 | | | 33 | | | 24 | | 9 | MC |
| Adam Svensson | MC | MC | 39 | | | 41 | | 8 | 43 | | 63 | MC |
| DA Points | MC | | | | | | | | | | | |
| Wes Roach | | 41 | 45 | | | MC | | 17 | MC | | 24 | 10 |
| Sepp Straka | | | MC | | | 46 | | 3 | MC | | MC | 51 |
| Derek Fathauer | | | MC | | | | | | | | Wd | MC |
| Joey Garber | | | MC | | | MC | | | | | MC | 51 |
| Johnson Wagner | | | 35 | | | 25 | | | Wd | | MC | MC |
| Nate Lashley | | | 20 | | | 17 | | MC | 66 | | 36 | 63 |
| Roger Sloan | MC | MC | MC | | | 60 | | 29 | 2 | | 59 | MC |
| Tyrone Van Aswegen | | | MC | | | 66 | | MC | 33 | | 53 | 17 |
| Dominic Bozzelli | 48 | 41 | | | | MC | | MC | MC | | MC | MC |
| John Chin | MC | MC | 45 | | | MC | | | 43 | | MC | MC |
| Curtis Luck | MC | MC | 50 | | | MC | | 8 | 24 | | MC | 5 |
| Hank Lebioda | | | MC | | | MC | | MC | MC | | MC | 51 |
| Jonathan Byrd | | | 39 | | | MC* | | MC | 24 | | MC | 30 |
| David Hearn | | | MC | | | MC* | | 35 | 24 | | 47 | MC |
| Seth Reeves | 29 | 73 | 7 | | | 69 | | MC | 66 | | 4 | 5 |
| Eric Axley | | | MC | | | | | MC | MC | | 53 | 65 |
| Jim Herman | MC | | MC | | | MC | | MC | 71 | | MC | MC |
| JJ Henry | | | 50 | | | MC | | Wd | 43 | | 53 | 51 |
| Cameron Tringale | | | 50 | | | 46 | | 3 | MC | | 56 | MC |
| Fabian Gomez | MC | | 70 | | | 63 | | 17 | 9 | | MC | 44 |
| Jim Knous | | | MC | | | 10 | | 57 | 24 | | 25 | 10 |
| Ernie Els | 65 | | | 36 | 43 | 48 | | | | | | |
| Matt Every | | | 20 | | | | | 21 | 58 | | 9 | MC |
| Ricky Barnes | | | MC | | | 69 | | MC | 58 | | 32 | 58 |
| Chad Collins | | | MC | | | MC* | | | | | MC | MC |
| Cody Gribble | MC | MC | MC | | | MC | | | | | | |
| Roberto Diaz | MC | 57 | MC | | | MC | | 17 | 5 | | 25 | 24 |
| Benjamin Griffin | | | | | | | | | | MC | | |
| Stuart Appleby | | | 68 | | | | | Wd | 58 | | MC | MC |
| Derek Ernst | | | 68 | | | | | MC | MC | | MC | MC |
| Tim Herron | | | MC | | | | | | 24 | | MC | MC |
| Max Homa | MC | MC | MC | | | 60 | | MC | 7 | | 6 | 21 |
| Brendon de Jonge | | | MC | | | | | | | | | |
| Freddie Jacobson | MC | MC | | | | MC | | MC | | | | |
| Billy Hurley | | | 54 | | | | | | | | | |
| John Merrick | | | MC | | | | | 46 | MC | | MC | MC |
| Davis Love | | 57 | | | 59 | | | | | | | |
| Parker McLachlin | | | 63 | | | | | 31 | MC | | MC | MC |
| George McNeill | | | MC | | | | | | | | | |
| Will MacKenzie | | | | | | | | | | | | |
| Tommy Gainey | | | | | | | | | | | | |
| Jon Curran | | | | | 75 | MC | | | | | | |
| Dru Love | | | | | | | | | | | | MC |
| Player | 2017 | 2016 | 2015 | 2014 | 2013 | 2012 | 2011 | 2010 |
| --- | --- | --- | --- | --- | --- | --- | --- | --- |
| Webb Simpson | Wd | 36 | | 41 | 7 | | 2 | 12 |
| Kevin Kisner | 4 | MC | 1 | 4 | 20 | MC | 26 | |
| Brian Harman | 4 | MC | MC | 41 | 10 | 27 | | |
| Luke List | | 13 | MC | | | | | |
| Chesson Hadley | 37 | 45 | MC | 32 | MC | | | |
| Zach Johnson | 8 | MC | MC* | MC | 16 | 49 | MC | 12 |
| Chez Reavie | | | 33 | | | MC | | |
| Peter Uihlein | | | | | | | | |
| Russell Henley | | 10 | 6 | 4 | 65 | | | |
| Stewart Cink | 25 | 10 | 63 | 32 | MC | 64 | MC | |
| Charles Howell | MC | 13 | 9 | MC* | 27 | 7 | 32 | 6 |
| Andrew Landry | 4 | | MC | | | | | |
| Sung Jae Im | | | | | | | | |
| Jason Dufner | | | 9 | | | | | |
| Patton Kizzire | 45 | MC | MC | 54 | | | | |
| CT Pan | 13 | 6 | | | | | | |
| Ted Potter | 13 | | | | 36 | MC | | |
| Bronson Burgoon | 70 | | MC | | | | | |
| Austin Cook | 1 | | | | | | | |
| Ryan Armour | 37 | 36 | | MC* | | | | |
| Sam Burns | | | | | | | | |
| Cameron Champ | MC | | | | | | | |
| Whee Kim | MC | 27 | | MC* | | | | |
| Nick Watney | MC | | | MC* | | | | |
| Lucas Glover | | 36 | 9 | MC* | 40 | | 15 | MC |
| Brian Gay | 3 | MC | | | 4 | 43 | MC | 33 |
| JJ Spaun | 2 | 57 | | | | | | |
| Keith Mitchell | 54 | | | | | | | |
| Jamie Lovemark | MC | 6 | 9 | | | | | |
| Sam Ryder | 61 | | | | | | | |
| Brice Garnett | 29 | | MC* | MC* | 36 | | | |
| Chris Kirk | 4 | MC | 18 | 4 | 1 | 64 | MC | 15 |
| Joaquin Niemann | | | | | | | | |
| Kramer Hickok | | | | | | | | |
| Ollie Schniederjans | MC | 6 | | | | | | |
| Bill Haas | MC | 13 | 33 | 22 | | | | 2 |
| Sean O`Hair | MC | | 18 | 17 | MC | 20 | 15 | |
| Kevin Streelman | 17 | 36 | MC | | | | 6 | |
| Robert Streb | MC | 57 | 25 | 1 | | | | |
| Harold Varner | | | 68 | | | | | |
| Denny McCarthy | MC | | | | | | | |
| Patrick Rodgers | MC | 10 | 44 | | | | | |
| Sung Kang | 29 | 33 | MC* | | | MC | MC | |
| Kelly Kraft | 22 | 21 | MC | | | | | |
| Troy Merritt | 54 | MC | | | MC | | 67 | 33 |
| Padraig Harrington | 54 | | | MC | | | | |
| Scott Stallings | 68 | 70 | 9 | | MC | 15 | | |
| Joel Dahmen | 49 | MC | | | | | | |
| Bud Cauley | 8 | MC | MC | | MC | 20 | 15 | |
| Sam Saunders | MC | 57 | MC | MC | | | | |
| Richy Werenski | MC | MC | | | | | | |
| Grayson Murray | | | | | | | | |
| Graeme McDowell | MC | | 3 | | | | MC | |
| Chase Wright | | | | | | 64 | | |
| Wesley Bryan | | MC | | | | | | |
| Anders Albertson | | MC* | | | | | | |
| Trey Mullinax | 37 | MC | 25 | | | | | |
| Tom Hoge | 25 | MC | 9 | 32 | | | | |
| Stephan Jaeger | 29 | | | | | | | |
| Hudson Swafford | 29 | 36 | MC | 12 | MC | | | |
| Chris Stroud | 49 | 13 | MC | | MC | MC | MC | 66 |
| Brandon Harkins | 49 | | | | | | | |
| Matt Jones | | MC | | | | 51 | MC | 54 |
| Michael Kim | MC | 27 | 52 | | | | | |
| Jim Furyk | | 6 | | | | 3 | 11 | |
| Chad Campbell | MC | 13 | 9 | 41 | 36 | 7 | MC | 33 |
| Adam Schenk | MC | | | | | | | |
| Aaron Baddeley | MC | | MC | 48 | 40 | | | 64 |
| Ben Silverman | 8 | | | | | | | |
| Corey Conners | 37 | | | | | | | |
| Martin Trainer | | | | | | | | |
| Sebastian Munoz | | MC | | | | | | |
| Brian Stuard | 22 | MC | 25 | MC | MC | | | 15 |
| Ryan Blaum | MC | MC* | | | | | | |
| Peter Malnati | MC | MC | MC* | | | | | |
| Roberto Castro | | MC* | 52 | 69 | | 27 | | |
| David Lingmerth | 17 | | 63 | 14 | | | | |
| Vaughn Taylor | 8 | | MC | | | MC | 54 | MC |
| Jose de Jesus Rodriguez | | | | | | | | |
| John Huh | 37 | 27 | 9 | 48 | | | | |
| Talor Gooch | MC | | | | | | | |
| Scott Brown | MC | | 18 | MC | 4 | 20 | | |
| Michael Thompson | 17 | 13 | MC | 66 | | 10 | 3 | |
| Harris English | MC | MC | 25 | MC | 27 | 15 | | |
| Kyle Jones | | | | | | | | |
| Alex Cejka | | | 6 | MC | | MC* | | MC |
| Shawn Stefani | MC | | MC | 41 | | | | |
| Tom Lovelady | MC | | | | | | | |
| Scott Langley | | 33 | 33 | MC | 22 | | | |
| Andres Romero | | 27 | MC | | 69 | | | |
| Robert Garrigus | MC | 33 | MC | | 22 | | 69 | MC |
| Sangmoon Bae | | | | | | | | |
| Seamus Power | MC | MC* | | | | | | |
| Kyoung-Hoon Lee | | | | | | | | |
| Julian Etulain | | MC* | | | | | | |
| Mackenzie Hughes | MC | 1 | | | | | | |
| Martin Piller | MC | | MC* | | | | MC | |
| JT Poston | MC | MC | | | | | | |
| Nicholas Lindheim | 13 | 54 | | | | | | |
| Wyndham Clark | | | | | | | | |
| Ben Martin | 22 | MC | | 17 | MC | | 68 | |
| Chris Thompson | | | | | | | | |
| Tyler Duncan | 25 | | | | | | | |
| Brady Schnell | | | | | | | | |
| Carlos Ortiz | | | MC | | | | | |
| Ben Crane | MC | 64 | MC | | MC | 27 | 1 | |
| Hunter Mahan | 45 | MC | | | | | | |
| Jonas Blixt | | MC | MC | | | MC* | | |
| Adam Long | | | | | | | | |
| Josh Teater | 37 | 45 | | MC | | | 32 | MC |
| Retief Goosen | 29 | | | | 65 | | | |
| Alex Prugh | | | MC* | MC | | | MC | |
| Adam Svensson | | | MC | | | | | |
| DA Points | MC | 45 | 58 | 22 | | MC | 54 | MC |
| Wes Roach | | | MC | | MC | | | |
| Sepp Straka | | | | | | | | |
| Derek Fathauer | MC | | 70 | | | | | |
| Joey Garber | | | | | | | | |
| Johnson Wagner | 17 | MC | 33 | MC* | MC | | 44 | 25 |
| Nate Lashley | 49 | | | | | | | |
| Roger Sloan | | | | MC | | | | |
| Tyrone Van Aswegen | 45 | MC | MC* | MC | MC | | | |
| Dominic Bozzelli | | MC | | | | | | |
| John Chin | | | | | | | | |
| Curtis Luck | | | | | | | | |
| Hank Lebioda | | | | | | | | |
| Jonathan Byrd | MC | 21 | 44 | MC | 55 | | 32 | 66 |
| David Hearn | 17 | | 9 | | 40 | 51 | 44 | |
| Seth Reeves | | | | | | | | |
| Eric Axley | | MC | MC* | 22 | 48 | | | |
| Jim Herman | 54 | 13 | 18 | MC | MC | | 60 | |
| JJ Henry | 45 | | | MC | 48 | | MC | |
| Cameron Tringale | MC | 27 | | 22 | 27 | MC | 26 | MC |
| Fabian Gomez | 61 | | 44 | 8 | | | 64 | |
| Jim Knous | | | | | | | | |
| Ernie Els | MC | MC | | | | | | |
| Matt Every | MC | MC | Wd | | 7 | 57 | | |
| Ricky Barnes | MC | MC | 25 | | | MC | | |
| Chad Collins | | MC | MC | MC | MC | | | 33 |
| Cody Gribble | | MC | | | | | | |
| Roberto Diaz | 61 | | | | | | | |
| Benjamin Griffin | | | | | | | | |
| Stuart Appleby | MC | MC | 52 | 22 | 36 | 27 | | |
| Derek Ernst | | MC | MC | 54 | | | | |
| Tim Herron | | MC | 52 | | | 49 | 60 | MC |
| Max Homa | | MC | | MC | | | | |
| Brendon de Jonge | 54 | MC | 33 | 2 | 16 | 4 | 60 | 15 |
| Freddie Jacobson | | | 5 | | MC | | | MC |
| Billy Hurley | MC | | MC | | MC | 57 | | |
| John Merrick | | MC | MC* | MC | | | | MC |
| Davis Love | MC | MC | 33 | 41 | MC | 4 | MC | 33 |
| Parker McLachlin | | | | | | | | MC |
| George McNeill | | MC | | MC | 22 | | | MC |
| Will MacKenzie | | 67 | MC | 2 | MC | | MC | 59 |
| Tommy Gainey | MC | MC | MC | 32 | MC | 1 | MC | |
| Jon Curran | MC | 65 | 4 | 54 | | | | |
| Dru Love | MC | | MC | | | | | |
Discover the latest articles
Read past articles