Quicken Loans National 2018: Course and form stats for this week's PGA Tour event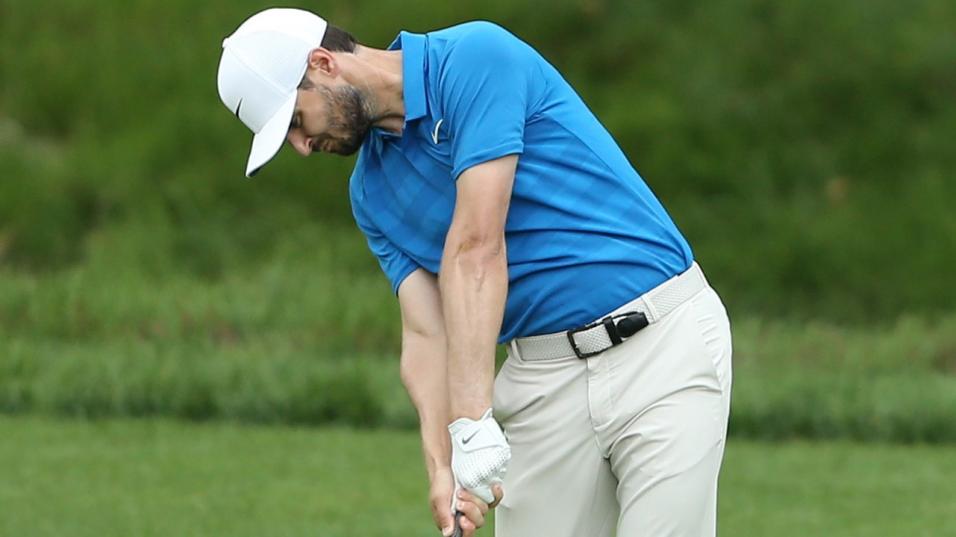 Kyle Stanley: Last year's champion continues to hit plenty of Greens in Regulation
TPC Potomac hosts this week's Quicken Loans National. Check out our course and current form stats compiled by Andy Swales ...
"For the 2017 event the greens were firm and fast, one of the reasons why TPC Potomac proved to be the toughest non-major course on last season's PGA Tour."
The PGA Tour is off to Maryland for this week's Quicken Loans National at TPC Potomac.
Just 12 months ago, Potomac returned to the Tour schedule after an 11-year absence and quickly earned a reputation for being one of the toughest layouts on the calendar.
It also received plenty of plaudits, which was a welcome relief to tournament organisers following a $20m refurbishment project.
The original 1986 design, which was not hugely popular with Tour pros, underwent some serious surgery, with changes made to 15 holes. A handful of holes experienced major reconstruction, while others witnessed more minor alterations.
Back in its early years the course suffered from drainage problems, while the putting surfaces were often deemed as being unsatisfactory for hosting top level professional sport.
However, these issues appear to be consigned to history as was the venue's original title TPC Avenel.
For the 2017 event the greens were firm and fast, one of the reasons why TPC Potomac proved to be the toughest non-major course on last season's PGA Tour.
The only layouts with a higher average score above par were the ones which staged the PGA Championship, Masters and The Open.
Potomac was even statistically more difficult than Erin Hills, host of the US Open, as well as TPC Sawgrass.
Six Hardest PGA Tour Courses of 2017
(+ Average Round Score Over Par)
1: Quail Hollow (PGA Championship) (+ 2.468)
2: Augusta National (The Masters) (+ 1.887)
3: Royal Birkdale (Open Championship) (+ 1.852)
4: TPC Potomac (Quicken Loans National) (+ 1.458)
5: TPC Sawgrass (Players Championship) (+ 1.291)
6: Erin Hills (US Open) (+ 1.204)
In addition to its challenging greens, there was tight fairways and heavy rough to contend with, while Potomac has some of the smallest putting surfaces on Tour.
Set in 220 acres of rolling woodland, TPC Potomac at Avenel Farm is around 15 miles north-west of the White House at Capitol Hill, Washington DC.
Among those consulted, ahead of its re-design, included Tom Fazio, Pete Dye, Fred Funk and Davis Love, with the vastly changed course opening for business in April 2009.
Star Attraction
Rickie Fowler is the biggest name teeing-up in Maryland this week, with the American one of many leading pros to have praised the course 12 months ago.
Fowler tied-third in 2017 and it's a shame that on a course of this difficulty, he is the only member of the world's top 10 taking part.
The two players who finished ahead of him last July are also returning, with both in good current shape.
Winner Kyle Stanley was runner-up at the recent Memorial Tournament and will fancy his chances of a repeat victory - if he continues to play his accurate brand of golf.
Stanley topped the Greens in Regulation standings at this event last year, and he is currently third in the same category for season-long stats on the PGA Tour during 2018.
Charles Howell, who lost a play-off to Stanley in 2017, was also runner-up over the old TPC Avenel layout 14 years ago.
In-form Italian Francesco Molinari tries his hand on a course which should suit his game, while Tiger Woods has decided to face the challenge of Potomac for the first time.
Tier Two Experience
Before the course returned to the Tour rota last year, it hosted two Web.com events in 2012 and 2013.
Chesson Hadley was second here five years ago when Si Woo Kim narrowly missed out on a top-10 finish.
Sung Kang has posted top-10 finishes at Potomac on both the Web and PGA tours, while impressive young Chilean Joaquin Niemann returns following a two-week break.
Two other names to consider are Kevin Na and Stewart Cink.
Na returns from Korea where he tied-fifth on Sunday, while a rejuvenated Cink has just enjoyed back-to-back top-six finishes for the first time in almost nine years.
The 2009 Open champion is one of the best in the business for consistently hitting greens in regulation.
MC* - Missed Additional 54-Hole Cut
Twitter: Andy Swales@GolfStatsAlive
| Player | W25 | W24 | W23 | W22 | W21 | W20 | W19 | W18 | W17 | W16 | W15 | W14 |
| --- | --- | --- | --- | --- | --- | --- | --- | --- | --- | --- | --- | --- |
| Rickie Fowler | | 20 | | 8 | 14 | | MC | 21 | | | | 2 |
| Francesco Molinari | | 25 | | 2 | 1 | | MC | 16 | | | 49 | 20 |
| Marc Leishman | MC | 45 | | 62 | | 2 | 63 | | | | MC | 9 |
| Kiradech Aphibarnrat | | 15 | MC | 13 | 5 | | 30 | | 45 | | | 44 |
| Kyle Stanley | 15 | MC | | 2 | | | MC | 13 | | | | 52 |
| Gary Woodland | | 36 | | 23 | | | MC | MC | MC | | | MC |
| Si Woo Kim | 26 | MC | | 29 | 66 | | 63 | | | 45 | 2 | 24 |
| Adam Hadwin | 42 | MC | | MC* | 52 | | 57 | 16 | | | | 24 |
| Byeong Hun An | | 67 | MC | 2 | 15 | | 30 | 63 | MC | | 7 | |
| Charles Howell | | 25 | 26 | 65 | | 9 | 17 | 21 | | | 55 | |
| Jimmy Walker | | 56 | | | 20 | 6 | 2 | | 25 | 4 | | 20 |
| Chesson Hadley | MC | MC | | 40 | 20 | | 11 | 16 | 4 | 20 | 7 | |
| Kevin Na | 5 | | | MC | 4 | 6 | 46 | | MC | MC | MC | |
| Andrew Landry | MC | | | 65 | MC | | 67 | Wd | MC | 1 | 42 | |
| Tiger Woods | | MC | | 23 | | | 11 | 55 | | | | 32 |
| James Hahn | 36 | | 45 | MC | | MC | MC | MC | | | MC | |
| Ted Potter | MC | MC | | 57 | 42 | | 41 | 27 | | | 16 | MC |
| Bill Haas | MC | 36 | | 57 | 14 | MC | MC | MC | | MC* | 7 | |
| Beau Hossler | 2 | | | 44 | 64 | 32 | 46 | 34 | | 51 | 16 | |
| Billy Horschel | MC | | 51 | MC | | 21 | 37 | | 1 | 11 | 5 | MC |
| JB Holmes | 2 | | 3 | 13 | | 42 | MC | 42 | MC | MC | | |
| Jamie Lovemark | 19 | | | 37 | | | 17 | MC | 10 | 30 | | |
| Nick Watney | MC | | | 57 | MC | | 37 | 2 | 31 | 20 | 32 | |
| Ollie Schniederjans | MC | MC | | 65 | 74 | | MC* | 34 | | 36 | 42 | |
| Martin Laird | 61 | | | 23 | MC | MC | 57 | | 7 | 11 | 32 | |
| Anirban Lahiri | 9 | | | 37 | 58 | 26 | MC | MC | | 58 | MC | |
| Kevin Streelman | 33 | | | 44 | 76 | | MC | MC | | 8 | 7 | |
| Brian Gay | | 20 | 12 | 44 | | 12 | MC* | | MC | MC | 70 | |
| Patrick Rodgers | 26 | 41 | | 8 | MC | 53 | MC | 34 | | MC | | |
| Ryan Palmer | MC | | 51 | | MC | MC | 23 | | MC | MC | 76 | |
| Jason Kokrak | MC | | | MC | 32 | | 46 | MC | | 36 | MC | |
| Sung Kang | MC | | MC | 57 | MC | 42 | MC | MC | 36 | MC | MC | |
| Keith Mitchell | 56 | | 37 | MC | | 3 | MC* | 34 | MC | 26 | 55 | |
| Whee Kim | | | 1 | 29 | 58 | | MC | MC | 22 | MC | 50 | |
| Danny Lee | 15 | | MC | MC | 14 | | 7 | MC | MC | 51 | 55 | |
| JJ Spaun | 47 | | | MC | MC | 3 | MC | | MC | 26 | MC | |
| Andrew Putnam | | | 2 | | 20 | 42 | | MC* | 15 | 8 | | |
| Stewart Cink | 2 | | 4 | MC | 58 | | MC | 72 | | MC | 42 | |
| Rory Sabbatini | MC | | | 44 | 20 | 13 | 30 | 27 | MC | | 23 | |
| Ryan Armour | 56 | | | 23 | 14 | 59 | MC | | MC | MC | 55 | |
| Scott Stallings | 38 | MC | 30 | | MC | | MC | MC | MC | | 55 | |
| Kevin Tway | 6 | | MC | 65 | 5 | 9 | 46 | MC | MC | 36 | 67 | |
| Trey Mullinax | 67 | MC | 6 | MC | 58 | | MC | MC | 31 | 2 | | |
| Harold Varner | MC | MC | 51 | | MC | | 7 | 55 | MC | MC | MC | |
| Scott Brown | 47 | | MC | MC | MC | | 23 | MC | 15 | MC | MC | |
| Tom Hoge | MC | | MC | 13 | 42 | | MC* | MC* | 10 | MC | 55 | |
| Kelly Kraft | 47 | | 66 | 35 | MC | MC | MC | MC | MC | | MC | |
| CT Pan | MC | | 18 | | 20 | 32 | 46 | MC* | MC | MC | 23 | |
| Sam Saunders | 47 | | MC | | MC | MC | | 9 | MC | | MC | |
| Abraham Ancer | MC | | MC | 57 | 52 | 42 | | MC | MC | 58 | | |
| Chris Stroud | MC | | | | Wd | | 46 | 67 | 28 | Wd | MC | |
| John Huh | 61 | | MC | 44 | 42 | MC | MC | | 36 | MC | 23 | |
| Aaron Baddeley | MC | 25 | 37 | | MC | MC | | MC | MC | 16 | 55 | |
| Harris English | MC | | MC | | 20 | MC | MC | | MC | 36 | 32 | |
| Joaquin Niemann | | | MC | 6 | 8 | MC | | MC | | 6 | | MC |
| Talor Gooch | MC | | MC | | MC | MC | | 13 | MC | MC | | |
| David Lingmerth | 19 | | MC | 29 | MC | MC | MC | | MC | 51 | 74 | |
| Vaughn Taylor | 47 | | 18 | | 20 | 59 | MC | 42 | | 16 | MC | |
| Richy Werenski | 26 | MC | 4 | | 74 | MC | 23 | MC | 25 | 11 | MC | |
| Ben Silverman | MC | | 67 | | 11 | MC | | MC | MC | 45 | | |
| Stephan Jaeger | MC | | MC | MC | | MC | 1 | MC | MC | MC | | |
| Brandon Harkins | 38 | | 37 | MC | 66 | | 67 | 63 | MC | MC* | MC | |
| Robert Garrigus | MC | | 18 | | Wd | 21 | MC | | MC | MC | MC | |
| Nick Taylor | MC | | 30 | | MC | 32 | MC* | MC | | MC | MC | |
| Jonas Blixt | MC | | | MC | | | MC | 27 | MC | | 14 | |
| Ben Martin | MC | | MC | | 32 | MC | MC | MC | | 45 | 55 | |
| Mackenzie Hughes | 42 | MC | MC | MC | 42 | | 57 | 59 | MC | MC | MC | |
| Martin Piller | MC | | MC | MC | 77 | 21 | | MC | | MC | | |
| Alex Cejka | 33 | | | 40 | 66 | MC | | 27 | 31 | | | |
| Brian Stuard | MC | MC | MC | 70 | 32 | 42 | | MC | 28 | 36 | 67 | |
| Sam Ryder | 26 | | MC | | | 42 | | MC | MC | 36 | MC | |
| Robert Streb | MC | | MC | MC* | 52 | 53 | MC | 42 | | | MC | |
| Dominic Bozzelli | 72 | | 51 | | | 59 | MC | MC | | MC | 40 | |
| Ryan Blaum | 12 | | 18 | | MC | 6 | MC* | MC* | MC | | MC | |
| Tyrone Van Aswegen | MC | | MC | | 14 | MC | 66 | MC* | 19 | MC | 23 | |
| Nicholas Lindheim | MC | | 56 | | 32 | 32 | | MC | 25 | 36 | | |
| Derek Fathauer | MC | | 56 | | 42 | 16 | MC | MC | | MC | MC | |
| Matt Jones | 19 | MC | 51 | | | 13 | | | 19 | MC | | |
| Michael Thompson | | | | | 32 | 59 | MC | 42 | | 68 | 42 | |
| Seamus Power | 36 | | 12 | | Dq | MC | | 27 | 10 | MC | | |
| Ben Crane | | | MC | | 8 | 53 | | | 31 | 11 | | |
| JT Poston | MC | | 18 | | 20 | 26 | | MC | MC | 30 | | |
| Rob Oppenheim | MC | | MC | | | MC | 57 | MC | 15 | MC | | |
| Tom Lovelady | 61 | | MC | | 58 | 70 | | 34 | MC | MC | | |
| Nate Lashley | | | 37 | | Wd | 32 | | MC | 15 | MC | | |
| Troy Merritt | MC | | 12 | | | 53 | | 42 | 10 | 36 | | |
| Chad Campbell | MC | | 45 | | 42 | MC | MC | | 19 | MC | MC | |
| Lanto Griffin | 38 | MC | MC | | 2 | MC | | MC | MC | 58 | | |
| Corey Conners | MC | | 68 | | 8 | 53 | | 42 | MC | 26 | MC | |
| Martin Flores | 72 | | MC | | MC | 26 | MC | 59 | MC | MC | MC | |
| Jonathan Byrd | MC | | MC | | MC | 42 | | MC | 15 | MC | 50 | |
| Johnson Wagner | | | MC | | | 32 | | 13 | MC | 20 | | |
| Adam Schenk | MC | | MC | | MC | 59 | | MC | 7 | 58 | | |
| Xin Jun Zhang | MC | | MC | | MC | MC | | 70 | MC | MC | | |
| Daniel Summerhays | | | MC | MC | | MC | 8 | | 6 | 58 | | |
| Jonathan Randolph | MC | | 70 | | | MC | | 70 | 31 | MC | | |
| Tyler Duncan | 33 | 56 | 37 | | 71 | 26 | | MC* | 7 | MC | | |
| Joel Dahmen | MC | | MC | | 20 | 16 | | 16 | 25 | MC* | | |
| Shawn Stefani | MC | | MC | | 66 | 26 | | 42 | MC | MC | | |
| Cody Gribble | | | 30 | | MC | 32 | 30 | | 34 | MC | MC | |
| Bronson Burgoon | MC | | MC | | | 16 | | MC | | MC | | |
| Denny McCarthy | 47 | | 18 | | | 42 | | MC | 25 | 20 | | |
| Smylie Kaufman | MC | | MC | | MC | MC | | MC | MC | | | |
| Rod Pampling | MC | | | MC* | MC | 70 | MC | MC | | 68 | 32 | |
| DA Points | MC | | MC | | | | MC | MC | MC | | MC | |
| Cameron Tringale | 69 | | MC | | | MC | | 27 | MC | MC | | |
| Michael Kim | MC | | 18 | | | MC | MC | | 15 | MC | 77 | |
| David Hearn | | | MC | | MC | MC | | | 10 | 16 | MC | |
| Geoff Ogilvy | MC | | | | | 32 | MC | MC | | MC | MC | |
| Blayne Barber | 26 | | MC | | | MC | MC | 67 | MC | | MC | |
| Cameron Percy | 44 | | 26 | 6 | Wd | 70 | | | 10 | MC | | |
| JJ Henry | 42 | | MC | | MC | MC | 67 | MC* | 10 | MC | 16 | |
| Ricky Barnes | | | MC | | MC | Dq | | | MC | 51 | | |
| Zac Blair | | | 45 | | 67 | 42 | 38 | | MC | 36 | | |
| Billy Hurley | 47 | | MC | | | MC | | MC* | MC | MC | MC | |
| Jason Gore | MC | | MC | 35 | | 68 | | | Wd | Wd | | |
| Ethan Tracy | 69 | | MC | | MC | 13 | 38 | | 5 | 72 | | |
| Roberto Diaz | MC | | MC | 20 | | 66 | | MC | MC | MC | | |
| Peter Malnati | 26 | | 30 | | | 59 | | 34 | MC | 64 | 67 | |
| Matt Every | MC | | MC | | | MC | | MC | MC | MC | 55 | |
| Hunter Mahan | 56 | | MC | | | MC | | | | 45 | | |
| Fabian Gomez | 19 | | 45 | | MC | 32 | | MC* | MC | MC | 50 | |
| Stuart Appleby | MC | | 12 | MC | | MC | MC | | MC | MC | | |
| Tim Herron | | | 37 | | 11 | MC | | | | | | |
| Dylan Meyer | MC | 20 | | | | | | | | | | |
| Doug Ghim | MC | MC | | | | | | | | | | 50 |
| Doc Redman | | | | MC | | | | | | | 50 | MC |
| Player | 2017 |
| --- | --- |
| Rickie Fowler | 3 |
| Francesco Molinari | |
| Marc Leishman | 5 |
| Kiradech Aphibarnrat | |
| Kyle Stanley | 1 |
| Gary Woodland | |
| Si Woo Kim | MC |
| Adam Hadwin | MC |
| Byeong Hun An | 29 |
| Charles Howell | 2 |
| Jimmy Walker | MC |
| Chesson Hadley | |
| Kevin Na | 22 |
| Andrew Landry | |
| Tiger Woods | |
| James Hahn | 46 |
| Ted Potter | |
| Bill Haas | 13 |
| Beau Hossler | |
| Billy Horschel | 26 |
| JB Holmes | 68 |
| Jamie Lovemark | |
| Nick Watney | 13 |
| Ollie Schniederjans | 63 |
| Martin Laird | 3 |
| Anirban Lahiri | |
| Kevin Streelman | 17 |
| Brian Gay | 43 |
| Patrick Rodgers | 22 |
| Ryan Palmer | |
| Jason Kokrak | 26 |
| Sung Kang | 5 |
| Keith Mitchell | |
| Whee Kim | Wd |
| Danny Lee | 22 |
| JJ Spaun | MC |
| Andrew Putnam | |
| Stewart Cink | |
| Rory Sabbatini | |
| Ryan Armour | |
| Scott Stallings | 38 |
| Kevin Tway | 55 |
| Trey Mullinax | 46 |
| Harold Varner | 65 |
| Scott Brown | |
| Tom Hoge | |
| Kelly Kraft | 43 |
| CT Pan | MC |
| Sam Saunders | 61 |
| Abraham Ancer | |
| Chris Stroud | MC |
| John Huh | MC |
| Aaron Baddeley | MC |
| Harris English | 22 |
| Joaquin Niemann | |
| Talor Gooch | |
| David Lingmerth | 5 |
| Vaughn Taylor | 61 |
| Richy Werenski | |
| Ben Silverman | |
| Stephan Jaeger | |
| Brandon Harkins | |
| Robert Garrigus | 29 |
| Nick Taylor | 29 |
| Jonas Blixt | MC |
| Ben Martin | 5 |
| Mackenzie Hughes | 51 |
| Martin Piller | |
| Alex Cejka | MC |
| Brian Stuard | |
| Sam Ryder | |
| Robert Streb | 55 |
| Dominic Bozzelli | MC |
| Ryan Blaum | 55 |
| Tyrone Van Aswegen | 26 |
| Nicholas Lindheim | |
| Derek Fathauer | 68 |
| Matt Jones | 38 |
| Michael Thompson | Wd |
| Seamus Power | 38 |
| Ben Crane | 38 |
| JT Poston | |
| Rob Oppenheim | |
| Tom Lovelady | |
| Nate Lashley | |
| Troy Merritt | MC |
| Chad Campbell | |
| Lanto Griffin | |
| Corey Conners | |
| Martin Flores | 55 |
| Jonathan Byrd | |
| Johnson Wagner | 5 |
| Adam Schenk | |
| Xin Jun Zhang | |
| Daniel Summerhays | 17 |
| Jonathan Randolph | 29 |
| Tyler Duncan | |
| Joel Dahmen | |
| Shawn Stefani | 55 |
| Cody Gribble | MC |
| Bronson Burgoon | |
| Denny McCarthy | |
| Smylie Kaufman | MC |
| Rod Pampling | MC |
| DA Points | 65 |
| Cameron Tringale | MC |
| Michael Kim | 35 |
| David Hearn | 73 |
| Geoff Ogilvy | 13 |
| Blayne Barber | MC |
| Cameron Percy | 46 |
| JJ Henry | 68 |
| Ricky Barnes | 17 |
| Zac Blair | 29 |
| Billy Hurley | 63 |
| Jason Gore | 13 |
| Ethan Tracy | |
| Roberto Diaz | |
| Peter Malnati | 38 |
| Matt Every | MC |
| Hunter Mahan | |
| Fabian Gomez | Wd |
| Stuart Appleby | |
| Tim Herron | |
| Dylan Meyer | |
| Doug Ghim | |
| Doc Redman | |
Discover the latest articles
Read past articles