Puerto Rico Open 2020: Your essential stats guide for the PGA Tour event in the Caribbean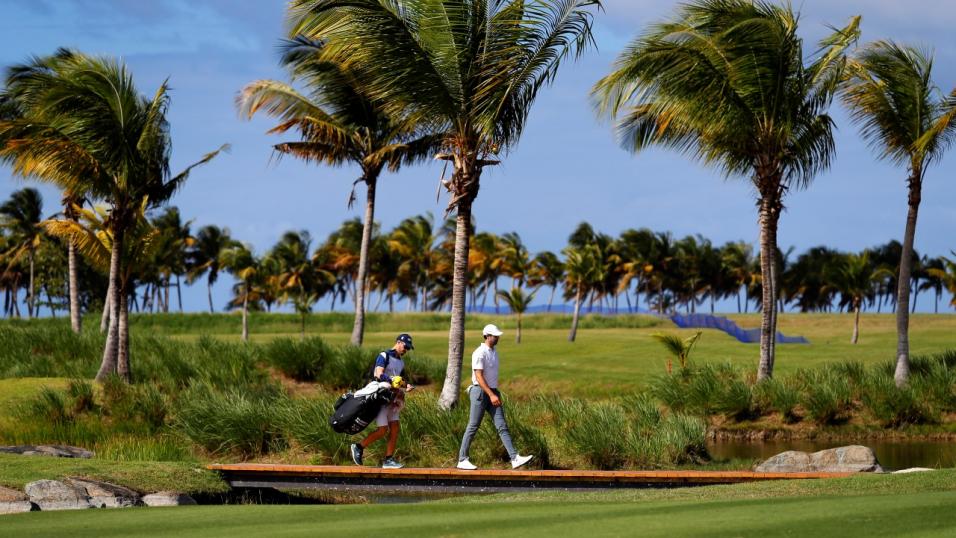 Coco Beach is a windy Caribbean resort which first hosted this event 12 years ago
Andy Swales supplies course and current form stats for this week's event at the Tom Kite-designed Coco Beach Golf Club...
"Alex Noren's form at coastal venues on the PGA Tour has been reasonable of late, and should certainly stand up to scrutiny in a low grade event such as this."
The Caribbean island of Puerto Rico welcomes the PGA Tour to Coco Beach Golf Club.
First staged in 2008, the Puerto Rico Open has always been considered somewhat second rate, and is certainly one of the least prestigious stops on the PGA Tour schedule.
All previous events at Coco Beach have been staged in the same week as another usually more important tournament, and this year is no exception.
Once again, the majority of the game's leading pros have opted to tee-up at the World Golf Championship event in Mexico.
This means, just three members of the world's top 100 have arrived in Rio Grande for the 12th instalment of the tournament.
Euro Challenge
The five highest-ranked members of this week's field are all Europeans, of which Alex Noren might well be considered the leading challenger.
His form at coastal venues on the PGA Tour has been reasonable of late, and should certainly stand up to scrutiny in a low grade event such as this.
He tied 10th at Sea Island, Georgia, in November, having posted another T-20 in Bermuda a few weeks prior to that.
Earlier this month at Pebble Beach, the 37-year-old Swede tied-32nd in a field that was much stronger than the one teeing-up at Coco Beach.
Check out latest betting ahead of this week's Puerto Rico Open.
With regards to course form, Scott Brown is certainly top dog this week.
The 36-year-old from Georgia has posted five top-10s in Puerto Rico, which include a victory in 2013.
Brown arrives in the Caribbean following his tie-for-second at The Genesis Invitational on Sunday, which was his best result since finishing runner-up over the same course in 2017.
Other pros with a decent history at Coco Beach are Chris Stroud, Andres Romero and David Hearn, although none of this trio has any great current form to speak of.
One golfer who has started 2020 solidly is Patrick Rodgers. The 27-year-old from Indiana tied-30th in Los Angeles, and enjoyed a top-10 finish at Torrey Pines just a handful of weeks ago.
Coastal Location
Designed by Tom Kite and opened in 2004, Coco Beach is a typical resort course built to attract tourists all-year round.
Located in the north-east of the island, around 20 miles from its capital San Juan, this low-lying venue is made up of four nine-hole courses, with its Lakes and Ocean layouts combining to form this week's 18.
Due to its coastal location, wind usually plays a significant role while water is a constant companion, coming into play on 15 holes.
Coco Beach is around 1,000 miles from the southern tip of Florida, Puerto Rico's nearest point to the US mainland.
Ten of the 11 previous winners of the tournament have been American.
Note: There was no event in 2018 due to the devastating damage caused by Hurricane Maria which struck the region in September of the previous year.
Twitter: Andy Swales@GolfStatsAlive
MC* - Missed Additional 54-Hole Cut
Note: List Contains Leading Reserves
| Player | W7 | W6 | W5 | W4 | W3 | W2 | W1 | W52 | W51 | W50 |
| --- | --- | --- | --- | --- | --- | --- | --- | --- | --- | --- |
| Tom Lewis | | | MC | 3 | MC | | | | | |
| Andrea Pavan | | | MC | MC | MC | 30 | | | | |
| Alexander Noren | 59 | 32 | | | 14 | 32 | | | | |
| Viktor Hovland | | 38 | MC | 23 | MC | | | | | |
| Lucas Bjerregaard | | | MC | MC | MC | | | | | |
| Emiliano Grillo | MC | | MC | MC | | 21 | | | | |
| Kiradech Aphibarnrat | MC | MC | MC | | 42 | | | | 39 | |
| Xin Jun Zhang | | 64 | 25 | 55 | MC | MC | | | | |
| Kyle Stanley | 64 | | MC | MC | MC | MC | | | | |
| Jhonattan Vegas | MC | | 17 | 30 | 55 | | | | | |
| Robby Shelton | | | MC | 36 | MC | MC | | | | |
| Zack Sucher | | MC | MC | 36 | MC | | | | | |
| Chesson Hadley | | 18 | 59 | MC | 29 | MC | | | | |
| Kristoffer Ventura | | MC | | MC | MC | MC | | | | |
| Beau Hossler | | 38 | 66 | 9 | MC | | | | | |
| Zac Blair | | 18 | | 21 | 55 | 63 | | | | |
| Henrik Norlander | | 25 | | MC | 68 | 9 | | | | |
| Matthew NeSmith | | 11 | | 30 | 17 | 32 | | | | |
| Adam Schenk | 47 | 50 | MC | | 14 | MC | | | | |
| Brice Garnett | | MC | 52 | | MC | MC | | | | |
| Kramer Hickok | | Wd | | MC | MC | 45 | | | | |
| Cameron Davis | | 38 | | 36 | 29 | 9 | | | 3 | |
| Fabian Gomez | | MC | | MC | 55 | MC | | | | |
| Maverick McNealy | | 5 | | 15 | 37 | | | | | |
| Chase Seiffert | | 50 | | 71 | 21 | 38 | | | | |
| Sam Ryder | MC | | 55 | MC | 29 | 28 | | | | |
| Roger Sloan | MC | | MC | MC | MC | MC | | | | |
| Robert Streb | | MC | | MC | MC | MC | | | | |
| Satoshi Kodaira | | MC | MC | MC | | 66 | | | | |
| Chris Stroud | MC | MC | MC | MC | MC | | | | | |
| Richy Werenski | | MC | | 73 | MC | | | | | |
| Bo Hoag | | MC | | MC | Wd | 9 | | | | |
| Patrick Rodgers | 30 | MC | 16 | 9 | 64 | 38 | | | | |
| Matt Every | MC | 32 | MC | | 74 | Wd | | | | |
| Cameron Percy | | | | 36 | MC | MC | | | | |
| Hank Lebioda | | MC | | MC | 17 | MC | | | | |
| Kyoung-Hoon Lee | 13 | | MC | MC | 21 | MC | | | | |
| Austin Cook | | MC | MC | MC | MC | | | | | |
| Roberto Diaz | MC | 12 | 2 | 7 | 24 | | | | | |
| Peter Uihlein | 20 | MC | | MC | | | | | | |
| Wes Roach | | 55 | | MC | 64 | | | | | |
| Sebastian Cappelen | | MC | MC | 21 | 6 | | | | | |
| DJ Trahan | | MC | | MC | 68 | 28 | | | | |
| Ted Potter | | MC | MC | MC | 37 | 7 | | | | |
| Ryan Brehm | 53 | 68 | | 49 | 55 | MC | | | | |
| Nelson Ledesma | | MC | | MC | MC | MC | | | | |
| Mark Anderson | | MC | | 30 | | 21 | | | | |
| Josh Teater | | MC | | MC | 68 | | | | | |
| Tyler McCumber | | 32 | | 21 | 64 | MC | | | | |
| Andres Romero | | | | | | | | | | |
| Scott Brown | 2 | MC | | MC | MC | MC | | | | |
| Shawn Stefani | 32 | | | | | | | | | |
| Rhein Gibson | | MC | | 70 | MC | 57 | | | 49 | |
| Grayson Murray | | | 55 | 55 | 10 | | | | | |
| Martin Laird | 43 | | 55 | 55 | MC | | | | | |
| Martin Trainer | 47 | MC | MC | MC | MC | MC | 34 | | | |
| Johnson Wagner | MC | MC | | | | | | | | |
| Tim Wilkinson | | 25 | | MC | 21 | 32 | | | | |
| David Hearn | | MC | | | 37 | MC | | | | |
| Brandon Hagy | | MC | 16 | MC | 48 | MC | | | | |
| Joseph Bramlett | 51 | 18 | | 45 | MC | 45 | | | | |
| Michael Gellerman | | MC | | MC | MC | 38 | | | | |
| Chris Baker | | 38 | | 73 | MC | MC | | | | |
| Anirban Lahiri | | MC | | MC | 73 | MC | | | | |
| Michael Gligic | | 55 | | MC | 21 | MC | | | | |
| Seamus Power | | 38 | | | | | | | | |
| Doug Ghim | | MC | | MC | MC | MC | | | | |
| Vincent Whaley | | 38 | | MC | 29 | MC | | | | |
| Dominic Bozzelli | | MC | | 79 | MC | | | | | |
| Jonathan Byrd | | MC | | | | | | | | |
| Bill Haas | | MC | | 73 | MC | | | | | |
| Roberto Castro | | MC | | | | | | | | |
| Rob Oppenheim | | 38 | | MC | MC | 21 | | | | |
| Sam Saunders | | MC | | | MC | | | | | |
| Alex Cejka | | 32 | | 71 | | | | | | 5 |
| Sangmoon Bae | 38 | MC | MC | | | | | | | |
| Ben Taylor | | MC | | 55 | MC | MC | | | | |
| Chad Campbell | | MC | | | | | | | | |
| Ben Martin | | 25 | | MC | 29 | 45 | | | | |
| George McNeill | | MC | | | | | | | | |
| Julian Etulain | 68 | 31 | MC | MC | 11 | | | | | |
| David Lingmerth | MC | MC | MC | 56 | | | | | | |
| JJ Henry | | MC | | | | | | | | |
| John Merrick | | | | | | | | | | |
| Ricky Barnes | | MC | | | MC | | | | | |
| DA Points | MC | MC | | | | | | | | |
| Freddie Jacobson | | | | | | | | | | |
| John Senden | | 67 | | MC | MC | | | | MC | |
| Robert Garrigus | 11 | MC | | MC | 24 | | | | | |
| Derek Ernst | | MC | MC | 66 | MC | | | | | |
| MJ Daffue | | | 73 | | | | | | | |
| Arjun Atwal | | MC | | | | | | | 60 | 64 |
| Eric Axley | | MC | 67 | MC | | | | | | |
| Smylie Kaufman | | MC | | | | MC | | | MC | Wd |
| Davis Thompson | | | | | | | | | | |
| Parker McLachlin | | | | | | MC | | | | |
| Heath Slocum | | | | | | | | | | |
| Robert Allenby | | | | MC | | | | | MC | |
| Alex Beach | | | | MC | | MC | | | | |
| Charlie Beljan | | | | | | | | | | |
| Daniel Chopra | | | | | | | | | 28 | MC |
| Brendon de Jonge | | | | | | | | | | |
| Carlos Franco | | | | | | | | | | |
| Ted Purdy | | | | | | | | | | |
| Bo Van Pelt | | MC | MC | | MC | MC | | | | |
| John Rollins | | | | | | | | | | |
| Dicky Pride | | | | | | | | | | |
| Justin Bertsch | | | | | | | | | | |
| Chris Couch | | | | | | | | | | |
| Edward Figueroa | | | | | | | | | | |
| Parker Gillam | | | | | | | | | | |
| Brian Davis | | | | | | | | | | |
| Jason Bohn | | | | | | | | | | |
| Will MacKenzie | | | | | | | | | | |
| Jonathan Kaye | | | | | | | | | | |
| Cameron Beckman | | | | | | | | | | |
| Omar Uresti | | | | | | | | | | |
| Ken Duke | | | | | | | | | | |
| Hiram Silfa | | | | | | | | | | |
| Domenico Geminiani | | | | | | | | | | |
| Derek Gillespie | | | | | | | | | | |
| Jay McLuen | | | | | | | | | | |
| Bryson Nimmer | | | | | | | | | | |
| Chris Nido | | | | | | | | | | |
| Chandler Phillips | | | | | | | | | | |
| Player | `19 | `17 | `16 | `15 | `14 | `13 | `12 | `11 | `10 | `09 |
| --- | --- | --- | --- | --- | --- | --- | --- | --- | --- | --- |
| Tom Lewis | | | | | | | | | | |
| Andrea Pavan | | | | | | | | | | |
| Alexander Noren | | | | | | | | | | |
| Viktor Hovland | | | | | | | | | | |
| Lucas Bjerregaard | | | | | | | | | | |
| Emiliano Grillo | | | | 2 | 29 | | 42 | | | |
| Kiradech Aphibarnrat | | | | | | | | | | |
| Xin Jun Zhang | | | | | | | | | | |
| Kyle Stanley | | | MC | | | | | 28 | | |
| Jhonattan Vegas | | | 26 | | 69 | | MC | | 24 | |
| Robby Shelton | | MC | | | | | | | | |
| Zack Sucher | | 49 | | MC | | | | | | |
| Chesson Hadley | | MC* | MC | 16 | 1 | | | | | |
| Kristoffer Ventura | MC | | | | | | | | | |
| Beau Hossler | | | | | | | | | | |
| Zac Blair | 59 | 62 | | 38 | | | | | | |
| Henrik Norlander | | | 39 | | | 57 | | | | |
| Matthew NeSmith | | | | | | | | | | |
| Adam Schenk | 16 | | | | | | | | | |
| Brice Garnett | | | 26 | 38 | MC* | | | | | |
| Kramer Hickok | 35 | | | | | | | | | |
| Cameron Davis | 16 | | | | | | | | | |
| Fabian Gomez | 25 | 24 | | 47 | MC | 2 | | 7 | | |
| Maverick McNealy | | | | | | | | | | |
| Chase Seiffert | | | | | | | | | | |
| Sam Ryder | | | | | | | | | | |
| Roger Sloan | 2 | | | MC | | | | | | |
| Robert Streb | 59 | | | | 14 | 11 | | | | |
| Satoshi Kodaira | | | | | | | | | | |
| Chris Stroud | | 8 | 26 | 27 | 9 | 18 | | | 61 | |
| Richy Werenski | | MC* | | | | | | | | |
| Bo Hoag | | | MC | | | | | | | |
| Patrick Rodgers | | | 21 | | | | | | | |
| Matt Every | 16 | MC | | | | MC | 48 | 22 | | |
| Cameron Percy | | 24 | 26 | MC | | 14 | | 28 | 67 | |
| Hank Lebioda | MC | | | | | | | | | |
| Kyoung-Hoon Lee | 35 | | | | | | | | | |
| Austin Cook | | | | | | | | | | |
| Roberto Diaz | 10 | | | | | | | | | |
| Peter Uihlein | 66 | 5 | | MC | | 6 | MC | | | |
| Wes Roach | 75 | | MC | | 4 | | | | | |
| Sebastian Cappelen | | | | | | | | | | |
| DJ Trahan | 16 | | 54 | 38 | MC | 8 | | | | |
| Ted Potter | | | | | 29 | | 48 | | | |
| Ryan Brehm | | MC | | | | | | | | |
| Nelson Ledesma | | | | | | | MC | | | |
| Mark Anderson | | 10 | | | MC | | 58 | | | |
| Josh Teater | MC | | | 38 | | 39 | | 66 | | |
| Tyler McCumber | | | | | | | | | | |
| Andres Romero | 25 | MC | 5 | 64 | MC | 6 | 20 | | | |
| Scott Brown | 10 | 17 | 5 | 10 | 64 | 1 | 5 | | | |
| Shawn Stefani | 6 | 32 | MC | | | 39 | | | | |
| Rhein Gibson | | | MC | | | | | | | |
| Grayson Murray | | | | | | | | | | |
| Martin Laird | | | | | | | | | | |
| Martin Trainer | 1 | | | | | | | | | |
| Johnson Wagner | 2 | | MC | 55 | MC | | | | 42 | |
| Tim Wilkinson | | 17 | 21 | | MC | | | | MC | MC |
| David Hearn | 25 | 17 | | | 24 | 8 | | 14 | | |
| Brandon Hagy | | MC | | 16 | | | | | | |
| Joseph Bramlett | | | | | | | | 69 | | |
| Michael Gellerman | | | | | | | | | | |
| Chris Baker | | | | | | | | | | |
| Anirban Lahiri | | | | | | | | | | |
| Michael Gligic | | | | | | | | | | |
| Seamus Power | | MC | | | | | | | | |
| Doug Ghim | | | | | | | | | | |
| Vincent Whaley | | | | | | | | | | |
| Dominic Bozzelli | 25 | MC | | | | | | | | |
| Jonathan Byrd | 21 | MC* | 39 | 16 | 12 | | | | | 13 |
| Bill Haas | | | | | | | | | | |
| Roberto Castro | 25 | | | 27 | | 24 | 14 | | | |
| Rob Oppenheim | | | MC | | | | | | | |
| Sam Saunders | | 5 | 39 | 2 | | | | | | |
| Alex Cejka | | 49 | 11 | 1 | 54 | | | | MC | 13 |
| Sangmoon Bae | MC | | | | | 67 | | | | |
| Ben Taylor | | | | | | | | | | |
| Chad Campbell | 42 | | | | MC | MC | | | | |
| Ben Martin | | | | | 3 | | | 42 | | |
| George McNeill | MC | MC | Dq | | 19 | 57 | 1 | 5 | | |
| Julian Etulain | 35 | 17 | | | MC | | | 42 | | |
| David Lingmerth | 49 | | | | | | | | | |
| JJ Henry | 10 | 8 | | 64 | Dq | | 58 | | 38 | |
| John Merrick | MC | 49 | Wd | 22 | | | | 11 | 68 | 6 |
| Ricky Barnes | MC | 56 | 39 | MC | 9 | | | | | 66 |
| DA Points | 42 | 1 | 65 | | | MC | | | | 9 |
| Freddie Jacobson | MC | 56 | 15 | | | | | 14 | | |
| John Senden | 62 | 37 | | | | | | | | |
| Robert Garrigus | MC | MC | MC | | | | | | 38 | 38 |
| Derek Ernst | 66 | | 65 | MC | | MC | | | | |
| MJ Daffue | | | | | | | | | | |
| Arjun Atwal | 70 | | | 27 | | MC | MC | | | |
| Eric Axley | MC | | MC | 22 | 24 | Wd | | | MC | 44 |
| Smylie Kaufman | | | | | | | | | | |
| Davis Thompson | | | | | | | | | | |
| Parker McLachlin | 35 | | | | | | | | | |
| Heath Slocum | MC | | | MC | | 50 | 58 | | | |
| Robert Allenby | 49 | | MC | | MC | MC | | | | |
| Alex Beach | | | | | | | | | | |
| Charlie Beljan | MC | | MC | | | | 48 | | | |
| Daniel Chopra | MC | | | 38 | 58 | | MC | MC | | |
| Brendon de Jonge | MC | MC | 60 | 10 | | 11 | 48 | 14 | 3 | |
| Carlos Franco | | | | MC | | | | MC | Wd | 38 |
| Ted Purdy | MC | | 68 | MC | | | | MC | | 38 |
| Bo Van Pelt | | | | 47 | | | | | | 69 |
| John Rollins | MC | | 54 | MC | 58 | MC | | MC | | |
| Dicky Pride | MC | 68 | MC | 27 | MC | 11 | 20 | 50 | Wd | MC |
| Justin Bertsch | | | | | | | | | | |
| Chris Couch | 66 | | | | | | | | | |
| Edward Figueroa | MC | MC | MC | MC | | MC | MC | | | |
| Parker Gillam | | | | | | | | | | |
| Brian Davis | 42 | | MC | | | MC | 63 | | | |
| Jason Bohn | MC | | | | | | MC | | | |
| Will MacKenzie | MC | 49 | 8 | 6 | | | 32 | 50 | | |
| Jonathan Kaye | 71 | | | | | | | Wd | 45 | |
| Cameron Beckman | MC | | MC | 55 | 37 | MC | | | | |
| Omar Uresti | MC | | | | | | | 55 | 45 | 21 |
| Ken Duke | 62 | MC | 62 | | | | 70 | | MC | |
| Hiram Silfa | MC | | | | | | | | | |
| Domenico Geminiani | | | | | | | | | | |
| Derek Gillespie | | | | | | | | | | |
| Jay McLuen | MC | MC | | | | | | | | |
| Bryson Nimmer | 47 | | | | | | | | | |
| Chris Nido | | MC | | | | | | | | |
| Chandler Phillips | | | | | | | | | | |
Discover the latest articles
Read past articles