Presidents Cup 2019: International team v United States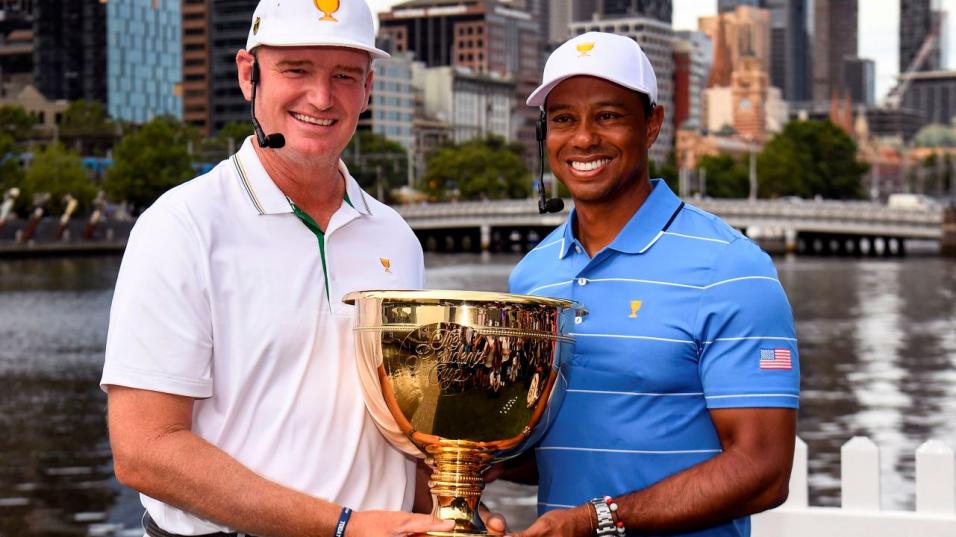 This week's team captains: Ernie Els and Tiger Woods
Can the United States continue their dominance of the Presidents Cup, which returns to Royal Melbourne for a third time this week? Words and stats supplied by Andy Swales...
"These seven most recent encounters have produced a cumulative points' total of 129½ - 100½ in favour of the USA – which is an average winning margin of greater than four points per match."
As sporting contests go, there has hardly been a more one-sided affair than the biennial Presidents Cup.
Since this match began in 1994, the United States have emerged triumphant 10 times out of 12, with just a solitary victory for the International team.
That happened 21 years ago, with the Americans winning each of the last seven instalments starting in 2005.
These seven most recent encounters have produced a cumulative points' total of 129½ - 100½ in favour of the USA - which is an average winning margin of greater than four points per match.
You have to go back to the Ryder Cup, during the 1960s and 1970s, to witness a more lop-sided match-up than this - with the exception of 1969.
Back then, however, the gulf in class between the USA and the former Great Britain & Ireland (GB&I) was noticeably far greater than exists between today's Americans and the players which have traditionally represented the International dozen.
Take away the top four or five GB&I stars from 50 years ago, and you were left with players who could almost be described as glorified club pros, who will have spent more time playing events in Britain than competing around the world in top-class events.
Compare this to the first 25 years of Presidents Cup action, during which time the International side has been graced by as many as 15 major winners, plus plenty of world top-25 players.
So it's baffling as to why there has been such a mismatch sequence of results since 1994.
Why are the Americans so dominant in the Presidents match, compared to the Ryder Cup?
Putting Brexit to one side for a moment, Europe has more of an identity than the International side - which generally means the rest of the world, minus Europeans.
So when Europe's top players get together every two years, it is far easier to conjure up a strong collective bond and team spirit, as most of them will have competed on the European Tour together at some point during their careers.
This year's International team will feature players from more than one continent - Australia (3) South Korea (2), Japan, South Africa, Mexico, China, Canada, Chile and Chinese Taipei.
It's also worth noting the Americans appear to have some sort of hang-up about the Ryder Cup - which they have won just three times in the last 12 meetings.
Check out latest betting ahead of this week's Presidents Cup
In almost every one of these fixtures, the USA will have teed-up possessing a sum of the parts far greater than their opponents.
This was even the case in 2018, when their 12-man team included 11 top-20 ranked players - compared to six from Europe.
But the American visitors to Paris still ended up being trounced 17½-10½, amid reports of disputes within the US camp.
Perhaps they are just too desperate to win the Ryder Cup while, in the Presidents Cup, they are probably more relaxed and therefore perform closer to their true potential.
So are there any stats to suggest the International team could pull off a rare success this week
• More than half of the International XII are rookies. Seven of the 12 have never played in this match before, compared to five from the States. However, two of this group of five Americans have experienced the Ryder Cup, which is likely to be an advantage.
• Of the five non-rookies playing for the International team, only one - Louis Oosthuizen - has a positive (more than 50%) Presidents Cup record. The South African has claimed 56.67% of his points from 15 games.
• Alternatively, six of the seven Americans enjoy a career-record better than 50% - Matt Kuchar is the exception. Collectively, their Ryder Cup stats are not as good.
• The difference in World Ranking is no different to normal. Even without an injured Brooks Koepka, all 12 US players are inside the top 25, compared to just three from 'the hosts'. In fact, six of their members are ranked lower than 40.
• The International side's sole victory in 1998 did, at least, happen at this week's venue in Melbourne. Non-playing skipper in 2019, Ernie Els, was a leading member of that victorious team.
However, it is also worth mentioning that when the match returned there eight years ago, the USA won 19-15.
• While 11 members of the US side competed in The Bahamas last week, six of the International team played in the Australian Open - so should be fully acclimatised to the time zone. And Mexico's Abraham Ancer will still have good memories of the country having won Australia's national championship 12 months ago.
• One player who will be a little under-cooked is Dustin Johnson, who hasn't teed-up competitively since the Tour Championship in August. The world No 5 was expected to play last week's Hero World Challenge in The Bahamas but withdrew as a precaution. He underwent arthroscopic surgery on his left knee in early September.
Click here to view PRESIDENTS CUP records for both teams
Trying to find any scraps of positives for the International team, ahead of this week's encounter, is not easy.
Although the Americans are playing on foreign soil, there are still only three Australians teeing-up, so technically 21 of the 24 are competing away from home.
So unless the underdogs can make a fast start at Royal Melbourne, it appears that an eighth straight victory for the Americans is on the cards this Sunday.
Twitter: Andy Swales@GolfStatsAlive

Form Last 12 Weeks
| Player | W49 | W48 | W47 | W46 | W45 | W44 | W43 | W42 | W41 | W40 |
| --- | --- | --- | --- | --- | --- | --- | --- | --- | --- | --- |
| INTERNATIONAL | | | | | | | | | | |
| Byeong Hun An | | | | | | 14 | 8 | 6 | | MC |
| Abraham Ancer | 33 | | | 8 | | 4 | 41 | 57 | | MC |
| Adam Hadwin | | | 68 | | | 46 | 41 | | | 4 |
| Sung Jae Im | | | | | | 11 | 3 | 39 | 1 | |
| Marc Leishman | 10 | | | | | | 69 | 43 | | |
| Hao Tong Li | | 2 | 43 | 52 | 46 | 24 | | | MC | MC |
| Hideki Matsuyama | | | 8 | | | 11 | 2 | 3 | | 16 |
| Joaquin Niemann | | | | MC | | | 33 | 12 | | MC |
| Louis Oosthuizen | 2 | | 20 | 6 | | 3 | 46 | | | |
| CT Pan | MC | | | 11 | 56 | | 59 | 56 | | MC |
| Adam Scott | MC | | | | | 11 | 33 | 5 | | 42 |
| Cameron Smith | 27 | | | | | 60 | | 3 | | 13 |
| UNITED STATES | | | | | | | | | | |
| Patrick Cantlay | 17 | | | | | | | | | 2 |
| Bryson DeChambeau | 15 | | | | | | | | | 4 |
| Tony Finau | 10 | | | MC | | 53 | 59 | | | 9 |
| Rickie Fowler | 9 | | | | | | | | | |
| Dustin Johnson | | | | | | | | | | |
| Matt Kuchar | 14 | | MC | 14 | | | | | | |
| Patrick Reed | 3 | | 28 | | 10 | 8 | 17 | | | |
| Xander Schauffele | 10 | | | | | 2 | 10 | | | |
| Webb Simpson | 10 | | 2 | | | | | | | 7 |
| Justin Thomas | 5 | | | | | | 17 | 1 | | |
| Gary Woodland | 7 | | 20 | | | | 5 | 3 | | 55 |
| Tiger Woods | 4 | | | | | | 1 | | | |
Discover the latest articles
Read past articles