PGA Championship 2018: Major form stats for this week's event in St Louis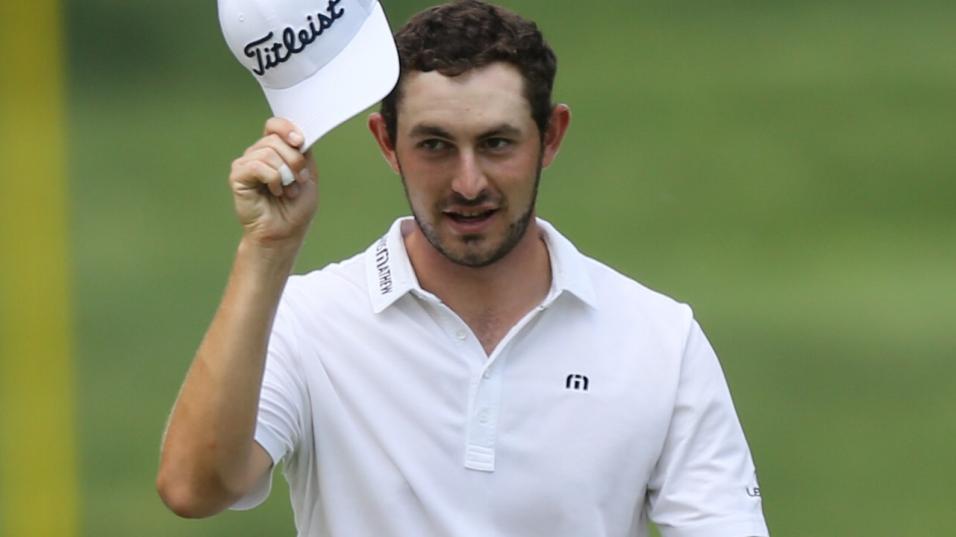 Patrick Cantlay: Another young American with major ambitions
Check out the major form ahead of this week's tournament at Bellerive. Stats compiled by Andy Swales ...
"Tony Finau tees-up at Bellerive as the only golfer this season to have posted top-10 finishes in all three major championships."
Francesco Molinari's well-deserved victory at Carnoustie last month ended a run of five straight major successes by 20-something Americans.
Victories by Brooks Koepka, Jordan Spieth, Justin Thomas and Patrick Reed seemed to suggest a changing of the guard in the men's game, as they scooped up the biggest titles in golf.
Molinari's timely intervention in Scotland was a welcome boost for European golf, with the Ryder Cup less than two months away.
However, with 10 of the last 15 major championships going the way of the US, the hosts will be keen to maintain their recent dominance.
Young Challengers
Among the current crop of 20-something Americans looking in good shape to move into the major arena is Patrick Cantlay.
The 26-year-old from California has only contested four majors as a professional, but did manage a top-dozen finish in Scotland a few weeks ago.
Cantlay tied-sixth in Ohio on Sunday, so can certainly mix it with the big boys, and during the 2017/18 PGA Tour season has weighed-in with five top-10s - including a maiden title in Las Vegas.
Xander Schauffele is another American 'youngster' who has looked at ease in the big events, having finished inside the top six in each of the last two majors.
Over the years the PGA has usually been viewed as the major most likely to crown a first-time winner.
Seven of the last nine champions tasted major glory for the first time and, between 1988 and 1998, only one winner of the PGA had previously won a major.
Also seeking a first major title is Tony Finau. The 28-year-old tees-up at Bellerive as the only golfer this season to have had top-10 finishes in all three major championships.
His consistency is generally excellent, and he arrives at the PGA without any great expectations on his shoulders.
History Chasers
Four-time major winner Rory McIlroy could make history this week if he were to hold aloft the Wanamaker Trophy for a third time.
The 29-year-old, who won the PGA Championship in 2012 and 2014, would become the first non-American to collect the trophy on three occasions, moving ahead of Gary Player, Nick Price and Vijay Singh who all triumphed twice.
And a win for the Northern Irishman would also mean that only Walter Hagen, Jack Nicklaus and Tiger Woods would have won this particular major more times than him.
McIlroy's frustrating season continued last week when he began the final round of the WGC Bridgestone Invitational in second place, only to post a closing 73.
But he's certainly playing well enough to make that step up in Missouri and, during the past five months, his PGA Tour record reads: 12 Starts; 1 Win; 3 Top-Threes; 6 Top-Tens.
Jordan Spieth could also reach a personal milestone on Sunday by completing the full set of major titles - having already landed The Masters (2015), US Open (2015) and The Open (2017).
And, at the age of 25, he would become the second youngest to achieve this feat after Tiger Woods.
Despite experiencing his poorest season as a professional in 2018, Spieth still managed to contend at Augusta and Carnoustie, and can never be ruled out.
Most Top-Six Finishes in Majors (since start of 2013)
8: Jordan Spieth
7: Rickie Fowler
7: Henrik Stenson
7: Rory McIlroy
6: Dustin Johnson
6: Jason Day
6: Brooks Koepka
6: Justin Rose
Most Top-25 Finishes in Majors (since start of 2013)
17: Jason Day
16: Rory McIlroy
16: Justin Rose
16: Henrik Stenson
14: Hideki Matsuyama
14: Adam Scott
13: Matt Kuchar
13: Rickie Fowler
13: Dustin Johnson
13: Brooks Koepka
12: Jordan Spieth
12: Louis Oosthuizen
Twitter: Andy Swales@GolfStatsAlive
Table Below Shows Form In Last 10 Majors
Table includes reserves
| Player | BO-18 | UO-18 | UM -18 | PG-17 | BO-17 | UO-17 | UM-17 | PG-16 | BO-16 | UO-16 |
| --- | --- | --- | --- | --- | --- | --- | --- | --- | --- | --- |
| Dustin Johnson | MC | 3 | 10 | 13 | 54 | MC | | MC | 9 | 1 |
| Justin Rose | 2 | 10 | 12 | MC | 54 | MC | 2 | 22 | 22 | MC |
| Justin Thomas | MC | 25 | 17 | 1 | MC | 9 | 22 | 66 | 53 | 32 |
| Brooks Koepka | 39 | 1 | | 13 | 6 | 1 | 11 | 4 | | 13 |
| Jon Rahm | MC | MC | 4 | 58 | 44 | MC | 27 | | 59 | 23 |
| Francesco Molinari | 1 | 25 | 20 | 2 | MC | MC | 33 | 22 | 36 | |
| Rory McIlroy | 2 | MC | 5 | 22 | 4 | MC | 7 | MC | 5 | MC |
| Jordan Spieth | 9 | MC | 3 | 28 | 1 | 35 | 11 | 13 | 30 | 37 |
| Rickie Fowler | 28 | 20 | 2 | 5 | 22 | 5 | 11 | 33 | 46 | MC |
| Jason Day | 17 | MC | 20 | 9 | 27 | MC | 22 | 2 | 22 | 8 |
| Tommy Fleetwood | 12 | 2 | 17 | 61 | 27 | 4 | MC | | MC | |
| Patrick Reed | 28 | 4 | 1 | 2 | MC | 13 | MC | 13 | 12 | MC |
| Alexander Noren | 17 | 25 | MC | 67 | 6 | MC | MC | 49 | 46 | MC |
| Bubba Watson | MC | MC | 5 | MC | 27 | MC | MC | 60 | 39 | 51 |
| Paul Casey | 51 | 16 | 15 | 13 | 11 | 26 | 6 | 10 | MC | MC |
| Hideki Matsuyama | MC | 16 | 19 | 5 | 14 | 2 | 11 | 4 | MC | MC |
| Henrik Stenson | 35 | 6 | 5 | 13 | 11 | MC | MC | 7 | 1 | Wd |
| Xander Schauffele | 2 | 6 | 50 | MC | 20 | 5 | | | | |
| Marc Leishman | 60 | 45 | 9 | 13 | 6 | 27 | 43 | 60 | 53 | 18 |
| Webb Simpson | 12 | 10 | 20 | 33 | 37 | 35 | MC | 13 | 39 | MC |
| Phil Mickelson | 24 | 48 | 36 | MC | MC | | 22 | 33 | 2 | MC |
| Sergio Garcia | MC | MC | MC | MC | 37 | 21 | 1 | MC | 5 | 5 |
| Bryson DeChambeau | 51 | 25 | 38 | 33 | MC | MC | | | | 15 |
| Tyrrell Hatton | 51 | 6 | 44 | MC | MC | MC | MC | 10 | 5 | |
| Kevin Kisner | 2 | MC | 28 | 7 | 54 | 58 | 43 | 18 | 76 | 49 |
| Patrick Cantlay | 12 | 45 | MC | 33 | | | | | | |
| Matt Kuchar | 9 | MC | 28 | 9 | 2 | 16 | 4 | MC | 46 | 46 |
| Tony Finau | 9 | 5 | 10 | 44 | 27 | | | MC | 18 | MC |
| Rafa Cabrera-Bello | 74 | 36 | 38 | MC | 4 | 42 | MC | 49 | 39 | 32 |
| Brian Harman | MC | 36 | 44 | 13 | MC | 2 | | | | |
| Kiradech Aphibarnrat | 75 | 15 | 44 | | | | | 66 | MC | MC |
| Ian Poulter | MC | 25 | 44 | 22 | 14 | | | | | |
| Louis Oosthuizen | 28 | 16 | 12 | 2 | MC | 23 | 41 | 22 | MC | 23 |
| Charley Hoffman | 17 | 20 | 12 | 48 | 20 | 8 | 22 | MC | 77 | 37 |
| Branden Grace | MC | 25 | 24 | MC | 6 | 50 | 27 | 4 | 72 | 5 |
| Kyle Stanley | 39 | MC | 52 | MC | MC | | | | | |
| Satoshi Kodaira | 35 | MC | 28 | 48 | | 46 | | | MC | |
| Pat Perez | 17 | 36 | MC | 28 | MC | MC | 18 | | | |
| Matthew Fitzpatrick | MC | 12 | 38 | MC | 44 | 35 | 32 | 49 | MC | 54 |
| Byeong Hun An | 51 | 67 | | 28 | MC | MC | 33 | MC | 59 | 23 |
| Daniel Berger | MC | 6 | 32 | MC | 27 | MC | 27 | 73 | | 37 |
| Kevin Na | 51 | | | MC | 44 | 32 | MC | 22 | 22 | 7 |
| Hao Tong Li | 39 | 16 | 32 | MC | 3 | 68 | | | | |
| Gary Woodland | 67 | 36 | MC | 22 | 70 | 50 | MC | MC | 12 | |
| Luke List | 39 | MC | | MC | | | | | | |
| Ross Fisher | 39 | 48 | MC | MC | 44 | MC | 41 | 42 | MC | |
| Cameron Smith | 78 | MC | 5 | MC | MC | | | | | 59 |
| Kevin Chappell | 6 | 65 | MC | 33 | MC | 23 | 7 | MC | 53 | MC |
| Charl Schwartzel | MC | MC | MC | 48 | 62 | MC | 3 | 42 | 18 | 23 |
| Tiger Woods | 6 | MC | 32 | | | | | | | |
| Zach Johnson | 17 | 12 | 36 | 48 | 14 | 27 | MC | 33 | 12 | 8 |
| Russell Henley | MC | 25 | 15 | 71 | 37 | 27 | 11 | 22 | MC | |
| Si Woo Kim | 67 | MC | 24 | Wd | MC | 13 | MC | MC | | |
| Russell Knox | MC | 12 | | MC | MC | MC | MC | 22 | 30 | 23 |
| Jason Dufner | 51 | 25 | MC | 58 | 14 | MC | 33 | 60 | 22 | 8 |
| Adam Hadwin | 35 | MC | 24 | MC | MC | 60 | 36 | | | |
| Thorbjorn Olesen | 12 | MC | | 44 | 62 | | | MC | MC | |
| Eddie Pepperell | 6 | | | | | 16 | | | | |
| Brendan Steele | 47 | 63 | MC | MC | MC | 13 | 27 | MC | MC | 15 |
| Peter Uihlein | MC | 48 | | MC | 44 | MC | | | | |
| Emiliano Grillo | MC | MC | | MC | MC | MC | 51 | 13 | 12 | 54 |
| Julian Suri | 28 | | | | MC | | | | | |
| Dylan Frittelli | MC | MC | MC | 63 | MC | | | | | |
| Chez Reavie | MC | MC | 53 | 22 | | 16 | | | | |
| Keegan Bradley | 79 | MC | | 33 | | 60 | | 42 | 18 | MC |
| Chesson Hadley | MC | MC | | | | | | | | |
| Charles Howell | MC | 25 | | 73 | MC | | | | | |
| Beau Hossler | 75 | | | | | | | | | |
| Jimmy Walker | MC | 56 | 20 | MC | 54 | MC | 18 | 1 | MC | MC |
| Alexander Levy | MC | MC | | MC | MC | MC | | | | |
| Thomas Pieters | 28 | | MC | MC | 44 | MC | 4 | 86 | 30 | |
| Ryan Moore | 12 | | 28 | 13 | MC | | 9 | 70 | 46 | 32 |
| Alexander Bjork | MC | | | | MC | | | | | |
| Matt Wallace | MC | MC | | | | MC | | | | |
| Jorge Campillo | MC | | | | | | | | | |
| Yusaku Miyazato | 47 | | MC | | MC | 60 | | | MC | 23 |
| Adam Scott | 17 | MC | 32 | 61 | 22 | MC | 9 | 18 | 43 | 18 |
| Andrew Landry | MC | | | | | | | | | 15 |
| Paul Dunne | 67 | | | | | MC | | | MC | |
| Ryan Fox | 39 | 41 | | 54 | MC | | | | | |
| Patton Kizzire | MC | | MC | | | | | 49 | 68 | MC |
| Aaron Wise | | MC | | | | | | | | MC |
| Adrian Otaegui | | | | | | | | | | |
| Jhonattan Vegas | MC | 41 | 38 | MC | MC | MC | MC | 22 | | |
| JB Holmes | | | | 28 | 54 | 12 | 50 | MC | 3 | MC |
| Brandt Snedeker | MC | 48 | | | | 9 | 27 | 56 | 22 | MC |
| Shubhankar Sharma | 51 | MC | MC | | | | | | | |
| Shane Lowry | MC | MC | | 48 | MC | 46 | MC | MC | MC | 2 |
| Chris Wood | 28 | | | 33 | 14 | MC | MC | MC | Wd | 23 |
| Yuta Ikeda | 51 | | MC | MC | MC | MC | MC | 33 | 72 | MC |
| Ted Potter | | MC | MC | | | MC | | | | |
| Billy Horschel | | | MC | 48 | MC | MC | | 79 | MC | 32 |
| James Hahn | | | | 13 | 74 | | 48 | 70 | 68 | 49 |
| Stewart Cink | 24 | | | | MC | 46 | | | | |
| Austin Cook | 28 | | MC | | | | | | | |
| Whee Kim | | | | | | 50 | | | | |
| Justin Harding | | | | | | | | | | |
| Seung Su Han | | | | | | | | | | |
| Mikko Korhonen | | | | | | | | | | |
| Sung Jae Im | | MC | | | | | | | | |
| Jamie Lovemark | | | | 33 | 22 | 27 | | MC | MC | |
| Shugo Imahira | | | | | | MC | | | MC | |
| Andy Sullivan | MC | | | MC | 70 | | 48 | 49 | 12 | 23 |
| Ryan Armour | MC | | | | | | | | | |
| Brandon Stone | 61 | | | MC | 70 | 35 | | MC | MC | |
| Anirban Lahiri | MC | | | 75 | MC | | | MC | 68 | MC |
| Ryuko Tokimatsu | | | | | | | | | | |
| Nick Watney | | | | | | | | | | |
| Bill Haas | | 36 | | 54 | MC | 5 | 36 | 56 | 9 | 51 |
| Mike Lorenzo-Vera | | | | | 62 | | | | | |
| Ollie Schniederjans | | MC | | | | | | | | |
| Brian Gay | | 20 | | | | | | | MC | |
| Lee Westwood | 61 | | | 67 | 27 | 55 | 18 | 85 | 22 | 32 |
| Jason Kokrak | MC | | | 33 | | 53 | | 49 | | 37 |
| Jason Kokrak | MC | | | 33 | | 53 | | 49 | | 37 |
| Kevin Streelman | | | | | | | | MC | | 13 |
| Martin Kaymer | MC | MC | 48 | | 37 | 35 | 16 | 7 | 36 | 37 |
| Kelly Kraft | MC | | | 58 | | | | | | |
| Jordan Smith | MC | | | 9 | | | | | | |
| Chris Kirk | | | | MC | | | | MC | MC | MC |
| Andrew Putnam | | | | | | | | | | |
| Keith Mitchell | | | | | | | | | | |
| Brice Garnett | | | | | | MC | | | | |
| JJ Spaun | | | | | | | | | | |
| Rory Sabbatini | | | | | | | | | | |
| Harold Varner | | MC | | | | | | MC | 66 | |
| Joaquin Niemann | | | MC | | | MC | | | | |
| Troy Merritt | | | | | | MC | | MC | | |
| Richy Werenski | | MC | | | | | | | | |
| Joel Dahmen | | | | | | | | | | |
| Scott Brown | | | | 13 | | | | | | |
| Michael Kim | 35 | | | | | | | | | |
| Scott Piercy | | 45 | | | | MC | MC | MC | MC | 2 |
| Chris Stroud | | | | 9 | | | | | | |
| Danny Willett | 24 | MC | MC | MC | 76 | Wd | MC | 79 | 53 | 37 |
| Jim Furyk | | 48 | | MC | | 23 | MC | 73 | 59 | 2 |
| Yong Eun Yang | | | | MC | | | | MC | | |
| Padraig Harrington | MC | | | MC | MC | | | 13 | 36 | |
| Vijay Singh | | | 49 | 66 | | | MC | MC | MC | |
| Thomas Bjorn | | | | MC | | | | | | |
| Davis Love | | | | MC | | | | | | |
| Michael Block | | MC | | | | | | MC | | |
| John Daly | | | | MC | MC | | | MC | MC | |
| Johan Kok | | | | | | | | MC | | |
| Sean McCarty | | | | | | | | | | |
| Shaun Micheel | | | | MC | | | | MC | | |
| Omar Uresti | | | | 73 | | | | MC | | |
| Ryan Vermeer | | | | MC | | | | | | |
| Paul Broadhurst | | | | | MC | | | | | |
| Rich Beem | | | | MC | | | | 73 | | |
| Craig Bowden | | | | | | | | | | |
| Danny Balin | | | | | | | | | | |
| Rich Berberian | | | | MC | | | | MC | | |
| Matt Dobyns | | | | MC | | | | MC | | |
| Jaysen Hansen | | | | MC | | | | | | |
| Craig Hocknull | | | | | | | | | | |
| Marty Jertson | | | | | | | | | | |
| David Muttitt | | | | MC | | | | MC | | |
| Jason Schmuhl | | | | | | | | | | |
| Brian Smock | | | | Wd | | | | | | |
| Bob Sowards | | | | | | | | | | |
| Matt Borchert | | | | | | | | | | MC |