Nedbank Challenge 2018: Check out our form guides ahead of this week's event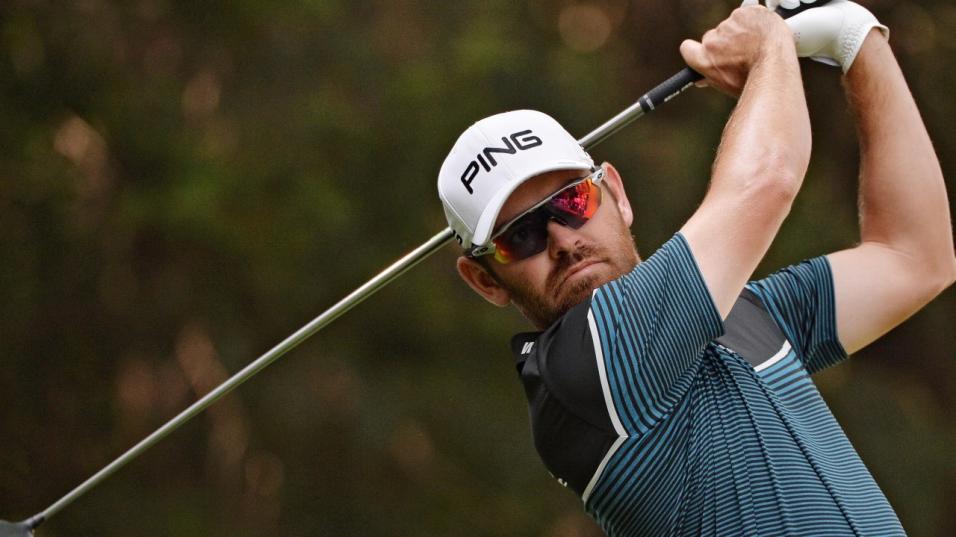 Louis Oosthuizen: The highest-ranked South African teeing-up at Sun City
Andy Swales supplies course and current form stats for this week's European Tour trip to Sun City ...
"Never underestimate the likelihood of a South African winner in home tournaments, especially if the field is slightly below par – as it appears this week."
Sun City in South Africa hosts this week's Nedbank Challenge, which remains one of the most prestigious events in the country's sporting calendar.
The tournament has been part of the European Tour schedule since 2013, although this multi-million dollar competition dates back almost 40 years.
Designed by nine-time major champion Gary Player, and opened in 1979, this flat, tree-lined course does not suffer fools gladly.
From tee-to-green, it remains a layout ready to penalise any errant shot thanks to its narrow fairways and small Bentgrass greens that are well protected by sand.
Water is not a major issue at Sun City but there are plenty of other hazards to grab a golfer's attention - from opening tee-shot to final putt.
Located in the north of the country, around 75 miles from Pretoria, Sun City is the penultimate destination ahead of next week's season-ending DP Tour World Championship in Dubai.
Not Quite The Usual Recipe
Although the 72 players are chasing a better-than-average prize fund on the European Tour, the field is possibly the weakest in tournament history.
Only one player from the world's top 25 is teeing-up, which means many of those chasing top spot in the Race to Dubai standings must be taking a rest ahead of next week's grand finale in the Middle East.
World No 6 Rory McIlroy is the star attraction, with the 29-year-old making just his second appearance at Sun City.
His first came in 2009, when the event was a 12-player invitation-only field, with the young McIlroy withdrawing from the tournament after 36 holes.
Sergio Garcia, who won at Valderrama three weeks ago, is back in action.
The Spaniard was runner-up on his last visit five years ago and is a two-time former champion at Sun City, during the event's former life as an elite competition.
His brace of wins came at the ages of 21 and 23, the last of these in 2003.
Beware Home Players
Never underestimate the likelihood of a South African winner in home tournaments, especially if the field is slightly below par - as it appears this week.
Louis Oosthuizen, Charl Schwartzel and defending champion Branden Grace lead the way for the hosts.
None of this trio is in stunning form right now, but knowledge of South Africa's unique conditions can never be understated.
Oosthuizen tied-fifth at the CIMB Classic last month, while Grace has not finished outside the top-four at Sun City in his most recent three visits.
And good form from abroad
Among those in good current form are Hao Tong Li - runner-up last week - Lucas Bjerregaard, Shane Lowry and Tom Lewis whose remarkable renaissance during the second half of 2018 continues.
And don't forget two former major champions in the shape of Danny Willett and Martin Kaymer.
Neither golfer currently occupies a spot in the world's top 140, although both posted top-10 finishes last week in Turkey.
Willett's form has shown some improvement in recent weeks, and he is a former Sun City champion on the European Tour, while Kaymer won here in 2012 which was the last time it was an invitation-only event.
Twitter: Andy Swales@GolfStatsAlive
MC* - Missed Additional 54-Hole Cut
Note: List contains leading reserves
| Player | W44 | W43 | W42 | W41 | W40 | W39 | W38 | W37 | W36 | W35 | W34 | W33 |
| --- | --- | --- | --- | --- | --- | --- | --- | --- | --- | --- | --- | --- |
| Rory McIlroy | | 54 | | | | | 7 | | 5 | 12 | | |
| Sergio Garcia | | | 1 | | | | 7 | | | | | 24 |
| Kiradech Aphibarnrat | 23 | 4 | | 33 | | | | MC | 45 | | | |
| Louis Oosthuizen | | | 29 | 5 | 32 | | | | 58 | 31 | 28 | |
| Matthew Fitzpatrick | | 54 | | 16 | MC | | | | 1 | 7 | | 36 |
| Branden Grace | | 41 | 48 | 50 | 55 | | | | | 43 | MC | |
| Hao Tong Li | 2 | 11 | | 9 | 5 | | 27 | 24 | MC | | | |
| Lucas Bjerregaard | 5 | 69 | | 9 | 1 | | 20 | | 2 | 6 | 9 | Wd |
| Matt Wallace | 47 | 50 | | 16 | 28 | | 44 | | 51 | 1 | 36 | |
| Alexander Bjork | 14 | 28 | | 2 | MC | | | | Wd | | | MC |
| Ross Fisher | 64 | | | 34 | 32 | | 40 | MC | 59 | | | |
| Shane Lowry | 14 | | 2 | 34 | MC | | 6 | | | | | MC |
| Julian Suri | 23 | 64 | | 5 | | | 21 | 53 | | 16 | 35 | 41 |
| Charl Schwartzel | | | 70 | MC | | | 40 | | 8 | | MC | |
| Dylan Frittelli | | 54 | | | 25 | | 39 | 9 | | 42 | 17 | |
| Lucas Herbert | 35 | | | 3 | 7 | | 2 | 28 | | MC | 44 | 5 |
| Ryan Fox | 23 | 30 | | MC | 24 | | 27 | MC | 30 | | | |
| Chris Wood | | | | Wd | MC | | 12 | 2 | 23 | | | |
| Tom Lewis | 14 | | | 5 | 10 | | 1 | 3 | 1 | 65 | 6 | 29 |
| Adrian Otaegui | 3 | 62 | | MC | MC | | | 24 | MC | 10 | | |
| Jorge Campillo | 35 | 54 | Dq | | MC | | 44 | 15 | 55 | | | |
| Alexander Levy | 10 | 28 | | 42 | 32 | | MC | 20 | 56 | | | |
| Mikko Korhonen | 35 | | 3 | 48 | | | 12 | 24 | 45 | | MC | |
| Paul Dunne | 18 | | | 42 | MC | | 44 | MC | MC | | | |
| Brandon Stone | 72 | 46 | | MC | 10 | | | 10 | | | | |
| Mike Lorenzo-Vera | 43 | | | 48 | MC | | | MC | 3 | | | |
| Andrea Pavan | 33 | 22 | | 16 | 5 | | | 20 | MC | | 1 | 6 |
| Joost Luiten | 23 | | 11 | | | | | | | | | |
| Lee Westwood | 35 | | 5 | MC | | | | 36 | 12 | 2 | 61 | |
| Shubhankar Sharma | 43 | 69 | 55 | 10 | MC | 42 | | MC | MC | | | |
| Andy Sullivan | 18 | 62 | | 9 | 10 | | 20 | 28 | 30 | | | |
| Erik Van Rooyen | 35 | 22 | | MC | MC | | | 11 | 35 | 5 | | |
| Jordan Smith | 55 | | | 3 | 32 | | 27 | 10 | | 20 | 36 | |
| Marcus Kinhult | 30 | | 22 | 48 | 20 | | 4 | | 56 | 49 | | 45 |
| Chris Paisley | 33 | | | | 24 | | 8 | MC | | MC | MC | |
| Richard McEvoy | 75 | | 29 | 72 | MC | | MC | 15 | 16 | 37 | | 34 |
| Darren Fichardt | 23 | | 71 | 29 | 48 | | | 74 | 8 | | 2 | |
| Hideto Tanihara | 35 | | | MC | MC | | MC | 3 | 6 | 37 | | MC |
| Dean Burmester | 47 | | | 48 | MC | | | | MC | MC | MC | |
| George Coetzee | 58 | 50 | | MC | MC | | 20 | 44 | 35 | | | |
| Martin Kaymer | 5 | | | MC | MC | | | 15 | MC | MC | | 61 |
| Matthew Southgate | 60 | | 58 | 22 | MC | | MC | 24 | 30 | 20 | | 10 |
| Benjamin Hebert | 60 | | | MC | 32 | | MC | 11 | 23 | | 44 | 24 |
| Sam Horsfield | 10 | | | 5 | MC | | MC | 64 | MC | 10 | | |
| Joakim Lagergren | 55 | | MC | 29 | MC | | MC | MC | MC | 45 | | 34 |
| Gavin Green | 47 | | 52 | 9 | MC | | MC | MC | 12 | MC | 3 | |
| Padraig Harrington | 35 | | 66 | 22 | 7 | | MC | 5 | | | 2 | MC |
| Ashun Wu | 47 | 64 | | | | | 44 | 1 | 6 | 49 | MC | MC |
| Nicolas Colsaerts | 14 | | | Dq | 10 | | 40 | 64 | 23 | 27 | MC | MC |
| Andrew Johnston | 43 | | 22 | 48 | | | 34 | MC | 35 | | MC | 10 |
| Wade Ormsby | 47 | | 52 | 29 | MC | | | 20 | MC | | | |
| Nacho Elvira | 68 | | 57 | MC | 10 | | MC* | MC | 4 | | 18 | 24 |
| Paul Waring | 58 | | 42 | 56 | | | MC | MC | MC | | MC | 1 |
| Thomas Detry | 3 | | | MC | 48 | | MC | 3 | MC | 7 | | 13 |
| Lee Slattery | 55 | | MC | 48 | 20 | | | | 51 | MC | 4 | 10 |
| Pablo Larrazabal | 18 | | MC | 56 | 56 | | MC* | 11 | 16 | | | |
| Aaron Rai | 43 | | MC | 56 | MC | | MC | MC | MC | | 24 | 24 |
| Robert Rock | 30 | | 16 | 29 | 20 | | 34 | | MC | 17 | | 6 |
| Jason Scrivener | 23 | 54 | 22 | MC | 24 | | 12 | 15 | MC | 69 | 18 | 61 |
| Matthias Schwab | 18 | | | 22 | 10 | | 27 | MC | MC | MC | 9 | MC |
| Renato Paratore | 30 | | MC | MC | 32 | | 27 | 36 | MC | | 36 | MC |
| Matthieu Pavon | 68 | | | MC | 20 | | 44 | MC | 59 | | MC | 29 |
| Tapio Pulkkanen | 10 | | MC | MC | 4 | | 63 | MC | MC | MC | 44 | 34 |
| Oliver Fisher | 64 | | 11 | MC | 32 | | 7 | MC | MC | 71 | MC | |
| Stephen Gallacher | 35 | | 29 | 70 | 10 | | 44 | | 23 | 27 | 24 | MC |
| Jens Dantorp | 64 | | MC | MC | MC | | MC | Wd | MC | MC | | MC |
| Maximilian Kieffer | 54 | | 5 | MC | MC | | MC | 36 | 35 | | 29 | 3 |
| Ashley Chesters | 47 | | 4 | MC | 44 | | 16 | 28 | MC | 9 | 59 | 29 |
| Thomas Aiken | 10 | | 16 | 68 | MC | | MC* | | 30 | 71 | MC | 2 |
| Danny Willett | 7 | | 23 | MC | MC | | 44 | | 59 | MC | 18 | |
| Trevor Immelman | 47 | | | 34 | 44 | | | | | | | |
| Thomas Bjorn | 60 | | 58 | MC | | | | | | 69 | | MC |
| Richard Sterne | 60 | | Wd | 22 | MC | | 16 | | 43 | 17 | | |
| Julien Guerrier | 68 | | 29 | 22 | 32 | | 34 | 36 | 23 | MC | 9 | MC |
| Soren Kjeldsen | 72 | | 29 | 42 | 48 | | 56 | 6 | 12 | 12 | MC | 45 |
| Jeung-Hun Wang | 64 | | 29 | 29 | MC | | | 36 | 12 | MC | MC | MC |
| Scott Hend | 68 | | 66 | MC | MC | | MC | Wd | 45 | MC | 70 | |
| Alvaro Quiros | 72 | | 16 | MC | MC | | MC | MC | | | | |
| David Lipsky | | | 22 | 34 | MC | | 63 | MC | 35 | MC | 50 | |
| Steven Brown | | | 42 | 16 | MC | | MC | MC | MC | 2 | MC | MC |
| Mikko Ilonen | | | | MC | 32 | | | Wd | MC | | | |
| Player | 2017 | 2016 | 2015 | 2014 | 2013 |
| --- | --- | --- | --- | --- | --- |
| Rory McIlroy | | | | | |
| Sergio Garcia | | | | | 2 |
| Kiradech Aphibarnrat | 42 | 39 | 16 | 5 | |
| Louis Oosthuizen | 8 | 9 | 11 | 7 | 14 |
| Matthew Fitzpatrick | 8 | 20 | 16 | | |
| Branden Grace | 1 | 3 | 4 | | 20 |
| Hao Tong Li | 4 | 20 | | | |
| Lucas Bjerregaard | 37 | 32 | | | |
| Matt Wallace | 34 | | | | |
| Alexander Bjork | 52 | | | | |
| Ross Fisher | 34 | 25 | 15 | 2 | |
| Shane Lowry | 12 | | 25 | 11 | |
| Julian Suri | 42 | | | | |
| Charl Schwartzel | 12 | 39 | 9 | 14 | 6 |
| Dylan Frittelli | 42 | | | | |
| Lucas Herbert | | | | | |
| Ryan Fox | 52 | | | | |
| Chris Wood | 68 | 25 | 3 | | |
| Tom Lewis | | | | | |
| Adrian Otaegui | 60 | 55 | | | |
| Jorge Campillo | 27 | 67 | | | |
| Alexander Levy | 37 | 64 | | 21 | |
| Mikko Korhonen | | | | | |
| Paul Dunne | 29 | | | | |
| Brandon Stone | 66 | 69 | | | |
| Mike Lorenzo-Vera | 37 | | | | |
| Andrea Pavan | | | | | |
| Joost Luiten | 12 | 14 | | 24 | 16 |
| Lee Westwood | 6 | | 28 | 16 | |
| Shubhankar Sharma | | | | | |
| Andy Sullivan | 65 | 3 | 16 | | |
| Erik Van Rooyen | | | | | |
| Jordan Smith | Wd | | | | |
| Marcus Kinhult | | | | | |
| Chris Paisley | | 49 | | | |
| Richard McEvoy | | | | | |
| Darren Fichardt | 6 | | | | 12 |
| Hideto Tanihara | 52 | | | | |
| Dean Burmester | 42 | | | | |
| George Coetzee | 37 | 25 | | 16 | |
| Martin Kaymer | 5 | 44 | 25 | 21 | 16 |
| Matthew Southgate | | 39 | | | |
| Benjamin Hebert | 19 | 34 | | | |
| Sam Horsfield | | | | | |
| Joakim Lagergren | | 44 | | | |
| Gavin Green | | | | | |
| Padraig Harrington | 42 | 55 | | | |
| Ashun Wu | | | | | |
| Nicolas Colsaerts | 57 | 37 | | | |
| Andrew Johnston | | 34 | | | |
| Wade Ormsby | | | | | |
| Nacho Elvira | 29 | 25 | | | |
| Paul Waring | 19 | | | | |
| Thomas Detry | | | | | |
| Lee Slattery | 29 | 70 | | | |
| Pablo Larrazabal | 60 | 39 | | 16 | |
| Aaron Rai | | | | | |
| Robert Rock | | 55 | | | |
| Jason Scrivener | | | | | |
| Matthias Schwab | | | | | |
| Renato Paratore | 60 | 25 | | | |
| Matthieu Pavon | 19 | | | | |
| Tapio Pulkkanen | | | | | |
| Oliver Fisher | | | | | |
| Stephen Gallacher | 60 | | | 12 | |
| Jens Dantorp | | | | | |
| Maximilian Kieffer | | | | | |
| Ashley Chesters | | | | | |
| Thomas Aiken | | 32 | 13 | | |
| Danny Willett | | 11 | 4 | 1 | |
| Trevor Immelman | | | | | |
| Thomas Bjorn | 60 | | | 24 | 1 |
| Richard Sterne | 19 | 20 | | | 14 |
| Julien Guerrier | | | | | |
| Soren Kjeldsen | 12 | 16 | 29 | | |
| Jeung-Hun Wang | 55 | 2 | | | |
| Scott Hend | 57 | 44 | | | |
| Alvaro Quiros | | | | | |
| David Lipsky | 42 | 49 | | | |
| Steven Brown | | | | | |
| Mikko Ilonen | | 53 | | 28 | |
| No. of Starters | 72 | 72 | 30 | 30 | 30 |
Discover the latest articles
Read past articles