NBO Oman Open 2019: Latest stats for this week's European Tour event in the Persian Gulf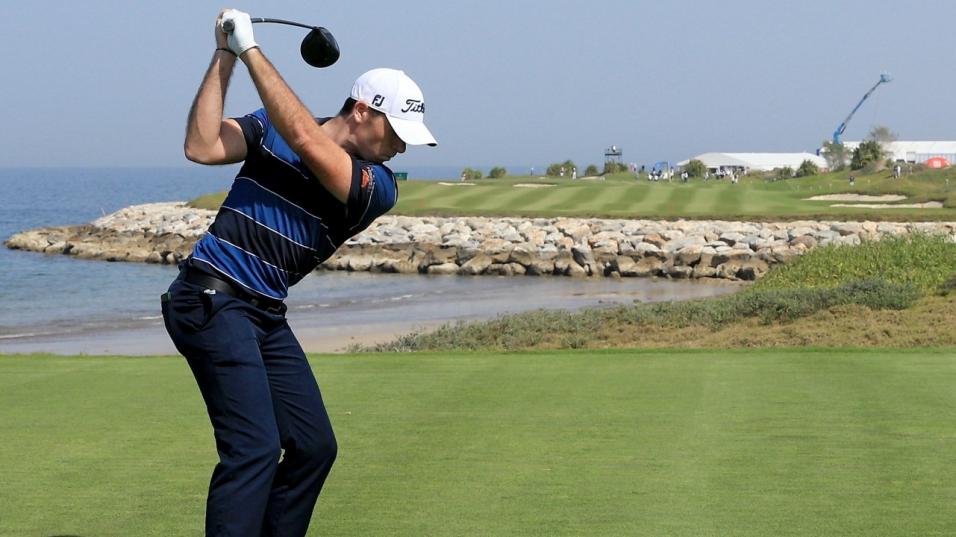 The Greg Norman-designed course has a links-feel to it as well as large, undulating putting surfaces
The European Tour returns to Al Mouj for the second NBO Oman Open. Andy Swales supplies the form stats ahead of Thursday's opening round ...
"Clement Sordet knows what it's like to win around here, having triumphed at the NBO Grand Final on the Challenge Tour in November 2017."
It's back to the Middle East for the European Tour and the first of two events in the Persian Gulf.
This week's NBO Oman Open takes place at Al Mouj, and will be followed by the Qatar Masters in early March.
While the fields for these forthcoming tournaments will be nowhere near as strong as those held in the United Arab Emirates and Saudi Arabia earlier in the year, there is still a sprinkling of decent names teeing-up in the Arabian Peninsula on Thursday.
In-Form Champ
Defending champion Joost Luiten will probably start as favourite when he tees-up on a course laid out between the Indian Ocean and the Hajjar Mountains.
The Dutchman has posted three top-10s - from four starts - this calendar year, which includes a podium finish in Abu Dhabi. He also tied-for-10th in Mexico on Sunday.
Last year's runner-up Chris Wood has his first outing since last November, while in-form South African Justin Harding is another starter in Oman.
Thomas Pieters will probably attract a lot of attention from punters, with the Belgian's game in reasonable shape despite a lack of top-10s in recent months.
Irish Hopes
Ireland's Paul Dunne should fancy his chances at this linksy-looking venue, especially if this coastal course becomes a little breezy.
Dunne played well in Perth recently when he posted the second-best qualifying score over 54 holes, before finishing third after the match play phase of the Super Six tournament.
Five-time European Tour winner Alexander Levy tied-fourth last year and was a top-six finisher in his most recent event in Saudi Arabia.
Further down the pecking order you'll find another Frenchman, Clement Sordet, who was a top-20 finisher in both Australian events during February.
Sordet knows what it's like to win around here, having triumphed at the NBO Grand Final on the Challenge Tour in November 2017.
Other names to ponder are the consistent Ross Fisher, Andrea Pavan and Jorge Campillo.
Pavan tied-16th in Oman 12 months ago, while Campillo - a four-time runner-up on Tour - tied-for-fourth.
Links Style
Designed by Greg Norman, and opened in 2012, Al Mouj runs along a two-kilometre stretch of shoreline in the Gulf of Oman.
Water hazards come into play on 10 holes, while its bunker-dotted fairways are fairly generous in width.
Flat and coastal, Al Mouj is no stranger to many of those taking part, having already hosted five Challenge Tour events during its short life.
The putting surfaces are large and undulating, while this stunning, links-style course is situated on Oman's northern coast and close to Muscat airport.
And it's not uncommon for planes to land within a few hundred yards of its 13th, 14th and 15th holes.
The following players posted top-10 finishes at Al Mouj when the course staged Challenge Tour events (2013-17):
Nick Cullen: 7th (2017)
Jens Dantorp: 5th (2017); 2nd (2016); 7th (2015)
Nacho Elvira: 3rd (2015); 9th (2013)
Ricardo Gouveia: Won (2015); 9th (2014)
Joachim B Hansen: 2nd (2015)
Sihwan Kim: 9th (2013)
Marcus Kinhult: 2nd (2017)
Max Orrin: 7th (2014); Won (2013)
Matthieu Pavon: 3rd (2016)
Bernd Ritthammer: Won (2016)
Adrien Saddier: 3rd (2016)
Callum Shinkwin: 3rd (2015)
Clement Sordet: Won (2017)
Brandon Stone: 6th (2015); 4th (2013)
Jeff Winther: 3rd (2015)
Twitter: Andy Swales@GolfStatsAlive
MC* - Missed Additional 54-Hole Cut
Note: List contains leading reserves

| Player | W8 | W7 | W6 | W5 | W4 | W3 | W2 | W1 | W52 | W51 | W50 | W49 |
| --- | --- | --- | --- | --- | --- | --- | --- | --- | --- | --- | --- | --- |
| Justin Harding | | 26 | 4 | 11 | 7 | 51 | | | | | MC | MC |
| Joost Luiten | 10 | | | 6 | MC | 3 | | | | | | |
| Lucas Herbert | | MC | MC* | | 7 | 54 | | | | | | |
| Thomas Pieters | | 11 | | 22 | 29 | 16 | | | | | | |
| Ross Fisher | | | | 13 | 24 | 54 | | | | | | |
| Alexander Levy | | | | 5 | MC | 67 | | | | | | |
| Chris Wood | | | | | | | | | | | | |
| Andrea Pavan | | | | 34 | MC | MC | | | | | | |
| Mikko Korhonen | | | | 44 | 38 | MC | | | | | | |
| Mike Lorenzo-Vera | | | | 13 | MC | 32 | | | | | | |
| Paul Dunne | | 3 | 17 | 51 | MC | MC | | | | | | |
| Shubhankar Sharma | 60 | | | MC | 29 | MC | | | | | MC | |
| Jorge Campillo | | 34 | MC | 42 | 56 | 54 | | | | | | |
| John Catlin | | | MC | 44 | | 67 | | | | | 17 | 48 |
| Brandon Stone | | | | MC | MC | MC | | | | | 15 | 7 |
| Victor Perez | | | | 13 | 29 | 54 | | | | | 42 | |
| Jordan Smith | | | | 54 | 29 | 11 | | | | | | |
| Gaganjeet Bhullar | | | | 34 | 38 | 27 | | | | | Wd | |
| Dean Burmester | | 3 | | MC | 48 | 49 | | | | | MC | MC |
| Paul Waring | | | | 54 | 3 | 6 | | | | | | |
| Adri Arnaus | | | | MC | 29 | 22 | | | | | 9 | |
| Thomas Detry | | | | 42 | 48 | 65 | | | | | | |
| Chris Paisley | | | | 24 | 56 | MC | | | | | 18 | 24 |
| Andy Sullivan | | | | MC | MC | 32 | | | | | | |
| Scott Vincent | | 4 | MC* | | | 24 | | | | | 69 | MC |
| Joachim B Hansen | | | | 24 | 61 | 54 | | | | | 62 | MC |
| Darren Fichardt | | 17 | | | MC | 32 | | | | | 12 | MC |
| Yusaku Miyazato | | | | 22 | MC | MC | | | | | | |
| Marcus Kinhult | | | | 18 | MC | MC | | | | | | |
| Oliver Wilson | | MC | MC | | | | | | | | 5 | 3 |
| David Lipsky | 10 | | | 24 | MC | 16 | | | | | 1 | MC |
| Pablo Larrazabal | | | | 64 | 20 | 6 | | | | | 9 | MC |
| Sihwan Kim | | 41 | MC* | | | 38 | | | | | 7 | |
| Romain Langasque | | | | 44 | 20 | | | | | | 15 | 2 |
| David Drysdale | | MC | 5 | MC | MC | MC | | | | | 2 | Wd |
| Nicolas Colsaerts | | 47 | 8 | 61 | 48 | 42 | | | | | | |
| Sean Crocker | | | | MC | MC | MC | | | | | 18 | MC |
| Ashun Wu | | | | MC | 38 | MC | | | | | | |
| Scott Jamieson | | | | MC | MC | 11 | | | | | 3 | MC |
| Kurt Kitayama | | MC | MC* | MC | 71 | 67 | | | | | MC | 15 |
| Benjamin Hebert | | | | MC | MC | 27 | | | | | | |
| Matthew Southgate | | | | 51 | 69 | 42 | | | | | | |
| Gavin Green | | MC | | 11 | MC | 32 | | | | | | |
| David Law | | MC | 1 | MC | | MC | | | | | 26 | |
| Hideto Tanihara | | | | MC | 64 | MC | | | | | | |
| Richard McEvoy | | 55 | MC | | MC | MC | | | | | | |
| Masahiro Kawamura | | MC | MC* | | | 12 | | | | | 18 | MC |
| Andrew Johnston | | | MC | | 24 | MC | | | | | | |
| Jack Singh Brar | | | | MC | | 32 | | | | | 26 | MC |
| Kim Koivu | | MC | MC* | MC | 38 | MC | | | | | 42 | Wd |
| Joakim Lagergren | | | | MC | MC | MC | | | | | | |
| Matthias Schwab | | | | 24 | 64 | 22 | | | | | | |
| Robert Rock | | | | 34 | MC | MC | | | | | | |
| George Coetzee | 56 | MC | | MC | 38 | MC | | | | | 26 | MC |
| Scott Hend | | 34 | MC* | 6 | 48 | 27 | | | | | 35 | |
| Grant Forrest | | 47 | 22 | MC | | 42 | | | | | MC | MC |
| Robert MacIntyre | | 20 | MC* | 44 | | 63 | | | | | 15 | 15 |
| Zander Lombard | | 37 | 2 | 18 | | 70 | | | | | 3 | 15 |
| Matthieu Pavon | | | | MC | 24 | MC | | | | | MC | MC |
| Thomas Aiken | | MC | 24 | | 55 | MC | | | | | 63 | 3 |
| Fabrizio Zanotti | | | | 24 | 29 | 32 | | | | | | |
| Bernd Wiesberger | | | | MC | MC | 42 | | | | | 51 | MC |
| Kalle Samooja | | | | MC | 16 | MC | | | | | 34 | MC |
| Liam Johnston | | MC | MC | 30 | | MC | | | | | MC | MC |
| Lee Slattery | | | | MC | MC | MC | | | | | | |
| Louis De Jager | | MC | MC* | 1 | | | | | | | MC | MC |
| Nacho Elvira | | | | MC | MC | MC | | | | | | |
| Alvaro Quiros | | | | MC | 3 | 65 | | | | | | |
| Renato Paratore | | | | 18 | MC | 54 | | | | | | |
| Tapio Pulkkanen | | | | MC | 20 | MC | | | | | MC | 15 |
| Dave Horsey | | | | MC | MC | 11 | | | | | | |
| Haydn Porteous | | | | 51 | 48 | MC | | | | | MC | 7 |
| Sebastian Soderberg | | MC | | MC | MC | MC | | | | | MC | MC |
| Justin Walters | | 2 | 15 | 44 | MC | 42 | | | | | 34 | MC |
| Stuart Manley | | MC | MC* | 64 | | MC | | | | | MC | 21 |
| Ashley Chesters | | MC | 12 | MC | 67 | MC | | | | | | |
| Hyo Won Park | | MC | MC | MC | | MC | | | | | 42 | MC |
| Min Woo Lee | | 5 | MC | 4 | | MC | | | | | | |
| Callum Shinkwin | | MC | 10 | | 56 | 54 | | | | | | 33 |
| Maximilian Kieffer | | | | 57 | MC | 22 | | | | | | |
| Victor Dubuisson | | | | 18 | 38 | | | | | | | |
| Clement Sordet | | 17 | 8 | 61 | | | | | | | | MC |
| Oscar Lengden | | | | | | | | | | | | |
| Richie Ramsay | | MC | | MC | 56 | 69 | | | | | | |
| Romain Wattel | | | | MC | 16 | MC | | | | | | |
| Jens Dantorp | | | | 57 | 48 | MC | | | | | | |
| Stephen Gallacher | | | | MC | 67 | MC | | | | | | |
| Niklas Lemke | | MC | MC | 30 | | | | | | | 7 | MC |
| Oliver Fisher | | | | MC | MC | MC | | | | | | |
| Steven Brown | | | | MC | MC | MC | | | | | 47 | 54 |
| Lorenzo Gagli | | | | 44 | | | | | | | MC | MC |
| Connor Syme | | 15 | MC* | | | | | | | | | MC |
| Bradley Dredge | | | | 13 | 24 | 54 | | | | | | |
| Marc Warren | | | | | 71 | | | | | | 26 | 24 |
| Jose-Filipe Lima | | | | | | | | | | | | MC |
| Jeff Winther | | 8 | | MC | | | | | | | 34 | 7 |
| Tom Murray | | 25 | | | | | | | | | | |
| Nino Bertasio | | | | 30 | 73 | 71 | | | | | | |
| Jacques Kruyswijk | | | 8 | MC | MC | MC | | | | | MC | MC |
| Jeung-Hun Wang | | 60 | MC | MC | MC | MC | | | | | | MC |
| Pedro Figueiredo | | MC | MC | MC | | MC | | | | | MC | 48 |
| Ricardo Gouveia | | MC | MC | | | | | | | | | |
| Joel Girrbach | | MC | | | | | | | | | | 48 |
| Thongchai Jaidee | | | | | 47 | MC | MC | | | | | |
| Gonzalo F`dez-Castano | | | | 44 | MC | MC | | | | | MC | MC |
| Marcel Schneider | | | | | | | | | | | | MC |
| Robert Karlsson | | | | 44 | 38 | MC | | | | | 47 | MC |
| Anton Karlsson | | MC | 12 | | | | | | | | | |
| Edoardo Molinari | | | | 34 | MC | 49 | | | | | MC | MC |
| Ben Stow | | | | | | | | | | | | |
| Raphael Jacquelin | | | | MC | 61 | 63 | | | | | 18 | |
| Max Orrin | | MC | MC | | | | | | | | 18 | MC |
| Christofer Blomstrand | | | | | | | | | | | MC | MC |
| Ben Evans | | 17 | MC | | | | | | | | 5 | MC |
| Jin Ho Choi | | MC | MC | | | | | | | | | |
| Adrien Saddier | | 55 | MC | | | | | | | | MC | MC |
| Nick Cullen | | MC | 24 | | | | | | | | MC | MC |
| Jack Senior | | | | | | | | | | | | MC |
| David Borda | | MC | MC | | | | | | | | 56 | MC |
| Guido Migliozzi | | MC | MC | | | | | | | | 56 | MC |
| Christiaan Bezuidenhout | | 24 | | MC | 69 | MC | | | | | 18 | MC |
| Per Langfors | | 9 | MC | | | | | | | | MC | MC |
| Gavin Moynihan | | MC | 27 | | | | | | | | MC | MC |
| Michael Hoey | | 47 | 17 | | | | | | | | | MC |
| Marcel Siem | | | | | | MC | | | | | MC | MC |
| Kristian Krogh Johannessen | | MC | MC | | | | | | | | MC | MC |
| Eirik Tage Johansen | | | | | | | | | | | | MC |
| Matthew Baldwin | | | | | | | | | | | | |
| Matthew Nixon | | MC | 30 | | | | | | | | | 37 |
| Sam Brazel | | | MC* | MC | 56 | 42 | | | | | | |
| James Morrison | | MC | MC* | MC | MC | 32 | | | | | | |
| Peter Hanson | | | | | MC | MC | | | | | 51 | |
| Hugo Leon | | MC | MC* | | | | | | | | | |
| Alejandro Canizares | | | | MC | | | | | | | 26 | 54 |
| Deyen Lawson | 2 | 26 | MC | | | | | | | | 47 | MC |
| Max Schmitt | | MC | MC | | | | | | | | MC | 33 |
| SSP Chawrasia | | 41 | | | MC | MC | | | | | 20 | |
| Matteo Manassero | | MC | MC | MC | | | | | | | MC | MC |
| Thomas Bjorn | | | | MC | 29 | 22 | | | | | | |
| Jaco Van Zyl | | 4 | | MC | MC | MC | | | | | 56 | 37 |
| Ivan Cantero Gutierrez | | MC | MC | MC | | | | | | | MC | MC |
| Bernd Ritthammer | | 34 | MC | MC | | | | | | | 65 | 24 |
| Paul Lawrie | | | | | | | | | | | | |
| Kristoffer Reitan | | 5 | MC* | | MC | | | | | | 42 | MC |
| David Howell | | | | MC | MC | | | | | | | |
| Cheng Jin | | | | | | | | | | | | |
| Daniel Gavins | | 63 | 27 | | | | | | | | MC | MC |
| Kristoffer Broberg | | | | | MC | MC | | | | | | |
| Filippo Bergamaschi | | MC | MC | | | | | | | | MC | MC |
| Azaan Al Rumhy | | | | | | | | | | | | |
| Scott Gregory | | MC | MC | | | | | | | | MC | MC |
| Othman Almulla | | | | MC | | | | | | | | |
| Espen Kofstad | | MC | MC* | | | | | | | | 42 | MC |
| Kieran Pratt | | | | | | | | | | | | |
| Max Burrow | | | | | | | | | | | | |
| Player | 2018 |
| --- | --- |
| Justin Harding | |
| Joost Luiten | 1 |
| Lucas Herbert | MC |
| Thomas Pieters | |
| Ross Fisher | |
| Alexander Levy | 4 |
| Chris Wood | 2 |
| Andrea Pavan | 16 |
| Mikko Korhonen | MC |
| Mike Lorenzo-Vera | MC |
| Paul Dunne | |
| Shubhankar Sharma | MC |
| Jorge Campillo | 4 |
| John Catlin | |
| Brandon Stone | MC |
| Victor Perez | MC |
| Jordan Smith | 26 |
| Gaganjeet Bhullar | |
| Dean Burmester | |
| Paul Waring | 44 |
| Adri Arnaus | |
| Thomas Detry | 31 |
| Chris Paisley | |
| Andy Sullivan | 16 |
| Scott Vincent | |
| Joachim B Hansen | |
| Darren Fichardt | MC |
| Yusaku Miyazato | |
| Marcus Kinhult | 16 |
| Oliver Wilson | |
| David Lipsky | |
| Pablo Larrazabal | 44 |
| Sihwan Kim | |
| Romain Langasque | |
| David Drysdale | 23 |
| Nicolas Colsaerts | |
| Sean Crocker | MC |
| Ashun Wu | MC |
| Scott Jamieson | |
| Kurt Kitayama | |
| Benjamin Hebert | 9 |
| Matthew Southgate | 9 |
| Gavin Green | 68 |
| David Law | |
| Hideto Tanihara | |
| Richard McEvoy | 65 |
| Masahiro Kawamura | |
| Andrew Johnston | 12 |
| Jack Singh Brar | |
| Kim Koivu | |
| Joakim Lagergren | MC |
| Matthias Schwab | MC |
| Robert Rock | 7 |
| George Coetzee | |
| Scott Hend | 56 |
| Grant Forrest | |
| Robert MacIntyre | |
| Zander Lombard | 65 |
| Matthieu Pavon | 31 |
| Thomas Aiken | MC |
| Fabrizio Zanotti | 7 |
| Bernd Wiesberger | |
| Kalle Samooja | |
| Liam Johnston | |
| Lee Slattery | 31 |
| Louis De Jager | |
| Nacho Elvira | MC |
| Alvaro Quiros | MC |
| Renato Paratore | MC |
| Tapio Pulkkanen | 23 |
| Dave Horsey | MC |
| Haydn Porteous | 26 |
| Sebastian Soderberg | |
| Justin Walters | |
| Stuart Manley | |
| Ashley Chesters | MC |
| Hyo Won Park | |
| Min Woo Lee | |
| Callum Shinkwin | 56 |
| Maximilian Kieffer | 23 |
| Victor Dubuisson | |
| Clement Sordet | 37 |
| Oscar Lengden | |
| Richie Ramsay | |
| Romain Wattel | MC |
| Jens Dantorp | 59 |
| Stephen Gallacher | 9 |
| Niklas Lemke | |
| Oliver Fisher | 44 |
| Steven Brown | MC |
| Lorenzo Gagli | MC |
| Connor Syme | 37 |
| Bradley Dredge | MC |
| Marc Warren | 63 |
| Jose-Filipe Lima | |
| Jeff Winther | 21 |
| Tom Murray | |
| Nino Bertasio | 51 |
| Jacques Kruyswijk | MC |
| Jeung-Hun Wang | 26 |
| Pedro Figueiredo | |
| Ricardo Gouveia | MC |
| Joel Girrbach | |
| Thongchai Jaidee | 51 |
| Gonzalo F`dez-Castano | MC |
| Marcel Schneider | MC |
| Robert Karlsson | MC |
| Anton Karlsson | |
| Edoardo Molinari | 16 |
| Ben Stow | |
| Raphael Jacquelin | 44 |
| Max Orrin | |
| Christofer Blomstrand | MC |
| Ben Evans | MC |
| Jin Ho Choi | MC |
| Adrien Saddier | MC |
| Nick Cullen | |
| Jack Senior | |
| David Borda | |
| Guido Migliozzi | |
| Christiaan Bezuidenhout | 44 |
| Per Langfors | |
| Gavin Moynihan | MC |
| Michael Hoey | |
| Marcel Siem | MC |
| Kristian Krogh Johannessen | |
| Eirik Tage Johansen | |
| Matthew Baldwin | MC |
| Matthew Nixon | MC |
| Sam Brazel | 16 |
| James Morrison | MC |
| Peter Hanson | |
| Hugo Leon | |
| Alejandro Canizares | |
| Deyen Lawson | |
| Max Schmitt | |
| SSP Chawrasia | 53 |
| Matteo Manassero | 31 |
| Thomas Bjorn | 31 |
| Jaco Van Zyl | |
| Ivan Cantero Gutierrez | |
| Bernd Ritthammer | MC |
| Paul Lawrie | 61 |
| Kristoffer Reitan | |
| David Howell | |
| Cheng Jin | |
| Daniel Gavins | |
| Kristoffer Broberg | |
| Filippo Bergamaschi | |
| Azaan Al Rumhy | MC |
| Scott Gregory | |
| Othman Almulla | |
| Espen Kofstad | |
| Kieran Pratt | |
| Max Burrow | |