Memorial Tournament 2020: Form stats for this week's second successive PGA Tour event in Ohio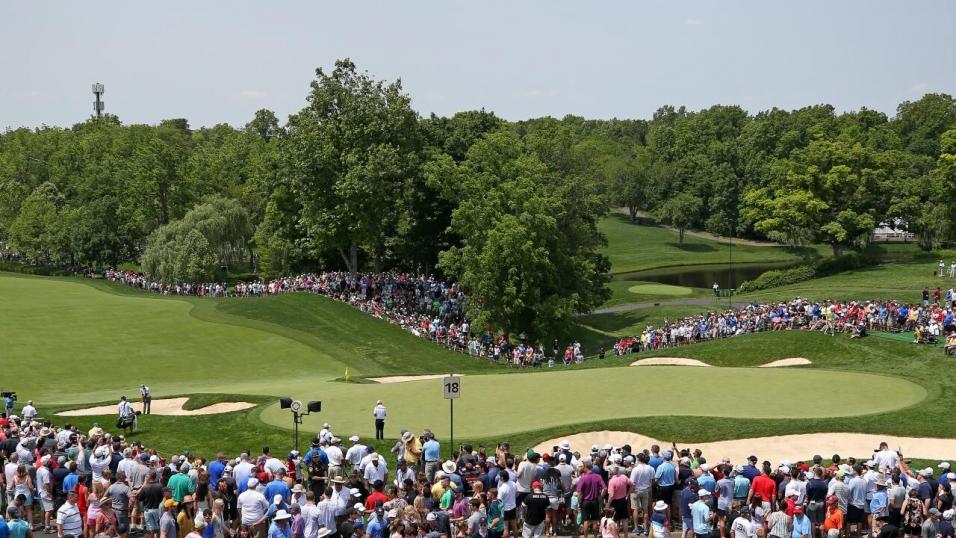 The undulating, sloping and tricky final green at Muirfield Village
Andy Swales supplies the words and stats ahead of a second straight week at Muirfield Village, home of the prestigious Memorial Tournament...
"World No 1 Rory McIlroy has been a little sluggish since starting up again post-lockdown, and is yet to register a top-10, and the same goes for No 2 Jon Rahm."
Muirfield Village Part II. The PGA Tour stays put in Ohio for this week's Memorial Tournament.
For the first time in living memory, the same course will host two consecutive 72-hole events on the PGA Tour.
This week's tournament had originally been earmarked as the first event, following resumption of play last month, to allow fans through the gates.
But due to a spike in the number of Covid-19 cases, both nationally and in the state of Ohio, it was decided that the tournament should be staged behind closed doors.
It was hoped the Memorial would cater for up to 8,000 spectators but the powers-that-be agreed, for reasons of safety and respect, to keep the gates locked for a sixth straight week.
The tournament's executive director Dan Sullivan explained in a statement: "While we embraced the opportunity to be the first PGA Tour event to welcome the return of on-site fans, we recognise the current increase in positive Covid-19 cases across the country, and our ultimate responsibility."
It was a decision backed by Tour commissioner Jay Monahan who added: "We will welcome back fans when the time is right."
Tiger makes first start in five months
All of which means there will be no spectators at Muirfield Village to cheer on Tiger Woods who tees-up for the first time since mid-February.
Woods is a five-time winner over this course but he is likely to be at a huge disadvantage compared to those who sampled the venue during last week's Workday Charity Open.
Among those who posted top-10 finishes on Sunday, and have remained in Ohio for the Memorial, read: Collin Morikawa (Won), Justin Thomas (2nd), Viktor Hovland (3rd), Gary Woodland (T-5th) and defending champion Patrick Cantlay (T-7th).
Check out the latest betting ahead of this week's Memorial Tournament
Another golfer who finished in a tie-for-seventh was former world No 1 Jason Day.
Going into the Workday Charity Open, Day had only posted a single top-10 during the previous 12 months.
The world No 58 from Australia last won on the PGA Tour 26 months ago so, hopefully, this performance will have given him fresh confidence going forward.
Big stars out in force
Mind you, because of the high quality of this week's field, it won't be easy for anyone to come out on top.
Nine of the world's top-10 are in attendance - the exception being Adam Scott - along with 17 of the leading 20.
Even for a prestigious event such as the Memorial, this strength in depth is rare.
World No 1 Rory McIlroy has been a little sluggish since starting up again post-lockdown, and is yet to register a top-10, and the same goes for No 2 Jon Rahm.
But no such worries for man of the moment Bryson DeChambeau whose last seven starts - either side of the four month break - have all yielded top-eight finishes, including a recent victory in Detroit.
Reigning US Open champion Gary Woodland is playing solidly right now, so may be worth checking out.
Further down the food chain is world No 44 Kevin Streelman, who is also performing well and has a decent Muirfield Village record, and could be worth an each-way shout.
Note: Last week's Workday Charity Open is included in the course form table below
Twitter: Andy Swales@GolfStatsAlive
MC* - Missed Additional 54-Hole Cut
Note: List Contains Leading Reserves

| Player | W28 | W27 | W26 | W25 | W24 | W10 | W9 | W8 | W7 | W6 |
| --- | --- | --- | --- | --- | --- | --- | --- | --- | --- | --- |
| Rory McIlroy | | | 11 | 41 | 32 | 5 | | 5 | 5 | |
| Jon Rahm | 27 | | 37 | 33 | MC | | | 3 | 17 | |
| Dustin Johnson | | | 1 | 17 | MC | | | 48 | 10 | 32 |
| Webb Simpson | | 8 | | 1 | MC | | | 61 | | |
| Justin Thomas | 2 | | MC | 8 | 10 | | | 6 | MC | |
| Brooks Koepka | MC | | | 7 | 32 | 47 | MC | | 43 | |
| Bryson DeChambeau | | 1 | 6 | 8 | 3 | 4 | | 2 | 5 | |
| Patrick Cantlay | 7 | | 11 | | | | | | 17 | 11 |
| Patrick Reed | 39 | MC | 24 | MC | 7 | 15 | | 1 | 51 | |
| Xander Schauffele | 14 | | 20 | 64 | 3 | 24 | | 14 | 23 | |
| Justin Rose | MC | | MC | 14 | 3 | MC | MC | | 56 | |
| Tiger Woods | | | | | | | | | 68 | |
| Marc Leishman | MC | | 58 | | MC | 2 | | 42 | 43 | |
| Tony Finau | | 53 | MC | 33 | 23 | MC | | | 51 | |
| Matt Kuchar | 39 | | | 41 | MC | | | 22 | 2 | 38 |
| Gary Woodland | 5 | | MC | 62 | 9 | | 8 | 12 | | |
| Abraham Ancer | | | 11 | 2 | 14 | 56 | | 12 | 43 | |
| Louis Oosthuizen | 65 | | 46 | MC | 55 | | MC | 51 | | |
| Sung Jae Im | 63 | 53 | 58 | MC | 10 | 3 | 1 | 29 | MC | |
| Hideki Matsuyama | 22 | 21 | | MC | | 56 | | 6 | 5 | |
| Paul Casey | | | 32 | | | | | 11 | 37 | 64 |
| Shane Lowry | 39 | | 60 | MC | MC | | 21 | 29 | | |
| Matthew Fitzpatrick | 27 | | MC | 14 | 32 | 9 | | 37 | 30 | 60 |
| Daniel Berger | | | | 3 | 1 | | 4 | | | 5 |
| Bernd Wiesberger | | | | | | | | 37 | | |
| Collin Morikawa | 1 | | MC | 64 | 2 | 9 | | 42 | 26 | |
| Rickie Fowler | 22 | 12 | | MC | MC | 18 | MC | | | |
| Kevin Na | | Wd | 5 | | MC | 36 | | 9 | MC | 14 |
| Kevin Kisner | | 3 | MC | MC | 29 | MC | | 18 | | 38 |
| Danny Willett | | 4 | MC | MC | MC | 18 | | 42 | MC | |
| Sergio Garcia | | | 32 | 5 | MC | | | 37 | 37 | |
| Billy Horschel | 7 | | MC | MC | 38 | 36 | 42 | 9 | | |
| Chez Reavie | 17 | | 46 | 74 | MC | | | 29 | 10 | 25 |
| Cameron Smith | | | MC | MC | MC | | | 22 | MC | |
| Erik van Rooyen | | MC | | 21 | MC | | MC | 3 | MC | |
| Viktor Hovland | 3 | 12 | 11 | 21 | 23 | 42 | MC | 1 | | 38 |
| Victor Perez | | | | MC | MC | | | 53 | | |
| Jazz Janewattananond | | | | MC | MC | MC | | 53 | | |
| Matt Wallace | 39 | 12 | MC | 64 | MC | 24 | MC | 58 | | |
| Christiaan Bezuidenhout | | MC | | 28 | MC | 18 | | 29 | 1 | |
| Rafa Cabrera-Bello | | MC | 37 | MC | 23 | MC | | 16 | 17 | MC |
| Graeme McDowell | 35 | | | MC | MC | 32 | | 69 | | MC |
| Kevin Streelman | 7 | | 2 | MC | MC | MC | 47 | | | 2 |
| Bubba Watson | MC | MC | MC | 52 | 7 | MC | | 18 | MC | |
| Brendon Todd | | 57 | 11 | MC | MC | 18 | | 37 | 56 | |
| Adam Hadwin | 35 | 4 | | 41 | 43 | | | | 26 | MC |
| Brandt Snedeker | MC | MC | 41 | MC | | | | 22 | | MC |
| Sung Kang | MC | | 46 | MC | MC | 9 | | 71 | 2 | MC |
| Scottie Scheffler | MC | MC | MC | | 55 | 15 | | 26 | 30 | |
| Byeong Hun An | MC | | 46 | MC | 60 | 56 | 4 | 29 | | |
| Jordan Spieth | MC | | 54 | 68 | 10 | | | 58 | 59 | 9 |
| Matthew Wolff | MC | 2 | MC | MC | 54 | 52 | 58 | | MC | |
| Ian Poulter | 5 | | 64 | 14 | 29 | 32 | 27 | | | |
| Jason Kokrak | MC | | MC | MC | 3 | 18 | | 51 | MC | |
| JT Poston | | MC | MC | 8 | 10 | MC | 35 | | 30 | |
| Jason Day | 7 | MC | 46 | MC | MC | Wd | | | MC | 4 |
| Joaquin Niemann | 31 | | 63 | 5 | 32 | MC | MC | | MC | |
| Joel Dahmen | MC | | 20 | 48 | 19 | 5 | | | 5 | 14 |
| Phil Mickelson | 58 | | 24 | | MC | MC | | | MC | 3 |
| Corey Conners | 39 | | MC | 21 | 19 | MC | MC | 50 | MC | |
| Keegan Bradley | 39 | 45 | MC | | 32 | 42 | MC | | MC | |
| Ryan Palmer | MC | | MC | 8 | MC | | 17 | | 67 | |
| Max Homa | MC | | MC | 41 | MC | 24 | | | 5 | 14 |
| Cameron Champ | 67 | 12 | | | 14 | MC | | | MC | 55 |
| Branden Grace | | MC | MC | 61 | 19 | | | 42 | MC | MC |
| Andrew Putnam | 58 | MC | | MC | MC | MC | | | MC | |
| Lucas Glover | | 21 | 20 | 21 | 23 | MC | MC | 61 | | 50 |
| Lanto Griffin | MC | 21 | 24 | MC | MC | 36 | | 29 | 37 | 9 |
| Charles Howell | MC | | | MC | 49 | MC | | 53 | 59 | |
| Nate Lashley | MC | MC | | MC | MC | MC | | | MC | Wd |
| Jim Furyk | MC | | 54 | MC | 49 | | MC | | MC | MC |
| Rory Sabbatini | 17 | MC | | 21 | 14 | 47 | 35 | | 59 | |
| Matthias Schwab | | | | | | 21 | | 42 | | |
| Sebastian Munoz | MC | MC | MC | 28 | MC | MC | | 14 | 26 | |
| Danny Lee | MC | | MC | 70 | MC | 5 | 47 | | MC | |
| Hao Tong Li | | | | | | MC | 18 | | | MC |
| Mackenzie Hughes | 48 | | 3 | 70 | MC | | 2 | | | MC |
| Scott Piercy | | | | MC | 64 | MC | | | 17 | 18 |
| Nick Taylor | 48 | | | | | 56 | | | MC | 1 |
| Vaughn Taylor | MC | | MC | 52 | MC | 67 | 42 | | 13 | MC |
| Keith Mitchell | MC | | MC | MC | 64 | 5 | MC | | | 32 |
| Adam Long | 52 | | 24 | MC | MC | 24 | 27 | | MC | MC |
| CT Pan | 48 | MC | MC | 52 | MC | MC | MC | | MC | |
| Dylan Frittelli | MC | | MC | 8 | MC | 18 | 58 | | MC | |
| Andrew Landry | MC | | | 33 | 49 | | | | 37 | MC |
| Brendan Steele | 52 | | 6 | | MC | MC | 4 | | | |
| Harold Varner | MC | 30 | 32 | MC | 19 | 36 | 42 | | 13 | MC |
| Alexander Noren | | MC | | 21 | 60 | MC | | MC | 59 | 32 |
| Ryan Moore | | | MC | MC | MC | 52 | | | 30 | |
| Doc Redman | | 21 | 11 | 21 | 58 | 62 | MC | | | 50 |
| Tom Hoge | MC | MC | 37 | MC | MC | 15 | MC | | | 60 |
| Bud Cauley | MC | | Wd | MC | 29 | 32 | 42 | | 51 | |
| Brian Stuard | MC | 30 | 20 | 52 | 43 | MC | 66 | | 23 | MC |
| Brian Harman | | MC | MC | 28 | 23 | MC | 47 | | 47 | |
| Si Woo Kim | 64 | 57 | 11 | MC | MC | MC | MC | | 37 | MC |
| Harry Higgs | MC | 70 | MC | 52 | 38 | 42 | 58 | | | 18 |
| Carlos Ortiz | 61 | | MC | 33 | MC | MC | | 16 | 26 | |
| Mark Hubbard | Wd | 12 | 37 | 33 | 43 | MC | 11 | | | MC |
| Harris English | | | | 17 | MC | 9 | 17 | | | |
| Emiliano Grillo | MC | 39 | 60 | MC | MC | Dq | MC | 3 | MC | |
| Xin Jun Zhang | MC | MC | MC | 37 | MC | 52 | MC | 14 | | 64 |
| Troy Merritt | 22 | 8 | 60 | 70 | MC | 24 | | | MC | 25 |
| Talor Gooch | 17 | Wd | MC | MC | 43 | 13 | 38 | | 10 | |
| Sepp Straka | 14 | 8 | MC | 33 | MC | MC | 27 | | MC | |
| Wyndham Clark | | Wd | MC | 64 | MC | 68 | 11 | | 17 | 18 |
| Tyler Duncan | | 53 | 32 | 28 | 38 | MC | MC | | 64 | MC |
| Kevin Tway | MC | MC | MC | MC | MC | MC | MC | | MC | |
| Jason Scrivener | | | | | | 21 | MC | | | 22 |
| Maverick McNealy | MC | 8 | | 58 | 32 | MC | 11 | 27 | | 5 |
| Matthew NeSmith | MC | | MC | 33 | 49 | MC | 38 | 6 | | 11 |
| Denny McCarthy | MC | | Wd | MC | 66 | MC | MC | | 37 | |
| Henrik Norlander | 31 | 12 | 41 | | MC | MC | MC | 44 | | 25 |
| Patrick Rodgers | MC | 45 | MC | MC | 14 | 24 | 21 | 35 | 30 | MC |
| Zac Blair | MC | 57 | MC | | 55 | 36 | MC | MC | | 18 |
| Zach Johnson | 31 | | 11 | MC | 43 | 32 | 67 | | | |
| Charl Schwartzel | MC | MC | MC | 41 | | MC | 17 | | | 5 |
| Scott Harrington | MC | 39 | MC | | MC | 47 | MC | | | MC |
| Jason Dufner | 56 | MC | | 41 | 67 | | 27 | | 64 | 62 |
| Stewart Cink | 17 | | MC | 62 | | 47 | 53 | | | 38 |
| Jimmy Walker | MC | MC | | MC | MC | 24 | 21 | | MC | MC |
| Jim Herman | MC | | | 33 | MC | MC | MC | | MC | 55 |
| Bo Hoag | MC | MC | MC | 49 | | | MC | 35 | | MC |
| Pat Perez | 39 | 45 | | MC | 49 | MC | | | 47 | MC |
| Adam Schenk | 39 | 30 | MC | MC | 43 | | MC | 14 | 47 | 50 |
| Ryan Armour | MC | 4 | 6 | 74 | | | MC | | MC | MC |
| Jhonattan Vegas | MC | | 24 | 17 | 60 | | 27 | 9 | MC | |
| Charley Hoffman | 7 | | 41 | MC | MC | 13 | | | MC | MC |
| Scott Brown | | MC | 65 | MC | MC | 56 | MC | 67 | 2 | MC |
| Chesson Hadley | 52 | MC | | 58 | 23 | | MC | MC | | 18 |
| Matt Jones | 14 | MC | MC | 52 | 38 | 47 | 47 | | MC | 5 |
| Robby Shelton | MC | MC | MC | | MC | 56 | 11 | 52 | | |
| Matt Every | Wd | MC | MC | MC | | MC | MC | | MC | 32 |
| KJ Choi | | | | MC | | | 18 | | | MC |
| Ernie Els | | | | 48 | | | | | MC | |
| Bill Haas | | MC | | 48 | MC | | | 27 | | MC |
| Steve Stricker | 56 | 67 | | | MC | 42 | | | 56 | MC |
| Vijay Singh | MC | MC | MC | MC | | MC | MC | | | |
| David Lingmerth | 46 | | | MC | MC | | | 50 | MC | MC |
| William McGirt | | MC | | | | | | | | |
| Tom Lehman | | | | | MC | | | | | |
| Carl Pettersson | | | | | | | | | | |
| Peter Kuest | | MC | MC | | | | | | | |
| Andy Ogletree | | | | MC | MC | | | | | |
| Player | `20 | `19 | `18 | `17 | `16 | `15 | `14 | `13 | `12 | `11 |
| --- | --- | --- | --- | --- | --- | --- | --- | --- | --- | --- |
| Rory McIlroy | | MC | 8 | | 4 | | 15 | 57 | MC | 5 |
| Jon Rahm | 27 | | | MC | | | | | | |
| Dustin Johnson | | | 8 | MC | 3 | 13 | 46 | MC | 19 | 4 |
| Webb Simpson | | | | 67 | 11 | | | MC | MC | 7 |
| Justin Thomas | 2 | MC | 8 | 4 | MC | MC | 37 | | | |
| Brooks Koepka | MC | | | 31 | | 52 | | | | |
| Bryson DeChambeau | | 22 | 1 | | 38 | | | | | |
| Patrick Cantlay | 7 | 1 | 4 | 35 | | | | | | |
| Patrick Reed | 39 | | 29 | 57 | 8 | 26 | | | | |
| Xander Schauffele | 14 | 14 | MC | | | | | | | |
| Justin Rose | MC | 13 | 6 | | | 2 | MC | 8 | 8 | MC |
| Tiger Woods | | 9 | 23 | | | 71 | | 65 | 1 | |
| Marc Leishman | MC | 5 | 62 | 15 | 11 | 5 | 37 | 41 | 58 | 62 |
| Tony Finau | | MC | 13 | 40 | 11 | 8 | | | | |
| Matt Kuchar | 39 | MC | 13 | 4 | 4 | 26 | 15 | 1 | | 2 |
| Gary Woodland | 5 | 52 | 23 | 49 | 4 | MC | 57 | 16 | MC | 6 |
| Abraham Ancer | | 65 | 57 | | | | | | | |
| Louis Oosthuizen | 65 | 57 | 13 | | | | | | MC | |
| Sung Jae Im | 63 | 57 | | | | | | | | |
| Hideki Matsuyama | 22 | 6 | 13 | 45 | MC | 5 | 1 | | | |
| Paul Casey | | | | | MC | | 13 | | | |
| Shane Lowry | 39 | | 52 | 15 | | | | MC | | |
| Matthew Fitzpatrick | 27 | 68 | | | | | | | | |
| Daniel Berger | | | | | 67 | MC | | | | |
| Bernd Wiesberger | | | | | | | | | | |
| Collin Morikawa | 1 | | | | | | | | | |
| Rickie Fowler | 22 | 14 | 8 | 2 | MC | MC | MC | 37 | 52 | 22 |
| Kevin Na | | | MC | | 74 | 13 | 2 | | MC | |
| Kevin Kisner | | 41 | MC* | 6 | MC | 8 | 46 | | | |
| Danny Willett | | 27 | | | | | | | | |
| Sergio Garcia | | | | | | | | | | |
| Billy Horschel | 7 | 9 | MC | MC | | 11 | 15 | 41 | | |
| Chez Reavie | 17 | | | | MC | | | | | 63 |
| Cameron Smith | | MC | MC | 65 | | MC | | | | |
| Erik van Rooyen | | | | | | | | | | |
| Viktor Hovland | 3 | | | | | | | | | |
| Victor Perez | | | | | | | | | | |
| Jazz Janewattananond | | | | | | | | | | |
| Matt Wallace | 39 | | | | | | | | | |
| Christiaan Bezuidenhout | | | | | | | | | | |
| Rafa Cabrera-Bello | | 41 | | MC | 52 | | | | | |
| Graeme McDowell | 35 | | | | | | | | | |
| Kevin Streelman | 7 | 4 | 44 | 13 | 8 | 18 | MC | MC | MC | 7 |
| Bubba Watson | MC | | 44 | 6 | 65 | | 3 | 29 | MC | 42 |
| Brendon Todd | | | | | MC | 17 | 8 | | | |
| Adam Hadwin | 35 | 52 | MC* | MC | 11 | 57 | | | | |
| Brandt Snedeker | MC | | | | | | | MC | Wd | |
| Sung Kang | MC | MC | 57 | 75 | | | | | | |
| Scottie Scheffler | MC | | | | | | | | | |
| Byeong Hun An | MC | 17 | 2 | 25 | 11 | | | | | |
| Jordan Spieth | MC | 7 | MC | 13 | 57 | 3 | 19 | 63 | | |
| Matthew Wolff | MC | | | | | | | | | |
| Ian Poulter | 5 | | | | | | | | | |
| Jason Kokrak | MC | 62 | MC | 35 | MC | MC | | MC | | |
| JT Poston | | 52 | | | | | | | | |
| Jason Day | 7 | MC | 44 | 15 | 27 | MC | 37 | 41 | MC | |
| Joaquin Niemann | 31 | 27 | 6 | | | | | | | |
| Joel Dahmen | MC | 68 | | | | | | | | |
| Phil Mickelson | 58 | MC | 13 | 22 | 20 | 65 | 49 | | Wd | 13 |
| Corey Conners | 39 | 65 | | | | | | | | |
| Keegan Bradley | 39 | MC | 23 | MC | 8 | 8 | 37 | 50 | MC | MC |
| Ryan Palmer | MC | | | | | | | | | MC |
| Max Homa | MC | 37 | | | | | | | | |
| Cameron Champ | 67 | MC | | | | | | | | |
| Branden Grace | | MC | 52 | | | | MC | MC | 25 | |
| Andrew Putnam | 58 | 17 | | | | 68 | | | | |
| Lucas Glover | | 52 | 52 | 45 | 33 | 68 | 69 | MC | 46 | MC |
| Lanto Griffin | MC | | | | | | | | | |
| Charles Howell | MC | MC | 65 | | 48 | 31 | 57 | 21 | | 22 |
| Nate Lashley | MC | | | | | | | | | |
| Jim Furyk | MC | 33 | MC | MC | 52 | 5 | 19 | 21 | 13 | MC |
| Rory Sabbatini | 17 | 27 | 44 | | | 24 | MC | | 2 | |
| Matthias Schwab | | | | | | | | | | |
| Sebastian Munoz | MC | | | | | | | | | |
| Danny Lee | MC | MC | MC | 49 | 52 | MC | | | | |
| Hao Tong Li | | 37 | | | | | | | | |
| Mackenzie Hughes | 48 | | MC | 45 | | | | | | |
| Scott Piercy | | | | MC | 69 | MC | | 16 | 68 | 42 |
| Nick Taylor | 48 | | | 49 | | MC | | | | |
| Vaughn Taylor | MC | 48 | | 73 | MC | | | | | MC |
| Keith Mitchell | MC | 48 | MC | | | | | | | |
| Adam Long | 52 | MC | | | | | | | | |
| CT Pan | 48 | | | 40 | | | | | | |
| Dylan Frittelli | MC | | | | | | | | | |
| Andrew Landry | MC | MC | 65 | | | | | | | |
| Brendan Steele | 52 | 41 | | 57 | 20 | 63 | MC | MC | 62 | 51 |
| Harold Varner | MC | MC | | 19 | 57 | | | | | |
| Alexander Noren | | 41 | | | | | | | | |
| Ryan Moore | | 33 | 13 | MC | 48 | 18 | 19 | 13 | 38 | 22 |
| Doc Redman | | | MC | | | | | | | |
| Tom Hoge | MC | | 13 | | | | | | | |
| Bud Cauley | MC | 9 | MC | 25 | 38 | | | 34 | 52 | |
| Brian Stuard | MC | 33 | 70 | 52 | 69 | 61 | MC | MC | | |
| Brian Harman | | 27 | | MC | 33 | | MC | MC | MC | |
| Si Woo Kim | 64 | 41 | 29 | Wd | 74 | | | | | |
| Harry Higgs | MC | | | | | | | | | |
| Carlos Ortiz | 61 | MC | | | MC | MC | 65 | | | |
| Mark Hubbard | Wd | | | | MC | | | | | |
| Harris English | | | | | | 18 | | | 62 | |
| Emiliano Grillo | MC | 9 | 23 | 40 | 11 | | | | | |
| Xin Jun Zhang | MC | | | | | | | | | |
| Troy Merritt | 22 | 17 | | | MC | 52 | | | | |
| Talor Gooch | 17 | MC | | | | | | | | |
| Sepp Straka | 14 | | | | | | | | | |
| Wyndham Clark | | | | | | | | | | |
| Tyler Duncan | | | | | | | | | | |
| Kevin Tway | MC | | 65 | MC | | | | | | |
| Jason Scrivener | | | | | | | | | | |
| Maverick McNealy | MC | | | | | | | | | |
| Matthew NeSmith | MC | | | | | | | | | |
| Denny McCarthy | MC | | | | | | | | | |
| Henrik Norlander | 31 | | | | | | | | | |
| Patrick Rodgers | MC | | 8 | 67 | MC | 40 | | | | |
| Zac Blair | MC | | | 63 | 27 | 61 | | | | |
| Zach Johnson | 31 | | 40 | 40 | | | | 71 | | |
| Charl Schwartzel | MC | | MC | 35 | 11 | MC | 8 | 8 | 19 | 22 |
| Scott Harrington | MC | | | | | | | | | |
| Jason Dufner | 56 | 7 | MC | 1 | 33 | 24 | 19 | | | |
| Stewart Cink | 17 | | MC | 25 | | 31 | 49 | 29 | 25 | 30 |
| Jimmy Walker | MC | | | | | | | 73 | 62 | MC |
| Jim Herman | MC | | | 19 | MC | 40 | | | | |
| Bo Hoag | MC | | | | | | | | MC | |
| Pat Perez | 39 | 57 | 70 | 19 | | 57 | 69 | 8 | 25 | 30 |
| Adam Schenk | 39 | 65 | | | | | | | | |
| Ryan Armour | MC | 22 | 23 | MC | | | | | | |
| Jhonattan Vegas | MC | MC | 40 | | MC | | | | 56 | MC |
| Charley Hoffman | 7 | MC | MC | 45 | | | 19 | 63 | MC | 42 |
| Scott Brown | | MC | MC | MC | 27 | MC | 13 | MC | | |
| Chesson Hadley | 52 | MC | 40 | | | 49 | MC | | | |
| Matt Jones | 14 | 41 | | | 20 | 40 | MC | 6 | | MC |
| Robby Shelton | MC | | | | | | | | | |
| Matt Every | Wd | MC | | MC | | MC | MC | MC | 6 | |
| KJ Choi | | 71 | MC | 67 | 52 | MC | 28 | 21 | 19 | 22 |
| Ernie Els | | Wd | MC | | MC | MC | 19 | 37 | 58 | 61 |
| Bill Haas | | MC | 57 | 25 | MC | 18 | 8 | 4 | MC | 45 |
| Steve Stricker | 56 | 22 | | 40 | | 40 | 6 | | 50 | 1 |
| Vijay Singh | MC | | 69 | MC | | 11 | MC | MC | 16 | 37 |
| David Lingmerth | | 41 | 29 | 15 | 27 | 1 | 49 | 57 | | |
| William McGirt | | | MC | 67 | 1 | 40 | MC | 37 | | |
| Tom Lehman | | | | | | | | | | |
| Carl Pettersson | | | MC | MC | MC | 36 | 62 | 29 | MC | MC |
| Peter Kuest | | | | | | | | | | |
| Andy Ogletree | | | | | | | | | | |