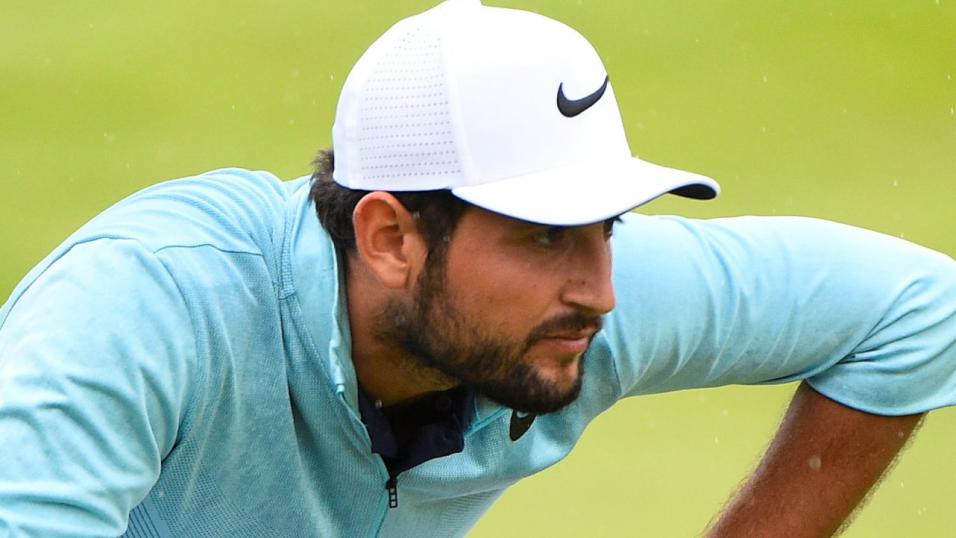 Alexander Levy: Fourth at Saujana last year, plus back-to-back top-10s in the United Arab Emirates this month
The European Tour visits Malaysia for the Maybank Championship at Saujana. Check out our course and current form stats compiled by Andy Swales...
"Palm is acknowledged within Malaysia as being the country's toughest course, with tight tree-lined fairways and fast tricky greens"
The European Tour returns to Asia, where Saujana will host the Maybank Championship for a second straight year.
Located around 12 miles west of Kuala Lumpur city centre, Saujana is no stranger to the European Tour, having hosted seven tournaments during the past 20 years.
Opened in 1986, Saujana's Palm Course underwent a redesign in 2015 when the main focus of attention was to renovate all 18 greens.
Palm is acknowledged within Malaysia as being the country's toughest course, with tight tree-lined fairways and fast tricky greens.
Its undulating fairways were carved out of a former oil plantation, with a layout that provides dramatic changes in elevation.
The smallish greens are equally undulating and with various slopes, while water hazards come into play on seven holes.
All of which means the course will test every department of a golfer's game.
Between hosting the 2009 Malaysian Open, and last year's Maybank Championship, two new holes were added to the venue.
Once again, the tournament will be co-sanctioned by the European and Asian Tours.
Star of the Show
Henrik Stenson is the biggest name on view this week and will arrive in the Malaysian capital in pretty good shape.
The 41-year-old Swede posted top-10 finishes in both recent events held in the United Arab Emirates, when the fields were considerably stronger than it will be in Malaysia.
Stenson's last visit to Saujana, 13 years ago, ended in a podium finish and - despite a number of changes made to the course since then - he will certainly fancy his chances this weekend.
In-Form Europeans
Also looking good right now are Alexander Levy and Chris Paisley, both of whom enjoyed back-to-back top-10s in the Middle East.
Frenchman Levy was also fourth at Saujana 12 months ago, while Paisley is riding high following his maiden Tour victory in South Africa.
Austrian Bernd Wiesberger cannot be ignored either, while American Paul Peterson will tee-up this Thursday having won in Myanmar on the Asian Tour at the weekend.
Peterson, a champion on the European Tour during 2016, has registered top-10 finishes in six of his last eight events.
And because all of these results occurred on the Asian Tour, the 29-year-old from Arizona heads to Kuala Lumpur a little under the radar, so could be a promising rate with the bookies.
Meanwhile, a couple of South Africans currently on a solid run are Dylan Frittelli and Shaun Norris, although neither have a great deal of experience of Saujana's Palm course.
Asian Challenge
Young Chinese star Hao Tong Li travels to Malaysia having edged out Rory McIlroy for the Dubai Desert Classic title last week.
Li tied-fifth in Malaysia in 2017 but his head may still be swirling from his exploits at the Emirates.
Elsewhere, Thongchai Jaidee is a two-time winner of the Malaysian Open, when staged at Saujana, although his form at present is not great.
Other Asian Tour pros who may offer some decent value are Gavin Green, Poom Saksansin, Jazz Janewattananond and Jeung-Hun Wang, although Green was the only one of this quartet to survive the cut at Saujana last year.

| Player | W4 | W3 | W2 | W1 | W52 | W51 | W50 | W49 | W48 | W47 | W46 | W45 |
| --- | --- | --- | --- | --- | --- | --- | --- | --- | --- | --- | --- | --- |
| Henrik Stenson | 6 | 8 | | | | | | | 17 | | | |
| Hao Tong Li | 1 | MC | | | | | | | | 19 | 13 | 4 |
| Yuta Ikeda | 35 | MC | | | | | | | 24 | 21 | 11 | 23 |
| Bernd Wiesberger | 32 | 15 | | | | | | | | | 45 | 19 |
| Kiradech Aphibarnrat | 51 | 22 | | | | | 5 | 1 | | 10 | 2 | 42 |
| Dylan Frittelli | 6 | 19 | 20 | | | | 20 | 42 | 1 | 16 | 4 | 42 |
| Yusaku Miyazato | 5 | 40 | MC | | | | 4 | | 1 | 8 | 19 | 2 |
| Alexander Levy | 4 | 7 | | | | | | | | | 36 | 37 |
| Lee Westwood | MC | MC | | | | | | | | | 52 | 6 |
| Hideto Tanihara | MC | 68 | | | | | | | 13 | 31 | 54 | 52 |
| Thorbjorn Olesen | 29 | 53 | | | | | | | | | 36 | 12 |
| Joost Luiten | MC | 48 | | | | | | | | | 44 | 12 |
| Jordan Smith | MC | 61 | MC | | | | | | | | 25 | Wd |
| Fabrizio Zanotti | MC | 9 | | | | | | | | | 31 | 29 |
| Chris Paisley | 5 | 5 | 1 | | | | | | MC | 23 | | |
| Wade Ormsby | MC | MC | | | | | | | 9 | 1 | | |
| Younghan Song | 44 | MC | | | | | 6 | | 11 | 13 | 38 | 11 |
| Dave Horsey | 22 | MC | | | | | | | | | 36 | 42 |
| Shaun Norris | 5 | 2 | 20 | | | | | 3 | 2 | 26 | 16 | 6 |
| Jeung-Hun Wang | 6 | 15 | | | | | | | | MC | 28 | 55 |
| Soren Kjeldsen | MC | 48 | MC | | | | | | | | 36 | 12 |
| Alexander Bjork | 6 | MC | | | | | | | MC | 2 | 17 | 52 |
| Ryan Fox | MC | 32 | 4 | | | | | | 55 | | 28 | 52 |
| Scott Hend | 37 | 22 | | | | | 44 | | MC | 62 | 48 | 57 |
| Mike Lorenzo-Vera | MC | 40 | | | | | | | | | 13 | 37 |
| Jazz Janewattananond | 35 | 4 | | | | 3 | 17 | MC | MC | MC | | |
| Matt Wallace | 37 | 32 | 38 | | | | | 30 | | | | 34 |
| Richie Ramsay | 6 | 40 | | | | | | | | | 36 | 19 |
| Dean Burmester | 22 | 40 | 54 | | | | | 19 | 27 | | 4 | 42 |
| Matthew Southgate | 57 | MC | MC | | | | | | | | | |
| Eddie Pepperell | MC | MC | | | | | | | | | 48 | 34 |
| Graeme Storm | MC | MC | MC | | | | | | | | 52 | 10 |
| Andy Sullivan | 6 | 53 | 34 | | | | | | | | 48 | 65 |
| Scott Jamieson | 51 | MC | | | | | | | | | 45 | 2 |
| Danny Willett | MC | | | | | | | | | | | |
| Matthieu Pavon | Dq | MC | 34 | | | | | | 5 | | 13 | 19 |
| Daisuke Kataoka | MC | MC | 18 | | | | 51 | | 28 | 26 | 56 | MC |
| Renato Paratore | MC | MC | 7 | | | | | | | | | 60 |
| Adrian Otaegui | 22 | 40 | | | | | | | | | 42 | 60 |
| Andrew Johnston | 45 | 9 | | | | | | | | | MC | |
| Gaganjeet Bhullar | 10 | 27 | | | | | 13 | | 40 | MC | | 20 |
| David Lipsky | 6 | MC | | | | | | | | MC | 24 | 42 |
| Pablo Larrazabal | MC | MC | | | | | | | | | 55 | 60 |
| Gavin Green | 45 | 8 | | | | | MC | 19 | MC | 62 | | 7 |
| Poom Saksansin | 10 | 12 | | | | 6 | 36 | | | 16 | | MC |
| Phachara Khongwatmai | 57 | MC | | | | | 2 | MC | 44 | MC | | 3 |
| Aaron Rai | MC | | MC | | | | | 19 | MC | MC | | |
| Haydn Porteous | 19 | 53 | MC | | | | | 49 | 40 | | 21 | 12 |
| Jorge Campillo | MC | 14 | 12 | | | | | | | MC | | 27 |
| Thomas Detry | 22 | 9 | MC | | | | | | 45 | 10 | | 51 |
| Nacho Elvira | MC | MC | 20 | | | | | | | | | 29 |
| Prayad Marksaeng | Wd | MC | | | | 36 | Wd | | 16 | | 2 | |
| Andrew Dodt | 29 | MC | | | | | | | 15 | | 36 | 70 |
| Brandon Stone | MC | 61 | MC | | | | | | | | | 66 |
| Shubhankar Sharma | 61 | 48 | | | | | 11 | 1 | 27 | 10 | | |
| Lucas Bjerregaard | 61 | 69 | MC | | | | | | | | 58 | 37 |
| Paul Peterson | 1 | MC | | | | | | 8 | 22 | 2 | | 7 |
| Shiv Kapur | 57 | 23 | | | | | 20 | | 16 | MC | | 20 |
| Ajeetesh Sandhu | 21 | MC | | | | | 8 | | MC | | | 13 |
| Marc Warren | MC | MC | 54 | | | | | | | | 48 | 66 |
| Thongchai Jaidee | MC | MC | | | | 27 | MC | | | 54 | | |
| Ryo Ishikawa | MC | 16 | | | | | | | | 2 | 27 | MC |
| SSP Chawrasia | MC | MC | | | | | MC | | 27 | 7 | | 10 |
| Austin Connelly | MC | MC | 69 | | | | | | | MC | | |
| Panupol Pittayarat | MC | 21 | | | | 36 | 51 | | | 66 | | |
| Robert Rock | MC | MC | | | | | | | | 31 | | |
| Gregory Bourdy | MC | 61 | 54 | | | | | | | MC | | 37 |
| Joakim Lagergren | MC | 53 | | | | | | | MC | 19 | | |
| Paul Waring | MC | MC | | | | | | | | 41 | 31 | 19 |
| Romain Wattel | 37 | MC | | | | | | | | | | 59 |
| Benjamin Hebert | MC | 32 | | | | | | | | | | 19 |
| Lee Slattery | 64 | 61 | MC | | | | | | | | | 29 |
| Danthai Boonma | MC | 4 | | | | MC | 13 | MC | MC | MC | | MC |
| Scott Vincent | 10 | 71 | 4 | | | | 3 | 30 | 22 | MC | | |
| James Morrison | MC | MC | MC | | | | | 6 | MC | 10 | | |
| Sam Brazel | 22 | 32 | | | | | | | 37 | 23 | | 42 |
| Jbe Kruger | MC | MC | 51 | | | | | MC | 32 | MC | | 39 |
| Miguel Tabuena | 14 | 8 | | | | | | | 5 | MC | | 3 |
| Micah Lauren Shin | 21 | MC | | | | | 20 | | MC | 7 | | |
| Robert Karlsson | 51 | 32 | | | | | | | MC | 39 | | |
| Marcus Fraser | MC | 63 | | | | | | | MC | MC | | |
| Ashun Wu | 37 | 22 | | | | | | MC | 20 | 57 | | |
| Stephen Gallacher | 57 | 61 | | | | | | | | | | 60 |
| Jamie Donaldson | 45 | MC | 34 | | | | | | MC | 23 | | |
| Marcel Siem | MC | MC | | | | | | | | | | |
| Alejandro Canizares | 22 | 48 | | | | | | | | MC | | |
| Yikeun Chang | 32 | MC | | | | | | | | 48 | | 29 |
| Thomas Aiken | 51 | MC | MC | | | | | MC | | 31 | | |
| Rattanon Wannasrichan | 5 | MC | | | | MC | 34 | 6 | | 27 | | MC |
| Nino Bertasio | 45 | 53 | | | | | | | | 23 | | |
| Tirawat Kaewsiribandit | MC | 27 | | | | 24 | 69 | 61 | MC | MC | | 10 |
| Peter Hanson | | MC | | | | | | | | | | |
| Angleo Que | MC | MC | | | | | MC | | | 56 | 27 | MC |
| Juvic Pagunsan | MC | MC | | | | | | | | MC | MC | MC |
| Mikko Ilonen | 57 | 40 | | | | | | | MC | 52 | | |
| Chris Hanson | 6 | MC | | | | | | | 62 | 41 | | |
| Carlos Pigem | MC | 53 | | | | | | 72 | 44 | 54 | | |
| Lasse Jensen | 37 | 27 | MC | | | | | | MC | MC | | |
| Ricardo Gouveia | MC | 53 | MC | | | | | | 16 | 68 | | |
| Nicholas Fung | MC | 56 | | | | | MC | | 39 | MC | | 72 |
| Oliver Fisher | MC | MC | 38 | | | | | | | MC | | |
| Adilson Da Silva | MC | MC | 20 | | | | | MC | 59 | 57 | | MC |
| Edoardo Molinari | 45 | MC | MC | | | | | | | 31 | | 55 |
| Johannes Veerman | MC | MC | | | | | 36 | MC | 50 | MC | | |
| Wen-Chong Liang | 29 | 16 | | | | | | | 21 | 48 | | 26 |
| Matteo Manassero | MC | 30 | | | | | | | | 48 | | |
| Maximilian Kieffer | 32 | MC | | | | | | | | | | |
| Jason Norris | MC | MC | | | | | | | 45 | 12 | MC | |
| Alvaro Quiros | MC | 61 | | | | | | | | | | |
| Ashley Chesters | 51 | MC | MC | | | | | MC | 44 | 39 | | |
| Rahman Siddikur | | 49 | | | | | 30 | | MC | Wd | | 70 |
| Zander Lombard | MC | MC | MC | | | | | Dq | MC | | | |
| Chien-Yao Hung | MC | 60 | | | | | 30 | | 10 | 48 | | 20 |
| Daniel Brooks | MC | MC | MC | | | | | 30 | | MC | | |
| Prom Meesawat | 14 | MC | | | | 11 | 44 | 11 | 9 | MC | | 29 |
| Bowen Xiao | MC | MC | | | | | 17 | | 1 | | | |
| Keith Horne | 60 | MC | MC | | | | | MC | | 31 | | 29 |
| Sihwan Kim | 21 | MC | | | | | 6 | | | | | 29 |
| Arjun Atwal | 10 | 47 | | | | | | | 2 | MC | | 17 |
| Shih-Chang Chan | MC | 62 | | | | | 11 | | 16 | MC | 42 | 56 |
| Suradit Yongcharoenchai | 14 | MC | | | | Wd | 17 | MC | 50 | 57 | | 13 |
| Danny Chia | MC | MC | | | | | MC | | | 27 | | 17 |
| Richard T Lee | 48 | 49 | | | | | MC | | | Wd | | 13 |
| Todd Sinnott | 32 | MC | | | | | | | 29 | MC | | |
| Rashid Khan | 48 | MC | | | | | 69 | | | 31 | | Wd |
| Daniel Im | 65 | Dq | | | | | | 12 | 50 | MC | | |
| Gregory Havret | 37 | 67 | MC | | | | | | MC | 66 | | |
| Jake Higginbottom | MC | MC | | | | | 10 | 27 | MC | 37 | 27 | 29 |
| Raphael Jacquelin | | MC | MC | | | | | | MC | | | |
| Wei-Chih Lu | 48 | 63 | | | | | 30 | | | MC | | 51 |
| Gi Whan Kim | MC | 33 | | | | | 20 | | 33 | | | 63 |
| Pavit Tangkamolprasert | 21 | MC | | | | MC | 30 | 6 | 57 | MC | | 20 |
| Khalin H Joshi | MC | MC | | | | | MC | | MC | MC | | 29 |
| Jyoti Randhawa | 57 | 27 | | | | | 51 | | | MC | | 5 |
| Ben Leong | 35 | 23 | | | | | Wd | | | 41 | | |
| Thomas Bjorn | MC | 30 | | | | | | | | | | 60 |
| Lionel Weber | 21 | MC | | | | | 44 | 63 | Wd | MC | | 47 |
| Chiragh Kumar | MC | MC | | | | | Wd | | MC | MC | | 47 |
| Jarin Todd | Wd | 49 | | | | | 48 | MC | 50 | | | 7 |
| Arnond Vongvanij | 44 | MC | | | | | 51 | | | | | 2 |
| S Chikkarangappa | MC | 60 | | | | | 20 | | MC | MC | | MC |
| Jamie Elson | MC | | | | | | | | | | | |
| Thaworn Wiratchant | MC | 40 | | | | 36 | | | | MC | | |
| Antonio Lascuna | | | | | | | 56 | | | MC | | 63 |
| Soomin Lee | MC | MC | 31 | | | | MC | | | MC | | |
| David Howell | | | Wd | | | | | MC | | MC | | |
| Natipong Srithong | 32 | MC | | | | 12 | 44 | | | MC | | 39 |
| Rory Hie | | | | | | | 59 | | | | | 39 |
| Casey O`Toole | 29 | 33 | | | | | 64 | MC | 32 | MC | | 29 |
| R Nachimuthu | 38 | | | | | | | | | 6 | | |
| Rahil Gangjee | Wd | Wd | | | | | MC | | MC | MC | | MC |
| Javi Colomo | MC | MC | | | | | 36 | MC | MC | MC | | MC |
| Berry Henson | 4 | 8 | | | | 12 | | | | | | |
| Simon Yates | MC | 63 | | | | | | | | | | |
| Terry Pilkadaris | MC | MC | | | | | 48 | 63 | | 57 | | 29 |
| Justin Quiban | | | | | | | | | | | | 5 |
| Quincy Quek | | MC | | | | | MC | | 39 | | | 39 |
| Michael Tran | | | | | | | 36 | | MC | | | MC |
| Yu Xin Lin | | MC | | | | | | | | MC | | |
| Shariffudin Ariffin | | 68 | | | | MC | | | | 31 | | |
| Amir Nazrin | Wd | | | | | MC | | | | 22 | | |
| Darren Clarke | MC | | | | | | | | MC | | | |
| Mohammad Wafiyuddin | 7 | | | | | | | | | | | |
| Sukree Othman | 21 | | | | | | | | | 8 | | |
| Airil-Rizman Zahari | 27 | | | | | | | | | | | |
| Kemarol Baharin | 8 | | | | | | | | | 42 | | |
| Kheng Hwai Khor | MC | | | | | | | | | | | |
| Arie Irawan | | | | | | | 59 | | Wd | 49 | | MC |
| M Sasidaran | MC | | | | | | | | | MC | | |
| Galven Green | | | | | | | | | | | | |
| Naing Niang Lin | 62 | | | | | | | | | | | |
| Jason Scrivener | 6 | 48 | MC | | | | | | 15 | 19 | 1 | |
| Player | 2017 | 2009 | 2007 | 2005 | 2004 |
| --- | --- | --- | --- | --- | --- |
| Henrik Stenson | | | | 3 | MC |
| Hao Tong Li | 5 | | | | |
| Yuta Ikeda | | | | | |
| Bernd Wiesberger | 3 | | | | |
| Kiradech Aphibarnrat | MC | | | | |
| Dylan Frittelli | | | | | |
| Yusaku Miyazato | | | | | |
| Alexander Levy | 4 | | | | |
| Lee Westwood | 26 | | 42 | | |
| Hideto Tanihara | | | | | |
| Thorbjorn Olesen | | | | | |
| Joost Luiten | | | | | |
| Jordan Smith | | | | | |
| Fabrizio Zanotti | 1 | | | | |
| Chris Paisley | 41 | | | | |
| Wade Ormsby | | MC | | | 26 |
| Younghan Song | MC | | | | |
| Dave Horsey | MC | 2 | | | |
| Shaun Norris | MC | | | | |
| Jeung-Hun Wang | MC | | | | |
| Soren Kjeldsen | | | 42 | MC | |
| Alexander Bjork | | | | | |
| Ryan Fox | | | | | |
| Scott Hend | 29 | 71 | | | |
| Mike Lorenzo-Vera | 7 | MC | | | |
| Jazz Janewattananond | MC | | | | |
| Matt Wallace | | | | | |
| Richie Ramsay | MC | MC | | | |
| Dean Burmester | | | | | |
| Matthew Southgate | MC | | | | |
| Eddie Pepperell | | | | | |
| Graeme Storm | MC | MC | 11 | 14 | |
| Andy Sullivan | | | | | |
| Scott Jamieson | | | | | |
| Danny Willett | 5 | | | | |
| Matthieu Pavon | | | | | |
| Daisuke Kataoka | | | | | |
| Renato Paratore | 20 | | | | |
| Adrian Otaegui | 52 | | | | |
| Andrew Johnston | | | | | |
| Gaganjeet Bhullar | 20 | MC | | | |
| David Lipsky | 2 | | | | |
| Pablo Larrazabal | 29 | | | | |
| Gavin Green | 47 | | | | |
| Poom Saksansin | MC | | | | |
| Phachara Khongwatmai | 20 | | | | |
| Aaron Rai | | | | | |
| Haydn Porteous | 26 | | | | |
| Jorge Campillo | 55 | | | | |
| Thomas Detry | | | | | |
| Nacho Elvira | MC | | | | |
| Prayad Marksaeng | MC | 2 | 60 | 35 | 3 |
| Andrew Dodt | 41 | MC | | | |
| Brandon Stone | | | | | |
| Shubhankar Sharma | 9 | | | | |
| Lucas Bjerregaard | 47 | | | | |
| Paul Peterson | 29 | | | | |
| Shiv Kapur | 12 | 21 | MC | | |
| Ajeetesh Sandhu | | | | | |
| Marc Warren | 20 | MC | | | |
| Thongchai Jaidee | 12 | 30 | MC | 1 | 1 |
| Ryo Ishikawa | | | | | |
| SSP Chawrasia | MC | 69 | 16 | | |
| Austin Connelly | | | | | |
| Panupol Pittayarat | 9 | | | | |
| Robert Rock | 26 | 66 | 47 | | 66 |
| Gregory Bourdy | MC | MC | 34 | | |
| Joakim Lagergren | MC | | | | |
| Paul Waring | | | | | |
| Romain Wattel | 47 | | | | |
| Benjamin Hebert | MC | | | | |
| Lee Slattery | | | MC | | |
| Danthai Boonma | MC | | | | |
| Scott Vincent | MC | | | | |
| James Morrison | 12 | | | | |
| Sam Brazel | 12 | | | | |
| Jbe Kruger | MC | | | | |
| Miguel Tabuena | MC | | | | |
| Micah Lauren Shin | | | | | |
| Robert Karlsson | MC | | | MC | 16 |
| Marcus Fraser | MC | 30 | MC | 25 | 16 |
| Ashun Wu | 34 | | | | |
| Stephen Gallacher | | | 27 | | |
| Jamie Donaldson | Dq | | | | |
| Marcel Siem | 34 | 48 | | | |
| Alejandro Canizares | | | | | |
| Yikeun Chang | | | | | |
| Thomas Aiken | MC | | | | |
| Rattanon Wannasrichan | Wd | | | | |
| Nino Bertasio | 41 | | | | |
| Tirawat Kaewsiribandit | | | | | |
| Peter Hanson | | | | | MC |
| Angleo Que | Wd | 16 | 11 | 43 | |
| Juvic Pagunsan | | 21 | MC | | |
| Mikko Ilonen | MC | | 7 | 55 | 12 |
| Chris Hanson | | | | | |
| Carlos Pigem | 34 | | | | |
| Lasse Jensen | 55 | | | | |
| Ricardo Gouveia | MC | | | | |
| Nicholas Fung | 52 | MC | | | |
| Oliver Fisher | Ret | 63 | | | |
| Adilson Da Silva | 59 | | | | |
| Edoardo Molinari | MC | | | | |
| Johannes Veerman | 12 | | | | |
| Wen-Chong Liang | 34 | 7 | 34 | 8 | |
| Matteo Manassero | 20 | | | | |
| Maximilian Kieffer | 41 | | | | |
| Jason Norris | | | | | |
| Alvaro Quiros | | | | | |
| Ashley Chesters | | | | | |
| Rahman Siddikur | 41 | | | | |
| Zander Lombard | | | | | |
| Chien-Yao Hung | MC | | | | |
| Daniel Brooks | MC | | | | |
| Prom Meesawat | 59 | 40 | 7 | 6 | |
| Bowen Xiao | | | | | |
| Keith Horne | 67 | MC | 16 | | |
| Sihwan Kim | | | | | |
| Arjun Atwal | MC | | | | |
| Shih-Chang Chan | MC | | | | |
| Suradit Yongcharoenchai | | | | | |
| Danny Chia | 55 | 11 | MC | 28 | MC |
| Richard T Lee | MC | | | | |
| Todd Sinnott | 64 | | | | |
| Rashid Khan | 12 | | | | |
| Daniel Im | | | | | |
| Gregory Havret | 11 | | MC | | |
| Jake Higginbottom | | | | | |
| Raphael Jacquelin | MC | 16 | | 71 | |
| Wei-Chih Lu | 55 | 44 | MC | | |
| Gi Whan Kim | | | | | |
| Pavit Tangkamolprasert | MC | | | | |
| Khalin H Joshi | | | | | |
| Jyoti Randhawa | 59 | 2 | MC | 2 | 26 |
| Ben Leong | 12 | MC | MC | | MC |
| Thomas Bjorn | | | 47 | 25 | |
| Lionel Weber | MC | | | | |
| Chiragh Kumar | 41 | | | | |
| Jarin Todd | | | | | |
| Arnond Vongvanij | | | | | |
| S Chikkarangappa | MC | | | | |
| Jamie Elson | | | | | 66 |
| Thaworn Wiratchant | | MC | MC | 11 | 8 |
| Antonio Lascuna | MC | MC | | | |
| Soomin Lee | 29 | | | | |
| David Howell | | MC | | | 31 |
| Natipong Srithong | MC | | | | |
| Rory Hie | | MC | | | |
| Casey O`Toole | MC | | | | |
| R Nachimuthu | Wd | MC | MC | MC | |
| Rahil Gangjee | MC | | MC | MC | |
| Javi Colomo | | | | | |
| Berry Henson | | | | | |
| Simon Yates | | | 7 | 11 | MC |
| Terry Pilkadaris | MC | MC | 34 | 19 | |
| Justin Quiban | | | | | |
| Quincy Quek | | | | | |
| Michael Tran | MC | | | | |
| Yu Xin Lin | | | | | |
| Shariffudin Ariffin | | | | | |
| Amir Nazrin | | | | | |
| Darren Clarke | | | 27 | | |
| Mohammad Wafiyuddin | | | | | |
| Sukree Othman | MC | | MC | | |
| Airil-Rizman Zahari | MC | | | | MC |
| Kemarol Baharin | MC | | | | |
| Kheng Hwai Khor | MC | | | | |
| Arie Irawan | 69 | | | | |
| M Sasidaran | MC | | | MC | MC |
| Galven Green | | | | | |
| Naing Niang Lin | | | | | |
| Jason Scrivener | | | | | |