KLM Open 2018: Latest form guide for this week's European Tour event in the Netherlands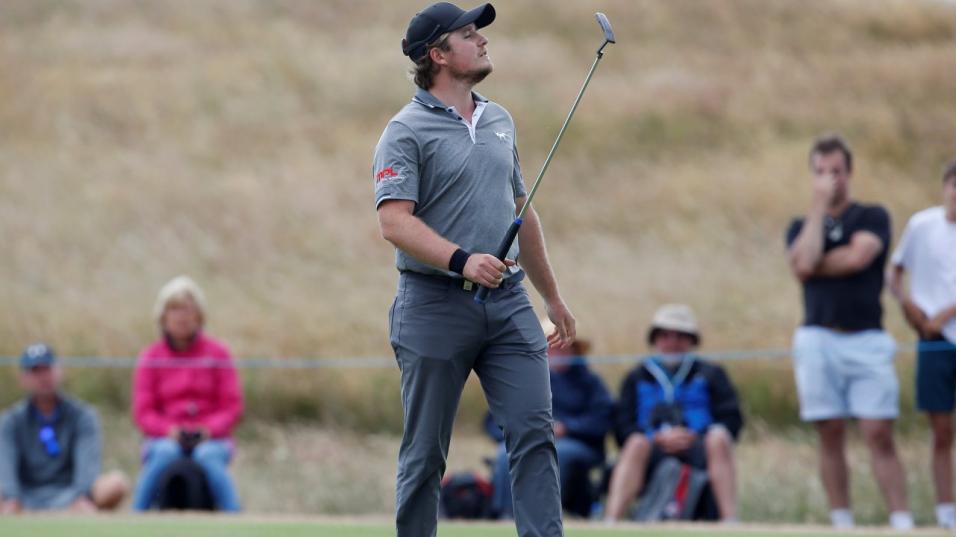 Eddie Pepperell: Has the game to prosper in the Netherlands
Check out the stats ahead of this week's KLM Open, with course and current form guides compiled by Andy Swales...
"In February of this year the 27-year-old won the Qatar Masters at Doha, a course where wind is also usually a key factor."
The Dutch, designed by Colin Montgomerie, will host this week's KLM Open for a third straight year.
Despite having a strong links feel and appearance, this seven-year-old venue is an inland course which sits around 10 feet below sea level.
While the fairways are generally flat, the greens are large and undulating, and offer a wide selection of pin positions.
Water provides the biggest threat, coming into play on 14 holes, with wind a constant factor also.
Links Touch
Among those who have proved their ability on links courses, read the name Eddie Pepperell.
Earlier this season the Englishman followed a runners-up finish at the Scottish Open, by tieing-for-sixth at Carnoustie seven days later.
And in February of this year the 27-year-old won the Qatar Masters at Doha, a course where wind is also usually a key factor.
Pepperell has been overlooked by European skipper Thomas Bjorn for this month's Ryder Cup match and may feel he has a point to prove, similar to Matt Fitzpatrick who triumphed on Sunday.
Pepperell tied-third at The Dutch 12 months ago, alongside Lee Westwood who has posted top-12 finishes these past two weeks in Denmark and Switzerland.
A third Englishman, Chris Wood, has enjoyed some happy moments on links courses, albeit most of them a number of years ago.
He is also a former winner in Qatar and tied-ninth at this course in 2017.
And despite not being in the best current form, maybe Irishman Paul Dunne will fancy his chances in the Netherlands this week.
South Africans In The Frame
Two of the many South African golfers teeing-up on Thursday include George Coetzee and Erik Van Rooyen.
Coetzee stood on a congested podium here last year, while Van Rooyen has had some decent moments this summer, although he did suffer a disappointing finish to his week in the Alps.
Golden Oldies
Padraig Harrington, who is no longer in the world's top 200, finished second on his last outing in the Czech Republic, while Denmark's Soren Kjeldsen is showing signs of improvement.
On a course which requires a good touch, and in a field which is fairly mediocre, can these two 40-somethings shine at The Dutch?
Finally, Thailand's Phachara Khongwatmai is in good shape right now thanks to five T-25s from his last six starts.
The 19-year-old's most recent three events on the European Tour have all yielded top-dozen finishes, including a tie-for-eighth in Switzerland where he closed with a 64.
Twitter: Andy Swales@GolfStatsAlive
MC* - Missed Additional 54-Hole Cut
| Player | W36 | W35 | W34 | W33 | W32 | W31 | W30 | W29 | W28 | W27 | W26 | W25 |
| --- | --- | --- | --- | --- | --- | --- | --- | --- | --- | --- | --- | --- |
| Kiradech Aphibarnrat | 45 | | | | MC | 31 | | 75 | 42 | MC | 48 | |
| Hao Tong Li | MC | | | | Wd | 39 | | 39 | 23 | MC | 21 | |
| Matt Wallace | 51 | 1 | 36 | | 19 | | | MC | MC | MC | MC | 1 |
| Ross Fisher | 59 | | | | 65 | 17 | | 39 | MC | | MC | |
| Eddie Pepperell | | 56 | 9 | | 59 | | | 6 | 2 | MC | | Dq |
| Ryan Fox | 30 | | | | 27 | | | 39 | 6 | 2 | 44 | |
| Adrian Otaegui | MC | 10 | | | 65 | | 68 | | MC | 28 | 12 | 56 |
| Jorge Campillo | 55 | | | | MC | | | MC | 32 | 3 | 8 | 33 |
| Alexander Levy | 56 | | | | MC | | 13 | MC | 55 | MC | 65 | |
| Yusaku Miyazato | MC | MC | | | MC | | MC | 47 | Wd | 14 | MC | MC |
| Paul Dunne | MC | | | | MC | 66 | | 67 | MC | 40 | 21 | |
| Chris Wood | 23 | | | | MC | | | 28 | MC | 14 | 2 | 33 |
| Shubhankar Sharma | MC | | | | MC | 69 | | 51 | MC | MC | 27 | |
| Lee Westwood | 12 | 2 | 61 | | | | | 61 | 32 | 19 | Wd | |
| Mike Lorenzo-Vera | 3 | | | | 65 | | 19 | | MC | MC | 16 | MC |
| Mikko Korhonen | 45 | | MC | | MC | | | | | MC | MC | 2 |
| Andy Sullivan | 30 | | | | MC | | | MC | MC | 6 | 21 | 9 |
| Erik Van Rooyen | 35 | 5 | | | MC | | | 17 | MC | 4 | MC | |
| Martin Kaymer | MC | MC | | 61 | 42 | | | MC | MC | | MC | 2 |
| George Coetzee | 35 | | | | | | | MC | MC | 24 | 44 | |
| Andrea Pavan | MC | | 1 | 6 | | | | | 14 | MC | 56 | 56 |
| Richard McEvoy | 16 | 37 | | 34 | | | 1 | 1 | 33 | | 29 | 26 |
| Darren Fichardt | 8 | | 2 | | | | | | 42 | 40 | MC | |
| Lucas Herbert | | MC | 44 | 5 | | 18 | 29 | 51 | | | | MC |
| Jordan Smith | | 20 | 36 | | MC | | 64 | MC | 32 | MC | 21 | |
| Matthew Southgate | 30 | 20 | | 10 | | | | 67 | 23 | 59 | 5 | |
| Joakim Lagergren | MC | 45 | | 34 | | | | | 23 | 12 | MC | |
| Hideto Tanihara | 6 | 37 | | MC | | | 5 | MC | 58 | MC | 56 | |
| Wade Ormsby | MC | | | | | 39 | | | MC | 49 | 12 | 16 |
| Paul Waring | MC | | MC | 1 | | | | | MC | 72 | MC | |
| Andrew Johnston | 35 | | MC | 10 | | | | | | | Wd | |
| Nicolas Colsaerts | 23 | 27 | MC | MC | | | MC | MC | 42 | 19 | MC | |
| Scott Jamieson | 35 | | 4 | 42 | | | 13 | MC | MC | 40 | MC | 12 |
| Fabrizio Zanotti | 16 | 37 | | | | | | MC | MC | MC | 37 | |
| Benjamin Hebert | 23 | | 44 | 24 | | | | | 49 | 28 | MC | |
| Paul Peterson | | 56 | 63 | 45 | | | MC | | MC | 2 | 21 | MC |
| Gavin Green | 12 | MC | 3 | | | 64 | | 61 | 19 | MC | MC | 73 |
| Aaron Rai | MC | | 24 | 24 | | | MC | | 9 | 37 | MC | 5 |
| Pablo Larrazabal | 16 | | | | | | | | MC | 49 | MC | |
| Scott Hend | 45 | MC | 70 | | | MC | 19 | | 14 | MC | 44 | 7 |
| Kim Koivu | MC | | 1 | 68 | 1 | 29 | 64 | | MC | MC | MC | MC |
| Julien Guerrier | 23 | MC | 9 | MC | | | 54 | | 55 | 64 | MC | MC |
| Renato Paratore | MC | | 36 | MC | | | 2 | | MC | 40 | MC | MC |
| Dave Horsey | 23 | 56 | | | | | 39 | | MC | 40 | 27 | 40 |
| Thomas Detry | MC | 7 | | 13 | | | 13 | | 64 | MC | 16 | 18 |
| Sam Horsfield | MC | 10 | | | | | 48 | | 23 | 24 | MC | 59 |
| Richie Ramsay | MC | 12 | | MC | | | 39 | | MC | 40 | MC | |
| Soren Kjeldsen | 12 | 12 | MC | 45 | | | 22 | | 42 | 59 | 49 | 7 |
| Matthieu Pavon | 59 | | MC | 29 | | | 54 | | 42 | 10 | MC | |
| Nacho Elvira | 4 | | 18 | 24 | | | 54 | | MC | 49 | 53 | 9 |
| Padraig Harrington | | | 2 | MC | MC | 50 | | MC | MC | MC | | 74 |
| Jeung-Hun Wang | 12 | MC | MC | MC | | | 13 | | MC | 49 | MC | MC |
| Jens Dantorp | MC | MC | | MC | | | | MC | 3 | 76 | 44 | MC |
| Jason Scrivener | MC | 69 | 18 | 61 | | | | | MC | MC | MC | |
| Haydn Porteous | 16 | 37 | 36 | 6 | | | MC | | MC | 49 | MC | 51 |
| Matthias Schwab | MC | MC | 9 | MC | | | 7 | | MC | MC | 37 | 40 |
| Panupol Pittayarat | | | 31 | | | | 25 | | Wd | MC | 10 | MC |
| Ajeetesh Sandhu | | MC | MC | MC | | 43 | MC | | | 11 | | 37 |
| David Lipsky | 35 | MC | 50 | | | | 13 | | MC | MC | MC | 18 |
| Phachara Khongwatmai | 8 | 12 | 9 | MC | | 25 | 14 | | MC | MC | 49 | MC |
| Adam Bland | MC | MC | 18 | 13 | | | | | 66 | 49 | MC | MC |
| Stephen Gallacher | 23 | 27 | 24 | MC | | | MC | | 9 | MC | 59 | MC |
| Steven Brown | MC | 2 | MC | MC | | | 54 | | 32 | MC | 37 | MC |
| Jacques Kruyswijk | MC | MC | 7 | 42 | | | | | MC | MC | 61 | MC |
| Oliver Fisher | MC | 71 | MC | | | | 39 | | 32 | 28 | MC | MC |
| Maximilian Kieffer | 35 | | 29 | 3 | | | 29 | | MC | MC | MC | 12 |
| Romain Wattel | 43 | 27 | MC | | | | 5 | | MC | 28 | MC | |
| David Drysdale | 30 | 34 | MC | MC | | | 9 | | MC | 28 | MC | 40 |
| Tapio Pulkkanen | MC | MC | 44 | 34 | | | 48 | | MC | MC | MC | |
| Mikko Ilonen | MC | | | | | | MC | | MC | 19 | 35 | |
| Connor Syme | MC | MC | 50 | 21 | | | 22 | | 32 | MC | MC | 45 |
| Miguel Tabuena | | | | | 10 | | | | Wd | | 5 | 24 |
| Marc Warren | MC | MC | MC | 17 | | | 22 | | MC | 49 | Dq | MC |
| Clement Sordet | MC | MC | MC | 17 | | | 64 | | 58 | MC | MC | MC |
| Nino Bertasio | 16 | | 29 | 17 | | | MC | | MC | MC | 16 | MC |
| Alvaro Quiros | | | | | | | | | MC | MC | 53 | MC |
| Andrew Dodt | MC | MC | MC | | | 6 | 54 | | MC | 72 | MC | |
| Austin Connelly | 45 | MC | 50 | MC | | | MC | | MC | MC | 37 | 40 |
| Justin Walters | 35 | 27 | 29 | 45 | | 67 | 45 | | 23 | MC | MC | 9 |
| Jin Ho Choi | MC | 49 | 68 | 42 | | | 29 | | 49 | 64 | MC | MC |
| Ashley Chesters | MC | 9 | 59 | 29 | | | MC | | MC | 14 | 21 | 63 |
| Ryan Evans | MC | 12 | 50 | 29 | | | MC | | MC | MC | MC | |
| Zander Lombard | MC | MC | | 1 | | | MC | 67 | MC | 6 | MC | MC |
| Pedro Oriol | 59 | 27 | MC | 34 | | | MC | | 64 | MC | 27 | MC |
| Oliver Farr | MC | 45 | MC | MC | | | 64 | | 49 | MC | MC | MC |
| Jeff Winther | MC | MC | 9 | 68 | | | 22 | | MC | MC | 31 | MC |
| Christofer Blomstrand | MC | MC | MC | 45 | | | 2 | | 55 | MC | MC | 26 |
| Ashun Wu | 6 | 49 | MC | MC | | 11 | | | MC | Dq | MC | |
| Adrien Saddier | 65 | 56 | MC | MC | | | 54 | | MC | 19 | MC | 74 |
| Thongchai Jaidee | MC | | | | | | 36 | | 32 | 49 | MC | MC |
| Marcel Siem | MC | MC | MC | MC | | | 54 | | 14 | MC | MC | MC |
| SSP Chawrasia | 45 | MC | MC | | 6 | | | | MC | MC | MC | MC |
| James Morrison | 56 | 34 | 36 | 61 | | | 68 | | 32 | 49 | 49 | |
| Nick Cullen | 12 | 49 | 44 | | | 18 | MC* | MC | 13 | | | 45 |
| Brett Rumford | MC | 65 | | MC | | | | 61 | MC | MC | 61 | |
| Sebastian Heisele | MC | MC | 29 | 61 | | | 48 | | 42 | 31 | 40 | MC |
| Jbe Kruger | | | | | MC | MC | MC* | | 11 | MC | 13 | MC |
| Edoardo Molinari | 51 | MC | | 68 | | | MC | | MC | MC | MC | 16 |
| Jonathan Thomson | MC | 2 | 63 | 29 | | 43 | 74 | | | | | MC |
| Sam Brazel | MC | MC | MC | | | | | | MC | MC | 35 | MC |
| Scott Fernandez | MC | 20 | MC | MC | | | 63 | | 58 | MC | MC | MC |
| Chase Koepka | 35 | MC | 61 | MC | | | MC | | MC | MC | MC | 63 |
| Alejandro Canizares | MC | MC | MC | 45 | | MC | MC | | | | | MC |
| Henric Sturehed | MC | MC | MC | MC | | MC | 54 | | | Wd | 12 | 51 |
| Raphael Jacquelin | MC | | 50 | MC | | | MC | | MC | 10 | 37 | 66 |
| Chris Hanson | MC | 45 | 65 | 45 | | | MC | | MC | Wd | MC | MC |
| Bradley Dredge | MC | 49 | | 34 | | | 29 | | MC | 69 | 44 | 26 |
| Steve Webster | | MC | MC | MC | | | MC | | | | MC | |
| Christiaan Bezuidenhout | 23 | 20 | 29 | 45 | | | MC | | 42 | 19 | MC | 33 |
| Matteo Manassero | MC | | MC | MC | | | MC | | MC | 64 | MC | MC |
| Peter Hanson | | MC | 50 | Wd | | | 72 | | MC | 49 | MC | 69 |
| Charlie Ford | MC | 56 | 50 | MC | | | | | MC | 75 | MC | 66 |
| Gonzalo F`dez-Castano | MC | | | 60 | 46 | 36 | MC | | 32 | 37 | MC | 33 |
| Ricardo Gouveia | MC | 37 | MC | 45 | | | MC | | 32 | 64 | 31 | MC |
| Lasse Jensen | MC | MC | | MC | | | 29 | | MC | MC | MC | 45 |
| Gregory Havret | 51 | MC | | 74 | | | MC | | MC | MC | 49 | MC |
| Richard Bland | MC | 56 | 44 | 61 | | | MC | | MC | MC | 60 | MC |
| Gregory Bourdy | MC | MC | MC | MC | | | MC | | MC | 64 | MC | 33 |
| Jason Norris | MC | MC | MC | | | 55 | | | MC | MC | MC | MC |
| Felipe Aguilar | MC | MC | MC | MC | | | 29 | | | 69 | 37 | 51 |
| Birgir Hafthorsson | | Wd | MC | 68 | | MC | 48 | | MC | 45 | | 71 |
| Sebastien Gros | Wd | MC | 70 | 13 | | | 48 | | MC | MC | MC | 26 |
| Bradley Neil | MC | Wd | 69 | 21 | | | | | MC | MC | MC | 33 |
| Kevin Stadler | | | | MC | | | | | | 64 | | |
| Jaco Van Zyl | 59 | MC | | MC | MC | | | | | | | |
| Matthew Baldwin | MC | 12 | 36 | MC | | | MC | | MC | MC | MC | MC |
| Simon Dyson | MC | Wd | | 53 | | | MC | | | Wd | | MC |
| Luke Joy | | | | | | | | 12 | | | | |
| Daniel Brooks | 5 | MC | MC | MC | | | MC | | MC | 59 | MC | Wd |
| Laurie Canter | 16 | MC | MC | 56 | | | MC | | MC | MC | MC | MC |
| Mark Foster | Re | MC | | | | | | | | MC | MC | 12 |
| Mark Tullo | | MC | MC | 34 | | | MC | | | | | 72 |
| Matthew Nixon | MC | 37 | 24 | 34 | | | 9 | | | 24 | MC | 18 |
| Rak Hyun Cho | MC | MC | 24 | 56 | | | 29 | | 30 | MC | MC | MC |
| Simon Khan | | MC | MC | MC | | | MC | MC | | | | Wd |
| Pontus Widegren | | 73 | 9 | MC | | | MC | | 48 | | | MC |
| Daniel Im | MC | MC | MC | MC | | MC | | | MC | MC | MC | MC |
| Pep Angles | | 27 | 50 | MC | | | MC | | | | | MC |
| Johan Edfors | | | 65 | 45 | | | | | | | | MC |
| Reinier Saxton | 50 | | | 9 | 12 | MC | | Wd | 42 | MC | | MC |
| Soomin Lee | MC | MC | 29 | MC | | 43 | | | MC | MC | MC | MC |
| David Howell | MC | MC | 36 | 24 | | | | | MC | MC | MC | 26 |
| Angel Cabrera | | | | | | | | | | | | |
| Jamie Elson | | | | | | | | | | | | |
| Josh Geary | 66 | 49 | MC | MC | | MC | | | | | 61 | MC |
| Jurrian Van Der Vaart | 58 | | | MC | MC | MC | 26 | 55 | | MC | 10 | MC |
| Max Albertus | | | | | | | | | | | | |
| Dylan Boshart | | | | | | | | | | | | |
| Ricardo Gonzalez | 64 | | MC | MC | MC | Dq | | | | | | |
| Robbie Van West | | 47 | | 57 | 53 | MC | MC | | MC | MC | | MC |
| Steve Webster | | MC | MC | MC | | | MC | | | | MC | |
| Ralph Miller | | | | | | | | | | | | |
| Aydan Verdonk | | | | | | | | | | | | |
| Jerry Ji | | | | | | | | | | | | |
| Stan Kraai | | | | | | | | | | | | |
| Oscar Serna | | Wd | MC | MC | | MC | 68 | 22 | 29 | 31 | | MC |
| Player | 2017 | 2016 |
| --- | --- | --- |
| Kiradech Aphibarnrat | 9 | |
| Hao Tong Li | | 20 |
| Matt Wallace | 9 | |
| Ross Fisher | 31 | 45 |
| Eddie Pepperell | 3 | MC |
| Ryan Fox | 60 | |
| Adrian Otaegui | 48 | 59 |
| Jorge Campillo | 48 | 24 |
| Alexander Levy | | 34 |
| Yusaku Miyazato | | |
| Paul Dunne | 14 | 16 |
| Chris Wood | 9 | 59 |
| Shubhankar Sharma | | |
| Lee Westwood | 3 | |
| Mike Lorenzo-Vera | | 8 |
| Mikko Korhonen | 38 | 10 |
| Andy Sullivan | MC | |
| Erik Van Rooyen | | |
| Martin Kaymer | | |
| George Coetzee | 3 | MC |
| Andrea Pavan | | |
| Richard McEvoy | | 20 |
| Darren Fichardt | | MC |
| Lucas Herbert | | |
| Jordan Smith | | |
| Matthew Southgate | | 51 |
| Joakim Lagergren | 9 | 20 |
| Hideto Tanihara | | |
| Wade Ormsby | 25 | |
| Paul Waring | | |
| Andrew Johnston | | |
| Nicolas Colsaerts | MC | 24 |
| Scott Jamieson | MC | 10 |
| Fabrizio Zanotti | 38 | 16 |
| Benjamin Hebert | | MC |
| Paul Peterson | | |
| Gavin Green | | |
| Aaron Rai | MC | |
| Pablo Larrazabal | | 20 |
| Scott Hend | | 4 |
| Kim Koivu | | |
| Julien Guerrier | | |
| Renato Paratore | | MC |
| Dave Horsey | 38 | 4 |
| Thomas Detry | 38 | MC |
| Sam Horsfield | MC | |
| Richie Ramsay | 25 | MC |
| Soren Kjeldsen | | |
| Matthieu Pavon | 38 | |
| Nacho Elvira | MC | 45 |
| Padraig Harrington | 55 | |
| Jeung-Hun Wang | | |
| Jens Dantorp | | |
| Jason Scrivener | 20 | MC |
| Haydn Porteous | | MC |
| Matthias Schwab | | |
| Panupol Pittayarat | | |
| Ajeetesh Sandhu | | |
| David Lipsky | | |
| Phachara Khongwatmai | MC | |
| Adam Bland | | |
| Stephen Gallacher | | MC |
| Steven Brown | | |
| Jacques Kruyswijk | | |
| Oliver Fisher | 25 | 28 |
| Maximilian Kieffer | 25 | 34 |
| Romain Wattel | 1 | MC |
| David Drysdale | | MC |
| Tapio Pulkkanen | | |
| Mikko Ilonen | 25 | MC |
| Connor Syme | | |
| Miguel Tabuena | Wd | 28 |
| Marc Warren | 59 | MC |
| Clement Sordet | | |
| Nino Bertasio | MC | 24 |
| Alvaro Quiros | Wd | MC |
| Andrew Dodt | MC | MC |
| Austin Connelly | 2 | |
| Justin Walters | 3 | MC |
| Jin Ho Choi | | |
| Ashley Chesters | 60 | |
| Ryan Evans | | 45 |
| Zander Lombard | MC | |
| Pedro Oriol | | |
| Oliver Farr | | |
| Jeff Winther | MC | MC |
| Christofer Blomstrand | | |
| Ashun Wu | 31 | |
| Adrien Saddier | | |
| Thongchai Jaidee | MC | MC |
| Marcel Siem | | MC |
| SSP Chawrasia | | MC |
| James Morrison | MC | |
| Nick Cullen | | |
| Brett Rumford | MC | MC |
| Sebastian Heisele | 3 | |
| Jbe Kruger | | |
| Edoardo Molinari | | 34 |
| Jonathan Thomson | | |
| Sam Brazel | 65 | |
| Scott Fernandez | | |
| Chase Koepka | | |
| Alejandro Canizares | 62 | 4 |
| Henric Sturehed | | |
| Raphael Jacquelin | MC | MC |
| Chris Hanson | 25 | 8 |
| Bradley Dredge | | |
| Steve Webster | MC | 51 |
| Christiaan Bezuidenhout | | |
| Matteo Manassero | 17 | 45 |
| Peter Hanson | 38 | 16 |
| Charlie Ford | | |
| Gonzalo F`dez-Castano | | |
| Ricardo Gouveia | MC | |
| Lasse Jensen | | 62 |
| Gregory Havret | MC | MC |
| Richard Bland | 62 | 16 |
| Gregory Bourdy | | |
| Jason Norris | MC | |
| Felipe Aguilar | MC | MC |
| Birgir Hafthorsson | | |
| Sebastien Gros | 70 | 28 |
| Bradley Neil | | |
| Kevin Stadler | | |
| Jaco Van Zyl | | |
| Matthew Baldwin | | 62 |
| Simon Dyson | MC | MC |
| Luke Joy | MC | |
| Daniel Brooks | 48 | 45 |
| Laurie Canter | MC | MC |
| Mark Foster | MC | 51 |
| Mark Tullo | | |
| Matthew Nixon | | |
| Rak Hyun Cho | | |
| Simon Khan | MC | 10 |
| Pontus Widegren | 55 | |
| Daniel Im | MC | 34 |
| Pep Angles | 38 | |
| Johan Edfors | 67 | |
| Reinier Saxton | | |
| Soomin Lee | | 10 |
| David Howell | | MC |
| Angel Cabrera | | |
| Jamie Elson | | |
| Josh Geary | | |
| Jurrian Van Der Vaart | | |
| Max Albertus | 48 | |
| Dylan Boshart | MC | |
| Ricardo Gonzalez | MC | MC |
| Robbie Van West | MC | MC |
| Steve Webster | MC | 51 |
| Ralph Miller | 70 | MC |
| Aydan Verdonk | | |
| Jerry Ji | MC | |
| Stan Kraai | MC | |
| Oscar Serna | | |