John Deere Classic 2018: Key stats for this week's event in Illinois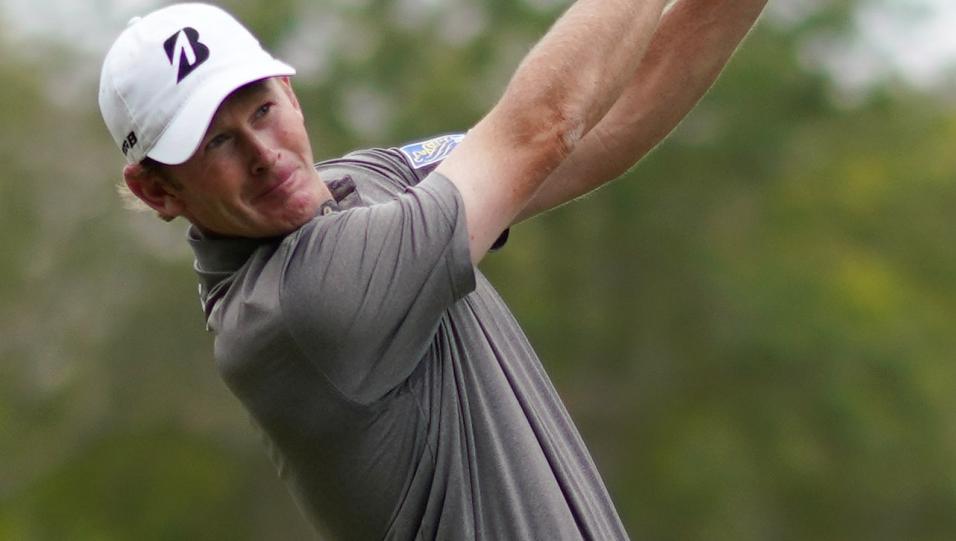 Brandt Snedeker: On the podium at The Greenbrier, his highest finish since returning from injury last November
Andy Swales provides course and current form stats for this week's John Deere Classic in America's Midwest ...
"Two golfers who have remarkable records at TPC Deere Run are Zach Johnson and veteran Steve Stricker."
The PGA Tour travels from West Virginia to Illinois for the 20th staging of the John Deere Classic.
And you will hardly find a more rural location on Tour than TPC Deere Run.
Situated in America's Midwest, Deere Run was built during the late 1990s by former Tour pro DA Weibring.
It is a lush, parkland venue, with plenty of sand and numerous subtle changes in elevation and direction.
Water hazards are not a major issue, although there are plenty of trees and dense wooded areas to penalise errant shots.
Since the tournament was first staged at Deere Run in 2000, the highest winning total has been 268, with only one of the last nine champions posting a 72-hole total greater than 265.
Once again, it is the final event before next week's Open Championship at Carnoustie and the quality of field has suffered as a result.
Usual Suspects
Two golfers who have remarkable records at Deere Run are Zach Johnson and veteran Steve Stricker.
In addition to his victory in 2012, Johnson has finished runner-up three times and third twice.
Stricker, now 51, won here three years in a row and has posted four other top 10s.
Last year Johnson and Stricker both tied-for-fifth, and continue to be contenders over this Illinois layout.
Another course specialist and former champion is Ryan Moore, winner two years ago.
Moore finished in a tie-for-13th on Sunday at The Greenbrier, where he fell away on day four after posting rounds of 66-67-67.
Form Horse
Few pros, if any, are playing better right now than Francesco Molinari and the Italian makes his Deere Run debut this Thursday.
However, it is puzzling to understand why Molinari has chosen to play in the States, with The Open just around the corner.
Defending champion Bryson DeChambeau is another in-form golfer, while Brandt Snedeker enjoyed his highest finish on American soil for almost two years, on Sunday, when he stood on the podium in West Virginia.
Snedeker makes his first Deere Run appearance since 2009 when he finished runner-up.
The stats suggest Brian Gay and Wesley Bryan could contend this week, while Deere Run debutant Austin Cook has posted two top-six finishes in his last three starts.
Twitter: Andy Swales@GolfStatsAlive
MC* - Missed Additional 54-Hole Cut
| Player | W27 | W26 | W25 | W24 | W23 | W22 | W21 | W20 | W19 | W18 | W17 | W16 |
| --- | --- | --- | --- | --- | --- | --- | --- | --- | --- | --- | --- | --- |
| Francesco Molinari | | 1 | | 25 | | 2 | 1 | | MC | 16 | | |
| Bryson DeChambeau | | | 9 | 25 | | 1 | 42 | | 37 | 4 | | |
| Kyle Stanley | | 32 | 15 | MC | | 2 | | | MC | 13 | | |
| Si Woo Kim | | MC | 26 | MC | | 29 | 66 | | 63 | | | 45 |
| Zach Johnson | | | 19 | 12 | | 40 | MC | | MC* | | 15 | 5 |
| Chez Reavie | | | MC | MC | 6 | | MC | | 30 | | 22 | |
| Chesson Hadley | | 8 | MC | MC | | 40 | 20 | | 11 | 16 | 4 | 20 |
| Patton Kizzire | MC | | MC | | | MC* | 64 | | MC | MC | | |
| Andrew Landry | | 8 | MC | | | 65 | MC | | 67 | Wd | MC | 1 |
| Ryan Moore | 13 | | MC | | | 13 | | | 30 | MC | | 7 |
| Aaron Wise | MC | | | MC | | MC | MC | 1 | | 2 | MC | MC |
| Bill Haas | MC | 71 | MC | 36 | | 57 | 14 | MC | MC | MC | | MC* |
| Brandt Snedeker | 3 | | MC | 48 | 6 | | 42 | MC | MC | | MC | 15 |
| Sean O`Hair | MC | | | | | MC | MC | | Wd | 63 | 25 | 2 |
| Nick Watney | 30 | 64 | MC | | | 57 | MC | | 37 | 2 | 31 | 20 |
| Sung Kang | | 3 | MC | | MC | 57 | MC | 42 | MC | MC | 36 | MC |
| Austin Cook | 5 | | MC | | 6 | MC | MC | | 46 | 34 | | 30 |
| Brian Gay | 39 | 8 | | 20 | 12 | 44 | | 12 | MC* | | MC | MC |
| Kevin Streelman | MC | 32 | 33 | | | 44 | 76 | | MC | MC | | 8 |
| Ryan Palmer | | 8 | MC | | 51 | | MC | MC | 23 | | MC | MC |
| Chris Kirk | | | | | 6 | 52 | 11 | | 46 | | MC | 8 |
| Patrick Rodgers | MC | 53 | 26 | 41 | | 8 | MC | 53 | MC | 34 | | MC |
| Wesley Bryan | 26 | | 47 | | 12 | 52 | 71 | | MC | | MC | MC |
| Steve Stricker | | | | 20 | 18 | | 32 | | 23 | | MC | |
| Brice Garnett | MC | | MC | | 56 | 62 | MC | | 41 | 75 | 4 | MC* |
| Kevin Tway | | 73 | 6 | | MC | 65 | 5 | 9 | 46 | MC | MC | 36 |
| Danny Lee | MC | MC | 15 | | MC | MC | 14 | | 7 | MC | MC | 51 |
| Keith Mitchell | 30 | MC | 56 | | 37 | MC | | 3 | MC* | 34 | MC | 26 |
| Andrew Putnam | MC | 27 | | | 2 | | 20 | 42 | | MC* | 15 | 8 |
| Whee Kim | 74 | MC | | | 1 | 29 | 58 | | MC | MC | 22 | MC |
| Scott Stallings | 13 | MC | 38 | MC | 30 | | MC | | MC | MC | MC | |
| Rory Sabbatini | 39 | MC | MC | | | 44 | 20 | 13 | 30 | 27 | MC | |
| Abraham Ancer | 47 | 4 | MC | | MC | 57 | 52 | 42 | | MC | MC | 58 |
| Trey Mullinax | 56 | MC | 67 | MC | 6 | MC | 58 | | MC | MC | 31 | 2 |
| Hudson Swafford | MC | | | | | | | 59 | MC | MC | MC | MC* |
| Scott Brown | 56 | 60 | 47 | | MC | MC | MC | | 23 | MC | 15 | MC |
| CT Pan | 39 | 17 | MC | | 18 | | 20 | 32 | 46 | MC* | MC | MC |
| Harold Varner | 5 | 41 | MC | MC | 51 | | MC | | 7 | 55 | MC | MC |
| Kelly Kraft | 2 | MC | 47 | | 66 | 35 | MC | MC | MC | MC | MC | |
| William McGirt | 69 | | MC | | 30 | MC | 32 | | MC | | MC | MC |
| Scott Piercy | 74 | | | 45 | Wd | | MC | 32 | MC | | 1 | MC |
| Sam Saunders | 5 | MC | 47 | | MC | | MC | MC | | 9 | MC | |
| Joaquin Niemann | 5 | 17 | | | MC | 6 | 8 | MC | | MC | | 6 |
| Chris Stroud | MC | 32 | MC | | | | Wd | | 46 | 67 | 28 | Wd |
| David Lingmerth | 11 | 48 | 19 | | MC | 29 | MC | MC | MC | | MC | 51 |
| John Huh | MC | 64 | 61 | | MC | 44 | 42 | MC | MC | | 36 | MC |
| Richy Werenski | 69 | MC | 26 | MC | 4 | | 74 | MC | 23 | MC | 25 | 11 |
| Stephan Jaeger | 47 | 13 | MC | | MC | MC | | MC | 1 | MC | MC | MC |
| Brandon Harkins | 30 | 32 | 38 | | 37 | MC | 66 | | 67 | 63 | MC | MC* |
| Ryan Blaum | MC | 23 | 12 | | 18 | | MC | 6 | MC* | MC* | MC | |
| Vaughn Taylor | MC | | 47 | | 18 | | 20 | 59 | MC | 42 | | 16 |
| Talor Gooch | 21 | MC | MC | | MC | | MC | MC | | 13 | MC | MC |
| Aaron Baddeley | | MC | MC | 25 | 37 | | MC | MC | | MC | MC | 16 |
| Harris English | MC | MC | MC | | MC | | 20 | MC | MC | | MC | 36 |
| Alex Cejka | 13 | 32 | 33 | | | 40 | 66 | MC | | 27 | 31 | |
| Robert Garrigus | MC | 27 | MC | | 18 | | Wd | 21 | MC | | MC | MC |
| Ben Silverman | 56 | MC | MC | | 67 | | 11 | MC | | MC | MC | 45 |
| Sam Ryder | MC | 48 | 26 | | MC | | | 42 | | MC | MC | 36 |
| Nick Taylor | 56 | MC | MC | | 30 | | MC | 32 | MC* | MC | | MC |
| Mackenzie Hughes | 13 | | 42 | MC | MC | MC | 42 | | 57 | 59 | MC | MC |
| Martin Piller | MC | MC | MC | | MC | MC | 77 | 21 | | MC | | MC |
| Brian Stuard | | MC | MC | MC | MC | 70 | 32 | 42 | | MC | 28 | 36 |
| Robert Streb | 11 | MC | MC | | MC | MC* | 52 | 53 | MC | 42 | | |
| Ben Crane | MC | 13 | | | MC | | 8 | 53 | | | 31 | 11 |
| Andres Romero | 74 | MC | 45 | | | MC* | MC | | | | MC | 5 |
| Matt Jones | MC | MC | 19 | MC | 51 | | | 13 | | | 19 | MC |
| Bronson Burgoon | 30 | 6 | MC | | MC | | | 16 | | MC | | MC |
| Seamus Power | MC | 53 | 36 | | 12 | | Dq | MC | | 27 | 10 | MC |
| Dominic Bozzelli | MC | 64 | 72 | | 51 | | | 59 | MC | MC | | MC |
| Troy Merritt | | 17 | MC | | 12 | | | 53 | | 42 | 10 | 36 |
| JT Poston | 39 | 27 | MC | | 18 | | 20 | 26 | | MC | MC | 30 |
| Derek Fathauer | MC | 53 | MC | | 56 | | 42 | 16 | MC | MC | | MC |
| Nicholas Lindheim | MC | MC | MC | | 56 | | 32 | 32 | | MC | 25 | 36 |
| Yong-Eun Yang | 12 | MC | 62 | | | 13 | MC | | 12 | 29 | 1 | |
| Tyrone Van Aswegen | 77 | MC | MC | | MC | | 14 | MC | 66 | MC* | 19 | MC |
| Michael Thompson | MC | MC | | | | | 32 | 59 | MC | 42 | | 68 |
| Rob Oppenheim | 47 | MC | MC | | MC | | | MC | 57 | MC | 15 | MC |
| Tom Lovelady | MC | 64 | 61 | | MC | | 58 | 70 | | 34 | MC | MC |
| Lanto Griffin | 26 | 64 | 38 | MC | MC | | 2 | MC | | MC | MC | 58 |
| Corey Conners | 30 | 41 | MC | | 68 | | 8 | 53 | | 42 | MC | 26 |
| Chad Campbell | 69 | MC | MC | | 45 | | 42 | MC | MC | | 19 | MC |
| Tyler Duncan | 39 | 41 | 33 | 56 | 37 | | 71 | 26 | | MC* | 7 | MC |
| Joel Dahmen | 5 | 23 | MC | | MC | | 20 | 16 | | 16 | 25 | MC* |
| Martin Flores | MC | 53 | 72 | | MC | | MC | 26 | MC | 59 | MC | MC |
| Jonathan Byrd | MC | | MC | | MC | | MC | 42 | | MC | 15 | MC |
| Adam Schenk | MC | 41 | MC | | MC | | MC | 59 | | MC | 7 | 58 |
| Johnson Wagner | 65 | 41 | | | MC | | | 32 | | 13 | MC | 20 |
| Xin Jun Zhang | MC | 64 | MC | | MC | | MC | MC | | 70 | MC | MC |
| Jonathan Randolph | 47 | MC | MC | | 70 | | | MC | | 70 | 31 | MC |
| Shawn Stefani | MC | MC | MC | | MC | | 66 | 26 | | 42 | MC | MC |
| Eric Axley | MC | 67 | 75 | MC | MC | 59 | 58 | 42 | MC | | MC | 1 |
| Cody Gribble | MC | MC | | | 30 | | MC | 32 | 30 | | 34 | MC |
| Denny McCarthy | 39 | MC | 47 | | 18 | | | 42 | | MC | 25 | 20 |
| Daniel Summerhays | MC | MC | | | MC | MC | | MC | 8 | | 6 | 58 |
| Arjun Atwal | | | | | | | | | | 67 | 32 | 44 |
| Blayne Barber | 39 | 53 | 26 | | MC | | | MC | MC | 67 | MC | |
| Cameron Tringale | MC | | 69 | | MC | | | MC | | 27 | MC | MC |
| DA Points | | MC | MC | | MC | | | | MC | MC | MC | |
| Michael Kim | MC | MC | MC | | 18 | | | MC | MC | | 15 | MC |
| David Hearn | 30 | 41 | | | MC | | MC | MC | | | 10 | 16 |
| Conrad Shindler | MC | 32 | MC | | 65 | | 32 | MC | | | 9 | MC |
| JJ Henry | 21 | MC | 42 | | MC | | MC | MC | 67 | MC* | 10 | MC |
| Cameron Percy | 56 | 32 | 44 | | 26 | 6 | Wd | 70 | | | 10 | MC |
| Zac Blair | 65 | 27 | | | 45 | | 67 | 42 | 38 | | MC | 36 |
| Ricky Barnes | MC | MC | | | MC | | MC | Dq | | | MC | 51 |
| Kyle Thompson | MC | | 69 | | MC | 27 | | MC | 62 | MC | MC | MC |
| Billy Hurley | 47 | MC | 47 | | MC | | | MC | | MC* | MC | MC |
| Fabian Gomez | 56 | 32 | 19 | | 45 | | MC | 32 | | MC* | MC | MC |
| Ethan Tracy | MC | 48 | 69 | | MC | | MC | 13 | 38 | | 5 | 72 |
| Peter Malnati | 56 | MC | 26 | | 30 | | | 59 | | 34 | MC | 64 |
| Jason Gore | MC | MC | MC | | MC | 35 | | 68 | | | Wd | Wd |
| Matt Atkins | MC | | MC | | MC | | | 66 | MC | | MC | 68 |
| Andrew Yun | MC | MC | MC | | MC | | | MC | | | 22 | 64 |
| Rick Lamb | MC | 5 | MC | | MC | 20 | 26 | MC | 60 | | MC | MC |
| Marty Dou Ze Cheng | MC | | MC | | 56 | | MC | MC | | | MC | 51 |
| Matt Every | Dq | MC | MC | | MC | | | MC | | MC | MC | MC |
| Roberto Diaz | 47 | 60 | MC | | MC | 20 | | 66 | | MC | MC | MC |
| Steve Marino | 69 | 73 | 26 | | | | MC | MC | | Wd | | 68 |
| Hunter Mahan | | | 56 | | MC | | | MC | | | | 45 |
| Dylan Meyer | | 17 | MC | 20 | | | | | | | | |
| Stuart Appleby | MC | | MC | | 12 | MC | | MC | MC | | MC | MC |
| Tim Herron | MC | MC | | | 37 | | 11 | MC | | | | |
| Brett Stegmaier | 30 | | 42 | | MC | | | MC | | | MC | MC |
| Davis Love | | | | | | | | | | Wd | | |
| Steve Wheatcroft | 65 | | 61 | | MC | | MC | 53 | | | | MC |
| Dicky Pride | MC | MC | | | MC | MC | | MC | 27 | | 42 | 10 |
| Will MacKenzie | | | | | | | MC | | | | | |
| Daniel Chopra | | | | | MC | | | MC | | | | |
| George McNeill | 74 | | | | MC | | | MC | 15 | | | |
| Robert Allenby | MC | | | | MC | | | 75 | | | | |
| Richard S Johnson | | | | | | | | | | | | |
| Doug Ghim | | 71 | MC | MC | | | | | | | | |
| Jon Curran | MC | | MC | | MC | | | | Wd | | MC | MC |
| Jason Bohn | | | | | | | | | | | | |
| Will Claxton | MC | | MC | | MC | 73 | | | 8 | | MC | MC |
| Troy Matteson | MC | | | | MC | | | MC | | | | MC |
| Parker McLachlin | MC | | | | 56 | | | 26 | | | | |
| Charlie Beljan | | | Wd | | MC | | | MC | | | | |
| David Berganio | | | MC | | MC | | | MC | | | | |
| Kris Blanks | | | MC | | | Wd | MC | MC | | | | MC |
| Chris Couch | MC | | | | | | | | | | | |
| Brian Davis | MC | 67 | MC | | MC | MC | MC | 73 | MC | | MC | Wd |
| Brendon de Jonge | MC | | 58 | | MC | MC | 50 | MC | MC | | 10 | MC |
| Carl Pettersson | | | | | | MC | | MC | | | | |
| John Rollins | | | | | MC | | | MC | | | MC | |
| John Senden | | | | | | MC* | 77 | MC | | | | MC* |
| DJ Trahan | | | | | MC | | | MC | | | | |
| Cameron Beckman | | | | | MC | | | MC | MC | | | |
| Charlie Wi | | | | MC | | | MC | | | | MC | |
| Brendon Todd | | | | | | MC | MC | MC | | | | |
| Tommy Gainey | MC | | | | MC | | | MC | MC | | | MC |
| Steven Bowditch | MC | | | | | | | MC | | | | MC |
| Nick Hardy | | 48 | 61 | | 33 | | | | | | | |
| Mark Wilson | | MC | | | MC | | | 74 | 38 | | 50 | 64 |
| Ken Duke | MC | | 56 | | 45 | | MC | MC | MC | | | 67 |
| Norman Xiong | MC | | | | | | | | | | | |
| Craig Barlow | | | | | | | | | | | | |
| John Merrick | MC | | | | MC | | | MC | | | MC | |
| Omar Uresti | MC | | | | MC | | | MC | | | | |
| Dru Love | | | | | | | | | | MC | | 55 |
| Broc Everett | | | MC | MC | | MC | | | | | | |
| Chad Proehl | | | | | | | | | | | | |
| Player | 2017 | 2016 | 2015 | 2014 | 2013 | 2012 | 2011 | 2010 | 2009 | 2008 |
| --- | --- | --- | --- | --- | --- | --- | --- | --- | --- | --- |
| Francesco Molinari | | | | | | | | | | |
| Bryson DeChambeau | 1 | | MC | | | | | | | |
| Kyle Stanley | 55 | 22 | 18 | 63 | MC | 19 | 2 | | 34 | |
| Si Woo Kim | | | | | MC | | | | | |
| Zach Johnson | 5 | 34 | 3 | 2 | 2 | 1 | 3 | 21 | 2 | 69 |
| Chez Reavie | 39 | | 65 | | 15 | 68 | 5 | | MC | 41 |
| Chesson Hadley | 25 | MC | MC | | | | | | | |
| Patton Kizzire | 25 | | | | | | | | | |
| Andrew Landry | | 8 | | | | | | | | |
| Ryan Moore | MC | 1 | 24 | 7 | 22 | 8 | | | 34 | 74 |
| Aaron Wise | | 16 | | | | | | | | |
| Bill Haas | | | | | | | | | MC | MC |
| Brandt Snedeker | | | | | | | | | 2 | |
| Sean O`Hair | MC* | MC | | 68 | MC | MC | | | | MC |
| Nick Watney | MC | | | | 27 | 13 | | | | MC |
| Sung Kang | | 14 | | | | MC | 12 | | | |
| Austin Cook | | | | | | | | | | |
| Brian Gay | MC | MC | | | 61 | MC | 9 | | | 12 |
| Kevin Streelman | 44 | | MC | MC | 44 | 8 | | MC | 8 | |
| Ryan Palmer | MC | | | | | MC | | MC | 23 | MC |
| Chris Kirk | 60 | | | MC | 22 | 30 | 22 | | | |
| Patrick Rodgers | 2 | 27 | MC | MC | 15 | MC | | | | |
| Wesley Bryan | 3 | 8 | | | | | | | | |
| Steve Stricker | 5 | 52 | 35 | 11 | 10 | 5 | 1 | 1 | 1 | |
| Brice Garnett | | MC | MC | 45 | | | | | | |
| Kevin Tway | 12 | | | 52 | | | MC | | | |
| Danny Lee | Wd | | 3 | MC | | 30 | | | MC | |
| Keith Mitchell | | | | | | | | | | |
| Andrew Putnam | | | MC | | | | | | | |
| Whee Kim | | 3 | MC | | | | | | | |
| Scott Stallings | 5 | 16 | | MC | MC | MC | 22 | | | |
| Rory Sabbatini | 19 | 62 | | 37 | MC | 19 | | | | |
| Abraham Ancer | | 27 | | | | | | | | |
| Trey Mullinax | 19 | | | | | | | | | |
| Hudson Swafford | | 47 | 35 | MC | | | | | | |
| Scott Brown | 25 | 16 | MC | 5 | 22 | 7 | | | | |
| CT Pan | | | | | | | | | | |
| Harold Varner | MC | | | | | | | | | |
| Kelly Kraft | 64 | 5 | | | | | | | | |
| William McGirt | 71 | | 41 | 23 | MC | MC | 60 | | | |
| Scott Piercy | | | 14 | | | 3 | 45 | 34 | MC | |
| Sam Saunders | 25 | Wd | 44 | | | | | | | |
| Joaquin Niemann | | | | | | | | | | |
| Chris Stroud | 19 | MC | 5 | 59 | | 68 | 71 | | 15 | 62 |
| David Lingmerth | | | | MC | | | | | | |
| John Huh | MC | 64 | 50 | MC | MC | | | | | |
| Richy Werenski | 25 | | | | | | | | | |
| Stephan Jaeger | | | | | | | | | | |
| Brandon Harkins | | | | | | | | | | |
| Ryan Blaum | MC* | | | | | | | | | |
| Vaughn Taylor | 19 | MC | 44 | | 48 | 45 | MC | 6 | MC | 12 |
| Talor Gooch | | | | | | | | | | |
| Aaron Baddeley | | | MC | | MC | | | 39 | 9 | 29 |
| Harris English | | | 72 | 74 | 15 | | | | | |
| Alex Cejka | MC | | 55 | | | 25 | | | | |
| Robert Garrigus | Dq | 22 | 24 | MC | | 25 | Wd | 65 | 23 | |
| Ben Silverman | | | | | | | | | | |
| Sam Ryder | | | | | | | | | | |
| Nick Taylor | MC | MC | MC | | | | | | | |
| Mackenzie Hughes | | | | | | | | | | |
| Martin Piller | | MC | | | | | MC | | | |
| Brian Stuard | MC | | 18 | MC | | | | MC | | |
| Robert Streb | MC* | MC | 14 | 37 | 22 | | | | | |
| Ben Crane | 25 | | MC | 37 | MC | 13 | | | | MC |
| Andres Romero | 25 | 67 | | 45 | 44 | | MC | 21 | | |
| Matt Jones | MC | 27 | | | 7 | MC | MC | 5 | 5 | MC |
| Bronson Burgoon | | 47 | | | | | | | | |
| Seamus Power | 25 | | | | | | | | | |
| Dominic Bozzelli | 25 | | | | | | | | | |
| Troy Merritt | 60 | 56 | MC | 20 | | | 30 | MC | | |
| JT Poston | 64 | | | | | | | | | |
| Derek Fathauer | 50 | Wd | 55 | | | | | | MC | |
| Nicholas Lindheim | 55 | | | | | | | | | |
| Yong-Eun Yang | 64 | | | | 53 | 45 | | | | MC |
| Tyrone Van Aswegen | 39 | MC | 55 | MC | | | | | | |
| Michael Thompson | | MC | 55 | MC | | | 12 | | | |
| Rob Oppenheim | | 70 | | | | | | | | |
| Tom Lovelady | | | | | | | | | | |
| Lanto Griffin | | | | | | | | | | |
| Corey Conners | | | | | | | | | | |
| Chad Campbell | 12 | | 28 | 13 | 15 | 36 | 56 | 34 | 15 | 7 |
| Tyler Duncan | | | | | | | | | | |
| Joel Dahmen | MC | | | | | | | | | |
| Martin Flores | 64 | | MC | MC | 4 | 58 | | MC | | |
| Jonathan Byrd | 5 | | MC | 52 | 33 | 54 | MC | 21 | | 41 |
| Adam Schenk | | | | | | | | | | |
| Johnson Wagner | MC | 5 | 5 | 7 | | | | MC | 48 | MC |
| Xin Jun Zhang | | | | | | | | | | |
| Jonathan Randolph | 68 | | MC | | | | | | | |
| Shawn Stefani | 44 | 40 | 35 | 13 | MC | | | | | |
| Eric Axley | MC | MC | MC | MC | | | | | MC | 4 |
| Cody Gribble | MC | | | | | | | | | |
| Denny McCarthy | | | | | | | | | | |
| Daniel Summerhays | 12 | MC | 8 | 13 | 4 | MC | MC | | | |
| Arjun Atwal | | MC | MC | MC | | MC | 18 | | MC | |
| Blayne Barber | | 40 | | | | | | | | |
| Cameron Tringale | 50 | | | | | | 9 | MC | | |
| DA Points | MC | MC | MC | MC | MC | MC | 38 | MC | MC | |
| Michael Kim | 71 | 47 | | | | | | | | |
| David Hearn | MC | | 67 | 45 | 2 | MC | 68 | | | |
| Conrad Shindler | | | | | | | | | | |
| JJ Henry | 10 | MC | MC | 63 | 7 | 13 | 56 | 62 | 5 | MC |
| Cameron Percy | 12 | MC | 62 | | MC | | 7 | MC | | |
| Zac Blair | MC | 56 | MC | | | | | | | |
| Ricky Barnes | 55 | 5 | MC | 68 | MC | 45 | MC | | MC | |
| Kyle Thompson | | | | | | MC | | | | MC |
| Billy Hurley | 68 | 34 | MC | MC | | 8 | | | | |
| Fabian Gomez | | | MC | | MC | | MC | | | |
| Ethan Tracy | | | | | | | | | | |
| Peter Malnati | 44 | 27 | | MC | | | | | | |
| Jason Gore | | MC | MC | | | MC | | | MC | MC |
| Matt Atkins | | | | | | | | | | |
| Andrew Yun | | | | | | | | | | |
| Rick Lamb | 3 | | | | | | | | | |
| Marty Dou Ze Cheng | | | | | | | | | | |
| Matt Every | MC | MC | | | | 58 | | 56 | | |
| Roberto Diaz | | | | | | | | | | |
| Steve Marino | | 8 | | MC | | | 65 | | MC | 41 |
| Hunter Mahan | MC | MC | | | | | | | | |
| Dylan Meyer | MC | | | | | | | | | |
| Stuart Appleby | 25 | 40 | | | 33 | 25 | | MC | | |
| Tim Herron | MC | 62 | MC | MC | | | | | | MC |
| Brett Stegmaier | MC* | | | | | | | | | |
| Davis Love | MC* | | | 37 | 72 | | 12 | 65 | 55 | |
| Steve Wheatcroft | MC | 27 | 8 | | | 58 | | MC | | |
| Dicky Pride | MC | 52 | | 27 | 48 | 25 | MC | | MC | MC |
| Will MacKenzie | | 56 | MC | 27 | | | 30 | MC | | 4 |
| Daniel Chopra | | MC | | MC | | MC | | 70 | 9 | |
| George McNeill | MC | MC | MC | | Wd | | Wd | 49 | 15 | MC |
| Robert Allenby | | MC | | MC | MC | | | | | |
| Richard S Johnson | | | | | | MC | MC | 72 | 48 | MC |
| Doug Ghim | | | | | | | | | | |
| Jon Curran | | | MC | | | | | | | |
| Jason Bohn | MC | 56 | 12 | MC | 22 | MC | 30 | 21 | 39 | |
| Will Claxton | | | | | MC | MC | | | | |
| Troy Matteson | 60 | MC | MC | MC | 27 | 2 | 71 | 10 | MC | MC |
| Parker McLachlin | | MC | | | | | | MC | | 62 |
| Charlie Beljan | | | | 23 | MC | MC | | | | |
| David Berganio | | | | | | | | | MC | |
| Kris Blanks | | | | | | MC | 12 | MC | MC | |
| Chris Couch | | | | | | 30 | 30 | 39 | | |
| Brian Davis | | | Wd | 37 | 33 | MC | 45 | 62 | 55 | 34 |
| Brendon de Jonge | MC | MC | MC | 45 | 54 | 19 | 7 | 7 | MC | |
| Carl Pettersson | Wd | | 12 | | 54 | 36 | | MC | 55 | MC |
| John Rollins | MC | MC | MC | 23 | MC | | 65 | MC | | |
| John Senden | | MC | | 45 | MC | 4 | | 12 | MC | MC |
| DJ Trahan | | MC | | MC | MC | MC | 45 | MC | 59 | MC |
| Cameron Beckman | | MC | MC | 76 | | MC | 45 | MC | 9 | 12 |
| Charlie Wi | MC | MC | MC | MC | MC | | MC | 15 | MC | 4 |
| Brendon Todd | MC | MC | | | MC | MC | | | MC | |
| Tommy Gainey | | | | 27 | MC | 13 | MC | | 48 | MC |
| Steven Bowditch | MC | MC | MC | 11 | 12 | MC | 38 | | | |
| Nick Hardy | 55 | | | | | | | | | |
| Mark Wilson | MC | 64 | MC | 63 | MC | 45 | 30 | 39 | MC | 69 |
| Ken Duke | MC | MC | 67 | MC | 48 | MC | | | 48 | 18 |
| Norman Xiong | | | | | | | | | | |
| Craig Barlow | | MC | | | | | | | | |
| John Merrick | 73 | MC | MC | 76 | | 54 | 59 | 39 | | MC |
| Omar Uresti | | | | | | | | MC | | MC |
| Dru Love | | | | | | | | | | |
| Broc Everett | | | | | | | | | | |
| Chad Proehl | | | | | | MC | MC | | | MC |
Discover the latest articles
Read past articles