John Deere Classic 2017: Key stats for this week's event in Illinois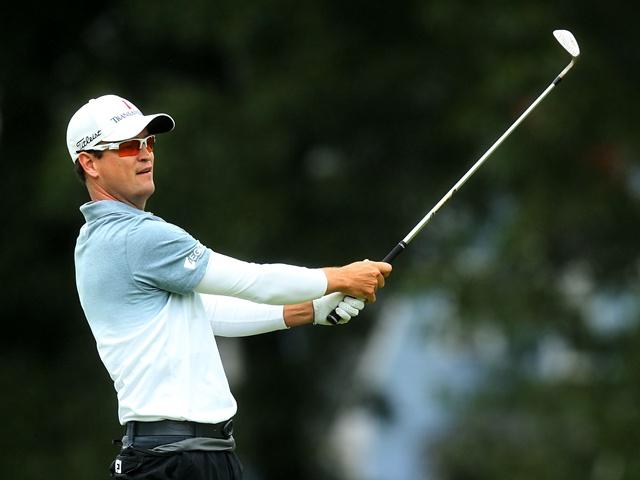 Zach Johnson: Six top-three finishes at TPC Deere Run since 2009 but current form is weak.
Andy Swales provides course and current form stats for this week's John Deere Classic in America's rural Midwest...

"Danny Lee was a podium finisher at Deere Run in 2015, and certainly seems to enjoy this time of year."
The PGA Tour heads for the Midwest and its 18th trip to TPC Deere Run.

This rural Illinois location is typically one of the lowest-scoring venues on the US calendar.

Opened in 1999, Deere Run was built on land once inhabited by native Americans. It is a lush, wooded, parkland course, with water hazards coming into play on only a handful of holes.

Given a face lift 10 years ago, the gently undulating, well-bunkered, Deere Run is once again the final stop before the players head across the Atlantic for next week's Open Championship.
Horses for Courses

Over the years, Deere Run has been a lucrative playground for both Zach Johnson and Steve Stricker.

Johnson has posted podium finishes in six of his last eight visits, although his current form is hardly inspiring - no strokeplay top-10 since early January.

Stricker, meanwhile, won a hat-trick of John Deere Classic titles from 2009 to 2011.

Others with reasonable course form include Kevin Na and Scott Brown. While Na has played reasonably OK recently, the latter has posted just one top-25 finish since March.

Johnson Wagner has registered three straight top 10s at TPC Deere Run, and tied-fifth in Maryland two weeks ago.

Defending champion Ryan Moore has a very strong course record but has not teed-up since early June because of a shoulder injury.
Men of the Moment

Daniel Berger, whose last three starts include both a victory and a runner-up slot, will be making his Deere Run debut this Thursday.

Another in-form pro is Danny Lee who has enjoyed four top-10s from his most recent seven starts.

The New Zealander was a podium finisher at Deere Run in 2015, and certainly seems to enjoy this time of year.

And why not consider a third 'Dan' in the shape of Daniel Summerhays. Not the most consistent of performers, although his record in Illinois is fairly strong.

Finally, Kevin Streelman will arrive under the radar. The American, whose form has flickered tantalisingly in recent weeks, is a two-time top-10 performer at the JD Classic although not since 2012.
| Player | W27 | W26 | W25 | W24 | W23 | W22 | W21 | W20 | W19 | W18 |
| --- | --- | --- | --- | --- | --- | --- | --- | --- | --- | --- |
| Daniel Berger | | | 2 | MC | 1 | | | | 65 | 36 |
| Kevin Kisner | MC | | | 58 | | 6 | 1 | | 56 | MC |
| Brian Harman | | | 35 | 2 | | MC | 7 | | 53 | 1 |
| Charley Hoffman | | | 3 | 8 | | 45 | 24 | 40 | 30 | |
| Wesley Bryan | | 46 | 74 | MC | | | 48 | | MC | MC |
| Bubba Watson | 70 | | MC | MC | | 6 | | | MC | |
| Ryan Moore | | | | | | MC | 67 | MC | 53 | |
| William McGirt | | | 43 | 55 | MC | 67 | 61 | | 22 | MC |
| Charles Howell | 45 | 2 | | | | | | | | |
| Kyle Stanley | | 1 | 57 | | 27 | 6 | MC | | 4 | |
| Kevin Na | | 22 | 57 | 32 | | 13 | | | Wd | MC |
| Sean O`Hair | MC | | | MC | | 52 | 2 | 5 | MC | |
| Zach Johnson | | | MC | 27 | | 40 | 63 | | 48 | 18 |
| Steve Stricker | | | | 16 | | 40 | 7 | | 41 | |
| Danny Lee | 9 | 22 | 3 | | 47 | 49 | 6 | 5 | MC | |
| Daniel Summerhays | | 17 | 43 | 65 | MC | 10 | MC | 40 | 53 | |
| Jamie Lovemark | 3 | | 75 | 27 | | 10 | | 18 | 75 | |
| Bud Cauley | | MC | 35 | MC | | 25 | 41 | 5 | | |
| Lucas Glover | | 43 | MC | MC | | 45 | MC | | 6 | 52 |
| Harris English | 29 | 22 | MC | 46 | 10 | | 29 | MC | MC | MC |
| Ryan Palmer | | | 53 | MC | 80 | | 70 | 27 | MC | |
| Kevin Streelman | 29 | 17 | 8 | | | 13 | 18 | | 72 | MC |
| Chris Kirk | MC | MC | | | 72 | MC | 67 | | 12 | 71 |
| Chez Reavie | | | 43 | 16 | 4 | | 48 | MC | 56 | 42 |
| Roberto Castro | 20 | MC | | MC | 65 | MC | | | 56 | MC |
| Billy Hurley | MC | 63 | MC | | | MC | 41 | 50 | 41 | 8 |
| Ollie Schniederjans | Dq | 63 | | | | 71 | 29 | 55 | | |
| Luke List | MC | MC | | | 18 | MC | MC | | MC | 52 |
| JJ Spaun | 29 | MC | | | | Wd | Wd | 74 | | |
| Scott Brown | MC | | | | 52 | MC | 12 | 35 | MC | MC |
| Harold Varner | 29 | 65 | MC | | MC | 19 | MC | | 35 | MC |
| Smylie Kaufman | 37 | MC | 35 | | MC | MC | | 35 | 12 | 5 |
| Bryson DeChambeau | 14 | 17 | 26 | MC | MC | | MC | MC | | MC |
| Grayson Murray | Wd | 74 | 26 | | 18 | 35 | | 27 | 79 | 63 |
| Morgan Hoffmann | MC | MC | 26 | | | MC | 12 | 27 | | 12 |
| Brian Stuard | | | MC | MC | 82 | 52 | 24 | MC | 75 | |
| Dominic Bozzelli | MC | MC | MC | | 10 | | 69 | 50 | | MC |
| Ryo Ishikawa | | | | | | MC | | MC | | MC |
| Fabian Gomez | | Wd | 53 | | 18 | MC | MC | | MC | 75 |
| Vaughn Taylor | MC | 61 | 57 | | | 73 | 18 | | MC | 12 |
| Patrick Rodgers | 70 | 22 | 35 | | MC | 67 | MC | 27 | MC | MC |
| Chad Campbell | 9 | | MC | | 10 | | 34 | 13 | MC | MC |
| Kevin Tway | | 55 | 43 | | 31 | MC | 18 | 20 | | 5 |
| Kelly Kraft | 5 | 43 | MC | | | MC | 18 | MC | | |
| Andres Romero | 42 | MC | 1 | MC | MC | | | | | |
| JT Poston | MC | | MC | MC | MC | | 41 | MC | | 24 |
| David Hearn | 14 | 73 | 8 | | 10 | MC | 70 | | 69 | MC |
| Ben Martin | 37 | 5 | | | 60 | 35 | 57 | | 30 | 18 |
| Nick Taylor | 9 | 29 | MC | | | 49 | 61 | 9 | | 8 |
| Robert Streb | 2 | 55 | 57 | | 31 | | 34 | MC | MC | 24 |
| Seung-Yul Noh | MC | MC | MC | | 37 | | Wd | MC | 22 | 5 |
| Geoff Ogilvy | 58 | 13 | 69 | | | | 53 | 61 | | MC |
| Patton Kizzire | MC | MC | 53 | | MC | MC | 63 | | MC | 66 |
| Michael Kim | 29 | 35 | 69 | | | MC | 41 | 40 | 60 | |
| Matt Jones | 64 | 38 | | | 18 | | 63 | MC | | 66 |
| DA Points | MC | 65 | | | MC | 57 | | 73 | MC | 12 |
| Kyle Reifers | MC | 51 | MC | | 31 | MC | MC | 20 | MC | 42 |
| John Huh | 45 | MC | MC | | 67 | | MC | 40 | MC | |
| Johnson Wagner | MC | 5 | 43 | | MC | MC | MC | | MC | MC |
| Derek Fathauer | MC | 68 | MC | | 24 | | 48 | | MC | MC |
| Cameron Tringale | MC | MC | | | 37 | | 72 | 9 | 35 | MC |
| Brian Gay | 72 | 43 | MC | | MC | | 34 | 50 | MC | 52 |
| Cody Gribble | | MC | MC | | MC | | 41 | MC | 48 | |
| Alex Cejka | 9 | MC | 84 | | 52 | 57 | | MC | 79 | Wd |
| Trey Mullinax | 50 | 46 | MC | 9 | 18 | | | MC | | MC |
| Robert Garrigus | 45 | 29 | MC | | MC | | | MC | MC | |
| Zac Blair | 73 | 29 | MC | | 52 | 63 | MC | 40 | MC | 12 |
| Ricky Barnes | MC | 17 | 35 | | MC | 22 | 18 | 59 | 65 | 63 |
| KJ Choi | MC | MC | 81 | | 47 | 67 | | 18 | MC | |
| Bryce Molder | MC | MC | 26 | | MC | | MC | MC | MC | 36 |
| Scott Stallings | 58 | 38 | MC | | 37 | | 63 | 20 | | MC |
| Boo Weekley | MC | Wd | 5 | | MC | | MC | 40 | 48 | MC |
| Martin Flores | 50 | 55 | MC | | 72 | | MC | MC | | 76 |
| Troy Merritt | MC | MC | 8 | MC | MC | | | | MC | MC |
| Brandon Hagy | 18 | 68 | MC | | 31 | | MC | MC | | 18 |
| Spencer Levin | MC | 5 | 81 | 60 | 37 | | | 66 | MC | 31 |
| Nick Watney | 37 | 13 | 73 | | 68 | | 53 | 40 | | 59 |
| Tyrone Van Aswegen | 73 | 26 | MC | | 31 | | MC | MC | MC | 42 |
| Ryan Brehm | 37 | MC | 35 | 53 | 37 | | | 61 | | MC |
| Richy Werenski | MC | | MC | | MC | | | MC | | MC |
| Curtis Luck | 20 | 5 | | | MC | 73 | 34 | | | 52 |
| Andres Gonzales | MC | | MC | 48 | 37 | 13 | | MC | | MC |
| Jonathan Randolph | 20 | 29 | MC | 42 | 86 | | | MC | | 8 |
| Sam Saunders | MC | 61 | | | MC | 57 | 24 | MC | | MC |
| Seamus Power | 50 | 38 | MC | | 27 | | | 57 | | 49 |
| Greg Chalmers | MC | MC | 66 | | | 52 | MC | 72 | MC | MC |
| Andrew Loupe | MC | 35 | MC | | MC | | | MC | MC | |
| Ryan Blaum | 7 | 55 | MC | | MC | | 24 | MC | | 66 |
| Camilo Villegas | 50 | MC | | | MC | 63 | Wd | | | MC |
| Cameron Percy | MC | 46 | 75 | | MC | 7 | MC | MC | | MC |
| Chad Collins | MC | | MC | | MC | | | MC | | 31 |
| Tim Wilkinson | MC | 72 | 43 | | MC | | | MC | | MC |
| Mark Anderson | 50 | | MC | | MC | MC | | MC | | 24 |
| Joel Dahmen | MC | Wd | 62 | | 18 | | | 9 | | MC |
| Ben Crane | MC | 38 | MC | | 10 | | | MC | 79 | |
| Brett Stegmaier | 50 | 65 | 26 | | MC | | | 57 | MC | MC |
| Sebastian Munoz | 3 | MC | 75 | | 60 | MC | | 50 | | MC |
| Willy Wilcox | MC | | | Dq | 52 | | | 27 | | Wd |
| Greg Owen | MC | MC | | | 52 | | | 61 | | 76 |
| Chris Stroud | 20 | MC | | | 65 | | 41 | MC | | MC |
| Rick Lamb | MC | | 17 | MC | 71 | 24 | | MC | | MC |
| Julian Etulain | 68 | MC | 75 | | 24 | | | MC | | 36 |
| Ken Duke | MC | | MC | | MC | | | 66 | | 74 |
| JJ Henry | 45 | 68 | 69 | | MC | | MC | 27 | | 66 |
| Brian Campbell | 45 | | MC | | 37 | | | MC | | MC |
| Chesson Hadley | 1 | MC | 38 | 19 | MC | 2 | | 17 | | MC |
| Will MacKenzie | | | 17 | | 52 | | | MC | | MC |
| Nicholas Lindheim | Wd | | MC | | Wd | MC | | 66 | | MC |
| Steve Wheatcroft | MC | | 83 | | 10 | 24 | | MC | | MC |
| Peter Malnati | 29 | 38 | 75 | | 72 | | | 61 | MC | MC |
| Shawn Stefani | 37 | 55 | MC | | MC | | | Dq | MC | 63 |
| Yong-Eun Yang | MC | | 20 | | 57 | | | MC | | MC |
| Hiroshi Iwata | 38 | | | | MC | 55 | 21 | Wd | 27 | |
| Jason Bohn | MC | MC | MC | | MC | | MC | 40 | MC | 76 |
| Brad Fritsch | MC | | 43 | | MC | MC | | MC | | 71 |
| Bill Lunde | MC | | | | MC | | | | | |
| Ryan Armour | MC | | MC | | 47 | MC | | 27 | | 59 |
| Tom Hoge | MC | | 35 | MC | MC | | | 55 | | MC |
| Stuart Appleby | MC | MC | Wd | | MC | 39 | | MC | | MC |
| Eric Axley | 53 | 11 | 2 | 27 | MC | 24 | | 44 | | 16 |
| Jonathan Byrd | 58 | 59 | 38 | | MC | 13 | | MC | | 30 |
| Rory Sabbatini | 14 | | MC | | MC | | MC | MC | | Wd |
| Miguel Angel Carballo | MC | | MC | 79 | MC | 48 | | MC | | 73 |
| Mark Hubbard | 58 | | 43 | | 47 | 60 | | MC | MC | MC |
| Zack Sucher | | | MC | | MC | MC | | MC | | MC |
| Tag Ridings | MC | | MC | | 68 | | | MC | | 42 |
| Gonzalo Fdez-Castano | MC | | MC | | 78 | | | MC | | 42 |
| Nicholas Thompson | 59 | 32 | | MC | Wd | MC | | 57 | | Wd |
| Angel Cabrera | MC | | | MC | | | 41 | MC | | MC |
| Max Homa | MC | MC | | 82 | 85 | | | MC | | MC |
| Brett Drewitt | MC | | MC | 27 | 60 | 52 | | MC | | 31 |
| Bobby Wyatt | MC | | MC | 32 | MC | 81 | | MC | | MC |
| Steven Alker | Wd | | MC | | 68 | | | MC | | 76 |
| Tim Herron | | | | | | | MC | | | |
| Davis Love | 29 | | | | MC | | MC | | | MC |
| Hunter Mahan | 37 | | 17 | | 82 | MC | MC | MC | | 52 |
| Michael Putnam | MC | | 23 | 35 | 37 | MC | | 40 | | MC |
| Mark Wilson | | | MC | | MC | | | | | MC |
| Tyler Aldridge | MC | | | Wd | MC | MC | | MC | | 52 |
| Brendon de Jonge | MC | MC | | | MC | MC | | MC | | MC |
| George McNeill | | | | | MC | | | Wd | | |
| Matt Every | MC | MC | 35 | | 27 | MC | MC | MC | MC | |
| Charlie Beljan | MC | | Wd | MC | | | | MC | | MC |
| Shane Bertsch | MC | | 84 | 32 | MC | MC | | MC | | MC |
| Steven Bowditch | MC | | | | MC | MC | MC | MC | | MC |
| Bob Estes | | | Wd | | MC | | | 70 | | MC |
| Carl Pettersson | MC | | MC | | MC | MC | | MC | | MC |
| Charlie Wi | | | | | MC | | | | | |
| Brendon Todd | | | | | | | | 70 | | MC |
| John Rollins | | | | | MC | | | | | |
| John Merrick | 59 | | 70 | 40 | MC | | | MC | | 41 |
| Dicky Pride | MC | 56 | | | MC | | | MC | | MC |
| Bobby Gates | MC | MC | MC | 60 | 72 | 52 | | MC | | MC |
| Nick Hardy | | | | | | | | | | |
| Michael Bradley | | | | | | | | | | |
| WyndhamClark | | 51 | MC | | | | | | | |
| Maverick McNealy | | | | MC | | | | | | |
| Darin Fisher | | | | | | | | | | |
| Troy Matteson | | | | | | | | | | |
| Dylan Meyer | | | 63 | | | | | | | |
| Player | 2016 | 2015 | 2014 | 2013 | 2012 | 2011 | 2010 | 2009 | 2008 | 2007 |
| --- | --- | --- | --- | --- | --- | --- | --- | --- | --- | --- |
| Daniel Berger | | | | | | | | | | |
| Kevin Kisner | | 35 | 20 | | MC | MC | | | | |
| Brian Harman | MC | 24 | 1 | MC | 19 | | | | | |
| Charley Hoffman | | | | MC | Wd | | 7 | 15 | MC | |
| Wesley Bryan | 8 | | | | | | | | | |
| Bubba Watson | | | | | | | MC | | 41 | Dq |
| Ryan Moore | 1 | 24 | 7 | 22 | 8 | | | 34 | 74 | |
| William McGirt | | 41 | 23 | MC | MC | 60 | | | | |
| Charles Howell | | 60 | 23 | 33 | MC | 5 | 39 | 23 | | |
| Kyle Stanley | 22 | 18 | 63 | MC | 19 | 2 | | 34 | | |
| Kevin Na | 8 | | 13 | | | | | | MC | 32 |
| Sean O`Hair | MC | | 68 | MC | MC | | | | MC | |
| Zach Johnson | 34 | 3 | 2 | 2 | 1 | 3 | 21 | 2 | 69 | MC |
| Steve Stricker | 52 | 35 | 11 | 10 | 5 | 1 | 1 | 1 | | |
| Danny Lee | | 3 | MC | | 30 | | | MC | | |
| Daniel Summerhays | MC | 8 | 13 | 4 | MC | MC | | | | |
| Jamie Lovemark | 34 | | 74 | | 45 | | | | 74 | |
| Bud Cauley | 8 | | 52 | MC | 72 | | | | | |
| Lucas Glover | | MC | MC | 15 | | | | MC | MC | 11 |
| Harris English | | 72 | 74 | 15 | | | | | | |
| Ryan Palmer | | | | | MC | | MC | 23 | MC | MC |
| Kevin Streelman | | MC | MC | 44 | 8 | | MC | 8 | | |
| Chris Kirk | | | MC | 22 | 30 | 22 | | | | |
| Chez Reavie | | 65 | | 15 | 68 | 5 | | MC | 41 | |
| Roberto Castro | | 44 | MC | 68 | | | | | | |
| Billy Hurley | 34 | MC | MC | | 8 | | | | | |
| Ollie Schniederjans | | | | | | | | | | |
| Luke List | 56 | | | MC | | | | | | MC |
| JJ Spaun | | | | | | | | | | |
| Scott Brown | 16 | MC | 5 | 22 | 7 | | | | | |
| Harold Varner | | | | | | | | | | |
| Smylie Kaufman | | | | | | | | | | |
| Bryson DeChambeau | | MC | | | | | | | | |
| Grayson Murray | | | | | | | | | | |
| Morgan Hoffmann | 3 | | MC | 15 | | MC | | | | |
| Brian Stuard | | 18 | MC | | | | MC | | | |
| Dominic Bozzelli | | | | | | | | | | |
| Ryo Ishikawa | | 72 | | 33 | | | | | | |
| Fabian Gomez | | MC | | MC | | MC | | | | |
| Vaughn Taylor | MC | 44 | | 48 | 45 | MC | 6 | MC | 12 | |
| Patrick Rodgers | 27 | MC | MC | 15 | MC | | | | | |
| Chad Campbell | | 28 | 13 | 15 | 36 | 56 | 34 | 15 | 7 | |
| Kevin Tway | | | 52 | | | MC | | | | |
| Kelly Kraft | 5 | | | | | | | | | |
| Andres Romero | 67 | | 45 | 44 | | MC | 21 | | | |
| JT Poston | | | | | | | | | | |
| David Hearn | | 67 | 45 | 2 | MC | 68 | | | | |
| Ben Martin | 2 | | MC | | | 38 | | | | |
| Nick Taylor | MC | MC | | | | | | | | |
| Robert Streb | MC | 14 | 37 | 22 | | | | | | |
| Seung-Yul Noh | Wd | 50 | | MC | 19 | | | | | |
| Geoff Ogilvy | 16 | | | | | | | | | |
| Patton Kizzire | | | | | | | | | | |
| Michael Kim | 47 | | | | | | | | | |
| Matt Jones | 27 | | | 7 | MC | MC | 5 | 5 | MC | |
| DA Points | MC | MC | MC | MC | MC | 38 | MC | MC | | |
| Kyle Reifers | | MC | | | MC | | | | | MC |
| John Huh | 64 | 50 | MC | MC | | | | | | |
| Johnson Wagner | 5 | 5 | 7 | | | | MC | 48 | MC | MC |
| Derek Fathauer | Wd | 55 | | | | | | MC | | |
| Cameron Tringale | | | | | | 9 | MC | | | |
| Brian Gay | MC | | | 61 | MC | 9 | | | 12 | 18 |
| Cody Gribble | | | | | | | | | | |
| Alex Cejka | | 55 | | | 25 | | | | | Wd |
| Trey Mullinax | | | | | | | | | | |
| Robert Garrigus | 22 | 24 | MC | | 25 | Wd | 65 | 23 | | |
| Zac Blair | 56 | MC | | | | | | | | |
| Ricky Barnes | 5 | MC | 68 | MC | 45 | MC | | MC | | |
| KJ Choi | | MC | | 33 | 13 | | MC | | | |
| Bryce Molder | | 28 | 13 | 27 | Wd | 30 | | 30 | | MC |
| Scott Stallings | 16 | | MC | MC | MC | 22 | | | | |
| Boo Weekley | 47 | 69 | MC | 27 | MC | | 21 | | | |
| Martin Flores | | MC | MC | 4 | 58 | | MC | | | |
| Troy Merritt | 56 | MC | 20 | | | 30 | MC | | | |
| Brandon Hagy | | | | | | | | | | |
| Spencer Levin | MC | 50 | | | 36 | | 34 | 15 | | |
| Nick Watney | | | | 27 | 13 | | | | MC | |
| Tyrone Van Aswegen | MC | 55 | MC | | | | | | | |
| Ryan Brehm | | | | | | | | | MC | |
| Richy Werenski | | | | | | | | | | |
| Curtis Luck | | | | | | | | | | |
| Andres Gonzales | 64 | MC | | MC | | 22 | | | | |
| Jonathan Randolph | | MC | | | | | | | | |
| Sam Saunders | Wd | 44 | | | | | | | | |
| Seamus Power | | | | | | | | | | |
| Greg Chalmers | | 69 | 37 | MC | | MC | 12 | MC | | |
| Andrew Loupe | 16 | MC | MC | | | | | | | |
| Ryan Blaum | | | | | | | | | | |
| Camilo Villegas | MC | MC | 45 | 71 | 58 | | | | | MC |
| Cameron Percy | MC | 62 | | MC | | 7 | MC | | | |
| Chad Collins | MC | MC | 70 | | | | 21 | | 50 | |
| Tim Wilkinson | MC | 50 | MC | | | | MC | | | |
| Mark Anderson | | MC | | | 76 | | | | | |
| Joel Dahmen | | | | | | | | | | |
| Ben Crane | | MC | 37 | MC | 13 | | | | MC | |
| Brett Stegmaier | | | | | | | | | | |
| Sebastian Munoz | | | | | | | | | | |
| Willy Wilcox | | 8 | MC | | | | | | | |
| Greg Owen | MC | | | 61 | | | Dq | 9 | | MC |
| Chris Stroud | MC | 5 | 59 | | 68 | 71 | | 15 | 62 | 22 |
| Rick Lamb | | | | | | | | | | |
| Julian Etulain | | | | | | | | | | |
| Ken Duke | MC | 67 | MC | 48 | MC | | | 48 | 18 | |
| JJ Henry | MC | MC | 63 | 7 | 13 | 56 | 62 | 5 | MC | |
| Brian Campbell | | MC | | | | | | | | |
| Chesson Hadley | MC | MC | | | | | | | | |
| Will MacKenzie | 56 | MC | 27 | | | 30 | MC | | 4 | |
| Nicholas Lindheim | | | | | | | | | | |
| Steve Wheatcroft | 27 | 8 | | | 58 | | MC | | | MC |
| Peter Malnati | 27 | | MC | | | | | | | |
| Shawn Stefani | 40 | 35 | 13 | MC | | | | | | |
| Yong-Eun Yang | | | | 53 | 45 | | | | MC | |
| Hiroshi Iwata | 56 | | | | | | | | | |
| Jason Bohn | 56 | 12 | MC | 22 | MC | 30 | 21 | 39 | | |
| Brad Fritsch | | | 13 | MC | | | | | | |
| Bill Lunde | | MC | | MC | 36 | | MC | MC | | |
| Ryan Armour | | 60 | | | | | | | 50 | |
| Tom Hoge | MC | MC | | | | | | | | |
| Stuart Appleby | 40 | | | 33 | 25 | | MC | | | |
| Eric Axley | MC | MC | MC | | | | | MC | 4 | MC |
| Jonathan Byrd | | MC | 52 | 33 | 54 | MC | 21 | | 41 | 1 |
| Rory Sabbatini | 62 | | 37 | MC | 19 | | | | | |
| Miguel Angel Carballo | 16 | | MC | | MC | | | | | |
| Mark Hubbard | MC | 24 | | | | | | | | |
| Zack Sucher | | 44 | | | | | | MC | | |
| Tag Ridings | | | MC | MC | | MC | | MC | 62 | MC |
| Gonzalo F`dez-Castano | | 28 | MC | | | | | | | |
| Nicholas Thompson | | 44 | 37 | 12 | | | MC | MC | 24 | |
| Angel Cabrera | 40 | | | | | | | | | |
| Max Homa | | 35 | | | | | | | | |
| Brett Drewitt | | | | | | | | | | |
| Bobby Wyatt | | | 63 | | | | | | | |
| Steven Alker | | 28 | | | | | | | | |
| Tim Herron | 62 | MC | MC | | | | | | MC | 32 |
| Davis Love | | | 37 | 72 | | 12 | 65 | 55 | | |
| Hunter Mahan | MC | | | | | | | | | |
| Michael Putnam | | 28 | | | | 12 | | | | |
| Mark Wilson | 64 | MC | 63 | MC | 45 | 30 | 39 | MC | 69 | MC |
| Tyler Aldridge | 67 | | | | | | | MC | | |
| Brendon de Jonge | MC | MC | 45 | 54 | 19 | 7 | 7 | MC | | 62 |
| George McNeill | MC | MC | | Wd | | Wd | 49 | 15 | MC | 22 |
| Matt Every | MC | | | | 58 | | 56 | | | |
| Charlie Beljan | | | 23 | MC | MC | | | | | |
| Shane Bertsch | | | | | MC | 38 | | | 29 | |
| Steven Bowditch | MC | MC | 11 | 12 | MC | 38 | | | | |
| Bob Estes | | | | | | | MC | MC | | |
| Carl Pettersson | | 12 | | 54 | 36 | | MC | 55 | MC | 5 |
| Charlie Wi | MC | MC | MC | MC | | MC | 15 | MC | 4 | |
| Brendon Todd | MC | | | MC | MC | | | MC | | |
| John Rollins | MC | MC | 23 | MC | | 65 | MC | | | |
| John Merrick | MC | MC | 76 | | 54 | 59 | 39 | | MC | 54 |
| Dicky Pride | 52 | | 27 | 48 | 25 | MC | | MC | MC | 22 |
| Bobby Gates | | | | Wd | 30 | MC | | | | |
| Nick Hardy | | | | | | | | | | |
| Michael Bradley | | | MC | MC | MC | MC | 21 | MC | MC | |
| WyndhamClark | | | | | | | | | | |
| Maverick McNealy | | | | | | | | | | |
| Darin Fisher | | | | | | | | | | |
| Troy Matteson | MC | MC | MC | 27 | 2 | 71 | 10 | MC | MC | 3 |
| Dylan Meyer | | | | | | | | | | |
Discover the latest articles