Houston Open 2019: All the stats for this week's event in Texas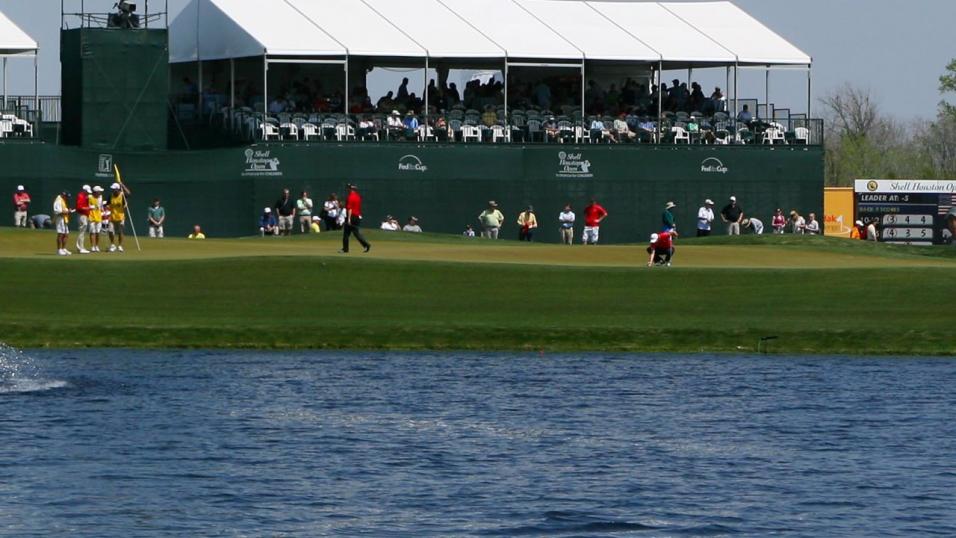 Plenty of water at the Golf Club of Houston
Andy Swales supplies course and current form stats, as the PGA Tour heads to the Golf Club of Houston for a 17th time ....
"Big hitting Luke List could find the course to his liking as he chases a maiden Tour victory – following four previous podium finishes."
It's back to the Deep South for the PGA Tour which returns to Texas for this week's Houston Open.
The event, which dates back more than 70 years, was in danger of being scrapped from the schedule after losing its main sponsor in 2017.
However, it remains on the rota for the time being, although this year's radical upheaval of the Tour calendar - to accommodate a change in dates for the FedEx Cup Play-Offs - means the tournament has had to accept a new slot.
Traditionally, the Houston Open has been played during spring and, since 2007, was held either late March or early April.
It has now been switched to the Fall and whether this significantly changes the playing conditions at the Golf Club of Houston remains to be seen.
In the past, organisers have tried to create conditions that would replicate those at Augusta National, so fast smooth putting surfaces, as well as finely cut grass, slopes and banks around the greens, were the order of the day.
It was a layout aimed at sharpening the short games of those heading to The Masters but, because of the date change, this requirement no longer applies.
Below Par Field
Although the Houston Open has never been considered among the most prestigious of events in world golf, it usually attracted a decent field because of its position in the calendar.
But this year's change of dates has done the competition no favours at all, with arguably one of the weakest turnouts in its history.
World No 37 Henrik Stenson is the highest-ranked golfer taking part, with the Swede hoping to claim a first victory at the course following three previous podium finishes.
Check out latest betting ahead of this week's Houston Open
If anyone can claim to be the king of the Golf Club of Houston's Tournament Course it is Russell Henley.
The world No 161 is a former champion, and his last five starts have all yielded top-eight finishes.
Other pros whose back catalogue of results is pretty solid around this course are Keegan Bradley, Daniel Berger, Bud Cauley and Johnson Wagner.
But there is no defending champion as Ian Poulter is playing in Italy.
Outsiders
Among the less-fancied entries, Lanto Griffin has made a strong start to his PGA Tour season with four successive top-20 finishes.
The American graduated from the Korn Ferry Tour, having claimed a second career title in April.
Big hitting Luke List could find the course to his liking as he chases a maiden Tour victory - following four previous podium finishes.
Water & Sand In Abundance
Opened in August 2005, the Tournament Course can be found 16 miles north-east of downtown Houston, and five miles from George Bush International Airport.
Built on low-lying land, around 50 miles from the Gulf of Mexico, it is a parkland layout with larger than average size greens.
Co-designed by Rees Jones and David Toms, this heavily-wooded venue is well-contoured from tee-to-green, with water and sand likely to play a significant role during this week's proceedings.
Large expanses of water come into play on around half of the holes, while sizeable bunkers are another feature of this modern layout.
Traditionally, the fairways at this public course have been generously wide with a limited amount of rough, thus encouraging players to drive it long off the tee.
But with Augusta no longer just around the corner, the organisers may opt for a different set-up.
Twitter: Andy Swales@GolfStatsAlive
MC* - Missed Additional 54-Hole Cut
Note: List contains leading reserves
| Player | W40 | W39 | W38 | W37 | W36 | W35 | W34 | W33 | W32 | W31 |
| --- | --- | --- | --- | --- | --- | --- | --- | --- | --- | --- |
| Henrik Stenson | | | 17 | | | | 3 | | | |
| Keegan Bradley | 70 | | | 24 | | | | 43 | 64 | |
| Lucas Bjerregaard | MC | 23 | MC | | MC | 28 | | | | MC |
| Tom Lewis | MC | 5 | MC | MC | | 1 | 59 | Wd | | |
| Jason Kokrak | 63 | | | MC | | | 9 | 19 | 12 | 6 |
| Cameron Champ | MC | 1 | 28 | | | | | 65 | 21 | MC |
| Kyle Stanley | 48 | MC | MC | | | | | | 71 | 13 |
| Scottie Scheffler | 74 | | 16 | 7 | | 7 | 11 | 1 | MC | |
| Russell Knox | 48 | 15 | 46 | MC | | | | | MC | 48 |
| Brian Harman | 18 | | 14 | 3 | | | | | 52 | 6 |
| Luke List | 13 | MC | MC | | | | | | 77 | MC |
| Sebastian Munoz | MC | 33 | 1 | 7 | | | | | 43 | 48 |
| Jhonattan Vegas | MC | 56 | | | | | | | 38 | |
| Daniel Berger | 18 | 23 | | | | 39 | | | | 39 |
| Xin Jun Zhang | 16 | 7 | 60 | MC | | 46 | 30 | 45 | 43 | |
| Zack Sucher | | | 18 | 24 | | MC | MC | 71 | | MC |
| Harry Higgs | MC | 23 | MC | 19 | | | 11 | 23 | MC | |
| Nick Watney | MC | 10 | | MC | | | | | 59 | MC |
| Beau Hossler | 29 | MC | | 67 | | | 25 | 2 | | MC |
| Sam Burns | MC | | 45 | MC | | | | | | |
| Robby Shelton | 42 | 52 | 28 | 7 | | 39 | | MC | 11 | |
| Doc Redman | 42 | MC | 52 | 24 | | | | | | MC |
| Andrew Landry | MC | 23 | MC | MC | | | | | 30 | 19 |
| Jimmy Walker | | | MC | MC | | | | | | MC |
| Michael Thompson | MC | 23 | MC | | | | | | MC | 75 |
| Bud Cauley | MC | 44 | | 14 | | | | | Wd | 22 |
| Stewart Cink | | | 28 | | | 33 | MC | | | MC |
| Kristoffer Ventura | 18 | 62 | | MC | | 56 | MC | 53 | 3 | |
| Russell Henley | 37 | | 54 | 57 | | | | | 59 | 31 |
| Denny McCarthy | 9 | | 18 | 31 | | | | | MC | 22 |
| Bronson Burgoon | 55 | MC | 6 | 19 | | | 5 | 19 | | MC |
| Brice Garnett | | 23 | MC | 36 | | | | | MC | 6 |
| Ryan Armour | MC | | MC | MC | | | | | 43 | 22 |
| Matt Jones | 29 | | Wd | 10 | | | | | 30 | MC |
| Jason Dufner | | MC | MC | 57 | | | | | | MC |
| Lanto Griffin | 18 | 17 | 11 | 13 | | 7 | | 37 | MC | |
| Pat Perez | 3 | MC | | | | | | | MC | MC |
| Scott Stallings | 55 | | 28 | MC | | | | | MC | 31 |
| Peter Uihlein | 63 | | 23 | 36 | | 15 | MC | 37 | | 72 |
| Richy Werenski | | | 18 | 3 | | 7 | MC | 37 | | 39 |
| Austin Cook | MC | MC | MC | 14 | | | | | | 72 |
| Sepp Straka | MC | MC | MC | MC | | | | | MC | 39 |
| Roger Sloan | MC | 13 | | MC | | | | | 64 | 39 |
| Patton Kizzire | 42 | MC | MC | MC | | | | | MC | 13 |
| JJ Spaun | MC | MC | 36 | 57 | | | | | MC | 69 |
| Kramer Hickok | MC | | MC | MC | | 3 | 5 | 19 | | MC |
| Carlos Ortiz | 37 | 40 | 4 | MC | | | | | 67 | 39 |
| Talor Gooch | 71 | 56 | | MC | | | | | 71 | MC |
| Brian Gay | 7 | 23 | 65 | | | | | | MC | MC |
| Tom Hoge | | MC | 39 | 2 | | | 20 | 7 | | MC* |
| Robert Streb | | MC | 23 | 66 | | | 30 | 5 | | MC |
| Mackenzie Hughes | MC | MC | | MC | | | | | 67 | 22 |
| Zac Blair | MC | 4 | MC | MC | | | 9 | 45 | 24 | 1 |
| Nick Taylor | 29 | 10 | MC | 24 | | | | | MC | MC |
| Sam Ryder | 18 | MC | MC | 31 | | | | | MC | 60 |
| Aaron Baddeley | 37 | 33 | | | | | | | Wd | |
| Chris Stroud | 48 | MC | | | | | | | Wd | MC |
| Harris English | | 33 | 6 | 3 | | 26 | MC | 14 | | 39 |
| Ted Potter | MC | | Wd | MC | | | | | | 60 |
| Peter Malnati | MC | MC | 45 | Wd | | | | | MC | MC |
| Kevin Chappell | | 40 | | 47 | | | 51 | 62 | | |
| Nelson Ledesma | MC | MC | MC | MC | | MC | MC | 45 | 58 | |
| Mark Hubbard | 42 | 13 | MC | 10 | | | 4 | 45 | 18 | 14 |
| Henrik Norlander | MC | MC | MC | MC | | 7 | MC | 23 | MC | |
| Ryan Brehm | MC | MC | MC | MC | | 46 | 5 | 19 | 18 | MC |
| Chase Seiffert | | MC | 65 | MC | | | MC | 19 | MC | |
| Martin Trainer | MC | MC | MC | MC | | | | | | MC |
| Wes Roach | | | MC | MC | | 26 | 61 | MC | | 53 |
| Martin Laird | 48 | MC | MC | 47 | | | | | 83 | MC |
| Cameron Tringale | | 44 | 16 | 36 | | | | | MC | |
| Matt Every | 18 | MC | Wd | MC | | | | | MC | |
| Jim Herman | MC | | MC | MC | | | | | | |
| Patrick Rodgers | MC | 44 | 61 | 47 | | | | | MC | MC* |
| Josh Teater | | | MC | MC | | 74 | MC | MC | | 6 |
| Cameron Davis | | MC | 28 | MC | | 13 | 25 | 56 | | 22 |
| Scott Harrington | | 23 | MC | 24 | | | 43 | 14 | 2 | 11 |
| Tyler McCumber | | 66 | MC | 47 | | | | MC | 18 | 53 |
| Mark Anderson | | MC | 28 | 36 | | | 60 | MC | 55 | |
| Brendan Steele | 29 | 60 | | 36 | | | | | | MC |
| Scott Brown | MC | MC | 39 | 31 | | | | | 76 | 60 |
| Matthew NeSmith | 18 | MC | MC | MC | | MC | 1 | 45 | MC | 8 |
| Shawn Stefani | | | 28 | MC | | MC | MC | 37 | | 22 |
| Johnson Wagner | | | MC | 64 | | MC | MC | 14 | | 13 |
| Michael Gellerman | | MC | 39 | MC | | | 61 | MC | MC | |
| Andres Romero | 45 | MC | MC | 21 | | 2 | MC | | | |
| Doug Ghim | | | MC | 31 | | 19 | 37 | 23 | MC | MC |
| Hank Lebioda | | 44 | MC | 36 | | 19 | 11 | MC | | MC* |
| Sebastian Cappelen | | MC | 54 | 64 | | MC | MC | MC | MC | |
| Grayson Murray | MC | MC | MC | 36 | | 7 | 11 | 23 | | |
| Roberto Castro | | | 52 | 57 | | | | | | 53 |
| Michael Gligic | | 49 | MC | MC | | | 43 | 53 | MC | |
| Bo Hoag | 73 | 44 | 54 | MC | | 39 | | 64 | 1 | 14 |
| Seamus Power | | | MC | MC | | 51 | MC | MC | | 60 |
| Tyler Duncan | | 56 | MC | MC | | 4 | 30 | 71 | | 39 |
| Dominic Bozzelli | | MC | 6 | 47 | | Wd | MC | 23 | | MC |
| Bill Haas | MC | | 54 | MC | | | | | | 53 |
| Rhein Gibson | | 33 | MC | 57 | | MC | MC | 37 | 11 | 60 |
| Ryan Blaum | | | MC | MC | | | | | | MC |
| DJ Trahan | | | MC | 36 | | 7 | MC | 37 | | |
| Joseph Bramlett | | | MC | 14 | | 26 | 25 | 23 | MC | 23 |
| Vince Covello | | MC | MC | 47 | | 67 | | 69 | MC | MC |
| Jonathan Byrd | | | 54 | 47 | | MC | 20 | MC | | MC |
| Chris Baker | | MC | MC | MC | | 4 | 37 | MC | MC | 39 |
| Brandon Hagy | MC | MC | MC | MC | | | 2 | 5 | | |
| David Hearn | | 52 | 23 | 57 | | 4 | 61 | 32 | | |
| Tim Wilkinson | | | MC | MC | | | | MC | MC | MC |
| Maverick McNealy | 37 | 52 | MC | MC | | 60 | | MC | 48 | 3 |
| Rafael Campos | | 33 | 61 | MC | | | MC | MC | 11 | MC |
| Sangmoon Bae | | MC | MC | MC | | | | | | MC |
| James Hahn | 68 | | | | | | | | | |
| Vincent Whaley | | MC | 45 | MC | | 22 | | 23 | MC | 47 |
| Brendon Todd | MC | MC | MC | MC | | 67 | 20 | 2 | | |
| Ben Taylor | 29 | MC | MC | MC | | MC | MC | 2 | MC | |
| Ben Crane | | | 45 | MC | | 22 | MC | MC | | |
| Michael Kim | MC | MC | Wd | MC | | | | | | MC |
| Hunter Mahan | | | | | | 53 | Wd | MC | | MC |
| George McNeill | | MC | 6 | MC | | | | | | |
| Chad Campbell | | | MC | | | | | | 32 | MC |
| Rob Oppenheim | MC | 52 | MC | 24 | | 33 | 9 | MC | 6 | 23 |
| John Huh | 48 | MC | | MC | | 39 | 37 | MC | | |
| Alex Cejka | | | 61 | MC | | | | | | 60 |
| Dawie van der Walt | | | | | | MC | 11 | MC | 11 | 39 |
| David Lingmerth | | | MC | MC | | | MC | | 15 | MC |
| JJ Henry | | | MC | MC | | | | | | MC |
| Robert Garrigus | | | MC | MC | | | | | MC | 33 |
| Michael Perras | | | | | | | | | | |
| DA Points | | MC | | MC | | | | | | |
| Arjun Atwal | | | MC | MC | | | | | | |
| Boo Weekley | | | MC | MC | | | Wd | MC | | 69 |
| Derek Ernst | | | MC | | | | | | 64 | 47 |
| John Senden | | | MC | MC | | | | | | |
| Brandon Wu | | MC | | | | | | | | 30 |
| John Merrick | | | MC | | | | | | MC | 64 |
| Tim Herron | | | MC | | | | | | | |
| Ricky Barnes | | 62 | 67 | | | | | | MC | |
| Tommy Gainey | | | 36 | | | | | | MC | MC |
| Stuart Appleby | | | | | | | | | | |
| Parker McLachlin | | | MC | | | | | | | |
| Rich Beem | | | | | | | | | | |
| Daniel Chopra | | | 68 | | 61 | MC | | | | |
| Bo Van Pelt | MC | 62 | | | | | | | | |
| Kevin Stadler | MC | MC | MC | | | Wd | | | | |
| John Rollins | | | MC | MC | | | | | | |
| Omar Uresti | | | | | | | | | | |
| Chris Couch | | | | | | | | | | |
| Graham DeLaet | MC | | | | | | | | | |
| Chandler Phillips | | | MC | | | | | | | |
| Cole Hammer | | | | | | | | | | |
| Player | `18 | `17 | `16 | `15 | `14 | `13 | `12 | `11 | `10 | `09 |
| --- | --- | --- | --- | --- | --- | --- | --- | --- | --- | --- |
| Henrik Stenson | 6 | MC | 2 | | 54 | 2 | 21 | | | 3 |
| Keegan Bradley | 43 | 15 | MC | 5 | 43 | 10 | 4 | 51 | | |
| Lucas Bjerregaard | | | | | | | | | | |
| Tom Lewis | | | | | | | | | | |
| Jason Kokrak | MC* | MC* | 68 | MC | MC | 9 | MC | | | |
| Cameron Champ | | | | | | | | | | |
| Kyle Stanley | | 8 | 19 | | 54 | MC | MC* | 60 | | |
| Scottie Scheffler | | | | | | | | | | |
| Russell Knox | MC | | | | | | MC | | | |
| Brian Harman | | MC | 52 | MC | 58 | MC | MC* | | | |
| Luke List | 24 | 3 | 27 | | | MC | | | | |
| Sebastian Munoz | | | | | | | | | | |
| Jhonattan Vegas | MC* | 15 | 19 | 55 | 72 | | 47 | MC | | |
| Daniel Berger | 18 | 5 | 5 | 25 | | | | | | |
| Xin Jun Zhang | MC | | | | | | | | | |
| Zack Sucher | | | | | | | | | | |
| Harry Higgs | | | | | | | | | | |
| Nick Watney | 32 | MC | | 25 | | 27 | | | | |
| Beau Hossler | 2 | 39 | | | | | | | | |
| Sam Burns | | | | | | | | | | |
| Robby Shelton | | | | | | | | | | |
| Doc Redman | | | | | | | | | | |
| Andrew Landry | | | | MC | | | | | | |
| Jimmy Walker | | MC* | 19 | | 24 | 50 | MC* | 30 | MC* | MC |
| Michael Thompson | 14 | 12 | | 67 | 61 | MC | MC | 24 | | |
| Bud Cauley | 18 | MC | | | | 16 | 8 | | | |
| Stewart Cink | | 23 | 33 | 50 | 58 | 6 | MC | | | |
| Kristoffer Ventura | | | | | | | | | | |
| Russell Henley | 8 | 1 | 5 | 4 | 7 | 45 | | | | |
| Denny McCarthy | 43 | | | | | | | | | |
| Bronson Burgoon | 24 | | | | | | | | | |
| Brice Garnett | MC | | | MC | 7 | | | | | |
| Ryan Armour | 43 | | | | | | | | | |
| Matt Jones | 52 | 49 | MC | MC | 1 | 38 | | MC | MC | |
| Jason Dufner | 64 | 12 | | | | | | | | 77 |
| Lanto Griffin | MC | | | | | | | | | |
| Pat Perez | | | | 11 | | 27 | 12 | Wd | MC | |
| Scott Stallings | MC* | MC | MC | MC | MC | 45 | | MC | | |
| Peter Uihlein | MC | 23 | | | MC | | | | | |
| Richy Werenski | MC* | MC* | | | | | | | | |
| Austin Cook | | | | 11 | | | | | | |
| Sepp Straka | | | | | | | | | | |
| Roger Sloan | | | | MC | | | | | | |
| Patton Kizzire | | MC | MC | | | | | | | |
| JJ Spaun | | 44 | | | | | | | | |
| Kramer Hickok | | | MC | | | | | | | |
| Carlos Ortiz | | | MC | MC | | | | | | |
| Talor Gooch | MC | | | | | | | | | |
| Brian Gay | | | | | 43 | | | | | 26 |
| Tom Hoge | 60 | 65 | | 65 | | | | | | |
| Robert Streb | MC | 34 | | MC | | 22 | | | | |
| Mackenzie Hughes | MC | 23 | | | | | | | | |
| Zac Blair | | 8 | 38 | MC | | | | | | |
| Nick Taylor | MC | 44 | 46 | MC | | | | | | |
| Sam Ryder | 5 | | | | | | | | | |
| Aaron Baddeley | 74 | 15 | MC | MC | MC | 31 | MC | 4 | 50 | MC |
| Chris Stroud | MC | MC | 27 | 17 | 12 | 38 | MC* | MC | MC | 31 |
| Harris English | MC | 61 | 57 | | | 50 | 18 | | | |
| Ted Potter | | | | | MC | | 69 | | | |
| Peter Malnati | MC | MC | MC | | | | | | | |
| Kevin Chappell | | 44 | MC | MC | 31 | 6 | | MC | | |
| Nelson Ledesma | | | | | | | | | | |
| Mark Hubbard | | MC | 19 | MC | | | | | | |
| Henrik Norlander | | | | | | 65 | | | | |
| Ryan Brehm | | | | | | | | | | |
| Chase Seiffert | | | | | | | | | | |
| Martin Trainer | | | | | | | | | | |
| Wes Roach | | | | | | | | | | |
| Martin Laird | | | 66 | | | MC | | | 40 | MC |
| Cameron Tringale | MC | MC* | 57 | 5 | 4 | 16 | 8 | 73 | | |
| Matt Every | 8 | 65 | MC* | | | MC | MC | | MC | |
| Jim Herman | | MC | 1 | 57 | MC | MC | 14 | 66 | | |
| Patrick Rodgers | MC | | MC | | | | | | | |
| Josh Teater | | | | | MC | 38 | Dq | 19 | 14 | |
| Cameron Davis | | | | | | | | | | |
| Scott Harrington | | | | | | | | | | |
| Tyler McCumber | | | | | | | | | | |
| Mark Anderson | | MC | | | | | 29 | | | |
| Brendan Steele | | | MC | 25 | MC | 38 | MC | 51 | | |
| Scott Brown | MC* | MC* | 71 | 37 | | MC | | | | |
| Matthew NeSmith | | | | | | | | | | |
| Shawn Stefani | 24 | MC | MC | 25 | 5 | MC | 36 | | | |
| Johnson Wagner | 52 | 49 | 13 | 2 | MC | MC | 29 | 36 | 71 | MC |
| Michael Gellerman | | | | | | | | | | |
| Andres Romero | | | Wd | MC | 24 | MC | MC | 66 | MC | MC |
| Doug Ghim | | | | | | | | | | |
| Hank Lebioda | | | | | | | | | | |
| Sebastian Cappelen | | | | | | | | | | |
| Grayson Murray | 14 | 55 | | | | | | | | |
| Roberto Castro | | MC | 27 | | 76 | MC | 36 | | | |
| Michael Gligic | | | | | | | | | | |
| Bo Hoag | | | | | | | | | | |
| Seamus Power | 60 | | | | | | | | | |
| Tyler Duncan | 52 | | | | | | | | | |
| Dominic Bozzelli | MC* | | | | | | | | | |
| Bill Haas | MC* | | | MC | 37 | 10 | | | | MC |
| Rhein Gibson | | | 52 | | | | | | | |
| Ryan Blaum | MC | 34 | | | | | | | | |
| DJ Trahan | | | | | | | MC | MC | 11 | |
| Joseph Bramlett | | | | | | | | 42 | | |
| Vince Covello | | | | | | | | | | |
| Jonathan Byrd | MC* | | | MC | 19 | MC | | | MC | 14 |
| Chris Baker | | | | | | | | | | |
| Brandon Hagy | | | | | | | | | | |
| David Hearn | | | 46 | 25 | MC | MC | MC | 6 | | |
| Tim Wilkinson | | | | MC | | | | | | 70 |
| Maverick McNealy | | | | | | | | | | |
| Rafael Campos | | 7 | 38 | | | | | | | |
| Sangmoon Bae | | | | | MC | MC | | | | |
| James Hahn | 32 | 49 | MC | | 36 | 56 | | | | |
| Vincent Whaley | | | | | | | | | | |
| Brendon Todd | | | | | 43 | | MC | | | 64 |
| Ben Taylor | | | | | | | | | | |
| Ben Crane | 43 | 68 | MC | 37 | 43 | 4 | 29 | 24 | 25 | MC |
| Michael Kim | MC | 12 | 27 | | | | | | | |
| Hunter Mahan | 43 | MC | MC | 25 | 31 | MC | 1 | 8 | MC | 6 |
| George McNeill | | | | | | MC | | | | |
| Chad Campbell | 64 | 34 | MC | MC | | 60 | 47 | 13 | 25 | 49 |
| Rob Oppenheim | 32 | | | | | | | | | |
| John Huh | 32 | 39 | MC | 17 | 37 | MC | 14 | | | |
| Alex Cejka | MC | Dq | Wd | 11 | | | | 36 | 50 | 64 |
| Dawie van der Walt | 68 | | MC | | | | | | | |
| David Lingmerth | | MC | | MC | MC | MC | | | | |
| JJ Henry | MC | 61 | MC* | 57 | 72 | MC | MC | 19 | 25 | 42 |
| Robert Garrigus | 18 | 20 | | Wd | 61 | | | 66 | | 64 |
| Michael Perras | | | | | | | | | | |
| DA Points | MC | 23 | MC* | MC | MC | 1 | MC | 60 | 62 | 14 |
| Arjun Atwal | | | | | | | MC | | | |
| Boo Weekley | | MC | 57 | | | 45 | 14 | 60 | | |
| Derek Ernst | | | | 57 | MC | | | | | |
| John Senden | | MC | 46 | | | MC | 18 | 24 | | 31 |
| Brandon Wu | | | | | | | | | | |
| John Merrick | | | | MC | 54 | 45 | 51 | | 59 | 31 |
| Tim Herron | | | | | | 31 | 56 | MC | | MC |
| Ricky Barnes | | MC* | Wd | MC | 43 | 69 | 67 | | 40 | MC |
| Tommy Gainey | | | | | 69 | MC | 42 | 30 | | |
| Stuart Appleby | | MC | 38 | | MC | MC | MC | MC | 44 | 31 |
| Parker McLachlin | | | | | | | | | MC | MC |
| Rich Beem | | | | | | | | MC | MC* | MC |
| Daniel Chopra | | | | | | | | | MC | 58 |
| Bo Van Pelt | | | | 57 | MC | MC | | | MC | 19 |
| Kevin Stadler | | | | | MC | 27 | MC* | 66 | 6 | MC |
| John Rollins | | | | | 65 | 20 | MC | 48 | 25 | 52 |
| Omar Uresti | | | MC | | | | MC* | | 25 | |
| Chris Couch | | | | | | | Wd | | | Wd |
| Graham DeLaet | | | 27 | 42 | 19 | 31 | MC | | 3 | |
| Chandler Phillips | | | | | | | | | | |
| Cole Hammer | | | | | | | | | | |
Discover the latest articles
Read past articles