Hero Indian Open 2018: All the very latest course and form guides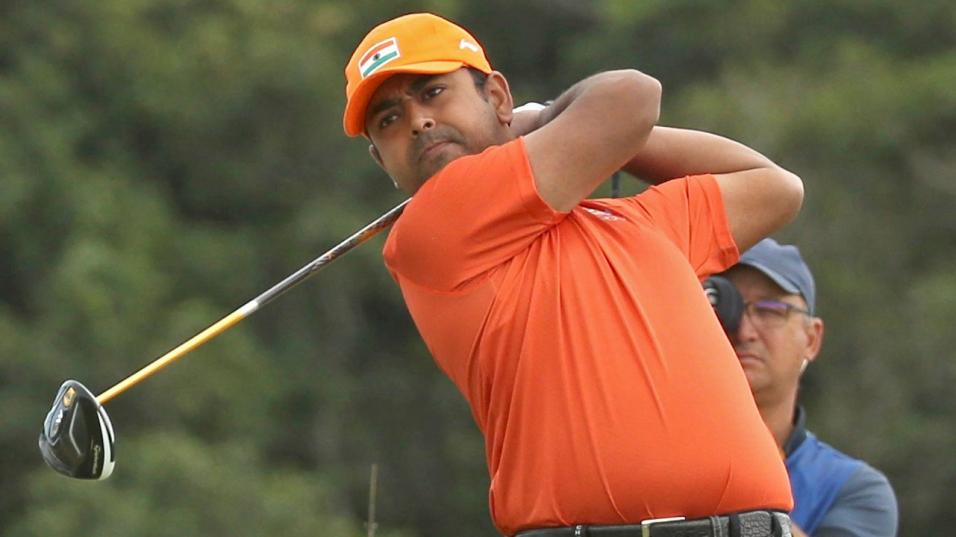 Anirban Lahiri: No longer India's top-ranked golfer but remains one of the favourites this week
The Gary Player layout at DLF Country Club in New Delhi hosts this week's Hero Indian Open. Check out the stats for the European Tour event, compiled by Andy Swales...
"This will be the 10th European Tour event to be staged in India and, as yet, no golfer from Europe has ever emerged triumphant"
Defending champion SSP Chawrasia and in-form Shubhankar Sharma, will undoubtedly share much of the attention when the Hero Indian Open takes place this week in New Delhi.
The Kolkata-born Chawrasia is something of a specialist on home soil, with five of his six professional titles - including all four on the European Tour - coming in India.
The 39-year-old won last year's event at DLF Country Club by seven shots, over the Gary Player-designed course.
Ahead of last year's triumph he had missed the cut in three of his four preceding events. And this has been a regular feature throughout Chawrasia's career, collecting victories without even showing a glimpse of half-decent form in the weeks leading up to many of his successes.
Young Man In A Hurry
More than 18 years his junior is new Indian superstar Sharma, who has won twice on the European Tour during the past three months.
The 21-year-old is also the tour pro for host course DLF, and will arrive straight from Mexico where he contested last week's opening World Golf Championship event of 2018.
And what a performance he produced, leading the prestigious event thru 54 holes, before ending up in a tie-for-ninth.
No European Victories
This will be the 10th European Tour event to be staged in India and, as yet, no golfer from Europe has ever emerged triumphant.
In addition to Chawrasia's quartet of wins, another home pro, Anirban Lahiri, has won in India, along with two South Africans, one Australian plus a New Zealander.
As for Lahiri, he usually plays well in his home country and tied-for-fifth on this course last year.
Although most of Europe's leading golfers are currently Stateside, preparing for next month's Masters, there is still a reasonable contingent in Asia for this week's event.
Despite being a solitary stop on the continent of Asia, many Europeans have made the journey in the knowledge that this will be their final event for at least a month.
Two of the next four weeks on the European Tour are blank, while the other two comprise the WGC Matchplay and Masters - both in the US.
Two Brits who could be in the shake up this Sunday are Chris Wood and Scott Jamieson.
Wood is making his Indian debut, having finished second and 13th in his most recent two starts.
As for Jamieson, he tied-for-third at DLF 12 months ago, and posted a top-10 finish in South Africa on Sunday.
American Paul Peterson continues to play solid golf, thanks to eight top-dozen finishes from his most recent 11 tournaments.
Testing Venue
Opened in October 2015, DLF is an undulating course with tight fairways that demands great accuracy from the tee.
South-west of New Delhi city centre, this parkland course has an abundance of dog-legs, as well as large, undulating putting surfaces.
MC* - Missed Additional 54-Hole Cut
| Player | W9 | W8 | W7 | W6 | W5 | W4 | W3 | W2 | W1 | W52 | W51 | W50 |
| --- | --- | --- | --- | --- | --- | --- | --- | --- | --- | --- | --- | --- |
| Joost Luiten | 37 | | 1 | | 11 | MC | 48 | | | | | |
| Julian Suri | 48 | MC | | 68 | MC | 63 | | | | | | |
| Shubhankar Sharma | 9 | MC | MC | | 1 | 61 | 48 | | | | | 11 |
| Emiliano Grillo | | 8 | | | 57 | 12 | | 47 | | | | |
| Hideto Tanihara | | 28 | | 65 | 5 | MC | 68 | | | | | |
| SSP Chawrasia | | MC | 53 | | 55 | MC | MC | | | | | MC |
| Anirban Lahiri | | 59 | 26 | | MC | 54 | | | | | | |
| Chris Wood | | 13 | 2 | | | MC | MC | MC | | | | |
| Shaun Norris | 38 | 13 | 52 | 8 | MC | 5 | 2 | 20 | | | | |
| Wade Ormsby | 50 | | | 26 | MC | MC | MC | | | | | |
| Pablo Larrazabal | | 4 | 44 | | 3 | MC | MC | | | | | |
| Paul Peterson | 11 | | | MC | 11 | 1 | MC | | | | | |
| Jeung-Hun Wang | | MC | 26 | | 62 | 6 | 15 | | | | | |
| Scott Hend | MC | 70 | 56 | | MC | 37 | 22 | | | | | 44 |
| Scott Jamieson | 7 | 61 | | | 17 | 51 | MC | | | | | |
| Jazz Janewattananond | | | MC | 40 | 39 | 35 | 4 | | | | 3 | 17 |
| Matt Wallace | | 19 | 44 | | MC | 37 | 32 | 38 | | | | |
| Renato Paratore | | 4 | MC | | MC | MC | MC | 7 | | | | |
| Gaganjeet Bhullar | | | | MC | 27 | 10 | 27 | | | | | 13 |
| Erik Van Rooyen | 10 | 59 | 18 | 52 | | | | 20 | | | | |
| Graeme Storm | | | MC | | 50 | MC | MC | MC | | | | |
| Jason Scrivener | | 19 | MC | 26 | MC | 6 | 48 | MC | | | | |
| Andrew Johnston | | | 12 | MC | 27 | 45 | 9 | | | | | |
| Daisuke Kataoka | | | 56 | 40 | 23 | MC | MC | 18 | | | | 51 |
| Poom Saksansin | 45 | | | 21 | MC | 10 | 12 | | | | 6 | 36 |
| Julien Guerrier | 38 | MC | 3 | 33 | | | | MC | | | | |
| Gavin Green | 64 | | 68 | | 39 | 45 | 8 | | | | | MC |
| Phachara Khongwatmai | | MC | 37 | | 17 | 57 | MC | | | | | 2 |
| Marcus Kinhult | MC | 3 | 16 | | | | | 12 | | | | |
| Prayad Marksaeng | | | | | 27 | Wd | MC | | | | 36 | Wd |
| Andrew Dodt | 45 | | | 65 | 55 | 29 | MC | | | | | |
| Aaron Rai | MC | 19 | 37 | 26 | | MC | | MC | | | | |
| Shiv Kapur | | | | MC | 23 | 57 | 23 | | | | | 20 |
| Ajeetesh Sandhu | | | | MC | MC | 21 | MC | | | | | 8 |
| Clement Sordet | 54 | MC | 37 | | | | | MC | | | | |
| Nacho Elvira | | 39 | MC | | MC | MC | MC | 20 | | | | |
| Marc Warren | | 53 | 63 | | 67 | MC | MC | 54 | | | | |
| Panupol Pittayarat | 55 | | | | 23 | MC | 21 | | | | 36 | 51 |
| Jin Ho Choi | 29 | 72 | MC | | | | | MC | | | | |
| Robert Rock | | MC | 7 | | MC | MC | MC | | | | | |
| Oliver Fisher | | 2 | 44 | | MC | MC | MC | 38 | | | | |
| Thongchai Jaidee | | 53 | 51 | | 39 | MC | MC | | | | 27 | MC |
| Scott Vincent | 13 | MC | 38 | 26 | 39 | 10 | 71 | 4 | | | | 3 |
| Anthony Wall | | MC | MC | | | 22 | MC | | | | | |
| Danthai Boonma | | | | MC | 34 | MC | 4 | | | | MC | 13 |
| Nino Bertasio | MC | MC | 51 | | 5 | 45 | 53 | | | | | |
| Stephen Gallacher | | 39 | 9 | | 39 | 57 | 61 | | | | | |
| Ryan Evans | 21 | 61 | 53 | 33 | | | | 15 | | | | |
| Micah Lauren Shin | | | | | MC | 21 | MC | | | | | 20 |
| Miguel Tabuena | | | | | MC | 14 | 8 | | | | | |
| Adrien Saddier | | MC | MC | MC | | | | 7 | | | | |
| Rattanon Wannasrichan | | | | 58 | 70 | 5 | MC | | | | MC | 34 |
| David Drysdale | MC | MC | 23 | | | | MC | 47 | | | | |
| James Morrison | | 45 | MC | | | MC | MC | MC | | | | |
| Yikeun Chang | | | | 15 | MC | 32 | MC | | | | | |
| Marcus Fraser | 29 | | | 13 | MC | MC | 63 | | | | | |
| Jacques Kruyswijk | 29 | 39 | MC | 8 | | | 69 | 4 | | | | |
| Ashun Wu | | 28 | MC | | | 37 | 22 | | | | | |
| Jbe Kruger | MC | | 60 | MC | MC | MC | MC | 51 | | | | |
| Jamie Donaldson | | 59 | MC | | | 45 | MC | 34 | | | | |
| Chris Hanson | | 53 | MC | | MC* | 6 | MC | | | | | |
| Marcel Siem | | 28 | MC | | MC* | MC | MC | | | | | |
| Jens Dantorp | 21 | MC | 59 | 73 | | | | 38 | | | | |
| Oliver Farr | MC | 39 | 59 | | | | | 75 | | | | |
| Sebastian Heisele | | 8 | MC | MC | | | | | | | | |
| Tirawat Kaewsiribandit | | | | MC | MC | MC | 27 | | | | 24 | 69 |
| Angleo Que | | | | | MC | MC | MC | | | | | MC |
| Steven Brown | MC | 39 | MC | 49 | | | | | | | | |
| Edoardo Molinari | | 72 | 16 | | MC | 45 | MC | MC | | | | |
| Lasse Jensen | | MC | MC | | | 37 | 27 | MC | | | | |
| Keith Horne | MC | | 4 | 4 | 72 | 60 | MC | MC | | | | |
| Prom Meesawat | | | | 9 | 39 | 14 | MC | | | | 11 | 44 |
| Adilson Da Silva | 11 | | 13 | MC | MC | MC | MC | 20 | | | | |
| Carlos Pigem | | MC | MC | | MC* | MC | 53 | | | | | |
| Ricardo Gouveia | 29 | 61 | MC | | | MC | 53 | MC | | | | |
| Arjun Atwal | | | | | 34 | 10 | 47 | | | | | |
| Nicholas Fung | | | | 33 | MC* | MC | 56 | | | | | MC |
| Gavin Moynihan | MC | MC | MC | MC | | | | | | | | |
| Johannes Veerman | 29 | | | MC | MC | MC | MC | | | | | 36 |
| Gregory Havret | | 4 | MC | | | 37 | 67 | MC | | | | |
| Khalin H Joshi | | | | | 5 | MC | MC | | | | | MC |
| Wen-Chong Liang | | | | | MC | 29 | 16 | | | | | |
| Jason Norris | MC | | | MC | 70 | MC | MC | | | | | |
| Matteo Manassero | | MC | 31 | | 55 | MC | 30 | | | | | |
| Jeff Winther | 21 | MC | 21 | | | | | 20 | | | | |
| Sean Crocker | | 28 | MC | 5 | | MC | 6 | | | | | |
| Sam Walker | | | | | | | | | | | | |
| Chien-Yao Hung | 29 | | | | MC | MC | 60 | | | | | 30 |
| Siddikur Rahman | | | | Wd | MC | | 49 | | | | | 30 |
| Ashley Chesters | MC | 45 | MC | | | 51 | MC | MC | | | | |
| Sihwan Kim | MC | | | | 62 | 21 | MC | | | | | 6 |
| Suradit Yongcharoenchai | | | | 33 | Wd | 14 | MC | | | | Wd | 17 |
| Justin Walters | 21 | 45 | 9 | MC | | | | 38 | | | | |
| Shih-Chang Chan | | | | | 34 | MC | 62 | | | | | 11 |
| Scott Fernandez | MC | 19 | 37 | MC | | | | MC | | | | |
| Ben Evans | MC | MC | MC | MC | | | | | | | | |
| Richard T Lee | | | | | MC | 48 | 49 | | | | | MC |
| Danny Chia | | | | | MC | MC | MC | | | | | MC |
| Pavit Tangkamolprasert | 29 | | | 18 | MC | 21 | MC | | | | MC | 30 |
| Felipe Aguilar | 4 | MC | MC | MC | | | | | | | | |
| Rashid Khan | | | | | MC | 48 | MC | | | | | 69 |
| Daniel Im | | 77 | 53 | | 73 | 65 | Dq | | | | | |
| Pep Angles | MC | MC | 69 | 40 | | | | MC | | | | |
| Christofer Blomstrand | 38 | | MC | MC | | | | MC | | | | |
| James Heath | MC | MC | MC | MC | | | | | | | | |
| Raphael Jacquelin | MC | 53 | 44 | | | | MC | MC | | | | |
| Mark Foster | MC | 13 | MC | 79 | | | | | | | | |
| Lorenzo Gagli | 29 | 34 | MC | MC | | | | | | | | |
| Matthias Schwab | 29 | 61 | MC | 33 | | | | | | | | |
| Thomas Bjorn | | MC | 31 | | 39 | MC | 30 | | | | | |
| Jyoti Randhawa | | | | | 50 | 57 | 27 | | | | | 51 |
| Andrea Pavan | MC | 13 | 16 | 15 | | | | MC | | | | |
| Ben Leong | | | | MC | MC* | 35 | 23 | | | | | Wd |
| Christiaan Bezuidenhout | 17 | 28 | 44 | MC | | | | 63 | | | | |
| Henric Sturehed | MC | MC | MC | | | MC | | | | | | |
| Lionel Weber | 45 | | | | MC | 21 | MC | | | | | 44 |
| Pontus Widegren | MC | 78 | MC | MC | | | | 73 | | | | |
| Jonathan Thomson | 72 | MC | 65 | MC | | | | | | | | |
| Chiragh Kumar | | | | | MC | MC | MC | | | | | Wd |
| Laurie Canter | 21 | MC | MC | 49 | | | | | | | | |
| Kurt Kitayama | 4 | | | | | 1 | 56 | | | | | |
| Arnond Vongvanij | | | | MC | MC | 44 | MC | | | | | 51 |
| Nico Geyger | MC | 34 | 12 | MC | | | | | | | | |
| Soomin Lee | 48 | 74 | 37 | | 39 | MC | MC | 31 | | | | MC |
| Jarin Todd | 3 | | | 49 | MC | Wd | 49 | | | | | 48 |
| Matthew Baldwin | 38 | 10 | MC | MC | | | | | | | | |
| S Chikkarangappa | | | | | MC | MC | 60 | | | | | 20 |
| David Howell | 21 | 61 | | | | | | Wd | | | | |
| Mukesh Kumar | | | | | | | | | | | | |
| Natipong Srithong | | | | MC | MC | 32 | MC | | | | 12 | 44 |
| Rak Hyun Cho | MC | 34 | MC | 65 | | | | MC | | | | |
| Javi Colomo | | | | MC | 34 | MC | MC | | | | | 36 |
| Marcel Schneider | MC | 70 | MC | MC | | | | | | | | |
| Daniel Chopra | | | | | | MC | MC | | | | | 13 |
| Espen Kofstad | | | | | | | | | | | | |
| Honey Baisoya | | | | | | | | | | | | 59 |
| Connor Syme | 11 | MC | 37 | MC | | MC | | | | | | |
| Om Prakash Chouhan | | | | | | | | | | | | |
| Karandeep Kochhar | | | | | | | | | | | | |
| Matthew Nixon | MC | 13 | MC | MC | | | | | | | | |
| Ross McGowan | MC | MC | MC | MC | | | | MC | | | | |
| Terry Pilkadaris | 2 | | | 40 | MC | MC | MC | | | | | 48 |
| Jeev Milkha Singh | | | | | | MC | MC | | | | | Wd |
| Shamim Khan | | | | | | | | | | | | |
| Josh Geary | MC | MC | MC | MC | MC | | | MC | | | | |
| Mithun Perera | | | | | | | | | | | | |
| Sebastien Gros | 4 | 45 | MC | 40 | | | | | | | | |
| Anura Rohana | | | | | | | | | | | | |
| Das Shankar | | | | | | | | | | | | |
| Aman Raj | | | | | | | | | | | | |
| Manu Gandas | | | | | | | | | | | | |
| Darren Clarke | | MC | 61 | | MC* | MC | | | | | | |
| Sanjeev Kumar | | | | | | | | | | | | |
| Udayan Mane | | | | | | | MC | | | | | |
| Abhijit Singh Chadha | | | | | | | | | | | | |
| Vikrant Chopra | | | | | | | | | | | | |
| Feroz Ali | | | | | | | | | | | Wd | |
| Ashok Kumar | | | | | | | | | | | | |
| Amardip Sinh Malik | | | | | | | | | | | | |
| Yashas Chandra | | | | | | | | | | | | |
| M Dharma | | | | | | | | | | | | |
| Harendra Gupta | | | | | | | | | | | | |
| David Gleeson | | | | | | | | | | | | |
| Kshitij Kaul | | | | | | | | | | | | |
| Akshay Sharma | | | | | | | | | | | | |
| Syed Saqib Ahmed | | | | | | | | | | | | |
| Viraj Madappa | | | | | | | | | | | | |
| Veer Ahlawat | | | | | | | | | | | | |
| Kartik Sharma | | | | | | | | | | | | |
| Dhruv Sheoran | | | | | | | | | | | | |
| Player | 2017 |
| --- | --- |
| Joost Luiten | |
| Julian Suri | |
| Shubhankar Sharma | 40 |
| Emiliano Grillo | |
| Hideto Tanihara | |
| SSP Chawrasia | 1 |
| Anirban Lahiri | 5 |
| Chris Wood | |
| Shaun Norris | 55 |
| Wade Ormsby | 22 |
| Pablo Larrazabal | |
| Paul Peterson | 55 |
| Jeung-Hun Wang | |
| Scott Hend | MC |
| Scott Jamieson | 3 |
| Jazz Janewattananond | 34 |
| Matt Wallace | |
| Renato Paratore | MC |
| Gaganjeet Bhullar | 43 |
| Erik Van Rooyen | |
| Graeme Storm | |
| Jason Scrivener | Dq |
| Andrew Johnston | |
| Daisuke Kataoka | |
| Poom Saksansin | 22 |
| Julien Guerrier | |
| Gavin Green | 2 |
| Phachara Khongwatmai | MC |
| Marcus Kinhult | |
| Prayad Marksaeng | 43 |
| Andrew Dodt | |
| Aaron Rai | |
| Shiv Kapur | MC |
| Ajeetesh Sandhu | 55 |
| Clement Sordet | |
| Nacho Elvira | MC |
| Marc Warren | |
| Panupol Pittayarat | MC |
| Jin Ho Choi | |
| Robert Rock | MC |
| Oliver Fisher | |
| Thongchai Jaidee | |
| Scott Vincent | 34 |
| Anthony Wall | 55 |
| Danthai Boonma | 13 |
| Nino Bertasio | 66 |
| Stephen Gallacher | 29 |
| Ryan Evans | |
| Micah Lauren Shin | |
| Miguel Tabuena | 51 |
| Adrien Saddier | |
| Rattanon Wannasrichan | |
| David Drysdale | |
| James Morrison | |
| Yikeun Chang | |
| Marcus Fraser | MC |
| Jacques Kruyswijk | |
| Ashun Wu | |
| Jbe Kruger | MC |
| Jamie Donaldson | |
| Chris Hanson | 22 |
| Marcel Siem | 29 |
| Jens Dantorp | |
| Oliver Farr | |
| Sebastian Heisele | |
| Tirawat Kaewsiribandit | |
| Angleo Que | 29 |
| Steven Brown | |
| Edoardo Molinari | 11 |
| Lasse Jensen | 17 |
| Keith Horne | |
| Prom Meesawat | 13 |
| Adilson Da Silva | 21 |
| Carlos Pigem | 5 |
| Ricardo Gouveia | Wd |
| Arjun Atwal | 55 |
| Nicholas Fung | 51 |
| Gavin Moynihan | |
| Johannes Veerman | MC |
| Gregory Havret | 34 |
| Khalin H Joshi | MC |
| Wen-Chong Liang | MC |
| Jason Norris | |
| Matteo Manassero | 3 |
| Jeff Winther | |
| Sean Crocker | |
| Sam Walker | 43 |
| Chien-Yao Hung | Wd |
| Siddikur Rahman | MC |
| Ashley Chesters | |
| Sihwan Kim | |
| Suradit Yongcharoenchai | |
| Justin Walters | |
| Shih-Chang Chan | 43 |
| Scott Fernandez | |
| Ben Evans | |
| Richard T Lee | Ret |
| Danny Chia | 29 |
| Pavit Tangkamolprasert | MC |
| Felipe Aguilar | MC |
| Rashid Khan | 67 |
| Daniel Im | 40 |
| Pep Angles | 11 |
| Christofer Blomstrand | |
| James Heath | |
| Raphael Jacquelin | |
| Mark Foster | |
| Lorenzo Gagli | |
| Matthias Schwab | |
| Thomas Bjorn | |
| Jyoti Randhawa | 64 |
| Andrea Pavan | |
| Ben Leong | |
| Christiaan Bezuidenhout | |
| Henric Sturehed | |
| Lionel Weber | 65 |
| Pontus Widegren | |
| Jonathan Thomson | |
| Chiragh Kumar | 22 |
| Laurie Canter | |
| Kurt Kitayama | |
| Arnond Vongvanij | |
| Nico Geyger | |
| Soomin Lee | MC |
| Jarin Todd | |
| Matthew Baldwin | |
| S Chikkarangappa | 34 |
| David Howell | |
| Mukesh Kumar | MC |
| Natipong Srithong | MC |
| Rak Hyun Cho | |
| Javi Colomo | |
| Marcel Schneider | |
| Daniel Chopra | MC |
| Espen Kofstad | |
| Honey Baisoya | Dq |
| Connor Syme | |
| Om Prakash Chouhan | MC |
| Karandeep Kochhar | MC |
| Matthew Nixon | 49 |
| Ross McGowan | |
| Terry Pilkadaris | 40 |
| Jeev Milkha Singh | MC |
| Shamim Khan | 43 |
| Josh Geary | |
| Mithun Perera | |
| Sebastien Gros | 51 |
| Anura Rohana | MC |
| Das Shankar | MC |
| Aman Raj | MC |
| Manu Gandas | |
| Darren Clarke | |
| Sanjeev Kumar | |
| Udayan Mane | MC |
| Abhijit Singh Chadha | 69 |
| Vikrant Chopra | MC |
| Feroz Ali | MC |
| Ashok Kumar | MC |
| Amardip Sinh Malik | MC |
| Yashas Chandra | MC |
| M Dharma | MC |
| Harendra Gupta | MC |
| David Gleeson | |
| Kshitij Kaul | |
| Akshay Sharma | |
| Syed Saqib Ahmed | |
| Viraj Madappa | |
| Veer Ahlawat | |
| Kartik Sharma | |
| Dhruv Sheoran | |
Discover the latest articles
Read past articles