GolfSixes 2018: Current form guide for this week's event at the Centurion Club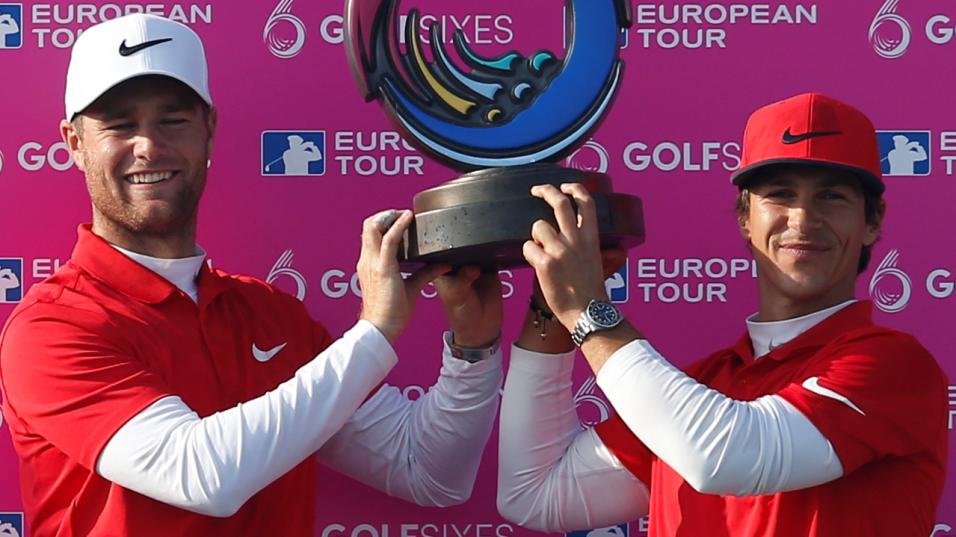 Lucas Bjerregaard and Thorbjorn Olesen hold aloft the trophy in 2017
Check out the current form of the 32 players teeing-up at the second running of the GolfSixes event in Hertfordshire. Andy Swales supplies the stats ...
"On collective current form, Sweden's Alexander Bjork and Joakim Lagergren look in fine fettle."
For the second instalment of the Golf Sixes team event in St Albans, the European Tour have spread their wings slightly, by inviting five leading players from the women's game.
All five were part of Europe's Solheim Cup team of 2017, and they will now get the opportunity to sample this innovative format which made its debut 12 months ago.
Georgia Hall and Charley Hull will make up an England Women's team, while Melissa Reid will join forces with Spain's Carlota Ciganda to form a European pairing.
The other invited player is Catriona Matthew who is one-half of a European Captains' team alongside Thomas Bjorn.
Bjorn will skipper Europe at this year's Ryder Cup in Paris, while Matthew MBE has been named captain of the Solheim Cup side for Gleneagles in 2019.
The Centurion Club
Once again, the tournament is being played over two days at The Centurion Club in Hertfordshire, offering a total prize fund of €1m, with each member of the winning two-person team receiving €100,000.
This two-day event will consist of teams going head-to-head in a series of six-hole matches.
The teams are split into four groups of four, to contest a round-robin format on Saturday.
Greensomes
The leading two nations from each group will qualify for the knock-out stage on Sunday, when the quarter-finals, semi-finals and final - along with a third-place play-off match - is contested.
All matches will be played over six holes, using the Greensomes format where both team members' drive, after which the best tee-shot is selected, with golfers completing the hole using the alternate shot method.
If Sunday's matches are tied after six holes, then a sudden-death play-off will be held.
As for group games on Saturday, one point is awarded for each hole won. The pair which wins the overall tie will be awarded three points, with teams given one point each for a drawn match.
When all group games are finished, the two teams with most points progress to the knock-out phase.
However, if teams are tied, then positions are decided depending on the difference between holes won and lost. If still level, then the result of head-to-head matches between teams will be used as a tie-breaker, and if this fails to resolve matters, then a sudden-death play-off will take place.
Organisers are hoping spectators will create a carnival atmosphere at this parkland venue which opened five years ago.
Olesen and Bjerregaard reigning champs
Defending champions Denmark tee-up again with the same winning partnership of Thorbjorn Olesen and Lucas Bjerregaard.
Momentum and team chemistry could be the decisive factors over such a short sprint format.
Ten of the 32 golfers taking part played in last year's event, including Thailand duo Kiradech Aphibarnrat and Thongchai Jaidee who lost in the quarter-finals after qualifying with the best record of all 16 teams.
In fact, last year, all four group winners were beaten at the first knock-out stage on Sunday.
On collective current form, Sweden's Alexander Bjork and Joakim Lagergren look in fine fettle.
Both players stood on the podium in Morocco recently, with Bjork collecting his first Tour title in China seven days later.
This year's groups are as follows
:
Group A: Denmark, Thailand, USA, European Women
Group B: Australia, South Korea, Spain, European Captains
Group C: France, Italy, Scotland, Ireland
Group D: England, South Africa, Sweden, England Women
MC* - Missed Additional 54-Hole Cut
Form Over Last 12 Weeks
| Player | W17 | W16 | W15 | W14 | W13 | W12 | W11 | W10 | W9 | W8 | W7 | W6 |
| --- | --- | --- | --- | --- | --- | --- | --- | --- | --- | --- | --- | --- |
| Eddie Pepperell | | MC | MC | | | | | | | 1 | 44 | |
| Matt Wallace | 3 | MC | MC | | | | | 1 | | 19 | 44 | |
| Pablo Larrazabal # | 27 | MC | 21 | | | | | 4 | | 4 | 44 | |
| Adrian Otaegui | 2 | 19 | 12 | | | | | | | 10 | 12 | |
| Kiradech Aphibarnrat # | 45 | | | 44 | | 5 | MC | 1 | 5 | 68 | | 1 |
| Thongchai Jaidee # | MC | MC | 73 | | | | | MC | | 53 | 51 | |
| Alexander Bjork | 1 | 3 | 39 | | | | | | MC | 19 | 12 | |
| Joakim Lagergren # | 37 | 3 | MC | | | | | | | 45 | MC | |
| George Coetzee | | MC | 4 | | | | | | 1 | 8 | 13 | |
| Haydn Porteous | MC | MC | | | | | | | 48 | MC | 26 | |
| Scott Jamieson | 53 | MC | MC | | | | | MC | 7 | 61 | | |
| Richie Ramsay # | | 32 | 72 | | | | | | | MC | | |
| Thorbjorn Olesen # | 37 | | 46 | | | | | | | MC | | 10 |
| Lucas Bjerregaard # | 6 | MC | | | | | | | | MC | MC | |
| Wade Ormsby | MC | 52 | | | | | | 25 | 50 | | | 26 |
| Sam Brazel # | MC | MC | | | | | | | | MC | 16 | |
| Paul Dunne | 7 | MC | 2 | | 8 | 5 | | | 55 | | | MC |
| Gavin Moynihan | MC | MC | MC | | | MC | | | MC | MC | MC | MC |
| Mike Lorenzo-Vera | | 62 | 34 | | | | | | | 10 | MC | |
| Romain Wattel | 56 | 52 | | | | | | | | 19 | MC | |
| Renato Paratore # | MC | 61 | 21 | | | | | MC | | 4 | MC | |
| Edoardo Molinari | 45 | MC | MC | | | | | 57 | | 72 | 16 | |
| David Lipsky # | 45 | MC | 67 | | | | | | 48 | | | 77 |
| Daniel Im | MC | MC | MC | | | | | MC | | 77 | 53 | |
| Jeunghun Wang | 7 | 13 | MC | | | | | 40 | | MC | 26 | |
| Soomin Lee | 14 | Dq | MC | | | | | 53 | 48 | 74 | 37 | |
| Thomas Bjorn | | MC | | | | | | 34 | | MC | 31 | |
| Catriona Matthew | 53 | MC | | | 55 | MC | 20 | | | | MC | |
| Charley Hull | 3 | 19 | | | 6 | 18 | 39 | | 16 | 13 | 7 | |
| Georgia Hall | MC | 31 | | | MC | MC | | | 48 | 30 | 13 | |
| Mel Reid | MC | MC | MC | | MC | 51 | MC | | | | MC | |
| Carlota Ciganda | 11 | 12 | MC | | MC | 14 | 49 | | 39 | 19 | | |
| # (played in 2017) | | | | | | | | | | | | |
Discover the latest articles
Read past articles