Golf Form Guide: Woods no good thing as Scott aims to bounce back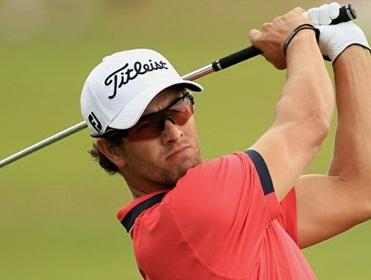 Defending champion Adam Scott can put his Open collapse behind him at the first time of asking
Tiger Woods is playing at one of his most successful venues and being in triple-winning form already this season he looks the man to beat. But Mike Norman isn't convinced...
"Having said so much about Woods I'm obviously fearful of him, but at three times his odds I'd much rather be on another Firestone lover Adam Scott."

I knew my luck was out last week when Lyoness Open pick Anthony Wall got to -5 through 13 holes on day one, was called off the course because of the rain delays, and never came back. An old hip injury his reason for withdrawing. I hope it bloody hurt. Only joking Anthony!
On the PGA Tour Bo Van Pelt gave us a good run for our money without ever threatening to win. BVP is one of the most consistent players on that particular tour, seemingly churning out top-10 finishes for fun without being able to get his head in front. I wouldn't exactly call him a choker as he rarely hits the front, it just seems that he is a machine when it comes to recording high finishes and he is happy at doing so.
Talking of chokers (sorry, I couldn't resist) Adam Scott defends his WGC - Bridgestone Invitational this week and personally I believe he has a great chance. So obviously I was only joking with the choker comment and I'm certainly not going to let his Open Championship collapse put me off.

WGC - Bridgestone Invitational
(Tournaments used: All PGA & European Tour events inclusive from June 17 - US Open - to July 29 - Lyoness Open/Canadian Open)

Tiger Woods (2) 6.05/1... 34 (Won 2009, Won 2007)
Adam Scott (2) 18.5... 28 (Won 2011, T10 2010)
Francesco Molinari (3) 50.049/1... 20
Ernie Els (2) 80.079/1... 19
Scott Piercy (2) 120.0119/1... 19
Graeme McDowell (2) 50.049/1... 17.5
Bo Van Pelt (2) 46.045/1... 17.5 (T5 2010)
Hunter Mahan (1) 28.027/1... 16.5 (Won 2010, T5 2009, T10 2008)

*number in brackets after a player's name is the number of top-10 finishes achieved in last six weeks/tournaments on tour.
**information after a player's points relates to wins (W), top-five (T5) and top-10 (T10) finishes in corresponding tournament in previous five years.

Not surprisingly prolific Firestone conqueror Tiger Woods tops this week's Form Guide and is clearly going to be hard to beat... or is he?
Having Woods back as a PGA Tour winner - three times no less this season - is fantastic for the game. But I think there still has to be a massive question mark as to whether Tiger is back to his very best. In fact, if you put that very question out there, I'd be astonished if the majority of people said anything other than that he isn't back to his best.
On current form Tiger is very hit and miss. As Paul Krishnamurty explains here, he has won some big tournaments this season, most notably Bay Hill and The Memorial, before disappointing at the Major championships. True, he finished in a tie for third at Lytham a few weeks ago but his negativity was extremely difficult to understand during the last two rounds when he was in a great position to win The Open.
Now he returns to a venue where he has dominated in the past, but flopped badly the last two years. Woods actually performed better in some Majors during the two years that he finished 78th (2010) and 38th (2011) here than he did this year, so are the great man's chances really that obvious? Not to me they're not.
Having said so much about Woods I'm obviously fearful of him, but at three times his odds I'd much rather be on another Firestone lover Adam Scott.
A bit like Woods during his 'special' years Scott now carefully selects the tournaments that he plays in, and generally he doesn't play in many. You know then that his game is going to be in top shape at this time of the year, as he proved for 68 holes in the Open Championship recently.
Ok, the same can probably be said about most players in this field but with Scott you sense that his schedule really does bring the best out of his game.
The likeable Aussie played some sublime golf to win here last year and the year before that he recorded a top-10 finish at Firestone so he ticks all the boxes in terms of course form and current form. I doubt there's a golf fan in the world who would begrudge him a big win after what happened at Lytham, and that big win could easily come this week.
Two others who I fancy to go well at Firestone are in-form European Tour member Francesco Molinari, and 2010 Bridgestone champion Hunter Mahan.
Few players in the game hit the ball straighter than Molinari and the Italian has been in fine form of late, winning the Open de Espana a few months back before recording back-to-back second places in both the French and Scottish Opens. Firestone strikes me as a course that should really suit Molinari's game, as indicated last year when finishing 15th in only his second visit.
Mahan also has good course form to his name. As well as winning here in 2010 Mahan finished in a tie for fourth here in 2009 and in a tie for 10th in 2008. He hasn't been in great form these last few months but he won two events in quick succession at the start of the season and a return to this venue might spark a return to his best.

Recommended Bets
Adam Scott @ 18.5
Francesco Molinari @ 50.049/1
Hunter Mahan @ 28.027/1
Discover the latest articles