Golf Form Guide: Foster's form to continue at likeable venue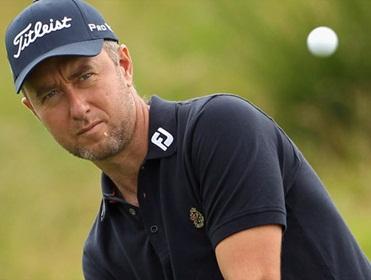 Mark Foster has played well at Le Golf National in previous years
Mark Foster was always in contenion in Ireland last week and now returns to a venue he's played well at previously, whilst in America Tiger Woods is the man to beat again says Mike Norman...
"Mark Foster was always in contention in Ireland last week and finished second and sixth here on his last two visits."

A winner in America and a top-10 finish in Europe for the Form Guide last week. That's the good news, the bad news is Tiger Woods was selected at just 6.86/1 and Ross Fisher tied with many others in 10th place for those of you who backed him in that particular market.
But if I'm going to start turning my nose up at winners then I shouldn't be in this game. The truth is I wasn't confident enough to go really big on Woods despite him having an outstanding chance on the book, and I didn't get the best out of what turned out to be just a marginal winning week.
Perhaps it will be different this week, though with both Form Guide leaders heading the market on their respective tours I'll have to be very brave to turn a decent profit this week.

European Tour - Open de France
(Tournaments used: Irish Open, BMW International Open, US Open, Nordea Masters, Wales Open, PGA Championship)

Lee Westwood (2)... 18 (T5 2009)
Richard Sterne (3)... 18
Danny Willett (1)... 17 (T10 2009, T5 2010)
Gonzo Fdez-Castano (2)... 14.5
Justin Rose (2)... 14.5
Mark Foster (1)... 13.5 (T10 2010, T5 2011)
Martin Kaymer (0)... 13 (Won 2009, T10 2010, T5 2011)
Peter Hanson (1)... 12.5 (T5 2009, T10 2010)

*number in brackets after a player's name is the number of top-10 finishes achieved in last six weeks/tournaments on tour
**information after a player's points relates to wins (W), top-five (T5) and top-10 (T10) finishes in corresponding tournament in previous three years

Regular readers will know that I'm a massive fan of Lee Westwood, and that he is someone that I'd love to see win a Major championship because tee to green he has been the best player in the world quite easily in recent years. In my opinion only of course.
But I've also been quite critical of Westwood's putting. I don't buy into the argument that he misses more than most players (birdie putts) because he sets up more than most. The reality is he putts pretty woefully at times and often putts his way out of contention. The frustrating aspect is that he can roll the ball quite brilliantly at times (Sun City last year springs to mind) but those times are few and far between.
The reality is I don't want to back Lee at 7.87/1 to win this event. I hope he plays well, I hope he goes close, but I hope his next win is in the Open Championship in a few weeks time. I've been on for a long time now.
The three to back for me in France are Richard Sterne - available to back at 85.084/1 - Danny Willett (75.074/1) and Mark Foster (60.059/1).
An on-form Sterne always strikes me as a player that can play tough courses well, as he did at the PGA Championship (Wentworth) recently. The back-from-injury South African has been slightly below par in recent weeks but he enjoyed a glorious run in June, finishing no worse than seventh in three consecutive tournaments. He'll have to be on top form to play well around 2018 Ryder Cup venue Le Golf National, but I have a hunch he'll be up to the task.
It's always good to see players come into form when they are about to return to a venue they've previously performed well at. And that's exactly the case with Willett and Foster.
Willett bagged his maiden European Tour victory at the BMW International a few weeks back and has finished 10th (2009) and fifth (2010) here in recent years, whilst Foster was always in contention in Ireland last week and finished second and sixth here on his last two visits.
Recommended Bets: Richard Sterne @ 85.084/1, Danny Willett @ 75.074/1, Mark Foster @ 60.059/1

PGA Tour - The Greenbrier Classic
(Tournaments used: AT&T National, Travelers Championship, US Open, St Jude Classic, The Memorial, Crowne Plaza Invitational)

Tiger Woods (2)... 25
Jim Furyk (2)... 16 (T10 2010)
Webb Simpson (1)... 16 (T10 2011)
Andres Romero (1)... 12.5 (T5 2011)
Brendan de Jonge (1)... 12 (T5 2011, T5 2010)

Having picked Tiger to win last week it's pretty difficult to ignore his chances here, though the fact that he is around two points shorter in the betting (4.94/1), and that he's never played at this venue previously, then I'll reluctantly pass him over.
Two to back at a price are Andres Romero (80.079/1) and Brendan de Jonge (50.049/1).
Likeable Argentine Romero finished second (behind Woods) at the Memorial recently and he has form at this venue too, finishing in a tie for fourth last year, whilst De Jonge recorded a top-10 finish a fortnight ago before leading after three rounds at the AT&T last week. That augers well for a man that has finished fourth and third at The Old White Course in the last two years.
Recommended Bets: Andres Romero @ 80.079/1, Brendan de Jonge @ 50.049/1
Discover the latest articles