Golf Form Guide: Consistent Van Pelt the Bo-Selecta in Canada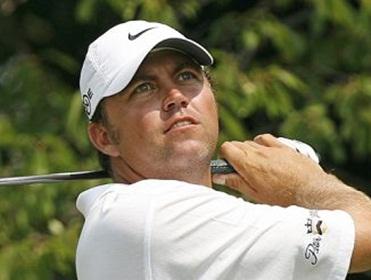 Consistent Bo Van Pelt can go well in Canada
After making Ernie Els his headline selection ahead of last week's Open Mike Norman is not about to desert the Big Easy just yet. But who is our man's other fancies this week?
"BVP has already recorded six top-10 finishes this season including some good finishes in events like The Masters and the WGC - Cadillac Championship."

I have to admit, I was pretty bored for large parts (ok, the first three days) of last week's Open Championship, but come Sunday afternoon the boredom was a distant memory.
Benign conditions, rain-softened greens, and a gallery full of ice-cream munchers are three things you don't expect to see on a links course during Open week, but for three days that's exactly what we got. Come round four though the wind was up, the greens were hardening, and Ernie Els was making his move.
Ok, in all fairness it was Adam Scott's four-bogey finish that handed the title to Els but take nothing away from the loveable South African; a back nine of 32 on a tough course was exactly why he was my headline selection last week; another winner for this column at juicy odds of 50.049/1
This week's European Tour affair is pretty dire, but commencing just 60 hours after Open Sunday I'm not really surprised. Our main focus this week then will be on the Canadian Open on the PGA Tour.

PGA Tour - Canadian Open
(Tournaments used: The Open Championship, True South Classic, John Deere Classic, Greenbrier Classic, AT&T National, Travelers Championship, US Open)

Ernie Els (2)... 19
Brandt Snedeker (1)... 11 (T5 2009)
Ted Potter Jr (1)... 11
Charlie Hoffman (1)... 10.5 (T5 2010)
Bo Van Pelt (1)... 10 (T10 2011)
Charlie Wi (1)... 9.5 (T5 2010)
Scott Piercy (1)... 9 (T10 2011)
Matt Kuchar (2)... 8.5 (T5 2010)

*number in brackets after a player's name is the number of top-10 finishes achieved in last six weeks/tournaments on tour
**information after a player's points relates to wins (W), top-five (T5) and top-10 (T10) finishes in corresponding tournament in previous three years.

Despite a decent looking field, few players come into this tournament in blistering form. In fact only Ernie Els and Matt Kuchar have recorded more than one top-10 finish during the last six week's on Tour, and with the last three renewals of the Canadian Open being staged at different venues to the once used this year, we have little course form to go on also.
My first selection has to be Form Guide leader Els as I can only think that he is available to back at 32.031/1 because people are of the opinion that he will be a bit jaded this week.
That may well be the case, but when you consider he was 50.049/1 last week in a field that included Tiger Woods, Lee Westwood, Luke Donald, Rory McIlroy, Phil Mickelson etc then I don't see why he should be twice the odds of players like Kuchar (13.5) and Hunter Mahan (16.015/1) having triumphed at Royal Lytham. It will take an enormous effort to win again, but I can't let him go un-backed at those odds.
Next up is recent winner Ted Potter Jr. This talented left-hander won his maiden PGA Tour title at the Greenbrier Classic a few weeks ago in a strongly assembled field and he certainly didn't disgrace himself at the Open last week. Opening rounds of 69 and 71 had him on the fringe of contention, and two rounds of 74 at the weekend were nothing to be ashamed of.
Potter Jr is a decent price to win again this week at 170.0169/1 and might represent a good back-to-lay opportunity.
My final selection is the consistent American Bo Van Pelt. BVP has already recorded six top-10 finishes this season including some good finishes in events like The Masters and the WGC - Cadillac Championship. He missed the cut last week but prior to that he finished second at the AT&T National and looks set to well again in Canada.
Recommended Bets: Ernie Els @ 32.031/1, Ted Potter Jr @ 170.0169/1, Bo Van Pelt @ 34.033/1

European Tour - Lyoness Open
(Tournaments used: The Open Championship, Scottish Open, Open de France, Irish Open, BMW International Open, US Open)

We're absolutely deprived of in-form players if considering just the last six tournament on tour and because of that I really don't want to get involved in this event too much.
Only Anthony Wall (second in the Irish Open and 17th in the Nordea Masters) and Chris Wood (third in the BMW International Open) strike me as two players who have performed well recently and therefore this pair will be my very tentative selections.
Recommended Bets: Anthony Wall @ 36.035/1, Chris Wood @ 26.025/1
Discover the latest articles