Fort Worth Invitational 2018: All the very latest course and form stats for Colonial Country Club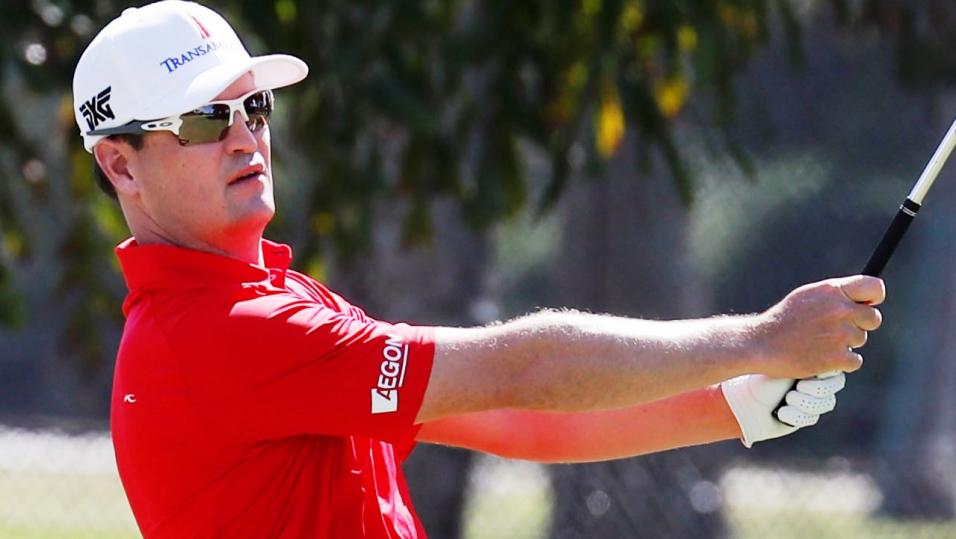 Zach Johnson: Winner in Forth Worth in 2010 and 2012
Check out our course and current form guides ahead of this week's PGA Tour event at Fort Worth in Texas, compiled by Andy Swales...
"Former world No 34 Danny Lee has a habit of playing well in bursts. He tied-seventh at Sawgrass and has registered a brace of top-10 finishes at Colonial."

The PGA Tour goes back in time for this week's Fort Worth Invitational at Colonial Country Club.
Following last week's trip to Dallas, where the pros competed over the newest course on the Tour rota, the players now switch their attentions to Colonial to face the challenges provided by one of the oldest venues in professional golf.
Opened 82 years ago, Colonial has been part of the annual schedule since 1946, having also staged the US Open and Players Championship during its illustrious history.
Situated close to Trinity River, this parkland course is typical of those built more than 50 years ago, with trademark small greens and few water hazards.
Colonial, which underwent an upgrade 10 years ago, has Bentgrass greens and Bermuda fairways.
Short by modern standards, it remains a relevant challenge despite being one of the lower scoring venues on the calendar - since 1984, the highest winning total at Colonial has been 272.
Located a short distance south-west of downtown Fort Worth, the journey for those who played at last week's event in Dallas is a welcoming 35 miles.
The tournament's rich history is boosted by the ever-present aura of golfing great Ben Hogan who was not only a resident of Fort Worth but also made Colonial his home course.
Highly Recommended
And to demonstrate the popularity of Colonial Country Club, this week's field includes four of the world's top six, and 13 of the leading 30.
To attract so many highly-ranked golfers is testament to the course itself, especially bearing in mind the tournament's position in the calendar - two weeks after Sawgrass, one before The Memorial, not to mention next month's US Open and this week's BMW Championship on the European Tour.
Course Specialists
It is probably no surprise to learn that the world's top Texan, Jordan Spieth, remains close to home.
The 24-year-old from Dallas has stood on the podium in each of the past three years, including the top step in 2016.
Newly-crowned Sawgrass winner Webb Simpson, defending champion Kevin Kisner, and Matt Kuchar, have all played well here in recent times.
Two-Timer
Two-time Colonial champion Zach Johnson will fancy his chances of a third Fort Worth title.
The 42-year-old is one of the Tour's most accurate drivers, so this course should suit him well once again.
Despite failing to complete 72 holes at Sawgrass, Johnson was fifth on his last visit to Texas in late April.
Good Current Form
Among those in good current form, are Charl Schwartzel, Jimmy Walker, Patrick Cantlay and Chesson Hadley.
Also showing signs of improvement is Adam Scott, a former winner at Colonial.
Finally, if you are searching for a higher-priced starter whose current and course form is reasonable, then Kevin Tway and Danny Lee may be worth a second glance.
Lee in particular is worthy of an each-way punt. The former world no.34 has a habit of playing well in bursts.
He tied-seventh at Sawgrass two weeks ago and since 2015 has registered a brace of top-10 finishes at Colonial.
Twitter: Andy Swales@GolfStatsAlive
MC* - Missed Additional 54-Hole Cut
| Player | W20 | W19 | W18 | W17 | W16 | W15 | W14 | W13 | W12 | W11 | W10 | W9 |
| --- | --- | --- | --- | --- | --- | --- | --- | --- | --- | --- | --- | --- |
| Jordan Spieth | 21 | 41 | | MC | | | 3 | 3 | 17 | | MC | 14 |
| Jon Rahm | | 63 | | MC | | 1 | 4 | | 52 | | | 20 |
| Justin Rose | | 23 | | 19 | | | 12 | 52 | | 3 | 5 | 37 |
| Rickie Fowler | | MC | 21 | | | | 2 | 43 | | 14 | | 37 |
| Brooks Koepka | | 11 | 42 | MC | | | | | | | | |
| Webb Simpson | | 1 | 21 | | | 5 | 20 | | 29 | | 8 | 37 |
| Matt Kuchar | MC | 17 | | 28 | 51 | 23 | 28 | 8 | 9 | | 40 | 58 |
| Xander Schauffele | | 2 | 72 | | MC* | 32 | 50 | | 17 | | | 18 |
| Pat Perez | | MC | | 2 | MC | | MC | | 52 | | | 20 |
| Brian Harman | | MC | 74 | | | 23 | 44 | | 9 | 54 | | 5 |
| Kevin Kisner | | MC | MC | 15 | | 7 | 28 | | 2 | MC | | 29 |
| Satoshi Kodaira | MC | MC | | 32 | | 1 | 28 | | 59 | MC | | 54 |
| Charley Hoffman | | MC | | 31 | 64 | 23 | 12 | | 36 | 14 | MC | 20 |
| Patrick Cantlay | | 23 | | 7 | | 7 | MC | | 17 | | | 30 |
| Louis Oosthuizen | | MC | MC | 3 | | | 12 | | 9 | MC | 16 | 30 |
| Bryson DeChambeau | | 37 | 4 | | | 3 | 38 | | | 2 | Wd | |
| Cameron Smith | | MC | | MC | | 32 | 5 | | 5 | MC | 46 | |
| Si Woo Kim | | 63 | | | 45 | 2 | 24 | | 9 | MC | 59 | |
| Charl Schwartzel | | 2 | 9 | 3 | | MC | MC | | 36 | MC | 49 | 48 |
| Adam Hadwin | | 57 | 16 | | | | 24 | | 17 | | 12 | 9 |
| Jason Dufner | | 5 | 42 | 2 | | MC | MC | 64 | 17 | | MC | 55 |
| Chez Reavie | | 30 | | 22 | | | 53 | MC | 29 | | MC | 52 |
| Russell Henley | | MC | MC | | | | 15 | 8 | 36 | | | 58 |
| Jimmy Walker | 6 | 2 | | 25 | 4 | | 20 | | | 73 | 28 | |
| Peter Uihlein | 21 | | 5 | MC | MC | | | MC | 17 | 66 | | 37 |
| Zach Johnson | | MC* | | 15 | 5 | 42 | 36 | | 36 | 26 | 16 | |
| Jhonattan Vegas | | 41 | 42 | | MC | | 38 | MC* | 52 | | | 20 |
| Chesson Hadley | | 11 | 16 | 4 | 20 | 7 | | 18 | | 49 | MC | |
| Patton Kizzire | | MC | MC | | | MC | MC | | 36 | MC | | 12 |
| Adam Scott | 9 | 11 | MC* | | MC | | 32 | | | 41 | 16 | |
| Emiliano Grillo | | 37 | 9 | MC | | 16 | | 3 | 50 | 26 | 6 | |
| Andrew Landry | | 67 | Wd | MC | 1 | 42 | | | | | | |
| Shubhankar Sharma | | | | 14 | MC | | MC | MC | 59 | | 7 | 9 |
| Kevin Na | 6 | 46 | | MC | MC | MC | | | 52 | 36 | | |
| Ted Potter | | 41 | 27 | | | 16 | MC | | | MC | MC | |
| Beau Hossler | 32 | 46 | 34 | | 51 | 16 | | 2 | | 66 | MC | |
| Bill Haas | MC | MC | MC | | MC* | 7 | | MC* | | | 49 | |
| Brandt Snedeker | MC | MC | | MC | 15 | 23 | | MC* | | MC | 31 | |
| Sean O`Hair | | Wd | 63 | 25 | 2 | MC | | 64 | | 7 | 12 | |
| Ollie Schniederjans | | MC* | 34 | | 36 | 42 | | | | 41 | 49 | |
| Nick Watney | | 37 | 2 | 31 | 20 | 32 | | 32 | | | 59 | |
| Aaron Wise | 1 | | 2 | MC | MC | | | 32 | | 41 | 68 | |
| Martin Laird | MC | 57 | | 7 | 11 | 32 | | | | 26 | MC | |
| Grayson Murray | Wd | 30 | 59 | | 16 | MC | | 14 | | 14 | MC | |
| Austin Cook | | 46 | 34 | | 30 | 50 | MC | | | 36 | 40 | |
| Anirban Lahiri | 26 | MC | MC | | 58 | MC | | | | 75 | 34 | |
| Wesley Bryan | | MC | | MC | MC | 42 | MC | | | | | |
| Kevin Streelman | | MC | MC | | 8 | 7 | | 43 | | 41 | MC | |
| Ryan Palmer | MC | 23 | | MC | MC | 76 | | MC | | | 28 | |
| Sung Kang | 42 | MC | MC | 36 | MC | MC | | Wd | | 58 | 73 | |
| Brice Garnett | | 41 | 75 | 4 | MC* | 42 | | MC | 1 | | 31 | |
| Jason Kokrak | | 46 | MC | | 36 | MC | | MC* | | MC | 8 | |
| Russell Knox | 16 | MC | | 7 | MC | 40 | | MC | | 73 | 16 | |
| Steve Stricker | | 23 | | MC | | | | MC | | | 12 | |
| Chris Kirk | | 46 | | MC | 8 | 55 | | MC | | 13 | 49 | |
| Patrick Rodgers | 53 | MC | 34 | | MC | | | MC | 22 | 7 | 59 | |
| Danny Lee | | 7 | MC | MC | 51 | 55 | | 64 | | MC | MC | |
| Scott Stallings | | MC | MC | MC | | 55 | | MC* | | MC | 31 | |
| Scott Brown | | 23 | MC | 15 | MC | MC | | MC* | | MC | 64 | |
| William McGirt | | MC | | MC | MC | 70 | | MC | | 26 | 16 | |
| Scott Piercy | 32 | MC | | 1 | MC | 16 | | 24 | 60 | MC | | |
| Whee Kim | | MC | MC | 22 | MC | 50 | | MC | | MC | 49 | |
| JJ Spaun | 3 | MC | | MC | 26 | MC | | | | | | |
| Rory Sabbatini | 13 | 30 | 27 | MC | | 23 | | 70 | 43 | | 5 | |
| Stewart Cink | | MC | 72 | | MC | 42 | | | | 58 | 31 | |
| Sam Burns | | MC | 55 | MC | 33 | | | 1 | 20 | 49 | 12 | |
| Keith Mitchell | 3 | MC* | 34 | MC | 26 | 55 | | 6 | 2 | | | |
| Kelly Kraft | MC | MC | MC | MC | | MC | | MC* | 3 | | 31 | |
| Ryan Armour | 59 | MC | | MC | MC | 55 | | 43 | | 77 | 40 | |
| Sam Saunders | MC | | 9 | MC | | MC | | 72 | | MC | | |
| Trey Mullinax | | MC | MC | 31 | 2 | | | | 22 | | 8 | |
| Chris Stroud | | 46 | 67 | 28 | Wd | MC | | MC | | | | |
| CT Pan | 32 | 46 | MC* | MC | MC | 23 | | MC | | 41 | MC | |
| Tom Hoge | | MC* | MC* | 10 | MC | 55 | | 60 | | 26 | MC | |
| Abraham Ancer | 42 | | MC | MC | 58 | | | 8 | 13 | | 16 | 52 |
| Talor Gooch | MC | | 13 | MC | MC | | | MC | | 26 | MC | |
| David Lingmerth | MC | MC | | MC | 51 | 74 | | | 28 | 64 | 64 | |
| John Huh | MC | MC | | 36 | MC | 23 | | 32 | | 26 | MC | |
| Mackenzie Hughes | | 57 | 59 | MC | MC | MC | | MC | | 54 | MC | |
| Harris English | MC | MC | | MC | 36 | 32 | | MC | 5 | 22 | MC | |
| Kevin Tway | 9 | 46 | MC | MC | 36 | 67 | | 32 | 28 | 58 | MC | |
| Jim Furyk | | | | MC | 26 | 70 | | | MC | | 7 | |
| Aaron Baddeley | MC | | MC | MC | 16 | 55 | | 74 | | | 49 | |
| Brandon Harkins | | 67 | 63 | MC | MC* | MC | | 60 | | 36 | MC | |
| Robert Streb | 53 | MC | 42 | | | MC | | MC | MC | MC | MC | |
| Ben Martin | MC | MC | MC | | 45 | 55 | | | | MC | 46 | |
| Robert Garrigus | 21 | MC | | MC | MC | MC | | 18 | MC | | 31 | |
| Nick Taylor | 32 | MC* | MC | | MC | MC | | MC | | MC | MC | |
| Brian Stuard | 42 | | MC | 28 | 36 | 67 | | MC | | 36 | MC | |
| Sam Ryder | 42 | | MC | MC | 36 | MC | | 5 | MC | | 68 | |
| Jonas Blixt | | MC | 27 | MC | | 14 | | MC | | | | |
| Vaughn Taylor | 59 | MC | 42 | | 16 | MC | | | | | | |
| Martin Piller | 21 | | MC | | MC | | | 24 | | MC | MC | |
| Alex Cejka | MC | | 27 | 31 | | | | MC | | MC | 40 | |
| Dominic Bozzelli | 59 | MC | MC | | MC | 40 | | MC* | | | 31 | |
| Tom Lovelady | 70 | | 34 | MC | MC | | | 68 | 5 | | MC | |
| Ben Silverman | MC | | MC | MC | 45 | | | MC* | | | MC | |
| Richy Werenski | MC | 23 | MC | 25 | 11 | MC | | MC* | 45 | | MC | |
| Andrew Putnam | 42 | | MC* | 15 | 8 | | | 32 | 5 | | MC | |
| Michael Thompson | 59 | MC | 42 | | 68 | 42 | | 14 | | | | |
| Nicholas Lindheim | 32 | | MC | 25 | 36 | | | 14 | | | MC | |
| Derek Fathauer | 16 | MC | MC | | MC | MC | | MC | MC | | MC | |
| Martin Flores | 26 | MC | 59 | MC | MC | MC | | MC | 13 | | 77 | |
| Chad Campbell | MC | MC | | 19 | MC | MC | | 64 | | | 31 | |
| Jonathan Byrd | 42 | | MC | 15 | MC | 50 | | MC* | 54 | | | |
| Tyrone Van Aswegen | MC | 66 | MC* | 19 | MC | 23 | | 32 | | 72 | 28 | |
| Seamus Power | MC | | 27 | 10 | MC | | | 60 | 5 | | MC | |
| Adam Schenk | 59 | | MC | 7 | 58 | | | 60 | 35 | | 59 | |
| Xin Jun Zhang | MC | | 70 | MC | MC | | | MC | 5 | | | |
| Jonathan Randolph | MC | | 70 | 31 | MC | | | MC | | | MC | |
| JT Poston | 26 | | MC | MC | 30 | | | 67 | 19 | | | |
| Rod Pampling | 70 | MC | MC | | 68 | 32 | | MC | | | 59 | |
| Ryan Blaum | 6 | MC* | MC* | MC | | MC | | MC | | | 16 | |
| Smylie Kaufman | MC | | MC | MC | | | | MC | MC | MC | MC | |
| Shawn Stefani | 26 | | 42 | MC | MC | | | 24 | 13 | | | |
| Cody Gribble | 32 | 30 | | 34 | MC | MC | | MC | | MC | | |
| David Hearn | MC | | | 10 | 16 | MC | | | 50 | | | |
| Ben Crane | 53 | | | 31 | 11 | | | 43 | 45 | | | |
| Tyler Duncan | 26 | | MC* | 7 | MC | | | 52 | MC | MC | MC | |
| Denny McCarthy | 42 | | MC | 25 | 20 | | | 43 | 4 | | | |
| Corey Conners | 53 | | 42 | MC | 26 | MC | | MC | 13 | | 16 | |
| Joel Dahmen | 16 | | 16 | 25 | MC* | | | MC* | 13 | | | |
| Conrad Shindler | MC | | | 9 | MC | | | | MC | | MC | |
| JJ Henry | MC | 67 | MC* | 10 | MC | 16 | | MC | 65 | | 74 | |
| Greg Chalmers | MC | | 21 | 10 | MC | MC | | 70 | MC | | MC | |
| Hunter Mahan | MC | | | | 45 | | | 43 | 35 | MC | | |
| Joaquin Niemann | MC | | MC | | 6 | | MC | | | | | |
| Maverick McNealy | 42 | 18 | | 3 | 33 | | | 39 | 36 | | 48 | |
| John Senden | MC | | | | MC* | MC | | | MC | | | |
| Tim Herron | MC | | | | | | | | 76 | MC | | |
| Keith Clearwater | | | | | | | | | MC | | | |
| Player | 2017 | 2016 | 2015 | 2014 | 2013 | 2012 | 2011 | 2010 | 2009 | 2008 |
| --- | --- | --- | --- | --- | --- | --- | --- | --- | --- | --- |
| Jordan Spieth | 2 | 1 | 2 | 14 | 7 | | | | | |
| Jon Rahm | 2 | | | | | | | | | |
| Justin Rose | | | | | | | | 71 | 34 | |
| Rickie Fowler | | | | MC | 54 | 5 | 16 | 38 | | |
| Brooks Koepka | | | | | | | | | | |
| Webb Simpson | 5 | 3 | | | | | | MC | MC | |
| Matt Kuchar | 12 | 6 | | MC | 2 | 26 | 16 | 56 | 27 | 9 |
| Xander Schauffele | 48 | | | | | | | | | |
| Pat Perez | MC | | 5 | MC | Wd | 63 | 62 | 10 | | 6 |
| Brian Harman | 7 | 25 | 10 | 30 | | MC | | | | |
| Kevin Kisner | 1 | 10 | 5 | MC | | | | | | |
| Satoshi Kodaira | | | | | | | | | | |
| Charley Hoffman | 24 | 42 | 10 | 51 | 18 | 13 | | | 46 | MC* |
| Patrick Cantlay | | | | | Wd | | | | | |
| Louis Oosthuizen | | MC | Wd | 38 | | 19 | | | | |
| Bryson DeChambeau | MC | MC | | | | | | | | |
| Cameron Smith | MC | | | | | | | | | |
| Si Woo Kim | MC | MC | | | | | | | | |
| Charl Schwartzel | | 25 | | | MC | | | | | |
| Adam Hadwin | 53 | 22 | 5 | | | | | | | |
| Jason Dufner | MC | 6 | 43 | 2 | 46 | 2 | MC | | 59 | |
| Chez Reavie | 48 | MC | | | 11 | MC | 5 | | 71 | 64 |
| Russell Henley | | | | | | | | | | |
| Jimmy Walker | | 29 | 65 | 10 | | | 56 | | | |
| Peter Uihlein | | | | | | MC | | | | |
| Zach Johnson | 63 | 17 | 19 | 73 | 3 | 1 | 4 | 1 | 9 | |
| Jhonattan Vegas | MC | MC | 53 | | | | | | | |
| Chesson Hadley | | MC | 24 | MC | | | | | | |
| Patton Kizzire | 63 | MC | | | | | | | | |
| Adam Scott | | 55 | 24 | 1 | | | 65 | | 64 | |
| Emiliano Grillo | 24 | 55 | | | | | | | | |
| Andrew Landry | | | | | | | | | | |
| Shubhankar Sharma | | | | | | | | | | |
| Kevin Na | | 42 | 10 | MC | | 13 | 40 | 22 | 9 | 59 |
| Ted Potter | | | | | 18 | | | | | |
| Beau Hossler | MC | | | | | | | | | |
| Bill Haas | 12 | 47 | | 21 | | 55 | 8 | 13 | | MC |
| Brandt Snedeker | 48 | 17 | 2 | 45 | | | 16 | 59 | | |
| Sean O`Hair | 2 | 34 | MC | 63 | MC | | 16 | MC | 18 | 26 |
| Ollie Schniederjans | 29 | | | | | | | | | |
| Nick Watney | 53 | | | MC | | 72 | | 27 | | |
| Aaron Wise | | | | | | | | | | |
| Martin Laird | MC | MC | 43 | 30 | 54 | | 10 | 10 | | |
| Grayson Murray | | | | | | | | | | |
| Austin Cook | | | | | | | | | | |
| Anirban Lahiri | MC | 6 | | | | | | | | |
| Wesley Bryan | 48 | | | | | | | | | |
| Kevin Streelman | 18 | MC | 58 | | MC | MC | 10 | MC | 41 | |
| Ryan Palmer | 70 | 3 | MC | 5 | 14 | 5 | 31 | MC | 34 | 15 |
| Sung Kang | 57 | MC | | | | 37 | | | | |
| Brice Garnett | | | MC | 30 | | | | | | |
| Jason Kokrak | MC | 55 | MC | | 18 | | | | | |
| Russell Knox | | | 24 | 21 | | | | | | |
| Steve Stricker | 7 | 47 | 27 | | | | | 38 | 1 | MC |
| Chris Kirk | 67 | 15 | 1 | 14 | 35 | 5 | 16 | | | MC* |
| Patrick Rodgers | MC | | MC* | | | | | | | |
| Danny Lee | 6 | 22 | 10 | 38 | | | | | 46 | |
| Scott Stallings | 63 | MC | | MC | 4 | MC | MC | | | |
| Scott Brown | 12 | MC | 33 | MC | MC | | | | | |
| William McGirt | 61 | 47 | 33 | 21 | MC | 63 | 31 | | | |
| Scott Piercy | 7 | 67 | 43 | | 26 | | | MC | Dq | |
| Whee Kim | 34 | | 65 | | | | | | | |
| JJ Spaun | Wd | | | | | | | | | |
| Rory Sabbatini | MC | | 10 | MC | MC | 47 | 16 | 69 | 34 | MC |
| Stewart Cink | 10 | MC | | | MC | | 16 | 22 | 22 | |
| Sam Burns | | | | | | | | | | |
| Keith Mitchell | | | | | | | | | | |
| Kelly Kraft | 18 | | | | | 57 | | | | |
| Ryan Armour | | | | | | | | | | |
| Sam Saunders | 24 | | MC | | | | | | | |
| Trey Mullinax | | | | | | | | | | |
| Chris Stroud | 41 | 13 | MC | 14 | 7 | 13 | | MC | | |
| CT Pan | MC | | | | | | | | | |
| Tom Hoge | | 17 | | | | | | | | |
| Abraham Ancer | | | | | | | | | | |
| Talor Gooch | | | | | | | | | | |
| David Lingmerth | 12 | | 33 | 5 | 18 | | | | | |
| John Huh | MC | MC | 18 | MC | 11 | 5 | | | | |
| Mackenzie Hughes | MC | | | | | | | | | |
| Harris English | 29 | 2 | | 30 | MC | 5 | | | | |
| Kevin Tway | 18 | | | MC | | | | | | |
| Jim Furyk | | MC | | 51 | 31 | 4 | 31 | MC | 9 | MC |
| Aaron Baddeley | MC | 55 | MC | 51 | MC | 63 | | | | |
| Brandon Harkins | | | | | | | | | | |
| Robert Streb | 34 | 70 | 19 | 38 | MC | | | | | |
| Ben Martin | 57 | 29 | 10 | 21 | | | | | | |
| Robert Garrigus | | | | | | | | | | 64 |
| Nick Taylor | 61 | 47 | 27 | | | | MC | | | |
| Brian Stuard | 24 | | 62 | MC | 22 | | | | | |
| Sam Ryder | | | | | | | | | | |
| Jonas Blixt | 18 | 55 | MC | | 11 | 10 | | | | |
| Vaughn Taylor | 18 | 55 | | | 70 | MC | MC | | MC | 52 |
| Martin Piller | MC | 6 | | | | | | | | |
| Alex Cejka | | | | | | | 31 | | MC | 26 |
| Dominic Bozzelli | 69 | | | | | | | | | |
| Tom Lovelady | | | | | | | | | | |
| Ben Silverman | | | | | | | | | | |
| Richy Werenski | | | | | | | | | | |
| Andrew Putnam | | | | | | | | | | |
| Michael Thompson | 57 | | MC | 10 | 46 | 47 | | | | |
| Nicholas Lindheim | | | | | | | | | | |
| Derek Fathauer | 48 | 62 | | | | | | | 68 | |
| Martin Flores | MC | | 53 | | 14 | 26 | | MC | | |
| Chad Campbell | 34 | 10 | MC | 30 | MC | 41 | MC | MC | Wd | MC |
| Jonathan Byrd | | | | 70 | MC | 10 | | MC | MC | |
| Tyrone Van Aswegen | MC | 42 | | | | | | | | |
| Seamus Power | | | | | | | | | | |
| Adam Schenk | | | | | | | | | | |
| Xin Jun Zhang | | | | | | | | | | |
| Jonathan Randolph | | | | | | | | | | |
| JT Poston | 41 | | | | | | | | | |
| Rod Pampling | MC | | | MC | | MC | 10 | MC | 68 | 2 |
| Ryan Blaum | 24 | | | | | | | | | |
| Smylie Kaufman | | MC | | | | | | | | |
| Shawn Stefani | | 34 | 19 | | 42 | | | | | |
| Cody Gribble | 41 | | MC | | | | | | | |
| David Hearn | 70 | 17 | 33 | 21 | MC | 13 | 44 | | | |
| Ben Crane | | 29 | 71 | | MC | 10 | MC | 3 | 46 | 5 |
| Tyler Duncan | | | | | | | | | | |
| Denny McCarthy | | | | | | | | | | |
| Corey Conners | | | | | | | | | | |
| Joel Dahmen | | | | | | | | | | |
| Conrad Shindler | | | | | | | | | | |
| JJ Henry | MC | MC | MC | 57 | 42 | MC | MC | 44 | 22 | MC |
| Greg Chalmers | MC | | | MC | 65 | 47 | 31 | 44 | | |
| Hunter Mahan | MC | MC | 53 | 60 | 26 | 37 | 10 | MC | 27 | MC |
| Joaquin Niemann | | | | | | | | | | |
| Maverick McNealy | | | | | | | | | | |
| John Senden | | MC | MC | 5 | MC | 37 | 8 | 56 | 18 | MC |
| Tim Herron | MC | 29 | MC | 63 | 65 | MC | 52 | MC | 34 | 52 |
| Keith Clearwater | MC | MC | MC | MC | MC | MC | MC | | MC | MC |
Discover the latest articles
Read past articles