Fiji International 2018: This week's course and current form guide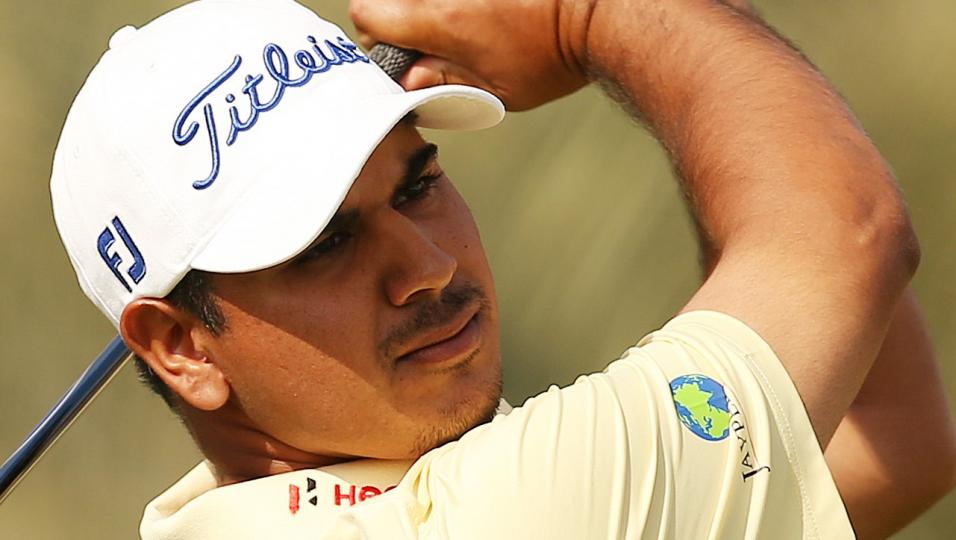 Gaganjeet Bhullar: Enjoying a good run of form on the Asian Tour
Andy Swales brings you the stats ahead of this week's Fiji International, which tees-off in the South Pacific on Thursday ...
"Regarding current form, no one in this week's field can compare with South African Justin Harding, who has won four times in six starts."
The European Tour makes a rare trip to the southern hemisphere to tri-sanction the Fiji International.
This will be the third successive year in which the Fiji International at Natadola Bay will have been sanctioned by the tours of Europe, Asia and Australasia.
Natadola Bay opened for business in June 2009 and seven years later was given a significant makeover by Vijay Singh - the architect who had also designed the original layout.
The 55-year-old, three-time major champion, made changes to 10 holes of a course which sits in the south-east corner of the island.
The Fiji International was first held over Natadola's rolling fairways in 2014, and this coastal layout will be at the mercy of the elements should the wind decide to blow this weekend.
Once again, there are few European-based pros teeing-up, with the majority of entries coming from Australia and New Zealand, along with a sizeable contingent from the Asian Tour.
Generally, however, quality is thin on the ground at this stunning South Pacific venue.
Top Contender
Regarding current form, no one in this week's field can compare with Justin Harding, who has won four times in six starts.
The South African world No 99 has won twice on the Asian Tour, as well as a brace of victories on home soil on the Sunshine Tour.
Others to have performed well in recent weeks, albeit in lower-ranked tournaments staged on some of the less high-profile Tours in world golf, are John Catlin, Gaganjeet Bhullar, Scott Vincent, Johannes Veerman and Mark Brown.
Bhullar and Veerman have posted four successive top-12 finishes on the Asian Tour.
Good Course History
As for those with a strong history at Natadola Bay, Michael Sim, Aron Price and Josh Geary are the only golfers teeing-up with three top-20 finishes in the Fiji International.
All three are currently outside the world's top 800, with Sim competing for the first time this calendar year, while Price hasn't played since early March.
One golfer who will fancy his chances this week is young Thai Jazz Janewattananond.
The 22-year-old finished second here last year, on his Natadola debut, and is a two-time winner in Asia - most recently five weeks ago.
More experienced than Janewattananond is 44-year-old Aussie Scott Hend who's most recent two starts on the European Tour yielded top-20 finishes in Scotland and Germany.
Twitter: Andy Swales@GolfStatsAlive
MC* - Missed Additional 54-Hole Cut
| Player | W30 | W29 | W28 | W27 | W26 | W25 | W24 | W23 | W22 | W21 | W20 | W19 |
| --- | --- | --- | --- | --- | --- | --- | --- | --- | --- | --- | --- | --- |
| Justin Harding | 1 | 18 | 1 | | | | | 6 | | | 1 | 1 |
| Jazz Janewattananond | MC | MC | | 2 | 1 | 32 | | 6 | | 4 | 37 | MC |
| John Catlin | 10 | | 31 | 1 | 56 | 5 | | 47 | | | 1 | 4 |
| Gaganjeet Bhullar | 10 | | 5 | 11 | 2 | 53 | | 55 | | | | |
| Lucas Herbert | 29 | 51 | | | | MC | MC | | 49 | | 41 | 3 |
| Scott Vincent | | | 2 | 7 | 6 | 28 | | 6 | | | 59 | MC |
| Scott Hend | 19 | | 14 | MC | 44 | 7 | | 6 | 14 | MC | | |
| Poom Saksansin | | | 47 | 25 | 13 | 15 | | 2 | | | 41 | 14 |
| Gavin Green | | 61 | 19 | MC | MC | 73 | | | MC* | 52 | 34 | |
| Dimitrios Papadatos | | | 59 | 62 | 4 | MC | | 12 | 20 | 31 | 17 | 1 |
| Ajeetesh Sandhu | MC | | | 11 | | 37 | | MC | | | | MC |
| Michael Hendry | | MC | | 44 | | | | | 23 | 2 | MC | MC |
| Phachara Khongwatmai | 14 | | MC | MC | 49 | MC | | 30 | MC | MC | MC | |
| Shiv Kapur | 2 | | 70 | | | MC | | Wd | | | | |
| Andrew Dodt | 54 | | MC | 72 | MC | | | | MC | 51 | MC | |
| Minchel Choi | | MC | | | 34 | 1 | 59 | 17 | MC | MC | MC | |
| Justin Walters | 45 | | 23 | MC | MC | 9 | | 3 | | | 22 | 34 |
| Anthony Quayle | | | | 55 | | | | | 15 | Dq | MC | |
| Yikeun Chang | | | MC | 33 | MC | 45 | MC | | | MC | MC | |
| Ben Campbell | 42 | | 20 | 33 | 21 | | | 24 | | | 43 | 2 |
| Rattanon Wannasrichan | | | 9 | 43 | 19 | 45 | | MC | | | 59 | 64 |
| Jbe Kruger | MC* | | 11 | MC | 13 | MC | | 3 | | | MC | 41 |
| Matthew Millar | | | 11 | | | | | MC* | | 31 | MC | 58 |
| Alejandro Canizares | MC | | | | | MC | | | | | | |
| Ashun Wu | | | MC | Dq | MC | | | 47 | 60 | 64 | MC | |
| Nick Cullen | MC* | MC | 13 | | | 45 | | 12 | | | 34 | 26 |
| Simon Hawkes | | | | | | | | | | | | |
| Daniel Nisbet | | | Wd | | MC | MC | | 60 | | | | |
| Marcus Fraser | | | | Wd | MC | MC | | 19 | MC | MC | 34 | MC |
| Pavit Tangkamolprasert | MC | | MC | 20 | 3 | 57 | | 13 | | 1 | | |
| Johannes Veerman | 10 | | 6 | 7 | 10 | MC | | MC | | | | |
| Prom Meesawat | 6 | | 20 | | 13 | 24 | | 17 | | | 12 | |
| Masahiro Kawamura | | 39 | | MC | | 51 | | 38 | 23 | 2 | | 39 |
| Jordan Zunic | 42 | | | MC | MC | MC | MC | | MC | MC | 65 | MC |
| Rhein Gibson | | MC | MC | 41 | 26 | MC | | MC | 14 | 42 | MC | 62 |
| Matthew Griffin | | | | MC | | | | | 12 | 27 | MC | 3 |
| James Nitties | | | | | | | | | | | | |
| David Bransdon | | | | 33 | | 56 | MC | | 30 | MC | MC | |
| Bowen Xiao | | | MC | MC | MC | MC | | 27 | | | 12 | |
| Mark Brown | 14 | | 16 | 6 | | | | | | | | |
| Jason Norris | | | MC | MC | MC | MC | | MC* | MC | MC | MC | |
| Ben Eccles | | | | MC | MC | 11 | MC | 23 | | | 14 | MC |
| Callan O`Reilly | 49 | | | | | | | | | | | |
| Travis Smyth | 14 | | 53 | 30 | MC | MC | | MC | | | | MC |
| Suradit Yongcharoenchai | MC | | MC | 20 | MC | 73 | | 11 | | 30 | 31 | 20 |
| Harrison Endycott | MC | | | | | | | 5 | | | | |
| Go Woong Choi | | | | MC | 26 | 69 | MC | 33 | 67 | 23 | 55 | |
| Ashley Hall | | | | | | | | | | | | |
| Jake Higginbottom | MC | | MC | 35 | 21 | MC | | 13 | | | | |
| Jake McLeod | 2 | | 35 | | | | | | | | | |
| Adam Blyth | MC | | MC | Wd | MC | | | 60 | | | 2 | MC |
| Jarin Todd | 10 | | 20 | MC | 21 | MC | | 24 | | | | |
| Richard T Lee | | | | | 26 | MC | Wd | 17 | 40 | 23 | MC | |
| Siddikur Rahman | MC | | 40 | 30 | 62 | MC | | 55 | | | 43 | 26 |
| Chien-Yao Hung | | | 27 | 20 | | MC | | MC | | | 31 | |
| Steven Jeffress | MC | | 13 | MC | 50 | | | MC | | | 21 | 60 |
| Stephen Leaney | | | 53 | | | | | | | | | |
| Deyen Lawson | | | | | | | | | | | MC | |
| Terry Pilkadaris | 56 | | | | | MC | | MC | | | | |
| Daniel Fox | 28 | | 20 | 43 | | | | | | | | |
| James Marchesani | MC | | | 25 | MC | | | 60 | | | MC | |
| Jarryd Felton | | | MC | | | | | | | | | |
| Vijay Singh | | | | 56 | | | | | 69 | | | |
| Daniel Im | | | MC | MC | MC | MC | | MC* | MC* | MC | MC | 48 |
| Yan Wei Liu | 14 | | 53 | 40 | MC | MC | 15 | MC | | | 31 | 43 |
| Michael Long | | | 16 | | | | | | | | | |
| Cory Crawford | | | MC | | | | | | | | MC | |
| Arnond Vongvanij | 64 | | 59 | MC | 56 | MC | | MC | | | 63 | 14 |
| Ernie Els | | MC | MC | | | MC | MC | | MC | MC | MC | |
| Todd Sinnott | 56 | | MC | | | | | | | MC | | MC |
| Soomin Lee | | | MC | MC | MC | MC | MC | | MC | MC | MC | |
| Michael Sim | | | | | | | | | | | | |
| Gareth Paddison | MC | | 40 | 17 | 50 | 56 | | 68 | | MC | 49 | 56 |
| Daniel Pearce | | | | | | | | | | | | |
| Daniel Gale | | | | | | | | | | | | |
| Damien Jordan | | | | | | | | | | | | |
| Wei-Chih Lu | 28 | | 35 | 43 | | MC | | 55 | | | 31 | |
| Chiragh Kumar | MC | | 63 | MC | MC | 71 | | 47 | | | | MC |
| Jack Wilson | 42 | | MC | MC | MC | | | | | Wd | 12 | 22 |
| Aron Price | | | | | | | | | | | | |
| Andrew Martin | 70 | | 35 | 55 | MC | | | 38 | | | 5 | |
| Josh Younger | 14 | | MC | MC | 68 | | | 38 | | Wd | 8 | |
| Josh Geary | | | | | 61 | MC | | MC | 51 | | 10 | MC |
| Nick Voke | | | | | | | | MC | | 39 | | |
| David Smail | | | | | | | | | | | | |
| Max McCardle | | | | | | | | | | | | |
| Jack Munro | MC | | 13 | Wd | MC | 59 | MC | 58 | | MC | MC | MC |
| Thitiphun Chuayprakong | MC | | MC | 35 | 65 | | | MC | | 2 | | |
| Brett Rankin | MC | | | | | | | | | | | |
| Shih-Chang Chan | | | 70 | MC | MC | 43 | | 55 | MC | MC | MC | MC |
| Harry Bateman | | | | | | | | | | | | |
| Darren Beck | | | | | | | | | | | | |
| Richard Green | | | | | MC | | | MC | MC | | | |
| Dale Brandt-Richards | 6 | | | | | | | | | | | |
| Kieran Muir | | | 70 | | | | | | | | | |
| Michael Wright | | | | | | | | | | | | |
| Tim Stewart | | | | | | | | | | | | |
| Braden Becker | | | | | | | | | | | | |
| Peter Wilson | | | | | | | | | | | | |
| Adam Burdett | | | | | | | | | | | | |
| Rory Bourke | | | | | | | | | | | | |
| Taylor MacDonald | | | | | | | | | | | | |
| Ryan Chisnall | | | | | | | | | | | | |
| Aaron Pike | | | | | | | | | | | | |
| Antonio Murdaca | | | | | | | | | | | | |
| Matthew Stieger | 70 | | 40 | 20 | MC | | | MC | | | 31 | |
| Matt Jager | | | | | | | | | | | | |
| Nick Flanagan | | | | MC | | | | | | | | |
| Tim Hart | | | | | | | | | | | | |
| David Micheluzzi | | | | | | | | | | | | |
| Scott Strange | | | | MC | | MC | | | 58 | 42 | MC | 40 |
| Adam Stephens | | | | | | | | | | | | |
| Brad Moules | | | | | | | | | | | | |
| Aaron Townsend | | | | MC | | 56 | | | | | | 40 |
| Dinesh Chand | | | | | | | | | | | | |
| Ben Clementson | | | | | | | | | | | | |
| Bill Suguturaga | | | | | | | | | | | | |
| Tomasi Tuivuna | | | | | | | | | | | | |
| Sam Lee | | | | | | | | | | | | |
| Jordan Mullaney | | | | | | | | | | | | |
| Player | 2017 | 2016 | 2015 | 2014 |
| --- | --- | --- | --- | --- |
| Justin Harding | | | | |
| Jazz Janewattananond | 2 | | | |
| John Catlin | | | | |
| Gaganjeet Bhullar | | | | |
| Lucas Herbert | MC | MC | | |
| Scott Vincent | 9 | | | |
| Scott Hend | 24 | | | |
| Poom Saksansin | 41 | | | |
| Gavin Green | 63 | | | |
| Dimitrios Papadatos | 30 | 75 | 42 | 21 |
| Ajeetesh Sandhu | | | | |
| Michael Hendry | MC | 2 | | 32 |
| Phachara Khongwatmai | 12 | | | |
| Shiv Kapur | | | | |
| Andrew Dodt | 35 | | | 3 |
| Minchel Choi | | | | |
| Justin Walters | | | | |
| Anthony Quayle | 53 | | | |
| Yikeun Chang | MC | | | |
| Ben Campbell | 47 | 21 | MC | |
| Rattanon Wannasrichan | MC | | | |
| Jbe Kruger | 55 | | | |
| Matthew Millar | MC | | 21 | MC |
| Alejandro Canizares | | | | |
| Ashun Wu | | | | MC |
| Nick Cullen | | | 3 | 27 |
| Simon Hawkes | | | | |
| Daniel Nisbet | 63 | MC | 10 | 35 |
| Marcus Fraser | | | | |
| Pavit Tangkamolprasert | | | | |
| Johannes Veerman | MC | | | |
| Prom Meesawat | | | | |
| Masahiro Kawamura | | | | 48 |
| Jordan Zunic | MC | | MC | |
| Rhein Gibson | | | | 53 |
| Matthew Griffin | | 7 | | MC |
| James Nitties | 47 | 46 | 31 | |
| David Bransdon | 24 | | 45 | 35 |
| Bowen Xiao | | | | |
| Mark Brown | 12 | 46 | 31 | 57 |
| Jason Norris | 1 | 60 | MC | 50 |
| Ben Eccles | | 7 | | |
| Callan O`Reilly | 59 | MC | 48 | 48 |
| Travis Smyth | | | | |
| Suradit Yongcharoenchai | | | | |
| Harrison Endycott | | | | |
| Go Woong Choi | | | | |
| Ashley Hall | 41 | MC | | |
| Jake Higginbottom | MC | 7 | | 2 |
| Jake McLeod | 12 | MC | | |
| Adam Blyth | 30 | 33 | 18 | 27 |
| Jarin Todd | | | | |
| Richard T Lee | 47 | | | 45 |
| Siddikur Rahman | MC | | | |
| Chien-Yao Hung | 55 | | | |
| Steven Jeffress | MC | 38 | 18 | 1 |
| Stephen Leaney | 20 | 29 | MC | 40 |
| Deyen Lawson | 24 | 24 | | |
| Terry Pilkadaris | 16 | | | 3 |
| Daniel Fox | 30 | 7 | 18 | 50 |
| James Marchesani | 2 | | | |
| Jarryd Felton | 9 | MC | MC | |
| Vijay Singh | 41 | 21 | 3 | 10 |
| Daniel Im | | | | |
| Yan Wei Liu | MC | | | |
| Michael Long | 20 | 38 | MC | MC |
| Cory Crawford | MC | MC | | |
| Arnond Vongvanij | | | | |
| Ernie Els | | | | |
| Todd Sinnott | 30 | 29 | 38 | |
| Soomin Lee | MC | | | |
| Michael Sim | 16 | 38 | 10 | 6 |
| Gareth Paddison | 9 | 24 | MC | MC |
| Daniel Pearce | 5 | MC | | |
| Daniel Gale | | | | |
| Damien Jordan | 35 | 38 | | |
| Wei-Chih Lu | MC | | | |
| Chiragh Kumar | | | | |
| Jack Wilson | MC | 38 | MC | |
| Aron Price | 12 | 18 | 2 | |
| Andrew Martin | 35 | | 54 | MC |
| Josh Younger | MC | 21 | | 15 |
| Josh Geary | 16 | 12 | 15 | 45 |
| Nick Voke | | | | |
| David Smail | MC | | MC | 12 |
| Max McCardle | MC | 12 | 10 | MC |
| Jack Munro | MC | | | |
| Thitiphun Chuayprakong | 59 | | | |
| Brett Rankin | MC | 12 | MC | |
| Shih-Chang Chan | | | | |
| Harry Bateman | 16 | MC | MC | |
| Darren Beck | MC | MC | | |
| Richard Green | | | | |
| Dale Brandt-Richards | 30 | 75 | | |
| Kieran Muir | 66 | MC | 48 | |
| Michael Wright | MC | | 26 | 35 |
| Tim Stewart | | | | |
| Braden Becker | | 46 | | |
| Peter Wilson | 5 | 24 | 8 | |
| Adam Burdett | MC | | | |
| Rory Bourke | MC | 55 | 65 | |
| Taylor MacDonald | 41 | 55 | MC | |
| Ryan Chisnall | | | | |
| Aaron Pike | | 55 | 42 | |
| Antonio Murdaca | MC | MC | 42 | |
| Matthew Stieger | 35 | | | |
| Matt Jager | | | MC | MC |
| Nick Flanagan | | | MC | |
| Tim Hart | 68 | 46 | MC | |
| David Micheluzzi | | | | |
| Scott Strange | | | | 40 |
| Adam Stephens | | MC | MC | |
| Brad Moules | MC | MC | | |
| Aaron Townsend | 68 | 55 | MC | MC |
| Dinesh Chand | MC | MC | MC | MC |
| Ben Clementson | | MC | 61 | |
| Bill Suguturaga | | MC | MC | |
| Tomasi Tuivuna | MC | | MC | |
| Sam Lee | 47 | 33 | 26 | MC |
| Jordan Mullaney | | 74 | | |
Discover the latest articles
Read past articles