FedEx St Jude Classic 2018: Key stats for this week's event in Tennessee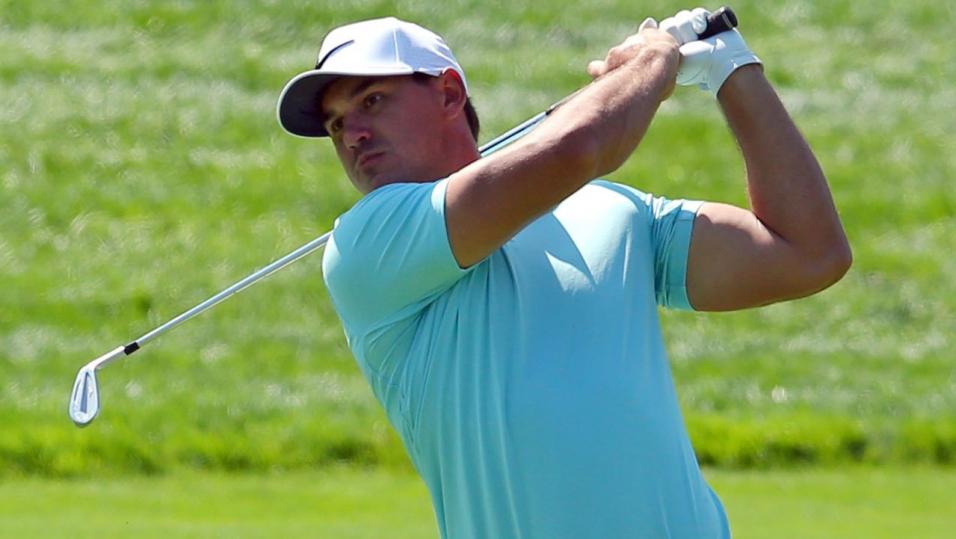 Brooks Koepka: Has looked impressive since returning to competitive action following a wrist injury
Andy Swales provides course and current form stats for the FedEx St Jude Classic, as Betfair continues its build up towards the second major of the season ...
"Regarding course stats, it does not appear that Driving Accuracy is of critical importance at Southwind."
The players of the PGA Tour face a couple of long journeys in early June, as they travel hundreds of miles to compete in this week's FedEx St Jude Classic, followed by the US Open.
First, there is a trip of around 600 miles south-west from Columbus, Ohio to Memphis, Tennessee for the St Jude event, before the circus travels 1,150 miles north-east for the national Open on Long Island, New York.
And when you take into account the Tour previously headed from Fort Worth in Texas, to stage last week's Memorial Tournament, you can clearly understand the tiring zig-zag nature of top tier professional golf at this time of year in the States.
Even by American standards these are long journeys and, largely because of the forthcoming US Open, this week's St Jude Classic is the tournament which has unfortunately taken a hit when it comes to quality of field.
Following a string of prestigious events in both the US and Europe, the collective gathering at TPC Southwind in south-west Tennessee is not nearly as strong as those in recent weeks.
However, it is not all doom and gloom. From next year, TPC Southwind will become a venue for one of the sport's WGC tournaments, replacing the one currently held at Firestone in Ohio.
Although not yet confirmed, the tournament is expected to be staged either late July or early August - probably the latter.
Headliners
And regarding this week's field, there is still a sprinkling of star dust in the shape of Dustin Johnson, Brooks Koepka, Henrik Stenson and Phil Mickelson.

Dustin is a former winner of the St Jude Classic, while Koepka has looked sharp since returning to action following a long-term wrist injury.
The 28-year-old from Florida will defend his US Open title next week at Shinnecock Hills and, in his third comeback event at Forth Worth, finished second.
World No 9 Koepka has twice stood on the podium at TPC Southwind.
Mickelson, meanwhile, must also be taken seriously this week, thanks to three podium finishes from his last five starts at the course.
Defending Champion
However, no one can claim to have a better Southwind record than defending champion Daniel Berger - two victories from just two attempts.
Billy Horschel's last four visits have all yielded top 10s, while Peter Uihlein is on a strong current run of form.
Regarding course stats, it does not appear that Driving Accuracy is of critical importance at Southwind.
Seven of the top-10 from this category in 2018 failed to finish inside the top 30, with just one making it into the leading half-a-dozen after 72 holes.
Champion Berger tied-36th, after finding just 55.36% of fairways, while joint runners-up Charl Schwartzel and Whee Kim both hit 51.79% and were outside the top-50 for Driving Accuracy.
Course Info
As for this week's venue, TPC Southwind opened for business 30 years ago, after two-time major winners Hubert Green and Fuzzy Zoeller combined with architect Ron Prichard to build a gently undulating tree-lined course on what was previously a dairy farm.
And it has been part of the PGA Tour schedule since 1989. Although the layout remains virtually untouched, the greens were renovated ahead of the 2005 instalment when the Bentgrass putting surfaces were switched to Bermuda.
MC* - Missed Additional 54-Hole Cut
Twitter: Andy Swales@GolfStatsAlive
| Player | W22 | W21 | W20 | W19 | W18 | W17 | W16 | W15 | W14 | W13 | W12 | W11 |
| --- | --- | --- | --- | --- | --- | --- | --- | --- | --- | --- | --- | --- |
| Dustin Johnson | 8 | | | 17 | | | | 16 | 10 | | 59 | |
| Brooks Koepka | | 2 | | 11 | 42 | MC | | | | | | |
| Henrik Stenson | 13 | | | 23 | | 19 | | | 5 | 6 | | 4 |
| Phil Mickelson | 13 | | | MC | 5 | | | | 36 | 24 | 17 | |
| Tony Finau | 13 | | | 57 | 21 | 6 | | | 10 | 24 | 17 | |
| Daniel Berger | | | | 57 | 55 | MC | | | 32 | 18 | 59 | |
| Charl Schwartzel | MC | | | 2 | 9 | 3 | | MC | MC | | 36 | MC |
| Kevin Chappell | MC | | | MC | | | 30 | MC | MC | | 36 | 7 |
| Luke List | 37 | | | MC | 9 | | MC | 3 | | 24 | 59 | 7 |
| Chez Reavie | | MC | | 30 | | 22 | | | 53 | MC | 29 | |
| Charles Howell | 65 | | 9 | 17 | 21 | | | 55 | | 18 | 9 | 14 |
| Peter Uihlein | 5 | | 21 | | 5 | MC | MC | | | MC | 17 | 66 |
| Patton Kizzire | MC* | 64 | | MC | MC | | | MC | MC | | 36 | MC |
| Adam Scott | 35 | 52 | 9 | 11 | MC* | | MC | | 32 | | | 41 |
| Keegan Bradley | 23 | | | 7 | MC* | MC | 45 | | | 43 | 36 | 26 |
| James Hahn | MC | | MC | MC | MC | | | MC | | 32 | 36 | 58 |
| Billy Horschel | MC | | 21 | 37 | | 1 | 11 | 5 | MC | | | 54 |
| Shane Lowry | 52 | 15 | | 46 | 34 | 28 | | | | 14 | | MC |
| Byeong Hun An | 2 | 15 | | 30 | 63 | MC | | 7 | | 52 | | 14 |
| Beau Hossler | 44 | 64 | 32 | 46 | 34 | | 51 | 16 | | 2 | | 66 |
| Brandt Snedeker | | 42 | MC | MC | | MC | 15 | 23 | | MC* | | MC |
| Ollie Schniederjans | 65 | 74 | | MC* | 34 | | 36 | 42 | | | | 41 |
| Jamie Lovemark | 37 | | | 17 | MC | 10 | 30 | | | 24 | | 41 |
| Lucas Glover | 52 | | | MC* | MC | 22 | | 32 | | 32 | | 49 |
| Austin Cook | MC | MC | | 46 | 34 | | 30 | 50 | MC | | | 36 |
| Grayson Murray | 73 | MC | Wd | 30 | 59 | | 16 | MC | | 14 | | 14 |
| Wesley Bryan | 52 | 71 | | MC | | MC | MC | 42 | MC | | | |
| Ryan Palmer | | MC | MC | 23 | | MC | MC | 76 | | MC | | |
| Brice Garnett | 62 | MC | | 41 | 75 | 4 | MC* | 42 | | MC | 1 | |
| JB Holmes | 13 | | 42 | MC | 42 | MC | MC | | | 32 | | 41 |
| Russell Knox | 44 | 20 | 16 | MC | | 7 | MC | 40 | | MC | | 73 |
| Sung Kang | 57 | MC | 42 | MC | MC | 36 | MC | MC | | Wd | | 58 |
| Chris Kirk | 52 | 11 | | 46 | | MC | 8 | 55 | | MC | | 13 |
| JJ Spaun | MC | MC | 3 | MC | | MC | 26 | MC | | | | |
| Bud Cauley | MC | | | MC | 67 | MC | | 23 | | 18 | | 14 |
| Danny Lee | MC | 14 | | 7 | MC | MC | 51 | 55 | | 64 | | MC |
| Steve Stricker | | 32 | | 23 | | MC | | | | MC | | |
| Keith Mitchell | MC | | 3 | MC* | 34 | MC | 26 | 55 | | 6 | 2 | |
| Brian Gay | 44 | | 12 | MC* | | MC | MC | 70 | | | | 22 |
| Patrick Rodgers | 8 | MC | 53 | MC | 34 | | MC | | | MC | 22 | 7 |
| Scott Stallings | | MC | | MC | MC | MC | | 55 | | MC* | | MC |
| Kevin Tway | 65 | 5 | 9 | 46 | MC | MC | 36 | 67 | | 32 | 28 | 58 |
| Scott Brown | MC | MC | | 23 | MC | 15 | MC | MC | | MC* | | MC |
| Harold Varner | | MC | | 7 | 55 | MC | MC | MC | | MC | 45 | |
| William McGirt | MC | 32 | | MC | | MC | MC | 70 | | MC | | 26 |
| Scott Piercy | | MC | 32 | MC | | 1 | MC | 16 | | 24 | 60 | MC |
| Stewart Cink | MC | 58 | | MC | 72 | | MC | 42 | | | | 58 |
| Kelly Kraft | 35 | MC | MC | MC | MC | MC | | MC | | MC* | 3 | |
| CT Pan | | 20 | 32 | 46 | MC* | MC | MC | 23 | | MC | | 41 |
| Trey Mullinax | MC | 58 | | MC | MC | 31 | 2 | | | | 22 | |
| Sam Saunders | | MC | MC | | 9 | MC | | MC | | 72 | | MC |
| Tom Hoge | 13 | 42 | | MC* | MC* | 10 | MC | 55 | | 60 | | 26 |
| Abraham Ancer | 57 | 52 | 42 | | MC | MC | 58 | | | 8 | 13 | |
| Harris English | | 20 | MC | MC | | MC | 36 | 32 | | MC | 5 | 22 |
| John Huh | 44 | 42 | MC | MC | | 36 | MC | 23 | | 32 | | 26 |
| Talor Gooch | | MC | MC | | 13 | MC | MC | | | MC | | 26 |
| Mackenzie Hughes | MC | 42 | | 57 | 59 | MC | MC | MC | | MC | | 54 |
| Stephan Jaeger | MC | | MC | 1 | MC | MC | MC | | | MC | 54 | |
| Ben Silverman | | 11 | MC | | MC | MC | 45 | | | MC* | | |
| David Lingmerth | 29 | MC | MC | MC | | MC | 51 | 74 | | | 28 | 64 |
| Brandon Harkins | MC | 66 | | 67 | 63 | MC | MC* | MC | | 60 | | 36 |
| Padraig Harrington | 36 | MC | MC | | | 28 | | | | MC* | | MC |
| Vaughn Taylor | | 20 | 59 | MC | 42 | | 16 | MC | | | | |
| Ben Martin | | 32 | MC | MC | MC | | 45 | 55 | | | | MC |
| Robert Streb | MC* | 52 | 53 | MC | 42 | | | MC | | MC | MC | MC |
| Brian Stuard | 70 | 32 | 42 | | MC | 28 | 36 | 67 | | MC | | 36 |
| Nick Taylor | | MC | 32 | MC* | MC | | MC | MC | | MC | | MC |
| Robert Garrigus | | Wd | 21 | MC | | MC | MC | MC | | 18 | MC | |
| Aaron Baddeley | | MC | MC | | MC | MC | 16 | 55 | | 74 | | |
| Martin Piller | MC | 77 | 21 | | MC | | MC | | | 24 | | MC |
| Sam Ryder | | | 42 | | MC | MC | 36 | MC | | 5 | MC | |
| Andrew Putnam | | 20 | 42 | | MC* | 15 | 8 | | | 32 | 5 | |
| Dominic Bozzelli | | | 59 | MC | MC | | MC | 40 | | MC* | | |
| Nicholas Lindheim | | 32 | 32 | | MC | 25 | 36 | | | 14 | | |
| Tyrone Van Aswegen | | 14 | MC | 66 | MC* | 19 | MC | 23 | | 32 | | 72 |
| Derek Fathauer | | 42 | 16 | MC | MC | | MC | MC | | MC | MC | |
| Matt Jones | | | 13 | | | 19 | MC | | | 52 | 28 | |
| Michael Thompson | | 32 | 59 | MC | 42 | | 68 | 42 | | 14 | | |
| Tom Lovelady | | 58 | 70 | | 34 | MC | MC | | | 68 | 5 | |
| Rob Oppenheim | | | MC | 57 | MC | 15 | MC | | | 32 | 35 | |
| Richy Werenski | | 74 | MC | 23 | MC | 25 | 11 | MC | | MC* | 45 | |
| Ryan Blaum | | MC | 6 | MC* | MC* | MC | | MC | | MC | | |
| Ben Crane | | 8 | 53 | | | 31 | 11 | | | 43 | 45 | |
| Chad Campbell | | 42 | MC | MC | | 19 | MC | MC | | 64 | | |
| Nate Lashley | | Wd | 32 | | MC | 15 | MC | | | 18 | 28 | |
| Lanto Griffin | | 2 | MC | | MC | MC | 58 | | | MC | 28 | |
| JT Poston | | 20 | 26 | | MC | MC | 30 | | | 67 | 19 | |
| Daniel Summerhays | MC | | MC | 8 | | 6 | 58 | | | | MC | |
| Martin Flores | | MC | 26 | MC | 59 | MC | MC | MC | | MC | 13 | |
| Corey Conners | | 8 | 53 | | 42 | MC | 26 | MC | | MC | 13 | |
| Jonathan Byrd | | MC | 42 | | MC | 15 | MC | 50 | | MC* | 54 | |
| Seamus Power | | Dq | MC | | 27 | 10 | MC | | | 60 | 5 | |
| Adam Schenk | | MC | 59 | | MC | 7 | 58 | | | 60 | 35 | |
| Xin Jun Zhang | | MC | MC | | 70 | MC | MC | | | MC | 5 | |
| Johnson Wagner | | | 32 | | 13 | MC | 20 | | | 52 | 70 | |
| Jonathan Randolph | | | MC | | 70 | 31 | MC | | | MC | | |
| Shawn Stefani | | 66 | 26 | | 42 | MC | MC | | | 24 | 13 | |
| Retief Goosen | | | | | MC | 19 | 20 | | | MC | 35 | |
| Troy Merritt | | | 53 | | 42 | 10 | 36 | | | 43 | 35 | |
| Joel Dahmen | | 20 | 16 | | 16 | 25 | MC* | | | MC* | 13 | |
| Eric Axley | 59 | 58 | 42 | MC | | MC | 1 | | | 15 | 54 | |
| Cody Gribble | | MC | 32 | 30 | | 34 | MC | MC | | MC | | MC |
| Smylie Kaufman | | MC | MC | | MC | MC | | | | MC | MC | MC |
| Bronson Burgoon | | | 16 | | MC | | MC | | | 24 | MC | |
| DA Points | | | | MC | MC | MC | | MC | | MC | MC | MC |
| Cameron Tringale | | | MC | | 27 | MC | MC | | | MC | MC | |
| Tyler Duncan | | 71 | 26 | | MC* | 7 | MC | | | 52 | MC | MC |
| Joaquin Niemann | 6 | 8 | MC | | MC | | 6 | | MC | | | |
| David Hearn | | MC | MC | | | 10 | 16 | MC | | | 50 | |
| Denny McCarthy | | | 42 | | MC | 25 | 20 | | | 43 | 4 | |
| Conrad Shindler | | 32 | MC | | | 9 | MC | | | | MC | |
| Blayne Barber | | | MC | MC | 67 | MC | | MC | | MC | | |
| Michael Kim | | | MC | MC | | 15 | MC | 77 | | MC | 43 | |
| Billy Hurley | | | MC | | MC* | MC | MC | MC | | | | MC |
| Ricky Barnes | | MC | Dq | | | MC | 51 | | | | 60 | |
| Kyle Thompson | 27 | | MC | 62 | MC | MC | MC | | | 59 | MC | |
| JJ Henry | | MC | MC | 67 | MC* | 10 | MC | 16 | | MC | 65 | |
| Zac Blair | | 67 | 42 | 38 | | MC | 36 | | | 39 | MC | |
| Ethan Tracy | | MC | 13 | 38 | | 5 | 72 | | | 75 | 54 | |
| Matt Atkins | | | 66 | MC | | MC | 68 | | | MC | 22 | |
| Greg Chalmers | | | MC | | 21 | 10 | MC | MC | | 70 | MC | |
| Andrew Yun | | | MC | | | 22 | 64 | | | MC | MC* | |
| Marty Dou Ze Cheng | | MC | MC | | | MC | 51 | | | | MC | |
| Cameron Percy | 6 | Wd | 70 | | | 10 | MC | | | 22 | 54 | |
| Roberto Diaz | 20 | | 66 | | MC | MC | MC | | | 32 | MC | |
| Matt Every | | | MC | | MC | MC | MC | 55 | | 8 | 35 | MC |
| KJ Choi | MC | MC | 35 | | | MC | 45 | 55 | | MC | 5 | |
| Rick Lamb | 20 | 26 | MC | 60 | | MC | MC | | | 52 | 48 | |
| Hunter Mahan | | | MC | | | | 45 | | | 43 | 35 | MC |
| Fabian Gomez | | MC | 32 | | MC* | MC | MC | 50 | | MC* | 22 | |
| Peter Malnati | | | 59 | | 34 | MC | 64 | 67 | | MC | | |
| Steve Marino | | MC | MC | | Wd | | 68 | MC | | 39 | 8 | |
| John Peterson | | | | | 42 | 34 | MC | | | | | |
| Tim Herron | | 11 | MC | | | | | | | | 76 | MC |
| Casey Wittenberg | 55 | MC | MC | MC | | | | | | | | |
| Steve Wheatcroft | | MC | 53 | | | | MC | | | MC | 28 | |
| Stuart Appleby | MC | | MC | MC | | MC | MC | | | MC | MC* | MC |
| Brett Stegmaier | | | MC | | | MC | MC | | | 43 | 60 | |
| Dicky Pride | MC | | MC | 27 | | 42 | 10 | | | MC | 35 | |
| Will MacKenzie | | MC | | | | | | | | | | |
| Braden Thornberry | | | | | | | 22 | | | | | |
| Daniel Chopra | | | MC | | | | | | | | 45 | |
| Jon Curran | | | | Wd | | MC | MC | MC | | MC | | |
| George McNeill | | | MC | 15 | | | | | | | 13 | |
| Scottie Scheffler | | | | | | | | | | | | |
| John Daly | | | | | | MC | | | | | 65 | |
| Bob Estes | | | | | Wd | | | MC | | MC | | |
| Angel Cabrera | | Wd | MC | | | | | 62 | MC | | MC | |
| Will Claxton | 73 | | | 8 | | MC | MC | | | | | |
| David Berganio | | | MC | | | | | | | Wd | MC | |
| Brian Davis | MC | MC | 73 | MC | | MC | Wd | | | 45 | MC | |
| Troy Matteson | | | MC | | | | MC | | | | 19 | |
| Brendon de Jonge | MC | 50 | MC | MC | | 10 | MC | | | MC | 72 | |
| Ken Duke | | MC | MC | MC | | | 67 | | | 67 | 65 | |
| Tommy Gainey | | | MC | MC | | | MC | | | | 22 | |
| Charlie Beljan | | | MC | | | | | | | | | |
| John Merrick | | | MC | | | MC | | | | | 28 | |
| Omar Uresti | | | MC | | | | | | | | 73 | |
| Johan Kok | | | | | | | | | | | | |
| DJ Trahan | | | MC | | | | | | | | 60 | |
| Dawson Armstrong | | 30 | | | | | | | | | | |
| Grant Hirschman | | | | | | | | | | | | |
| Player | 2017 | 2016 | 2015 | 2014 | 2013 | 2012 | 2011 | 2010 | 2009 | 2008 |
| --- | --- | --- | --- | --- | --- | --- | --- | --- | --- | --- |
| Dustin Johnson | | 5 | Wd | 24 | 10 | 1 | | | | |
| Brooks Koepka | 37 | 2 | 3 | 19 | | | | | | |
| Henrik Stenson | | | | | | 13 | | | MC | |
| Phil Mickelson | 9 | 2 | 3 | 11 | 2 | | | | 59 | |
| Tony Finau | | | | | | | | | | |
| Daniel Berger | 1 | 1 | | | | | | | | |
| Charl Schwartzel | 2 | | | | | | | MC | | |
| Kevin Chappell | 4 | | 22 | | | | | | | |
| Luke List | 18 | 50 | | | Wd | | | | | |
| Chez Reavie | 4 | | 12 | | 27 | | MC | | | |
| Charles Howell | | 26 | MC | 28 | 39 | 27 | 3 | 44 | MC | MC |
| Peter Uihlein | MC* | | | | | | | | | |
| Patton Kizzire | MC | | | | | | | | | |
| Adam Scott | 10 | | | | | | | | | |
| Keegan Bradley | | | | | | | 25 | | | |
| James Hahn | | | | 6 | MC | | | | | |
| Billy Horschel | 4 | | 8 | 6 | 10 | 72 | MC | | MC | |
| Shane Lowry | | | | | | | | | | |
| Byeong Hun An | | | | | | | | | | |
| Beau Hossler | | | | | | | | | | |
| Brandt Snedeker | | | | | MC | | 15 | 29 | MC | 35 |
| Ollie Schniederjans | | | | | | | | | | |
| Jamie Lovemark | | | | MC | | MC | | | | MC |
| Lucas Glover | | | 53 | | | | | | | 49 |
| Austin Cook | | | 22 | 13 | | | | | | |
| Grayson Murray | 18 | | | | | | | | | |
| Wesley Bryan | | 58 | | | | | | | | |
| Ryan Palmer | MC* | 68 | 22 | 32 | 4 | 3 | | MC | | MC |
| Brice Garnett | | MC | MC | MC | | | | | | |
| JB Holmes | 52 | | | MC | | 19 | | 59 | | |
| Russell Knox | 37 | | 8 | MC | 74 | MC | | | | |
| Sung Kang | MC* | MC | | | | MC | MC* | | | |
| Chris Kirk | MC* | | | | | MC | | | | |
| JJ Spaun | | | | | | | | | | |
| Bud Cauley | | MC | | Wd | MC | | | | | |
| Danny Lee | 47 | | | 32 | | 49 | | | | |
| Steve Stricker | | 2 | | | | | | | | |
| Keith Mitchell | | | | | | | | | | |
| Brian Gay | MC | 6 | | MC | 39 | MC | MC | 15 | 1 | 60 |
| Patrick Rodgers | MC | | 29 | | | | | | | |
| Scott Stallings | 37 | 41 | MC | 32 | 2 | MC | 25 | | | |
| Kevin Tway | 31 | | | MC | | | | | | |
| Scott Brown | 52 | Wd | 12 | | 39 | MC | | | | |
| Harold Varner | MC | 16 | | | | | | | | |
| William McGirt | MC | | MC | 32 | MC | 13 | MC | | | |
| Scott Piercy | MC | | | | | | MC | | | |
| Stewart Cink | 10 | 65 | 37 | 53 | | | | | | |
| Kelly Kraft | | MC | | | | MC | | | | |
| CT Pan | | | | | | | | | | |
| Trey Mullinax | 18 | | | | | | | | | |
| Sam Saunders | MC | 34 | MC | | | | MC | | | |
| Tom Hoge | MC | 34 | 12 | | | | | | | |
| Abraham Ancer | | 18 | | | | | | | | |
| Harris English | 10 | 26 | 45 | MC | 1 | | | | | |
| John Huh | 67 | | | | | | | | | |
| Talor Gooch | | | | MC | | | | | | |
| Mackenzie Hughes | | | | | | | | | | |
| Stephan Jaeger | | | | | | | | | | |
| Ben Silverman | | | | | | | | | | |
| David Lingmerth | | | | 69 | | | | | | |
| Brandon Harkins | | | | | | | | | | |
| Padraig Harrington | | MC | MC | 65 | 10 | 13 | 52 | 56 | MC | 4 |
| Vaughn Taylor | | 41 | 18 | | 66 | MC | | 37 | 29 | 37 |
| Ben Martin | 60 | MC | | 13 | | | MC | | | |
| Robert Streb | 31 | | | 46 | 39 | | | | | |
| Brian Stuard | MC* | 73 | 74 | | | | | MC | | |
| Nick Taylor | | | | | | | | | | |
| Robert Garrigus | MC | 50 | MC | Wd | | 42 | MC | 2 | 42 | |
| Aaron Baddeley | | MC | 75 | | MC | | | | MC | |
| Martin Piller | | MC | | | | | MC | | | |
| Sam Ryder | | | | | | | | | | |
| Andrew Putnam | | | MC | | | | | | | |
| Dominic Bozzelli | 10 | | | | | | | | | |
| Nicholas Lindheim | Wd | | | | | | | | | |
| Tyrone Van Aswegen | 31 | 18 | 29 | MC | | | | | | |
| Derek Fathauer | 24 | MC | MC | | | | | | 67 | |
| Matt Jones | 18 | 26 | 3 | | MC | MC | | | MC | |
| Michael Thompson | 60 | MC | 3 | MC | | | MC | | | |
| Tom Lovelady | | | | | | | | | | |
| Rob Oppenheim | | 41 | | | | | | | | |
| Richy Werenski | MC | | | | | | | | | |
| Ryan Blaum | MC | | | | | | | | | |
| Ben Crane | 10 | 41 | 37 | 1 | 18 | | MC* | 12 | 14 | |
| Chad Campbell | 10 | 34 | 8 | 46 | 75 | 3 | 32 | 71 | | MC |
| Nate Lashley | | | | | | | | | | |
| Lanto Griffin | | | | | | | | | | |
| JT Poston | MC | | | | | | | | | |
| Daniel Summerhays | MC | | | | | | MC | | | |
| Martin Flores | MC* | | MC | 65 | 47 | 13 | | MC | | |
| Corey Conners | | | MC | | | | | | | |
| Jonathan Byrd | | | MC | MC | 10 | | 25 | 44 | | 55 |
| Seamus Power | 27 | | | | | | | | | |
| Adam Schenk | | | | | | | | | | |
| Xin Jun Zhang | | | | | | | | | | |
| Johnson Wagner | MC | 32 | MC | MC | | | 56 | 12 | | |
| Jonathan Randolph | MC* | | MC | | | | | | | |
| Shawn Stefani | MC | 9 | MC | 63 | 7 | | | | | |
| Retief Goosen | 47 | 12 | MC | 32 | | | 3 | 15 | 29 | MC |
| Troy Merritt | MC | 68 | MC | 2 | | | | MC* | | |
| Joel Dahmen | 18 | | | | | | | | | |
| Eric Axley | | 58 | 45 | MC | | | | | MC | 69 |
| Cody Gribble | MC | | | | MC | | | | | |
| Smylie Kaufman | MC | | | | | | | | | |
| Bronson Burgoon | | 18 | | | | | | | | |
| DA Points | MC | 18 | | Wd | MC | | | 37 | | |
| Cameron Tringale | 37 | MC | MC | 32 | 51 | | 8 | MC | | |
| Tyler Duncan | | | | | | | | | | |
| Joaquin Niemann | | | | | | | | | | |
| David Hearn | 10 | 41 | 45 | MC | 18 | 42 | 47 | | | |
| Denny McCarthy | | | | | | | | | | |
| Conrad Shindler | | | | | | | | | | |
| Blayne Barber | MC | MC | MC | | | | | | | |
| Michael Kim | | 16 | | | | | | | | |
| Billy Hurley | | 52 | 18 | | | MC | | | | |
| Ricky Barnes | MC | | | MC | MC | | | | 47 | |
| Kyle Thompson | | | | | | MC | | | | MC |
| JJ Henry | MC | MC | MC | 13 | 51 | 59 | | MC | 66 | |
| Zac Blair | 52 | 65 | 58 | | | | | | | |
| Ethan Tracy | | | | | | | | | | |
| Matt Atkins | | | | | | | | | | |
| Greg Chalmers | | | MC | | | | 25 | | 69 | |
| Andrew Yun | | | | | | | | | | |
| Marty Dou Ze Cheng | | | | | | | | | | |
| Cameron Percy | MC | 41 | 18 | | MC | | 38 | 25 | | |
| Roberto Diaz | | | | | | | | | | |
| Matt Every | 27 | | Wd | 3 | | | | MC | | |
| KJ Choi | 47 | | | | | | | | | |
| Rick Lamb | 71 | | | | | | | | | |
| Hunter Mahan | MC* | | | | | | | | | |
| Fabian Gomez | 18 | MC | 1 | | MC | | 15 | | | |
| Peter Malnati | MC* | MC | | 19 | | | | | | |
| Steve Marino | | MC | | 28 | MC | | MC | | | |
| John Peterson | MC* | | | 19 | | 61 | | | | |
| Tim Herron | | MC | | MC | MC | MC | 3 | MC | 69 | 13 |
| Casey Wittenberg | | | | | MC | | | 70 | MC | MC |
| Steve Wheatcroft | 10 | 41 | MC | | | MC | | MC | | |
| Stuart Appleby | MC | 62 | | 53 | 39 | 49 | Wd | MC | | 24 |
| Brett Stegmaier | MC | 9 | | | | | | | | |
| Dicky Pride | MC | MC | MC | MC | MC | MC | 66 | 29 | 76 | 66 |
| Will MacKenzie | 52 | 52 | MC | MC | | MC | 60 | 59 | MC | |
| Braden Thornberry | 4 | | | | | | | | | |
| Daniel Chopra | | | | MC | | 27 | | MC | | |
| Jon Curran | | 26 | 53 | | | | | | | |
| George McNeill | MC | MC | 29 | 28 | MC | 38 | 47 | | | |
| Scottie Scheffler | | | | MC | | | | | | |
| John Daly | | | | 71 | 77 | 19 | 38 | 64 | 59 | MC |
| Bob Estes | MC | | | | 63 | 34 | MC | 8 | 23 | 13 |
| Angel Cabrera | | | | | | | | | | |
| Will Claxton | | | | | MC | 61 | | | | |
| David Berganio | | | | | | | | | MC | |
| Brian Davis | | MC | 58 | | 35 | | 38 | | | MC |
| Troy Matteson | | | MC | MC | MC | 49 | 15 | | MC | 69 |
| Brendon de Jonge | MC | MC | 37 | | 39 | 34 | MC | | MC | |
| Ken Duke | MC | 9 | 29 | | MC | 7 | | | | 49 |
| Tommy Gainey | | | 69 | 32 | MC | 49 | | | MC | MC |
| Charlie Beljan | | | 68 | Wd | | MC | | | | |
| John Merrick | MC | 18 | 40 | 63 | 63 | 2 | 11 | 53 | 73 | |
| Omar Uresti | | | | | | 70 | | 50 | 49 | 24 |
| Johan Kok | | | | | | | | | | |
| DJ Trahan | | MC | MC | | 66 | MC | 15 | 8 | MC | |
| Dawson Armstrong | | | | | | | | | | |
| Grant Hirschman | | | | | | | | | | |
Discover the latest articles
Read past articles