FedEx St Jude Classic 2017: Key stats for this week's event in Tennessee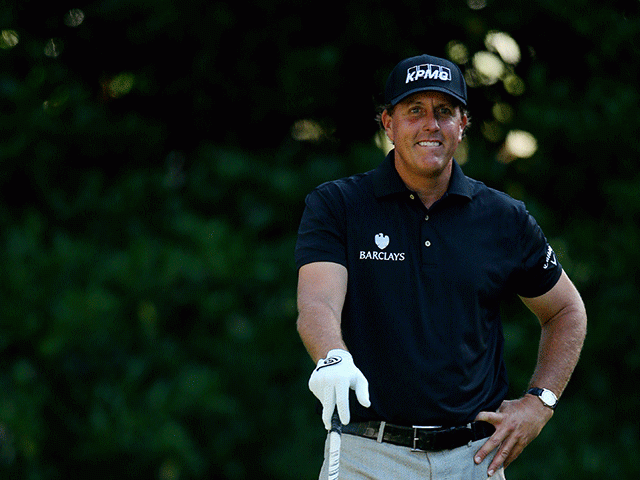 Phil Mickelson: With no major to worry about next week, Leftie may be more relaxed than normal at TPC Southwind.
Andy Swales provides course and current form stats for the FedEx St Jude Classic, as Betfair continues its build up towards the second major of the season ...
"Adam Scott makes his first visit in 10 years, obviously hoping to discover some improved form ahead of the US Open."
The PGA Tour travels around 600 miles south-west for this week's FedEx St Jude Classic in Tennessee.
With the second major championship of the season just around the corner, the field is decent although not as strong as in recent weeks.
TPC Southwind, which staged its first Tour event in 1989, is a tree-lined, parkland course on the outskirts of Memphis, and where water becomes more of an issue on the back nine.
The course has undulating fairways and, 13 years ago, underwent an extensive renovation, when all 18 greens were reconstructed.
During this substantial face lift, the putting surfaces were changed from bentgrass to Champion Bermudagrass while many fairways were narrowed and 15 new bunkers added.
In other modifications, three ponds were enlarged and more than 125 trees planted. Prior to becoming a golf course, this truly rural location was a dairy farm.
While many players have consistently performed well at Southwind over the years, previous course form has not always been a good indication of determining the eventual champion.
Two of the last four winners at Southwind were course debutants, including last year's champion Daniel Berger.
As for those taking part this Thursday, Adam Scott makes his first visit in 10 years, obviously hoping to discover some improved form ahead of next week's US Open.
Rickie Fowler, runner-up in Ohio on Sunday, is also teeing-up for what will be only his second appearance in the tournament.
Two players who have contended more than once at Southwind in recent years are Brooks Koepka and Phil Mickelson.
However, the latter will not be heading to Wisconsin a few days later as Lefty has decided to skip the US Open, and instead attend his daughter's high school graduation.
This could certainly help Mickelson who may feel more relaxed than normal, as he will not have the pressure of trying to locate his 'A-Game' before heading into a major championship.
And if you are searching for an each-way bet this weekend, then you could do far worse than take a punt on Ian Poulter or Steve Stricker.
Both have had their moments in recent weeks, with Stricker still performing pretty well despite turning 50 earlier this year.
| Player | W22 | W21 | W20 | W19 | W18 | W17 | W16 | W15 | W14 | W13 |
| --- | --- | --- | --- | --- | --- | --- | --- | --- | --- | --- |
| Adam Scott | 31 | | | 6 | 36 | | | | 9 | MC |
| Rickie Fowler | 2 | | | 60 | | MC | | | 11 | 3 |
| Francesco Molinari | | 2 | | 6 | 24 | | | 22 | 33 | |
| Charl Schwartzel | 35 | | Wd | MC | | | | | 3 | |
| Brooks Koepka | 31 | | 50 | 16 | | 5 | 2 | | 11 | |
| Phil Mickelson | 22 | 29 | | 41 | 18 | | | | 22 | 55 |
| Kevin Chappell | 52 | | | 35 | | MC | 1 | | 7 | 44 |
| Rafa Cabrera-Bello | MC | | | 4 | 24 | | | MC | MC | MC |
| Russell Knox | 65 | MC | | MC | | MC | | 11 | MC | |
| Daniel Berger | | | | 65 | 36 | MC | | | 27 | 5 |
| Billy Horschel | MC | 34 | 1 | MC | | MC | MC | MC | | 55 |
| JB Holmes | MC | | MC | 41 | 36 | 5 | | | 50 | MC |
| William McGirt | 67 | 61 | | 22 | MC | MC | | 3 | 22 | |
| Russell Henley | | | MC | 35 | | MC | | 26 | 11 | 1 |
| Scott Piercy | MC | 7 | 20 | MC | | | MC | | MC | |
| Soren Kjeldsen | 71 | 30 | | | MC | 24 | 62 | | 36 | |
| Jim Furyk | MC | | | MC | MC | | | MC | MC | |
| Hudson Swafford | MC | | MC | MC | 49 | 32 | | | MC | 6 |
| Ian Poulter | | 40 | 35 | 2 | | 32 | MC | 11 | | |
| Sung Kang | 75 | 57 | 20 | 30 | | MC | 6 | 11 | | 2 |
| Steve Stricker | 40 | 7 | | 41 | | 14 | | | 16 | |
| Graeme McDowell | | 29 | | 69 | 18 | | 27 | 29 | | |
| Ryan Palmer | | 70 | 27 | MC | | 4 | 6 | 11 | | MC |
| Danny Lee | 49 | 6 | 5 | MC | | 14 | MC | 39 | | 20 |
| Daniel Summerhays | 10 | MC | 40 | 53 | | MC | 58 | 59 | 46 | |
| Jason Kokrak | 35 | MC | 4 | MC | 66 | | 67 | MC | | 71 |
| Chris Kirk | MC | 67 | | 12 | 71 | MC | MC | MC | | |
| Roberto Castro | MC | | | 56 | MC | MC | MC | MC | MC | MC |
| Jamie Lovemark | 10 | | 18 | 75 | | MC | 40 | | | 71 |
| Harris English | | 29 | MC | MC | MC | 32 | | MC | | 61 |
| Keegan Bradley | MC | | 27 | 60 | | MC | MC | 44 | | 15 |
| Kyle Stanley | 6 | MC | | 4 | | 29 | | 59 | | 8 |
| Scott Brown | MC | 12 | 35 | MC | MC | 2 | | MC | | 71 |
| Smylie Kaufman | MC | | 35 | 12 | 5 | MC | 37 | | | MC |
| Luke List | MC | MC | | MC | 52 | | MC | MC | | 3 |
| Harold Varner | 19 | MC | | 35 | MC | MC | 40 | 59 | | 23 |
| Bryson DeChambeau | | MC | MC | | MC | MC | MC | MC | | 44 |
| Brian Stuard | 52 | 24 | MC | 75 | | 11 | MC | 56 | 36 | |
| Fabian Gomez | MC | MC | | MC | 75 | MC | | 44 | | MC |
| Chez Reavie | | 48 | MC | 56 | 42 | MC | | MC | | MC |
| Dominic Bozzelli | | 69 | 50 | | MC | 32 | 69 | MC | | |
| Peter Uihlein | 25 | 30 | | | | 31 | 33 | | | 23 |
| CT Pan | 40 | MC | MC | | MC | MC | MC | 44 | | MC |
| Grayson Murray | 35 | | 27 | 79 | 63 | 11 | | 59 | | 55 |
| Patrick Rodgers | 67 | MC | 27 | MC | MC | MC | | | | |
| Robert Streb | | 34 | MC | MC | 24 | 24 | MC | MC | | 34 |
| Patton Kizzire | MC | 63 | | MC | 66 | 5 | | 32 | | MC |
| Padraig Harrington | 31 | MC | | | | | | | | |
| Kelly Kraft | MC | 18 | MC | | | 3 | MC | MC | | MC |
| Chad Campbell | | 34 | 13 | MC | MC | | MC | 32 | | 34 |
| JT Poston | | 41 | MC | | 24 | 32 | 27 | | | 55 |
| Stewart Cink | 25 | 10 | | | MC | | 22 | MC | | 23 |
| Kevin Tway | MC | 18 | 20 | | 5 | 3 | 3 | | | |
| Seung-Yul Noh | | Wd | MC | 22 | 5 | MC | MC | | | 78 |
| John Huh | | MC | 40 | MC | | | 22 | MC | | 39 |
| Kyle Reifers | MC | MC | 20 | MC | 42 | 29 | 37 | MC | | 61 |
| DA Points | 57 | | 73 | MC | 12 | | MC | MC | | 23 |
| Alex Cejka | 57 | | MC | 79 | Wd | 24 | MC | 44 | | Dq |
| Matt Jones | | 63 | MC | | 66 | 22 | 13 | | | 49 |
| Blayne Barber | | MC | | 16 | | MC | 62 | 26 | | 44 |
| Retief Goosen | MC | | | | 49 | 14 | MC | | | MC |
| Cody Gribble | | 41 | MC | 48 | | MC | MC | | | 65 |
| Cameron Tringale | | 72 | 9 | 35 | MC | MC | MC | | | 78 |
| KJ Choi | 67 | | 18 | MC | | 24 | MC | 64 | | MC |
| Michael Thompson | | 57 | MC | | MC | 14 | 49 | MC | | 12 |
| Derek Fathauer | | 48 | | MC | MC | MC | | 32 | | 71 |
| Ben Martin | 35 | 57 | | 30 | 18 | MC | | MC | | MC |
| David Hearn | MC | 70 | | 69 | MC | 22 | MC | 59 | | |
| Robert Garrigus | | | MC | MC | | MC | MC | MC | | 20 |
| Zac Blair | 63 | MC | 40 | MC | 12 | MC | MC | 32 | | 8 |
| Vijay Singh | MC | | | 16 | MC | | | MC | MC | |
| Brian Gay | | 34 | 50 | MC | 52 | | 6 | 6 | | |
| Martin Flores | | MC | MC | | 76 | MC | MC | | | MC |
| Johnson Wagner | MC | MC | | MC | MC | 14 | MC | 39 | | 49 |
| Bryce Molder | | MC | MC | MC | 36 | | 57 | 44 | | 69 |
| Tyrone Van Aswegen | | MC | MC | MC | 42 | 14 | MC | 56 | | 55 |
| Scott Stallings | | 63 | 20 | | MC | MC | MC | | | MC |
| Brandon Hagy | | MC | MC | | 18 | 36 | 34 | | | |
| Richy Werenski | | | MC | | MC | MC | MC | | | 81 |
| Troy Merritt | | | | MC | MC | 24 | 49 | MC | | 55 |
| Whee Kim | | 34 | MC | | MC | MC | MC | MC | | MC |
| Sam Saunders | 57 | 24 | MC | | MC | MC | MC | 11 | | 20 |
| Ricky Barnes | 22 | 18 | 59 | 65 | 63 | 22 | 67 | MC | | 71 |
| Andres Gonzales | 13 | | MC | | MC | MC | 40 | | | 23 |
| Andrew Loupe | | | MC | MC | | MC | 69 | MC | | 10 |
| Nick Watney | | 53 | 40 | | 59 | 5 | MC | | | MC |
| Ryan Brehm | | | 61 | | MC | MC | 34 | | | |
| Camilo Villegas | 63 | Wd | | | MC | 14 | 10 | MC | | |
| Ryan Blaum | | 24 | MC | | 66 | 29 | MC | 64 | | 34 |
| Spencer Levin | | | 66 | MC | 31 | MC | MC | MC | | 23 |
| Xander Schauffele | | 48 | MC | | 24 | 11 | MC | | | |
| Chad Collins | | | MC | | 31 | MC | MC | MC | | MC |
| Seamus Power | | | 57 | | 49 | MC | 58 | | | |
| Jonathan Randolph | | | MC | | 8 | MC | 27 | | | |
| Tim Wilkinson | | | MC | | MC | 14 | MC | | | |
| Willy Wilcox | | | 27 | | Wd | 14 | MC | | | |
| Chris Stroud | | 41 | MC | | MC | 11 | MC | | | MC |
| Boo Weekley | | MC | 40 | 48 | MC | MC | | 44 | | MC |
| Greg Owen | | | 61 | | 76 | MC | MC | | | |
| Sebastian Munoz | MC | | 50 | | MC | 2 | 27 | | | |
| Mark Anderson | MC | | MC | | 24 | | MC | 44 | | MC |
| Cameron Percy | 7 | MC | MC | | MC | 11 | 62 | | | |
| Brett Stegmaier | | | 57 | MC | MC | | MC | MC | | MC |
| Ernie Els | | 51 | 35 | MC | Wd | | | MC | 53 | MC |
| JJ Henry | | MC | 27 | | 66 | 24 | 22 | MC | | 61 |
| Trey Mullinax | | | MC | | MC | MC | MC | 70 | | MC |
| Ken Duke | | | 66 | | 74 | MC | 58 | MC | | MC |
| Jason Bohn | | MC | 40 | MC | 76 | MC | MC | 39 | | MC |
| Nicholas Lindheim | MC | | 66 | | MC | | 27 | | | |
| Julian Etulain | | | MC | | 36 | 5 | 75 | | | |
| Brian Campbell | | | MC | | MC | MC | MC | | | |
| Joel Dahmen | | | 9 | | MC | | MC | | | |
| Shawn Stefani | | | Dq | MC | 63 | MC | 49 | MC | | MC |
| Hiroshi Iwata | 55 | 21 | Wd | 27 | | 24 | 30 | 44 | | |
| Yong-Eun Yang | | | MC | | MC | 6 | Wd | MC | | |
| Peter Malnati | | | 61 | MC | MC | MC | MC | 44 | | MC |
| Ryan Armour | MC | | 27 | | 59 | | MC | | | |
| Ben Crane | | | MC | 79 | | MC | 40 | 70 | | 68 |
| Rick Lamb | 24 | | MC | | MC | 19 | MC | | | |
| Stuart Appleby | 39 | | MC | | MC | 6 | | | | MC |
| Will MacKenzie | | | MC | | MC | MC | MC | | | |
| Bill Lunde | | | | | | | | | | MC |
| Tom Hoge | | | 55 | | MC | 24 | 53 | | | 65 |
| Steve Wheatcroft | 24 | | MC | | MC | | MC | | | |
| Brad Fritsch | MC | | MC | | 71 | | 69 | | | |
| John Peterson | | | MC | | 36 | MC | MC | MC | | |
| Rory Sabbatini | | MC | MC | | Wd | MC | MC | | | |
| Miguel Angel Carballo | 48 | | MC | | 73 | MC | MC | | | |
| Jonathan Byrd | 13 | | MC | | 30 | 19 | 13 | | | |
| Mark Hubbard | 60 | | MC | MC | MC | MC | | 74 | | MC |
| Zack Sucher | MC | | MC | | MC | | 53 | | | |
| Davis Love | | MC | | | MC | | | MC | | 61 |
| Chesson Hadley | 2 | | 17 | | MC | 41 | MC | | | |
| Tag Ridings | | | MC | | 42 | 11 | 40 | | | |
| Nicholas Thompson | MC | | 57 | | Wd | 16 | 62 | | | |
| Max Homa | | | MC | | MC | MC | MC | | | |
| Gonzalo Fdez-Castano | | | MC | | 42 | MC | 13 | | | |
| Brett Drewitt | 52 | | MC | | 31 | | MC | | | |
| Bobby Wyatt | 81 | | MC | | MC | MC | MC | | | |
| Steven Alker | | | MC | | 76 | MC | 76 | | | |
| Mark Wilson | | | | | MC | MC | | | | |
| Tyler Aldridge | MC | | MC | | 52 | | MC | | | |
| Brendon de Jonge | MC | | MC | | MC | | | | | 71 |
| Andres Romero | | | | | | | | | | |
| Bob Estes | | | 70 | | MC | | 27 | | | MC |
| Hunter Mahan | MC | MC | MC | | 52 | | MC | MC | | MC |
| Steven Bowditch | MC | MC | MC | | MC | MC | MC | MC | | MC |
| Carl Pettersson | MC | | MC | | MC | MC | 16 | MC | | MC |
| John Rollins | | | | | | MC | | | | |
| John Merrick | | | MC | | 41 | Wd | | | | |
| Dicky Pride | | | MC | | MC | | | | | |
| Matt Every | MC | MC | MC | MC | | MC | MC | Wd | | 65 |
| Shane Bertsch | MC | | MC | | MC | MC | 20 | | | |
| David Duval | | | | | | | | | | |
| Michael Putnam | MC | | 40 | | MC | 32 | 33 | | | |
| Charlie Wi | | | | | | 24 | | | | |
| S J Park | | | Wd | | | MC | 10 | | | |
| Bobby Gates | 52 | | MC | | MC | | 58 | | | |
| Sam Horsfield | | | | | | | | | | |
| Oliver Peacock | | | | | | | | | | |
| Richie Schembechler | | | | | | | | | | |
| Braden Thornberry | | | | | | | | | | |
| Player | 2016 | 2015 | 2014 | 2013 | 2012 | 2011 | 2010 | 2009 | 2008 | 2007 |
| --- | --- | --- | --- | --- | --- | --- | --- | --- | --- | --- |
| Adam Scott | | | | | | | | | | 7 |
| Rickie Fowler | | | 13 | | | | | | | |
| Francesco Molinari | 34 | | | | | | | | | |
| Charl Schwartzel | | | | | | | MC | | | |
| Brooks Koepka | 2 | 3 | 19 | | | | | | | |
| Phil Mickelson | 2 | 3 | 11 | 2 | | | | 59 | | |
| Kevin Chappell | | 22 | | | | | | | | |
| Rafa Cabrera-Bello | | | | | | | | | | |
| Russell Knox | | 8 | MC | 74 | MC | | | | | |
| Daniel Berger | 1 | | | | | | | | | |
| Billy Horschel | | 8 | 6 | 10 | 72 | MC | | MC | | |
| JB Holmes | | | MC | | 19 | | 59 | | | |
| William McGirt | | MC | 32 | MC | 13 | MC | | | | |
| Russell Henley | 7 | | MC | 27 | | | | | | |
| Scott Piercy | | | | | | MC | | | | |
| Soren Kjeldsen | | | | | | | | | | |
| Jim Furyk | | | | | | | | | | |
| Hudson Swafford | 34 | 29 | MC | | | | | | | |
| Ian Poulter | | | 6 | 51 | | | MC | | | |
| Sung Kang | MC | | | | MC | MC* | | | | |
| Steve Stricker | 2 | | | | | | | | | |
| Graeme McDowell | MC | MC | 24 | | MC | | | 7 | | |
| Ryan Palmer | 68 | 22 | 32 | 4 | 3 | | MC | | MC | MC |
| Danny Lee | | | 32 | | 49 | | | | | |
| Daniel Summerhays | | | | | | MC | | | | |
| Jason Kokrak | | 64 | | MC | MC | | | | | |
| Chris Kirk | | | | | MC | | | | | |
| Roberto Castro | | 40 | MC | 18 | 27 | | | | | |
| Jamie Lovemark | | | MC | | MC | | | | MC | |
| Harris English | 26 | 45 | MC | 1 | | | | | | |
| Keegan Bradley | | | | | | 25 | | | | |
| Kyle Stanley | MC | 62 | MC | | 49 | | | | | |
| Scott Brown | Wd | 12 | | 39 | MC | | | | | |
| Smylie Kaufman | | | | | | | | | | |
| Luke List | 50 | | | Wd | | | | | | |
| Harold Varner | 16 | | | | | | | | | |
| Bryson DeChambeau | | 45 | | | | | | | | |
| Brian Stuard | 73 | 74 | | | | | MC | | | |
| Fabian Gomez | MC | 1 | | MC | | 15 | | | | |
| Chez Reavie | | 12 | | 27 | | MC | | | | |
| Dominic Bozzelli | | | | | | | | | | |
| Peter Uihlein | | | | | | | | | | |
| CT Pan | | | | | | | | | | |
| Grayson Murray | | | | | | | | | | |
| Patrick Rodgers | | 29 | | | | | | | | |
| Robert Streb | | | 46 | 39 | | | | | | |
| Patton Kizzire | | | | | | | | | | |
| Padraig Harrington | MC | MC | 65 | 10 | 13 | 52 | 56 | MC | 4 | MC |
| Kelly Kraft | MC | | | | MC | | | | | |
| Chad Campbell | 34 | 8 | 46 | 75 | 3 | 32 | 71 | | MC | |
| JT Poston | | | | | | | | | | |
| Stewart Cink | 65 | 37 | 53 | | | | | | | |
| Kevin Tway | | | MC | | | | | | | |
| Seung-Yul Noh | 7 | 3 | | MC | 7 | | | | | |
| John Huh | | | | | | | | | | |
| Kyle Reifers | MC | MC | | | MC | | | | | MC |
| DA Points | 18 | | Wd | MC | | | 37 | | | |
| Alex Cejka | | 22 | | | | Wd | 67 | | 4 | Dq |
| Matt Jones | 26 | 3 | | MC | MC | | | MC | | |
| Blayne Barber | MC | MC | | | | | | | | |
| Retief Goosen | 12 | MC | 32 | | | 3 | 15 | 29 | MC | 30 |
| Cody Gribble | | | | MC | | | | | | |
| Cameron Tringale | MC | MC | 32 | 51 | | 8 | MC | | | |
| KJ Choi | | | | | | | | | | |
| Michael Thompson | MC | 3 | MC | | | MC | | | | |
| Derek Fathauer | MC | MC | | | | | | 67 | | |
| Ben Martin | MC | | 13 | | | MC | | | | |
| David Hearn | 41 | 45 | MC | 18 | 42 | 47 | | | | |
| Robert Garrigus | 50 | MC | Wd | | 42 | MC | 2 | 42 | | |
| Zac Blair | 65 | 58 | | | | | | | | |
| Vijay Singh | | | | | | | | | 11 | 30 |
| Brian Gay | 6 | | MC | 39 | MC | MC | 15 | 1 | 60 | 4 |
| Martin Flores | | MC | 65 | 47 | 13 | | MC | | | |
| Johnson Wagner | 32 | MC | MC | | | 56 | 12 | | | MC |
| Bryce Molder | | MC | | MC | 24 | MC | | 2 | | Wd |
| Tyrone Van Aswegen | 18 | 29 | MC | | | | | | | |
| Scott Stallings | 41 | MC | 32 | 2 | MC | 25 | | | | |
| Brandon Hagy | | | | | | | | | | |
| Richy Werenski | | | | | | | | | | |
| Troy Merritt | 68 | MC | 2 | | | | MC* | | | |
| Whee Kim | 34 | 45 | | | | | | | | |
| Sam Saunders | 34 | MC | | | | MC | | | | |
| Ricky Barnes | | | MC | MC | | | | 47 | | |
| Andres Gonzales | MC | | | 71 | | 38 | | | | |
| Andrew Loupe | MC | MC | MC | | | | | | | |
| Nick Watney | | 53 | | | | | | | | |
| Ryan Brehm | | | | | | | | | | |
| Camilo Villegas | 58 | 18 | 11 | 10 | MC | 3 | 8 | 29 | 18 | 46 |
| Ryan Blaum | | | | | | | | | | |
| Spencer Levin | | 22 | | | MC | 15 | 37 | MC | | |
| Xander Schauffele | | | | | | | | | | |
| Chad Collins | 18 | 45 | MC | | | Wd | MC* | | MC | |
| Seamus Power | | | | | | | | | | |
| Jonathan Randolph | | MC | | | | | | | | |
| Tim Wilkinson | MC | 45 | 32 | | | | MC | MC | MC | |
| Willy Wilcox | MC | 12 | 19 | | | | | | | |
| Chris Stroud | | MC | | | | Wd | MC | 47 | MC | 63 |
| Boo Weekley | 12 | 8 | 46 | 27 | 27 | 32 | 53 | MC | 4 | MC |
| Greg Owen | MC | 2 | 60 | MC | 11 | | MC | | | |
| Sebastian Munoz | | | | | | | | | | |
| Mark Anderson | | | | | MC | | | | | |
| Cameron Percy | 41 | 18 | | MC | | 38 | 25 | | | |
| Brett Stegmaier | 9 | | | | | | | | | |
| Ernie Els | MC | | | | | | | | | |
| JJ Henry | MC | MC | 13 | 51 | 59 | | MC | 66 | | |
| Trey Mullinax | | | | | | | | | | |
| Ken Duke | 9 | 29 | | MC | 7 | | | | 49 | 55 |
| Jason Bohn | MC | 29 | 24 | 18 | MC | MC | | 19 | | |
| Nicholas Lindheim | | | | | | | | | | |
| Julian Etulain | | | | | | | | | | |
| Brian Campbell | | | | | | | | | | |
| Joel Dahmen | | | | | | | | | | |
| Shawn Stefani | 9 | MC | 63 | 7 | | | | | | |
| Hiroshi Iwata | MC | | | | | | | | | |
| Yong-Eun Yang | | | | | 66 | MC | | | MC | |
| Peter Malnati | MC | | 19 | | | | | | | |
| Ryan Armour | | | | | | | | | MC | 39 |
| Ben Crane | 41 | 37 | 1 | 18 | | MC* | 12 | 14 | | |
| Rick Lamb | | | | | | | | | | |
| Stuart Appleby | 62 | | 53 | 39 | 49 | Wd | MC | | 24 | MC |
| Will MacKenzie | 52 | MC | MC | | MC | 60 | 59 | MC | | 8 |
| Bill Lunde | | MC | | MC | 34 | | MC | 42 | | |
| Tom Hoge | 34 | 12 | | | | | | | | |
| Steve Wheatcroft | 41 | MC | | | MC | | MC | | | MC |
| Brad Fritsch | | | MC | 56 | | | | | | |
| John Peterson | | | 19 | | 61 | | | | | |
| Rory Sabbatini | | | | 7 | | | | | | |
| Miguel Angel Carballo | 52 | | 53 | | MC | | | | | |
| Jonathan Byrd | | MC | MC | 10 | | 25 | 44 | | 55 | |
| Mark Hubbard | MC | 45 | | | | | | | | |
| Zack Sucher | | 53 | | | | | | | | |
| Davis Love | | MC | 43 | 18 | 3 | | | | 24 | |
| Chesson Hadley | MC | MC | 13 | | | | | | | |
| Tag Ridings | | MC | MC | 27 | | MC* | | 29 | MC | Wd |
| Nicholas Thompson | | MC | MC | 27 | | | 61 | | MC | |
| Max Homa | | 66 | | | | | | | | |
| Gonzalo Fdez-Castano | | MC | 46 | | | | | | | |
| Brett Drewitt | | | | | | | | | | |
| Bobby Wyatt | MC | | | | | | | | | |
| Steven Alker | | 22 | | | | | | | | |
| Mark Wilson | MC | 69 | MC | 18 | | | | | | |
| Tyler Aldridge | MC | | | | | | | MC | | |
| Brendon de Jonge | MC | 37 | | 39 | 34 | MC | | MC | | MC |
| Andres Romero | MC | MC | MC | | | | | MC | | |
| Bob Estes | | | | 63 | 34 | MC | 8 | 23 | 13 | MC |
| Hunter Mahan | | | | | | | | | | 17 |
| Steven Bowditch | 70 | 22 | MC | MC | 68 | MC | | | | Wd |
| Carl Pettersson | 70 | 40 | 3 | | | 8 | | MC | | |
| John Rollins | 34 | 58 | 50 | 6 | MC | 25 | 15 | | | |
| John Merrick | 18 | 40 | 63 | 63 | 2 | 11 | 53 | 73 | | MC |
| Dicky Pride | MC | MC | MC | MC | MC | 66 | 29 | 76 | 66 | MC |
| Matt Every | | Wd | 3 | | | | MC | | | |
| Shane Bertsch | | | | | 49 | 38 | | | | |
| David Duval | | MC | Wd | MC | MC | | | MC | 60 | |
| Michael Putnam | | | MC | | | 47 | | | | 39 |
| Charlie Wi | 41 | MC | 28 | | | | | | MC | 75 |
| S J Park | | MC | | | | | | | | |
| Bobby Gates | | | MC | MC | MC | MC* | | | | |
| Sam Horsfield | | | | | | | | | | |
| Oliver Peacock | | | | | | | | | | |
| Richie Schembechler | | | | | | | | | | |
| Braden Thornberry | | | | | | | | | | |
Discover the latest articles