Dubai Duty Free Irish Open 2018: Form stats for this week's trip to Ballyliffin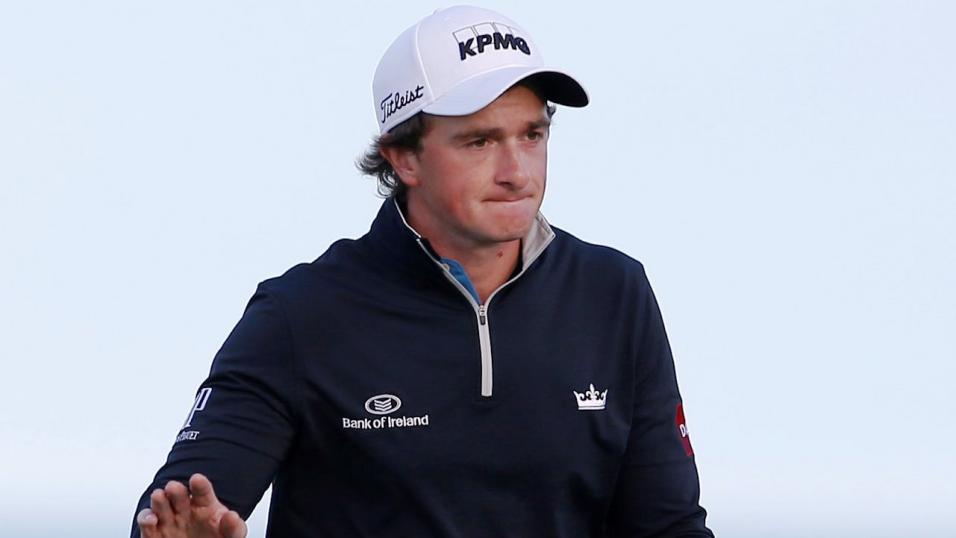 Paul Dunne: Links golf holds no fear for the young Irishman
The European Tour heads to the links of Ballyliffin for the prestigious Irish Open. Andy Swales provides the stats for this week's tournament...
"Shane Lowry is another leading exponent of seaside golf and it is nine years since he burst onto the scene at County Louth."
For the next three weeks, the European Tour becomes a haven for links golf, with the Irish, Scottish and 'British' opens taking place at some of the finest locations in sport.
First up is the Dubai Duty Free Irish Open, which tees off at Ballyliffin in County Donegal this Thursday.
Ballyliffen is a small village which sits on Ireland's northern coast, overlooking the Atlantic Ocean, and is more northerly than Hadrian's Wall, which separates England and Scotland.
Opened in August 1995, Ballyliffin's Glashedy Links - as it is known - was designed by well-known Dublin architects Pat Ruddy and Tom Craddock.
As with most golf played by the seaside, weather conditions will have a key role when Ballyliffin hosts its first European Tour event this week.
And Glashedy is a traditional links, with pot bunkers, rolling fairways and tricky sloping putting surfaces, all of which will test every part of a golfer's game.
Irish Hopefuls
There is a strong and plentiful Irish contingent teeing-up, all hoping to grab a sizeable cheque at their national open.
Rory McIlroy is the leading name in town, with the four-time major champion seeking a second victory in this event.
The world No 8 has a strange record in the Irish Open, with his last five starts yielding one victory and four missed cuts.
If you are searching for an Irishman to back this week, then young Paul Dunne might be worth a flutter.
The 25-year-old has performed solidly this year - including four top-10s since mid-March - and tied-for-21st in France on Sunday.
And because of his sound knowledge of links golf, Dunne could emerge from the shadows of his more illustrious compatriots to post a serious challenge this weekend.
Shane Lowry is another leading exponent of seaside golf and it is nine years since he burst onto the scene at County Louth - while still an amateur - to win on home soil.
Lowry has been a little under the radar in recent months, although did post a top-20 at Le Golf National over the weekend.
Spanish Charge
In addition to the hosts, Spain can boast two of the biggest names taking part at Ballyliffen.
World No 5 Jon Rahm usually plays well on his trips back to Europe, while Rafa Cabrea-Bello has a good record in this event - despite missing the cut 12 months ago.
Up-and-coming Spaniard Adrian Otaegui is starting to show more consistency from week-to-week, while Chris Wood has previously displayed he has the game to prosper on links.
The Englishman came mighty close to winning last week on the outskirts of Paris and has posted three top-10s at the Irish Open since making his debut in the tournament in 2009.
Finally, don't discount the Thai challenge. Kiradech Aphibarnrat has played well in the past on links, while young Jazz Janewattananond continues to show promise.
The 22-year-old won in Asia on Sunday, making it three titles in 17 months, along with four other podium positions, although he remains an unknown quantity in this type of specialised golf.
MC* - Missed Additional 54-Hole Cut
Twitter: Andy Swales@GolfStatsAlive
Course Key for Irish Open
2008: Adare Manor
2009: County Louth
2010: Killarney
2011: Killarney
2012: Royal Portrush
2013: Carton House
2014: Fota Island
2015: Royal County Down
2016: The K Club
2017: Portstewart
| Player | W26 | W25 | W24 | W23 | W22 | W21 | W20 | W19 | W18 | W17 | W16 | W15 |
| --- | --- | --- | --- | --- | --- | --- | --- | --- | --- | --- | --- | --- |
| Jon Rahm | 5 | | MC | | | 5 | | 63 | | MC | | 1 |
| Rory McIlroy | | 12 | MC | | 8 | 2 | | MC | 16 | | | |
| Rafael Cabrera-Bello | MC | | 36 | | 4 | 8 | | 17 | | MC | | MC |
| Kiradech Aphibarnrat | 48 | | 15 | MC | 13 | 5 | | 30 | | 45 | | |
| Matthew Fitzpatrick | 27 | | 12 | | 30 | 8 | | 46 | | | | 14 |
| Hao Tong Li | 21 | | 16 | | 19 | 43 | | MC | | 32 | | |
| Peter Uihlein | | | 48 | 43 | 5 | | 21 | | 5 | MC | MC | |
| Alexander Levy | 65 | | MC | | 65 | 52 | | MC | | 14 | 1 | |
| Dylan Frittelli | 12 | | MC | | 30 | MC | | | MC | | 20 | 32 |
| Thorbjorn Olesen | MC | 2 | MC | | 1 | 60 | | MC | | 37 | | 46 |
| Matt Wallace | MC | 1 | MC | | 51 | 20 | | | | 3 | MC | MC |
| Yusaku Miyazato | MC | MC | | | 70 | Wd | | 6 | | 18 | 13 | 12 |
| Thomas Pieters | 31 | 18 | | | 14 | MC | 39 | | | | 66 | |
| Paul Dunne | 21 | | | | 30 | MC | | | | 7 | MC | 2 |
| Shubhankar Sharma | 27 | | MC | | MC | 20 | | | | 14 | MC | |
| Alexander Bjork | 8 | 33 | | | MC | 27 | | | | 1 | 3 | 39 |
| Adrian Otaegui | 12 | 56 | | | 36 | MC | 1 | | | 2 | 19 | 12 |
| Julian Suri | 2 | 51 | | | 29 | 43 | | | | 53 | 58 | |
| Shane Lowry | 16 | | MC | 30 | 52 | 15 | | 46 | 34 | 28 | | |
| Jorge Campillo | 8 | 33 | | | 60 | MC | 5 | | | 3 | 46 | 5 |
| Mikko Korhonen | MC | 2 | | 1 | MC | 15 | | 26 | | | 41 | MC |
| Lee Westwood | Wd | | | | 5 | 27 | | | | | | |
| Chris Paisley | MC | 26 | | | MC | MC | | | MC | 4 | MC | |
| Lucas Bjerregaard | 61 | 5 | | | 71 | 3 | | 5 | | 6 | MC | |
| Mike Lorenzo-Vera | 16 | MC | | | 19 | 43 | 8 | 2 | | | 62 | 34 |
| Eddie Pepperell | | Dq | | | 51 | 43 | | 14 | | | MC | MC |
| George Coetzee | 44 | | | | MC | MC | | 43 | | | MC | 4 |
| Andy Sullivan | 21 | 9 | | | 5 | 35 | | 3 | | | 7 | 21 |
| Dean Burmester | 56 | | 56 | | 30 | 12 | | 3 | | MC | Dq | 71 |
| Russell Knox | 2 | 38 | 12 | | 44 | 20 | 16 | MC | | 7 | MC | 40 |
| Jordan Smith | 21 | | | | 8 | MC | 46 | | | 3 | 52 | MC |
| Hideto Tanihara | 56 | | | | MC* | 35 | | | | MC | | 9 |
| Ryan Fox | 44 | | 41 | | 8 | 43 | 65 | | | 37 | 12 | MC |
| Fabrizio Zanotti | 37 | | | | 60 | 15 | | | | | MC | MC |
| Chris Wood | 2 | 33 | | | 36 | 27 | MC | | | | MC | |
| Darren Fichardt | MC | | | | MC* | 7 | | | | | 52 | 58 |
| Wade Ormsby | 12 | 16 | | 30 | 71 | MC | | | | MC | 52 | |
| Pablo Larrazabal | MC | | | | Wd | MC | | | | 27 | MC | 21 |
| Joakim Lagergren | MC | | | | MC | MC | | 1 | | 37 | 3 | MC |
| Andrew Johnston | Wd | | 62 | | 42 | MC | | | | | | 12 |
| Nicolas Colsaerts | MC | | | 3 | MC | MC | 7 | | | MC | MC | 28 |
| Erik Van Rooyen | MC | | | | 42 | 20 | 46 | | | MC | 7 | 21 |
| Benjamin Hebert | MC | | | | 23 | 35 | 2 | | | MC | 13 | |
| Dave Horsey | 27 | 40 | | 7 | MC | MC | | MC | | | 36 | MC |
| Jeung-Hun Wang | MC | MC | | | MC* | 52 | | | | 7 | 13 | MC |
| Julien Guerrier | MC | MC | | | 51 | MC | | 6 | | 20 | MC | 9 |
| Scott Jamieson | MC | 12 | | | MC* | MC | | | | 53 | MC | MC |
| Richie Ramsay | MC | | MC | | MC | 35 | 46 | | | | 32 | 72 |
| Graeme McDowell | 37 | MC | MC | | 5 | 12 | MC | | 27 | 22 | 51 | 55 |
| Nacho Elvira | 53 | 9 | | | 42 | MC | | | | 14 | 22 | 3 |
| Marcus Kinhult | 5 | 59 | | | MC | 12 | | | | 63 | MC | MC |
| Soren Kjeldsen | 49 | 7 | | 23 | 42 | MC | 17 | Wd | | | MC | MC |
| Jazz Janewattananond | 1 | 32 | | 6 | | 4 | 37 | MC | 12 | 56 | 28 | |
| David Lipsky | MC | 18 | | | 65 | 27 | 23 | | | 45 | MC | 67 |
| Jason Scrivener | MC | | MC | | 21 | MC | | MC | | 20 | MC | 73 |
| Scott Hend | 44 | 7 | | 6 | 14 | MC | | | 64 | MC | MC | |
| Aaron Rai | MC | 5 | | | 51 | MC | 46 | | | 20 | 52 | 12 |
| Matthew Southgate | 5 | | MC | | MC | 27 | 12 | 48 | | | | |
| Matthieu Pavon | MC | | 25 | | MC | 64 | MC | | | MC | MC | MC |
| Callum Shinkwin | Wd | MC | | | 8 | MC | 65 | | | MC | 13 | 28 |
| Gavin Green | MC | 73 | | | MC* | 52 | 34 | | | 56 | MC | 46 |
| Renato Paratore | MC | MC | | | MC | MC | | | | MC | 61 | 21 |
| Lee Slattery | MC | 45 | | 19 | 3 | MC | | 58 | | MC | 32 | MC |
| Haydn Porteous | MC | 51 | | | 51 | 43 | 39 | 41 | | MC | MC | |
| Richard Sterne | 31 | 51 | | | 65 | MC | | | | | 22 | 34 |
| Thomas Detry | 16 | 18 | | | 36 | 43 | 33 | | | MC | 19 | MC |
| Adam Bland | MC | MC | | 12 | 23 | MC | 28 | | | MC | MC | MC |
| Phachara Khongwatmai | 49 | MC | | 30 | MC | MC | MC | | 12 | 56 | 66 | MC |
| Robert Rock | MC | | | | 42 | 20 | | | | | 36 | 28 |
| Tapio Pulkkanen | MC | | | 38 | MC | MC | | 63 | | 56 | 36 | 21 |
| Sam Horsfield | MC | 59 | | | MC | 15 | 41 | MC | | 32 | MC | MC |
| Jacques Kruyswijk | 61 | MC | | | 14 | 20 | MC | 14 | | | MC | 9 |
| Lorenzo Gagli | MC | 63 | | 23 | 14 | | 20 | 20 | | 2 | 36 | MC |
| Oliver Fisher | MC | MC | | | 21 | MC | 10 | | | MC | 52 | MC |
| Andrew Dodt | MC | | | | MC | 51 | MC | | | 27 | 32 | MC |
| Paul Waring | MC | | MC | | MC | 52 | | 11 | | | 9 | 63 |
| Jin Ho Choi | MC | MC | | 35 | MC | MC | 31 | | 20 | 7 | MC | 58 |
| Alvaro Quiros | 53 | MC | | | MC | MC | | MC | | 45 | 2 | MC |
| Marc Warren | Dq | MC | | | MC | 60 | MC | | | MC | 46 | 5 |
| Stephen Gallacher | 59 | MC | | | MC | 52 | 12 | | | | MC | 52 |
| Padraig Harrington | | 74 | | 56 | 36 | MC | MC | | | 28 | | |
| Clement Sordet | MC | MC | | | MC | MC | MC | | | 45 | MC | MC |
| Andres Romero | MC | 45 | | | MC* | MC | | | | MC | 5 | |
| David Drysdale | MC | 40 | | | 65 | MC | 3 | MC | | | MC | MC |
| Austin Connelly | 37 | 40 | | 19 | 51 | MC | MC | 11 | | MC | 13 | 63 |
| Mikko Ilonen | 35 | | | | MC | MC | | | | 14 | 3 | |
| Romain Wattel | MC | | | | MC | MC | 59 | | | 56 | 52 | |
| Matthias Schwab | 37 | 40 | | 12 | 42 | 10 | 28 | 20 | | | MC | 28 |
| Ryan Evans | MC | | MC | 47 | 60 | MC | 59 | 11 | | | 46 | MC |
| Andrea Pavan | 56 | 56 | | 23 | MC | 52 | MC | 9 | | 11 | 3 | 21 |
| Nino Bertasio | 16 | MC | | Wd | MC | 60 | | 70 | | 32 | 59 | 34 |
| Maximilian Kieffer | MC | 12 | | | MC | 42 | 28 | | | MC | 41 | 12 |
| Jens Dantorp | 44 | MC | | | 42 | 35 | 46 | 48 | | | MC | 67 |
| Justin Walters | MC | 9 | | 3 | | | 22 | 34 | | | MC | |
| Oliver Farr | MC | MC | | 7 | MC | MC | 25 | 26 | | | MC | MC |
| Thongchai Jaidee | MC | MC | | | MC | 8 | | | | MC | MC | 73 |
| Pedro Oriol | 27 | MC | | MC | MC | MC | 46 | MC | | | 29 | 39 |
| Brandon Stone | MC | MC | | | 65 | 60 | MC | | | MC | 22 | 39 |
| SSP Chawrasia | MC | MC | | | MC | MC | MC | 41 | | MC | 40 | |
| Connor Syme | MC | 45 | | 2 | MC | | MC | MC | | | 74 | MC |
| Sam Brazel | 35 | MC | | | MC | MC | | | | MC | MC | |
| Ashun Wu | MC | | | 47 | 60 | 64 | MC | | | 7 | 29 | 34 |
| Adrien Saddier | MC | 74 | | | 51 | 35 | MC | MC | | | MC | MC |
| Brett Rumford | 61 | | | | 42 | MC | MC | | | MC | MC | 5 |
| Robert Karlsson | MC | MC | | | MC | MC | 15 | | | | MC | MC |
| Marcus Fraser | MC | MC | | 19 | MC | MC | 34 | MC | | 32 | 22 | 46 |
| Edoardo Molinari | MC | 16 | | | MC | MC | | 9 | | 45 | MC | MC |
| Sebastian Heisele | 40 | MC | | MC* | MC | | MC | MC | | 4 | MC | MC |
| James Morrison | 49 | | MC | | 23 | MC | 46 | MC | | 65 | MC | MC |
| Jamie Donaldson | 53 | Wd | | | MC* | MC | MC | | | MC | 32 | MC |
| Steven Brown | 37 | MC | | | MC | MC | MC | 7 | | | 65 | MC |
| Richard Bland | 60 | MC | | | 70 | 35 | MC | | | MC | MC | MC |
| Chase Koepka | MC | 63 | | MC | MC | MC | MC | 34 | | | MC | MC |
| Marcel Siem | MC | MC | | | MC | MC | MC | | | 56 | 19 | |
| Chris Hanson | MC | MC | | MC | MC | MC | MC | | | 27 | 41 | MC |
| Bradley Dredge | 44 | 26 | | 38 | 23 | MC | MC | MC | | | 13 | 52 |
| Thomas Aiken | MC | MC | | | 30 | MC | MC | 14 | | | MC | MC |
| Jeff Winther | 31 | MC | | 30 | MC | MC | 17 | 14 | | | MC | 34 |
| Peter Hanson | MC | 69 | | 7 | MC* | MC | MC | | | | MC | |
| Matteo Manassero | MC | MC | | | 36 | 27 | | 20 | | 20 | 46 | 39 |
| Danny Willett | MC | | MC | | 8 | MC | | MC | | | MC | |
| Lasse Jensen | MC | 45 | | | MC | 27 | MC | | | 27 | MC | MC |
| Scott Fernandez | MC | MC | | 7 | MC | 43 | 26 | 34 | | | MC | MC |
| Gregory Bourdy | MC | 33 | | MC | MC | MC | | 74 | | MC | 62 | 46 |
| Ashley Chesters | 21 | 63 | | 7 | MC | MC | MC | | | 20 | MC | MC |
| Charlie Ford | MC | 66 | | 38 | 23 | MC | MC | MC | | | MC | 63 |
| Jason Norris | MC | MC | | MC* | MC | MC | MC | | | 27 | Wd | 58 |
| Gavin Moynihan | | 6 | | MC | | Wd | MC | | | MC | MC | MC |
| Nico Geyger | MC | 18 | 10 | MC | MC | | 20 | MC | 23 | 4 | MC | MC |
| Gregory Havret | 49 | MC | | | MC* | MC | 38 | | | MC | MC | MC |
| Marcel Schneider | | MC | | MC | 1 | 25 | 46 | MC | | MC | 66 | 58 |
| Ricardo Gouveia | 31 | MC | | | MC | MC | MC | | | 45 | 59 | 52 |
| Ben Evans | 29 | 14 | 12 | MC | | | MC | MC | MC | | MC | MC |
| James Heath | | 45 | | | MC | 68 | 4 | MC | | | 72 | MC |
| Gonzalo F`dez-Castano | MC | 33 | | 14 | 30 | MC | 19 | MC | | 24 | Wd | MC |
| Henric Sturehed | 12 | 51 | | 50 | | | | Wd | | | 52 | 5 |
| Christiaan Bezuidenhout | MC | 33 | | MC* | MC | | 26 | 26 | | 46 | 22 | 28 |
| Zander Lombard | MC | MC | | MC | MC | MC | MC | 34 | | | MC | MC |
| Felipe Aguilar | 37 | 51 | MC | Dq | MC | | 59 | MC | 65 | 17 | MC | 28 |
| Christofer Blomstrand | MC | 26 | | MC | 4 | | MC | MC | | | MC | MC |
| Raphael Jacquelin | 37 | 66 | | 3 | MC | MC | MC | | | | 41 | MC |
| Carlos Pigem | MC | MC | | MC | MC | MC | | | 20 | MC | MC | MC |
| Laurie Canter | MC | MC | | MC* | 36 | | 31 | 26 | | | 29 | MC |
| Daniel Brooks | MC | Wd | | MC | 73 | 67 | MC | 48 | | MC | 66 | MC |
| Mark Foster | MC | 12 | | 30 | MC | | MC | MC | | | MC | MC |
| Bradley Neil | MC | 33 | | MC | MC | 58 | MC | MC | | MC | MC | 58 |
| Ross McGowan | 40 | MC | | 38 | 51 | 46 | MC | MC | 2 | | MC | MC |
| Sebastien Gros | MC | 26 | | | MC | 27 | MC | 48 | | | MC | 12 |
| Daniel Im | MC | MC | | MC* | MC* | MC | MC | 48 | | MC | MC | MC |
| Matthew Baldwin | MC | MC | | MC | MC | | 9 | 55 | | | MC | 52 |
| Pep Angles | | MC | | Wd | MC | | MC | 14 | 48 | | MC | 46 |
| Thomas Bjorn | MC | | | | | MC | | 41 | | | MC | |
| Soomin Lee | MC | MC | MC | | MC | MC | MC | | | 14 | Dq | MC |
| Pontus Widegren | | MC | | MC | MC | | MC | Dq | | | 41 | MC |
| Jonathan Thomson | | MC | | MC* | | | MC | MC | | MC | 66 | 39 |
| Rak Hyun Cho | MC | MC | | MC | MC | 64 | 41 | MC | | MC | MC | 12 |
| David Howell | MC | 26 | | | 42 | MC | | MC | | | 36 | 39 |
| Ruaidhri McGee | | 36 | | 35 | 4 | | 17 | MC | 23 | MC | | |
| Josh Geary | 61 | MC | | MC | 51 | | 10 | MC | | 26 | 46 | MC |
| Trevor Immelman | MC | | | | 60 | 58 | | | | | | |
| Paul McGinley | | | | | | | | | | | | |
| Darren Clarke | | | | | | | | | | | | |
| Matthew Nixon | MC | 18 | | MC* | 16 | | MC | 48 | | 26 | 46 | MC |
| Cormac Sharvin | | MC | MC | 23 | 63 | | 20 | MC | 15 | MC | | MC |
| Neil O`Briain | | | | MC | | | | | | | | |
| Simon Thornton | | | | | | | | | | | | |
| Colm Moriarty | | | | | | | | | | | | |
| Cian McNamara | | | | | | | | | | | | |
| Player | 2017 | 2016 | 2015 | 2014 | 2013 | 2012 | 2011 | 2010 | 2009 | 2008 |
| --- | --- | --- | --- | --- | --- | --- | --- | --- | --- | --- |
| Jon Rahm | 1 | | | | | | | | | |
| Rory McIlroy | MC | 1 | MC | MC | MC | 10 | 34 | 35 | 50 | 7 |
| Rafael Cabrera-Bello | MC | 8 | 4 | 26 | 5 | 2 | MC | MC | 20 | |
| Kiradech Aphibarnrat | MC | | MC | | | | | | | |
| Matthew Fitzpatrick | 54 | MC | 8 | 29 | | | | | | |
| Hao Tong Li | 36 | 18 | | 66 | | | | | | |
| Peter Uihlein | 14 | | 60 | | 32 | | | | | |
| Alexander Levy | MC | Ret | MC | MC | MC | | | | | |
| Dylan Frittelli | MC | | | | | MC | | | | |
| Thorbjorn Olesen | 48 | 10 | MC | | | 18 | 15 | | | |
| Matt Wallace | MC | | | | | | | | | |
| Yusaku Miyazato | | | | | | | | | | |
| Thomas Pieters | MC | MC | MC | 38 | | | | | | |
| Paul Dunne | 54 | 60 | | | | | | | | |
| Shubhankar Sharma | | | | | | | | | | |
| Alexander Bjork | MC | | | | | | | | | |
| Adrian Otaegui | 20 | 19 | MC | MC | | | | | | |
| Julian Suri | | | | | | | | | | |
| Shane Lowry | 20 | 23 | 43 | MC | 5 | 51 | MC | 21 | 1 | |
| Jorge Campillo | MC | 19 | MC | MC | 32 | 44 | | | | |
| Mikko Korhonen | | 23 | | MC | | | MC | | | |
| Lee Westwood | MC | 10 | 53 | | | | | | 30 | 3 |
| Chris Paisley | MC | MC | | | 65 | | | | | |
| Lucas Bjerregaard | MC | MC | 18 | MC | | | | | | |
| Mike Lorenzo-Vera | | MC | MC | | | | | | 20 | 31 |
| Eddie Pepperell | | 8 | 2 | MC | 22 | | | | | |
| George Coetzee | MC | MC | MC | | | MC | | MC | | |
| Andy Sullivan | 20 | MC | 6 | MC | 22 | MC | | | | |
| Dean Burmester | 58 | | | | | | | | | |
| Russell Knox | | 2 | | | | | | | | |
| Jordan Smith | 20 | | | | | | | | | |
| Hideto Tanihara | 10 | | | | | | | | | |
| Ryan Fox | 4 | | | | | | | | | |
| Fabrizio Zanotti | 30 | MC | 40 | 14 | MC | 2 | MC | MC | | MC |
| Chris Wood | | 54 | 16 | 8 | | MC | MC | 3 | 10 | |
| Darren Fichardt | MC | MC | 21 | 63 | MC | MC | | | | |
| Wade Ormsby | 14 | | MC | 49 | | | MC | | | |
| Pablo Larrazabal | MC | 31 | MC | 26 | 4 | | | MC | 30 | 16 |
| Joakim Lagergren | MC | MC | | | MC | MC | | | | |
| Andrew Johnston | MC | MC | MC | | | MC | | | | |
| Nicolas Colsaerts | MC | 23 | MC | | | MC | | 21 | | |
| Erik Van Rooyen | | | | | | | | | | |
| Benjamin Hebert | 8 | MC | 63 | | | MC | | MC | | |
| Dave Horsey | 48 | | MC | 49 | | MC | 45 | MC | 14 | MC |
| Jeung-Hun Wang | MC | MC | | | | | | | | |
| Julien Guerrier | | | | | | Wd | | | | |
| Scott Jamieson | 14 | MC | 30 | MC | MC | MC | MC | | | |
| Richie Ramsay | 2 | 54 | 10 | MC | | 16 | 65 | 9 | MC | |
| Graeme McDowell | MC | 65 | 30 | 6 | MC | 16 | 25 | 31 | Ret | MC |
| Nacho Elvira | MC | 48 | | MC | | | | | | |
| Marcus Kinhult | | | | | | | | | | |
| Soren Kjeldsen | 62 | 19 | 1 | MC | 18 | MC | | | 30 | 35 |
| Jazz Janewattananond | | | | | | | | | | |
| David Lipsky | MC | 43 | MC | | | | | | | |
| Jason Scrivener | MC | | | | | | | | | |
| Scott Hend | 20 | MC | 65 | | | | MC | | | |
| Aaron Rai | | | | | | | | | | |
| Matthew Southgate | 2 | 4 | | | MC | MC | | | | |
| Matthieu Pavon | 42 | | | | | | | | | |
| Callum Shinkwin | 30 | 19 | | | | | | | | |
| Gavin Green | | | | | | | | | | |
| Renato Paratore | MC | 58 | MC | | | | | | | |
| Lee Slattery | 30 | MC | 43 | MC | MC | 54 | MC | | 25 | MC |
| Haydn Porteous | 36 | MC | | | | | | | | |
| Richard Sterne | MC | 10 | | | 22 | 44 | | | MC | |
| Thomas Detry | 48 | | | | | | | | | |
| Adam Bland | | | | | | | | | | |
| Phachara Khongwatmai | | | | | | | | | | |
| Robert Rock | MC | MC | MC | 29 | 2 | 65 | MC | Dq | 2 | MC |
| Tapio Pulkkanen | | | | | | | | | | |
| Sam Horsfield | | | | | | | | | | |
| Jacques Kruyswijk | | | | | | | | | | |
| Lorenzo Gagli | | | | | MC | 24 | 8 | | | |
| Oliver Fisher | 10 | 54 | MC | 26 | 47 | MC | 45 | MC | MC | 22 |
| Andrew Dodt | 20 | MC | 65 | | 47 | MC | MC | 27 | | |
| Paul Waring | MC | | | MC | Ret | 10 | | 18 | 61 | 66 |
| Jin Ho Choi | | | | | | | | | | |
| Alvaro Quiros | MC | MC | Ret | 44 | 5 | | | | | 8 |
| Marc Warren | MC | 23 | MC | 29 | 18 | 39 | | Dq | 4 | MC |
| Stephen Gallacher | 36 | 43 | MC | MC | 47 | 44 | 3 | 27 | MC | 24 |
| Padraig Harrington | 42 | MC | 43 | 14 | MC | 7 | MC | 2 | MC | 31 |
| Clement Sordet | | | | | | | | | | |
| Andres Romero | 42 | | | | | | | | | |
| David Drysdale | 4 | MC | MC | MC | 47 | 7 | 25 | 14 | 35 | 63 |
| Austin Connelly | | | | | | | | | | |
| Mikko Ilonen | MC | MC | MC | 1 | 32 | 10 | | MC | MC | 16 |
| Romain Wattel | MC | 36 | 53 | 21 | 63 | 28 | 59 | | | |
| Matthias Schwab | | | | | | | | | | |
| Ryan Evans | | MC | | | | | | | | |
| Andrea Pavan | | | | 54 | | MC | | | | |
| Nino Bertasio | MC | | | | | | | | | |
| Maximilian Kieffer | MC | 5 | 8 | MC | 71 | | | | | |
| Jens Dantorp | | | | MC | | | | | | |
| Justin Walters | MC | | | 70 | 53 | | | | | |
| Oliver Farr | | | MC | | | | | | | |
| Thongchai Jaidee | MC | 31 | 10 | | | 18 | | | 20 | |
| Pedro Oriol | | | | | | | | | | |
| Brandon Stone | MC | MC | | | MC | | | | | |
| SSP Chawrasia | MC | MC | | | MC | MC | MC | MC | 61 | MC |
| Connor Syme | | | | | | | | | | |
| Sam Brazel | 62 | | | | | | | | | |
| Ashun Wu | MC | 31 | | | | | | | | |
| Adrien Saddier | | | | 66 | | | | | | |
| Brett Rumford | MC | 36 | Wd | MC | 22 | MC | Ret | 9 | 8 | |
| Robert Karlsson | 30 | MC | MC | 44 | | | | | | 3 |
| Marcus Fraser | 36 | MC | 43 | | | | 25 | MC | 41 | MC |
| Edoardo Molinari | MC | | | 2 | | | | | | 40 |
| Sebastian Heisele | MC | | | | | | | | | |
| James Morrison | MC | 10 | MC | MC | 42 | 24 | 40 | MC | | |
| Jamie Donaldson | Wd | 10 | | | 10 | 1 | 45 | 21 | 13 | MC |
| Steven Brown | | | | | | | | | | |
| Richard Bland | MC | 23 | 53 | 44 | 30 | 18 | 45 | 5 | 10 | MC |
| Chase Koepka | | | | | | | | | | |
| Marcel Siem | MC | Wd | MC | 14 | | 57 | 17 | 39 | 57 | 54 |
| Chris Hanson | 36 | | | | | | | | | |
| Bradley Dredge | 13 | 2 | 10 | | | 24 | MC | MC | MC | 8 |
| Thomas Aiken | MC | | 43 | | | | | MC | MC | 35 |
| Jeff Winther | | MC | | | | | | | | |
| Peter Hanson | 14 | MC | MC | | | | | | MC | 58 |
| Matteo Manassero | 48 | MC | MC | MC | | MC | | 21 | | |
| Danny Willett | Ret | 23 | 6 | 3 | 10 | MC | MC | | | |
| Lasse Jensen | MC | | | | 58 | | | | | |
| Scott Fernandez | | | | | | | | | | |
| Gregory Bourdy | 30 | 10 | 63 | 8 | | 33 | MC | | MC | |
| Ashley Chesters | 20 | | | | | | | | | |
| Charlie Ford | | | | | | | | | | |
| Jason Norris | | | | | | | | | | |
| Gavin Moynihan | 14 | 36 | MC | MC | MC | | | | | |
| Nico Geyger | | | | | | | | | | |
| Gregory Havret | MC | MC | Wd | 49 | 15 | | | 39 | 61 | 24 |
| Marcel Schneider | | | | | | | | | | |
| Ricardo Gouveia | MC | 36 | | | | | | | | |
| Ben Evans | | MC | | | | | | | | |
| James Heath | | | | 38 | | | | | | |
| Gonzalo F`dez-Castano | | | | | | MC | MC | 3 | MC | |
| Henric Sturehed | | | | | | | | | | |
| Christiaan Bezuidenhout | | | | | | | | | | |
| Zander Lombard | | | | | | | | | | |
| Felipe Aguilar | 48 | 36 | 53 | MC | MC | MC | 21 | MC | MC | 2 |
| Christofer Blomstrand | | | | | | | | | | |
| Raphael Jacquelin | MC | 23 | Ret | MC | 22 | | 25 | | 41 | |
| Carlos Pigem | | | | | | | | | | |
| Laurie Canter | | | | | | | | | | |
| Daniel Brooks | MC | MC | MC | MC | MC | | | | | |
| Mark Foster | MC | | 40 | MC | MC | 5 | 45 | 44 | MC | MC |
| Bradley Neil | | | MC | | | | | | | |
| Ross McGowan | | 48 | | | | | MC | MC | MC | 60 |
| Sebastien Gros | MC | 10 | | | | | | | | |
| Daniel Im | 4 | MC | | MC | | | | | | |
| Matthew Baldwin | | MC | | 3 | 65 | 44 | | | | |
| Pep Angles | MC | | | | | | | | | |
| Thomas Bjorn | MC | MC | | | 18 | | | | 25 | |
| Soomin Lee | 58 | MC | | | | | | | | |
| Pontus Widegren | | | | | | | | | | |
| Jonathan Thomson | | | | | | | | | | |
| Rak Hyun Cho | | | | | | | | | | |
| David Howell | MC | | MC | 49 | 71 | 33 | 8 | 44 | MC | MC |
| Ruaidhri McGee | | MC | | MC | | | | | | |
| Josh Geary | | | | | | | | | | |
| Trevor Immelman | MC | | | | | | | | | |
| Paul McGinley | MC | 63 | Wd | MC | MC | 54 | MC | 14 | 67 | 16 |
| Darren Clarke | MC | 43 | 28 | 58 | MC | 39 | MC | 12 | 14 | 16 |
| Matthew Nixon | | | 35 | 14 | MC | MC | MC | | | |
| Cormac Sharvin | | | | | | | | | | |
| Neil O`Briain | MC | MC | MC | | | | | | | |
| Simon Thornton | MC | | 60 | MC | 18 | 33 | 21 | MC | MC | |
| Colm Moriarty | MC | MC | | | | | 45 | MC | | MC |
| Cian McNamara | | | MC | MC | MC | | | | | |
Discover the latest articles
Read past articles