D+D REAL Czech Masters 2018: Latest course and form guides for Albatross Resort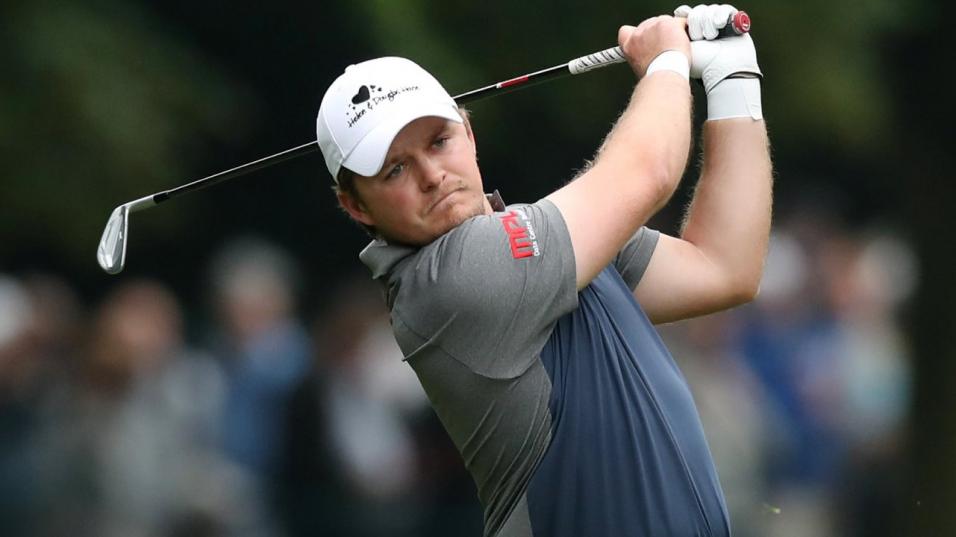 Eddie Pepperell: Tied-fifth at Albatross last year
Check out the stats ahead of this week's D+D Real Czech Masters, with course and current form guides compiled by Andy Swales ...
"Englishman Eddie Pepperell, a winner in Qatar during February, has also posted a brace of top-five finishes over this week's course."
The European Tour has arrived on the outskirts of Prague, for this week's D+D Real Czech Masters at Albatross Golf Resort.
Many of those teeing-up have flown more than one thousand miles from Gothenburg, Sweden, to compete in the Czech Republic.
Opened in 2010, Albatross has staged the Czech Masters for the past four years.
It is a well-manicured parkland course which sits around 400 feet above sea level and is located about 15 miles south-west of Prague city centre.
It has large undulating putting surfaces, while water is more prevalent on the back nine, than on the front.
Ryder Cup Hopefuls
This week's event is the penultimate tournament regarding the qualification process for selecting the European team at next month's Ryder Cup in France.
And two of those taking part, Thomas Pieters and Eddie Pepperell, will hope that a late burst of good form might catch the eye of European skipper Thomas Bjorn.
Pepperell still has an outside chance of automatic selection for the team, while Pieters will hope that a strong end to qualifying could earn him a wildcard, following his excellent Ryder Cup debut on American soil two years ago.
Pieters, a former winner at Albatross, followed his victory in 2015 by finishing runner-up when defending the title 12 months later.
Following a slow start to the year, the Belgian's form has picked up over the past couple of months, and in his most recent outing at the PGA Championship in Missouri was a respectable tied-sixth.
Pepperell, meanwhile, has played well in patches during 2018 and enjoyed lucrative back-to-back weeks on the links of Scotland last month.
The Englishman, a winner in Qatar during February, has also posted a brace of top-five finishes over this week's course.
In-Form Indian
Gaganjeet Bhullar, winner in Fiji earlier this month, is chasing a sixth successive top-12 finish.
Meanwhile, defending champion Haydn Porteous tied-for-sixth in Sweden on Sunday, a result which ended a run of 15 straight events without a top-25 finish.
And veteran European Tour players Lee Westwood and Soren Kjeldsen will hope that a mediocre field will assist them in their bid to end their winless droughts which both stretch back to the spring of 2015.
Twitter: Andy Swales@GolfStatsAlive
MC* - Missed Additional 54-Hole Cut
| Player | W33 | W32 | W31 | W30 | W29 | W28 | W27 | W26 | W25 | W24 | W23 | W22 |
| --- | --- | --- | --- | --- | --- | --- | --- | --- | --- | --- | --- | --- |
| Thomas Pieters | | 6 | | | 28 | 6 | 40 | 31 | 18 | | | 14 |
| Eddie Pepperell | | 59 | | | 6 | 2 | MC | | Dq | | | 51 |
| Matt Wallace | | 19 | | | MC | MC | MC | MC | 1 | MC | | 51 |
| Mikko Korhonen | | MC | | | | | MC | MC | 2 | | 1 | MC |
| Gaganjeet Bhullar | | | 1 | 10 | | 5 | 11 | 2 | 53 | | 55 | |
| Dean Burmester | | | | | | 9 | 28 | 56 | | 56 | | 30 |
| Lee Westwood | | | | | 61 | 32 | 19 | Wd | | | | 5 |
| Lucas Bjerregaard | Wd | | | 39 | | MC | MC | 61 | 5 | | | 71 |
| Jordan Smith | | MC | | 64 | MC | 32 | MC | 21 | | | | 8 |
| Jazz Janewattananond | 6 | | 25 | MC | MC | | 2 | 1 | 32 | | 6 | |
| Scott Vincent | MC | 2 | 60 | | | 2 | 7 | 6 | 28 | | 6 | |
| Andrew Johnston | 10 | | | | | | | Wd | | 62 | | 42 |
| Nicolas Colsaerts | MC | | | MC | MC | 42 | 19 | MC | | | 3 | MC |
| Benjamin Hebert | 24 | | | | | 49 | 28 | MC | | | | 23 |
| Paul Peterson | 45 | | | MC | | MC | 2 | 21 | MC | | | |
| Lucas Herbert | 5 | | 18 | 29 | 51 | | | | MC | MC | | 49 |
| Aaron Rai | 24 | | | MC | | 9 | 37 | MC | 5 | | | 51 |
| Scott Hend | | | MC | 19 | | 14 | MC | 44 | 7 | | 6 | 14 |
| Renato Paratore | MC | | | 2 | | MC | 40 | MC | MC | | | MC |
| Scott Jamieson | 42 | | | 13 | MC | MC | 40 | MC | 12 | | | MC* |
| Matthieu Pavon | 29 | | | 54 | | 42 | 10 | MC | | 25 | | MC |
| Jeung-Hun Wang | MC | | | 13 | | MC | 49 | MC | MC | | | MC* |
| Julien Guerrier | MC | | | 54 | | 55 | 64 | MC | MC | | | 51 |
| Soren Kjeldsen | 45 | | | 22 | | 42 | 59 | 49 | 7 | | 23 | 42 |
| JC Ritchie | 3 | 1 | 19 | | 8 | | | | | | 28 | |
| Gavin Green | | | 64 | | 61 | 19 | MC | MC | 73 | | | MC* |
| Nacho Elvira | 24 | | | 54 | | MC | 49 | 53 | 9 | | | 42 |
| David Lipsky | | | | 13 | | MC | MC | MC | 18 | | | 65 |
| Callum Shinkwin | | | | 48 | | MC | MC | Wd | MC | | | 8 |
| Jason Scrivener | 61 | | | | | MC | MC | MC | | MC | | 21 |
| Ajeetesh Sandhu | MC | | 43 | MC | | | 11 | | 37 | | MC | |
| Lee Slattery | 10 | | | | | MC | MC | MC | 45 | | 19 | 3 |
| Haydn Porteous | 6 | | | MC | | MC | 49 | MC | 51 | | | 51 |
| Matthias Schwab | MC | | | 7 | | MC | MC | 37 | 40 | | 12 | 42 |
| Oliver Fisher | | | | 39 | | 32 | 28 | MC | MC | | | 21 |
| Stephen Gallacher | MC | | | MC | | 9 | MC | 59 | MC | | | MC |
| Tapio Pulkkanen | 34 | | | 48 | | MC | MC | MC | | | 38 | MC |
| Adam Bland | 13 | | | | | 66 | 49 | MC | MC | | 12 | 23 |
| Romain Wattel | | | | 5 | | MC | 28 | MC | | | | MC |
| Danthai Boonma | | 2 | | MC | MC | | 2 | 6 | MC | | 27 | |
| David Drysdale | MC | | | 9 | | MC | 28 | MC | 40 | | | 65 |
| Phachara Khongwatmai | MC | | 25 | 14 | | MC | MC | 49 | MC | | 30 | MC |
| Danny Willett | | MC | | | 24 | 19 | 6 | MC | | MC | | 8 |
| Jacques Kruyswijk | 42 | | | | | MC | MC | 61 | MC | | | 14 |
| Andrea Pavan | 6 | | | | | 14 | MC | 56 | 56 | | 23 | MC |
| Andrew Dodt | | | 6 | 54 | | MC | 72 | MC | | | | MC |
| Austin Connelly | MC | | | MC | | MC | MC | 37 | 40 | | 19 | 51 |
| Marc Warren | 17 | | | 22 | | MC | 49 | Dq | MC | | | MC |
| Clement Sordet | 17 | | | 64 | | 58 | MC | MC | MC | | | MC |
| Jin Ho Choi | 42 | | | 29 | | 49 | 64 | MC | MC | | 35 | MC |
| Connor Syme | 21 | | | 22 | | 32 | MC | MC | 45 | | 2 | MC |
| Nino Bertasio | 17 | | | MC | | MC | MC | 16 | MC | | Wd | MC |
| Paul Waring | 1 | | | | | MC | 72 | MC | | MC | | MC |
| Padraig Harrington | MC | MC | 50 | | MC | MC | MC | | 74 | | 56 | 36 |
| Justin Walters | 45 | | 67 | 45 | | 23 | MC | MC | 9 | | 3 | |
| Tom Lewis | 29 | | 3 | MC | 47 | | 10 | | 26 | MC | 30 | |
| Matthew Millar | MC | | 9 | | | 11 | | | | | MC* | |
| Victor Perez | 4 | | 22 | MC | 36 | 7 | | MC | 66 | MC | MC | |
| Oliver Farr | MC | | | 64 | | 49 | MC | MC | MC | | 7 | MC |
| Pedro Oriol | 34 | | | MC | | 64 | MC | 27 | MC | | MC | MC |
| Ryan Evans | 29 | | | MC | | MC | MC | MC | | MC | 47 | 60 |
| Christofer Blomstrand | 45 | | | 2 | | 55 | MC | MC | 26 | | MC | 4 |
| Steven Brown | MC | | | 54 | | 32 | MC | 37 | MC | | | MC |
| Maximilian Kieffer | 3 | | | 29 | | MC | MC | MC | 12 | | | MC |
| Ashun Wu | MC | | 11 | | | MC | Dq | MC | | | 47 | 60 |
| Adrien Saddier | MC | | | 54 | | MC | 19 | MC | 74 | | | 51 |
| SSP Chawrasia | | 6 | | | | MC | MC | MC | MC | | | MC |
| Marcel Siem | MC | | | 54 | | 14 | MC | MC | MC | | | MC |
| Ashley Chesters | 29 | | | MC | | MC | 14 | 21 | 63 | | 7 | MC |
| James Morrison | 61 | | | 68 | | 32 | 49 | 49 | | MC | | 23 |
| Nick Cullen | | | 18 | MC* | MC | 13 | | | 45 | | 12 | |
| Sam Brazel | | | | | | MC | MC | 35 | MC | | | MC |
| Jeff Winther | 68 | | | 22 | | MC | MC | 31 | MC | | 30 | MC |
| Alejandro Canizares | 45 | | MC | MC | | | | | MC | | | |
| Jamie Donaldson | | | | MC | | MC | | 53 | Wd | | | MC* |
| Sebastian Heisele | 61 | | | 48 | | 42 | 31 | 40 | MC | | MC* | MC |
| Florian Fritsch | MC | | MC | MC | MC | | 3 | 50 | MC | | MC | 16 |
| Chase Koepka | MC | | | MC | | MC | MC | MC | 63 | | MC | MC |
| Thomas Aiken | 2 | | | 29 | | MC | 40 | MC | MC | | | 30 |
| Henric Sturehed | MC | | MC | 54 | | | Wd | 12 | 51 | | 50 | |
| Chris Hanson | 45 | | | MC | | MC | Wd | MC | MC | | MC | MC |
| Raphael Jacquelin | MC | | | MC | | MC | 10 | 37 | 66 | | 3 | MC |
| Scott Fernandez | MC | | | 63 | | 58 | MC | MC | MC | | 7 | MC |
| Gavin Moynihan | MC | | MC | MC | 28 | 7 | MC | | 6 | | MC | |
| Richard Bland | 61 | | | MC | | MC | MC | 60 | MC | | | 70 |
| Peter Hanson | Wd | | | 72 | | MC | 49 | MC | 69 | | 7 | MC* |
| Matteo Manassero | MC | | | MC | | MC | 64 | MC | MC | | | 36 |
| Steve Webster | MC | | | MC | | | | MC | | | 3 | |
| Ricardo Gouveia | 45 | | | MC | | 32 | 64 | 31 | MC | | | MC |
| Charlie Ford | MC | | | | | MC | 75 | MC | 66 | | 38 | 23 |
| Alexander Knappe | 31 | | 22 | MC | MC | 33 | | 53 | MC | | 4 | 11 |
| Gregory Bourdy | MC | | | MC | | MC | 64 | MC | 33 | | MC | MC |
| Johan Carlsson | 13 | 11 | MC | 31 | 15 | MC | | MC | MC | | 12 | MC |
| Christiaan Bezuidenhout | 45 | | | MC | | 42 | 19 | MC | 33 | | MC* | MC |
| Marcus Armitage | 22 | MC | 58 | | MC | | | 53 | 32 | | MC | MC |
| Jason Norris | | | 55 | | | MC | MC | MC | MC | | MC* | MC |
| Ben Evans | MC | | MC | MC | MC | 21 | | 29 | 14 | 12 | MC | |
| Bernd Ritthammer | 67 | 44 | MC | 8 | 28 | 21 | MC | 10 | MC | | 50 | 11 |
| Felipe Aguilar | MC | | | 29 | | | 69 | 37 | 51 | MC | Dq | MC |
| Birgir Hafthorsson | 68 | | MC | 48 | | MC | 45 | | 71 | MC | | |
| Adrian Meronk | | | 61 | | 17 | 21 | 21 | | 19 | 22 | | |
| Garrick Porteous | | | MC | MC | | 33 | 68 | | MC | 27 | 37 | 11 |
| Bradley Neil | 21 | | | | | MC | MC | MC | 33 | | MC | MC |
| Ondrej Lieser | | | | 53 | | | MC | | | | | MC |
| Laurie Canter | 56 | | | MC | | MC | MC | MC | MC | | MC* | 36 |
| Daniel Brooks | MC | | | MC | | MC | 59 | MC | Wd | | MC | 73 |
| Joel Sjoholm | MC | MC | MC | | | 33 | 49 | 37 | MC | | 62 | 41 |
| Sebastien Gros | 13 | | | 48 | | MC | MC | MC | 26 | | | MC |
| Mark Tullo | 34 | | | MC | | | | | 72 | | 23 | |
| Carlos Pigem | 61 | | | MC | | MC | MC | MC | MC | | MC | MC |
| Simon Khan | MC | | | MC | MC | | | | Wd | | 43 | |
| Matthew Baldwin | MC | | | MC | | MC | MC | MC | MC | | MC | MC |
| Ruaidhri McGee | MC | | | MC | 47 | 4 | MC | | 36 | | 35 | 4 |
| Johan Edfors | 45 | | | | | | | | MC | | MC | |
| Joel Stalter | | | 34 | 45 | Wd | 29 | MC | | 56 | MC | 23 | |
| Daniel Im | MC | | MC | | | MC | MC | MC | MC | | MC* | MC* |
| Paul Howard | MC | | | MC | Wd | MC | | MC | 49 | | MC | MC |
| Matthew Nixon | 34 | | | 9 | | | 24 | MC | 18 | | MC* | 16 |
| Rak Hyun Cho | 56 | | | 29 | | 30 | MC | MC | MC | | MC | MC |
| Soomin Lee | MC | | 43 | | | MC | MC | MC | MC | MC | | MC |
| Pep Angles | MC | | | MC | | | | | MC | | Wd | MC |
| Matt Ford | | | 36 | MC | 28 | MC | | 58 | 23 | | MC | MC |
| Pontus Widegren | MC | | | MC | | 48 | | | MC | | MC | MC |
| Jonathan Thomson | 29 | | 43 | 74 | | | | | MC | | MC* | |
| Stanislav Matus | MC | 50 | | 16 | MC | MC | 10 | | Wd | MC | 58 | |
| Mateusz Gradecki | | | | 23 | | | | | | | | 2 |
| Gary Stal | 56 | | | MC | MC | MC | | | 59 | 35 | MC | 20 |
| David Howell | 24 | | | | | MC | MC | MC | 26 | | | 42 |
| Josh Geary | MC | | MC | | | | | 61 | MC | | MC | 51 |
| Jack Munro | MC | MC | Wd | MC | | 13 | Wd | MC | 59 | MC | 58 | |
| John Daly | | MC | | | | | MC | | | | Wd | |
| Anders Hansen | MC | | | | | | | | MC | | 43 | |
| Doug Ghim | 20 | | 23 | | | Wd | | 71 | MC | MC | | |
| Ricardo Gonzalez | MC | MC | Dq | | | | | | | | | |
| Filip Mruzek | | 25 | MC | 8 | MC | | MC | | 19 | | | |
| Ales Korinek | | | | 11 | | | MC | | | | | 38 |
| Jan Cafourek | | | | MC | | MC | MC | MC | | | | |
| Dru Love | | | | | MC | MC | | | | | | |
| Hunter Stewart | 24 | | MC | | | | | | 34 | 9 | | MC |
| Paul McBride | MC | MC | | 46 | MC | MC | | | MC | MC | | |
| Petr Gal | | MC | MC | | | MC | MC | | | | MC | |
| Petr Dedek | | | | MC | | | MC | MC | MC | | MC | |
| Jan Friesz | | | | MC | | MC | MC | | | | | |
| Simon Zach | | | | | | | | | | | | |
| Daniel Suchan | | | | | | | MC | | | | | |
| Rene Gruber | | | | MC | | | MC | MC | | | MC | MC |
| Peter Valasek | | | | MC | | | MC | | | MC | MC | MC |
| Aaron Leitmannstetter | | | | MC | | MC | MC | | | | 66 | |
| Liam Robinson | | | 43 | | | | Wd | MC | | | MC | |
| Oscar Serna | MC | | MC | 68 | 22 | 29 | 31 | | MC | 35 | MC | MC |
| Hugo Leon | MC | | | MC | MC | 63 | 45 | 40 | 49 | MC | 23 | MC |
| Player | 2017 | 2016 | 2015 | 2014 |
| --- | --- | --- | --- | --- |
| Thomas Pieters | 66 | 2 | 1 | MC |
| Eddie Pepperell | 5 | MC | 22 | 5 |
| Matt Wallace | 43 | | | |
| Mikko Korhonen | MC | 62 | MC | MC |
| Gaganjeet Bhullar | MC | | MC | 69 |
| Dean Burmester | 14 | 35 | | |
| Lee Westwood | 9 | 27 | | |
| Lucas Bjerregaard | 43 | MC | MC | MC |
| Jordan Smith | 60 | | | |
| Jazz Janewattananond | | | | |
| Scott Vincent | | | | |
| Andrew Johnston | | | | |
| Nicolas Colsaerts | | | 40 | MC |
| Benjamin Hebert | 54 | | MC | |
| Paul Peterson | 18 | 1 | MC | |
| Lucas Herbert | | | | |
| Aaron Rai | MC | | | |
| Scott Hend | | | | |
| Renato Paratore | MC | 27 | 5 | |
| Scott Jamieson | | 27 | 73 | 9 |
| Matthieu Pavon | | | | |
| Jeung-Hun Wang | | | | |
| Julien Guerrier | MC | | | |
| Soren Kjeldsen | | | | 3 |
| JC Ritchie | | | | |
| Gavin Green | | | | |
| Nacho Elvira | | 83 | | 60 |
| David Lipsky | Dq | 6 | 22 | 19 |
| Callum Shinkwin | 9 | 51 | MC | |
| Jason Scrivener | 5 | 35 | MC | |
| Ajeetesh Sandhu | | | | |
| Lee Slattery | 2 | MC | 34 | 30 |
| Haydn Porteous | 1 | MC | | 60 |
| Matthias Schwab | | | | |
| Oliver Fisher | | 68 | 40 | MC |
| Stephen Gallacher | 43 | | | 7 |
| Tapio Pulkkanen | | | | |
| Adam Bland | | | | |
| Romain Wattel | | | | |
| Danthai Boonma | MC | | | |
| David Drysdale | | 62 | 27 | MC |
| Phachara Khongwatmai | 68 | | | |
| Danny Willett | | | | 13 |
| Jacques Kruyswijk | | | | |
| Andrea Pavan | | | MC | 39 |
| Andrew Dodt | | | | |
| Austin Connelly | MC | | | |
| Marc Warren | MC | 11 | | |
| Clement Sordet | | | | |
| Jin Ho Choi | | | | |
| Connor Syme | | | | |
| Nino Bertasio | 14 | 35 | | |
| Paul Waring | MC | | | 19 |
| Padraig Harrington | | | | |
| Justin Walters | MC | 11 | MC | MC |
| Tom Lewis | 3 | 27 | MC | 39 |
| Matthew Millar | | | | |
| Victor Perez | | | | |
| Oliver Farr | MC | | MC | |
| Pedro Oriol | | MC | 34 | |
| Ryan Evans | MC | 3 | 59 | |
| Christofer Blomstrand | | | | |
| Steven Brown | | 11 | | |
| Maximilian Kieffer | | 68 | | |
| Ashun Wu | | | | |
| Adrien Saddier | | | 59 | 39 |
| SSP Chawrasia | | | MC | 39 |
| Marcel Siem | | | | |
| Ashley Chesters | MC | | | |
| James Morrison | 5 | | MC | 13 |
| Nick Cullen | 43 | | | |
| Sam Brazel | | | | |
| Jeff Winther | 25 | 27 | | |
| Alejandro Canizares | | | | |
| Jamie Donaldson | 25 | MC | | 1 |
| Sebastian Heisele | MC | | | |
| Florian Fritsch | Dq | 35 | 27 | |
| Chase Koepka | | 19 | | |
| Thomas Aiken | | | | |
| Henric Sturehed | | | | |
| Chris Hanson | 14 | 76 | | 52 |
| Raphael Jacquelin | | | | |
| Scott Fernandez | | MC | | |
| Gavin Moynihan | | | | |
| Richard Bland | | 27 | MC | 60 |
| Peter Hanson | | 19 | MC | |
| Matteo Manassero | 9 | | | |
| Steve Webster | MC | MC | | 75 |
| Ricardo Gouveia | | | | |
| Charlie Ford | 43 | 27 | | |
| Alexander Knappe | MC | | | |
| Gregory Bourdy | 25 | | 8 | 23 |
| Johan Carlsson | | | | |
| Christiaan Bezuidenhout | | | | |
| Marcus Armitage | MC | | | |
| Jason Norris | | | | |
| Ben Evans | MC | 51 | 57 | 70 |
| Bernd Ritthammer | 18 | | 34 | MC |
| Felipe Aguilar | 22 | | | 23 |
| Birgir Hafthorsson | | | | |
| Adrian Meronk | | | | |
| Garrick Porteous | 14 | | 59 | 9 |
| Bradley Neil | | | | |
| Ondrej Lieser | MC | | | |
| Laurie Canter | MC | 35 | | |
| Daniel Brooks | MC | 62 | 53 | MC |
| Joel Sjoholm | 59 | MC | 73 | 39 |
| Sebastien Gros | | | | |
| Mark Tullo | | | 34 | |
| Carlos Pigem | MC | 73 | MC | |
| Simon Khan | 60 | | | |
| Matthew Baldwin | | 35 | | 13 |
| Ruaidhri McGee | | | | MC |
| Johan Edfors | 25 | MC | MC | |
| Joel Stalter | MC | | | |
| Daniel Im | 38 | 35 | 27 | MC |
| Paul Howard | | | | |
| Matthew Nixon | MC | | 40 | 83 |
| Rak Hyun Cho | | | | |
| Soomin Lee | 60 | | | |
| Pep Angles | 65 | | | |
| Matt Ford | | 27 | 73 | |
| Pontus Widegren | 3 | | | |
| Jonathan Thomson | 54 | | | |
| Stanislav Matus | | | MC | MC |
| Mateusz Gradecki | | | | |
| Gary Stal | | 83 | | 39 |
| David Howell | | 3 | | |
| Josh Geary | | | | |
| Jack Munro | | | | |
| John Daly | MC | 51 | | |
| Anders Hansen | | 62 | MC | MC |
| Doug Ghim | | | | |
| Ricardo Gonzalez | 25 | | MC | Wd |
| Filip Mruzek | MC | 62 | 68 | |
| Ales Korinek | MC | MC | MC | MC |
| Jan Cafourek | MC | MC | | |
| Dru Love | | | | |
| Hunter Stewart | | | | |
| Paul McBride | | | | |
| Petr Gal | MC | MC | MC | MC |
| Petr Dedek | MC | MC | MC | MC |
| Jan Friesz | MC | MC | MC | |
| Simon Zach | | MC | | |
| Daniel Suchan | MC | MC | MC | MC |
| Rene Gruber | MC | | | MC |
| Peter Valasek | MC | MC | | |
| Aaron Leitmannstetter | | | | |
| Liam Robinson | MC | | | |
| Oscar Serna | | | | |
| Hugo Leon | | | | |