Corales Puntacana Resort & Club Championship 2018: Essential stats for the PGA Tour event in the Dominican Republic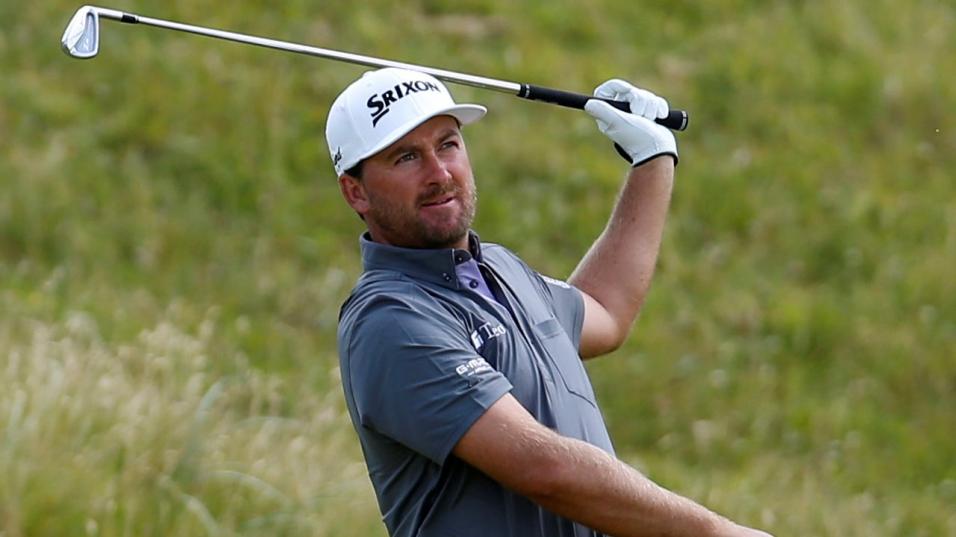 Graeme McDowell: Now ranked world No 200, the Irishman tied-for-22nd at Bay Hill on Sunday
Check out the current form stats for this week's tournament in the Caribbean, supplied by Andy Swales...
"If this was a tennis tournament, then it's fair to assume that Emiliano Grillo would be the top seed – going by current ranking"
The PGA Tour breaks new ground this week with a first ever tournament in the Dominican Republic.
The extravagantly named Corales Puntacana Resort & Club Championship will take place at a superb golfing location, situated at the eastern edge of this Caribbean island.
Offering, by PGA Tour standards, a modest total prize fund of $3m, the 132-player field assembled for this week's event certainly seems to lack star quality.
However, those who tee-it-up at Corales Golf Club on Thursday, will can't help but be impressed by what is likely to be one of the most stunning venues to host a professional golf tournament during 2018 - especially if the sun shines.
Situated close to Punta Cana's international airport, this low-lying and coastal course will be at the mercy of the elements, with wind expected to be a major factor over all four days.
The undulating putting surfaces will demand a sound touch, although Corales is no stranger to hosting tournament golf, having twice staged events on the Web.com Tour.
In 2016 and 2017, the winners' posted scores of 24 and 20 under par respectively, so another low-scoring competition is likely again this week.
Leading Man
If this was a tennis tournament, then it's fair to assume that Emiliano Grillo would be the top seed - going by current ranking.
The world No 75 from Argentina has, at least, posted three top-dozen finishes during the opening 11 weeks of the calendar year, including a tie-for-eighth at last month's Honda Classic.
Another golfer with respectable current form is South African Rory Sabbatini, a former multiple winner on the PGA Tour.
The biggest name taking part is 2003 US Open winner Jim Furyk. Now ranked No 181 in the world, the 47-year-old American did manage a top-10 finish on his most recent outing at Innisbrook.
Good Course Form
As for those who have previously competed at Corales during Web.com Tour events, then consider Rafael Campos and Tyler Duncan.
Both have stood on the podium here, while Campos has also enjoyed a brace of top-three finishes this season on America's second tier tour.
Irish Contingent
There is also a small Irish contingent teeing-up on Thursday. If the wind gets up, then Graeme McDowell, Paul Dunne and Seamus Power might be ready to perform.
McDowell tied-for-22nd in Orlando on Sunday, while Power enjoyed a top-10 finish at Corales two years' ago, with Dunne one of only a handful of this week's competitors ranked inside the top 100.
Another is Seung Su Han whose consistent form over the past 10 months has seen the American rise to No 85 in the World Ranking.
Since the middle of May last year Han has posted seven top-three finishes in Asia , and has also performed well on the European Tour.
Members of this week's field who have registered top-20 finishes at Corales when hosting Web.com Tour events in 2016 and 2017:
Matt Atkins - T12 (2017)
Eric Axley - T16 (2017); T19 (2016)
Rafael Campos - T3 (2017)
Joel Dahmen - T11 (2016)
Roberto Diaz - T2 (2016)
Marty Dou Ze Cheng - T16 (2017)
Tyler Duncan - T3 (2017)
Brandon Harkins - T12 (2017)
Stephan Jaeger - T11 (2016)
Nate Lashley - Won (2017)
Trey Mullinax - T11 (2016)
Augusto Nunez - 2 (2017)
Seamus Power - T7 (2016)
Sam Ryder - T12 (2017); T2 (2016)
Adam Schenk - T12 (2017)
Ethan Tracy - T16 (2017)
Kevin Tway - T11 (2016)
MC* - Missed Additional 54-Hole Cut
| Player | W11 | W10 | W9 | W8 | W7 | W6 | W5 | W4 | W3 | W2 | W1 |
| --- | --- | --- | --- | --- | --- | --- | --- | --- | --- | --- | --- |
| Emiliano Grillo | 26 | 6 | | 8 | | | 57 | 12 | | 47 | |
| Paul Dunne | | | 55 | | | MC | | MC | 19 | | |
| Seung Su Han | | | | 13 | 4 | 58 | | 29 | 27 | | |
| Chris Wood | | 48 | | 13 | 2 | | | MC | MC | MC | |
| Fabrizio Zanotti | | | | 45 | 7 | | 60 | MC | 9 | | |
| Scott Piercy | MC | | | 17 | | 20 | MC | | 6 | 25 | |
| Patrick Rodgers | 7 | 59 | | 33 | 26 | 8 | MC | MC | | Wd | |
| David Lingmerth | 64 | 64 | | MC | 75 | | | MC | 57 | | |
| Jim Furyk | | 7 | | 46 | MC | | | | | | |
| Harold Varner | | 78 | | 72 | 60 | | 38 | MC | MC | MC | |
| Kelly Kraft | | 31 | | 8 | 63 | MC | MC | MC | | MC | |
| Robert Streb | MC | MC | | MC | MC | MC | MC | 66 | | MC | |
| Rory Sabbatini | | 5 | | 17 | | 72 | 31 | 20 | 69 | 32 | |
| Brandon Harkins | 36 | MC | | | 41 | 15 | MC | 12 | 8 | 25 | |
| Brice Garnett | | 31 | | MC | MC | 35 | | 35 | 63 | MC | |
| Aaron Baddeley | | 49 | | | 14 | 55 | 26 | MC | | MC | |
| Robert Garrigus | | 31 | | MC | | MC | 52 | 8 | 57 | | |
| Graeme McDowell | 22 | 40 | | MC | 26 | MC | | MC | MC | | |
| Kevin Tway | 58 | MC | | MC | MC | | 57 | 35 | | 69 | |
| Alex Cejka | MC | 40 | | Wd | | 75 | Wd | MC | 50 | | |
| Andres Romero | | | | | | | | 65 | MC | | |
| Daniel Summerhays | | | | | | 55 | | | MC | | |
| Harris English | 22 | MC | | 33 | MC | | MC | 8 | 11 | 64 | |
| Abraham Ancer | | 16 | 52 | MC | 68 | | | 20 | 76 | MC | |
| Rob Oppenheim | | | | MC | MC | 47 | | MC | 42 | MC | |
| Derek Fathauer | | MC | | 13 | 16 | 62 | 48 | MC | 36 | | |
| Matt Jones | | | | | | MC | | MC | MC | 39 | |
| Martin Flores | | 77 | | 74 | MC | | 21 | 35 | MC | | |
| Stephan Jaeger | | 49 | | MC | MC | 43 | | MC | MC | 54 | |
| Adam Schenk | | 59 | | 29 | 53 | MC | | MC | MC | 39 | |
| Jonathan Byrd | | | | | | 62 | | MC | MC | 25 | |
| Nate Lashley | | | | MC | | MC | | MC | 29 | 39 | |
| Smylie Kaufman | MC | MC | | MC | MC | | MC | MC | 69 | MC | |
| Rafael Campos | | MC | | | | 69 | 2 | MC | 3 | | |
| Tom Lovelady | | MC | | 17 | | MC | MC | 45 | 29 | MC | |
| Trey Mullinax | | 8 | | | | 47 | | MC | 57 | | |
| Sam Ryder | | 68 | | | | 68 | | MC | 50 | 58 | |
| DA Points | MC | MC | | | MC | MC | MC | | | 73 | 33 |
| Richy Werenski | | MC | | MC | | MC | MC | MC | 29 | MC | |
| JT Poston | | | | | | 68 | | 73 | MC | | |
| Retief Goosen | | MC | | MC | 53 | | MC | 12 | | 20 | |
| Michael Kim | | MC | | 57 | MC | | MC | 23 | 50 | MC | |
| Seamus Power | | MC | | MC | | MC | | MC | 11 | 54 | |
| Lanto Griffin | | | | MC | | MC | | 12 | MC | 58 | |
| Keith Mitchell | | | | MC | | 47 | | 63 | 69 | 25 | |
| David Hearn | | | | | | MC | | MC | MC | | |
| Geoff Ogilvy | | MC | | | MC | | MC | MC | MC | | |
| Cameron Tringale | | | | MC | MC | 47 | MC | 58 | MC | MC | |
| Tyler Duncan | MC | MC | | 24 | MC | MC | MC | MC | MC | MC | |
| Troy Merritt | | MC | | 49 | 41 | 8 | | MC | MC | MC | |
| Ricky Barnes | | | | | | 62 | MC | MC | 20 | MC | |
| Arjun Atwal | | MC | | | | | 34 | 10 | 47 | | |
| Andrew Putnam | | MC | | MC | | MC | | 54 | 17 | 69 | |
| Shawn Stefani | | | | MC | MC | MC | | MC | MC | | |
| Kyle Thompson | | | | | | MC | | MC | MC | MC | |
| Johnson Wagner | | | | | | 55 | | MC | MC | | |
| Marty Dou Ze Cheng | | MC | | | MC | 55 | | MC | MC | MC | |
| Conrad Shindler | | MC | | | | MC | | MC | MC | 47 | |
| Bronson Burgoon | | | | MC | | 47 | | MC | 42 | MC | |
| Zac Blair | | | | | | MC | | MC | MC | | |
| Greg Chalmers | | MC | | 17 | 68 | MC | MC | | MC | MC | |
| Cameron Percy | | 39 | | | | MC | | | MC | | |
| Ben Crane | | | | 74 | | MC | | | 42 | | |
| Augusto Nunez | | MC | | | | 29 | 67 | 19 | 13 | | |
| Jason Gore | | Wd | | | | 2 | 39 | | MC | | |
| Matt Atkins | | 56 | | | | MC | | MC | MC | MC | |
| Andrew Yun | | MC | | | | MC | | MC | MC | MC | |
| JJ Henry | | 74 | | MC | MC | MC | | 23 | MC | MC | |
| Corey Conners | | 16 | | 59 | | MC | | 29 | 50 | 39 | |
| Ryan Brehm | | | | | | 47 | 46 | 52 | MC | | |
| Roberto Diaz | | 39 | | 33 | | MC | | 72 | MC | 47 | |
| Joel Dahmen | | | | 33 | MC | 55 | | MC | MC | 73 | |
| Ethan Tracy | | | | MC | | MC | | MC | MC | MC | |
| Fabian Gomez | | 68 | | MC | MC | MC | MC | | MC | MC | |
| Hunter Mahan | MC | | | | | MC | MC | 69 | 42 | | |
| Steve Wheatcroft | | | | | | MC | | MC | MC | MC | |
| Denny McCarthy | | | | MC | | 66 | | MC | MC | | |
| Eric Axley | | 69 | | | | 47 | 7 | MC | MC | | |
| Stuart Appleby | MC | 18 | | | | MC | | 64 | | | |
| KJ Choi | | | MC | | MC | 26 | MC | MC | | MC | |
| Angel Cabrera | | | | | | Wd | Wd | | | | |
| Davis Love | 58 | MC | | | | | | | | | |
| Brett Stegmaier | | | | | | MC | | MC | 57 | MC | |
| Matt Every | MC | 68 | | 66 | MC | MC | MC | MC | 69 | 75 | |
| Daniel Chopra | | MC | | | | | | MC | MC | | |
| Dicky Pride | | 34 | | | | MC | MC | 16 | 63 | | |
| Xin Jun Zhang | | MC | | MC | MC | 43 | | MC | MC | 25 | |
| Trevor Immelman | | | | | | | | 32 | MC | MC | |
| Mike Weir | | | | | | MC | | | MC | MC | |
| Robert Allenby | | | | | | 33 | MC | | MC | | |
| Jason Bohn | | | | | | MC | | | | | |
| John Daly | | | | | | | | | MC | | |
| Brian Davis | | MC | | | | 20 | 39 | 68 | MC | | |
| Brendon de Jonge | | | | | | MC | | MC | 53 | | |
| Tommy Gainey | | | | | | | | | | | |
| Robert Gamez | MC | | | | | | | | Wd | | |
| Tim Herron | MC | | | | | MC | | | | | |
| Jonathan Kaye | | | | | | Dq | Wd | | | | |
| Parker McLachlin | | | | | MC | | 67 | | | | |
| George McNeill | | | | | | MC | | | | | |
| John Merrick | | | | | MC | MC | MC | 69 | MC | | |
| Shaun Micheel | | MC | | | | 29 | | MC | MC | | |
| Carl Pettersson | | | | | | | | | | | |
| DJ Trahan | | | | | | | | | MC | | |
| Chris Smith | | | | | | | MC | | | | |
| Heath Slocum | | | | | | | | | | | |
| Omar Uresti | | | | | | | | | | MC | |
| Mark Wilson | | 66 | | | | | | | MC | MC | |
| Ken Duke | | | | | | MC | | | | | |
| Cameron Beckman | | MC | | | | | | | | | |
| Steven Bowditch | | | | | | | | | | | |
| Michael Bradley | | | | | | | | | | | |
| John Rollins | | | | | | | | | | | |
| Brendon Todd | | | | | | | | | | | |
| Vince India | | | | | | MC | MC | | MC | | |
| Dru Love | | | | | | | | | | | |
| Tyler McCumber | 4 | | | | | | MC* | | | 26 | |
| Frank Lickliter | | MC | | | | MC | MC | Wd | MC | | |
| Keith Clearwater | | | | | | | | | | | |
| Glen Day | | | | | | | | | | | |
| Ted Purdy | | | | | | | | | | | |
| Brett Wetterich | | | | | | | | | | | |
| Neal Lancaster | | | | | | | | | | | |
| Russ Cochran | | | | | | | | | | | |
| Tom Byrum | | | | | | | | | | | |
| Jay Don Blake | | | | | | | | | | | |
| Matt Bettencourt | | | | | | | | | | | |
| Guillermo Pumarol | | | | | | | | | | | |
| Marc Turnesa | | | | | | | | | | | |
| Hiram Silfa | | | | | | MC | | | | | |
| Julio Santos | | | | | | | | | | | |
| Andrew Filbert | | | | MC | | | | | | | |
| Dudley Hart | | | | | | | | | | | |
| Troy Matteson | | | | | | | | | | | |
| Len Mattiace | | | | | | | | | | | |
| George Riley | | | | | | | | | | | |
| Santiago Rivas | | | | | | | | | | | |
| Zach Zaback | | | | | | | | | | | |
| Richard Johnson | | | | | | | | | | | |
| Rhadames Pena | | | | | | | | | | | |
| Tony Romo | | | | | | | | | | | |
Discover the latest articles
Read past articles