Commercial Bank Qatar Masters 2019: Your course and current form guide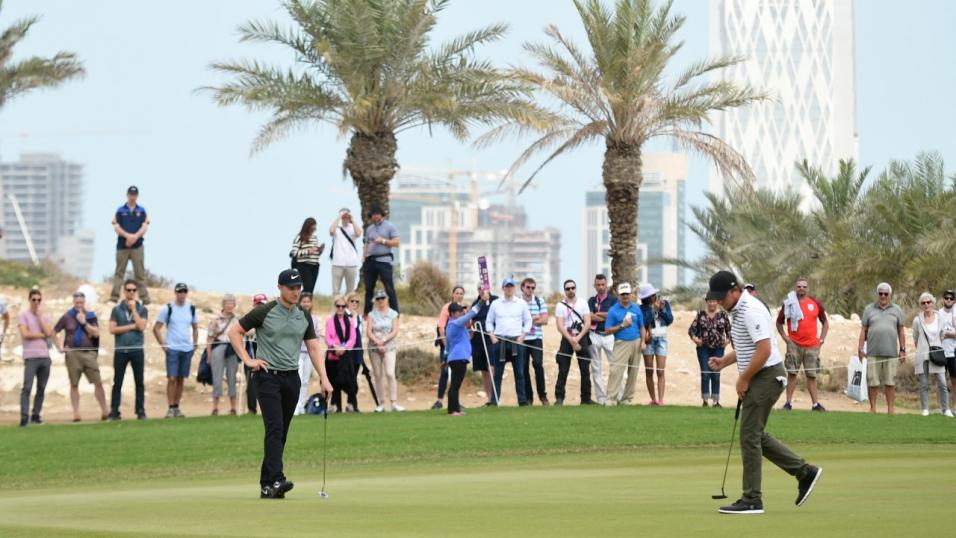 Qatar Masters: A big hitters' paradise if conditions remain calm at Doha
Andy Swales provides the stats for this week's Qatar Masters at Doha Golf Club, highlighting course and current form ...
"It may be worth checking out Jordan Smith and Victor Dubuisson, both of whom have had a brace of top-20 finishes in the Middle East during the early weeks of 2019."
The European Tour makes a 620-mile journey north-west, from Oman to Qatar, for this week's event in Doha.
First staged in 1998, the Commercial Bank Qatar Masters is the second longest-running professional golf event in the Middle East and this year's edition will be the 22nd.
Around 90% of those teeing-up on Thursday also contested the tournament at Al Mouj, so should feel acclimatised to the region.
Course History
Not many of those competing this week can boast to having a strong course history.
This is probably best explained by assessing the quality of field, which is certainly no more than mediocre, and a far cry from the tournament's first decade which attracted many of the European Tour's finest players.
Former Qatar winner Chris Wood has a reasonable record at Doha, although the tall Englishman missed the cut last week in Oman, on his first outing of 2019.
South African George Coetzee probably has the best course record of those taking part, with his compatriot Thomas Aiken another pro with at least three top-10s at Doha in the past.
Neither are in scintillating form right now but that probably doesn't matter given the lack of top talent in this week's event.
Mike Lorenzo-Vera has posted back-to-back top 10s at Doha these past two years, while the experienced Pablo Larrazabal might fancy his chances this weekend.
Good Current Form
Therefore, it might be best to analyse current form in the search to find a winner of the Qatar Masters.
Justin Harding and Thomas Pieters have simmered just below the surface since the turn of the year, while Jorge Campillo collected his fifth runners-up finish on the European Tour last week.
In-form Clement Sordet and Fabrizio Zanotti were also joint runners-up at Al Mouj on Sunday.
Elsewhere, it may be worth checking out Jordan Smith and Victor Dubuisson, both of whom have had a brace of top-20 finishes in the Middle East during the early weeks of 2019.
Dubuisson, who played in the Ryder Cup five years ago, only teed-up twice in 2018 after suffering a perforated eardrum during a plane journey.
Currently ranked No 288 in the world, the 28-year-old has appeared three times at Doha, finishing ninth on each occasion.
Big Hitters Can Flourish If Calm
Once again, as with Oman last week, weather conditions will play an important role in the outcome of the tournament.
If conditions are calm, the course is likely to become a victim of the big hitters who can play all-out attacking golf on this open layout, while not paying too much attention to accuracy off the tee.
However, if the breeze picks up, the course is a totally different animal and must be handled with care, demanding a deft touch around the greens.
Water comes into play on seven holes - most of these on the back nine - while there is plenty of sand, both official in the shape of bunkers, and unofficial in the form of surrounding desert scrub.
There are also many dog-legs on this 23-year-old course which only plays long if the wind blows.
Doha Golf Club is laid out six miles north of the Qatari capital, and around one mile from the country's eastern coastline.
Twitter: Andy Swales@GolfStatsAlive
MC* - Missed Additional 54-Hole Cut
Note: List contains leading reserves

| Player | W9 | W8 | W7 | W6 | W5 | W4 | W3 | W2 | W1 |
| --- | --- | --- | --- | --- | --- | --- | --- | --- | --- |
| Tom Lewis | | 65 | 63 | | 3 | 48 | 9 | | |
| Adrian Otaegui | | 60 | 2 | MC* | 24 | MC | MC | | |
| Alexander Bjork | | 39 | | | | 20 | 32 | | |
| Justin Harding | MC | | 26 | 4 | 11 | 7 | 51 | | |
| Jazz Janewattananond | 4 | | 13 | 27 | | | 1 | 5 | |
| Thomas Pieters | 6 | | 11 | | 22 | 29 | 16 | | |
| Lucas Herbert | MC | | MC | MC* | | 7 | 54 | | |
| Ross Fisher | MC | | | | 13 | 24 | 54 | | |
| Kurt Kitayama | 1 | | MC | MC* | MC | 71 | 67 | | |
| Chris Wood | MC | | | | | | | | |
| Andrea Pavan | 31 | | | | 34 | MC | MC | | |
| Aaron Rai | | 51 | | 17 | 34 | 29 | 54 | | |
| Mikko Korhonen | 31 | | | | 44 | 38 | MC | | |
| Mike Lorenzo-Vera | 27 | | | | 13 | MC | 32 | | |
| Jorge Campillo | 2 | | 34 | MC | 42 | 56 | 54 | | |
| John Catlin | 58 | | | MC | 44 | | 67 | | |
| Brandon Stone | 31 | | | | MC | MC | MC | | |
| Victor Perez | 61 | | | | 13 | 29 | 54 | | |
| Jordan Smith | 12 | | | | 54 | 29 | 11 | | |
| Paul Waring | MC | | | | 54 | 3 | 6 | | |
| Gaganjeet Bhullar | 27 | | | | 34 | 38 | 27 | | |
| Dean Burmester | MC | | 3 | | MC | 48 | 49 | | |
| Jake McLeod | | 45 | 60 | | | | | | |
| Adri Arnaus | 45 | | | | MC | 29 | 22 | | |
| Chris Paisley | 9 | | | | 24 | 56 | MC | | |
| David Lipsky | MC | 10 | | | 24 | MC | 16 | | |
| Thomas Detry | 40 | | | | 42 | 48 | 65 | | |
| Erik Van Rooyen | | 36 | | | MC | MC | 32 | | |
| Scott Vincent | 63 | | 4 | MC* | | | 24 | | |
| Andy Sullivan | 70 | | | | MC | MC | 32 | | |
| Joachim B Hansen | 6 | | | | 24 | 61 | 54 | | |
| Darren Fichardt | 40 | | 17 | | | MC | 32 | | |
| Yusaku Miyazato | 63 | | | | 22 | MC | MC | | |
| Marcus Kinhult | MC | | | | 18 | MC | MC | | |
| Dimitrios Papadatos | 23 | | MC | MC | | | MC | | |
| Oliver Wilson | 56 | | MC | MC | | | | | |
| Romain Langasque | 45 | | | | 44 | 20 | | | |
| Pablo Larrazabal | MC | | | | 64 | 20 | 6 | | |
| Sihwan Kim | MC | | 41 | MC* | | | 38 | | |
| David Drysdale | 23 | | MC | 5 | MC | MC | MC | | |
| Nicolas Colsaerts | 40 | | 47 | 8 | 61 | 48 | 42 | | |
| Sean Crocker | 18 | | | | MC | MC | MC | | |
| Ashun Wu | 67 | | | | MC | 38 | MC | | |
| Scott Jamieson | 9 | | | | MC | MC | 11 | | |
| Richard McEvoy | 31 | | 55 | MC | | MC | MC | | |
| David Law | MC | | MC | 1 | MC | | MC | | |
| Soren Kjeldsen | | | | | MC | MC | 5 | | |
| Benjamin Hebert | 18 | | | | MC | MC | 27 | | |
| Gavin Green | MC | | MC | | 11 | MC | 32 | | |
| Matthew Southgate | 63 | | | | 51 | 69 | 42 | | |
| Masahiro Kawamura | 56 | | MC | MC* | | | 12 | | |
| Hideto Tanihara | 23 | | | | MC | 64 | MC | | |
| Kim Koivu | MC | | MC | MC* | MC | 38 | MC | | |
| Jack Singh Brar | MC | | | | MC | | 32 | | |
| Joakim Lagergren | MC | | | | MC | MC | MC | | |
| Matthias Schwab | MC | | | | 24 | 64 | 22 | | |
| George Coetzee | MC | 56 | MC | | MC | 38 | MC | | |
| Robert Rock | MC | | | | 34 | MC | MC | | |
| Scott Hend | 31 | | 34 | MC* | 6 | 48 | 27 | | |
| Grant Forrest | MC | | 47 | 22 | MC | | 42 | | |
| Robert MacIntyre | 45 | | 20 | MC* | 44 | | 63 | | |
| Zander Lombard | 45 | | 37 | 2 | 18 | | 70 | | |
| Thomas Aiken | 31 | | MC | 24 | | 55 | MC | | |
| Matthieu Pavon | MC | | | | MC | 24 | MC | | |
| Kalle Samooja | MC | | | | MC | 16 | MC | | |
| Fabrizio Zanotti | 2 | | | | 24 | 29 | 32 | | |
| Liam Johnston | MC | | MC | MC | 30 | | MC | | |
| Louis De Jager | 23 | | MC | MC* | 1 | | | | |
| Lee Slattery | MC | | | | MC | MC | MC | | |
| Bernd Wiesberger | MC | | | | MC | MC | 42 | | |
| Alvaro Quiros | MC | | | | MC | 3 | 65 | | |
| Nacho Elvira | MC | | | | MC | MC | MC | | |
| Renato Paratore | MC | | | | 18 | MC | 54 | | |
| Tapio Pulkkanen | MC | | | | MC | 20 | MC | | |
| Paul Peterson | 13 | | MC | | | | 38 | | |
| Dave Horsey | 12 | | | | MC | MC | 11 | | |
| Sebastian Soderberg | 21 | | MC | | MC | MC | MC | | |
| Haydn Porteous | Wd | | | | 51 | 48 | MC | | |
| Justin Walters | 31 | | 2 | 15 | 44 | MC | 42 | | |
| Stuart Manley | Dq | | MC | MC* | 64 | | MC | | |
| Ashley Chesters | 9 | | MC | 12 | MC | 67 | MC | | |
| Hyo Won Park | MC | | MC | MC | MC | | MC | | |
| Min Woo Lee | MC | | 5 | MC | 4 | | MC | | |
| Maximilian Kieffer | 2 | | | | 57 | MC | 22 | | |
| Callum Shinkwin | Wd | | MC | 10 | | 56 | 54 | | |
| Clement Sordet | 2 | | 17 | 8 | 61 | | | | |
| Charlie Saxon | | | 17 | MC | 34 | 33 | 32 | | |
| Victor Dubuisson | 12 | | | | 18 | 38 | | | |
| Oscar Lengden | | | | | | | | | |
| Richie Ramsay | MC | | MC | | MC | 56 | 69 | | |
| Niklas Lemke | MC | | MC | MC | 30 | | | | |
| Jens Dantorp | MC | | | | 57 | 48 | MC | | |
| Romain Wattel | MC | | | | MC | 16 | MC | | |
| Stephen Gallacher | MC | | | | MC | 67 | MC | | |
| Oliver Fisher | MC | | | | MC | MC | MC | | |
| Steven Brown | MC | | | | MC | MC | MC | | |
| Lorenzo Gagli | MC | | | | 44 | | | | |
| Connor Syme | MC | | 15 | MC* | | | | | |
| Bradley Dredge | 45 | | | | 13 | 24 | 54 | | |
| Daan Huizing | | | | | | | | | |
| Marc Warren | MC | | | | | 71 | | | |
| Jose-Filipe Lima | | | | | | | | | |
| Jeff Winther | 12 | | 8 | | MC | | | | |
| Tom Murray | MC | | 25 | | | | | | |
| Jacques Kruyswijk | MC | | | 8 | MC | MC | MC | | |
| Nino Bertasio | 45 | | | | 30 | 73 | 71 | | |
| Adam Bland | 17 | | MC | MC | | | | | |
| Pedro Figueiredo | 58 | | MC | MC | MC | | MC | | |
| Jeung-Hun Wang | 45 | | 60 | MC | MC | MC | MC | | |
| Ricardo Gouveia | MC | | MC | MC | | | | | |
| Joel Girrbach | | | MC | | | | | | |
| Thongchai Jaidee | 18 | | | | | 47 | MC | MC | |
| Gonzalo F`dez-Castano | Wd | | | | 44 | MC | MC | | |
| Marcel Schneider | | | | | | | | | |
| Anton Karlsson | MC | | MC | 12 | | | | | |
| Robert Karlsson | MC | | | | 44 | 38 | MC | | |
| Edoardo Molinari | MC | | | | 34 | MC | 49 | | |
| Max Orrin | MC | | MC | MC | | | | | |
| Ben Stow | | | | | | | | | |
| Christofer Blomstrand | | | | | | | | | |
| Raphael Jacquelin | 45 | | | | MC | 61 | 63 | | |
| Ben Evans | MC | | 17 | MC | | | | | |
| Jin Ho Choi | 40 | | MC | MC | | | | | |
| Deyen Lawson | 27 | 2 | 26 | MC | | | | | |
| Adrien Saddier | 31 | | 55 | MC | | | | | |
| Nick Cullen | 31 | | MC | 24 | | | | | |
| Jack Senior | | | | | | | | | |
| David Borda | 23 | | MC | MC | | | | | |
| Guido Migliozzi | 63 | | MC | MC | | | | | |
| Adrian Meronk | | | | | | | | | |
| Christiaan Bezuidenhout | 67 | | 24 | | MC | 69 | MC | | |
| Per Langfors | MC | | 9 | MC | | | | | |
| Gavin Moynihan | 12 | | MC | 27 | | | | | |
| Michael Hoey | | | 47 | 17 | | | | | |
| Scott Fernandez | | | | | | | | | |
| Matthew Nixon | | | MC | 30 | | | | | |
| Kristian Krogh Johannessen | MC | | MC | MC | | | | | |
| Eirik Tage Johansen | | | | | | | | | |
| Sam Brazel | MC | | | MC* | MC | 56 | 42 | | |
| Hugo Leon | 21 | | MC | MC* | | | | | |
| Peter Hanson | 6 | | | | | MC | MC | | |
| Alejandro Canizares | MC | | | | MC | | | | |
| Max Schmitt | 27 | | MC | MC | | | | | |
| SSP Chawrasia | MC | | 41 | | | MC | MC | | |
| Matteo Manassero | 45 | | MC | MC | MC | | | | |
| Thomas Bjorn | MC | | | | MC | 29 | 22 | | |
| Jaco Van Zyl | 61 | | 4 | | MC | MC | MC | | |
| Ivan Cantero Gutierrez | MC | | MC | MC | MC | | | | |
| Bernd Ritthammer | MC | | 34 | MC | MC | | | | |
| Kristoffer Reitan | MC | | 5 | MC* | | MC | | | |
| David Howell | MC | | | | MC | MC | | | |
| Paul Lawrie | MC | | | | | | | | |
| Sam Locke | | | | | | | | | |
| Kristoffer Broberg | MC | | | | | MC | MC | | |
| Niclas Johansson | | | | | | | | | |
| Mitch Waite | | | MC | 36 | 34 | | | | |
| Scott Gregory | MC | | MC | MC | | | | | |
| Daniel Gavins | MC | | 63 | 27 | | | | | |
| Filippo Bergamaschi | 40 | | MC | MC | | | | | |
| Espen Kofstad | 45 | | MC | MC* | | | | | |
| Wilco Nienaber | | | | | | | | | |
| Jaham Al Kuwari | | | | | | | | | |
| Saleh Al Kaabi | | | | | | | | | |
| Faycal Serghini | | | | | | | | | |
| Mike Toorop | | | | | | | | | |
| Player | 2018 | 2017 | 2016 | 2015 | 2014 | 2013 | 2012 | 2011 | 2010 | 2009 |
| --- | --- | --- | --- | --- | --- | --- | --- | --- | --- | --- |
| Tom Lewis | | | | 52 | 37 | 59 | MC | | | |
| Adrian Otaegui | 10 | MC | | 68 | MC | | | | | |
| Alexander Bjork | 19 | 28 | | | | | | | | |
| Justin Harding | | | | | | | | | | |
| Jazz Janewattananond | | | | | | | | | | |
| Thomas Pieters | | | 52 | 38 | | | | | | |
| Lucas Herbert | | | | | | | | | | |
| Ross Fisher | | | | 30 | 43 | | MC | MC | 42 | 50 |
| Kurt Kitayama | | | | | | | | | | |
| Chris Wood | 13 | 11 | MC | | 43 | 1 | 20 | MC | 14 | |
| Andrea Pavan | 13 | | | | MC | | MC | | | |
| Aaron Rai | 19 | | | | | | | | | |
| Mikko Korhonen | MC | 41 | 59 | 74 | | | | | | |
| Mike Lorenzo-Vera | 10 | 4 | 59 | 30 | | | | | | MC |
| Jorge Campillo | | 13 | 20 | 62 | MC | MC | 25 | | | |
| John Catlin | | | | | | | | | | |
| Brandon Stone | MC | | 48 | | MC | | | | | |
| Victor Perez | | | | | | | | | | |
| Jordan Smith | MC | 6 | | | | | | | | |
| Paul Waring | 19 | MC | | 70 | MC | 74 | | 63 | MC | |
| Gaganjeet Bhullar | | | | | 22 | | | | | |
| Dean Burmester | | 41 | | | | | | | | |
| Jake McLeod | | | | | | | | | | |
| Adri Arnaus | | | | | | | | | | |
| Chris Paisley | | 13 | MC | | | MC | | | | |
| David Lipsky | | 41 | 73 | MC | | | | | | |
| Thomas Detry | 39 | 28 | | | | | | | | |
| Erik Van Rooyen | 59 | | | | | | | | | |
| Scott Vincent | | | | | | | | | | |
| Andy Sullivan | 34 | 28 | | 19 | MC | 9 | | | | |
| Joachim B Hansen | | | 68 | | MC | MC | | | | |
| Darren Fichardt | MC | 66 | MC | 23 | 16 | MC | MC | 28 | MC | |
| Yusaku Miyazato | | | | | | | | | | |
| Marcus Kinhult | 3 | | | | | | | | | |
| Dimitrios Papadatos | | | | | | | | | | |
| Oliver Wilson | | | 68 | MC | | | 69 | 12 | 5 | 64 |
| Romain Langasque | | 37 | | | | | | | | |
| Pablo Larrazabal | 4 | 48 | 13 | 33 | MC | MC | 25 | MC | 31 | 62 |
| Sihwan Kim | | | | | MC | | | | | |
| David Drysdale | MC | 37 | MC | MC | | 49 | 47 | 12 | MC | |
| Nicolas Colsaerts | 34 | 28 | 27 | 13 | | | 9 | MC | | |
| Sean Crocker | 28 | | | | | | | | | |
| Ashun Wu | 28 | | 52 | | | | | | | |
| Scott Jamieson | 61 | MC | 68 | 65 | | MC | 12 | | | |
| Richard McEvoy | | | | | | | MC | MC | | |
| David Law | | | | | | | | | | |
| Soren Kjeldsen | | | 20 | 13 | 57 | MC | 67 | 55 | 32 | MC |
| Benjamin Hebert | 61 | 65 | 20 | 10 | | | MC | | | |
| Gavin Green | | | | | | | | | | |
| Matthew Southgate | MC | MC | | | | | | | | |
| Masahiro Kawamura | | | | | | | | | | |
| Hideto Tanihara | 28 | | | | | | | | | |
| Kim Koivu | | | | | | | | | | |
| Jack Singh Brar | | | | | | | | | | |
| Joakim Lagergren | 45 | 2 | 41 | | | | | | | |
| Matthias Schwab | 61 | | | | | | | | | |
| George Coetzee | 8 | MC | 7 | 12 | 5 | 2 | 35 | | | |
| Robert Rock | MC | MC | 20 | MC | 22 | | | 45 | MC | |
| Scott Hend | 70 | 60 | MC | MC | | | | | | |
| Grant Forrest | 53 | | | | | | | | | |
| Robert MacIntyre | | | | | | | | | | |
| Zander Lombard | MC | | | | | | | | | |
| Thomas Aiken | MC | 4 | | 38 | 5 | 22 | 69 | 6 | MC | |
| Matthieu Pavon | 28 | 67 | | | | | | | | |
| Kalle Samooja | | | | | | | | | | |
| Fabrizio Zanotti | 45 | MC | MC | MC | 22 | 59 | MC | 28 | MC | |
| Liam Johnston | | | | | | | | | | |
| Louis De Jager | | | | | | | | | | |
| Lee Slattery | MC | MC | 4 | | 76 | 70 | 35 | | | MC |
| Bernd Wiesberger | | 37 | 13 | 3 | MC | 42 | MC | MC | | |
| Alvaro Quiros | 19 | MC | 68 | 23 | 28 | | 59 | 2 | 2 | 1 |
| Nacho Elvira | 39 | 6 | MC | | 67 | | | | | |
| Renato Paratore | 4 | MC | 29 | 38 | | | | | | |
| Tapio Pulkkanen | MC | | | | | | | | | |
| Paul Peterson | | 28 | | | | | | | | |
| Dave Horsey | 13 | | | | | 37 | | 76 | 20 | |
| Sebastian Soderberg | | | | | | | | | | |
| Haydn Porteous | MC | MC | 57 | | | | | | | |
| Justin Walters | 45 | MC | | | MC | MC | | | | |
| Stuart Manley | | | | | 43 | | | | | |
| Ashley Chesters | 45 | | | | | | | | | |
| Hyo Won Park | | | | | | | | | | |
| Min Woo Lee | | | | | | | | | | |
| Maximilian Kieffer | MC | MC | 35 | 46 | MC | MC | | | | |
| Callum Shinkwin | 19 | MC | 35 | | | | | | | |
| Clement Sordet | MC | | | | | | | | | |
| Charlie Saxon | | | | | | | | | | |
| Victor Dubuisson | | | | | | 9 | 9 | 9 | | |
| Oscar Lengden | | | | | | | | | | |
| Richie Ramsay | MC | 37 | 41 | MC | | | MC | 45 | 32 | |
| Niklas Lemke | | | | | | | | | | |
| Jens Dantorp | MC | | | | MC | | | | | |
| Romain Wattel | 19 | MC | MC | MC | 11 | 49 | 35 | 59 | | |
| Stephen Gallacher | 39 | MC | MC | 33 | 28 | 59 | MC | 12 | 45 | 16 |
| Oliver Fisher | 2 | 41 | MC | 10 | | MC | 47 | 74 | | MC |
| Steven Brown | 39 | | | | | | | | | |
| Lorenzo Gagli | 34 | | | | | 22 | MC | | | |
| Connor Syme | MC | | | | | | | | | |
| Bradley Dredge | 45 | 21 | 4 | MC | | | MC | 12 | 5 | 31 |
| Daan Huizing | | | | | MC | | | | | |
| Marc Warren | 53 | 60 | 35 | 2 | MC | MC | 35 | | 20 | |
| Jose-Filipe Lima | | MC | | | 70 | | | | | |
| Jeff Winther | MC | | Ret | | | | | | | |
| Tom Murray | | | | | | | | | | |
| Jacques Kruyswijk | 39 | | | | | | | | | |
| Nino Bertasio | MC | 48 | | | | | | | | |
| Adam Bland | MC | | | | | | | | | |
| Pedro Figueiredo | | | | | | | | | | |
| Jeung-Hun Wang | MC | 1 | | | | | | | | |
| Ricardo Gouveia | 61 | MC | 7 | | | | | | | |
| Joel Girrbach | | | | | | | | | | |
| Thongchai Jaidee | 53 | MC | 20 | 23 | 33 | 9 | 20 | 19 | 32 | MC |
| Gonzalo F`dez-Castano | 4 | | | | | 16 | 12 | MC | 32 | 7 |
| Marcel Schneider | 70 | | | | | | | | | |
| Anton Karlsson | | 13 | | | | | | | | |
| Robert Karlsson | 76 | 28 | 52 | 62 | 54 | | MC | 6 | 1 | 37 |
| Edoardo Molinari | 72 | MC | | 33 | MC | MC | | | 24 | |
| Max Orrin | | | | | | | | | | |
| Ben Stow | | | | | | | | | | |
| Christofer Blomstrand | | | | | | | | | | |
| Raphael Jacquelin | 53 | 60 | MC | MC | MC | 42 | MC | MC | 66 | 56 |
| Ben Evans | MC | | 29 | | | | | | | |
| Jin Ho Choi | 72 | | | | | | | | | |
| Deyen Lawson | | | | | | | | | | |
| Adrien Saddier | MC | | | | 16 | | | | | |
| Nick Cullen | | | | | | | | | | |
| Jack Senior | | | | | | | | | | |
| David Borda | | | | | | | | | | |
| Guido Migliozzi | | | | | | | | | | |
| Adrian Meronk | | | | | | | | | | |
| Christiaan Bezuidenhout | 28 | | | | | | | | | |
| Per Langfors | | | | | | | | | | |
| Gavin Moynihan | MC | | | | | | | | | |
| Michael Hoey | | | MC | 52 | 61 | 42 | 12 | 45 | 32 | |
| Scott Fernandez | 19 | | | | | | | | | |
| Matthew Nixon | 13 | | | 68 | MC | | | | | |
| Kristian Krogh Johannessen | | | | | | | | | | |
| Eirik Tage Johansen | | | | | | | | | | |
| Sam Brazel | MC | MC | | | | | | | | |
| Hugo Leon | | | | | | | | | | |
| Peter Hanson | | 18 | 59 | | 22 | 22 | 2 | 70 | 14 | 31 |
| Alejandro Canizares | | Wd | 27 | 8 | 5 | MC | 25 | MC | | |
| Max Schmitt | | | | | | | | | | |
| SSP Chawrasia | MC | MC | | | | 49 | 47 | | MC | MC |
| Matteo Manassero | MC | MC | MC | MC | | 22 | MC | | | |
| Thomas Bjorn | MC | 48 | 59 | | MC | 59 | 25 | 1 | 8 | 60 |
| Jaco Van Zyl | | 2 | | | | | 35 | | | |
| Ivan Cantero Gutierrez | | | | | | | | | | |
| Bernd Ritthammer | | MC | | | | | | | | |
| Kristoffer Reitan | | | | | | | | | | |
| David Howell | 61 | MC | MC | MC | MC | 22 | MC | 5 | MC | 37 |
| Paul Lawrie | 61 | MC | 13 | 46 | 11 | MC | 1 | 19 | MC | 46 |
| Sam Locke | | | | | | | | | | |
| Kristoffer Broberg | | MC | 20 | 33 | 28 | MC | | | | |
| Niclas Johansson | | | | | | | | | | |
| Mitch Waite | | | | | | | | | | |
| Scott Gregory | | | | | | | | | | |
| Daniel Gavins | | | | | | | | | | |
| Filippo Bergamaschi | | | | | | | | | | |
| Espen Kofstad | | | | | | MC | | | | |
| Wilco Nienaber | | | | | | | | | | |
| Jaham Al Kuwari | | | | | | | | | | |
| Saleh Al Kaabi | MC | MC | MC | MC | MC | MC | | | | |
| Faycal Serghini | | | | | | | | | | |
| Mike Toorop | | | | | | | | | | |