Commercial Bank Qatar Masters 2018: Course and current form guide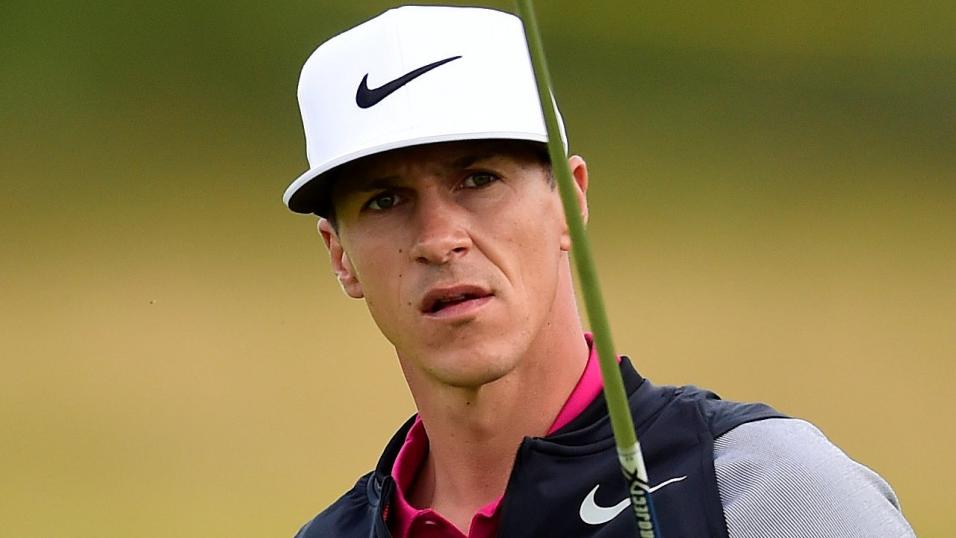 Thorbjorn Olesen: On his last outing on the European Tour finished 10th
Andy Swales provides this week's stats guide for the Commercial Bank Qatar Masters at Doha, highlighting both course and current form for those teeing-up in the Middle East.
"One of the highest-ranked Europeans teeing-up is Thorbjorn Olesen who has twice finished inside the top-three in Qatar"
For the 21st consecutive year, the Commercial Bank Qatar Masters will be staged at the Peter Harradine-designed Doha Golf Club.
Opened in 1996, the course was laid out just over one mile from Qatar's eastern coastline, and around six miles north of central Doha.
Its average-sized putting surfaces can be tricky to negotiate, while strong winds are often a major factor during the tournament.
Driving accuracy has never been the most important attribute needed to succeed at Doha, where a good touch around the greens, in often difficult conditions, is usually a more critical skill.
A quick glance at the list of competitors tells you that this year's Qatar Masters is going to be its poorest gathering for more than a decade.
When it was sandwiched between events in Abu Dhabi and Dubai, there was always a sprinkling of stardust teeing-up at Doha.
But probably due to a change of dates, the field for 2018 is well below par for a tournament which, over the years, has been won by major champions and top-30 ranked pros.
World Ranking
The three highest-ranked players taking part this week are Julian Suri, Shubhankar Sharma and Hideto Tanihara - none of which are currently inside the world's top 50. All three will be making their Doha debuts.
American Suri has made a rapid rise up the ranking in the past 12 months.
During 2017, he claimed his maiden European Tour title while rising to 63 in the world - having started the year well outside the top 1,000.
In three starts this year - all in the United States - his highest finish has been a tie-for-63rd. However, this shouldn't rule him out from entering the winners' enclosure this weekend.
A little further down the ranking, at 85, is his compatriot Seung-Su Han who has also made giant strides of late.
He was fourth in Oman on Sunday, having registered five podium finishes in various parts of Asia last year.
European Challenge
One of the highest-ranked Europeans teeing-up is Thorbjorn Olesen who has twice finished inside the top-three in Qatar, although neither ended with the Dane holding aloft the trophy.
On his most recent outing, the world No 92 was a top-10 finisher at the Super Six event in Perth.
Another highly-fancied starter is 2013 Doha winner Chris Wood who was runner-up in Oman over the weekend.
Wood's fellow Englishman, Andy Sullivan, made it a third straight top-20 last week, as he tries to rediscover his form from 2016.
And if you are looking for a lower-ranked player to conjure up some sort of top-five finish this week, then experienced Finn Mikko Illonen could deliver.
The five-time European Tour winner was second at Doha four years ago, and seemed to improve day-by-day in Oman where he finished in a tie-for-26th.
MC* - Missed Additional 54-Hole Cut
| Player | W7 | W6 | W5 | W4 | W3 | W2 | W1 | W52 | W51 | W50 | W49 | W48 |
| --- | --- | --- | --- | --- | --- | --- | --- | --- | --- | --- | --- | --- |
| Julian Suri | | 68 | MC | 63 | | | | | | | | |
| Shubhankar Sharma | MC | | 1 | 61 | 48 | | | | | 11 | 1 | 27 |
| Hideto Tanihara | | 65 | 5 | MC | 68 | | | | | | | 13 |
| Thorbjorn Olesen | | 10 | MC | 29 | 53 | | | | | | | |
| Seung-Su Han | 4 | 58 | | 29 | 27 | | | | | | | 3 |
| Fabrizio Zanotti | 7 | | 60 | MC | 9 | | | | | | | |
| Jordan Smith | 26 | | 69 | MC | 61 | MC | | | | | | |
| Dave Horsey | MC | | 34 | 22 | MC | | | | | | | |
| Chris Wood | 2 | | | MC | MC | MC | | | | | | |
| Alexander Bjork | 12 | | MC | 6 | MC | | | | | | | MC |
| Jeung-Hun Wang | 26 | | 62 | 6 | 15 | | | | | | | |
| Nicolas Colsaerts | | | | 51 | 32 | | | | | | | MC |
| Paul Peterson | | MC | 11 | 1 | MC | | | | | | 8 | 22 |
| Richie Ramsay | | | 62 | 6 | 40 | | | | | | | |
| Soren Kjeldsen | MC | | 39 | MC | 48 | MC | | | | | | |
| Andy Sullivan | 16 | | 17 | 6 | 53 | 34 | | | | | | |
| Mike Lorenzo-Vera | MC | | 17 | MC | 40 | | | | | | | |
| Scott Hend | 56 | | MC | 37 | 22 | | | | | 44 | | MC |
| Pablo Larrazabal | 44 | | 3 | MC | MC | | | | | | | |
| Richard Sterne | 37 | | | 67 | 19 | 20 | | | | | | |
| Scott Jamieson | | | 17 | 51 | MC | | | | | | | |
| Erik Van Rooyen | 18 | 52 | | | | 20 | | | | | 2 | |
| Jazz Janewattananond | MC | 40 | 39 | 35 | 4 | | | | 3 | 17 | MC | MC |
| Eddie Pepperell | 44 | | MC* | MC | MC | | | | | | | |
| George Coetzee | 13 | | | MC | MC | 54 | | | | | 30 | 9 |
| Matt Wallace | 44 | | MC | 37 | 32 | 38 | | | | | 30 | |
| Matthieu Pavon | 31 | | 11 | Dq | MC | 34 | | | | | | 5 |
| Adrian Otaegui | 12 | | 39 | 22 | 40 | | | | | | | |
| Daisuke Kataoka | 56 | 40 | 23 | MC | MC | 18 | | | | 51 | | 28 |
| Jason Scrivener | MC | 26 | MC | 6 | 48 | MC | | | | | | 15 |
| Matthew Southgate | 9 | | 62 | 57 | MC | MC | | | | | | |
| Poom Saksansin | | 21 | MC | 10 | 12 | | | | 6 | 36 | | |
| Phachara Khongwatmai | 37 | | 17 | 57 | MC | | | | | 2 | MC | 44 |
| Renato Paratore | MC | | MC | MC | MC | 7 | | | | | | |
| Haydn Porteous | 26 | | MC | 19 | 53 | MC | | | | | 49 | 40 |
| Callum Shinkwin | 56 | | | MC | MC | | | | | | | |
| Darren Fichardt | MC | MC | | MC | 40 | 7 | | | | | MC | 16 |
| Thomas Detry | 31 | | 23 | 22 | 9 | MC | | | | | | 45 |
| Tapio Pulkkanen | 23 | | | | | MC | | | | | 3 | |
| Prayad Marksaeng | | | 27 | Wd | MC | | | | 36 | Wd | | 16 |
| Aaron Rai | 37 | 26 | | MC | | MC | | | | | 19 | MC |
| Clement Sordet | 37 | | | | | MC | | | | | | 50 |
| Nacho Elvira | MC | | MC | MC | MC | 20 | | | | | | |
| Lucas Bjerregaard | MC | | MC | 61 | 69 | MC | | | | | | |
| Brandon Stone | MC | | MC | MC | 61 | MC | | | | | | |
| Julien Guerrier | 3 | 33 | | | | MC | | | | | | |
| Adam Bland | MC | 73 | MC | | MC | | | | | | | 3 |
| Jin Ho Choi | MC | | | | | MC | | | | | 8 | 20 |
| Marc Warren | 63 | | 67 | MC | MC | 54 | | | | | | |
| Romain Wattel | MC | | 11 | 37 | MC | | | | | | | |
| Thongchai Jaidee | 51 | | 39 | MC | MC | | | | 27 | MC | | |
| Anthony Wall | MC | | | 22 | MC | | | | | | | |
| SSP Chawrasia | 53 | | 55 | MC | MC | | | | | MC | | 27 |
| Benjamin Hebert | 9 | | 17 | MC | 32 | | | | | | | |
| Richard Bland | MC | | | MC | MC | 31 | | | | | | |
| Marcus Kinhult | 16 | | | | | 12 | | | | | MC | 50 |
| Mikko Korhonen | MC | | | 61 | 22 | MC | | | | | 13 | |
| Robert Rock | 7 | | MC | MC | MC | | | | | | | |
| Nino Bertasio | 51 | | 5 | 45 | 53 | | | | | | | |
| Sam Brazel | 16 | | MC | 22 | 32 | | | | | | | 37 |
| Ryan Evans | 53 | 33 | | | | 15 | | | | | | 50 |
| Joakim Lagergren | MC | | MC | MC | 53 | | | | | | | MC |
| Bradley Dredge | MC | | | | | | | | | | | |
| Paul Waring | 44 | | MC | MC | MC | | | | | | | |
| Adrien Saddier | MC | MC | | | | 7 | | | | | 57 | MC |
| Oscar Lengden | | | | | | | | | | | MC | |
| Gregory Bourdy | 31 | | MC | MC | 61 | 54 | | | | | | |
| Micah Lauren Shin | | | MC | 21 | MC | | | | | 20 | | MC |
| Lee Slattery | 31 | | MC | 64 | 61 | MC | | | | | | |
| James Morrison | MC | | | MC | MC | MC | | | | | 6 | MC |
| Robert Karlsson | MC | | MC* | 51 | 32 | | | | | | | MC |
| Stephen Gallacher | 9 | | 39 | 57 | 61 | | | | | | | |
| Ashun Wu | MC | | | 37 | 22 | | | | | | MC | 20 |
| Alejandro Canizares | | MC | | 22 | 48 | | | | | | | |
| Chase Koepka | MC | 58 | | | | 7 | | | | | | 50 |
| Jamie Donaldson | MC | | | 45 | MC | 34 | | | | | | MC |
| Jacques Kruyswijk | MC | 8 | | | 69 | 4 | | | | | 49 | 62 |
| David Drysdale | 23 | | | | MC | 47 | | | | | MC | |
| Chris Hanson | MC | | MC* | 6 | MC | | | | | | | 62 |
| Marcel Siem | MC | | MC* | MC | MC | | | | | | | |
| Oliver Farr | 59 | | | | | 75 | | | | | 49 | 24 |
| Jens Dantorp | 59 | 73 | | | | 38 | | | | | 49 | 44 |
| Bernd Ritthammer | MC | MC | | | | | | | | | | |
| Maximilian Kieffer | 23 | | 11 | 32 | MC | | | | | | | |
| Thomas Aiken | MC | | | 51 | MC | MC | | | | | MC | |
| Victor Perez | MC | MC | | | | | | | | | 13 | MC |
| Mikko Ilonen | 26 | | | 57 | 40 | | | | | | | MC |
| Steven Brown | MC | 49 | | | | | | | | | 19 | 44 |
| Lasse Jensen | MC | | | 37 | 27 | MC | | | | | | MC |
| Nick Cullen | MC | 18 | 7 | | | | | | | | | |
| Sebastian Heisele | MC | MC | | | | | | | | | 57 | 62 |
| Richard McEvoy | 65 | MC | | | | | | | | | 30 | 32 |
| Carlos Pigem | MC | | MC* | MC | 53 | | | | | | 72 | 44 |
| Ricardo Gouveia | MC | | | MC | 53 | MC | | | | | | 16 |
| Oliver Fisher | 44 | | MC | MC | MC | 38 | | | | | | |
| Edoardo Molinari | 16 | | MC | 45 | MC | MC | | | | | | |
| Gavin Moynihan | MC | MC | | | | | | | | | MC | MC |
| Tano Goya | | | | | | | | | | | | MC |
| Matteo Manassero | 31 | | 55 | MC | 30 | | | | | | | |
| Trevor Fisher | 27 | | | | | 15 | | | | | | |
| Zander Lombard | 65 | 21 | | MC | MC | MC | | | | | Dq | MC |
| Charlie Ford | 26 | 65 | | | | 11 | | | | | 8 | |
| Alvaro Quiros | MC | | MC | MC | 61 | | | | | | | |
| Sean Crocker | MC | 5 | | MC | 6 | | | | | | | 7 |
| Jeff Winther | 21 | | | | | 20 | | | | | 27 | 14 |
| Ashley Chesters | MC | | | 51 | MC | MC | | | | | MC | 44 |
| Daniel Brooks | Wd | | | MC | MC | MC | | | | | 30 | |
| Daan Huizing | 21 | | | 69 | | | | | | | | |
| Julien Quesne | | | | | | | | | | | | |
| Bradley Neil | 63 | 77 | | | | 51 | | | | | MC | MC |
| Adrian Meronk | | MC | | | | | | | | | 42 | 55 |
| Gregory Havret | MC | | | 37 | 67 | MC | | | | | | MC |
| Ben Evans | MC | MC | | | | | | | | | MC | Wd |
| Justin Walters | 9 | MC | | | | 38 | | | | | MC | 14 |
| Felipe Aguilar | MC | MC | | | | | | | | | | |
| Scott Fernandez | 37 | MC | | | | MC | | | | | MC | 32 |
| Pep Angles | 69 | 40 | | | | MC | | | | | 49 | 32 |
| Daniel Im | 53 | | 73 | 65 | Dq | | | | | | 12 | 50 |
| James Heath | MC | MC | | | | | | | | | MC | |
| Christofer Blomstrand | MC | MC | | | | MC | | | | | 8 | MC |
| Paul Lawrie | 61 | | | MC | MC | | | | | | | |
| Raphael Jacquelin | 44 | | | | MC | MC | | | | | | MC |
| Lorenzo Gagli | MC | MC | | | | | | | | | MC | MC |
| Grant Forrest | | 17 | | | | | | | | | MC | MC |
| Christopher Mivis | MC | 49 | | | | | | | | | MC | MC |
| Matthias Schwab | MC | 33 | | | | | | | | | | |
| Thomas Bjorn | 31 | | 39 | MC | 30 | | | | | | | |
| Jens Fahrbring | MC | 65 | | | | | | | | | 30 | |
| Christiaan Bezuidenhout | 44 | MC | | | | 63 | | | | | 30 | MC |
| Henric Sturehed | MC | | | MC | | | | | | | MC | MC |
| Mark Foster | MC | 79 | | | | | | | | | 19 | MC |
| Thomas Linard | | | | | | | | | | | | |
| Tom Murray | | MC | | | | | | | | | MC | |
| Pontus Widegren | MC | MC | | | | 73 | | | | | MC | 65 |
| Jonathan Thomson | 65 | MC | | | | | | | | | MC | MC |
| Laurie Canter | MC | 49 | | | | | | | | | MC | 16 |
| Gonzalo F`dez-Castano | MC | 8 | MC | 4 | MC | | | | | | | |
| Soomin Lee | 37 | | 39 | MC | MC | 31 | | | | MC | | |
| Andrea Pavan | 16 | 15 | | | | MC | | | | | 42 | 27 |
| David Howell | | | | | | Wd | | | | | MC | |
| Sam Horsfield | MC | 4 | | MC | | MC | | | | | MC | 22 |
| Nico Geyger | 12 | MC | | | | | | | | | MC | 27 |
| Rak Hyun Cho | MC | 65 | | | | MC | | | | | | MC |
| Espen Kofstad | | | | | | | | | | | MC | MC |
| Marcel Schneider | MC | MC | | | | | | | | | MC | 59 |
| Matthew Baldwin | MC | MC | | | | | | | | | 19 | Wd |
| Connor Syme | 37 | MC | | MC | | | | | | | MC | MC |
| Ross McGowan | MC | MC | | | | MC | | | | | 13 | MC |
| Ben Stow | | | | | | | | | | | | MC |
| Simon Khan | | | | | | | | | | | MC | MC |
| Josh Geary | MC | MC | MC | | | MC | | | | | MC | 62 |
| Matthew Nixon | MC | MC | | | | | | | | | MC | MC |
| Ahmed Marjan | | 22 | | MC | 28 | | | | | | | |
| Sebastien Gros | MC | 40 | | | | | | | | | | MC |
| Joshua White | | | | | | | | | | | MC | |
| Darren Clarke | 61 | | MC* | MC | | | | | | | | MC |
| Ahmad Baig | | | | | | | | | | | | |
| Ali Saleh Al Kaabi | | MC | | | | | | | | | | |
| Ali Al Shahrani | | MC | | | | | | | | | | |
| Clarke Lutton | | | | | | | | | | | | |
| Reece Phillips | | | | | | | | | | | | |
| Sean Maisey | | | | | | | | | | | | |
| Shergo Al Kurdi | | | | | | | | | | | | |
| Player | 2017 | 2016 | 2015 | 2014 | 2013 | 2012 | 2011 | 2010 | 2009 | 2008 |
| --- | --- | --- | --- | --- | --- | --- | --- | --- | --- | --- |
| Julian Suri | | | | | | | | | | |
| Shubhankar Sharma | | | | | | | | | | |
| Hideto Tanihara | | | | | | | | | | |
| Thorbjorn Olesen | 57 | 2 | MC | 3 | 22 | 59 | MC | | | |
| Seung-Su Han | | | | | | | | | | |
| Fabrizio Zanotti | MC | MC | MC | 22 | 59 | MC | 28 | MC | | |
| Jordan Smith | 6 | | | | | | | | | |
| Dave Horsey | | | | | 37 | | 76 | 20 | | |
| Chris Wood | 11 | MC | | 43 | 1 | 20 | MC | 14 | | |
| Alexander Bjork | 28 | | | | | | | | | |
| Jeung-Hun Wang | 1 | | | | | | | | | |
| Nicolas Colsaerts | 28 | 27 | 13 | | | 9 | MC | | | |
| Paul Peterson | 28 | | | | | | | | | |
| Richie Ramsay | 37 | 41 | MC | | | MC | 45 | 32 | | |
| Soren Kjeldsen | | 20 | 13 | 57 | MC | 67 | 55 | 32 | MC | 20 |
| Andy Sullivan | 28 | | 19 | MC | 9 | | | | | |
| Mike Lorenzo-Vera | 4 | 59 | 30 | | | | | | MC | |
| Scott Hend | 60 | MC | MC | | | | | | | |
| Pablo Larrazabal | 48 | 13 | 33 | MC | MC | 25 | MC | 31 | 62 | |
| Richard Sterne | | | | MC | | | Ret | | | |
| Scott Jamieson | MC | 68 | 65 | | MC | 12 | | | | |
| Erik Van Rooyen | | | | | | | | | | |
| Jazz Janewattananond | | | | | | | | | | |
| Eddie Pepperell | | MC | 4 | 63 | MC | | | | | |
| George Coetzee | MC | 7 | 12 | 5 | 2 | 35 | | | | |
| Matt Wallace | | | | | | | | | | |
| Matthieu Pavon | 67 | | | | | | | | | |
| Adrian Otaegui | MC | | 68 | MC | | | | | | |
| Daisuke Kataoka | | | | | | | | | | |
| Jason Scrivener | MC | | | | | | | | | |
| Matthew Southgate | MC | | | | | | | | | |
| Poom Saksansin | | | | | | | | | | |
| Phachara Khongwatmai | | | | | | | | | | |
| Renato Paratore | MC | 29 | 38 | | | | | | | |
| Haydn Porteous | MC | 57 | | | | | | | | |
| Callum Shinkwin | MC | 35 | | | | | | | | |
| Darren Fichardt | 66 | MC | 23 | 16 | MC | MC | 28 | MC | | |
| Thomas Detry | 28 | | | | | | | | | |
| Tapio Pulkkanen | | | | | | | | | | |
| Prayad Marksaeng | | | | | | | | MC | MC | |
| Aaron Rai | | | | | | | | | | |
| Clement Sordet | | | | | | | | | | |
| Nacho Elvira | 6 | MC | | 67 | | | | | | |
| Lucas Bjerregaard | 11 | 41 | MC | | | | | | | |
| Brandon Stone | | 48 | | MC | | | | | | |
| Julien Guerrier | | | | | | | | | | |
| Adam Bland | | | | | | | | | | |
| Jin Ho Choi | | | | | | | | | | |
| Marc Warren | 60 | 35 | 2 | MC | MC | 35 | | 20 | | 13 |
| Romain Wattel | MC | MC | MC | 11 | 49 | 35 | 59 | | | |
| Thongchai Jaidee | MC | 20 | 23 | 33 | 9 | 20 | 19 | 32 | MC | 25 |
| Anthony Wall | 21 | | MC | 37 | 6 | 25 | 28 | MC | 21 | 25 |
| SSP Chawrasia | MC | | | | 49 | 47 | | MC | MC | |
| Benjamin Hebert | 65 | 20 | 10 | | | MC | | | | |
| Richard Bland | 55 | 7 | MC | 33 | 49 | | MC | 24 | | |
| Marcus Kinhult | | | | | | | | | | |
| Mikko Korhonen | 41 | 59 | 74 | | | | | | | |
| Robert Rock | MC | 20 | MC | 22 | | | 45 | MC | | |
| Nino Bertasio | 48 | | | | | | | | | |
| Sam Brazel | MC | | | | | | | | | |
| Ryan Evans | | | | | | | | | | |
| Joakim Lagergren | 2 | 41 | | | | | | | | |
| Bradley Dredge | 21 | 4 | MC | | | MC | 12 | 5 | 31 | 51 |
| Paul Waring | MC | | 70 | MC | 74 | | 63 | MC | | |
| Adrien Saddier | | | | 16 | | | | | | |
| Oscar Lengden | | | | | | | | | | |
| Gregory Bourdy | MC | 13 | 5 | | MC | MC | 45 | MC | 43 | 33 |
| Micah Lauren Shin | | | | | | | | | | |
| Lee Slattery | MC | 4 | | 76 | 70 | 35 | | | MC | MC |
| James Morrison | | 57 | 46 | 63 | | MC | MC | | | |
| Robert Karlsson | 28 | 52 | 62 | 54 | | MC | 6 | 1 | 37 | 60 |
| Stephen Gallacher | MC | MC | 33 | 28 | 59 | MC | 12 | 45 | 16 | MC |
| Ashun Wu | | 52 | | | | | | | | |
| Alejandro Canizares | Wd | 27 | 8 | 5 | MC | 25 | MC | | | |
| Chase Koepka | | | | | | | | | | |
| Jamie Donaldson | | | | | | | 63 | MC | 68 | |
| Jacques Kruyswijk | | | | | | | | | | |
| David Drysdale | 37 | MC | MC | | 49 | 47 | 12 | MC | | |
| Chris Hanson | 18 | | | | | | | | | |
| Marcel Siem | Dq | 29 | MC | 43 | 42 | 12 | 45 | 32 | 37 | 42 |
| Oliver Farr | | | MC | | | | | | | |
| Jens Dantorp | | | | MC | | | | | | |
| Bernd Ritthammer | MC | | | | | | | | | |
| Maximilian Kieffer | MC | 35 | 46 | MC | MC | | | | | |
| Thomas Aiken | 4 | | 38 | 5 | 22 | 69 | 6 | MC | | |
| Victor Perez | | | | | | | | | | |
| Mikko Ilonen | MC | 13 | MC | 2 | 9 | 35 | | 49 | 37 | MC |
| Steven Brown | | | | | | | | | | |
| Lasse Jensen | MC | | | | | | | | | |
| Nick Cullen | | | | | | | | | | |
| Sebastian Heisele | | | | | | | | | | |
| Richard McEvoy | | | | | | MC | MC | | | |
| Carlos Pigem | | | | | | | | | | |
| Ricardo Gouveia | MC | 7 | | | | | | | | |
| Oliver Fisher | 41 | MC | 10 | | MC | 47 | 74 | | MC | 25 |
| Edoardo Molinari | MC | | 33 | MC | MC | | | 24 | | |
| Gavin Moynihan | | | | | | | | | | |
| Tano Goya | | | | | 49 | MC | 63 | MC | | |
| Matteo Manassero | MC | MC | MC | | 22 | MC | | | | |
| Trevor Fisher | | 48 | | | | | | | | |
| Zander Lombard | | | | | | | | | | |
| Charlie Ford | | | | | | | | | | |
| Alvaro Quiros | MC | 68 | 23 | 28 | | 59 | 2 | 2 | 1 | MC |
| Sean Crocker | | | | | | | | | | |
| Jeff Winther | | Ret | | | | | | | | |
| Ashley Chesters | | | | | | | | | | |
| Daniel Brooks | 68 | MC | MC | | | | | | | |
| Daan Huizing | | | | MC | | | | | | |
| Julien Quesne | MC | MC | 19 | 28 | | | | | | |
| Bradley Neil | | | | | | | | | | |
| Adrian Meronk | | | | | | | | | | |
| Gregory Havret | 57 | 29 | 58 | MC | 69 | 25 | 19 | MC | MC | 33 |
| Ben Evans | | 29 | | | | | | | | |
| Justin Walters | MC | | | MC | MC | | | | | |
| Felipe Aguilar | 41 | MC | 23 | | 9 | 47 | 28 | MC | MC | |
| Scott Fernandez | | | | | | | | | | |
| Pep Angles | MC | | | | | | | | | |
| Daniel Im | 28 | | | | | | | | | |
| James Heath | | | | | | | | | | |
| Christofer Blomstrand | | | | | | | | | | |
| Paul Lawrie | MC | 13 | 46 | 11 | MC | 1 | 19 | MC | 46 | 25 |
| Raphael Jacquelin | 60 | MC | MC | MC | 42 | MC | MC | 66 | 56 | 20 |
| Lorenzo Gagli | | | | | 22 | MC | | | | |
| Grant Forrest | | | | | | | | | | |
| Christopher Mivis | | | | | | | | | | |
| Matthias Schwab | | | | | | | | | | |
| Thomas Bjorn | 48 | 59 | | MC | 59 | 25 | 1 | 8 | 60 | 33 |
| Jens Fahrbring | MC | 72 | | | | | | | | |
| Christiaan Bezuidenhout | | | | | | | | | | |
| Henric Sturehed | | | | | | | | | | |
| Mark Foster | | | 52 | 57 | 42 | 35 | 12 | Dq | MC | MC |
| Thomas Linard | | MC | | | | | | | | |
| Tom Murray | | | | | | | | | | |
| Pontus Widegren | | | | | | | | | | |
| Jonathan Thomson | | | | | | | | | | |
| Laurie Canter | | | | | | | | | | |
| Gonzalo F`dez-Castano | | | | | 16 | 12 | MC | 32 | 7 | 33 |
| Soomin Lee | 60 | | | | | | | | | |
| Andrea Pavan | | | | MC | | MC | | | | |
| David Howell | MC | MC | MC | MC | 22 | MC | 5 | MC | 37 | 7 |
| Sam Horsfield | | | | | | | | | | |
| Nico Geyger | | | | | | | | | | |
| Rak Hyun Cho | | | | | | | | | | |
| Espen Kofstad | | | | | MC | | | | | |
| Marcel Schneider | | | | | | | | | | |
| Matthew Baldwin | | MC | 23 | 22 | 67 | | | | | |
| Connor Syme | | | | | | | | | | |
| Ross McGowan | | | | | | | MC | MC | 46 | 13 |
| Ben Stow | | | | | | | | | | |
| Simon Khan | | Ret | MC | | 6 | 25 | MC | 57 | | 60 |
| Josh Geary | | | | | | | | | | |
| Matthew Nixon | | | 68 | MC | | | | | | |
| Ahmed Marjan | | | | | | | | | | |
| Sebastien Gros | 55 | MC | | | | | | | | |
| Joshua White | | | | | | | | | | |
| Darren Clarke | | | | | | | 12 | | MC | |
| Ahmad Baig | | | | | | | | | | |
| Ali Saleh Al Kaabi | MC | MC | MC | MC | MC | | | | | |
| Ali Al Shahrani | | MC | MC | MC | | | | | | |
| Clarke Lutton | MC | 74 | | | | | | | | |
| Reece Phillips | | | | | | | | | | |
| Sean Maisey | | | | | | | | | | |
| Shergo Al Kurdi | | | | | | | | | | |
Discover the latest articles