BMW PGA Championship 2019: Your form guide for this week's event at Wentworth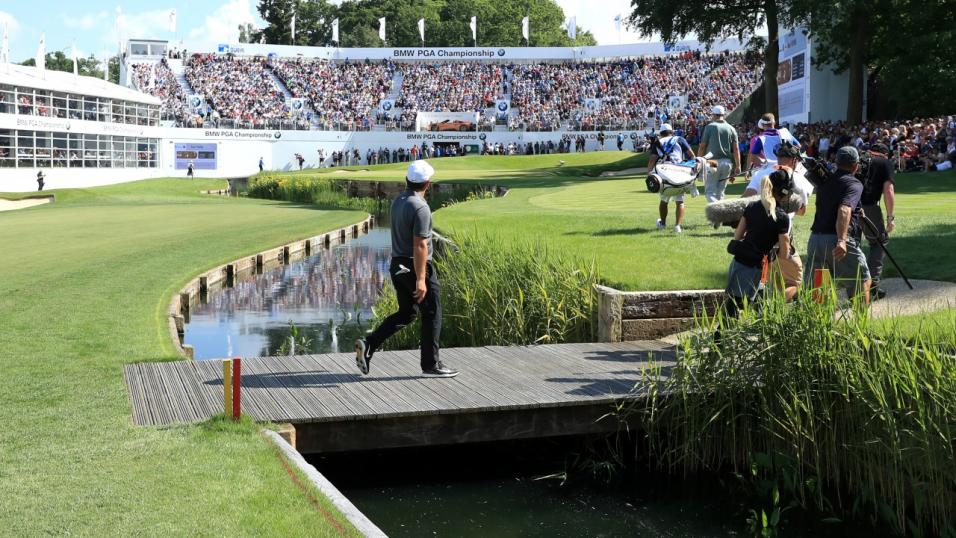 Defending champ: Francesco Molinari crosses the bridge at 18 during Sunday's final round last year
Course and current form stats ahead of this week's European Tour 'major' over the West Course at Wentworth. Stats and words supplied by Andy Swales ...
"Europe's golfing officials have been rewarded with one of the strongest fields in Wentworth history. Seven of the world's top 16 have travelled across the Atlantic to compete, as well as 20 of the leading 50."
For the first time in European Tour history, the BMW PGA Championship is being held in September.
After 44 successive years in May, the Tour's flagship event has been moved to its new late season slot.
In many ways, this new date has been forced on the European Tour following decisions made more than 4,000 miles away across the Atlantic.
When the PGA Tour decided to bring forward its end-of-season FedEx Cup Play-Offs, and to accommodate this change America's PGA Championship was moved from August to May, something had to give.
If the BMW-sponsored event at Wentworth had remained in its former position on the calendar, it would have found itself wedged somewhere between the second and third major championships of the year - which during 2019 were separated by just four weeks.
This would have had a profound negative effect on its quality of field.
So European officials at Wentworth decided to act quickly, in order to dispel any fears that many of the Tour's US-based pros might decide to remain Stateside, and not return to England to contest their own Blue Riband championship.
Excellent Attendance
As it happens, Europe's golfing officials have been rewarded with one of the strongest fields in Wentworth history.
Seven of the world's top 16 have travelled across the Atlantic to compete, as well as 20 of the leading 50.
Among them are American trio Patrick Reed, Tony Finau and Billy Horschel, all of whom would probably have not made the trip if the championship was still being staged in May.
Star Attractions
Wherever you look, you can't help but be impressed by the level of talent teeing-up.
World No 2 Rory McIlroy is the biggest name taking part, but there are many others too.
This year's Open champion Shane Lowry makes his first start in Europe since winning at Royal Portrush in July.
The Irishman has a strong record over the West Course, where he finished runner-up to McIlroy five years ago.
Defending champion Francesco Molinari has posted six top-10s from his most recent seven starts here, while in-form Paul Casey won 10 years ago.
Check out latest betting ahead of this week's PGA Championship at Wentworth
One player whose appearance is largely down to the change in dates is Henrik Stenson, who is making only a third start at Wentworth in nine years.
The Swede was third over the West Course in 2017 and has played well during the latter part of the summer.
Newcomer To Surrey
Despite making his Wentworth debut, Spaniard Jon Rahm will be a feared competitor, while just outside the world's top 25 are the names of Matt Wallace and Matthew Fitzpatrick.
Wallace was third in Amsterdam on Sunday, while his fellow Englishman has played pretty well most of the year, registering three runner-up finishes. Fitzpatrick tied-eighth at Wentworth in 2018.
One other player with a good course history is Branden Grace. Although the South African has not posted a strokeplay top-10 since early February, Wentworth is a venue where golfers often rediscover inspiration through their back catalogue of good memories.
Historic Venue
The West Course at Wentworth has been the tournament's permanent home since 1984 and has undergone a number of changes since the turn of the Millennium.
Ernie Els, who was called upon to revamp this Surrey course as long ago as 2009, was brought in to make further changes seven years later, following strong criticism by a number of players.
Many leading pros were unhappy with the state of the greens and, ahead of the 2017 tournament, all 18 putting surfaces were dug up and re-seeded with a new creeping bent grass.
The South African sought the advice of a handful of experienced golfers and, during the multi-million pound renovation, four greens were completely re-built - with another five partially re-constructed.
They also installed a new sub-air system below each of the greens with the purpose of making them firmer and faster, while improving drainage.
According to the European Tour website: 'The aim of the renovation was to recognise Harry Colt's original vision for the West Course, while taking into account the demands of the modern game.'
Heading Back In Time
Former Ryder Cup skipper Thomas Bjorn, one of those who assisted Els in making the changes, admitted: "It is an old style course and it had probably been a little over-modernised, so we brought it to where we think it should be.
"We listened long and hard to the views of the Tour players. You have to when you have such a big event on a traditional golf course with so much history.
"We've taken some of the tough obstacles out which we didn't think Wentworth was all about."
This included easing the severity of contouring on many putting surfaces, and reducing the depth of a number of bunkers.
Els added: "We improved the greens and took bunkers out, and restored holes to their former glory. Some holes don't even have bunkers on them anymore."
In all, a total of 29 bunkers were removed. However, this famous Virginia Water heathland layout remains a tough, tree-lined course, ready to challenge the skills and nerves of those teeing-up this Thursday.
Twitter: Andy Swales@GolfStatsAlive
MC* - Missed Additional 54-Hole Cut
Note: List contains leading reserves

| Player | W37 | W36 | W35 | W34 | W33 | W32 | W31 | W30 | W29 | W28 |
| --- | --- | --- | --- | --- | --- | --- | --- | --- | --- | --- |
| Rory McIlroy | | | 2 | 1 | 19 | 6 | | 4 | MC | 34 |
| Justin Rose | | | | 26 | 52 | 10 | | 11 | 20 | |
| Jon Rahm | | | | 13 | 5 | 3 | | 7 | 11 | |
| Francesco Molinari | | | | | 61 | 82 | | | 11 | |
| Tony Finau | | | | 7 | 4 | 30 | | 27 | 3 | |
| Tommy Fleetwood | | | 8 | 13 | 11 | 43 | | 4 | 2 | |
| Paul Casey | | 1 | | 3 | 24 | | 13 | 27 | 57 | |
| Patrick Reed | 15 | 36 | | 15 | 19 | 1 | 22 | 12 | 10 | |
| Shane Lowry | | | | | 48 | 52 | | | 1 | |
| Matthew Fitzpatrick | | | 69 | 2 | | | | 4 | 20 | 14 |
| Matt Wallace | 3 | | MC | | | | | 27 | 51 | 14 |
| Henrik Stenson | | | | 3 | | | | 27 | 20 | 4 |
| Ian Poulter | | | | | 31 | 10 | | 8 | MC | 14 |
| Bernd Wiesberger | | 5 | MC | | 30 | | | | 32 | 1 |
| Billy Horschel | | | | | 37 | 21 | 6 | 9 | MC | |
| Rafael Cabrera-Bello | | | | | 63 | | | 12 | MC | 9 |
| Eddie Pepperell | | | 35 | | MC | | | 51 | 71 | 43 |
| Andrew Putnam | | | | | 43 | 12 | | 24 | 32 | 4 |
| Tyrrell Hatton | | | | | | 59 | | 43 | 6 | 14 |
| Alex Noren | | | MC | 40 | | | 60 | 12 | 11 | |
| Hao Tong Li | | | | | | | | 20 | MC | MC |
| Lucas Bjerregaard | | MC | 28 | | | | MC | 51 | 16 | MC |
| Justin Harding | | | MC | 43 | 7 | | | 43 | 41 | MC |
| Lee Westwood | MC | | 28 | | MC | | | | 4 | 55 |
| Danny Willett | | | MC | | | 24 | | 48 | 6 | |
| Erik Van Rooyen | | | 12 | 1 | 5 | | | | 20 | 14 |
| Tom Lewis | MC | | 1 | 59 | Wd | | | | 11 | 43 |
| Kiradech Aphibarnrat | | | | | | 71 | 60 | | 32 | MC* |
| Andrea Pavan | | | 12 | 16 | 3 | | | 25 | MC | 4 |
| Jorge Campillo | MC | 33 | MC | | | | | | MC | MC* |
| Thomas Pieters | 10 | 20 | 12 | | 1 | | | | 67 | 20 |
| Branden Grace | MC | | | | | 30 | 48 | | 51 | MC |
| Russell Knox | MC | | | | | MC | 48 | | 41 | MC |
| Mike Lorenzo-Vera | 10 | | 6 | | | | | | MC | 28 |
| Joost Luiten | 10 | | 23 | 29 | | | | | 32 | MC |
| Robert MacIntyre | | 2 | MC | MC | 23 | | | | 6 | MC |
| Benjamin Hebert | | | MC | MC | | | | | 41 | 2 |
| Adri Arnaus | | MC | 6 | MC | 2 | | | | MC | |
| Guido Migliozzi | | 7 | 33 | | | | | | | 28 |
| Martin Kaymer | MC | | | | | | MC | 31 | | 20 |
| Sebastian Soderberg | 70 | | 1 | 5 | MC | | | | | MC |
| Mikko Korhonen | 65 | | 35 | | 39 | | | | 63 | 48 |
| Viktor Hovland | 10 | | | 2 | 11 | | 4 | | | 16 |
| Ryan Fox | | 60 | MC | | | | | | 16 | MC |
| Adrian Otaegui | | MC | MC | MC | MC | | | | MC | 20 |
| Alexander Bjork | | 22 | 28 | 20 | 23 | | | | MC | 62 |
| Andy Sullivan | | 36 | MC | 20 | | | | | MC | 28 |
| Kurt Kitayama | 21 | 36 | MC | | | | | | MC | 43 |
| Marcus Kinhult | | | 12 | 20 | | | | | | 48 |
| Paul Waring | | 28 | | 20 | 30 | | | | 63 | 48 |
| Christiaan Bezuidenhout | | | 12 | 68 | | | | | MC | 34 |
| Matthias Schwab | | 2 | 8 | | 5 | | | | | MC |
| Julian Suri | | MC | MC | MC | MC | | | | | 55 |
| Lucas Herbert | | 22 | 8 | MC | | | | | | 62 |
| Jordan Smith | | MC | MC | MC | | | | | | MC |
| David Lipsky | | | MC | 51 | MC | | | | MC | MC |
| Thomas Detry | 36 | | 20 | 20 | | | | | | 43 |
| Richard Sterne | | 22 | 48 | | | | | | MC | MC |
| Aaron Rai | | | MC | 29 | 39 | | | 12 | | MC |
| Victor Perez | MC | | MC | 10 | | | | | | 28 |
| Sean Crocker | 36 | MC | 28 | Wd | | | | | | 55 |
| Ross Fisher | | 46 | 35 | | | | | | | MC |
| Alexander Levy | | MC | MC | 5 | 18 | | | | MC | MC |
| Dean Burmester | | MC | MC | 3 | 58 | | 33 | | | MC* |
| Sam Horsfield | 49 | 14 | 43 | 10 | 3 | | | | | MC |
| Kalle Samooja | | MC | 2 | 47 | 51 | | | | | 20 |
| Gavin Green | 40 | | 12 | 16 | 58 | | | | | MC |
| Chris Paisley | 27 | | 48 | MC | | | | | | 34 |
| Pablo Larrazabal | | 7 | MC | | | | | | | 72 |
| Jason Scrivener | | | MC | 20 | 30 | | | | | MC |
| Andrew Johnston | | | 23 | 10 | | | | | MC | 4 |
| Brandon Stone | 21 | | MC | MC* | MC | | | | MC | 34 |
| Scott Hend | MC | 36 | MC | | 71 | | | | | MC |
| Nacho Elvira | | 36 | MC | | | | | | | 48 |
| Joachim B Hansen | | MC | 43 | 16 | 30 | | | | | MC |
| Wade Ormsby | | | 8 | 5 | | | | | | MC |
| Gaganjeet Bhullar | 60 | | MC | 53 | MC | | | | | MC |
| Chris Wood | 40 | | 69 | 53 | | | | | MC | MC |
| Alvaro Quiros | | 46 | 48 | | | | | | | MC |
| Paul Dunne | 27 | | MC | MC | 23 | | | | | MC |
| Darren Fichardt | | 56 | 43 | MC | 30 | | | | | 48 |
| Fabrizio Zanotti | MC | MC | MC | | | | | | | 55 |
| Shubhankar Sharma | 40 | | 46 | MC | MC | | | | 51 | 34 |
| George Coetzee | 15 | | | MC | MC | | | | | 9 |
| David Law | 60 | | MC | MC | MC | | | | | MC |
| Robert Rock | | | | 70 | | | | | MC | MC |
| Scott Jamieson | 21 | | 12 | MC | 39 | | | | | 26 |
| Grant Forrest | MC | MC | 58 | | MC | | | | | 43 |
| Lorenzo Gagli | MC | MC | 2 | 40 | MC | | | | | 14 |
| Maximilian Kieffer | 27 | MC | | MC | | | | | | MC |
| Ashun Wu | 55 | 36 | MC | 20 | | | | | | MC |
| Stephen Gallacher | | | MC | 47 | MC | | | | | MC |
| David Drysdale | MC | MC | 23 | | | | | | | MC* |
| Matthew Southgate | 10 | 46 | MC | 10 | 30 | | | | | MC |
| Jack Singh Brar | MC | 64 | 33 | 37 | 14 | | | | | 62 |
| Joakim Lagergren | 7 | 20 | MC | 10 | | | | | | MC |
| Kim Koivu | MC | | MC | MC | 11 | | | | | Wd |
| Padraig Harrington | 15 | 12 | MC | | 58 | | MC | MC | MC | MC |
| Andres Romero | 21 | | 2 | MC | | | | 51 | MC | MC |
| Nino Bertasio | 49 | | 20 | Wd | MC | | | | 72 | 4 |
| Edoardo Molinari | 21 | | MC | MC* | 14 | | | | | 34 |
| Renato Paratore | | MC | 12 | 20 | 39 | | | | | 28 |
| Ashley Chesters | 15 | 9 | 72 | MC | 18 | | | | | MC* |
| Soren Kjeldsen | 55 | MC | MC | 29 | MC | | | | | MC |
| Lee Slattery | 40 | | 35 | 40 | 39 | | | | | 9 |
| Ernie Els | | | | | MC | | Wd | | 32 | |
| Thomas Aiken | | | | | | | | | | 55 |
| Nicolas Colsaerts | MC | | MC | 53 | 58 | | | | | 69 |
| Hideto Tanihara | 27 | 56 | 20 | MC | | | | | | 62 |
| Liam Johnston | 15 | MC | 61 | MC | 5 | | | | | MC |
| Matthieu Pavon | MC | | MC | 10 | MC | | | | | MC |
| Tapio Pulkkanen | | MC | MC | MC | 39 | | | | | MC |
| Richard McEvoy | | MC | MC | MC | | | | | | MC |
| Victor Dubuisson | | Wd | 43 | Wd | 39 | | | | | MC |
| Oliver Fisher | MC | 22 | MC | MC | 51 | | | | | 48 |
| Justin Walters | | Wd | MC | 59 | 58 | | | | | MC |
| Romain Wattel | MC | 6 | MC | MC | 14 | | | | | 20 |
| Haydn Porteous | 55 | | 35 | 29 | 11 | | 9 | | | 34 |
| Richie Ramsay | 55 | MC | 58 | MC | 58 | | | | | 34 |
| Dave Horsey | MC | | 43 | | MC | | | | | 34 |
| Gonzalo F`dez-Castano | MC | | MC | 59 | 23 | | | | | MC* |
| Stuart Manley | 55 | 22 | 76 | MC | 67 | | | | | 55 |
| Jamie Donaldson | 27 | | 35 | 5 | MC | | | | | 9 |
| Jaco Van Zyl | MC | 17 | 63 | | | | 2 | | | MC |
| Thongchai Jaidee | | | | | | | | | | MC |
| Luke Donald | | | MC | | | | MC | | | 56 |
| Bradley Dredge | 10 | | 61 | 47 | 39 | | | | | 62 |
| Jacques Kruyswijk | | 66 | MC | MC | 23 | | | | | MC |
| Yusaku Miyazato | 49 | MC | 48 | MC | | | | | | MC |
| Trevor Immelman | 60 | MC | MC | | | | | | | MC* |
| Robert Karlsson | MC | | 63 | MC | 10 | | | | | MC |
| Julien Guerrier | | | | | | | | | | |
| Steven Brown | 15 | | MC | MC | MC | | | | | MC |
| Pedro Figueiredo | 49 | 33 | 35 | MC | MC | | | | | MC |
| Thomas Bjorn | | MC | MC | MC | 58 | | | | | Wd |
| Jens Dantorp | MC | MC | 48 | 40 | MC | | | | | 69 |
| Raphael Jacquelin | MC | | MC | MC | MC | | | | | MC |
| Ricardo Gouveia | MC | 36 | MC | MC* | 48 | | | | | MC |
| Jeung-Hun Wang | 27 | MC | MC | MC* | MC | | | | | MC |
| James Morrison | 4 | MC | 28 | 29 | 30 | | | | | MC |
| Miguel Angel Jimenez | | | 23 | | | | | | MC | |
| SSP Chawrasia | MC | MC | MC | | | | | | | MC |
| David Dixon | | | | | | | | | | |
| David Howell | MC | | 63 | MC | 30 | | | | | MC |
| Paul O`Hara | | | | | | | | | | |
| Michael Campbell | MC | MC | | | | | | | | |
| Matthew Cort | | | | | | | | | | |
| Jose Maria Olazabal | MC | | | | | | | | | |
| Robert Coles | | | | | | | | | | |
| Player | `18 | `17 | `16 | `15 | `14 | `13 | `12 | `11 | `10 | `09 |
| --- | --- | --- | --- | --- | --- | --- | --- | --- | --- | --- |
| Rory McIlroy | 2 | | | MC | 1 | MC | MC | 24 | 48 | 5 |
| Justin Rose | | 12 | | 38 | 25 | 50 | 2 | MC | 10 | |
| Jon Rahm | | | | | | | | | | |
| Francesco Molinari | 1 | 2 | 55 | 5 | 7 | 9 | 7 | 50 | 17 | 35 |
| Tony Finau | | | | | | | | | | |
| Tommy Fleetwood | 20 | MC | 69 | 6 | MC | 24 | 49 | | | |
| Paul Casey | 20 | | | | | MC | MC | 24 | 17 | 1 |
| Patrick Reed | | | | | | | | | | |
| Shane Lowry | 15 | 6 | MC | 6 | 2 | 12 | 68 | 4 | 65 | |
| Matthew Fitzpatrick | 8 | 12 | 47 | | | | | | | |
| Matt Wallace | 20 | MC | | | | | | | | |
| Henrik Stenson | | 3 | | | 7 | | | | 61 | MC |
| Ian Poulter | 20 | 40 | | | 26 | MC | 10 | 18 | MC | |
| Bernd Wiesberger | | 30 | 15 | MC | 46 | 12 | 53 | MC | | |
| Billy Horschel | | | | | | | | | | |
| Rafael Cabrera-Bello | 8 | | 22 | MC | 16 | MC | 15 | MC | 17 | MC |
| Eddie Pepperell | 43 | | MC | 72 | 21 | 6 | | | | |
| Andrew Putnam | | | | | | | | | | |
| Tyrrell Hatton | MC | 30 | 7 | 46 | 38 | | | | | |
| Alex Noren | 3 | 1 | 43 | 8 | Wd | 32 | 21 | MC | 74 | 21 |
| Hao Tong Li | 43 | 30 | 27 | MC | | | | | | |
| Lucas Bjerregaard | 3 | MC | MC | MC | | | | | | |
| Justin Harding | | | | | | | | | | |
| Lee Westwood | 27 | 14 | 15 | 38 | 35 | 9 | 33 | 2 | 10 | MC |
| Danny Willett | MC | 58 | 3 | 38 | 63 | 32 | 43 | MC | 5 | |
| Erik Van Rooyen | 20 | | | | | | | | | |
| Tom Lewis | | | | 55 | 46 | MC | MC | | | |
| Kiradech Aphibarnrat | 5 | 14 | 60 | 27 | MC | MC | | | | |
| Andrea Pavan | 52 | | | | MC | | MC | | | |
| Jorge Campillo | MC | 40 | 15 | 59 | 63 | MC | MC | | | |
| Thomas Pieters | MC | 14 | 27 | MC | MC | | | | | |
| Branden Grace | 5 | 9 | | 11 | 61 | 24 | 5 | | | |
| Russell Knox | | MC | MC | | | | | | | |
| Mike Lorenzo-Vera | 43 | MC | MC | 63 | | | | | | MC |
| Joost Luiten | MC | 24 | 27 | 11 | 12 | MC | MC | MC | 17 | |
| Robert MacIntyre | | | | | | | | | | |
| Benjamin Hebert | 35 | 58 | 12 | MC | | | MC | | | |
| Adri Arnaus | | | | | | | | | | |
| Guido Migliozzi | | | | | | | | | | |
| Martin Kaymer | MC | MC | 7 | 18 | 12 | 50 | 15 | 31 | MC | 11 |
| Sebastian Soderberg | | | | | | | | | | |
| Mikko Korhonen | 15 | MC | | | | | | | | |
| Viktor Hovland | | | | | | | | | | |
| Ryan Fox | 43 | MC | | | | | | | | |
| Adrian Otaegui | MC | MC | | | 63 | | | | | |
| Alexander Bjork | 27 | 14 | | | | | | | | |
| Andy Sullivan | 35 | 30 | 22 | 17 | 26 | MC | | | | |
| Kurt Kitayama | | | | | | | | | | |
| Marcus Kinhult | 12 | | | | | | | | | |
| Paul Waring | 52 | MC | | | 46 | MC | | Ret | 65 | 21 |
| Christiaan Bezuidenhout | | | | | | | | | | |
| Matthias Schwab | | | | | | | | | | |
| Julian Suri | 43 | | | | | | | | | |
| Lucas Herbert | | | | | | | | | | |
| Jordan Smith | MC | 40 | | | | | | | | |
| David Lipsky | 27 | MC | 55 | 35 | | | | | | |
| Thomas Detry | 43 | | | | | | | | | |
| Richard Sterne | MC | MC | MC | | | 57 | 6 | | | MC |
| Aaron Rai | MC | | | | | | | | | |
| Victor Perez | | | | | | | | | | |
| Sean Crocker | | | | | | | | | | |
| Ross Fisher | 8 | 9 | MC | MC | MC | 32 | MC | 39 | 10 | 2 |
| Alexander Levy | 52 | 51 | | 51 | 12 | | | | | |
| Dean Burmester | 12 | 9 | | | | | | | | |
| Sam Horsfield | 15 | | | | | | | | | |
| Kalle Samooja | | | | | | | | | | |
| Gavin Green | 52 | | | | | | | | | |
| Chris Paisley | MC | MC | MC | | | MC | | | | |
| Pablo Larrazabal | MC | 24 | 12 | MC | 7 | 12 | 65 | MC | MC | 48 |
| Jason Scrivener | MC | MC | MC | | | | | | | |
| Andrew Johnston | MC | 21 | 7 | MC | | | | | | |
| Brandon Stone | 60 | MC | MC | | | | | | | |
| Scott Hend | MC | 24 | 15 | MC | | | | | | |
| Nacho Elvira | MC | MC | MC | | MC | | | | | |
| Joachim B Hansen | | | MC | | MC | MC | | | | |
| Wade Ormsby | MC | MC | | MC | | | | | | |
| Gaganjeet Bhullar | | | | | MC | Ret | | | | |
| Chris Wood | 27 | 49 | 1 | 4 | 21 | Wd | 49 | MC | 6 | |
| Alvaro Quiros | MC | MC | MC | 46 | 57 | 32 | 10 | 18 | MC | 16 |
| Paul Dunne | MC | 30 | | | | | | | | |
| Darren Fichardt | 7 | MC | MC | MC | MC | MC | | | | |
| Fabrizio Zanotti | 15 | MC | 7 | MC | 16 | 24 | MC | 24 | MC | 21 |
| Shubhankar Sharma | | | | | | | | | | |
| George Coetzee | MC | MC | MC | 74 | 30 | 24 | 21 | | | |
| David Law | | | | | | | | | | |
| Robert Rock | 20 | MC | 47 | MC | 38 | MC | 21 | 45 | 34 | 16 |
| Scott Jamieson | MC | 14 | 47 | 27 | MC | MC | 43 | 65 | | |
| Grant Forrest | | | | | | | | | | |
| Lorenzo Gagli | | | | | | MC | MC | | | |
| Maximilian Kieffer | 42 | 24 | MC | 27 | MC | MC | | | | |
| Ashun Wu | 64 | | MC | | | | | | | |
| Stephen Gallacher | 52 | 21 | MC | | 5 | MC | MC | MC | 4 | MC |
| David Drysdale | MC | 49 | 37 | Dq | MC | 19 | 10 | MC | 56 | |
| Matthew Southgate | 27 | MC | MC | | | | | | | |
| Jack Singh Brar | | | | | | | | | | |
| Joakim Lagergren | MC | MC | 37 | | | | | | | |
| Kim Koivu | | | | | | | | | | |
| Padraig Harrington | MC | MC | | Ret | 61 | | MC | | 6 | |
| Andres Romero | MC | | | | | | | | | 54 |
| Nino Bertasio | 60 | 14 | | | | | | | | |
| Edoardo Molinari | MC | MC | 65 | Ret | 46 | 19 | 49 | 39 | MC | |
| Renato Paratore | MC | MC | 43 | MC | | | | | | |
| Ashley Chesters | MC | | | | | | | | | |
| Soren Kjeldsen | MC | 30 | MC | 18 | MC | 45 | MC | MC | 41 | 3 |
| Lee Slattery | MC | MC | MC | MC | MC | 37 | MC | | | 35 |
| Ernie Els | MC | 51 | | 59 | MC | 6 | 7 | 16 | 34 | 21 |
| Thomas Aiken | MC | MC | 4 | 35 | 7 | MC | MC | 39 | 17 | 10 |
| Nicolas Colsaerts | MC | 3 | 22 | 22 | 71 | 24 | MC | MC | 78 | |
| Hideto Tanihara | 35 | 3 | | | | | | | | |
| Liam Johnston | | | | | | | | | | |
| Matthieu Pavon | 64 | MC | | | | | | | | |
| Tapio Pulkkanen | MC | | | | | | | | | |
| Richard McEvoy | | | | | | | MC | MC | 48 | |
| Victor Dubuisson | | 24 | 60 | 63 | | MC | 21 | | | |
| Oliver Fisher | MC | 40 | MC | MC | 73 | 45 | MC | MC | 65 | MC |
| Justin Walters | | MC | | | MC | MC | | | | |
| Romain Wattel | MC | 66 | 4 | 68 | 30 | MC | MC | MC | | |
| Haydn Porteous | 43 | MC | MC | | | | | | | |
| Richie Ramsay | 35 | 30 | 43 | MC | 38 | 9 | MC | MC | 28 | MC |
| Dave Horsey | MC | 51 | 37 | MC | 35 | MC | MC | 7 | MC | 43 |
| Gonzalo F`dez-Castano | MC | | | | | 62 | MC | | MC | 11 |
| Stuart Manley | | | | | | | | | | |
| Jamie Donaldson | MC | MC | MC | 18 | 30 | 37 | 53 | 7 | 34 | 32 |
| Jaco Van Zyl | | 14 | 7 | 51 | | 45 | MC | 39 | | |
| Thongchai Jaidee | 8 | 54 | 52 | 2 | 38 | 40 | 56 | 24 | 13 | 43 |
| Luke Donald | | 65 | 27 | 38 | 3 | MC | 1 | 1 | 2 | 35 |
| Bradley Dredge | MC | 40 | MC | 70 | | | 60 | 39 | Ret | MC |
| Jacques Kruyswijk | 20 | | | | | | | | | |
| Yusaku Miyazato | Ret | | | | | | | | | |
| Trevor Immelman | 58 | MC | | | | | | | | |
| Robert Karlsson | MC | MC | MC | 27 | 67 | | MC | | 13 | 32 |
| Julien Guerrier | MC | | | | | | | | | |
| Steven Brown | MC | | | | | | | | | |
| Pedro Figueiredo | | | | | | | | | | |
| Thomas Bjorn | MC | 57 | 52 | 11 | 3 | 40 | 43 | | MC | 16 |
| Jens Dantorp | 35 | | | | | | | | | |
| Raphael Jacquelin | MC | MC | MC | MC | 46 | 24 | MC | 4 | MC | 71 |
| Ricardo Gouveia | MC | MC | MC | | | | | | | |
| Jeung-Hun Wang | 52 | MC | 33 | | | | | | | |
| James Morrison | MC | MC | 47 | 11 | | MC | 10 | MC | MC | |
| Miguel Angel Jimenez | | | MC | 2 | 35 | 4 | 39 | MC | MC | 43 |
| SSP Chawrasia | MC | 58 | 27 | MC | | MC | 15 | 31 | 34 | MC |
| David Dixon | | | | MC | | | | MC | MC | MC |
| David Howell | MC | 48 | MC | MC | MC | MC | MC | 39 | 61 | 72 |
| Paul O`Hara | MC | | | | | | | | | |
| Michael Campbell | | | | | | MC | MC | MC | | MC |
| Matthew Cort | | MC | MC | MC | MC | | MC | | | |
| Jose Maria Olazabal | | | | | MC | 69 | 27 | Ret | | 59 |
| Robert Coles | MC | MC | | | | 69 | MC | MC | MC | |
Discover the latest articles
Read past articles