BMW PGA Championship 2018: Key stats for this week's event at Wentworth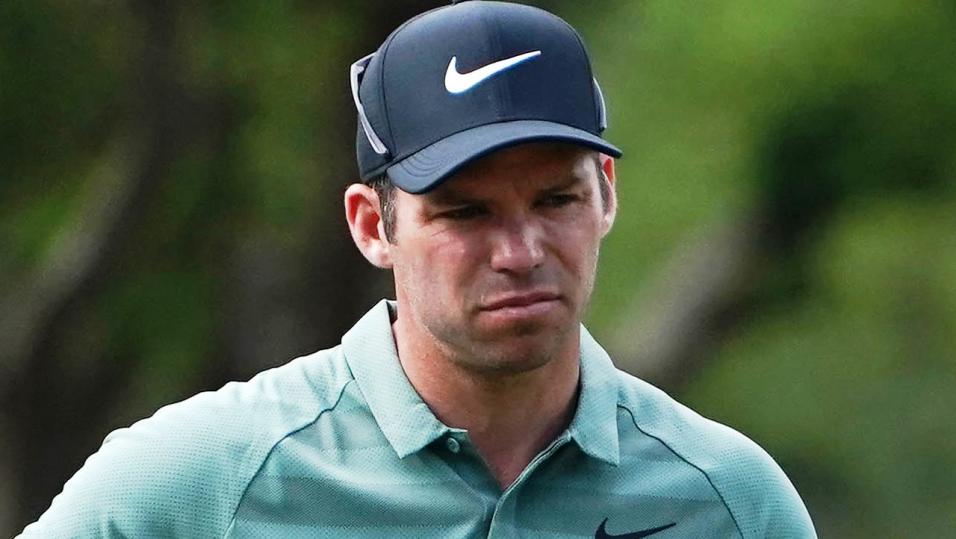 Paul Casey, winner nine years ago, will fancy his chances over the West Course
Andy Swales brings you course and current form stats for this week's BMW PGA Championship at Wentworth...
"World No 12 Tommy Fleetwood tied-seventh at TPC Sawgrass earlier this month and will feel comfortable on home soil."
The action heads to Wentworth for this week's BMW Championship, the flagship event of the European Tour.
First staged 63 years ago, Europe's 'PGA Championship' remains one of golf's most prestigious titles and, once again, has attracted an excellent field.
Rory McIlory, winner four years ago, is the headline act having missed last year's instalment due to a nagging rib injury and was absent also in 2016.
However, this tournament is always about more than just one player, and is staged at one of the most famous venues in sport.
The West Course became the tournament's permanent home in 1984 and has undergone a number of changes during the past decade.
Ernie Els, who was called upon to revamp this Surrey course as long ago as 2005, was brought in again to make further changes 11 years later, following criticism by a number of players.
Many leading pros were unhappy with the state of Wentworth's greens and, ahead of last year's tournament, all 18 putting surfaces were dug up and re-seeded with a new creeping bent grass.
The South African sought the advice of a handful of experienced golfers and, during the multi-million pound renovation, four greens were completely re-built while another five were partially re-constructed.
They also installed a new sub-air system below each of the greens with the purpose of making them firmer and faster, while improving drainage.
Speaking ahead of last year's tournament Thomas Bjorn, one of those instructed to assist Els, said: "It is an old style course and it had probably been a little over-modernised, so we brought it to where we think it should be.
"We listened long and hard to the views of the Tour players. You have to when you have such a big event on a traditional golf course, with so much history.
"It will still be a really tough test, but we've taken some of the tough obstacles out which we didn't think Wentworth was all about."
Els added: "We improved the greens and took bunkers out, and restored holes to their former glory. Some holes don't even have bunkers on them anymore."
In all, a total of 29 bunkers were removed, yet the Virginia Water heathland layout remains a tough, tree-lined course and ready to challenge the skills and nerves of many of the biggest stars this week.
Returning Home
England's Paul Casey, champion around the West Course in 2009, tees-up for the first time in five years as he seeks a spot in Europe's Ryder Cup team this autumn.
Casey has missed just a single cut during the past 16 months and, in his last 26 starts, has only slipped out of the top-25 on three occasions.
The 40-year-old has already won in the States this year and it would be no surprise if he stood on the podium again this Sunday.
Another Englishman, who is now part of the world's elite group of golfers, is Tommy Fleetwood.
The world No 12 tied-seventh at TPC Sawgrass earlier this month and will feel comfortable on home soil.
A victory at Wentworth would represent another step up the golfing ladder for Fleetwood who tied-sixth in this event three years ago.


Mr Consistent
Among those with a strong West Course pedigree is Francesco Molinari.
The Italian played superbly here last year when he finished runner-up and was only beaten by Alex Noren's remarkable closing 62.
Another course specialist is Irishman Shane Lowry whose current form is fairly mediocre - just one top-30 finish this calendar year.
South African Branden Grace flies in from the States having stood on the podium in Dallas on Sunday.
He usually enjoys this tournament - four top-25s from five visits - including a tie-for-ninth last year when he began the final round one shot off the pace.
Bogey Venue
And what chance for Ian Poulter on a course where he has posted just a single top 10 finish?
The 42-year-old is in great current form, but normally struggles on designer-Harry Colt's famous layout.
Twitter: Andy Swales@GolfStatsAlive
MC* - Missed Additional 54-Hole Cut
| Player | W20 | W19 | W18 | W17 | W16 | W15 | W14 | W13 | W12 | W11 | W10 | W9 |
| --- | --- | --- | --- | --- | --- | --- | --- | --- | --- | --- | --- | --- |
| Rory McIlroy | | MC | 16 | | | | 5 | | 36 | 1 | MC | |
| Tommy Fleetwood | | 7 | MC | 4 | | | 17 | | 17 | 26 | | 14 |
| Paul Casey | | | 5 | | | MC | 15 | | 17 | | 1 | 12 |
| Alex Noren | | 17 | MC | | | | MC | | 3 | 36 | | 14 |
| Tyrrell Hatton | | MC | 42 | | | MC | 44 | | 9 | 69 | | 3 |
| Rafael Cabrera-Bello | | 17 | | MC | | MC | 38 | MC | 36 | | | 3 |
| Ian Poulter | | 11 | | 22 | | 7 | 44 | 1 | 5 | 41 | MC | |
| Kiradech Aphibarnrat | | 30 | | 45 | | | 44 | | 5 | MC | 1 | 5 |
| Francesco Molinari | | MC | 16 | | | 49 | 20 | | 17 | 26 | | 25 |
| Branden Grace | 3 | 46 | | | | | 24 | | 29 | | 8 | 30 |
| Matthew Fitzpatrick | | 46 | | | | 14 | 38 | | 36 | MC | MC | 30 |
| Ross Fisher | | 71 | 63 | MC | | MC | MC | | 36 | | MC | 46 |
| Alexander Levy | | MC | | 14 | 1 | | | | 36 | | | |
| Hao Tong Li | | MC | | 32 | | | 32 | | 59 | 54 | | 63 |
| Dylan Frittelli | | | MC | | 20 | 32 | MC | MC | 36 | | | 55 |
| Thomas Pieters | 39 | | | | 66 | | MC | 52 | 52 | | | 37 |
| Yusaku Miyazato | | 6 | | 18 | 13 | 12 | MC | | 52 | | | 60 |
| Paul Dunne | | | | 7 | MC | 2 | | 8 | 5 | | | 55 |
| Alexander Bjork | | | | 1 | 3 | 39 | | | | | | MC |
| Joost Luiten | 46 | | | 25 | 9 | | | | | | 9 | 37 |
| Julian Suri | | | | 53 | 58 | | | 8 | 29 | | MC | 48 |
| Shane Lowry | | 46 | 34 | 28 | | | | 14 | | MC | 49 | |
| Byeong Hun An | | 30 | 63 | MC | | 7 | | 52 | | 14 | MC | |
| Jorge Campillo | 5 | | | 3 | 46 | 5 | | | | | | 27 |
| Matt Wallace | | | | 3 | MC | MC | | | | | 1 | |
| Chris Paisley | | | MC | 4 | MC | | | | | | | 37 |
| George Coetzee | | 43 | | | MC | 4 | | | | | | 1 |
| Eddie Pepperell | | 14 | | | MC | MC | | | | | | |
| Hideto Tanihara | | | | MC | | 9 | | | | | 12 | |
| Adrian Otaegui | 1 | | | 2 | 19 | 12 | | | | | | |
| Wade Ormsby | | | | MC | 52 | | | | | | 25 | 50 |
| Martin Kaymer | | MC | 42 | | MC | 73 | 48 | MC | | | | |
| Lee Westwood | | | | | | | | MC* | | | | |
| Mike Lorenzo-Vera | 8 | 2 | | | 62 | 34 | | | | | | |
| Jordan Smith | 46 | | | 3 | 52 | MC | | | | | | |
| Chris Wood | MC | | | | MC | | | | 54 | | 48 | |
| Thorbjorn Olesen | | MC | | 37 | | 46 | | | | | | |
| Dean Burmester | | 3 | | MC | Dq | 71 | | | | 3 | | 30 |
| Ryan Fox | 65 | | | 37 | 12 | MC | | | | | | MC |
| Pablo Larrazabal | | | | 27 | MC | 21 | | | | | 4 | |
| Fabrizio Zanotti | | | | | MC | MC | | | 50 | | | |
| Andy Sullivan | | 3 | | | 7 | 21 | | | | | | |
| Joakim Lagergren | | 1 | | 37 | 3 | MC | | | | | | |
| Andrew Johnston | | | | | | 12 | | | | | 2 | |
| Dave Horsey | | MC | | | 36 | MC | | | | | | |
| Jeung-Hun Wang | | | | 7 | 13 | MC | | | | | 40 | |
| Erik Van Rooyen | 46 | | | MC | 7 | 21 | | | | | MC | 10 |
| Harold Varner | | 7 | 55 | MC | MC | MC | | MC | 45 | | 78 | |
| Julien Guerrier | | 6 | | 20 | MC | 9 | | | | | MC | 38 |
| Darren Fichardt | | | | | 52 | 58 | | | | 1 | | 70 |
| Richie Ramsay | 46 | | | | 32 | 72 | | | | | | |
| Scott Jamieson | | | | 53 | MC | MC | | | | | MC | 7 |
| Nicolas Colsaerts | 7 | | | MC | MC | 28 | | | | | | |
| Nacho Elvira | | | | 14 | 22 | 3 | | | | | 40 | |
| Jason Scrivener | | MC | | 20 | MC | 73 | | | | | 40 | |
| Renato Paratore | | | | MC | 61 | 21 | | | | | MC | |
| Richard Sterne | | | | | 22 | 34 | | | | | | 21 |
| Lucas Bjerregaard | | 5 | | 6 | MC | | | | | | | |
| David Lipsky | 23 | | | 45 | MC | 67 | | | | | | 48 |
| Gavin Green | 34 | | | 56 | MC | 46 | | | | | 16 | 64 |
| Soren Kjeldsen | 17 | Wd | | | MC | MC | | | | | | |
| Matthew Southgate | 12 | 48 | | | | | | | | | | |
| Aaron Rai | 46 | | | 20 | 52 | 12 | | | | | 9 | MC |
| Matthieu Pavon | MC | | | MC | MC | MC | | | | | | |
| Callum Shinkwin | 65 | | | MC | 13 | 28 | | | | | | |
| Phachara Khongwatmai | MC | | 12 | 56 | 66 | MC | | | | | MC | |
| Scott Hend | | | 64 | MC | MC | | | | | | MC | MC |
| Marcus Kinhult | | | | 63 | MC | MC | | | | | MC | MC |
| Haydn Porteous | 39 | 41 | | MC | MC | | | | | | | 48 |
| Tapio Pulkkanen | | 63 | | 56 | 36 | 21 | | | | | | MC |
| Padraig Harrington | MC | | | 28 | | | | MC* | | MC | MC | |
| Mikko Korhonen | | 26 | | | 41 | MC | | | | | | 3 |
| Paul Waring | | 11 | | | 9 | 63 | | | | | | |
| Adam Bland | 28 | | | MC | MC | MC | | | | | | 18 |
| Thomas Detry | 33 | | | MC | 19 | MC | | | | | | |
| Graeme McDowell | MC | | 27 | 22 | 51 | 55 | | | MC | 22 | 40 | |
| Jin Ho Choi | 31 | | 20 | 7 | MC | 58 | | | | | 9 | 29 |
| Marc Warren | MC | | | MC | 46 | 5 | | | | | 53 | |
| Andrew Dodt | MC | | | 27 | 32 | MC | | | | | MC | 45 |
| Clement Sordet | MC | | | 45 | MC | MC | | | | | 12 | 54 |
| Benjamin Hebert | 2 | | | MC | 13 | | | | | | | 63 |
| Andres Romero | | | | MC | 5 | | | | MC | | | |
| Alvaro Quiros | | MC | | 45 | 2 | MC | | | | | | |
| Robert Rock | | | | | 36 | 28 | | | | | 12 | |
| Romain Wattel | 59 | | | 56 | 52 | | | | | | | |
| Austin Connelly | MC | 11 | | MC | 13 | 63 | | | | | | |
| Mikko Ilonen | | | | 14 | 3 | | | | | | | |
| Stephen Gallacher | 12 | | | | MC | 52 | | | | | 7 | |
| Jacques Kruyswijk | MC | 14 | | | MC | 9 | | | | | | 29 |
| Oliver Fisher | 10 | | | MC | 52 | MC | | | | | Wd | |
| Ryan Evans | 59 | 11 | | | 46 | MC | | | | | 34 | 21 |
| Brandon Stone | MC | | | MC | 22 | 39 | | | | | | 60 |
| Sam Brazel | | | | MC | MC | | | | | | | |
| Nino Bertasio | | 70 | | 32 | 59 | 34 | | | | | MC | MC |
| Sam Horsfield | 41 | MC | | 32 | MC | MC | | | | 14 | | 2 |
| Pedro Oriol | 46 | MC | | | 29 | 39 | | | | | | 8 |
| SSP Chawrasia | MC | 41 | | MC | 40 | | | | | | MC | |
| Ashun Wu | MC | | | 7 | 29 | 34 | | | | | 53 | |
| Lee Slattery | | 58 | | MC | 32 | MC | | | | | | |
| Chase Koepka | MC | 34 | | | MC | MC | | | | | | Wd |
| Marcus Fraser | 34 | MC | | 32 | 22 | 46 | | | | | 60 | 29 |
| Andrea Pavan | MC | 9 | | 11 | 3 | 21 | | | | | | MC |
| Maximilian Kieffer | 28 | | | MC | 41 | 12 | | | | | | 48 |
| Jens Dantorp | 46 | 48 | | | MC | 67 | | | | | 16 | 21 |
| Sebastian Heisele | MC | MC | | 4 | MC | MC | | | 44 | | | |
| Jamie Donaldson | MC | | | MC | 32 | MC | | | | | 34 | |
| Steven Brown | MC | 7 | | | 65 | MC | | | | | 16 | MC |
| Adrien Saddier | MC | MC | | | MC | MC | | | | | 62 | |
| Marcel Siem | MC | | | 56 | 19 | | | | | | MC | |
| James Morrison | 46 | MC | | 65 | MC | MC | | | | | 16 | |
| Brett Rumford | MC | | | MC | MC | 5 | | | | | | 62 |
| David Drysdale | 3 | MC | | | MC | MC | | | | | MC | MC |
| Robert Karlsson | 15 | | | | MC | MC | | | | | | |
| Chris Hanson | MC | | | 27 | 41 | MC | | | | | MC | |
| Richard Bland | MC | | | MC | MC | MC | | | | | | MC |
| Thongchai Jaidee | | | | MC | MC | 73 | | | | | MC | |
| Matthias Schwab | 28 | 20 | | | MC | 28 | | | 8 | | 4 | 29 |
| Oliver Farr | 25 | 26 | | | MC | MC | | | | | MC | MC |
| Edoardo Molinari | | 9 | | 45 | MC | MC | | | | | 57 | |
| Gregory Bourdy | | 74 | | MC | 62 | 46 | | | | | | 54 |
| Bradley Dredge | MC | MC | | | 13 | 52 | | | | | | |
| Thomas Aiken | MC | 14 | | | MC | MC | | | | | | 8 |
| Jeff Winther | 17 | 14 | | | MC | 34 | | | | | | 21 |
| Gregory Havret | 38 | | | MC | MC | MC | | | | | 23 | |
| Jason Norris | MC | | | 27 | Wd | 58 | | | | | MC | MC |
| Lasse Jensen | MC | | | 27 | MC | MC | | | | | Wd | |
| Peter Hanson | MC | | | | MC | | | | | | | |
| Ricardo Gouveia | MC | | | 45 | 59 | 52 | | | | | 16 | 29 |
| Danny Willett | | MC | | | MC | | MC | | | Wd | | 29 |
| Matteo Manassero | | 20 | | 20 | 46 | 39 | | | | | 57 | |
| Charlie Ford | MC | MC | | | MC | 63 | | | | | | 66 |
| Ashley Chesters | MC | | | 20 | MC | MC | | | | | 30 | MC |
| Carlos Pigem | | | 20 | MC | MC | MC | | | | | MC | |
| Felipe Aguilar | 59 | MC | 65 | 17 | MC | 28 | | | 53 | | | 4 |
| Zander Lombard | MC | 34 | | | MC | MC | | | | | | MC |
| Daniel Brooks | MC | 48 | | MC | 66 | MC | | | | | | Wd |
| Scott Fernandez | 26 | 34 | | | MC | MC | | | | | 34 | MC |
| Christiaan Bezuidenhout | 26 | 26 | | 46 | 22 | 28 | | | MC | | | 17 |
| Bradley Neil | MC | MC | | MC | MC | 58 | | | | | | MC |
| Nico Geyger | 20 | MC | 23 | 4 | MC | MC | | | 3 | | | MC |
| Gonzalo F`dez-Castano | 19 | MC | | 24 | Wd | MC | | MC | MC | | | |
| Daniel Im | MC | 48 | | MC | MC | MC | | | | | MC | |
| Pep Angles | MC | 14 | 48 | | MC | 46 | | | | | | MC |
| Ernie Els | MC | | MC | | 30 | | | 72 | | 49 | 64 | |
| Thomas Bjorn | | 41 | | | MC | | | | | | 34 | |
| Mark Foster | MC | MC | | | MC | MC | | | | | | MC |
| Soomin Lee | MC | | | 14 | Dq | MC | | | | | 53 | 48 |
| Raphael Jacquelin | MC | | | | 41 | MC | | | | | MC | MC |
| James Heath | 4 | MC | | | 72 | MC | | | | | | MC |
| Pontus Widegren | MC | Dq | | | 41 | MC | | | | | | MC |
| Rak Hyun Cho | 41 | MC | | MC | MC | 12 | | | | | | MC |
| Sebastien Gros | MC | 48 | | | MC | 12 | | | | | 25 | 4 |
| Matthew Baldwin | 9 | 55 | | | MC | 52 | | | 28 | | | 38 |
| Connor Syme | MC | MC | | | 74 | MC | | | MC | | | 11 |
| Darren Clarke | | | | | | | | | | | 63 | |
| Trevor Immelman | | | | | | | MC | | MC* | | | |
| David Howell | | MC | | | 36 | 39 | | | | | MC | 21 |
| Robert Coles | | | | | | | | | | | | |
| Josh Geary | 10 | MC | | 26 | 46 | MC | | | | | | MC |
| Paul O`Hara | 1 | | | | | | | | | | | |
| Gavin Hay | MC | | | MC | | | | | | | | |
| Richard Wallis | | | | | | | | | | | | |
| Player | 2017 | 2016 | 2015 | 2014 | 2013 | 2012 | 2011 | 2010 | 2009 | 2008 |
| --- | --- | --- | --- | --- | --- | --- | --- | --- | --- | --- |
| Rory McIlroy | | | MC | 1 | MC | MC | 24 | 48 | 5 | MC |
| Tommy Fleetwood | MC | 69 | 6 | MC | 24 | 49 | | | | |
| Paul Casey | | | | | MC | MC | 24 | 17 | 1 | 10 |
| Alex Noren | 1 | 43 | 8 | Wd | 32 | 21 | MC | 74 | 21 | 6 |
| Tyrrell Hatton | 30 | 7 | 46 | 38 | | | | | | |
| Rafael Cabrera-Bello | | 22 | MC | 16 | MC | 15 | MC | 17 | MC | |
| Ian Poulter | 40 | | | 26 | MC | 10 | 18 | MC | | |
| Kiradech Aphibarnrat | 14 | 60 | 27 | MC | MC | | | | | |
| Francesco Molinari | 2 | 55 | 5 | 7 | 9 | 7 | 50 | 17 | 35 | MC |
| Branden Grace | 9 | | 11 | 61 | 24 | 5 | | | | |
| Matthew Fitzpatrick | 12 | 47 | | | | | | | | |
| Ross Fisher | 9 | MC | MC | MC | 32 | MC | 39 | 10 | 2 | 68 |
| Alexander Levy | 51 | | 51 | 12 | | | | | | |
| Hao Tong Li | 30 | 27 | MC | | | | | | | |
| Dylan Frittelli | MC | | | | | | | | | |
| Thomas Pieters | 14 | 27 | MC | MC | | | | | | |
| Yusaku Miyazato | | | | | | | | | | |
| Paul Dunne | 30 | | | | | | | | | |
| Alexander Bjork | 14 | | | | | | | | | |
| Joost Luiten | 24 | 27 | 11 | 12 | MC | MC | MC | 17 | | |
| Julian Suri | | | | | | | | | | |
| Shane Lowry | 6 | MC | 6 | 2 | 12 | 68 | 4 | 65 | | |
| Byeong Hun An | 24 | 33 | 1 | | | | | | | |
| Jorge Campillo | 40 | 15 | 59 | 63 | MC | MC | | | | |
| Matt Wallace | MC | | | | | | | | | |
| Chris Paisley | MC | MC | | | MC | | | | | |
| George Coetzee | MC | MC | 74 | 30 | 24 | 21 | | | | |
| Eddie Pepperell | | MC | 72 | 21 | 6 | | | | | |
| Hideto Tanihara | 3 | | | | | | | | | |
| Adrian Otaegui | MC | | | 63 | | | | | | |
| Wade Ormsby | MC | | MC | | | | | | | |
| Martin Kaymer | MC | 7 | 18 | 12 | 50 | 15 | 31 | MC | 11 | 16 |
| Lee Westwood | 14 | 15 | 38 | 35 | 9 | 33 | 2 | 10 | MC | Ret |
| Mike Lorenzo-Vera | MC | MC | 63 | | | | | | MC | 58 |
| Jordan Smith | 40 | | | | | | | | | |
| Chris Wood | 49 | 1 | 4 | 21 | Wd | 49 | MC | 6 | | |
| Thorbjorn Olesen | MC | MC | MC | 54 | MC | MC | MC | | | |
| Dean Burmester | 9 | | | | | | | | | |
| Ryan Fox | MC | | | | | | | | | |
| Pablo Larrazabal | 24 | 12 | MC | 7 | 12 | 65 | MC | MC | 48 | |
| Fabrizio Zanotti | MC | 7 | MC | 16 | 24 | MC | 24 | MC | 21 | |
| Andy Sullivan | 30 | 22 | 17 | 26 | MC | | | | | |
| Joakim Lagergren | MC | 37 | | | | | | | | |
| Andrew Johnston | 21 | 7 | MC | | | | | | | |
| Dave Horsey | 51 | 37 | MC | 35 | MC | MC | 7 | MC | 43 | |
| Jeung-Hun Wang | MC | 33 | | | | | | | | |
| Erik Van Rooyen | | | | | | | | | | |
| Harold Varner | | | | | | | | | | |
| Julien Guerrier | | | | | | | | | | |
| Darren Fichardt | MC | MC | MC | MC | MC | | | | | |
| Richie Ramsay | 30 | 43 | MC | 38 | 9 | MC | MC | 28 | MC | |
| Scott Jamieson | 14 | 47 | 27 | MC | MC | 43 | 65 | | | |
| Nicolas Colsaerts | 3 | 22 | 22 | 71 | 24 | MC | MC | 78 | | |
| Nacho Elvira | MC | MC | | MC | | | | | | |
| Jason Scrivener | MC | MC | | | | | | | | |
| Renato Paratore | MC | 43 | MC | | | | | | | |
| Richard Sterne | MC | MC | | | 57 | 6 | | | MC | MC |
| Lucas Bjerregaard | MC | MC | MC | | | | | | | |
| David Lipsky | MC | 55 | 35 | | | | | | | |
| Gavin Green | | | | | | | | | | |
| Soren Kjeldsen | 30 | MC | 18 | MC | 45 | MC | MC | 41 | 3 | 10 |
| Matthew Southgate | MC | MC | | | | | | | | |
| Aaron Rai | | | | | | | | | | |
| Matthieu Pavon | MC | | | | | | | | | |
| Callum Shinkwin | Dq | | | | | | | | | |
| Phachara Khongwatmai | MC | | | | | | | | | |
| Scott Hend | 24 | 15 | MC | | | | | | | |
| Marcus Kinhult | | | | | | | | | | |
| Haydn Porteous | MC | MC | | | | | | | | |
| Tapio Pulkkanen | | | | | | | | | | |
| Padraig Harrington | MC | | Ret | 61 | | MC | | 6 | | |
| Mikko Korhonen | MC | | | | | | | | | |
| Paul Waring | MC | | | 46 | MC | | Ret | 65 | 21 | |
| Adam Bland | | | | | | | | | | |
| Thomas Detry | | | | | | | | | | |
| Graeme McDowell | | 27 | 59 | | MC | MC | MC | 28 | 13 | 57 |
| Jin Ho Choi | | | | | | | | | | |
| Marc Warren | MC | MC | 18 | 16 | 2 | 27 | | MC | 21 | 22 |
| Andrew Dodt | 6 | 47 | MC | | 67 | 39 | 53 | 41 | | |
| Clement Sordet | | | | | | | | | | |
| Benjamin Hebert | 58 | 12 | MC | | | MC | | | | |
| Andres Romero | | | | | | | | | 54 | 6 |
| Alvaro Quiros | MC | MC | 46 | 57 | 32 | 10 | 18 | MC | 16 | MC |
| Robert Rock | MC | 47 | MC | 38 | MC | 21 | 45 | 34 | 16 | |
| Romain Wattel | 66 | 4 | 68 | 30 | MC | MC | MC | | | |
| Austin Connelly | | | | | | | | | | |
| Mikko Ilonen | 62 | MC | MC | 38 | 12 | 61 | MC | MC | 68 | MC |
| Stephen Gallacher | 21 | MC | | 5 | MC | MC | MC | 4 | MC | MC |
| Jacques Kruyswijk | | | | | | | | | | |
| Oliver Fisher | 40 | MC | MC | 73 | 45 | MC | MC | 65 | MC | 16 |
| Ryan Evans | | | | | | | | | | |
| Brandon Stone | MC | MC | | | | | | | | |
| Sam Brazel | MC | | | | | | | | | |
| Nino Bertasio | 14 | | | | | | | | | |
| Sam Horsfield | | | | | | | | | | |
| Pedro Oriol | | | | | | | | | | |
| SSP Chawrasia | 58 | 27 | MC | | MC | 15 | 31 | 34 | MC | MC |
| Ashun Wu | | MC | | | | | | | | |
| Lee Slattery | MC | MC | MC | MC | 37 | MC | | | 35 | MC |
| Chase Koepka | | | | | | | | | | |
| Marcus Fraser | MC | MC | 27 | | MC | MC | 4 | MC | 43 | 34 |
| Andrea Pavan | | | | MC | | MC | | | | |
| Maximilian Kieffer | 24 | MC | 27 | MC | MC | | | | | |
| Jens Dantorp | | | | | | | | | | |
| Sebastian Heisele | | | | | | | | | | |
| Jamie Donaldson | MC | MC | 18 | 30 | 37 | 53 | 7 | 34 | 32 | 53 |
| Steven Brown | | | | | | | | | | |
| Adrien Saddier | | | | | | | | | | |
| Marcel Siem | MC | 52 | MC | 7 | 40 | 7 | 53 | 41 | 59 | 65 |
| James Morrison | MC | 47 | 11 | | MC | 10 | MC | MC | | |
| Brett Rumford | Wd | MC | MC | MC | 62 | 70 | MC | MC | 43 | MC |
| David Drysdale | 49 | 37 | Dq | MC | 19 | 10 | MC | 56 | | |
| Robert Karlsson | MC | MC | 27 | 67 | | MC | | 13 | 32 | 3 |
| Chris Hanson | MC | | | | | | | | | |
| Richard Bland | MC | 65 | MC | MC | 19 | | MC | MC | | |
| Thongchai Jaidee | 54 | 52 | 2 | 38 | 40 | 56 | 24 | 13 | 43 | 30 |
| Matthias Schwab | | | | | | | | | | |
| Oliver Farr | | | 27 | | | | | | | |
| Edoardo Molinari | MC | 65 | Ret | 46 | 19 | 49 | 39 | MC | | |
| Gregory Bourdy | 62 | 15 | 55 | 57 | 12 | MC | MC | 28 | MC | 38 |
| Bradley Dredge | 40 | MC | 70 | | | 60 | 39 | Ret | MC | MC |
| Thomas Aiken | MC | 4 | 35 | 7 | MC | MC | 39 | 17 | 10 | |
| Jeff Winther | | MC | | | | | | | | |
| Gregory Havret | MC | MC | 11 | 30 | 19 | 61 | MC | 76 | MC | 38 |
| Jason Norris | | | | | | | | | | |
| Lasse Jensen | MC | | | | | | | | | |
| Peter Hanson | 21 | 33 | 27 | 67 | | MC | 18 | 13 | 54 | 16 |
| Ricardo Gouveia | MC | MC | | | | | | | | |
| Danny Willett | 58 | 3 | 38 | 63 | 32 | 43 | MC | 5 | | |
| Matteo Manassero | 30 | MC | 46 | MC | 1 | 43 | 7 | 17 | | |
| Charlie Ford | | | | | | | | | | |
| Ashley Chesters | | | | | | | | | | |
| Carlos Pigem | MC | | | | | | | | | |
| Felipe Aguilar | MC | 37 | 11 | MC | MC | MC | 13 | MC | MC | 16 |
| Zander Lombard | MC | | | | | | | | | |
| Daniel Brooks | 54 | 55 | MC | MC | | | | | | |
| Scott Fernandez | | | | | | | | | | |
| Christiaan Bezuidenhout | | | | | | | | | | |
| Bradley Neil | | | | | | | | | | |
| Nico Geyger | | | | | | | | | | |
| Gonzalo F`dez-Castano | | | | | 62 | MC | | MC | 11 | MC |
| Daniel Im | MC | | | | | | | | | |
| Pep Angles | MC | | | | | | | | | |
| Ernie Els | 51 | | 59 | MC | 6 | 7 | 16 | 34 | 21 | MC |
| Thomas Bjorn | 57 | 52 | 11 | 3 | 40 | 43 | | MC | 16 | MC |
| Mark Foster | | MC | MC | 26 | 24 | MC | 47 | 74 | 48 | 58 |
| Soomin Lee | MC | 67 | | | | | | | | |
| Raphael Jacquelin | MC | MC | MC | 46 | 24 | MC | 4 | MC | 71 | MC |
| James Heath | | | | | | | | | | |
| Pontus Widegren | | | | | | | | | | |
| Rak Hyun Cho | | | | | | | | | | |
| Sebastien Gros | 64 | MC | | | | | | | | |
| Matthew Baldwin | | MC | MC | MC | MC | | | | | |
| Connor Syme | | | | | | | | | | |
| Darren Clarke | MC | MC | 38 | MC | 32 | MC | 45 | MC | 52 | MC |
| Trevor Immelman | MC | | | | | | | | | |
| David Howell | 48 | MC | MC | MC | MC | MC | 39 | 61 | 72 | 63 |
| Robert Coles | MC | | | | 69 | MC | MC | MC | | |
| Josh Geary | | | | | | | | | | |
| Paul O`Hara | | | | | | | | | | |
| Gavin Hay | | | | | | | | | | |
| Richard Wallis | | | | | MC | MC | MC | | | |