BMW Championship 2018: Essential stats for this week's PGA Tour event in Pennsylvania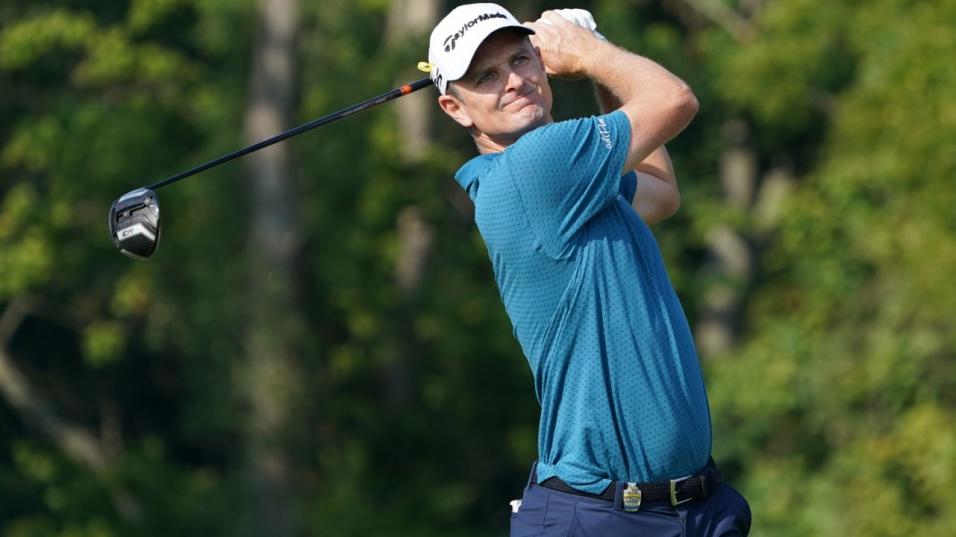 Justin Rose: Tasted victory at Aronimink eight years ago
Check out course and current form stats for week three of the FedEx Cup Playoffs, as the pros tee-up at Aronimink. Data supplied by Andy Swales...
"In his last 26 events worldwide, Rose has finished on the podium eight times, there have been 19 top-10s, and on only three occasions has he finished outside the top 25."
The penultimate week of the PGA Tour season takes the leading 70 players on this year's FedEx Cup standings to Pennsylvania for the BMW Championship.
Aronimink, a private club situated in a suburb west of Philadelphia, last hosted a Tour event seven years ago when it was the venue for the AT&T National.
Designed by famous Scottish architect Donald Ross, Aronimink opened for business 90 years ago, and in 1962 staged the PGA Championship.
This excellent parkland course is also scheduled to host the same major in nine years' time.
Aronimink was given a refurbishment during the early years of the new millennium, although its routing remains the same as when laid out by Ross during the late 1920s.
This well-wooded course is home to plenty of bunkers and trees, but has little significant water.
For those who have made the 300-mile journey from Boston, the target is to end the week inside the top-30 of the FedEx Cup standings.
Even though there is no 36-hole cut to contend with at the BMW-sponsored event, more than half of this week's field will miss out on qualifying for the season-ending Tour Championship in Atlanta.
And those who make it to the Deep South, for the fourth and concluding playoff event, will at least enjoy one week's rest before travelling to Georgia.
Memories Of 2010 & 2011
Fewer than half of those teeing-up on Thursday have competed at Aronimink in the past.
The only former winner at the venue is Justin Rose, who won the AT&T National in 2010.
The 38-year-old Englishman rarely plays poorly nowadays and an analysis of his results over the past 13 months makes for some remarkable reading - even if it includes just a single victory.
In his last 26 events worldwide, Rose has finished on the podium eight times, there have been 19 top-10s, and on only three occasions has he finished outside the top 25.
His four major appearances during 2018 all yielded top-20s, he was runner-up in Boston on Monday, and is the highest non-American in the World Ranking at No 4.
Only seven of the 70 qualifiers have played as many as six competitive rounds at Aronimink, with the rejuvenated Adam Scott finishing in a tie-for-third on his only appearance here in 2011.
Top Of The Pile
On Monday, Bryson DeChambeau collected his second straight FedEx Cup win, while claiming a third PGA Tour title since the start of June.
He is now No 7 in the world, having started the year at 99, and it would be a massive surprise if American captain Jim Furyk did not select him as a wild card for this month's Ryder Cup match in France.
And while DeChambeau has opened a substantial lead at the top of the Playoffs' standings, following his recent success in Boston, two other pros have enjoyed top-five finishes in both FedEx Cup events to date.
They are Tony Finau and Cameron Smith, the latter boasting a brace of podiums these past two weeks.
Rafa Cabrera-Bello is putting together a solid, though not spectacular, run of four top-20 finishes from his last five starts, while Hideki Matsuyama continued his return to form with a tie-for-fourth in Massachusetts.
Twitter: Andy Swales@GolfStatsAlive
Tables Below List 70 Qualifiers
MC* - Missed Additional 54-Hole Cut
| Player | W35 | W34 | W33 | W32 | W31 | W30 | W29 | W28 | W27 | W26 | W25 | W24 |
| --- | --- | --- | --- | --- | --- | --- | --- | --- | --- | --- | --- | --- |
| Dustin Johnson | 7 | 11 | | 27 | 3 | 1 | MC | | | | | 3 |
| Brooks Koepka | 12 | 8 | | 1 | 5 | MC | 39 | | | | 19 | 1 |
| Justin Thomas | 24 | 8 | | 6 | 1 | | MC | | | 8 | 56 | 25 |
| Justin Rose | 2 | MC | | 19 | | | 2 | 9 | | | | 10 |
| Jon Rahm | 43 | MC | | 4 | 17 | | MC | | 4 | 5 | | MC |
| Francesco Molinari | | MC | | 6 | 39 | | 1 | 2 | | 1 | | 25 |
| Rory McIlroy | 12 | | | 50 | 6 | | 2 | | 28 | | 12 | MC |
| Rickie Fowler | | | | 12 | 17 | | 28 | 6 | | 12 | | 20 |
| Jordan Spieth | 12 | 25 | | 12 | 60 | | 9 | | | | 42 | MC |
| Jason Day | MC | 20 | | 19 | 10 | | 17 | | | | 12 | MC |
| Tommy Fleetwood | 24 | 20 | | 35 | 14 | 6 | 12 | | | MC | 59 | 2 |
| Bryson DeChambeau | 1 | 1 | | MC | 30 | 13 | 51 | Wd | | | 9 | 25 |
| Patrick Reed | 35 | 25 | | MC | 28 | 9 | 28 | 23 | | | MC | 4 |
| Bubba Watson | 7 | 34 | | MC | 31 | MC | MC | | 13 | | 1 | MC |
| Alexander Noren | 43 | MC | | MC | 31 | | 17 | | | 1 | | 25 |
| Paul Casey | 21 | 60 | | MC | 31 | 7 | 51 | | | | 2 | 16 |
| Webb Simpson | 49 | 28 | 2 | 19 | 24 | | 12 | | 47 | | MC | 10 |
| Tony Finau | 4 | 2 | | 42 | 10 | 37 | 9 | | 21 | | | 5 |
| Hideki Matsuyama | 4 | 15 | 11 | 35 | 39 | | MC | MC | | | | 16 |
| Xander Schauffele | 49 | MC | | 35 | 68 | | 2 | | 21 | | MC | 6 |
| Henrik Stenson | 69 | | 20 | MC | 39 | | 35 | | | | | 6 |
| Marc Leishman | 21 | 34 | | 71 | 14 | | 60 | | | 13 | MC | 45 |
| Patrick Cantlay | 24 | 8 | | 27 | 6 | | 12 | | | | 15 | 45 |
| Phil Mickelson | 12 | 15 | | MC | 24 | | 24 | MC | 65 | | | 48 |
| Tyrrell Hatton | 12 | 20 | | 10 | 28 | | 51 | 9 | | 16 | | 6 |
| Tiger Woods | 24 | 40 | | 2 | 31 | | 6 | | | 4 | | MC |
| Kevin Kisner | 24 | 73 | | 12 | 39 | MC | 2 | | 55 | | | MC |
| Kyle Stanley | 12 | 28 | | MC | 2 | | 39 | MC | | 32 | 15 | MC |
| Rafa Cabrera-Bello | 7 | 60 | 11 | 10 | 17 | | 74 | MC | MC | MC | | 36 |
| Ian Poulter | MC | 48 | | 31 | 10 | 12 | MC | 30 | | 21 | | 25 |
| Brian Harman | 49 | 48 | | 71 | 62 | | MC | | 56 | | 6 | 36 |
| Louis Oosthuizen | 31 | 28 | | | 24 | | 28 | | | | | 16 |
| Adam Scott | 49 | 5 | | 3 | 57 | | 17 | | | | | MC |
| Cameron Smith | 3 | 3 | | 56 | 23 | | 78 | 42 | | | | MC |
| Kevin Na | MC | 15 | | 19 | 31 | | 51 | | 1 | 64 | 5 | |
| Gary Woodland | 24 | 48 | | 6 | 17 | 22 | 67 | | | 53 | | 36 |
| Daniel Berger | 35 | 15 | MC | 12 | 48 | | MC | | | | 67 | 6 |
| Pat Perez | Wd | 40 | | 35 | 63 | MC | 17 | | | | MC | 36 |
| Byeong Hun An | 31 | 40 | | 56 | 57 | 2 | 51 | | | 41 | | 67 |
| Zach Johnson | MC | 40 | | 19 | 17 | | 17 | 16 | | | 19 | 12 |
| Brandt Snedeker | 31 | | 1 | 42 | | 8 | MC | | 3 | | MC | 48 |
| Luke List | MC | 48 | | MC | 24 | | 39 | 3 | | | MC | MC |
| Aaron Wise | 69 | 5 | | MC | 6 | | | MC | MC | | | MC |
| Si Woo Kim | 35 | 76 | MC | MC | 10 | 29 | 67 | MC | | MC | 26 | MC |
| Chez Reavie | MC | 20 | | 12 | | MC | MC | MC | | | MC | MC |
| Adam Hadwin | 21 | 11 | | MC | | MC | 35 | | | 48 | 42 | MC |
| Emiliano Grillo | 7 | 48 | | 31 | 66 | | MC | | | | 19 | MC |
| Keegan Bradley | 49 | 34 | | 42 | | 4 | 79 | | 13 | | 47 | MC |
| Billy Horschel | Wd | 3 | 11 | 35 | | MC | 2 | | | 17 | MC | |
| Peter Uihlein | 12 | 48 | MC | MC | | | MC | MC | 12 | | | 48 |
| Chesson Hadley | MC | 56 | 45 | MC | | | MC | MC* | | 8 | MC | MC |
| Brendan Steele | MC | MC | MC | MC | 60 | | 47 | | | | MC | 63 |
| Beau Hossler | 35 | 60 | | MC | | | 75 | | | 6 | 2 | |
| Charles Howell | 58 | MC | | 71 | | | MC | | 30 | 17 | | 25 |
| Andrew Landry | 58 | 76 | | 50 | 57 | | MC | 55 | | 8 | MC | |
| Patton Kizzire | 71 | 60 | | MC | 31 | | MC | 30 | MC | | MC | |
| Andrew Putnam | 49 | 78 | | 59 | 1 | 8 | | MC* | MC | 27 | | |
| Ted Potter | 66 | 40 | | 71 | 48 | | | | MC | 23 | MC | MC |
| Ryan Palmer | MC | 5 | | | 26 | 22 | | MC* | | 8 | MC | |
| Austin Cook | 62 | 60 | | 50 | 53 | | 28 | 34 | 5 | | MC | |
| Ryan Armour | 35 | 78 | 8 | MC | | MC | MC | | 21 | 2 | 56 | |
| Brian Gay | 62 | 70 | 6 | 79 | | | 6 | MC | 39 | 8 | | 20 |
| Jason Kokrak | 24 | 40 | 57 | 19 | | 12 | MC | | 3 | MC | MC | |
| Chris Kirk | 35 | 78 | 11 | 31 | | 76 | 40 | 23 | | | | |
| JJ Spaun | 66 | 60 | | 35 | 3 | MC | | | 13 | 27 | 47 | |
| CT Pan | 4 | 60 | 2 | | 11 | | | 34 | 39 | 17 | MC | |
| Abraham Ancer | 7 | MC | 24 | | | 5 | MC | | 47 | 4 | MC | |
| Brice Garnett | 12 | MC | 20 | 50 | | | | MC | MC | | MC | |
| Keith Mitchell | 20 | MC | 41 | | | 65 | | 7 | 30 | MC | 56 | |
| Scott Piercy | Dq | 48 | 45 | MC | | | | MC | 74 | | | 45 |
| Player | 2011 | 2010 |
| --- | --- | --- |
| Dustin Johnson | | MC |
| Brooks Koepka | | |
| Justin Thomas | | |
| Justin Rose | 15 | 1 |
| Jon Rahm | | |
| Francesco Molinari | | |
| Rory McIlroy | | |
| Rickie Fowler | 13 | MC |
| Jordan Spieth | | |
| Jason Day | | 9 |
| Tommy Fleetwood | | |
| Bryson DeChambeau | | |
| Patrick Reed | | |
| Bubba Watson | | |
| Alexander Noren | | |
| Paul Casey | | |
| Webb Simpson | 8 | 41 |
| Tony Finau | | |
| Hideki Matsuyama | | |
| Xander Schauffele | | |
| Henrik Stenson | | |
| Marc Leishman | MC | 7 |
| Patrick Cantlay | 20 | |
| Phil Mickelson | | |
| Tyrrell Hatton | | |
| Tiger Woods | | 46 |
| Kevin Kisner | | |
| Kyle Stanley | 34 | |
| Rafa Cabrera-Bello | | |
| Ian Poulter | | |
| Brian Harman | | |
| Louis Oosthuizen | | |
| Adam Scott | 3 | |
| Cameron Smith | | |
| Kevin Na | 57 | |
| Gary Woodland | 47 | |
| Daniel Berger | | |
| Pat Perez | 38 | 62 |
| Byeong Hun An | | MC |
| Zach Johnson | | |
| Brandt Snedeker | | 16 |
| Luke List | | |
| Aaron Wise | | |
| Si Woo Kim | | |
| Chez Reavie | MC | |
| Adam Hadwin | | |
| Emiliano Grillo | | |
| Keegan Bradley | MC | |
| Billy Horschel | MC | |
| Peter Uihlein | 70 | |
| Chesson Hadley | | |
| Brendan Steele | | |
| Beau Hossler | | |
| Charles Howell | 3 | 62 |
| Andrew Landry | | |
| Patton Kizzire | | |
| Andrew Putnam | | |
| Ted Potter | | |
| Ryan Palmer | | |
| Austin Cook | | |
| Ryan Armour | | |
| Brian Gay | MC | 16 |
| Jason Kokrak | | |
| Chris Kirk | 8 | |
| JJ Spaun | | |
| CT Pan | | |
| Abraham Ancer | | |
| Brice Garnett | | |
| Keith Mitchell | | |
| Scott Piercy | | MC |