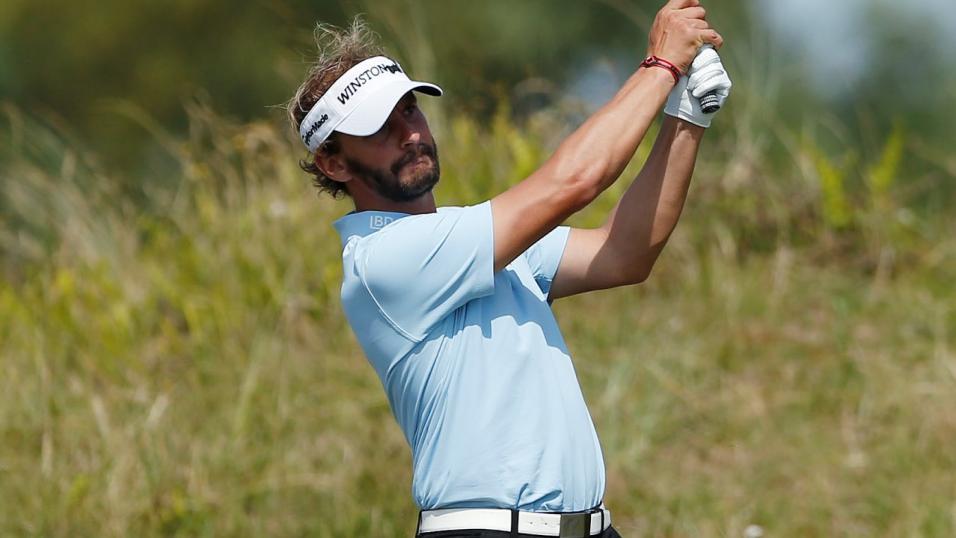 Joost Luiten: The consistent Dutchman is chasing a second Tour win of 2018
This week's European Tour event in Belgium combines strokeplay with medal matchplay. Check out current form stats compiled by Andy Swales ...
"For the two finalists, they will play at least 90 holes and possibly more if any of their medal matchplay games require sudden-death."
After 18 years in the wilderness, Belgium returns to the European Tour for this week's innovative new event in Antwerp.
Rinkven International Golf Club will make its Tour debut by hosting the Belgian Knockout, which combines strokeplay with medal matchplay.
Days one and two will feature 36 holes of normal strokeplay, before the leading 64 players - from a field of 144 - qualify for the weekend's knockout phase.
Saturday and Sunday will be particularly busy for the qualifiers who will contest nine-hole knock-out matches using the medal matchplay format.
This means every stroke counts and the golfer who plays fewest shots over nine holes is deemed the winner.
For the two finalists, they will play at least 90 holes and possibly more if any of their medal matchplay games require sudden-death.
Rinkven International is laid out in a wooded area of Belgium, around seven miles north-east of Antwerp city centre.
With tight, tree-lined fairways, Rinkven is generally a flat course with a reasonable amount of water.
Opportunities in the Knockout
Once again, similar to last week's event in Sicily, the field is certainly not one of the strongest we'll witness in Europe during 2018.
With just a handful of the world's top-100 golfers teeing-up on Thursday, opportunity knocks for those usually on the fringes of European Tour glory.
Matches staged over shorter distances can often assist the outsider, so expect a few surprises this weekend.
Challenge Tour Chances
With a number of Challenge Tour players in the field, it is highly likely some of these will find themselves reaching the latter stages of the tournament.
These include world No 233 Dane Joachim B Hansen who, in four starts on this season's Challenge Tour, has won one event and finished second in another.
The tournament could also offer Thailand's young pro Jazz Janewattananond the chance of a maiden European Tour victory.
The 22-year-old from Bangkok is yet to find his feet on European soil but is certainly one for the future and, at No 171 in the world, will not feel intimidated by his competitors this week.
Playing Safe
However, if you would prefer to wager on one of the higher-ranked pros in the field, then quite a few of them are in reasonable form right now.
Jorge Campillo, Adrian Otaegui and Jordan Smith all posted podium finishes on their most recent outings, while the first two have both enjoyed a sprinkling of good performances during the opening four and a half months of 2018.
The consistent Joost Luiten is usually a threat in events staged on the continent of Europe, while further down the ranking Andrea Pavan has registered six top-20s from his last eight starts - the most recent of these a tie-for-ninth in Sicily on Sunday.
Table Below Shows Form Over Last 12 Weeks
Twitter: Andy Swales@GolfStatsAlive
| Player | W19 | W18 | W17 | W16 | W15 | W14 | W13 | W12 | W11 | W10 | W9 | W8 |
| --- | --- | --- | --- | --- | --- | --- | --- | --- | --- | --- | --- | --- |
| Thomas Pieters | | | | 66 | | MC | 52 | 52 | | | 37 | 13 |
| Joost Luiten | | | 25 | 9 | | | | | | 9 | 37 | |
| Jorge Campillo | | | 3 | 46 | 5 | | | | | | 27 | |
| Adrian Otaegui | | | 2 | 19 | 12 | | | | | | | 10 |
| Jordan Smith | | | 3 | 52 | MC | | | | | | | MC |
| Chris Wood | | | | MC | | | | 54 | | 48 | | 13 |
| Ryan Fox | | | 37 | 12 | MC | | | | | | MC | |
| Erik Van Rooyen | | | MC | 7 | 21 | | | | | MC | 10 | 59 |
| Richie Ramsay | | | | 32 | 72 | | | | | | | MC |
| Nicolas Colsaerts | | | MC | MC | 28 | | | | | | | 34 |
| Mike Lorenzo-Vera | 2 | | | 62 | 34 | | | | | | | 10 |
| Jazz Janewattananond | MC | 12 | 56 | 28 | | | | | | MC | | |
| Soren Kjeldsen | Wd | | | MC | MC | | | | | | | |
| David Lipsky | | | 45 | MC | 67 | | | | | | 48 | |
| Gavin Green | | | 56 | MC | 46 | | | | | 16 | 64 | |
| Matthew Southgate | 48 | | | | | | | | | | | MC |
| Aaron Rai | | | 20 | 52 | 12 | | | | | 9 | MC | 19 |
| Matthieu Pavon | | | MC | MC | MC | | | | | | | 28 |
| Lucas Herbert | 3 | | MC | | | | | | | | MC | |
| Ajeetesh Sandhu | MC | 5 | MC | 10 | | | | | | 40 | | |
| Phachara Khongwatmai | | 12 | 56 | 66 | MC | | | | | MC | | MC |
| Callum Shinkwin | | | MC | 13 | 28 | | | | | | | 19 |
| Haydn Porteous | 41 | | MC | MC | | | | | | | 48 | MC |
| Scott Vincent | MC | MC | 11 | 4 | | | | | | MC | 13 | MC |
| Adam Bland | | | MC | MC | MC | | | | | | 18 | MC |
| Thomas Detry | | | MC | 19 | MC | | | | | | | 39 |
| Marc Warren | | | MC | 46 | 5 | | | | | 53 | | 53 |
| Jin Ho Choi | | 20 | 7 | MC | 58 | | | | | 9 | 29 | 72 |
| Andrew Dodt | | | 27 | 32 | MC | | | | | MC | 45 | |
| Clement Sordet | | | 45 | MC | MC | | | | | 12 | 54 | MC |
| Joachim B Hansen | | 9 | 1 | | 2 | | | MC | | | 3 | 21 |
| Benjamin Hebert | | | MC | 13 | | | | | | | 63 | 61 |
| Romain Wattel | | | 56 | 52 | | | | | | | | 19 |
| Stephen Gallacher | | | | MC | 52 | | | | | 7 | | 39 |
| Oliver Fisher | | | MC | 52 | MC | | | | | Wd | | 2 |
| Miguel Tabuena | | 55 | 37 | 14 | | | | | | MC | | |
| Brandon Stone | | | MC | 22 | 39 | | | | | | 60 | MC |
| Austin Connelly | 11 | | MC | 13 | 63 | | | | | | | |
| Jacques Kruyswijk | 14 | | | MC | 9 | | | | | | 29 | 39 |
| Sam Horsfield | MC | | 32 | MC | MC | | | | 14 | | 2 | MC |
| Pedro Oriol | MC | | | 29 | 39 | | | | | | 8 | |
| Ryan Evans | 11 | | | 46 | MC | | | | | 34 | 21 | 61 |
| SSP Chawrasia | 41 | | MC | 40 | | | | | | MC | | MC |
| Ashun Wu | | | 7 | 29 | 34 | | | | | 53 | | 28 |
| Lorenzo Gagli | 20 | | 2 | 36 | MC | | | 1 | | | 29 | 34 |
| Chase Koepka | 34 | | | MC | MC | | | | | | Wd | 53 |
| Marcus Fraser | MC | | 32 | 22 | 46 | | | | | 60 | 29 | |
| Jbe Kruger | 41 | 75 | Wd | 49 | | | | | 5 | MC | MC | |
| Maximilian Kieffer | | | MC | 41 | 12 | | | | | | 48 | MC |
| Sebastian Heisele | MC | | 4 | MC | MC | | | 44 | | | | 8 |
| Adrien Saddier | MC | | | MC | MC | | | | | 62 | | MC |
| Jens Dantorp | 48 | | | MC | 67 | | | | | 16 | 21 | MC |
| Matthew Millar | 58 | | | | | | | | | | MC | 5 |
| Marcel Siem | | | 56 | 19 | | | | | | MC | | 28 |
| David Drysdale | MC | | | MC | MC | | | | | MC | MC | MC |
| Jordan Zunic | MC | | | | | | | | | | 38 | 17 |
| James Morrison | MC | | 65 | MC | MC | | | | | 16 | | 45 |
| Jamie Donaldson | | | MC | 32 | MC | | | | | 34 | | 59 |
| Brett Rumford | | | MC | MC | 5 | | | | | | 62 | |
| Richard Bland | | | MC | MC | MC | | | | | | MC | 74 |
| Chris Hanson | | | 27 | 41 | MC | | | | | MC | | 53 |
| Robert Karlsson | | | | MC | MC | | | | | | | 76 |
| Bradley Dredge | MC | | | 13 | 52 | | | | | | | 45 |
| Victor Perez | 41 | 48 | MC | | 27 | | | 18 | | | 13 | |
| Oliver Farr | 26 | | | MC | MC | | | | | MC | MC | 39 |
| Adilson Da Silva | 58 | 67 | 37 | MC | 14 | | | | 29 | MC | 11 | |
| Nick Cullen | 26 | | | | MC | | | 25 | | | 7 | |
| Trevor Fisher | 63 | | | 20 | 67 | | | 8 | 7 | | MC | |
| Andrea Pavan | 9 | | 11 | 3 | 21 | | | | | | MC | 13 |
| Matthias Schwab | 20 | | | MC | 28 | | | 8 | | 4 | 29 | 61 |
| Steven Brown | 7 | | | 65 | MC | | | | | 16 | MC | 39 |
| Robin Sciot-Siegrist | 28 | 9 | 42 | | 24 | | | 54 | | | 48 | |
| Thomas Aiken | 14 | | | MC | MC | | | | | | 8 | MC |
| Dimitrios Papadatos | 1 | | | | | | | | | | 19 | |
| Florian Fritsch | 63 | | | | MC | | | | | | | MC |
| Marcus Armitage | 41 | | 42 | | 2 | | | 58 | | | | |
| Gregory Havret | | | MC | MC | MC | | | | | 23 | | 4 |
| Nicholas Fung | MC | 64 | MC | 14 | | 19 | | | | 48 | | |
| Jason Norris | | | 27 | Wd | 58 | | | | | MC | MC | |
| Prom Meesawat | | Wd | 53 | 55 | | | | | | 57 | | |
| Jeff Winther | 14 | | | MC | 34 | | | | | | 21 | MC |
| Peter Hanson | | | | MC | | | | | | | | |
| Jens Fahrbring | 20 | | | | | | | 2 | | | | |
| Lasse Jensen | | | 27 | MC | MC | | | | | Wd | | MC |
| Alexander Knappe | 63 | 9 | 17 | | MC | | | MC | | | MC | |
| Ricardo Gouveia | | | 45 | 59 | 52 | | | | | 16 | 29 | 61 |
| Tom Lewis | 14 | | 9 | | MC | | | MC | | | | |
| Richard McEvoy | MC | 34 | | | MC | | | | | | MC | |
| Charlie Ford | MC | | | MC | 63 | | | | | | 66 | MC |
| Bernd Ritthammer | 55 | MC | 38 | | 27 | | | 44 | | | MC | |
| Johan Carlsson | MC | MC | | | | | | | | | | |
| Tano Goya | MC | 15 | 57 | | MC | | | Wd | | | | |
| Simon Khan | 26 | 38 | 42 | | | | | | | | | MC |
| Justin Walters | 34 | | | MC | | | | 66 | 9 | | 21 | 45 |
| Ashley Chesters | | | 20 | MC | MC | | | | | 30 | MC | 45 |
| Ashley Hall | | | | | | | | MC | | | MC | 2 |
| Romain Langasque | MC | 23 | | 22 | | | | 44 | | | MC | 13 |
| Daan Huizing | 35 | MC | | | 12 | | | 28 | | | MC | |
| Zander Lombard | 34 | | | MC | MC | | | | | | MC | MC |
| Felipe Aguilar | MC | 65 | 17 | MC | 28 | | | 53 | | | 4 | MC |
| Ben Evans | MC | MC | | MC | MC | | | 14 | | | MC | MC |
| Oliver Lindell | 58 | | MC | | MC | | | 69 | | | | |
| Henric Sturehed | Wd | | | 52 | 5 | | | MC | | | MC | MC |
| Joel Stalter | MC | | 53 | Wd | 43 | | | 28 | | | | 33 |
| Daniel Brooks | 48 | | MC | 66 | MC | | | | | | Wd | MC |
| Jarand E Arnoy | MC | MC | 61 | | MC | | | MC | | | | 15 |
| Johan Edfors | | | | | | | | MC | | | | |
| Scott Fernandez | 34 | | | MC | MC | | | | | 34 | MC | 19 |
| Birgir Hafthorsson | MC | MC | | | MC | | | MC | | | | |
| Bradley Neil | MC | | MC | MC | 58 | | | | | | MC | MC |
| Nico Geyger | MC | 23 | 4 | MC | MC | | | 3 | | | MC | 34 |
| Eun Shin Park | 34 | 55 | | MC | | | | | | | | |
| Christiaan Bezuidenhout | 26 | | 46 | 22 | 28 | | | MC | | | 17 | 28 |
| Daniel Im | 48 | | MC | MC | MC | | | | | MC | | 77 |
| Kim Koivu | 13 | MC | 17 | | 1 | | | 14 | | | 27 | 6 |
| Ross McGowan | MC | 2 | | MC | MC | | | 14 | | | MC | MC |
| Christopher Mivis | MC | 23 | MC | | 59 | | | MC | | | 63 | |
| Julien Quesne | MC | 54 | MC | | MC | | | 18 | | | 63 | |
| Thomas Linard | MC | 58 | 9 | | MC | | | 38 | | | | |
| Mark Foster | MC | | | MC | MC | | | | | | MC | 13 |
| Christofer Blomstrand | MC | | | MC | MC | | | 60 | | | 38 | |
| Laurie Canter | 26 | | | 29 | MC | | | 8 | | | 21 | MC |
| Pep Angles | 14 | 48 | | MC | 46 | | | | | | MC | MC |
| Tom Murray | 34 | MC | 9 | | 63 | | | MC | | | MC | |
| Soomin Lee | | | 14 | Dq | MC | | | | | 53 | 48 | 74 |
| Mark Tullo | 20 | | | | | | | | | | | |
| James Heath | MC | | | 72 | MC | | | | | | MC | MC |
| Raphael Jacquelin | | | | 41 | MC | | | | | MC | MC | 53 |
| Duncan Stewart | MC | MC | 53 | | 36 | | | 38 | | | MC | |
| Nathan Kimsey | 70 | | 17 | | 54 | | | MC | | | | |
| Francesco Laporta | 7 | MC | 9 | | 27 | | | MC | | | | 49 |
| Jonathan Thomson | MC | | MC | 66 | 39 | | | MC | | | 72 | MC |
| Pontus Widegren | Dq | | | 41 | MC | | | | | | MC | 78 |
| Anthony Michael | MC | | 42 | 37 | 9 | | | 44 | 14 | | MC | 55 |
| Arnond Vongvanij | 14 | 55 | | MC | | | | | | MC | | |
| Rak Hyun Cho | MC | | MC | MC | 12 | | | | | | MC | 34 |
| Sebastien Gros | 48 | | | MC | 12 | | | | | 25 | 4 | 45 |
| Matthew Baldwin | 55 | | | MC | 52 | | | 28 | | | 38 | 10 |
| Anders Hansen | | | | | | | | | | | | |
| Connor Syme | MC | | | 74 | MC | | | MC | | | 11 | MC |
| Scott Henry | 45 | MC | MC | | 36 | | | MC | | | | |
| Reinier Saxton | MC | | MC | | 4 | | | MC | | | | |
| Mathieu Decottignies-Lafon | | | 1 | | | MC | 22 | | | | 16 | |
| Marcel Schneider | MC | | MC | 66 | 58 | | | MC | | | MC | 70 |
| Jack Munro | MC | MC | | MC | 43 | | | 28 | | | MC | 17 |
| Gary Stal | MC | 15 | 32 | | MC | | | 18 | | | | |
| Eirik Tage Johansen | 48 | | 42 | | | | | 25 | | | | |
| Matthew Nixon | 48 | | 26 | 46 | MC | | | 44 | | | MC | 13 |
| Ruaidhri McGee | MC | 23 | MC | | | | | MC | | | | |
| Maarten Lafeber | MC | | MC | | | | | MC | | | | |
| Kevin Hesbois | | MC | MC | | 26 | 14 | MC | | | | | 19 |
| Hugues Joannes | MC | 60 | | | 14 | | | | | | | 19 |
| Asaf Cohen | | | | | 50 | | | | | | | |
| Jeppe Pape Huldahl | MC | 23 | 38 | | 18 | | | MC | | | | 2 |
| Adrien D Chassart | | | | | | | | | | | | |
| Alan De Bondt | | | | | | | | | | | | |
| Yente Vandoren | | | | | | | | | | | | |
| Sandro Piaget | | | | MC | MC | | | MC | 51 | | | |
| Josh Geary | MC | | 26 | 46 | MC | | | | | | MC | MC |
| Oscar Serna | MC | MC | MC | | | | | | | | | |
| Hugo Leon | 74 | 23 | MC | | 10 | | | 35 | | | | |
| Steven Tiley | MC | | 38 | | | | | MC | | | | |