AT&T Pebble Beach Pro-Am 2018: Course and current form guide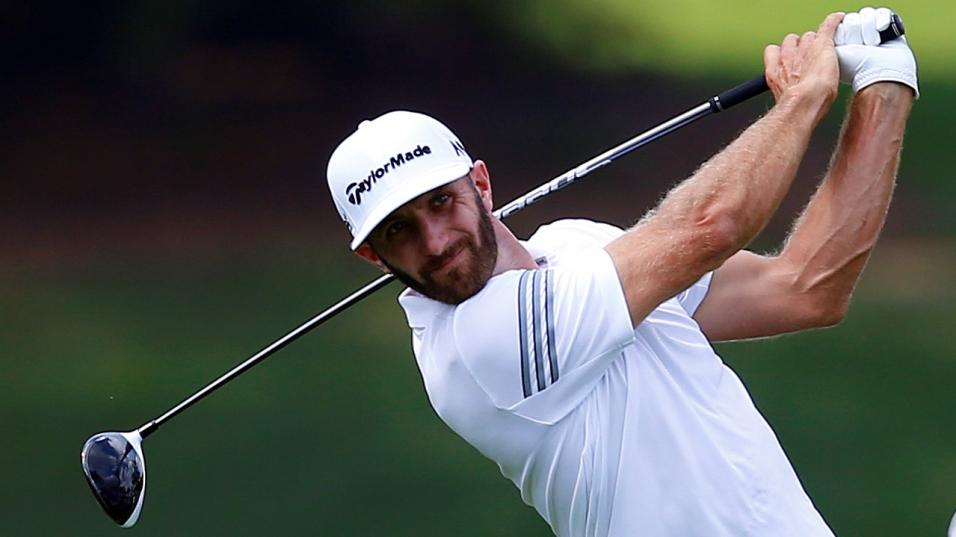 World No 1 Dustin Johnson is a two-time champion at Pebble Beach
Andy Swales provides the stats for this week's AT&T Pebble Beach Pro-Am, one of the early season highlights on the PGA Tour ...
"Rory McIlroy will be making his debut in the AT&T, having missed the cut at Pebble where he contested the 2010 US Open as a 21-year-old."
The iconic Pebble Beach Golf Links welcomes the PGA Tour which returns to the California coast for this week's AT&T Pebble Beach Pro-Am.
In addition to host course Pebble, the players will also sample the delights of Spyglass Hill and Monterey Peninsula.
First staged in 1947, the Pro-Am has always attracted a strong field and this year's instalment is no exception.
Pebble Beach will celebrate its centenary next year, when it will also stage the US Open for a sixth time.
This photogenic links hugs the Pacific coastline and has some of the smallest greens of any event staged by any of the world's professional tours.
Nearby Spyglass Hill was designed by Robert Trent Jones senior, opening in March 1966, and soon after became one of the three venues to be regularly used for this popular event.
It made its tournament debut in 1967 and quickly earned a reputation as one of the toughest courses on the PGA Tour schedule.
Meanwhile, the Shore Course at Monterey Peninsula Country Club returned to the rota in 2010 - following an absence of 33 years - replacing Poppy Hills.
Opened 57 years ago, it underwent a major reconstruction in 2003 and 2004, when Mike Strantz designed 12 new holes and remodelled the other six.
Its putting surfaces are slightly larger than the average-sized greens used on Tour and therefore much bigger than those at Pebble.
Those teeing-up this week, will play one round on each course from Thursday thru Saturday, before the leading 60 pros and ties contest the climax at Pebble Beach on Sunday.
The Main Men
On paper, the AT&T Pro-Am has the potential to become a Sunday afternoon showdown between some of the biggest names in golf.
Teeing-off this week are Dustin Johnson, Jon Rahm, Jordan Spieth, Rory McIlroy and Jason Day - not to mention many other excellent players.
For world No 1 Johnson, Pebble Beach is almost a second home. In 10 visits to this event, he has won twice, had two other podium finishes, and three more T-10s.
He also tied-eighth when the US Open was staged here eight years ago.
Spieth's record at the venue is almost as impressive as DJ's, although the world No 3 has experienced a slow start to the calendar year, which included a missed cut last week at TPC Scottsdale.
Rahm continues his busy start to 2018, while Day returned to winning ways on his last outing in San Diego.
Meanwhile, McIlroy will be making his debut in the AT&T, having missed the cut at Pebble where he contested the 2010 US Open as a 21-year-old.
But that shouldn't be a massive hindrance this week, having finished second and third in his two starts since making his comeback from injury.
Horses For Courses
Top talent abounds this week in California where Phil Mickelson might just fancy his chances.
The 47-year-old is a four-time winner at Pebble and, in Arizona on Sunday, he tied-for-fifth which was his fifth top-20 finish in his last seven PGA Tour starts.
Two-time winner Brandt Snedeker usually plays well if there is a coastline nearby, and the 37-year-old showed signs of making a return to form by sneaking into the top 25 at Scottsdale on Sunday.
He also made the top-10 when the US Open came to town in 2010.
Rafa Cabrera-Bello has a habit of churning out decent performances on challenging courses, and the Spaniard was sixth in his most recent start at Torrey Pines.
And a long shot, each-way punt, this week could be American Nick Watney who is a former runner-up at Pebble.
Watney, now ranked 360, tied-26th in the Phoenix, thanks to four sub-par rounds.
| Player | W5 | W4 | W3 | W2 | W1 | W52 | W51 | W50 | W49 | W48 | W47 | W46 |
| --- | --- | --- | --- | --- | --- | --- | --- | --- | --- | --- | --- | --- |
| Dustin Johnson | | | 9 | | 1 | | | | | 14 | | |
| Jon Rahm | 11 | 29 | 1 | | 2 | | | | | | | 1 |
| Jordan Spieth | MC | | | 18 | 9 | | | | | 3 | 8 | |
| Rory McIlroy | | 2 | 3 | | | | | | | | | |
| Jason Day | | 1 | | | | | | | | | 5 | |
| Paul Casey | | | 9 | | | | | | | | | |
| Pat Perez | | 29 | 21 | | 4 | | | | | | | |
| Matt Kuchar | 5 | | 32 | | | | | | | 9 | | 29 |
| Rafa Cabrera-Bello | | 6 | 40 | | | | | | | | 2 | 21 |
| Charley Hoffman | 26 | 35 | | | | | | | | 2 | | |
| Patrick Reed | 17 | 23 | MC | | | | | | | 5 | | 10 |
| Branden Grace | | 37 | 15 | 2 | | | | | | | | 31 |
| Kevin Kisner | | | 50 | 25 | 17 | | | | | 12 | | 4 |
| Kevin Chappell | 31 | | 6 | | 21 | | | | | 14 | | |
| Patrick Cantlay | | 51 | | | 15 | | | | | | | |
| Adam Scott | | | | | | | | | | MC | | |
| Phil Mickelson | 5 | 45 | MC | | | | | | | | | |
| Russell Henley | MC | | | MC | 17 | | | | | | | |
| Gary Woodland | 1 | 12 | | 7 | | | | | | | | |
| James Hahn | 11 | 45 | 36 | 2 | | | | | | | | |
| Julian Suri | MC | 63 | | | | | | | | | 2 | 8 |
| Shane Lowry | 65 | MC | | | | | | | | | | 2 |
| Brandt Snedeker | 23 | 45 | MC | | | | | Wd | | | | 29 |
| Billy Horschel | 43 | 54 | | | 11 | | | | | | | |
| JB Holmes | MC | 4 | | | | | | | | | | |
| Paul Dunne | | MC | 19 | | | | | | | | 41 | 25 |
| Russell Knox | MC | 29 | 29 | 10 | | | | | | | | 37 |
| Chesson Hadley | 5 | 23 | 42 | | | | | | | | | 37 |
| Jimmy Walker | | 63 | MC | MC | | | | | | | | |
| Chez Reavie | 2 | | 36 | 18 | | | | | | | | |
| William McGirt | MC | | | 65 | | | | | | | | 8 |
| Bryson DeChambeau | 5 | MC | MC | | 26 | | | | | | | |
| Bubba Watson | 40 | | MC | | | | | | | | | 67 |
| Sean O`Hair | | 69 | 50 | MC | | | | | | | | MC |
| Scott Piercy | MC | | 6 | 25 | | | | | | | | |
| Austin Cook | 31 | | 14 | 18 | 22 | | | | | | | 1 |
| Grayson Murray | 70 | 75 | 14 | | 22 | | | | | | | |
| Whee Kim | MC | MC | MC | MC | | | | | | | | MC |
| Scott Brown | MC | | 63 | 65 | | | | | | | | MC |
| Jason Kokrak | 31 | | 8 | 47 | | | | | | | | MC |
| Steve Stricker | 31 | | | | | | | | | | | |
| Stewart Cink | | MC | 20 | 32 | | | | | | | | 25 |
| Mac Hughes | MC | MC | MC | MC | | | | | | | | MC |
| Luke Donald | | MC | | MC | | | | | | | | |
| Padraig Harrington | | MC | | | | | | | | | | 54 |
| Ryan Armour | MC | | MC | 39 | 20 | | | | | | | 37 |
| Kevin Streelman | 40 | 29 | 29 | | | | | | | | | 17 |
| Robert Streb | MC | 66 | | MC | | | | | | | | MC |
| Chris Stroud | MC | | 69 | MC | 11 | | | | | | | 49 |
| Brian Stuard | 65 | | MC | 4 | | | | | | | | 22 |
| Cameron Davis | 72 | 58 | 6 | | | | | | | | 1 | MC |
| Chris Kirk | 11 | 35 | MC | 10 | | | | | | | | 4 |
| Patrick Rodgers | MC | MC | | Wd | | | | | | | | MC |
| Daniel Summerhays | | | MC | | | | | | | | | MC |
| Tom Hoge | MC | 12 | 57 | 3 | | | | | | | | 25 |
| Brian Gay | 9 | | 42 | 58 | | | | | | | | 3 |
| Jim Herman | | MC | MC | MC | | | | | | | | 54 |
| Nick Taylor | 52 | 75 | 20 | | | | | | | | | MC |
| Robert Garrigus | 52 | 8 | 57 | | | | | | | | | MC |
| Alex Cejka | Wd | MC | 50 | | | | | | | | | |
| Talor Gooch | | 51 | 67 | 18 | | | | | | MC | | MC |
| Graeme McDowell | | MC | MC | | | | | | | | | MC |
| Aaron Wise | | MC | 17 | MC | | | | | | | | 13 |
| Martin Piller | | MC | 3 | MC | | | | | | | | MC |
| Sam Saunders | | | 8 | 25 | | | | | | | | MC |
| Brice Garnett | | 35 | 63 | MC | | | | | | | | 29 |
| Ben Martin | 67 | | 57 | 7 | | | | | | | | 22 |
| Kelly Kraft | MC | MC | | MC | | | | | | | | 22 |
| Andres Romero | | 65 | MC | | | | | | | | | 13 |
| Brandon Harkins | MC | 12 | 8 | 25 | | | | | | | | 49 |
| Rob Oppenheim | | MC | 42 | MC | | | | | | | | 61 |
| Aaron Baddeley | 26 | MC | | MC | | | | | | | | MC |
| Ted Potter | | 73 | MC | MC | | | | | | | | 13 |
| Abraham Ancer | | 20 | 76 | MC | | | | | | | | Wd |
| Jonathan Randolph | | MC | Wd | 39 | | | | | | | | 73 |
| Beau Hossler | 17 | 35 | 20 | MC | | | | | | | | 70 |
| Billy Hurley | MC | | 69 | MC | | | | | | | | MC |
| Matt Jones | | MC | MC | 39 | | | | | | 30 | 2 | |
| Ben Silverman | 48 | 67 | 77 | MC | | | | | | | | 8 |
| Nate Lashley | | MC | 29 | 39 | | | | | | | | 49 |
| Dominic Bozzelli | MC | | MC | 39 | | | | | | | | |
| Jonathan Byrd | | MC | MC | 25 | | | | | | | | MC |
| Rod Pampling | | MC | MC | | | | | | | 11 | 44 | |
| Richy Werenski | MC | MC | 29 | MC | | | | | | | | MC |
| Jonas Blixt | MC | MC | | MC | 31 | | | | | MC | 2 | |
| DA Points | MC | | | 73 | 33 | | | | | | | MC |
| Sam Ryder | | MC | 50 | 58 | | | | | | | | 61 |
| Xin Jun Zhang | | MC | MC | 25 | | | | | | | | 68 |
| Stephan Jaeger | | MC | MC | 54 | | | | | | | | 29 |
| Nicholas Lindheim | | MC | MC | 32 | | | | | | | | 13 |
| Adam Schenk | | MC | MC | 39 | | | | | | | | MC |
| Scott Stallings | 23 | MC | MC | | | | | | | | | 68 |
| JT Poston | | 73 | MC | | | | | | | | | MC |
| Seamus Power | | MC | 11 | 54 | | | | | | | | MC |
| Cody Gribble | 70 | 35 | | MC | | | | | | | | 27 |
| David Hearn | | MC | MC | | | | | | | | | 17 |
| Vaughn Taylor | 11 | | MC | 76 | | | | | | | | 8 |
| Ryan Blaum | MC | | MC | 10 | | | | | | | | MC |
| Rory Sabbatini | 31 | 20 | 69 | 32 | | | | | | | | MC |
| Tyrone Van Aswegen | 69 | MC | 36 | 58 | | | | | | | | 45 |
| Lanto Griffin | | 12 | MC | 58 | | | | | | | | MC |
| Ricky Barnes | MC | MC | 20 | MC | | | | | | | | MC |
| Cameron Tringale | MC | 58 | MC | MC | | | | | | | | MC |
| Tom Lovelady | MC | 45 | 29 | MC | | | | | | | | MC |
| Keith Mitchell | | 63 | 69 | 25 | | | | | | | | 54 |
| Derek Fathauer | 48 | MC | 36 | | | | | | | | | MC |
| Andrew Putnam | | 54 | 17 | 69 | | | | | | | | MC |
| Shawn Stefani | | MC | MC | | | | | | | | | MC |
| Trey Mullinax | | MC | 57 | | | | | | | | | 37 |
| Johnson Wagner | | MC | MC | | | | | | | | | 17 |
| Marty Dou Ze Cheng | | MC | MC | MC | | | | | | | | MC |
| Kyle Thompson | | MC | MC | MC | | | | | | | | MC |
| Conrad Shindler | | MC | MC | 47 | | | | | | | | MC |
| Tyler Duncan | MC | MC | MC | MC | | | | | | | | 25 |
| Rick Lamb | | | MC | | | | | | | | | MC |
| Jerry Kelly | | | | 14 | | | | | | | | |
| Nick Watney | 26 | 58 | 50 | | | | | | | | | MC |
| Vijay Singh | | | | MC | | | | | | | | |
| Cameron Percy | | | MC | | | | | | | | | 70 |
| Zac Blair | | MC | MC | | | | | | | | MC | MC |
| Ben Crane | | | 42 | | | | | | | | | MC |
| Bronson Burgoon | | MC | 42 | MC | | | | | | | | 70 |
| Andrew Yun | | MC | MC | MC | | | | | | | | MC |
| Matt Atkins | | MC | MC | MC | | | | | | | | MC |
| Greg Chalmers | MC | | MC | MC | | | | | | 11 | MC | MC |
| JJ Henry | | 23 | MC | MC | | | | | | | | 45 |
| Fabian Gomez | MC | | MC | MC | | | | | | | | 61 |
| Troy Merritt | | MC | MC | MC | | | | | | | | 54 |
| Ethan Tracy | | MC | MC | MC | | | | | | | | MC |
| Joel Dahmen | | MC | MC | 73 | | | | | | | | 49 |
| Roberto Diaz | | 72 | MC | 47 | | | | | | | | 61 |
| Jason Gore | 39 | | MC | | | | | | | | | MC |
| Corey Conners | | 29 | 50 | 39 | | | | | | | | 37 |
| Steve Wheatcroft | | MC | MC | MC | | | | | | | | MC |
| Ernie Els | | MC | MC | 31 | | | | | | | | MC |
| Colt Knost | 62 | | MC | 69 | | | | | | | | |
| Hunter Mahan | MC | 69 | 42 | | | | | | | | | 45 |
| Denny McCarthy | | MC | MC | | | | | | | | | MC |
| Stuart Appleby | | 64 | | | | | | | | | | MC |
| Brett Stegmaier | | MC | 57 | MC | | | | | | | | MC |
| KJ Choi | MC | MC | | MC | | | | | | | | 37 |
| Peter Malnati | MC | MC | MC | MC | | | | | | | | MC |
| Bill Lunde | | | | | | | | | | | | |
| Matt Every | MC | MC | 69 | 75 | | | | | | | | MC |
| Eric Axley | 7 | MC | MC | | | | | | | | | |
| Ken Duke | | | | | | | | | | | | 61 |
| Dicky Pride | MC | 16 | 63 | | | | | | | | | MC |
| Sangmoon Bae | MC | MC | MC | MC | | | | | | | | |
| Angel Cabrera | Wd | | | | | | | | | | | MC |
| Derek Ernst | Wd | 56 | 56 | | | | | | | | | |
| John Rollins | | | | | | | | | | | | |
| Jason Bohn | | | | | | | | | | | | MC |
| Tim Herron | | | | | | | | | | | | |
| Will Zalatoris | | MC | | | | | | | | | | |
| Maverick McNealy | | 29 | MC | | | | | | | | | |
| John Merrick | MC | 69 | MC | | | | | | | | | |
| Carl Pettersson | | | | | | | | | | | | MC |
| Mike Weir | | | MC | MC | | | | | | 15 | MC | |
| Brendon de Jonge | | MC | 53 | | | | | | | | | 54 |
| Omar Uresti | | | | MC | | | | | | | | |
| David Duval | | | | | | | | | | | | |
| Peter Jacobsen | | | | | | | | | | | | |
| George McNeill | | | | | | | | | | | | |
| Shane Bertsch | 55 | | MC | | | | | | | | | |
| Charlie Beljan | 72 | | MC | | | | | | | | | |
| David Solomon | | | | | | | | | | | | |
| Player | 2017 | 2016 | 2015 | 2014 | 2013 | 2012 | 2011 | 2010 | 2009 | 2008 |
| --- | --- | --- | --- | --- | --- | --- | --- | --- | --- | --- |
| Dustin Johnson | 3 | 41 | 4 | 2 | MC | 5 | 55 | 1 | 1 | 7 |
| Jon Rahm | 5 | | | | | | | | | |
| Jordan Spieth | 1 | 21 | 7 | 4 | 22 | | | | | |
| Rory McIlroy | | | | | | | | | | |
| Jason Day | 5 | 11 | 4 | MC | 6 | | | 46 | 14 | 6 |
| Paul Casey | | | | | | | | | | |
| Pat Perez | 14 | 41 | 4 | 7 | 50 | 58 | MC | 35 | 39 | 24 |
| Matt Kuchar | MC | | | | | | | Wd | 14 | 34 |
| Rafa Cabrera-Bello | | | | MC | MC | | | | | |
| Charley Hoffman | MC | | | MC | | 35 | MC | 35 | 14 | MC |
| Patrick Reed | 23 | 6 | 29 | 13 | 7 | | | | | |
| Branden Grace | | | | | | | | | | |
| Kevin Kisner | 10 | | MC | MC | | MC | 39 | | | |
| Kevin Chappell | 48 | MC | 18 | 35 | MC | MC | 69 | MC | 6 | |
| Patrick Cantlay | 48 | | | | 9 | | | | | |
| Adam Scott | | | | | | | | 52 | | |
| Phil Mickelson | 65 | 2 | | 19 | 60 | 1 | 9 | 8 | 55 | MC |
| Russell Henley | | MC | | 52 | | | | | | |
| Gary Woodland | 5 | | | | | | MC | | MC | |
| James Hahn | 58 | MC | 29 | MC | 3 | | | | | |
| Julian Suri | | | | | | | | | | |
| Shane Lowry | 14 | 41 | 21 | | | | | | | |
| Brandt Snedeker | 4 | 35 | 1 | MC | 1 | | MC | 21 | MC | 58 |
| Billy Horschel | | | 45 | | 28 | MC | MC | MC | | |
| JB Holmes | 23 | 11 | 10 | 61 | 50 | MC | 13 | 2 | 55 | MC |
| Paul Dunne | | MC | | | | | | | | |
| Russell Knox | | MC | | 27 | 28 | MC | | | | |
| Chesson Hadley | | MC | 10 | 10 | | | | | | |
| Jimmy Walker | 55 | 11 | 21 | 1 | 3 | 9 | 9 | MC | 55 | MC |
| Chez Reavie | MC | 26 | MC | | 62 | MC | MC | 56 | | |
| William McGirt | MC | MC | 21 | MC | 16 | MC | 31 | | | |
| Bryson DeChambeau | MC | | | | | | | | | |
| Bubba Watson | | MC | | | | | | | | |
| Sean O`Hair | MC | 35 | 29 | 56 | 16 | 29 | 31 | 35 | 10 | |
| Scott Piercy | 55 | | | | | | MC | MC | | |
| Austin Cook | | | | | | | | | | |
| Grayson Murray | MC | | | | | | | | | |
| Whee Kim | MC | MC | 21 | | | | | | | |
| Scott Brown | 58 | MC | 62 | MC | 30 | MC | | | | |
| Jason Kokrak | 23 | 30 | MC | 19 | MC | 9 | | | | |
| Steve Stricker | 23 | MC | | | | | | | | |
| Stewart Cink | 55 | 21 | | | | | | | | |
| Mac Hughes | 10 | | | | | | | | | |
| Luke Donald | 23 | 26 | | | | | | 16 | | |
| Padraig Harrington | MC | 21 | MC | 27 | MC | 7 | 63 | 16 | MC | 14 |
| Ryan Armour | MC | | 29 | | | | | | | 24 |
| Kevin Streelman | 14 | 17 | MC | | 40 | 9 | 63 | 35 | MC | MC |
| Robert Streb | MC | | | 32 | MC | | | | | |
| Chris Stroud | MC | MC | 45 | | MC | MC | MC | MC | 6 | MC |
| Brian Stuard | MC | MC | 21 | | 30 | | | MC | | |
| Cameron Davis | | | | | | | | | | |
| Chris Kirk | 39 | | MC | 61 | 2 | | MC | | MC | |
| Patrick Rodgers | | | | | | | | | | |
| Daniel Summerhays | MC | MC | 45 | 19 | MC | 40 | 26 | | | |
| Tom Hoge | 39 | 41 | MC | | | | | | | |
| Brian Gay | MC | 58 | | 45 | | 20 | MC | 16 | | |
| Jim Herman | MC | 17 | MC | 27 | MC | | MC | | | |
| Nick Taylor | 10 | 30 | MC | | | | | | | |
| Robert Garrigus | 23 | MC | MC | 27 | 22 | 20 | Wd | 50 | 39 | |
| Alex Cejka | 39 | 41 | 34 | 56 | MC | MC | 21 | 10 | MC | 58 |
| Talor Gooch | | | | | | | | | | |
| Graeme McDowell | | | | 7 | | | | | | |
| Aaron Wise | | | | | | | | | | |
| Martin Piller | | MC | | | | | MC | | | |
| Sam Saunders | MC | MC | MC | | 50 | MC | 15 | MC | | |
| Brice Garnett | | MC | | 19 | | | | | | |
| Ben Martin | MC | MC | | MC | | | | | | |
| Kelly Kraft | 2 | MC | | | 40 | | | | | |
| Andres Romero | | MC | | 52 | MC | | 66 | | | MC |
| Brandon Harkins | | | | | | | | | | |
| Rob Oppenheim | 8 | MC | | | | | | | | |
| Aaron Baddeley | | 51 | 54 | 56 | 12 | 4 | 6 | MC | | |
| Ted Potter | | | | MC | 16 | MC | | | | |
| Abraham Ancer | | MC | | | | | | | | |
| Jonathan Randolph | MC | | MC | | | | | | | |
| Beau Hossler | MC | | | | | | | | | |
| Billy Hurley | MC | 51 | 45 | | | MC | MC | | | |
| Matt Jones | 23 | 11 | 7 | 45 | 30 | MC | 15 | 10 | 55 | MC |
| Ben Silverman | | | | | | | | | | |
| Nate Lashley | | | | | | | | | | |
| Dominic Bozzelli | MC | | | | | | | | | |
| Jonathan Byrd | | 51 | MC | | | | MC | 21 | MC | MC |
| Rod Pampling | MC | MC | MC | MC | 60 | MC | | 27 | | |
| Richy Werenski | 58 | | | | | | | | | |
| Jonas Blixt | 58 | 3 | MC | | | 40 | | | | |
| DA Points | 39 | MC | MC | Dq | MC | 67 | 1 | | MC | 14 |
| Sam Ryder | | | | | | | | | | |
| Xin Jun Zhang | | | | | | | | | | |
| Stephan Jaeger | | | | | | | | | | |
| Nicholas Lindheim | MC | | | | | | | | | |
| Adam Schenk | | | | | | | | | | |
| Scott Stallings | 14 | | | | | MC | MC | | | |
| JT Poston | MC | | | | | | | | | |
| Seamus Power | 39 | | | | | | | | | |
| Cody Gribble | MC | | | | | | | | | |
| David Hearn | MC | 30 | 21 | | | | MC | | | |
| Vaughn Taylor | MC | 1 | 10 | | MC | MC | 26 | 52 | 14 | |
| Ryan Blaum | MC | | | | | | | | | |
| Rory Sabbatini | 48 | MC | MC | MC | MC | MC | 15 | MC | | |
| Tyrone Van Aswegen | MC | 60 | MC | MC | | | | | | |
| Lanto Griffin | | | | | | | | | | |
| Ricky Barnes | 48 | 41 | MC | MC | MC | 3 | | MC | MC | |
| Cameron Tringale | MC | | | 13 | 22 | 61 | MC | MC | | |
| Tom Lovelady | | | | | | | | | | |
| Keith Mitchell | | | | | | | | | | |
| Derek Fathauer | 23 | 51 | 41 | | | | | | 22 | |
| Andrew Putnam | | | MC | | | | | | | |
| Shawn Stefani | | | | | MC | | | | | |
| Trey Mullinax | 14 | | | | | | | | | |
| Johnson Wagner | | | MC | | MC | | MC | MC | MC | MC |
| Marty Dou Ze Cheng | | | | | | | | | | |
| Kyle Thompson | | | | | | MC | | | MC | MC |
| Conrad Shindler | | | | | | | | | | |
| Tyler Duncan | | | | | | | | | | |
| Rick Lamb | 62 | | | | | | | | | |
| Jerry Kelly | MC | 69 | | MC | MC | | | | | |
| Nick Watney | 14 | | 2 | MC | MC | 40 | 6 | 27 | 22 | 58 |
| Vijay Singh | MC | MC | 34 | MC | 50 | 25 | 26 | 35 | MC | 2 |
| Cameron Percy | 10 | MC | 57 | | 62 | | MC | 46 | | |
| Zac Blair | 48 | 60 | MC | | | | | | | |
| Ben Crane | | | | | | | | | | |
| Bronson Burgoon | | 21 | | | | | | | | |
| Andrew Yun | | | | | | | | | | |
| Matt Atkins | | | | | | | | | | |
| Greg Chalmers | MC | MC | 51 | MC | | | | 35 | MC | |
| JJ Henry | Wd | MC | 45 | MC | 69 | MC | 15 | MC | 55 | MC |
| Fabian Gomez | | | 57 | MC | MC | | MC | | | |
| Troy Merritt | MC | MC | MC | MC | | | MC | MC | | |
| Ethan Tracy | | | | | | | | | | |
| Joel Dahmen | 48 | | | | | | | | | |
| Roberto Diaz | | | | | | | | | | |
| Jason Gore | | 51 | MC | | MC | | | 61 | MC | 9 |
| Corey Conners | | | | | | | | | | |
| Steve Wheatcroft | Wd | MC | 51 | | | MC | | MC | | |
| Ernie Els | | | MC | | | | | | | |
| Colt Knost | | 51 | 41 | | | MC | MC | | MC | MC |
| Hunter Mahan | MC | MC | 54 | 6 | 16 | 15 | 2 | 64 | MC | MC |
| Denny McCarthy | | | | | | | | | | |
| Stuart Appleby | MC | | MC | 35 | 62 | 67 | 15 | MC | | |
| Brett Stegmaier | MC | MC | | | | | | | | |
| KJ Choi | MC | MC | | MC | | | 39 | 21 | 55 | |
| Peter Malnati | MC | 66 | | MC | | | | | | |
| Bill Lunde | | | MC | | 40 | MC | 31 | MC | 6 | |
| Matt Every | MC | | | MC | 30 | MC | 31 | 27 | | |
| Eric Axley | | | 60 | | | | | | MC | MC |
| Ken Duke | 23 | MC | 54 | MC | 50 | 7 | | | MC | MC |
| Dicky Pride | | 60 | 64 | 35 | MC | | | | MC | MC |
| Sangmoon Bae | | | | MC | | 61 | | | | |
| Angel Cabrera | | | | | | | | | | |
| Derek Ernst | | MC | MC | | MC | | | | | |
| John Rollins | | MC | MC | | | | MC | | | |
| Jason Bohn | MC | 58 | MC | MC | 40 | MC | | MC | MC | |
| Tim Herron | | MC | MC | | | MC | MC | MC | 22 | 34 |
| Will Zalatoris | | | | | | | | | | |
| Maverick McNealy | | | | | | | | | | |
| John Merrick | | | MC | | 16 | | 39 | | | MC |
| Carl Pettersson | | | | | | | | | | |
| Mike Weir | MC | MC | MC | MC | 50 | MC | MC | 52 | 2 | 14 |
| Brendon de Jonge | MC | | | | 46 | | MC | MC | 55 | |
| Omar Uresti | | | | | | | | MC | MC | MC |
| David Duval | MC | MC | MC | 35 | MC | MC | 66 | 2 | 55 | MC |
| Peter Jacobsen | | | | | | | | | | MC |
| George McNeill | | | | 52 | | MC | MC | | | |
| Shane Bertsch | | 35 | | | | 61 | 69 | | | 14 |
| Charlie Beljan | | MC | 3 | MC | MC | MC | | | | |
| David Solomon | | | | | | | | | | |
Discover the latest articles