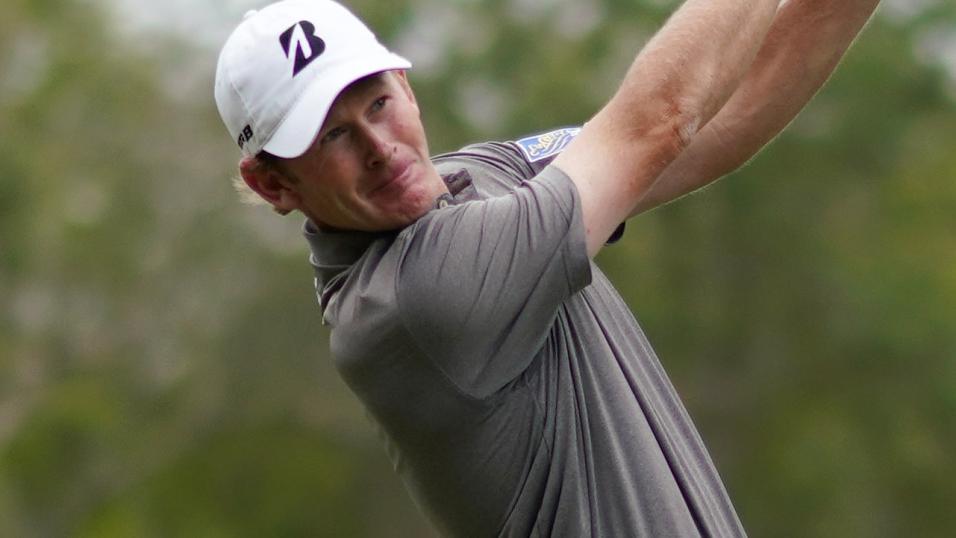 Brandt Snedeker
Andy Swales provides current form stats for this week's AT&T Byron Nelson tournament in Dallas, Texas, where Trinity Forest makes its debut on the PGA Tour ...
Course designer Bill Coore predicts: "This is one week where the shortest hitter on the PGA Tour might have an equal chance to win."
The PGA Tour is off to Texas for this week' AT&T Byron Nelson, the first of two back-to-back events in the Lone Star state.
After more than 30 years at Las Colinas, the tournament is moving to Trinity Forest Golf Club, around five miles south-east of downtown Dallas.
At first glance, Trinity Forest has a definite appearance of a links course and that's exactly how its designers Ben Crenshaw and Bill Coore wanted it.
The fairways have been laid with a new variety of Zoysiagrass and Coore says: "The golf ball will really scamper on this grass, just like you see in the British Isles. But we're in Dallas."
As for the greens, Crenshaw and Coore have laid Bermuda grass putting surfaces and are convinced they will be the firmest and fastest all year on the PGA Tour.
Despite being generous in width, the gently undulating fairways may not be that easy to hold, meaning distance off the tee could be more of a hindrance than a help.
So much so, Coore added: "This is one week where the shortest hitter on the PGA Tour might have an equal chance to win."
Opened as recently as the autumn of 2016, Trinity was built on a former landfill site and, despite having the word Forest in its title, appears incredibly lacking in trees.
Local Hero
And if Coore's predictions come true, then the new course seems perfect for Dallas resident Jordan Spieth.
Not yet 25, the three-time major winner has proven ability on layouts where a deft touch is vital.
At Augusta National he has stood on the podium four times - including once as a winner - and is the reigning Open champion from Royal Birkdale last summer.
Spieth's game does not depend on distance off the tee and, another in this category, is in-form Chesson Hadley.
The 30-year-old tied-11th at Sawgrass on Sunday and, if you include the recent two-man team event in Louisiana, that made it six straight top-20 finishes for the man from North Carolina.
At last week's event in Florida, Hadley was second for Putting (GiR) and a repeat performance on the greens in Dallas, will certainly boost his chances in the AT&T Byron Nelson.
Brandt Snedeker could also find Trinity Forest appealing thanks to his talent for successful scrambling, which is a category currently led by Spieth.
The downside for Snedeker is that he hasn't had a top 10 finish since the US Open last year, and has not yet re-discovered anything like his best form following a sternum injury which kept him off Tour for more than four months during 2017.
In Good Shape
One golfer who is playing well again is Texan Jimmy Walker, the PGA Championship winner from 2016.
The 39-year-old was runner-up to Webb Simpson at The Players Championship on Sunday - his third top-10 of the season.
And Billy Horschel must also be in with a chance, following a solid putting display at TPC Sawgrass last week.
MC* - Missed Additional 54-Hole Cut
Twitter: Andy Swales@GolfStatsAlive
Table Below Shows Form For Last 12 Weeks
| Player | W19 | W18 | W17 | W16 | W15 | W14 | W13 | W12 | W11 | W10 | W9 | W8 |
| --- | --- | --- | --- | --- | --- | --- | --- | --- | --- | --- | --- | --- |
| Jordan Spieth | 41 | | MC | | | 3 | 3 | 17 | | MC | 14 | |
| Hideki Matsuyama | MC | MC* | | | | 19 | | 36 | 49 | | | |
| Sergio Garcia | 70 | | MC | MC | | MC | | 9 | | 4 | 7 | 33 |
| Marc Leishman | 63 | | | | MC | 9 | | 52 | 7 | | 37 | |
| Matt Kuchar | 17 | | 28 | 51 | 23 | 28 | 8 | 9 | | 40 | 58 | |
| Satoshi Kodaira | MC | | 32 | | 1 | 28 | | 59 | MC | | 54 | |
| Branden Grace | 46 | | | | | 24 | | 29 | | 8 | 30 | |
| Chez Reavie | 30 | | 22 | | | 53 | MC | 29 | | MC | 52 | |
| Peter Uihlein | | 5 | MC | MC | | | MC | 17 | 66 | | 37 | MC |
| Charles Howell | 17 | 21 | | | 55 | | 18 | 9 | 14 | 40 | | MC |
| Chesson Hadley | 11 | 16 | 4 | 20 | 7 | | 18 | | 49 | MC | | MC |
| James Hahn | MC | MC | | | MC | | 32 | 36 | 58 | | | |
| Adam Scott | 11 | MC* | | MC | | 32 | | | 41 | 16 | | 13 |
| Kevin Na | 46 | | MC | MC | MC | | | 52 | 36 | | | |
| Billy Horschel | 37 | | 1 | 11 | 5 | MC | | | 54 | MC | | MC |
| Bill Haas | MC | MC | | MC* | 7 | | MC* | | | 49 | | |
| Brandt Snedeker | MC | | MC | 15 | 23 | | MC* | | MC | 31 | | MC |
| Jimmy Walker | 2 | | 25 | 4 | | 20 | | | 73 | 28 | | 33 |
| Beau Hossler | 46 | 34 | | 51 | 16 | | 2 | | 66 | MC | | |
| Aaron Wise | | 2 | MC | MC | | | 32 | | 41 | 68 | | 33 |
| Anirban Lahiri | MC | MC | | 58 | MC | | | | 75 | 34 | | 59 |
| Martin Laird | 57 | | 7 | 11 | 32 | | | | 26 | MC | | |
| Grayson Murray | 30 | 59 | | 16 | MC | | 14 | | 14 | MC | | MC |
| JB Holmes | MC | 42 | MC | MC | | | 32 | | 41 | 46 | | 49 |
| Sung Kang | MC | MC | 36 | MC | MC | | Wd | | 58 | 73 | | MC |
| Russell Knox | MC | | 7 | MC | 40 | | MC | | 73 | 16 | | MC |
| Ryan Palmer | 23 | | MC | MC | 76 | | MC | | | 28 | | MC |
| Brice Garnett | 41 | 75 | 4 | MC* | 42 | | MC | 1 | | 31 | | MC |
| Hudson Swafford | MC | MC | MC | MC* | MC | | | | 75 | MC | | 64 |
| Patrick Rodgers | MC | 34 | | MC | | | MC | 22 | 7 | 59 | | 33 |
| Steve Stricker | 23 | | MC | | | | MC | | | 12 | | |
| Scott Piercy | MC | | 1 | MC | 16 | | 24 | 60 | MC | | | 17 |
| Brian Gay | MC* | | MC | MC | 70 | | | | 22 | MC | | MC |
| JJ Spaun | MC | | MC | 26 | MC | | | | | | | MC |
| Whee Kim | MC | MC | 22 | MC | 50 | | MC | | MC | 49 | | |
| Keith Mitchell | MC* | 34 | MC | 26 | 55 | | 6 | 2 | | | | MC |
| Kelly Kraft | MC | MC | MC | | MC | | MC* | 3 | | 31 | | 8 |
| Ryan Armour | MC | | MC | MC | 55 | | 43 | | 77 | 40 | | MC |
| Rory Sabbatini | 30 | 27 | MC | | 23 | | 70 | 43 | | 5 | | 17 |
| Sam Saunders | | 9 | MC | | MC | | 72 | | MC | | | |
| Trey Mullinax | MC | MC | 31 | 2 | | | | 22 | | 8 | | |
| CT Pan | 46 | MC* | MC | MC | 23 | | MC | | 41 | MC | | 17 |
| Abraham Ancer | | MC | MC | 58 | | | 8 | 13 | | 16 | 52 | MC |
| Talor Gooch | | 13 | MC | MC | | | MC | | 26 | MC | | MC |
| David Lingmerth | MC | | MC | 51 | 74 | | | 28 | 64 | 64 | | MC |
| John Huh | MC | | 36 | MC | 23 | | 32 | | 26 | MC | | 24 |
| Harris English | MC | | MC | 36 | 32 | | MC | 5 | 22 | MC | | 33 |
| Padraig Harrington | | | 28 | | | | MC* | | MC | MC | | MC |
| Aaron Baddeley | | MC | MC | 16 | 55 | | 74 | | | 49 | | |
| Graeme McDowell | | 27 | 22 | 51 | 55 | | | MC | 22 | 40 | | MC |
| Robert Streb | MC | 42 | | | MC | | MC | MC | MC | MC | | MC |
| Kevin Tway | 46 | MC | MC | 36 | 67 | | 32 | 28 | 58 | MC | | MC |
| Robert Garrigus | MC | | MC | MC | MC | | 18 | MC | | 31 | | MC |
| Nick Taylor | MC* | MC | | MC | MC | | MC | | MC | MC | | |
| Ben Martin | MC | MC | | 45 | 55 | | | | MC | 46 | | 33 |
| Brian Stuard | | MC | 28 | 36 | 67 | | MC | | 36 | MC | | MC |
| Sam Ryder | | MC | MC | 36 | MC | | 5 | MC | | 68 | | |
| Andres Romero | | | MC | 5 | | | | MC | | | | |
| Vaughn Taylor | MC | 42 | | 16 | MC | | | | | | | 59 |
| Alex Cejka | | 27 | 31 | | | | MC | | MC | 40 | | Wd |
| Martin Piller | | MC | | MC | | | 24 | | MC | MC | | 67 |
| Dominic Bozzelli | MC | MC | | MC | 40 | | MC* | | | 31 | | 13 |
| Tom Lovelady | | 34 | MC | MC | | | 68 | 5 | | MC | | 17 |
| Ben Silverman | | MC | MC | 45 | | | MC* | | | MC | | MC |
| Rob Oppenheim | 57 | MC | 15 | MC | | | 32 | 35 | | | | MC |
| Andrew Putnam | | MC* | 15 | 8 | | | 32 | 5 | | MC | | MC |
| Michael Thompson | MC | 42 | | 68 | 42 | | 14 | | | | | 24 |
| Nicholas Lindheim | | MC | 25 | 36 | | | 14 | | | MC | | |
| Derek Fathauer | MC | MC | | MC | MC | | MC | MC | | MC | | 13 |
| Chad Campbell | MC | | 19 | MC | MC | | 64 | | | 31 | | MC |
| Martin Flores | MC | 59 | MC | MC | MC | | MC | 13 | | 77 | | 74 |
| Daniel Summerhays | 8 | | 6 | 58 | | | | MC | | | | |
| Nate Lashley | | MC | 15 | MC | | | 18 | 28 | | | | MC |
| Jonathan Byrd | | MC | 15 | MC | 50 | | MC* | 54 | | | | |
| Tyrone Van Aswegen | 66 | MC* | 19 | MC | 23 | | 32 | | 72 | 28 | | 68 |
| Seamus Power | | 27 | 10 | MC | | | 60 | 5 | | MC | | MC |
| Matt Jones | | | 19 | MC | | | 52 | 28 | | | | |
| Xin Jun Zhang | | 70 | MC | MC | | | MC | 5 | | | | |
| Adam Schenk | | MC | 7 | 58 | | | 60 | 35 | | 59 | | 29 |
| Jonathan Randolph | | 70 | 31 | MC | | | MC | | | MC | | 68 |
| Richy Werenski | 23 | MC | 25 | 11 | MC | | MC* | 45 | | MC | | MC |
| Stephan Jaeger | 1 | MC | MC | MC | | | MC | 54 | | 49 | | MC |
| Rod Pampling | MC | MC | | 68 | 32 | | MC | | | 59 | | |
| Troy Merritt | | 42 | 10 | 36 | | | 43 | 35 | | MC | | 49 |
| JT Poston | | MC | MC | 30 | | | 67 | 19 | | | | |
| Ryan Blaum | MC* | MC* | MC | | MC | | MC | | | 16 | | MC |
| Smylie Kaufman | | MC | MC | | | | MC | MC | MC | MC | | MC |
| Johnson Wagner | | 13 | MC | 20 | | | 52 | 70 | | | | |
| Shawn Stefani | | 42 | MC | MC | | | 24 | 13 | | | | MC |
| Eric Axley | MC | | MC | 1 | | | 15 | 54 | | 69 | | |
| Cameron Tringale | | 27 | MC | MC | | | MC | MC | | | | MC |
| David Hearn | | | 10 | 16 | MC | | | 50 | | | | |
| Lanto Griffin | | MC | MC | 58 | | | MC | 28 | | | | MC |
| Ben Crane | | | 31 | 11 | | | 43 | 45 | | | | 74 |
| Billy Hurley | | MC* | MC | MC | MC | | | | MC | MC | | MC |
| Tyler Duncan | | MC* | 7 | MC | | | 52 | MC | MC | MC | | 24 |
| Cody Gribble | 30 | | 34 | MC | MC | | MC | | MC | | | MC |
| Blayne Barber | MC | 67 | MC | | MC | | MC | | | 16 | | MC |
| Geoff Ogilvy | MC | MC | | MC | MC | | MC | 22 | | MC | | |
| Michael Kim | MC | | 15 | MC | 77 | | MC | 43 | | MC | | 57 |
| Bronson Burgoon | | MC | | MC | | | 24 | MC | | | | MC |
| Denny McCarthy | | MC | 25 | 20 | | | 43 | 4 | | | | MC |
| Ricky Barnes | | | MC | 51 | | | | 60 | | | | |
| Corey Conners | | 42 | MC | 26 | MC | | MC | 13 | | 16 | | 59 |
| Joel Dahmen | | 16 | 25 | MC* | | | MC* | 13 | | | | 33 |
| Kyle Thompson | 62 | MC | MC | MC | | | 59 | MC | | | | |
| Conrad Shindler | | | 9 | MC | | | | MC | | MC | | |
| JJ Henry | 67 | MC* | 10 | MC | 16 | | MC | 65 | | 74 | | MC |
| Zac Blair | 38 | | MC | 36 | | | 39 | MC | | | | |
| Matt Atkins | MC | | MC | 68 | | | MC | 22 | | 56 | | |
| Jason Gore | | | Wd | Wd | | | MC | MC | | Wd | | |
| Greg Chalmers | | 21 | 10 | MC | MC | | 70 | MC | | MC | | 17 |
| Marty Dou Ze Cheng | | | MC | 51 | | | | MC | | MC | | |
| Andrew Yun | | | 22 | 64 | | | MC | MC* | | MC | | |
| Cameron Percy | | | 10 | MC | | | 22 | 54 | | 39 | | |
| Boo Weekley | | | | | | | | | | | | |
| Roberto Diaz | | MC | MC | MC | | | 32 | MC | | 39 | | 33 |
| Rick Lamb | 60 | | MC | MC | | | 52 | 48 | | MC | | |
| Ethan Tracy | 38 | | 5 | 72 | | | 75 | 54 | | | | MC |
| Matt Every | | MC | MC | MC | 55 | | 8 | 35 | MC | 68 | | 66 |
| Hunter Mahan | | | | 45 | | | 43 | 35 | MC | | | |
| Peter Malnati | | 34 | MC | 64 | 67 | | MC | | | MC | | 49 |
| Fabian Gomez | | MC* | MC | MC | 50 | | MC* | 22 | | 68 | | MC |
| Ernie Els | | MC | | 30 | | | 72 | | 49 | 64 | | |
| Joaquin Niemann | | MC | | 6 | | MC | | | | | | |
| Steve Marino | | Wd | | 68 | MC | | 39 | 8 | | | | |
| Angel Cabrera | | | | | 62 | MC | | MC | | | | |
| Steve Wheatcroft | | | | MC | | | MC | 28 | | | | |
| Maverick McNealy | 18 | | 3 | 33 | | | 39 | 36 | | 48 | | |
| Brett Stegmaier | | | MC | MC | | | 43 | 60 | | | | |
| Stuart Appleby | MC | | MC | MC | | | MC | MC* | MC | 18 | | |
| Dicky Pride | 27 | | 42 | 10 | | | MC | 35 | | 34 | | |
| Bill Lunde | | | | | | | | | | | | |
| John Senden | | | | MC* | MC | | | MC | | | | |
| Daniel Chopra | | | | | | | | 45 | | MC | | |
| Sangmoon Bae | | | | MC | | | | | MC | MC | | |
| Robert Allenby | | | | | | | | MC* | | | | |
| George McNeill | 15 | | | | | | | 13 | | | | |
| Ken Duke | MC | | | 67 | | | 67 | 65 | | | | |
| Colt Knost | | | MC | | MC | | | | | MC | | |
| Carl Pettersson | | | | | MC | | | MC | | | | |
| Brendon de Jonge | MC | | 10 | MC | | | MC | 72 | | | | |
| Mark Wilson | 38 | | 50 | 64 | | | | 65 | | 66 | | |
| Troy Matteson | | | | MC | | | | 19 | | | | |
| Brian Davis | MC | | MC | Wd | | | 45 | MC | | MC | | |
| John Rollins | | | MC | | | | | MC | | | | |
| Will Zalatoris | | | | | | | | 43 | | | | |
| Brendon Todd | | | | | | | | MC | | | | |
| Tommy Gainey | MC | | | MC | | | | 22 | | | | |
| John Merrick | | | MC | | | | | 28 | | | | |
| Omar Uresti | | | | | | | | 73 | | | | |
| Tim Herron | | | | | | | | 76 | MC | | | |
| Kris Blanks | | | | MC | | | MC | | | | | |
| DJ Trahan | | | | | | | | 60 | | | | |
| David Berganio | | | | | | | Wd | MC | | | | |
| Steven Bowditch | | | | MC | | | | MC | | | | |
| Charlie Beljan | | | | | | | | | | Wd | | |
| Parker McLachlin | | | | | | | | 69 | | | | |
| Cameron Beckman | MC | | | | | | | MC* | | MC | | |
| Brian Norman | | | | | | | | | | | | |
| Noah Goodwin | | | | | | | | | | | | |