Andalucia Valderrama Masters 2018: Latest course and current form guides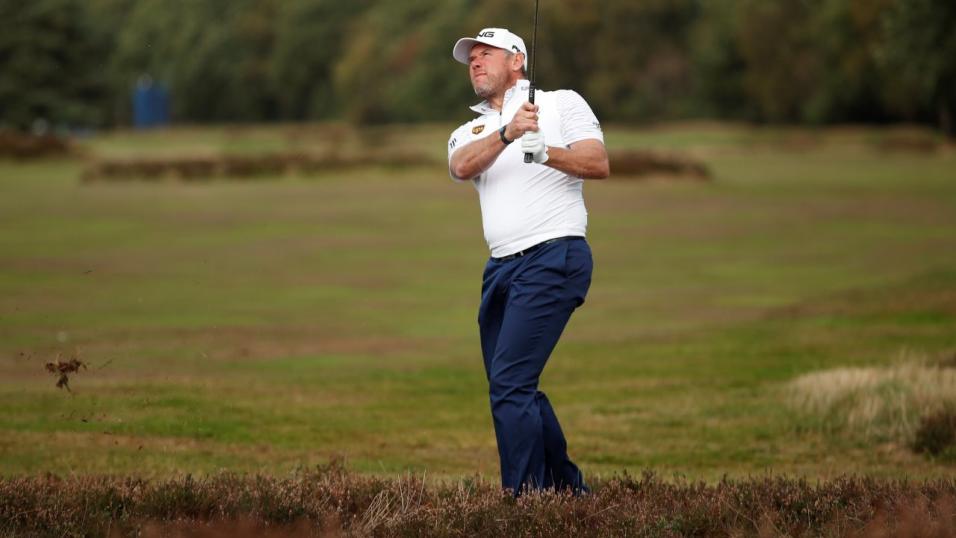 Lee Westwood: Still pretty solid from tee-to-green
Check out the stats ahead of this week's Andalucia Valderrama Masters, with course and current form guides compiled by Andy Swales ...
"Lee Westwood's last four visits have all ended in top-10 finishes and, despite many inconsistent performances of late, is currently ranked eighth in the category Strokes Gained: Tee to Green."
With the European Tour season deep into autumn, the players head to southern Spain for this week's Andalucia Valderrama Masters in Sotogrande.
Arguably Spain's most famous course, Valderrama never fails to provide a stiff test for all those who tee-up there.
Designed by Robert Trent Jones, the course started life as Sotogrande New in 1974, before being renamed Las Aves, and later became Valderrama.
In 1988 it made its debut on the European Tour, staging the prestigious Volvo Masters for the first time.
It has also hosted the WGC-American Express Championship, Spanish Open and, in 1997, the Ryder Cup.
More than 20 top tier events have been held at Valderrama over the past 30 years, including 18 season-ending finales on the European Tour.
The course has always demanded great accuracy from tee-to-green, which is probably one of the main reasons why Sergio Garcia usually plays well there.
Cork trees line the fairways and, although water hazards are only present on three holes, the venue's small, fast and undulating putting surfaces allow for little margin for error.
Sergio's Remarkable Record
Garcia will be the 'main man' on home soil for a number of reasons.
Not only is he tournament host this week, he is the highest-ranked golfer taking part, is the defending champion and has a stunning history at Valderrama.
Since turning pro as a teenager, Garcia has posted six podium finishes, has twice been champion, and in 13 starts has only once failed to finish inside the top 10.
He played a key role in Europe's Ryder Cup success last month and, despite experiencing his poorest season for many a year, did at least finish in a tie-for-seventh on his most recent outing in Portugal.
Old Heads
Because Valderrama is a reasonably difficult layout to conquer, experience could hold the key this week.
Making his first start at the venue in a decade is Lee Westwood who, as long ago as 2000, finished second in the WGC AmEx event.
His last four visits have all ended in top-10 finishes and, despite many inconsistent performances of late, is currently ranked eighth in the category Strokes Gained: Tee to Green.
This particular category, according to the European Tour, analyses 'quality of shots from tee to green', which will definitely be a key factor at Valderrama.
For the record, the top five players currently in this table, have the surnames McIlroy, Fleetwood, Molinari, Rahm and Rose.
Joost Luiten, runner-up at Valderrama in 2016 and 2017, is among the entries this week despite not teeing-up since the end of May because of injury.
Shane Lowry has always finished inside the top-20 here, while Soren Kjeldsen has a solid record at the course.
Form Players
Valderrama debutant Jordan Smith is enjoying one of his best spells of the season, while Challenge Tour star Kim Koivu has looked impressive in bursts during 2018.
Elsewhere, little-known Frenchman Victor Perez is on a run of six straight top-15 finishes - all on the Challenge Tour - while world No 90 Jorge Campillo would love to claim a maiden European Tour title on home soil.
On seven occasions, Campillo has stood on the podium without holding the trophy.
Padraig Harrington, a late addition to the entry list, is another experienced campaigner whose recent form is good.
Twitter: Andy Swales@GolfStatsAlive
MC* - Missed Additional 54-Hole Cut
| Player | W41 | W40 | W39 | W38 | W37 | W36 | W35 | W34 | W33 | W32 | W31 | W30 |
| --- | --- | --- | --- | --- | --- | --- | --- | --- | --- | --- | --- | --- |
| Sergio Garcia | | | | 7 | | | | | 24 | MC | 39 | MC |
| Julian Suri | 5 | | | 21 | 53 | | 16 | 35 | 41 | 19 | | |
| Shane Lowry | 34 | MC | | 6 | | | | | MC | 12 | 15 | 12 |
| Adrian Otaegui | MC | MC | | | 24 | MC | 10 | | | 65 | | 68 |
| Jorge Campillo | | MC | | 44 | 15 | 55 | | | | MC | | |
| Joost Luiten | | | | | | | | | | | | |
| Lee Westwood | MC | | | | 36 | 12 | 2 | 61 | | | | |
| Mikko Korhonen | 48 | | | 12 | 24 | 45 | | MC | | MC | | |
| Andrea Pavan | 16 | 5 | | | 20 | MC | | 1 | 6 | | | |
| Marcus Kinhult | 48 | 20 | | 4 | | 56 | 49 | | 45 | | | |
| Richard McEvoy | 72 | MC | | MC | 15 | 16 | 37 | | 34 | | | 1 |
| Darren Fichardt | 29 | 48 | | | 74 | 8 | | 2 | | | | |
| Jordan Smith | 3 | 32 | | 27 | 10 | | 20 | 36 | | MC | | 64 |
| Matthew Southgate | 22 | MC | | MC | 24 | 30 | 20 | | 10 | | | |
| Joakim Lagergren | 29 | MC | | MC | MC | MC | 45 | | 34 | | | |
| Kim Koivu | | MC | | 7 | MC | MC | | 1 | 68 | 1 | 29 | 64 |
| Nacho Elvira | MC | 10 | | MC* | MC | 4 | | 18 | 24 | | | 54 |
| Wade Ormsby | 29 | MC | | | 20 | MC | | | | | 39 | |
| Andrew Johnston | 48 | | | 34 | MC | 35 | | MC | 10 | | | |
| Paul Waring | 56 | | | MC | MC | MC | | MC | 1 | | | |
| Gavin Green | 9 | MC | | MC | MC | 12 | MC | 3 | | | 64 | |
| Lee Slattery | 48 | 20 | | | | 51 | MC | 4 | 10 | | | |
| Paul Peterson | | MC | | MC | 41 | | 56 | 63 | 45 | | | MC |
| Pablo Larrazabal | 56 | 56 | | MC* | 11 | 16 | | | | | | |
| Aaron Rai | 56 | MC | | MC | MC | MC | | 24 | 24 | | | MC |
| Soren Kjeldsen | 42 | 48 | | 56 | 6 | 12 | 12 | MC | 45 | | | 22 |
| Julien Guerrier | 22 | 32 | | 34 | 36 | 23 | MC | 9 | MC | | | 54 |
| Renato Paratore | MC | 32 | | 27 | 36 | MC | | 36 | MC | | | 2 |
| Scott Hend | MC | MC | | MC | Wd | 45 | MC | 70 | | | MC | 19 |
| Jason Scrivener | MC | 24 | | 12 | 15 | MC | 69 | 18 | 61 | | | |
| Matthias Schwab | 22 | 10 | | 27 | MC | MC | MC | 9 | MC | | | 7 |
| Richie Ramsay | 56 | MC | | MC | 46 | MC | 12 | | MC | | | 39 |
| Tapio Pulkkanen | MC | 4 | | 63 | MC | MC | MC | 44 | 34 | | | 48 |
| Dave Horsey | MC | MC | | 44 | 68 | 23 | 56 | | | | | 39 |
| Robert Rock | 29 | 20 | | 34 | | MC | 17 | | 6 | | | |
| Haydn Porteous | 56 | MC | | 20 | 28 | 16 | 37 | 36 | 6 | | | MC |
| Oscar Lengden | 62 | | | MC | MC | MC | | 40 | | | MC | |
| Callum Shinkwin | MC | MC | | MC | | 16 | 20 | 65 | | | | 48 |
| Richard Sterne | 22 | MC | | 16 | | 43 | 17 | | | | | 39 |
| Stephen Gallacher | 70 | 10 | | 44 | | 23 | 27 | 24 | MC | | | MC |
| Jens Dantorp | MC | MC | | MC | Wd | MC | MC | | MC | | | |
| Shiv Kapur | | 30 | 6 | MC | 62 | | | | | | MC | 2 |
| Oliver Fisher | MC | 32 | | 7 | MC | MC | 71 | MC | | | | 39 |
| Jeung-Hun Wang | 29 | MC | | | 36 | 12 | MC | MC | MC | | | 13 |
| Adam Bland | | MC | | | 46 | MC | MC | 18 | 13 | | | |
| David Drysdale | 63 | MC | | MC | 6 | 30 | 34 | MC | MC | | | 9 |
| David Lipsky | 34 | MC | | 63 | MC | 35 | MC | 50 | | | | 13 |
| Phachara Khongwatmai | MC | MC | | 44 | MC | 8 | 12 | 9 | MC | | 25 | 14 |
| Steven Brown | 16 | MC | | MC | MC | MC | 2 | MC | MC | | | 54 |
| Victor Perez | 7 | | | 4 | 14 | | 11 | 15 | 4 | | 22 | MC |
| Maximilian Kieffer | MC | MC | | MC | 36 | 35 | | 29 | 3 | | | 29 |
| Romain Wattel | 56 | MC | | MC | MC | 43 | 27 | MC | | | | 5 |
| Thomas Aiken | 68 | MC | | MC* | | 30 | 71 | MC | 2 | | | 29 |
| Jacques Kruyswijk | | MC | | 34 | 46 | MC | MC | 7 | 42 | | | |
| Connor Syme | | MC | | MC | 57 | MC | MC | 50 | 21 | | | 22 |
| Cl�ment Sordet | 16 | 28 | | 40 | MC | MC | MC | MC | 17 | | | 64 |
| Nino Bertasio | Wd | MC | | 69 | 46 | 16 | | 29 | 17 | | | MC |
| Austin Connelly | 42 | MC | | MC | 11 | 45 | MC | 50 | MC | | | MC |
| Alvaro Quiros | MC | MC | | MC | MC | | | | | | | |
| Marc Warren | 34 | MC | | 63 | MC | MC | MC | MC | 17 | | | 22 |
| Ashley Chesters | MC | 44 | | 16 | 28 | MC | 9 | 59 | 29 | | | MC |
| Jose-Filipe Lima | MC | | | 58 | 13 | 31 | 59 | 26 | | | 7 | 22 |
| Andrew Dodt | 63 | MC | | | 46 | MC | MC | MC | | | 6 | 54 |
| Justin Walters | | MC | | MC | 53 | 35 | 27 | 29 | 45 | | 67 | 45 |
| Tom Murray | 15 | | | MC | 2 | 4 | MC | | 36 | 5 | 22 | 11 |
| Jin Ho Choi | | MC | | 27 | 57 | MC | 49 | 68 | 42 | | | 29 |
| Zander Lombard | 67 | MC | | MC | MC | MC | MC | | 1 | | | MC |
| Ryan Evans | Wd | MC | | MC | MC | MC | 12 | 50 | 29 | | | MC |
| Adrien Saddier | 34 | 44 | | 16 | Wd | 65 | 56 | MC | MC | | | 54 |
| Oliver Farr | 9 | MC | | MC | MC | MC | 45 | MC | MC | | | 64 |
| Jeff Winther | | | | MC | MC | MC | MC | 9 | 68 | | | 22 |
| Micah Lauren Shin | | Wd | | MC | 15 | | | | | | | |
| Christofer Blomstrand | | | | MC | MC | MC | MC | MC | 45 | | | 2 |
| Pedro Oriol | Wd | MC | | MC | MC | 59 | 27 | MC | 34 | | | MC |
| Marcus Fraser | 48 | 10 | | | | MC | 56 | | | | 33 | |
| Bradley Dredge | MC | MC | | 16 | 6 | MC | 49 | | 34 | | | 29 |
| Jonathan Thomson | | MC | | MC | 15 | MC | 2 | 63 | 29 | | 43 | 74 |
| Ben Stow | 45 | MC | | 28 | 9 | 17 | | 8 | 31 | 26 | MC | |
| Thongchai Jaidee | MC | 32 | | MC | MC | MC | | | | | | 36 |
| Robert Karlsson | 34 | MC | | | | 66 | MC | | 17 | | MC | |
| Nick Cullen | | | | MC | MC | 12 | 49 | 44 | | | 18 | MC* |
| Marcel Siem | 42 | MC | | MC | MC | MC | MC | MC | MC | | | 54 |
| Raphael Jacquelin | MC | MC | | 7 | MC | MC | | 50 | MC | | | MC |
| Edoardo Molinari | 16 | 24 | | | MC | 51 | MC | | 68 | | | MC |
| James Morrison | 71 | 56 | | MC | MC | 56 | 34 | 36 | 61 | | | 68 |
| Peter Hanson | MC | 10 | | MC | MC | | MC | 50 | Wd | | | 72 |
| Brett Rumford | 68 | MC | | | Wd | MC | 65 | | MC | | | |
| Sebastian Heisele | | 53 | | 44 | 64 | MC | MC | 29 | 61 | | | 48 |
| Trevor Fisher | | | MC | | 3 | | 44 | MC | | 44 | MC | MC |
| Scott Fernandez | | MC | | MC | MC | MC | 20 | MC | MC | | | 63 |
| Christiaan Bezuidenhout | | 48 | | MC* | MC | 23 | 20 | 29 | 45 | | | MC |
| Henric Sturehed | | | | MC | 73 | MC | MC | MC | MC | | MC | 54 |
| Christopher Mivis | | 11 | | | | | | | | | MC | 54 |
| Florian Fritsch | | 17 | | MC | | | MC | MC | MC | | MC | MC |
| Gonzalo F`dez-Castano | 42 | MC | | 27 | MC | MC | | | 60 | 46 | 36 | MC |
| Ricardo Gouveia | 9 | MC | | 7 | MC | MC | 37 | MC | 45 | | | MC |
| Chase Koepka | MC | MC | | MC | 28 | 35 | MC | 61 | MC | | | MC |
| Daniel Brooks | MC | MC | | MC* | Wd | 5 | MC | MC | MC | | | MC |
| Alejandro Canizares | | 59 | | 56 | MC | MC | MC | MC | 45 | | MC | MC |
| Matteo Manassero | 22 | MC | | MC | 57 | MC | | MC | MC | | | MC |
| Chris Hanson | 48 | MC | | 70 | MC | MC | 45 | 65 | 45 | | | MC |
| Charlie Ford | | | | MC | MC | MC | 56 | 50 | MC | | | |
| Gavin Moynihan | | 31 | | 40 | 20 | | 16 | MC | MC | | MC | MC |
| Thomas Linard | | 6 | | | 20 | 40 | 26 | | | 28 | 10 | 50 |
| Richard Bland | MC | MC | | 20 | 44 | MC | 56 | 44 | 61 | | | MC |
| Gregory Havret | 22 | MC | | 34 | 41 | 51 | MC | | 74 | | | MC |
| Adrian Meronk | 15 | 11 | | 28 | 37 | MC | MC | MC | | | 61 | |
| Lasse Jensen | MC | MC | | 34 | MC | MC | MC | | MC | | | 29 |
| Soomin Lee | MC | MC | | 4 | 53 | MC | MC | 29 | MC | | 43 | |
| Matthew Baldwin | | | | 60 | 20 | MC | 12 | 36 | MC | | | MC |
| Gregory Bourdy | 34 | MC | | MC | 57 | MC | MC | MC | MC | | | MC |
| Alexander Knappe | MC | MC | | 40 | 41 | | MC | 36 | 31 | | 22 | MC |
| Sebastien Gros | | MC | | MC | MC | Wd | MC | 70 | 13 | | | 48 |
| Felipe Aguilar | 2 | | | 44 | 57 | MC | MC | MC | MC | | | 29 |
| Jason Norris | MC | MC | | 56 | MC | MC | MC | MC | | | 55 | |
| Laurie Canter | | MC | | MC | MC | 16 | MC | MC | 56 | | | MC |
| Bradley Neil | MC | MC | | MC | 68 | MC | Wd | 69 | 21 | | | |
| Pep Angles | | 32 | | 12 | MC | | 27 | 50 | MC | | | MC |
| Bernd Ritthammer | | 50 | | | | | | MC | 67 | 44 | MC | 8 |
| Matthew Nixon | | | | 44 | 46 | MC | 37 | 24 | 34 | | | 9 |
| Rak Hyun Cho | | | | MC | MC | MC | MC | 24 | 56 | | | 29 |
| Frederik Dreier | | | | | | | 37 | | | | | |
| Pontus Widegren | | | | MC | MC | | 73 | 9 | MC | | | MC |
| Duncan Stewart | | 38 | | MC | MC | MC | MC | | 16 | MC | MC | 11 |
| Joel Stalter | | MC | | MC | MC | | 41 | MC | | | 34 | 45 |
| Thomas Bjorn | MC | | | | | | 69 | | MC | | | MC |
| Daniel Im | MC | MC | | MC | 41 | MC | MC | MC | MC | | MC | |
| Carlos Pigem | 63 | MC | 40 | MC | MC | MC | | MC | 61 | | | MC |
| Samuel Del Val | | | | | | | | | MC | 10 | MC | MC |
| David Howell | MC | MC | | 63 | MC | MC | MC | 36 | 24 | | | |
| Julien Quesne | | | | | | | | | | | | |
| Josh Geary | | | | 56 | 28 | 66 | 49 | MC | MC | | MC | |
| Max Albertus | | | | | 57 | | | | | | | |
| Pelle Edberg | MC | MC | | MC | | MC | | | | | | |
| Anders Hansen | | | | | | | MC | MC | MC | | | |
| Gary Stal | | 23 | | MC | MC | | 45 | MC | 56 | | | MC |
| Eduardo De La Riva | | | | | MC | | 35 | | | | | |
| Sebastian Rodriguez Garcia | | | | | | | | | | | | |
| Jose Maria Olazabal | | | | | | | | | | | | |
| Padraig Harrington | 22 | 7 | | MC | 5 | | | 2 | MC | MC | 50 | |
| Mikael Lundberg | | | | | | | | | | | 6 | MC |
| Birgir Hafthorsson | | MC | | MC* | | | Wd | MC | 68 | | MC | 48 |
| Garrick Porteous | | 14 | | 40 | 14 | 53 | MC | MC | | | MC | MC |
| Player | 2017 | 2016 | 2011 | 2010 | 2008 | 2007 | 2006 | 2005 | 2004 | 2003 |
| --- | --- | --- | --- | --- | --- | --- | --- | --- | --- | --- |
| Sergio Garcia | 1 | 3 | 1 | 10 | 4 | 34 | 2 | 2 | 2 | 7 |
| Julian Suri | 8 | | | | | | | | | |
| Shane Lowry | 12 | | 4 | 18 | | | | | | |
| Adrian Otaegui | 12 | 38 | | | | | | | | |
| Jorge Campillo | 36 | MC | | | | | | | | |
| Joost Luiten | 2 | 2 | MC | 5 | | | | | | |
| Lee Westwood | | | | | 4 | | 7 | 7 | 7 | 42 |
| Mikko Korhonen | MC | | | | | | | | | |
| Andrea Pavan | | | | | | | | | | |
| Marcus Kinhult | | 42 | | | | | | | | |
| Richard McEvoy | | MC | Wd | | | | | | | |
| Darren Fichardt | | | | | | | | | | 21 |
| Jordan Smith | | | | | | | | | | |
| Matthew Southgate | | MC | | | | | | | | |
| Joakim Lagergren | MC | MC | | | | | | | | |
| Kim Koivu | | | | | | | | | | |
| Nacho Elvira | MC | 53 | | | | | | | | |
| Wade Ormsby | 5 | MC | | | | | | | | |
| Andrew Johnston | 23 | 1 | | | | | | | | |
| Paul Waring | 30 | | | | | | | | | |
| Gavin Green | | | | | | | | | | |
| Lee Slattery | 48 | MC | | | | | | | | |
| Paul Peterson | 46 | | | | | | | | | |
| Pablo Larrazabal | 12 | 29 | 38 | 47 | 39 | | | | | |
| Aaron Rai | 8 | | | | | | | | | |
| Soren Kjeldsen | 18 | 4 | 49 | 2 | 1 | 2 | 18 | 22 | 25 | 55 |
| Julien Guerrier | | | | | | | | | | |
| Renato Paratore | 23 | 56 | | | | | | | | |
| Scott Hend | | MC | | | | | | | | |
| Jason Scrivener | 27 | | | | | | | | | |
| Matthias Schwab | | | | | | | | | | |
| Richie Ramsay | | 29 | 3 | | | | | | | |
| Tapio Pulkkanen | | | | | | | | | | |
| Dave Horsey | | MC | MC | | | | | | | |
| Robert Rock | 8 | MC | 28 | 21 | | | | | | |
| Haydn Porteous | | MC | | | | | | | | |
| Oscar Lengden | | | | | | | | | | |
| Callum Shinkwin | | 67 | | | | | | | | |
| Richard Sterne | | 45 | | | | 34 | | 41 | | |
| Stephen Gallacher | MC | | 12 | 50 | | | | 29 | 44 | 28 |
| Jens Dantorp | | | | | | | | | | |
| Shiv Kapur | | | MC | 44 | | | | | | |
| Oliver Fisher | 12 | MC | MC | | 25 | | | | | |
| Jeung-Hun Wang | | | | | | | | | | |
| Adam Bland | | | | | | | | | | |
| David Drysdale | | 34 | 28 | 26 | | | | | | |
| David Lipsky | | MC | | | | | | | | |
| Phachara Khongwatmai | | | | | | | | | | |
| Steven Brown | | | | | | | | | | |
| Victor Perez | | | | | | | | | | |
| Maximilian Kieffer | MC | 29 | | | | | | | | |
| Romain Wattel | MC | MC | 19 | | | | | | | |
| Thomas Aiken | | | MC | 18 | | | | | | |
| Jacques Kruyswijk | | | | | | | | | | |
| Connor Syme | 64 | | | | | | | | | |
| Cl�ment Sordet | | | | | | | | | | |
| Nino Bertasio | 8 | 11 | | | | | | | | |
| Austin Connelly | 54 | | | | | | | | | |
| Alvaro Quiros | MC | 56 | MC | MC | 34 | | | | | |
| Marc Warren | | MC | | 40 | | 42 | 41 | | | |
| Ashley Chesters | 12 | | | | | | | | | |
| Jose-Filipe Lima | 30 | | | | | | | | | |
| Andrew Dodt | | | 36 | | | | | | | |
| Justin Walters | 54 | MC | | | | | | | | |
| Tom Murray | | | | | | | | | | |
| Jin Ho Choi | | | | | | | | | | |
| Zander Lombard | 36 | | | | | | | | | |
| Ryan Evans | | MC | | | | | | | | |
| Adrien Saddier | | | | | | | | | | |
| Oliver Farr | | | | | | | | | | |
| Jeff Winther | | MC | | | | | | | | |
| Micah Lauren Shin | | | | | | | | | | |
| Christofer Blomstrand | | | | | | | | | | |
| Pedro Oriol | | Dq | | | | | | | | |
| Marcus Fraser | | | MC | | | | | | 24 | |
| Bradley Dredge | 48 | 34 | MC | MC | | 50 | 50 | 15 | 34 | 13 |
| Jonathan Thomson | | | | | | | | | | |
| Ben Stow | | | | | | | | | | |
| Thongchai Jaidee | | | | | | 50 | 32 | 22 | 33 | |
| Robert Karlsson | MC | | | | 32 | 11 | 21 | 29 | | 38 |
| Nick Cullen | | | | | | | | | | |
| Marcel Siem | MC | 61 | 38 | MC | | | 9 | | 25 | |
| Raphael Jacquelin | 30 | 53 | 15 | 7 | | 17 | 9 | 29 | 44 | 24 |
| Edoardo Molinari | 58 | 42 | MC | MC | | | | | | |
| James Morrison | 36 | 4 | MC | MC | | | | | | |
| Peter Hanson | 12 | 19 | 10 | 47 | 13 | 14 | 43 | 22 | 4 | |
| Brett Rumford | | | 36 | | | 25 | 53 | | 42 | |
| Sebastian Heisele | | | | | | | | | | |
| Trevor Fisher | | | | | | | | | | |
| Scott Fernandez | | MC | | | | | | | | |
| Christiaan Bezuidenhout | | | | | | | | | | |
| Henric Sturehed | | | | | | | | | | |
| Christopher Mivis | | | | | | | | | | |
| Florian Fritsch | 36 | | | | | | | | | |
| Gonzalo F`dez-Castano | MC | 34 | 12 | 26 | 22 | 22 | 21 | 34 | | |
| Ricardo Gouveia | 23 | 38 | | | | | | | | |
| Chase Koepka | | | | | | | | | | |
| Daniel Brooks | 3 | 68 | | | | | | | | |
| Alejandro Canizares | 36 | 11 | 7 | 21 | | | | | | |
| Matteo Manassero | 30 | MC | 28 | | | | | | | |
| Chris Hanson | 18 | MC | | | | | | | | |
| Charlie Ford | | | | | | | | | | |
| Gavin Moynihan | | | | | | | | | | |
| Thomas Linard | | 26 | | | | | | | | |
| Richard Bland | 30 | 11 | MC | | | | | | | |
| Gregory Havret | MC | MC | 6 | 21 | 43 | 53 | | 19 | | |
| Adrian Meronk | | | | | | | | | | |
| Lasse Jensen | 36 | MC | | | | | | | | |
| Soomin Lee | | | | | | | | | | |
| Matthew Baldwin | | MC | | | | | | | | |
| Gregory Bourdy | MC | 19 | MC | | 25 | 34 | | | | |
| Alexander Knappe | 65 | | | | | | | | | |
| Sebastien Gros | MC | 45 | | | | | | | | |
| Felipe Aguilar | 61 | MC | | MC | 29 | | | | | |
| Jason Norris | | | | | | | | | | |
| Laurie Canter | MC | MC | | | | | | | | |
| Bradley Neil | | | | | | | | | | |
| Pep Angles | 54 | 19 | | | | | | | | |
| Bernd Ritthammer | 48 | | | | | | | | | |
| Matthew Nixon | MC | MC | | | | | | | | |
| Rak Hyun Cho | | | | | | | | | | |
| Frederik Dreier | | | | | | | | | | |
| Pontus Widegren | MC | | | | | | | | | |
| Duncan Stewart | MC | | | | | | | | | |
| Joel Stalter | MC | | | | | | | | | |
| Thomas Bjorn | | 19 | 15 | 5 | | 9 | 38 | | 11 | 24 |
| Daniel Im | MC | MC | | | | | | | | |
| Carlos Pigem | 36 | MC | | | | | | | | |
| Samuel Del Val | Wd | | | | | | | | | |
| David Howell | MC | | 19 | 26 | 25 | | 5 | 38 | 5 | 24 |
| Julien Quesne | MC | 61 | | | | | | | | |
| Josh Geary | | | | | | | | | | |
| Max Albertus | | | | | | | | | | |
| Pelle Edberg | | 38 | | | | 42 | | | | |
| Anders Hansen | 6 | | | | 8 | 25 | 18 | 41 | 38 | 19 |
| Gary Stal | MC | MC | | | | | | | | |
| Eduardo De La Riva | MC | MC | | | | | | | | |
| Sebastian Rodriguez Garcia | | | | | | | | | | |
| Jose Maria Olazabal | MC | | 47 | 10 | | | 7 | 3 | | 10 |
| Padraig Harrington | 27 | | | | 13 | 4 | 2 | 10 | 19 | 19 |
| Mikael Lundberg | | | | 54 | | | | | | |
| Birgir Hafthorsson | | | | | | | | | | |
| Garrick Porteous | | | | | | | | | | |
Discover the latest articles
Read past articles