Andalucia Masters 2019: Your course and current form guides for southern Spain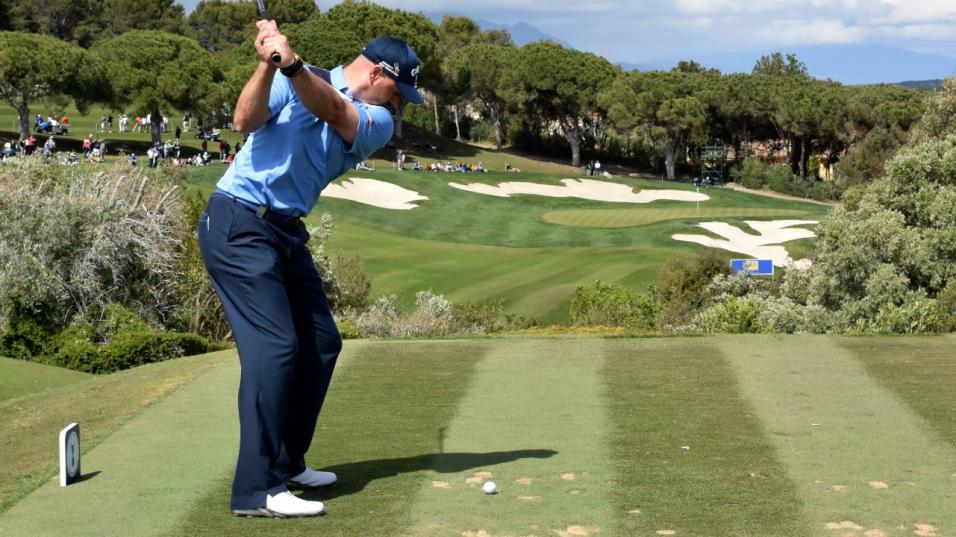 Valderrama has been a European Tour regular since the late 1980s
Check out the stats ahead of this week's Andalucia Masters, with course and current form guides compiled by Andy Swales ...
"In 14 starts at Valderrama, Sergio Garcia has stood on the podium seven times, and only once failed to finish inside the top 10."
Sergio Garcia will once again take centre stage, as the European Tour pitches up in southern Spain for the Andalucia Masters at Valderrama.
Not only is the 39-year-old hosting this week's event, he is also the two-time defending champion on a course where he has tasted victory three times before.
In 14 starts at Valderrama, Garcia has stood on the podium seven times, and only once failed to finish inside the top 10.
Even withstanding his run of three missed cuts from his most recent four starts, the 2017 champion from Augusta National remains the man to beat around this layout.
Check out the latest odds ahead of the Andalucia Masters
Spaniards Out In Force
Four of the top-eight ranked golfers teeing-up in Sotogrande are from Spain, with world No 11 Jon Rahm leading the way.
Rahm, who teamed-up with Ryan Palmer to win this year's Zurich Classic on the PGA Tour, arrives on home soil following his podium finish at this month's US Open.
Jorge Campillo and Adrian Otaegui are the next two leading Spaniards in the field, with the former highly ranked in the European Tour's Greens in Regulation (GiR) chart.
Among those with solid course histories are Joost Luiten, Ross Fisher and Soren Kjeldsen.
In five visits to Valderrama, Luiten has twice finished second, once fifth, plus 11th last year. The Dutchman is another golfer with a current high ranking for GiR.
Kjeldsen, meanwhile, has stood on the podium three times, including once as champion.
As for those further down the pecking order, who have enjoyed reasonable levels of consistency at the course in the past, read the names Robert Rock, Richie Ramsay, Oliver Fisher and Ashley Chesters.
Of this quartet, Ramsey and Chesters may be worth keeping an eye on this week.


Good Current Form
In-form Matthew Fitzpatrick goes again, as does the rapidly improving Matthias Schwab.
The Austrian has posted three top-10s, from his last six starts, including a podium position in Germany on Sunday.
He is also a respectable top-40 for Strokes Gained: Tee to Green, a category worth checking out ahead of Thursday's opening round.
Valderrama's Majestic History
Arguably Spain's most famous course, Valderrama never fails to provide a stiff test for those who tee-up here.
This year's instalment witnesses a change of dates, after the past two Andalucia Masters took place during October.
Designed by Robert Trent Jones, the course started life as Sotogrande New in 1974, before being renamed Las Aves, and this later became Valderrama.
In 1988 it made its debut on the European Tour, staging the prestigious Volvo Masters for the first time.
It has also hosted the WGC-American Express Championship, Spanish Open and, in 1997, the Ryder Cup.
More than 20 top tier events have been held at Valderrama over the past 30 years, including 18 season-ending finales on the European Tour.
The course has always demanded great accuracy from tee-to-green, probably one of the reasons why Garcia usually plays well here.
Cork trees line the narrow fairways and, although water hazards are only present on three holes, the venue's small, fast and undulating greens allow for little margin of error.
Twitter: Andy Swales@GolfStatsAlive
MC* - Missed Additional 54-Hole Cut
Note: List contains leading reserves
| Player | W25 | W24 | W23 | W22 | W21 | W20 | W19 | W18 | W17 | W16 |
| --- | --- | --- | --- | --- | --- | --- | --- | --- | --- | --- |
| Jon Rahm | | 3 | | | MC | MC | | | 1 | |
| Sergio Garcia | MC | 52 | MC | | | MC | | 4 | 2 | |
| Matthew Fitzpatrick | 2 | 12 | | 68 | 64 | 41 | | | | 39 |
| Jorge Campillo | | | | | MC | MC | | 3 | 1 | |
| Joost Luiten | MC | | | 62 | | 64 | 8 | | 25 | |
| Adrian Otaegui | | | | 26 | 16 | MC | MC | | 25 | |
| Mikko Korhonen | MC | | | | | MC | | 1 | 30 | |
| Guido Migliozzi | MC | | | 1 | 33 | | 35 | 32 | 25 | |
| Julian Suri | MC | | | | | MC | | 19 | 2 | |
| Andrea Pavan | 1 | | | MC | 25 | | 15 | MC | 21 | |
| Kurt Kitayama | 21 | | | | 66 | 64 | | MC | 14 | |
| Mike Lorenzo-Vera | | | | | | 16 | | 5 | 34 | |
| Marcus Kinhult | | 32 | | MC | 55 | | 1 | | MC | |
| Ross Fisher | MC | | | | | 60 | 15 | MC | | |
| David Lipsky | 26 | | | 48 | | 71 | | 5 | 5 | |
| Sean Crocker | MC | | | | MC | | 42 | 10 | 2 | |
| Oliver Wilson | 26 | | | 34 | 4 | | 8 | Dq | 54 | |
| Paul Waring | | | | | 18 | | 6 | | 25 | |
| Richard Sterne | | | | | | MC | 58 | | 9 | |
| Adri Arnaus | MC | 58 | | MC | MC | | MC | 29 | MC | |
| Aaron Rai | | | | | 18 | | MC | 49 | MC | |
| Thomas Detry | MC | | | 13 | 33 | | 15 | Wd | 9 | |
| Masahiro Kawamura | 44 | | | MC | MC | | MC | Wd | 6 | |
| Chris Paisley | MC | | | 17 | 4 | | MC | | 38 | |
| Paul Dunne | MC | | | | 4 | | 70 | Wd | 38 | |
| John Catlin | 44 | | | MC | 12 | | MC | 19 | MC | |
| Victor Perez | | | | MC | MC | | 15 | | MC | |
| Nacho Elvira | | | | 12 | MC | | 42 | 32 | MC | |
| Scott Hend | MC | 39 | | | MC | | 35 | 65 | | |
| Gaganjeet Bhullar | 62 | | | MC | 62 | | 25 | MC | | |
| Dean Burmester | | MC | | 9 | MC | | 42 | MC | MC | |
| Jake McLeod | | | | 42 | MC | | MC | MC | 30 | |
| Benjamin Hebert | | | | 47 | 51 | | MC | 2 | 38 | |
| Jason Scrivener | 26 | | | | 25 | | 58 | 32 | MC | |
| Shubhankar Sharma | | | | 62 | 73 | | MC | | 22 | |
| Andy Sullivan | 26 | | | | 33 | | MC | | 21 | |
| Joachim B Hansen | 20 | | | MC | MC | | MC | 32 | 38 | |
| Darren Fichardt | | | | MC | 25 | | MC | | MC | |
| Pablo Larrazabal | 67 | | | Wd | 4 | | 8 | | 38 | |
| Louis De Jager | | | 25 | 24 | 25 | | MC | 51 | MC | |
| Dimitrios Papadatos | MC | | | MC | MC | | 15 | MC | 21 | |
| Fabrizio Zanotti | 60 | | | | | | 53 | 43 | 63 | |
| David Law | 37 | | | 13 | 66 | | 53 | | 14 | |
| Gavin Green | 37 | | | 5 | MC | | 15 | 19 | | |
| Darius Van Driel | 62 | | MC | 2 | 15 | | 45 | MC | 3 | |
| Sihwan Kim | 21 | | | 38 | MC | | 13 | MC | MC | |
| Maximilian Kieffer | 37 | | | MC | MC | | 58 | | 49 | |
| Stephen Gallacher | MC | | | | MC | | MC | | 57 | |
| Ashun Wu | 37 | | | | MC | | MC | 5 | MC | |
| Wade Ormsby | | | | 29 | 33 | | MC | 60 | 14 | |
| Matthias Schwab | 3 | | | 52 | 9 | | 42 | MC | 9 | |
| Johannes Veerman | 24 | | | | | | 33 | MC | | |
| George Coetzee | MC | | | MC | MC | | MC | | | |
| Matthew Southgate | MC | | | 6 | 9 | | MC | | MC | |
| David Drysdale | 66 | | | MC | 72 | | MC | | MC | |
| Jack Singh Brar | MC | | | 52 | MC | | 53 | 40 | MC | |
| Grant Forrest | MC | | | 52 | 25 | | 68 | MC | 6 | |
| Scott Jamieson | MC | | | | 41 | | 58 | 51 | MC | |
| Soren Kjeldsen | | | | 61 | MC | | 15 | | Wd | |
| Kalle Samooja | MC | | | | MC | | MC | 55 | 38 | |
| Nicolas Colsaerts | MC | | | MC | MC | | 42 | 43 | | |
| Clement Sordet | | 72 | | | MC | | MC | | 14 | |
| Tapio Pulkkanen | MC | | | MC | 12 | | MC | 14 | 8 | |
| Robert Rock | 37 | | | MC | 62 | | 25 | | | |
| Min Woo Lee | | | MC | | | | MC | 14 | | |
| Andrew Johnston | 34 | | | | 25 | | 42 | | | |
| Zander Lombard | MC | | | | MC | | MC | MC | MC | |
| Yusaku Miyazato | MC | | | MC | MC | | MC | MC | MC | |
| Anton Karlsson | 53 | | | 18 | MC | | MC | | MC | |
| Kim Koivu | 16 | | | MC | 51 | | MC | MC | 49 | |
| Richard McEvoy | 62 | | | 42 | 33 | | 53 | | MC | |
| Liam Johnston | MC | | | MC | MC | | 42 | MC | MC | |
| Thomas Aiken | | | | | | | | | | |
| Joakim Lagergren | 21 | | | 47 | 47 | | MC | | MC | |
| Victor Dubuisson | MC | | | | 54 | | 23 | 11 | 30 | |
| Sebastian Soderberg | 14 | | | 21 | MC | | MC | MC | 57 | |
| Jeff Winther | 34 | | | 11 | 18 | | MC | | 25 | |
| Christiaan Bezuidenhout | 3 | | 25 | | | | MC | MC | 14 | |
| Justin Walters | MC | 65 | | 33 | MC | | MC | | 54 | |
| Hideto Tanihara | MC | | MC | MC | | | MC | MC | 71 | |
| Alvaro Quiros | 3 | | | | 18 | | Wd | | 70 | |
| Richie Ramsay | MC | | | 42 | 12 | | 5 | 14 | 57 | |
| Niklas Lemke | 53 | | | MC | 51 | | 8 | MC | MC | |
| Oliver Fisher | MC | | | 38 | 25 | | 35 | | MC | |
| Ashley Chesters | 21 | | | 37 | MC | | 42 | | 38 | |
| Renato Paratore | 68 | MC | | 29 | MC | | 8 | MC | MC | |
| Ben Stow | | 5 | 5 | MC | 15 | | 36 | 9 | 17 | |
| Lee Slattery | MC | MC | | MC | MC | | MC | | 34 | |
| Paul Peterson | 49 | | 29 | 45 | | | MC | 32 | | 18 |
| Hyo Won Park | MC | 33 | 33 | | | | | | 63 | MC |
| Matthieu Pavon | 10 | MC | | MC | MC | | MC | 40 | 49 | |
| Stuart Manley | MC | | | MC | 41 | | 58 | 55 | MC | |
| Shiv Kapur | MC | | | | | | MC | MC | | |
| Dave Horsey | 26 | | | 34 | 55 | | 30 | | 60 | |
| Jens Dantorp | 37 | | | 42 | MC | | 58 | MC | MC | |
| Callum Shinkwin | 10 | | | MC | MC | | MC | | 60 | |
| Bradley Dredge | MC | | | MC | Wd | | MC | | MC | |
| Gregory Havret | 26 | 14 | | 4 | MC | | 12 | MC | 5 | |
| Thongchai Jaidee | MC | | | | 33 | | 35 | MC | 9 | |
| Haydn Porteous | 26 | | | 52 | 47 | | 25 | 32 | MC | |
| Gonzalo F`dez-Castano | MC | | | 20 | 18 | | 25 | | MC | |
| Lorenzo Gagli | MC | | | 47 | MC | | 75 | | MC | |
| Tom Murray | MC | | | 47 | 71 | | MC | 38 | 68 | |
| Steven Brown | 34 | | | 61 | MC | | 58 | MC | 38 | |
| Romain Wattel | MC | | | MC | MC | | MC | 55 | MC | |
| Nino Bertasio | MC | | | 61 | MC | | 23 | Wd | MC | |
| Jin Ho Choi | MC | 50 | | MC | 66 | 19 | | 13 | MC | MC |
| Pedro Figueiredo | MC | | | MC | MC | | 58 | MC | MC | |
| Oliver Farr | | 30 | 5 | MC | | | 68 | | | |
| Max Schmitt | 53 | | | MC | 4 | | MC | | MC | |
| Adam Bland | 43 | | 59 | MC | MC | | 53 | MC | | |
| Hugo Leon | 53 | | | 9 | MC | | 30 | MC | MC | |
| Marc Warren | MC | | | MC | MC | | Dq | | 68 | |
| Jeung-Hun Wang | MC | | | MC | MC | | | MC | MC | |
| Christofer Blomstrand | MC | | 5 | MC | 47 | | MC | 42 | MC | |
| Ricardo Gouveia | 44 | | | MC | MC | | MC | | 30 | |
| Joel Girrbach | 53 | | MC | MC | 55 | | MC | MC | 67 | |
| Edoardo Molinari | 3 | | | 26 | 41 | | 30 | | 63 | |
| Deyen Lawson | MC | | | MC | MC | | MC | MC | MC | |
| Raphael Jacquelin | MC | | | MC | Wd | | 76 | | 60 | |
| Robert Karlsson | MC | | | | MC | | 58 | | MC | |
| Gavin Moynihan | MC | | | 47 | 16 | | MC | | 63 | |
| Santiago Tarrio | MC | MC | MC | | MC | | MC | MC | 17 | |
| Max Orrin | MC | MC | MC | MC | MC | | MC | MC | MC | |
| Nick Cullen | | | | Wd | 66 | | MC | | MC | |
| Matthew Nixon | MC | | | MC | MC | | MC | | Wd | |
| Ben Evans | MC | | | 42 | 62 | | MC | | MC | |
| Michael Hoey | MC | Wd | | MC | 41 | | 30 | 27 | 34 | |
| David Borda | MC | | | MC | MC | | MC | 47 | MC | |
| Adrien Saddier | MC | | | 38 | 41 | | MC | | MC | |
| Alejandro Canizares | MC | | | MC | 9 | | MC | | 34 | |
| Thomas Bjorn | MC | | | | | | | | | |
| Austin Connelly | | | MC | MC | MC | | MC | 42 | MC | |
| Andres Romero | 49 | | | | | | MC | | 32 | |
| Jack Senior | MC | MC | 33 | MC | MC | | 58 | 35 | 38 | |
| Sam Brazel | MC | | | | | | MC | 19 | | |
| Sebastien Gros | MC | MC | | | MC | | 8 | MC | 36 | |
| Kristian Krogh Johannessen | MC | | | 52 | 60 | | MC | 47 | MC | |
| Kristoffer Reitan | MC | | | 21 | MC | | MC | | 14 | |
| James Morrison | MC | | | MC | 50 | | MC | 43 | 54 | |
| Per Langfors | MC | | MC | MC | MC | | MC | MC | MC | |
| SSP Chawrasia | 53 | | | MC | 18 | | MC | 65 | | |
| Pep Angles | MC | 8 | 35 | | 28 | | 25 | MC | MC | |
| Brett Rumford | MC | | | MC | | | MC | MC | | |
| Pedro Oriol | MC | | | 52 | | | 25 | MC | MC | |
| Ivan Cantero Gutierrez | Wd | 24 | | MC | 73 | | MC | MC | MC | |
| Alfredo Garcia-Heredia | 26 | | 33 | | | | 36 | 38 | | |
| Espen Kofstad | 26 | | | 19 | 12 | | MC | MC | MC | |
| Daniel Gavins | MC | | | 16 | MC | | MC | Wd | MC | |
| Jamie Donaldson | MC | | | MC | 62 | | 73 | | | |
| Bernd Ritthammer | MC | | | MC | MC | | MC | MC | MC | |
| Javi Colomo | | | | | | | MC | MC | | |
| Samuel Del Val | MC | | 42 | | | | | MC | | |
| David Howell | 44 | | | | MC | | 42 | MC | MC | |
| Luis Gagne | 62 | MC | | | | | | | | |
| Rikard Karlberg | MC | | | 29 | MC | | MC | | MC | |
| Filippo Bergamaschi | 14 | MC | | 52 | MC | | MC | MC | MC | |
| Pelle Edberg | MC | | | | 55 | | | | | |
| Eduardo De La Riva | MC | | MC | | MC | | MC | 47 | | |
| Jose Maria Olazabal | MC | | | | | | | | | |
| Alejandro Del Rey | | | | | | | | | | |
| Player | `18 | `17 | `16 | `11 | `10 | `08 | `07 | `06 | `05 | `04 |
| --- | --- | --- | --- | --- | --- | --- | --- | --- | --- | --- |
| Jon Rahm | | MC | | | | | | | | |
| Sergio Garcia | 1 | 1 | 3 | 1 | 10 | 4 | 34 | 2 | 2 | 2 |
| Matthew Fitzpatrick | | | | | | | | | | |
| Jorge Campillo | Dq | 36 | MC | | | | | | | |
| Joost Luiten | 11 | 2 | 2 | MC | 5 | | | | | |
| Adrian Otaegui | | 12 | 38 | | | | | | | |
| Mikko Korhonen | 3 | MC | | | | | | | | |
| Guido Migliozzi | | | MC | | | | | | | |
| Julian Suri | | 8 | | | | | | | | |
| Andrea Pavan | | | | | | | | | | |
| Kurt Kitayama | | | | | | | | | | |
| Mike Lorenzo-Vera | | | 6 | | | | | | | |
| Marcus Kinhult | 22 | | 42 | | | | | | | |
| Ross Fisher | | | 6 | 23 | 14 | 11 | 14 | | | |
| David Lipsky | 22 | | MC | | | | | | | |
| Sean Crocker | | 58 | | | | | | | | |
| Oliver Wilson | | 63 | MC | 23 | 33 | 46 | 21 | | | |
| Paul Waring | 42 | 30 | | | | | | | | |
| Richard Sterne | Ret | | 45 | | | | 34 | | 41 | |
| Adri Arnaus | | | | | | | | | | |
| Aaron Rai | MC | 8 | | | | | | | | |
| Thomas Detry | | 36 | | | | | | | | |
| Masahiro Kawamura | | | | | | | | | | |
| Chris Paisley | | MC | MC | | | | | | | |
| Paul Dunne | | | 16 | | | | | | | |
| John Catlin | | | | | | | | | | |
| Victor Perez | | | | | | | | | | |
| Nacho Elvira | 57 | MC | 53 | | | | | | | |
| Scott Hend | 66 | | MC | | | | | | | |
| Gaganjeet Bhullar | | | | | | | | | | |
| Dean Burmester | | | | | | | | | | |
| Jake McLeod | | | | | | | | | | |
| Benjamin Hebert | | | | | | | | | | |
| Jason Scrivener | 22 | 27 | | | | | | | | |
| Shubhankar Sharma | | | | | | | | | | |
| Andy Sullivan | | 18 | 16 | | | | | | | |
| Joachim B Hansen | | | Ret | | | | | | | |
| Darren Fichardt | 71 | | | | | | | | | |
| Pablo Larrazabal | MC | 12 | 29 | 38 | 47 | 39 | | | | |
| Louis De Jager | | | | | | | | | | |
| Dimitrios Papadatos | | | | | | | | | | |
| Fabrizio Zanotti | | | MC | 41 | 35 | | | | | |
| David Law | | MC | | | | | | | | |
| Gavin Green | 52 | | | | | | | | | |
| Darius Van Driel | | | | | | | | | | |
| Sihwan Kim | | | | | | | | | | |
| Maximilian Kieffer | 5 | MC | 29 | | | | | | | |
| Stephen Gallacher | 29 | MC | | 12 | 50 | | | | 29 | 44 |
| Ashun Wu | | 48 | | | | | | | | |
| Wade Ormsby | 52 | 5 | MC | | | | | | | |
| Matthias Schwab | | | | | | | | | | |
| Johannes Veerman | | | | | | | | | | |
| George Coetzee | | | | MC | | | | | | |
| Matthew Southgate | 58 | | MC | | | | | | | |
| David Drysdale | 29 | | 34 | 28 | 26 | | | | | |
| Jack Singh Brar | | | | | | | | | | |
| Grant Forrest | | | | | | | | | | |
| Scott Jamieson | | 6 | MC | | | | | | | |
| Soren Kjeldsen | 29 | 18 | 4 | 49 | 2 | 1 | 2 | 18 | 22 | 25 |
| Kalle Samooja | | | | | | | | | | |
| Nicolas Colsaerts | | | MC | 28 | MC | | | | | |
| Clement Sordet | 58 | | | | | | | | | |
| Tapio Pulkkanen | MC | | | | | | | | | |
| Robert Rock | 16 | 8 | MC | 28 | 21 | | | | | |
| Min Woo Lee | | | | | | | | | | |
| Andrew Johnston | 22 | 23 | 1 | | | | | | | |
| Zander Lombard | MC | 36 | | | | | | | | |
| Yusaku Miyazato | | | | | | | | | | |
| Anton Karlsson | | 58 | | | | | | | | |
| Kim Koivu | MC | | | | | | | | | |
| Richard McEvoy | 29 | | MC | Wd | | | | | | |
| Liam Johnston | | | | | | | | | | |
| Thomas Aiken | 16 | | | MC | 18 | | | | | |
| Joakim Lagergren | MC | MC | MC | | | | | | | |
| Victor Dubuisson | | | | | | | | | | |
| Sebastian Soderberg | | 23 | | | | | | | | |
| Jeff Winther | 42 | | MC | | | | | | | |
| Christiaan Bezuidenhout | 29 | | | | | | | | | |
| Justin Walters | MC | 54 | MC | | | | | | | |
| Hideto Tanihara | | | | | | | | | | |
| Alvaro Quiros | 16 | MC | 56 | MC | MC | 34 | | | | |
| Richie Ramsay | 11 | | 29 | 3 | | | | | | |
| Niklas Lemke | | | | | MC | | | | | |
| Oliver Fisher | 11 | 12 | MC | MC | | 25 | | | | |
| Ashley Chesters | 4 | 12 | | | | | | | | |
| Renato Paratore | MC | 23 | 56 | | | | | | | |
| Ben Stow | | | | | | | | | | |
| Lee Slattery | MC | 48 | MC | | | | | | | |
| Paul Peterson | 16 | 46 | | | | | | | | |
| Hyo Won Park | | | | | | | | | | |
| Matthieu Pavon | | | | | | | | | | |
| Stuart Manley | | MC | 38 | | | | | | | |
| Shiv Kapur | | | | MC | 44 | | | | | |
| Dave Horsey | 42 | | MC | MC | | | | | | |
| Jens Dantorp | MC | | | | | | | | | |
| Callum Shinkwin | 29 | | 67 | | | | | | | |
| Bradley Dredge | 52 | 48 | 34 | MC | MC | | 50 | 50 | 15 | 34 |
| Gregory Havret | MC | MC | MC | 6 | 21 | 43 | 53 | | 19 | |
| Thongchai Jaidee | 58 | | | | | | 50 | 32 | 22 | 33 |
| Haydn Porteous | MC | | MC | | | | | | | |
| Gonzalo F`dez-Castano | 5 | MC | 34 | 12 | 26 | 22 | 22 | 21 | 34 | |
| Lorenzo Gagli | | | | | | | | | | |
| Tom Murray | | | | | | | | | | |
| Steven Brown | 42 | | | | | | | | | |
| Romain Wattel | MC | MC | MC | 19 | | | | | | |
| Nino Bertasio | 73 | 8 | 11 | | | | | | | |
| Jin Ho Choi | 42 | | | | | | | | | |
| Pedro Figueiredo | | | | | | | | | | |
| Oliver Farr | 22 | | | | | | | | | |
| Max Schmitt | | | | | | | | | | |
| Adam Bland | MC | | | | | | | | | |
| Hugo Leon | | | | | | | | | | |
| Marc Warren | 11 | | MC | | 40 | | 42 | 41 | | |
| Jeung-Hun Wang | 29 | | | | | | | | | |
| Christofer Blomstrand | MC | | | | | | | | | |
| Ricardo Gouveia | 16 | 23 | 38 | | | | | | | |
| Joel Girrbach | | | | | | | | | | |
| Edoardo Molinari | 22 | 58 | 42 | MC | MC | | | | | |
| Deyen Lawson | | | | | | | | | | |
| Raphael Jacquelin | 52 | 30 | 53 | 15 | 7 | | 17 | 9 | 29 | 44 |
| Robert Karlsson | 58 | MC | | | | 32 | 11 | 21 | 29 | |
| Gavin Moynihan | 8 | | | | | | | | | |
| Santiago Tarrio | MC | | | | | | | | | |
| Max Orrin | | | | | | | | | | |
| Nick Cullen | | | | | | | | | | |
| Matthew Nixon | 8 | MC | MC | | | | | | | |
| Ben Evans | | 36 | 56 | | | | | | | |
| Michael Hoey | | | | | 35 | | | | | |
| David Borda | | | | | | | | | | |
| Adrien Saddier | 29 | | | | | | | | | |
| Alejandro Canizares | 16 | 36 | 11 | 7 | 21 | | | | | |
| Thomas Bjorn | 58 | | 19 | 15 | 5 | | 9 | 38 | | 11 |
| Austin Connelly | MC | 54 | | | | | | | | |
| Andres Romero | | 54 | | | | 13 | 25 | 54 | | |
| Jack Senior | | | | | | | | | | |
| Sam Brazel | | | | | | | | | | |
| Sebastien Gros | MC | MC | 45 | | | | | | | |
| Kristian Krogh Johannessen | | | | | | | | | | |
| Kristoffer Reitan | | | | | | | | | | |
| James Morrison | MC | 36 | 4 | MC | MC | | | | | |
| Per Langfors | | | | | | | | | | |
| SSP Chawrasia | | | 56 | | 9 | | | | | |
| Pep Angles | 29 | 54 | 19 | | | | | | | |
| Brett Rumford | Ret | | | 36 | | | 25 | 53 | | 42 |
| Pedro Oriol | MC | | Dq | | | | | | | |
| Ivan Cantero Gutierrez | | | MC | | | | | | | |
| Alfredo Garcia-Heredia | | | | | | | | | | |
| Espen Kofstad | | | | | | | | | | |
| Daniel Gavins | | | MC | | | | | | | |
| Jamie Donaldson | | 4 | | 49 | 33 | | | | | |
| Bernd Ritthammer | 75 | 48 | | | | | | | | |
| Javi Colomo | | | | | | | | | | |
| Samuel Del Val | 29 | Wd | | | | | | | | |
| David Howell | Dq | MC | | 19 | 26 | 25 | | 5 | 38 | 5 |
| Luis Gagne | | | | | | | | | | |
| Rikard Karlberg | | | | | | | | | | |
| Filippo Bergamaschi | | | | | | | | | | |
| Pelle Edberg | MC | | 38 | | | | 42 | | | |
| Eduardo De La Riva | 71 | MC | MC | | | | | | | |
| Jose Maria Olazabal | MC | MC | | 47 | 10 | | | 7 | 3 | |
| Alejandro Del Rey | | | | | | | | | | |
Discover the latest articles
Read past articles