Alfred Dunhill Links Championship 2019: Course and current form stats for this pro-am event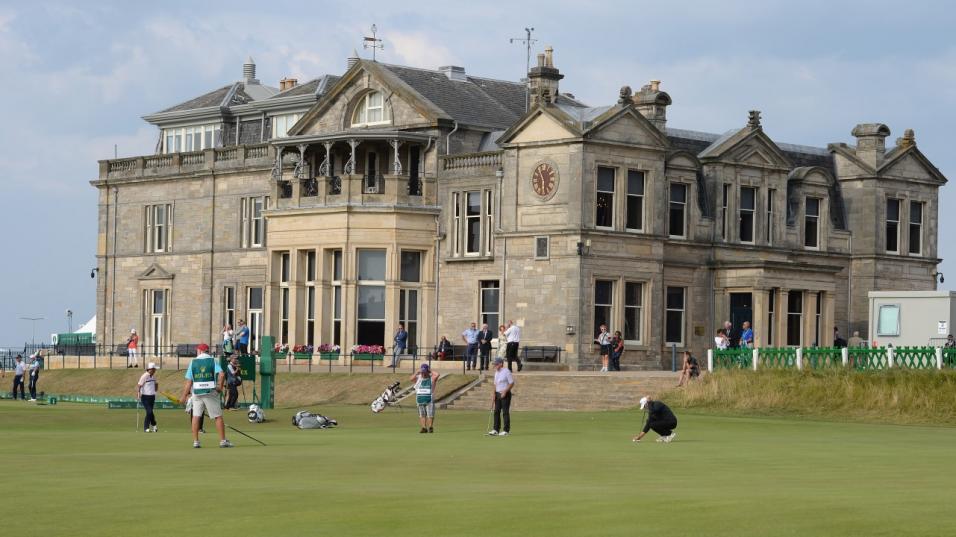 The iconic Royal & Ancient Golf Club overlooks the 18th green and 1st tee at the Old Course, St Andrews
Scotland's east coast welcomes a quality field for this week's popular pro-am which is staged over three courses. Form stats and preview supplied by Andy Swales...
"Jon Rahm continued in his rich vein of form last week when finishing second to Willett at the PGA. The Spaniard is back up to No 5 in the World Ranking thanks to 15 top-10s from his last 22 starts."

From the English countryside to the Scottish coast, the European Tour heads north for the 19th staging of the Alfred Dunhill Links Championship.
This 72-hole pro-am is contested over three venues, with Sunday's concluding round taking place at the Old Course in St Andrews.
As is usual, during days one to three, the professionals and their amateur partners play one round at each links - namely Old Course, Carnoustie and Kingsbarns.
On Saturday evening, when 54 holes have been completed, the leading 60 pros and ties qualify for the final round.
This year's field is arguably as good as it has ever been, thanks to its close proximity in the calendar with Wentworth's PGA Championship, which ended on Sunday.
Many of those who teed-up in Surrey last week have made the 400-mile journey to Fife, with the BMW PGA event having benefited from a switch in dates from May to September.
Tournament History
Tyrrell Hatton is the current king of the Alfred Dunhill in which his last 12 rounds at the tournament yields an average score of 66.92 - thanks to a brace of victories and a runner-up finish.
Six of the world's top 20 are teeing-up with No 2 Rory McIlroy the star attraction as ever.
Although McIlory is making only this third appearance in eight years, he has an excellent record in this event, despite never managing to get his hands on the trophy.
The 30-year-old has registered four podium finishes at the pro-am, dating back to 2007, including three times as runner-up.
At Wentworth, McIlroy covered the final 54 holes just one shot worse than champion Danny Willett, but paid the price with an opening round of 76 - which left him 11 strokes off the pace on Thursday evening.
In recent years, a slow start has often been a common theme for McIlroy whose three victories during 2019 have followed strong opening rounds of 66-67-67.
Flying Spaniard
Jon Rahm continued in his rich vein of form last week when finishing second to Willett at the PGA.
The Spaniard is back up to No 5 in the World Ranking thanks to 15 top-10s from his last 22 starts.
Rahm is a fine exponent of links golf, having won the Irish Open for a second time in July of this year.
Another golfer to ply his trade mainly on the PGA Tour is Tony Finau who remains in the UK having played 72 holes at Wentworth, where he slumped badly with closing rounds of 77-74.
However, don't be surprised if the world No 14 bounces back in Scotland to become the tournament's first American champion.
Check out latest betting ahead of this week's Alfred Dunhill Links Championship
This year's Open champ Shane Lowry returns to his favourite form of golf - by the seaside - and, if you are seeking one of the outsiders to wager some money on this week, then Erik Van Rooyen might just be worth a splash.
The South African tied-14th at the BMW PGA over the weekend and has enjoyed some promising results on links course in recent years.
In-form Bernd Wiesberger must also be considered a strong contender at St Andrews where he will be chasing a second victory in Scotland during 2019.
Links Challenge
All three layouts are traditional British links but while Kingbarns is relatively young - only opened in 2000 - the Old Course dates back to the days when golf was first invented.
The three courses vary in character. The Old Course has large undulating greens, wide fairways and little rough, while Carnoustie is a much trickier affair with tighter fairways and more penal hazards.
Carnoustie usually proves to be the most difficult of the three venues for pros and amateurs alike.
Kingsbarns, meanwhile, has large greens and generous fairways and, over the years, has yielded a higher stroke average than the Old Course.
In recent instalments, Greens in Regulation has been a relatively decisive stat at the Alfred Dunhill.
However, the ability to scramble successfully is also an important attribute on links where a good confident touch is required to cope with often fast unconventional terrain and changeable coastal breezes.
Twitter: Andy Swales@GolfStatsAlive
MC* - Missed Additional 54-Hole Cut
Note: List contains leading reserves

| Player | W38 | W37 | W36 | W35 | W34 | W33 | W32 | W31 | W30 | W29 |
| --- | --- | --- | --- | --- | --- | --- | --- | --- | --- | --- |
| Rory McIlroy | 9 | | | 2 | 1 | 19 | 6 | | 4 | MC |
| Justin Rose | 8 | | | | 26 | 52 | 10 | | 11 | 20 |
| Jon Rahm | 2 | | | | 13 | 5 | 3 | | 7 | 11 |
| Tony Finau | 51 | | | | 7 | 4 | 30 | | 27 | 3 |
| Tommy Fleetwood | 60 | | | 8 | 13 | 11 | 43 | | 4 | 2 |
| Shane Lowry | 11 | | | | | 48 | 52 | | | 1 |
| Matt Wallace | 41 | 3 | | MC | | | | | 27 | 51 |
| Matthew Fitzpatrick | 46 | | | 69 | 2 | | | | 4 | 20 |
| Bernd Wiesberger | 17 | | 5 | MC | | 30 | | | | 32 |
| Rafael Cabrera-Bello | 6 | | | | | 63 | | | 12 | MC |
| Eddie Pepperell | MC | | | 35 | | MC | | | 51 | 71 |
| Tyrrell Hatton | MC | | | | | | 59 | | 43 | 6 |
| Alex Noren | 28 | | | MC | 40 | | | 60 | 12 | 11 |
| Hao Tong Li | 51 | | | | | | | | 20 | MC |
| Lucas Bjerregaard | MC | | MC | 28 | | | | MC | 51 | 16 |
| Justin Harding | MC | | | MC | 43 | 7 | | | 43 | 41 |
| Lee Westwood | MC | MC | | 28 | | MC | | | | 4 |
| Danny Willett | Won | | | MC | | | 24 | | 48 | 6 |
| Erik Van Rooyen | 14 | | | 12 | 1 | 5 | | | | 20 |
| Tom Lewis | MC | MC | | 1 | 59 | Wd | | | | 11 |
| Kiradech Aphibarnrat | 51 | | | | | | 71 | 60 | | 32 |
| Andrea Pavan | 46 | | | 12 | 16 | 3 | | | 25 | MC |
| Branden Grace | 60 | MC | | | | | 30 | 48 | | 51 |
| Russell Knox | 46 | MC | | | | | MC | 48 | | 41 |
| Joost Luiten | 31 | 10 | | 23 | 29 | | | | | 32 |
| Mike Lorenzo-Vera | 37 | 10 | | 6 | | | | | | MC |
| Robert MacIntyre | 28 | | 2 | MC | MC | 23 | | | | 6 |
| Adri Arnaus | | | MC | 6 | MC | 2 | | | | MC |
| Benjamin Hebert | 37 | | | MC | MC | | | | | 41 |
| Guido Migliozzi | MC | | 7 | 33 | | | | | | |
| Martin Kaymer | 57 | MC | | | | | | MC | 31 | |
| Romain Langasque | 17 | 27 | | 48 | MC | | | | | 63 |
| Graeme McDowell | | | | | | 57 | MC | | | 57 |
| Sebastian Soderberg | 64 | 70 | | 1 | 5 | MC | | | | |
| Ryan Fox | MC | | 60 | MC | | | | | | 16 |
| Alexander Bjork | 51 | | 22 | 28 | 20 | 23 | | | | MC |
| JC Ritchie | | | MC | 10 | | 48 | | 5 | | |
| Andy Sullivan | 74 | | 36 | MC | 20 | | | | | MC |
| Adrian Otaegui | MC | | MC | MC | MC | MC | | | | MC |
| Calum Hill | | | MC | | 3 | 7 | 1 | 3 | | 1 |
| Marcus Kinhult | 46 | | | 12 | 20 | | | | | |
| Paul Waring | 21 | | 28 | | 20 | 30 | | | | 63 |
| Christiaan Bezuidenhout | 3 | | | 12 | 68 | | | | | MC |
| Matthias Schwab | 28 | | 2 | 8 | | 5 | | | | |
| Julian Suri | 31 | | MC | MC | MC | MC | | | | |
| Lucas Herbert | MC | | 22 | 8 | MC | | | | | |
| Jordan Smith | 24 | | MC | MC | MC | | | | | |
| David Lipsky | MC | | | MC | 51 | MC | | | | MC |
| Thomas Detry | MC | 36 | | 20 | 20 | | | | | |
| Oliver Wilson | | | MC | 48 | MC* | | | | | MC |
| Richard Sterne | 31 | | 22 | 48 | | | | | | MC |
| Aaron Rai | 26 | | | MC | 29 | 39 | | | 12 | |
| Masahiro Kawamura | | 9 | 25 | MC | 40 | 18 | | | | |
| Victor Perez | | MC | | MC | 10 | | | | | |
| Ross Fisher | 31 | | 46 | 35 | | | | | | |
| Sean Crocker | | 36 | MC | 28 | Wd | | | | | |
| Dean Burmester | MC | | MC | MC | 3 | 58 | | 33 | | |
| Alexander Levy | MC | | MC | MC | 5 | 18 | | | | MC |
| Sam Horsfield | 31 | 49 | 14 | 43 | 10 | 3 | | | | |
| Kalle Samooja | | | MC | 2 | 47 | 51 | | | | |
| Gavin Green | 72 | 40 | | 12 | 16 | 58 | | | | |
| Chris Paisley | MC | 27 | | 48 | MC | | | | | |
| Brandon Stone | MC | 21 | | MC | MC* | MC | | | | MC |
| Pablo Larrazabal | MC | | 7 | MC | | | | | | |
| Jaco Ahlers | | | 1 | | MC | | | | | |
| Andrew Johnston | 9 | | | 23 | 10 | | | | | MC |
| Jason Scrivener | MC | | | MC | 20 | 30 | | | | |
| Jake McLeod | | 27 | 63 | MC | | | | | | MC |
| Nacho Elvira | MC | | 36 | MC | | | | | | |
| Wade Ormsby | MC | | | 8 | 5 | | | | | |
| Joachim B Hansen | | | MC | 43 | 16 | 30 | | | | |
| Sihwan Kim | | MC | 17 | MC | 5 | 51 | | | | |
| John Catlin | | MC | MC | | 29 | 30 | | | | |
| Louis De Jager | | MC | 12 | MC | MC | MC | | 18 | | |
| Alvaro Quiros | 64 | | 46 | 48 | | | | | | |
| Gaganjeet Bhullar | | 60 | | MC | 53 | MC | | | | |
| Chris Wood | 51 | 40 | | 69 | 53 | | | | | MC |
| Paul Dunne | MC | 27 | | MC | MC | 23 | | | | |
| George Coetzee | 71 | 15 | | | MC | MC | | | | |
| Darren Fichardt | MC | | 56 | 43 | MC | 30 | | | | |
| Fabrizio Zanotti | MC | MC | MC | MC | | | | | | |
| Zander Lombard | | MC | 36 | 72 | 16 | 11 | | | | MC |
| Robert Rock | MC | | | | 70 | | | | | MC |
| Scott Jamieson | 57 | 21 | | 12 | MC | 39 | | | | |
| Shubhankar Sharma | 17 | 40 | | 46 | MC | MC | | | | 51 |
| David Law | 72 | 60 | | MC | MC | MC | | | | |
| Thriston Lawrence | | | 19 | | 2 | | | 13 | | |
| Dimitrios Papadatos | | MC | 60 | | MC | 39 | | | | MC |
| Matthew Jordan | | 25 | 25 | | 32 | | 5 | 41 | | 19 |
| Grant Forrest | | MC | MC | 58 | | MC | | | | |
| Matthew Southgate | MC | 10 | 46 | MC | 10 | 30 | | | | |
| Joakim Lagergren | 24 | 7 | 20 | MC | 10 | | | | | |
| Lorenzo Gagli | | MC | MC | 2 | 40 | MC | | | | |
| David Drysdale | MC | MC | MC | 23 | | | | | | |
| Stephen Gallacher | MC | | | MC | 47 | MC | | | | |
| Neil Schietekat | | 52 | 5 | MC | 7 | | | 15 | | |
| Padraig Harrington | 46 | 15 | 12 | MC | | 58 | | MC | MC | MC |
| Andres Romero | MC | 21 | | 2 | MC | | | | 51 | MC |
| Bryce Easton | | 9 | MC | 8 | 11 | 51 | MC | 2 | | |
| Edoardo Molinari | 64 | 21 | | MC | MC* | 14 | | | | |
| Jack Singh Brar | | MC | 64 | 33 | 37 | 14 | | | | |
| Kim Koivu | | MC | | MC | MC | 11 | | | | |
| Ashley Chesters | 21 | 15 | 9 | 72 | MC | 18 | | | | |
| Callum Shinkwin | | 5 | Wd | | Wd | MC | | | | 41 |
| Nino Bertasio | Dq | 49 | | 20 | Wd | MC | | | | 72 |
| Johannes Veerman | | 40 | 36 | 41 | | MC | | | | |
| Min Woo Lee | | | 36 | MC | MC* | | | | | |
| Renato Paratore | 41 | | MC | 12 | 20 | 39 | | | | |
| Liam Johnston | | 15 | MC | 61 | MC | 5 | | | | |
| Philip Eriksson | | | | 16 | MC | | | | 51 | |
| Jake Roos | | | | | 27 | | | 25 | | |
| Hideto Tanihara | MC | 27 | 56 | 20 | MC | | | | | |
| Lee Slattery | MC | 40 | | 35 | 40 | 39 | | | | |
| Thomas Aiken | MC | | | | | | | | | |
| Ernie Els | 64 | | | | | MC | | Wd | | 32 |
| Nicolai Hojgaard | | 2 | MC | | | MC | MC | | | |
| Soren Kjeldsen | 41 | 55 | MC | MC | 29 | MC | | | | |
| Berry Henson | | MC | MC | 48 | | 23 | | | | MC |
| Michael G Palmer | | | | | 3 | | | 5 | | |
| Nicolas Colsaerts | 57 | MC | | MC | 53 | 58 | | | | |
| Matthieu Pavon | MC | MC | | MC | 10 | MC | | | | |
| Tapio Pulkkanen | 26 | | MC | MC | MC | 39 | | | | |
| Hugo Leon | | 7 | 17 | MC | MC | 5 | 18 | | | |
| Richard McEvoy | MC | | MC | MC | MC | | | | | |
| Oliver Fisher | MC | MC | 22 | MC | MC | 51 | | | | |
| Victor Dubuisson | | | Wd | 43 | Wd | 39 | | | | |
| Wil Besseling | | 7 | MC | 37 | 14 | | 11 | MC | | |
| Justin Walters | MC | | Wd | MC | 59 | 58 | | | | |
| Romain Wattel | MC | MC | 6 | MC | MC | 14 | | | | |
| Haydn Porteous | Wd | 55 | | 35 | 29 | 11 | | 9 | | |
| Alex Haindl | | 66 | 3 | | 14 | | | 33 | | |
| Richie Ramsay | 6 | 55 | MC | 58 | MC | 58 | | | | |
| Dave Horsey | | MC | | 43 | | MC | | | | |
| Gonzalo F`dez-Castano | 41 | MC | | MC | 59 | 23 | | | | |
| Bradley Dredge | MC | 10 | | 61 | 47 | 39 | | | | |
| Jamie Donaldson | | 27 | | 35 | 5 | MC | | | | |
| Stuart Manley | | 55 | 22 | 76 | MC | 67 | | | | |
| Rikard Karlberg | | 6 | 46 | 46 | 53 | 5 | | 6 | | 4 |
| Harrison Endycott | | Wd | 64 | | | | | | | |
| Daniel Nisbet | | | MC | 69 | 19 | Wd | | | | |
| Thongchai Jaidee | MC | | | | | | | | | |
| Luke Donald | MC | | | MC | | | | MC | | |
| Jacques Kruyswijk | MC | | 66 | MC | MC | 23 | | | | |
| Steven Brown | 64 | 15 | | MC | MC | MC | | | | |
| Trevor Immelman | 69 | 60 | MC | MC | | | | | | |
| James Morrison | MC | 4 | MC | 28 | 29 | 30 | | | | |
| Marcus Fraser | | | MC | MC | | | | | | |
| Robert Karlsson | MC | MC | | 63 | MC | 10 | | | | |
| Jarryd Felton | | | Wd | 10 | 44 | 59 | | | | |
| Julien Guerrier | 60 | | | | | | | | | |
| Yusaku Miyazato | 51 | 49 | MC | 48 | MC | | | | | |
| Keenan Davidse | | | 30 | | 21 | | | MC | | |
| Kristoffer Reitan | | MC | MC | MC | MC | 14 | | | | |
| Thomas Bjorn | MC | | MC | MC | MC | 58 | | | | |
| Pedro Figueiredo | | 49 | 33 | 35 | MC | MC | | | | |
| Jens Dantorp | MC | MC | MC | 48 | 40 | MC | | | | |
| Terry Pilkadaris | MC | | MC | | 26 | 6 | | | | |
| Jeung-Hun Wang | MC | 27 | MC | MC | MC* | MC | | | | |
| Raphael Jacquelin | MC | MC | | MC | MC | MC | | | | |
| Ricardo Gouveia | MC | MC | 36 | MC | MC* | 48 | | | | |
| Michael Hoey | | MC | 66 | | MC | MC | | | | MC |
| DA Points | | MC | | | | | | | | |
| Simon Hawkes | | | | | | MC | | | | |
| Brandon Wu | | | | | | | | 30 | | MC |
| Callan O`Reilly | | | | MC | MC | | | | | |
| David Howell | MC | MC | | 63 | MC | 30 | | | | |
| Wilco Nienaber | | MC | MC | 72 | | 51 | MC* | MC | | |
| Thomas Sloman | | | | | | | | | | |
| Michael Campbell | | MC | MC | | | | | | | |
| Simon Dyson | | | | | | | | | | |
| Daniel Hillier | | MC | | | | | | | | |
| Euan Walker | | 40 | | | | | | | | |
| Player | `18 | `17 | `16 | `15 | `14 | `13 | `12 | `11 | `10 | `09 |
| --- | --- | --- | --- | --- | --- | --- | --- | --- | --- | --- |
| Rory McIlroy | | 63 | | | 2 | | | 2 | 53 | 2 |
| Justin Rose | | | | | | | | | | |
| Jon Rahm | | | | | | | | | | |
| Tony Finau | 10 | | | | | | | | | |
| Tommy Fleetwood | 2 | 25 | 15 | 13 | 2 | 5 | 55 | 5 | | |
| Shane Lowry | MC | 25 | 18 | 19 | 6 | 3 | 34 | 45 | 53 | MC |
| Matt Wallace | 28 | 59 | | | | | | | | |
| Matthew Fitzpatrick | MC | 15 | MC | MC | | | | | | |
| Bernd Wiesberger | | | 7 | 4 | 14 | 12 | MC | MC | | |
| Rafael Cabrera-Bello | | | 31 | MC | MC | MC | MC | 30 | MC | 4 |
| Eddie Pepperell | 44 | 7 | MC | MC | MC | 26 | | | | |
| Tyrrell Hatton | 2 | 1 | 1 | MC | MC | | | | | |
| Alex Noren | | | 11 | | | 40 | 3 | 39 | 17 | MC |
| Hao Tong Li | 5 | | | | | | | | | |
| Lucas Bjerregaard | 1 | MC | MC | MC | 32 | | | | | |
| Justin Harding | | | | MC | MC | | | | | |
| Lee Westwood | | MC | MC | MC | | | | 30 | 11 | 9 |
| Danny Willett | | | MC | 52 | MC | MC | 5 | 27 | 2 | 42 |
| Erik Van Rooyen | MC | | 59 | | | | | | | |
| Tom Lewis | 10 | MC | MC | MC | MC | 3 | MC | 70 | | |
| Kiradech Aphibarnrat | | 15 | | 4 | | | | | | |
| Andrea Pavan | 5 | | | | MC | | MC | | | |
| Branden Grace | 55 | 47 | MC | 30 | 25 | 59 | 1 | | | MC |
| Russell Knox | | | | | | | | | | |
| Joost Luiten | | 36 | MC | MC | MC | 24 | 47 | 9 | 58 | MC |
| Mike Lorenzo-Vera | MC | 56 | 31 | MC | | | | | | MC |
| Robert MacIntyre | | | | | | | | | | |
| Adri Arnaus | | | | | | | | | | |
| Benjamin Hebert | 32 | 63 | MC | 4 | | | MC | MC | | |
| Guido Migliozzi | | | | | | | | | | |
| Martin Kaymer | MC | 36 | 6 | 56 | MC | 7 | 34 | 30 | 1 | |
| Romain Langasque | | MC | | | | | | | | |
| Graeme McDowell | MC | 15 | 15 | 19 | | | | 3 | 17 | 26 |
| Sebastian Soderberg | | | | | | | | | | |
| Ryan Fox | 24 | MC | | MC | | | | | | |
| Alexander Bjork | MC | MC | | | | | | | | |
| JC Ritchie | MC | | | | | | | | | |
| Andy Sullivan | 10 | | | MC | 51 | MC | MC | MC | | |
| Adrian Otaegui | MC | MC | MC | 48 | 61 | | | | | |
| Calum Hill | | | | | | | | | | |
| Marcus Kinhult | 20 | | | | | | | | | |
| Paul Waring | | MC | MC | | MC | MC | 29 | | 22 | MC |
| Christiaan Bezuidenhout | 48 | 36 | MC | 33 | | | | | | |
| Matthias Schwab | 10 | | | | | | | | | |
| Julian Suri | | MC | | | | | | | | |
| Lucas Herbert | 7 | | | | | | | | | |
| Jordan Smith | 32 | MC | | | | | | | | |
| David Lipsky | MC | | MC | MC | | | | | | |
| Thomas Detry | 48 | MC | | | | | | | | |
| Oliver Wilson | | | MC | MC | 1 | 59 | 34 | 21 | MC | 2 |
| Richard Sterne | MC | 59 | 2 | | 6 | 50 | MC | | | |
| Aaron Rai | MC | 25 | | | | | | | | |
| Masahiro Kawamura | | | | | | | | | | |
| Victor Perez | | | | | | | | | | |
| Ross Fisher | 32 | 2 | 2 | MC | 61 | MC | 22 | 64 | 11 | MC |
| Sean Crocker | | | | | | | | | | |
| Dean Burmester | MC | MC | MC | | | | | | | |
| Alexander Levy | 32 | 7 | MC | MC | 25 | MC | | | | |
| Sam Horsfield | MC | | | | | | | | | |
| Kalle Samooja | | | | | | | | | | |
| Gavin Green | MC | | | | | | | | | |
| Chris Paisley | 24 | MC | MC | | | 12 | | | | |
| Brandon Stone | 10 | 15 | MC | | 42 | MC | | | | |
| Pablo Larrazabal | 56 | MC | 25 | MC | 32 | 17 | MC | 58 | MC | MC |
| Jaco Ahlers | MC | 47 | 25 | MC | | | | | | |
| Andrew Johnston | | | MC | MC | MC | | | | | |
| Jason Scrivener | 24 | 47 | | | 51 | | | | | |
| Jake McLeod | 48 | | | | | | | | | |
| Nacho Elvira | 10 | MC | MC | MC | 32 | | | | | |
| Wade Ormsby | MC | MC | | MC | MC | | | | | 51 |
| Joachim B Hansen | | | MC | | MC | 55 | | | | |
| Sihwan Kim | | | | | MC | | | | | |
| John Catlin | | | | | | | | | | |
| Louis De Jager | MC | | | | MC | | | | | |
| Alvaro Quiros | MC | MC | MC | MC | MC | MC | MC | 68 | 5 | 62 |
| Gaganjeet Bhullar | | | | | | MC | | | MC | |
| Chris Wood | MC | | | 4 | 9 | 7 | 15 | MC | MC | MC |
| Paul Dunne | MC | 7 | 25 | 19 | | | | | | |
| George Coetzee | MC | 47 | 25 | | 25 | | 5 | MC | 61 | |
| Darren Fichardt | 48 | 67 | MC | MC | 25 | MC | 29 | | | |
| Fabrizio Zanotti | | MC | 31 | 52 | MC | MC | 69 | MC | 45 | |
| Zander Lombard | MC | MC | | | | | | | | |
| Robert Rock | 20 | 4 | 31 | MC | 66 | MC | 61 | MC | MC | MC |
| Scott Jamieson | MC | MC | MC | 33 | MC | 17 | 34 | MC | | |
| Shubhankar Sharma | | | | | | | | | | |
| David Law | | | | | | | | | | |
| Thriston Lawrence | | | | | MC | | | | | |
| Dimitrios Papadatos | | | | MC | MC | | | | | |
| Matthew Jordan | 32 | | | | | | | | | |
| Grant Forrest | | MC | 41 | | | | | | | |
| Matthew Southgate | MC | MC | MC | | | | | | | |
| Joakim Lagergren | MC | 12 | 4 | 4 | | | | | | |
| Lorenzo Gagli | | | | | | MC | 34 | 21 | | |
| David Drysdale | MC | 15 | 47 | 9 | MC | MC | 15 | MC | MC | MC |
| Stephen Gallacher | 10 | 12 | 38 | 19 | 32 | MC | 5 | MC | 17 | |
| Neil Schietekat | | | | | | | | MC | | |
| Padraig Harrington | 7 | MC | MC | MC | 18 | 40 | 29 | 8 | 17 | 26 |
| Andres Romero | | | | | | | | | | |
| Bryce Easton | | | | | | | | | | |
| Edoardo Molinari | 24 | MC | MC | | 61 | | 22 | | MC | |
| Jack Singh Brar | | MC | | | | | | | | |
| Kim Koivu | MC | | | | | | | | | |
| Ashley Chesters | 44 | 36 | | MC | | | | | | |
| Callum Shinkwin | MC | MC | 38 | | | | | | | |
| Nino Bertasio | MC | 15 | MC | | | | | | | |
| Johannes Veerman | | | | | | | | | | |
| Min Woo Lee | | | | | | | | | | |
| Renato Paratore | 32 | MC | 7 | MC | | | | | | |
| Liam Johnston | MC | 47 | | | | | | | | |
| Philip Eriksson | | | | | | | | | | |
| Jake Roos | | | | MC | | MC | | | | MC |
| Hideto Tanihara | MC | | | | | | | | | |
| Lee Slattery | 20 | MC | MC | MC | MC | MC | 5 | | | 70 |
| Thomas Aiken | MC | MC | | | 66 | MC | 22 | 30 | 22 | Dq |
| Ernie Els | 48 | MC | | 27 | 32 | 17 | 34 | 53 | 22 | 26 |
| Nicolai Hojgaard | | | | | | | | | | |
| Soren Kjeldsen | 48 | | 7 | 9 | MC | 26 | 63 | MC | MC | 62 |
| Berry Henson | | | | | | | | | | |
| Michael G Palmer | | | | | | | | | | |
| Nicolas Colsaerts | 10 | 25 | 31 | 57 | | | | 9 | MC | |
| Matthieu Pavon | 20 | MC | | | | | | | | |
| Tapio Pulkkanen | 4 | | | | | | | | | |
| Hugo Leon | | | | | | | | | | |
| Richard McEvoy | MC | | MC | | | 26 | MC | MC | 8 | |
| Oliver Fisher | 32 | 7 | MC | 33 | 51 | MC | 15 | MC | MC | MC |
| Victor Dubuisson | | 3 | | 43 | MC | | 5 | 27 | MC | |
| Wil Besseling | | | | | | | | | | |
| Justin Walters | MC | MC | MC | 30 | MC | 26 | | | | |
| Romain Wattel | MC | 15 | 18 | 33 | MC | 40 | MC | 45 | | |
| Haydn Porteous | MC | 15 | MC | | MC | MC | | | | |
| Alex Haindl | | | | | | | | 18 | | |
| Richie Ramsay | MC | Wd | MC | | 2 | 33 | MC | 39 | MC | 4 |
| Dave Horsey | MC | 36 | 11 | 9 | MC | 20 | MC | 58 | MC | MC |
| Gonzalo F`dez-Castano | MC | | | | | | 29 | | 58 | Ret |
| Bradley Dredge | MC | 25 | 11 | 13 | | | 34 | MC | 22 | 42 |
| Jamie Donaldson | MC | MC | Wd | 13 | | 26 | MC | 9 | MC | MC |
| Stuart Manley | | MC | | | MC | | | | | |
| Rikard Karlberg | | MC | 41 | MC | MC | MC | 68 | MC | | |
| Harrison Endycott | | | | | | | | | | |
| Daniel Nisbet | | | | | | | | | | |
| Thongchai Jaidee | 32 | MC | | | 32 | MC | 15 | MC | | 42 |
| Luke Donald | MC | 7 | | MC | | | | 9 | | 7 |
| Jacques Kruyswijk | MC | MC | | | | | | | | |
| Steven Brown | MC | | | | | | | MC | | |
| Trevor Immelman | 44 | | MC | | | | | | | 53 |
| James Morrison | 56 | 25 | 38 | 13 | MC | MC | 22 | 17 | MC | |
| Marcus Fraser | 10 | Dq | | MC | | MC | | 58 | | MC |
| Robert Karlsson | MC | MC | 53 | MC | 14 | | | 45 | 29 | MC |
| Jarryd Felton | | | | | | | | | | |
| Julien Guerrier | 32 | | | | | | | | | |
| Yusaku Miyazato | | | | | | | | | | |
| Keenan Davidse | | | | | | | | | | |
| Kristoffer Reitan | | | | | | | | | | |
| Thomas Bjorn | | MC | | MC | | | MC | MC | 11 | 42 |
| Pedro Figueiredo | | | | | | | | | | |
| Jens Dantorp | MC | | | | MC | | | | | |
| Terry Pilkadaris | | | | MC | | | MC | | MC | MC |
| Jeung-Hun Wang | MC | 36 | | | | | | | | |
| Raphael Jacquelin | MC | 47 | MC | MC | 18 | MC | 5 | MC | 48 | 16 |
| Ricardo Gouveia | MC | 36 | MC | | | | | | | |
| Michael Hoey | MC | | MC | MC | 32 | 26 | MC | 1 | MC | 19 |
| DA Points | | | | | | | | | | |
| Simon Hawkes | | | | | | | | | | |
| Brandon Wu | | | | | | | | | | |
| Callan O`Reilly | | | | | | | | | | |
| David Howell | MC | MC | Ret | MC | 14 | 1 | 34 | MC | 8 | MC |
| Wilco Nienaber | | | | | | | | | | |
| Thomas Sloman | | | | | | | | | | |
| Michael Campbell | | | | | | Ret | 47 | MC | MC | |
| Simon Dyson | MC | MC | MC | | MC | MC | MC | 9 | 5 | 1 |
| Daniel Hillier | | | | | | | | | | |
| Euan Walker | | | | | | | | | | |
Discover the latest articles
Read past articles