Zurich Classic of New Orleans 2017: Stats for this week's PGA Tour event at TPC Louisiana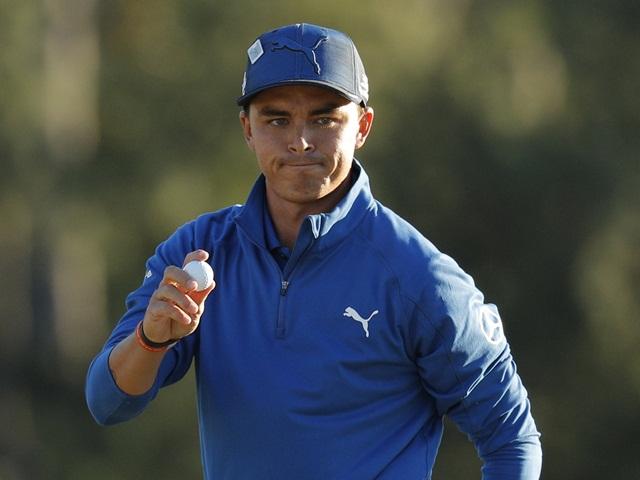 Rickie Fowler is likely to enjoy himself in the company of Jason Day
Andy Swales supplies both course and current form stats for this week's two-man team event at TPC Louisiana in New Orleans ...
"Patrick Reed partners Patrick Cantlay, one of the most talented young players on Tour and who has already enjoyed a brace of podium finishes this year."
The PGA Tour changes direction with a new format being used at the Zurich Classic of New Orleans.
Out goes the traditional weekly diet of 72-holes of individual strokeplay, and in comes a revolutionary two-man team event featuring foursomes and fourballs.
One of the high-profile partnerships this week will be Europe's major champions Justin Rose and Henrik Stenson - the gold and silver medallists respectively from last summer's Olympic Games in Rio.
On days one and three they will combine in foursomes, while for the second and fourth rounds Rose and Stenson will team-up at fourballs.
In all, 80 two-man teams are competing, with a 36-hole cut comprising the top 35 and ties.
The tournament will be classified as an official PGA Tour event, with FedEx Cup points awarded as normal.
TPC Louisiana, a Pete Dye-creation, made its debut on the PGA Tour in 2005, just two years after the course opened to the public.
Laid out among the lush wetlands and swamps of the Mississippi River delta, this low-lying course hosts the Zurich Classic for a 12th time.
Fast greens and water are key elements of a venue that suffered at the hands of Hurricane Katrina which devastated large areas of the Gulf Coast in August 2005.
As for Rose and Stenson, the Brit is in good form and is a former winner at this week's course. It all depends on whether he is still suffering a Masters hangover, having narrowly missed out on claiming a second major title earlier this month.
Stenson, meanwhile, has missed his last three cuts and will be making his TPC Louisiana debut.
Another marquee pairing is Jason Day and Rickie Fowler. The latter is in great shape right now, while the former has posted a brace of top-six finishes in his last two starts in the Zurich Classic.
Being the sort of characters that they are, if they could start well this week it could become party time for the pair at an event where the atmosphere is likely to be more relaxed than normal.
One pro who could benefit from a more laid back approach is Patrick Reed whose form has been pretty shabby of late - no top-20 finishes from his last nine starts.
Reed partners Patrick Cantlay, one of the most talented young players on Tour and who has already enjoyed a brace of podium finishes this year.
Not the easiest of tournaments from which to try and select a winning-pair, not least because this format is untried as a fully-fledged official PGA Tour event.
But four teams that seem to offer potential are Daniel Berger & Thomas Pieters, Jason Dufner and Patton Kizzire, Luke Donald & Jamie Lovermark, and Korean duo Sung Kang and Si Woo Kim.
Finally, if this was the Grand National and you were choosing a horse to back basing your selection purely on name alone, then Holmes and Watson might provide some appeal.
While JB and Bubba have some decent course form to boast of, neither have played particularly well of late.
However, foursomes and fourball medal play will be a new experience for most of those taking part, so it's almost impossible to gauge how any partnership teeing-up this week might combine in tandem.
| Player | W16 | W15 | W14 | W13 | W12 | W11 | W10 | W9 | W8 | W7 | W6 | W5 |
| --- | --- | --- | --- | --- | --- | --- | --- | --- | --- | --- | --- | --- |
| Jason Day | | | 22 | | 58 | 23 | | | | 64 | 5 | |
| Rickie Fowler | | | 11 | 3 | | 12 | | 16 | 1 | | | 4 |
| Justin Rose | | | 2 | 15 | | 13 | | 38 | | 4 | 39 | |
| Henrik Stenson | | | MC | MC | | MC | 7 | Wd | | | | 2 |
| Ryan Palmer | 6 | 11 | | MC | | | | | 37 | 49 | MC | MC |
| Jordan Spieth | | | 11 | MC | 30 | | | 12 | | 22 | 1 | 9 |
| Branden Grace | 10 | 11 | 27 | | 39 | MC | | 32 | Wd | 22 | | |
| Louis Oosthuizen | | | 41 | | 17 | 28 | | 48 | 21 | 5 | | 3 |
| Bud Cauley | 10 | 9 | | MC | | MC | 58 | | 27 | 61 | | 47 |
| Justin Thomas | | | 22 | | 39 | | MC | 5 | MC | 39 | | MC |
| JB Holmes | | | 50 | MC | 51 | | | 12 | | 34 | 23 | 24 |
| Bubba Watson | 26 | | MC | | 9 | 34 | MC | 38 | | Wd | | MC |
| Daniel Berger | | | 27 | 5 | 39 | | MC | 16 | MC | | | 7 |
| Thomas Pieters | | | 4 | | 30 | MC | | 5 | MC | 2 | | 23 |
| Patrick Cantlay | | 3 | | 39 | | | 2 | | | | 48 | |
| Patrick Reed | MC | | MC | MC | 51 | | 38 | 61 | | 59 | 23 | 68 |
| Kevin Chappell | 1 | | 7 | 44 | 39 | 49 | | 55 | | MC | 48 | 75 |
| Gary Woodland | | | MC | | 39 | | 58 | 38 | 2 | | 5 | MC |
| Luke Donald | MC | 2 | | 69 | | | MC | | 27 | 17 | 23 | MC |
| Jamie Lovemark | 40 | | | 71 | | 23 | 27 | | MC | 39 | | 71 |
| Jamie Donaldson | | MC | | | | | | 29 | MC | | Dq | MC |
| Tyrrell Hatton | | 29 | MC | | 17 | 4 | | 10 | 4 | | | 3 |
| Jason Dufner | | 11 | 33 | 12 | 51 | | 11 | 23 | 14 | | | |
| Patton Kizzire | | 32 | | MC | | MC | MC | | 66 | 70 | | 57 |
| Keegan Bradley | MC | 44 | | 15 | | 34 | 58 | | MC | 34 | | MC |
| Brendan Steele | 62 | | 27 | | 30 | | | 48 | 14 | 39 | | 16 |
| Blayne Barber | 62 | 26 | | 44 | | 62 | 41 | | 62 | MC | | MC |
| Russell Henley | | 26 | 11 | 1 | | 45 | 9 | | 43 | | | 16 |
| Russell Knox | | 11 | MC | | 39 | | MC | 70 | MC | | | MC |
| Kevin Streelman | 53 | | | 49 | | 70 | 18 | | | MC | 14 | MC |
| Hideki Matsuyama | | | 11 | | 51 | 45 | | 25 | | MC | | 1 |
| Hideto Tanihara | | 39 | MC | | 4 | | | 32 | | 15 | | |
| Scott Brown | | MC | | 71 | 17 | MC | MC | | 57 | 2 | 58 | 52 |
| Kevin Kisner | | 11 | 43 | | 17 | 2 | | 11 | 48 | | 10 | |
| Geoff Ogilvy | 27 | MC | | 23 | | MC | MC | | | MC | 14 | 47 |
| Ian Poulter | MC | 11 | | | MC | 41 | 41 | | 43 | | | 15 |
| Ryan Blaum | MC | 64 | | 34 | 32 | | 41 | | 37 | MC | MC | |
| Wesley Bryan | | 1 | | | 62 | 69 | 7 | | 4 | 4 | | 42 |
| Byeong Hun An | 40 | | 33 | | 58 | 49 | 49 | 48 | | 55 | | 6 |
| Seung-Yul Noh | MC | | | 78 | 56 | MC | MC | | 43 | 11 | 8 | 57 |
| Brooks Koepka | 2 | | 11 | | 9 | MC | | 48 | MC | MC | | 42 |
| Chase Koepka | | | | | | | MC | | | | | |
| Jerry Kelly | | | | | | | | | | | MC | |
| Steve Stricker | | | 16 | | | | MC | | | | 23 | 42 |
| Smylie Kaufman | 37 | | | MC | | MC | MC | | MC | | MC | MC |
| Harold Varner | 40 | 59 | | 23 | 24 | 34 | MC | | 57 | MC | | 68 |
| Morgan Hoffmann | MC | MC | | 39 | | MC | 52 | | 2 | MC | MC | 36 |
| Camilo Villegas | 10 | MC | | | MC | MC | | | MC | MC | | 24 |
| Tony Finau | 3 | | | 34 | | 28 | 5 | | | MC | 23 | MC |
| Daniel Summerhays | 58 | 59 | 46 | | | MC | MC | | 52 | 55 | MC | 16 |
| Charley Hoffman | 40 | MC | 22 | 23 | | 2 | MC | | | 4 | MC | 24 |
| Nick Watney | MC | | | MC | | | 14 | | 14 | 28 | 14 | |
| Brian Harman | | 9 | | MC | | 13 | MC | | 48 | MC | | 24 |
| Johnson Wagner | MC | 39 | | 49 | | | MC | | MC | MC | | |
| Lucas Glover | | 32 | | MC | | 7 | 18 | | 21 | | | 36 |
| Chez Reavie | | MC | | MC | | MC | 27 | | | MC | MC | MC |
| Harris English | | MC | | 61 | | MC | 27 | | 60 | MC | | 57 |
| Hudson Swafford | | | MC | 6 | | 10 | 38 | | MC | MC | | |
| Robert Garrigus | MC | MC | | 20 | MC | | 52 | | MC | | 23 | 36 |
| William McGirt | | 3 | 22 | | 9 | MC | | 28 | MC | | 66 | 24 |
| Graham DeLaet | | 6 | | | MC | MC | 22 | | 10 | 17 | | 9 |
| David Hearn | MC | 59 | | | 17 | 34 | 18 | | 43 | MC | MC | MC |
| Bryson DeChambeau | MC | MC | | 44 | 2 | | 27 | | MC | Wd | MC | |
| Rory Sabbatini | MC | | | | 37 | | | | MC | | 48 | |
| Ben Crane | 40 | 70 | | 68 | MC | | 62 | | 62 | 61 | | 47 |
| Ben Martin | | MC | | MC | | 41 | 52 | | | MC | MC | MC |
| Sung Kang | 6 | 11 | | 2 | 49 | | MC | | 52 | 22 | MC | 12 |
| Si Woo Kim | 22 | | MC | Wd | 30 | 49 | Wd | 72 | MC | MC | MC | MC |
| Roberto Castro | MC | MC | MC | MC | | MC | | 45 | | | MC | MC |
| Scott Stallings | MC | | | MC | Wd | | 68 | | 21 | | 14 | |
| Jason Bohn | MC | 39 | | MC | | | MC | | MC | | MC | 52 |
| Carl Pettersson | 16 | MC | | MC | MC | | MC | | 62 | MC | | MC |
| Zac Blair | MC | 32 | | 8 | 62 | | MC | | MC | 34 | 48 | MC |
| CT Pan | MC | 44 | | MC | | 56 | MC | | 37 | | MC | MC |
| Rod Pampling | | 26 | MC | | | MC | 41 | | | | MC | MC |
| John Senden | MC | MC | | MC | 37 | | MC | | MC | MC | MC | |
| Alex Cejka | MC | 44 | | Dq | 49 | | 14 | | MC | 55 | 39 | 74 |
| Soren Kjeldsen | 62 | | 36 | | 5 | | 27 | 32 | 37 | MC | | |
| Danny Lee | MC | 39 | | 20 | 56 | 17 | 22 | | MC | MC | Wd | MC |
| David Lingmerth | | MC | | MC | | 72 | 27 | | MC | | | MC |
| Chris Kirk | MC | MC | | | 62 | MC | MC | | | | 39 | 34 |
| Brendon Todd | | | | | | | MC | | | | MC | |
| Andrew Johnston | 40 | 64 | | MC | 10 | | | | | | MC | 68 |
| Kyle Reifers | 37 | MC | | 61 | 17 | MC | 67 | | MC | MC | | MC |
| Derek Fathauer | | 32 | | 71 | | 71 | MC | | MC | MC | 23 | |
| Sam Saunders | MC | 11 | | 20 | 5 | MC | MC | | | 49 | MC | |
| Mark Hubbard | | 74 | | MC | MC | | MC | | MC | 69 | 62 | 42 |
| Jonathan Randolph | 27 | | | | 24 | | | | | | MC | |
| Brandon Hagy | 34 | | | | MC | 28 | | | 21 | | 33 | MC |
| Michael Kim | MC | MC | | 12 | | 17 | 52 | | MC | MC | | 24 |
| Cody Gribble | MC | | | 65 | | MC | MC | | 70 | MC | MC | MC |
| Jim Herman | 18 | MC | | MC | | 45 | 3 | | 27 | MC | MC | MC |
| Retief Goosen | MC | | | MC | 2 | MC | MC | | MC | | | MC |
| Tyrone Van Aswegen | MC | 56 | | 55 | 76 | | 27 | | 27 | 71 | MC | 71 |
| Andres Gonzales | 40 | | | 23 | 32 | | | | MC | | 33 | |
| Vaughn Taylor | | 64 | | 23 | | 23 | | | MC | Wd | MC | 52 |
| Fabian Gomez | | 44 | | MC | 24 | 62 | | | MC | MC | | MC |
| Jhonattan Vegas | 34 | | MC | 15 | 17 | | | 38 | 4 | 15 | | |
| Matt Every | MC | Wd | | 65 | MC | 62 | MC | | Wd | MC | MC | MC |
| Billy Horschel | MC | MC | | 55 | | 13 | MC | | 4 | MC | | 24 |
| Chad Collins | MC | MC | | MC | MC | | MC | | 4 | MC | MC | 63 |
| Ken Duke | 58 | MC | | MC | MC | | MC | | MC | MC | 23 | 61 |
| KJ Choi | MC | 64 | | MC | MC | | MC | | | 17 | MC | MC |
| Charlie Wi | | | | | | | | | | | | |
| Steven Bowditch | MC | MC | | MC | MC | MC | MC | | MC | MC | MC | MC |
| Boo Weekley | | 44 | | MC | 37 | 66 | MC | | 48 | | | 52 |
| Jonas Blixt | | 44 | | MC | 76 | | 22 | | MC | | 58 | 52 |
| Cameron Smith | 6 | 29 | | MC | | 34 | 49 | | | 28 | MC | 42 |
| Ricky Barnes | 67 | MC | | 71 | 56 | | MC | | MC | MC | 48 | MC |
| Matt Jones | 13 | | | 49 | MC | | | | | | 23 | 36 |
| Chris Stroud | MC | | | MC | 8 | | | | | | MC | |
| Brian Stuard | MC | 56 | 36 | | | MC | 38 | | 27 | 39 | MC | 16 |
| Michael Thompson | 49 | MC | | 12 | 10 | | MC | | MC | | MC | |
| Tim Wilkinson | MC | | | | 17 | | 56 | | Wd | | 39 | |
| Ollie Schniederjans | 18 | 3 | | MC | | 34 | MC | | 48 | 8 | | 24 |
| Richy Werenski | MC | | | 81 | 72 | | MC | | MC | | 58 | |
| Ryan Ruffels | | | | | | 56 | 12 | | | 37 | | |
| Kyle Stanley | | 59 | | 8 | | 17 | 27 | | MC | 39 | | 36 |
| John Rollins | | | | | | | | | | | | |
| Shawn Stefani | 49 | MC | | MC | 32 | | MC | | MC | MC | | MC |
| Patrick Rodgers | | | | | | MC | MC | | MC | 22 | | MC |
| Cameron Tringale | MC | | | 78 | 44 | | MC | | 65 | 8 | MC | MC |
| Trey Mullinax | MC | 70 | | MC | 44 | | MC | | MC | | 14 | |
| Bobby Wyatt | MC | | | | 62 | | | | | | MC | |
| Troy Merritt | 49 | MC | | 55 | | 56 | MC | | | MC | MC | 24 |
| Robert Streb | MC | MC | | 34 | | | MC | | MC | MC | 66 | MC |
| Peter Malnati | MC | 44 | | MC | | | MC | | MC | 64 | MC | |
| Mark Wilson | | | | | MC | | | | 27 | | | MC |
| Andrew Loupe | 69 | MC | | 10 | | | MC | | MC | MC | MC | MC |
| John Peterson | MC | MC | | | 24 | | | | MC | | | 12 |
| Spencer Levin | MC | MC | | 23 | 68 | | MC | | MC | MC | MC | MC |
| Rocco Mediate | | | | | | | | | | | | |
| Kelly Kraft | MC | MC | | MC | | Wd | 65 | | MC | MC | 2 | |
| Kevin Tway | 3 | | | | 32 | | | | | MC | 48 | |
| Whee Kim | MC | MC | | MC | 5 | | Wd | | MC | 61 | MC | |
| Greg Owen | MC | | | | 72 | MC | | | | | MC | |
| Freddie Jacobson | 53 | MC | | MC | 56 | | MC | | MC | | | |
| Willy Wilcox | MC | | | | 24 | | MC | | Wd | 5 | | MC |
| Mackenzie Hughes | MC | | MC | 23 | | MC | | 32 | 66 | MC | 10 | MC |
| Nick Taylor | 22 | 22 | | 44 | MC | | 62 | | | 55 | 10 | MC |
| JJ Henry | 22 | MC | | 61 | 8 | | 22 | | MC | 17 | Wd | 66 |
| Tom Hoge | 53 | | | 65 | 10 | | | | | 52 | 39 | |
| Angel Cabrera | MC | | MC | 34 | MC | | | | | MC | 54 | |
| Julian Etulain | 75 | | | | 17 | | 6 | | | | 33 | |
| Ryan Brehm | 34 | | | | MC | | | | 69 | | 66 | |
| JJ Spaun | 49 | 6 | | 44 | 17 | 49 | MC | | 21 | | MC | 4 |
| Dominic Bozzelli | 69 | MC | | | MC | | 3 | | MC | | MC | |
| JT Poston | 27 | | | 55 | 10 | | 14 | | 27 | 17 | 66 | |
| Steven Alker | 76 | | | | 44 | | | | MC | | MC | |
| Seamus Power | 58 | | | | MC | | 27 | | MC | | 39 | |
| Kyle Ramey | | | | | | | | | | | | |
| Phil Schmitt | | | | | | | | | | | | |
| Will MacKenzie | MC | | | | 49 | | | | MC | | 14 | |
| Steve Marino | MC | 70 | | MC | 37 | | MC | | | Wd | 66 | MC |
| Gonzalo F`dez-Castano | 13 | | | | 62 | | | | | | MC | |
| Martin Flores | MC | | | MC | 10 | | MC | | MC | | 14 | |
| Grayson Murray | | 59 | | 55 | | MC | MC | | MC | MC | MC | 36 |
| Cameron Percy | 62 | | | | 24 | | | | Wd | 49 | 10 | |
| Player | 2016 | 2015 | 2014 | 2013 | 2012 | 2011 | 2010 | 2009 | 2008 | 2007 |
| --- | --- | --- | --- | --- | --- | --- | --- | --- | --- | --- |
| Jason Day | 5 | 4 | | | | | | 32 | MC | |
| Rickie Fowler | 20 | MC | MC | 32 | 10 | 26 | | | | |
| Justin Rose | MC | 1 | 8 | 15 | 10 | MC | 43 | MC | | |
| Henrik Stenson | | | | | | | | | | |
| Ryan Palmer | | | MC | 32 | 4 | 46 | MC | 59 | | 38 |
| Jordan Spieth | | | | MC | | | | | | |
| Branden Grace | | | | | | | | | | |
| Louis Oosthuizen | | | | | | | | | | |
| Bud Cauley | | | 11 | | MC | | | | | |
| Justin Thomas | | 12 | | | | | | | | |
| JB Holmes | | | 11 | | 13 | | | MC | | |
| Bubba Watson | | | | 15 | 18 | 1 | 43 | MC | 70 | 5 |
| Daniel Berger | 20 | 6 | | | | | | | | |
| Thomas Pieters | | | | | | | | | | |
| Patrick Cantlay | | | | | | | | | | |
| Patrick Reed | | | MC | MC | 24 | | | | | |
| Kevin Chappell | | MC | 34 | | | MC | | | | |
| Gary Woodland | 20 | | | 64 | | | | MC | | |
| Luke Donald | | | | | 3 | 8 | | | | |
| Jamie Lovemark | 2 | | MC | | MC | | | | | |
| Jamie Donaldson | 48 | MC | | | | | | | | |
| Tyrrell Hatton | | | | | | | | | | |
| Jason Dufner | | | | 42 | 1 | 3 | 7 | 9 | | 44 |
| Patton Kizzire | 8 | | | | | | | | | |
| Keegan Bradley | MC | 22 | 8 | MC | MC | 26 | | | | |
| Brendan Steele | | MC | 52 | 32 | | | | | | |
| Blayne Barber | 48 | 8 | | | | | | | | |
| Russell Henley | 36 | | | | | | | | | |
| Russell Knox | | 43 | MC | | 30 | | | | | |
| Kevin Streelman | | | | | 71 | 62 | 37 | 51 | MC | |
| Hideki Matsuyama | | | | | | | | | | |
| Hideto Tanihara | | | | | | | | | | |
| Scott Brown | | 36 | | 42 | MC | | | | | |
| Kevin Kisner | | 28 | 34 | | MC | MC | | | | |
| Geoff Ogilvy | 64 | | MC* | | 45 | | | | | |
| Ian Poulter | | | | | | | | 13 | | |
| Ryan Blaum | | | | | | | | | | |
| Wesley Bryan | | | | | | | | | | |
| Byeong Hun An | 2 | | | | | | | | | |
| Seung-Yul Noh | 20 | Wd | 1 | MC | 66 | | | | | |
| Brooks Koepka | | | 21 | | | | | | | |
| Chase Koepka | | | | | | | | | | |
| Jerry Kelly | MC | 22 | MC | 47 | MC | MC | 67 | 1 | | |
| Steve Stricker | 58 | MC | | | 6 | 13 | | 7 | MC | 11 |
| Smylie Kaufman | MC | | | | | | | | | |
| Harold Varner | 8 | | | | | | | | | |
| Morgan Hoffmann | 72 | 36 | 34 | 21 | | | | | | |
| Camilo Villegas | | MC | MC | MC | 18 | 46 | | | | |
| Tony Finau | | MC | | | | | | | | |
| Daniel Summerhays | | | 21 | MC | 30 | MC | | | | |
| Charley Hoffman | 11 | | 5 | MC | MC* | 40 | 28 | 19 | MC | 66 |
| Nick Watney | | MC | MC* | 15 | MC | 20 | | MC | 42 | 1 |
| Brian Harman | MC | | | MC | MC | | | | | |
| Johnson Wagner | | 48 | | MC | | | MC | | 64 | MC |
| Lucas Glover | 31 | 62 | 62 | 4 | 66 | | | 19 | MC | 8 |
| Chez Reavie | MC | MC | | MC | MC | 70 | MC | | 42 | |
| Harris English | | MC | | 6 | MC | | | | | |
| Hudson Swafford | MC | 12 | MC | | | | | | | |
| Robert Garrigus | 72 | Wd | 5 | | | | MC | MC | MC | |
| William McGirt | | MC | MC | | 30 | MC | | | | |
| Graham DeLaet | | | 29 | 47 | 4 | | MC | | | |
| David Hearn | 20 | 6 | 34 | 21 | 24 | 46 | | | | |
| Bryson DeChambeau | | | | | | | | | | |
| Rory Sabbatini | | MC | 17 | MC | | MC | 53 | 2 | | |
| Ben Crane | MC | 56 | MC | MC | MC | 20 | MC | MC | | |
| Ben Martin | 64 | | 15 | | | MC | | | | |
| Sung Kang | 72 | | | | MC | MC | | | | |
| Si Woo Kim | 64 | | | | | | | | | |
| Roberto Castro | 48 | | MC | 47 | MC | | | | | |
| Scott Stallings | 11 | 22 | MC | MC | MC | MC | | | | |
| Jason Bohn | MC | MC | | 47 | MC | 67 | 1 | MC | 20 | |
| Carl Pettersson | Wd | 36 | MC | | MC | 40 | | MC | 23 | |
| Zac Blair | | MC | | | | | | | | |
| CT Pan | | | | | | | | | | |
| Rod Pampling | MC | | | 42 | MC | MC | MC | 13 | MC | |
| John Senden | 20 | MC | 29 | MC | 39 | 13 | 43 | 34 | 12 | |
| Alex Cejka | MC | 65 | | | 18 | Wd | 21 | MC | 75 | 8 |
| Soren Kjeldsen | | | | | | | | | | |
| Danny Lee | 58 | 22 | 25 | | 52 | | | MC | | |
| David Lingmerth | | MC | MC | MC | | | | | | |
| Chris Kirk | 5 | | | 21 | MC | | | | | |
| Brendon Todd | MC | | | | MC | | | MC | | |
| Andrew Johnston | | | | | | | | | | |
| Kyle Reifers | MC | MC | | | 45 | | | | | 24 |
| Derek Fathauer | | MC | | | | | | MC | | |
| Sam Saunders | MC | MC | | | | MC | | | | |
| Mark Hubbard | 72 | 56 | | | | | | | | |
| Jonathan Randolph | | MC | | | | | | | | |
| Brandon Hagy | | | | | | | | | | |
| Michael Kim | 48 | | | | | | | | | |
| Cody Gribble | | | | | | | | | | |
| Jim Herman | | 4 | MC | MC | | MC | | | | |
| Retief Goosen | 72 | 28 | 21 | 21 | MC | | | | 57 | |
| Tyrone Van Aswegen | MC | MC | MC | | | | | | | |
| Andres Gonzales | 15 | 70 | | MC | | MC | | | | |
| Vaughn Taylor | MC | | | MC | 57 | 26 | | | MC | |
| Fabian Gomez | | 59 | 62 | 32 | | 46 | | | | |
| Jhonattan Vegas | 5 | 36 | | | | | | | | |
| Matt Every | MC | | Wd | 32 | MC | MC | | | | |
| Billy Horschel | 36 | 48 | MC | 1 | MC | 26 | | | | |
| Chad Collins | 15 | 43 | 45 | | MC | MC | 16 | | MC | |
| Ken Duke | 64 | MC | MC* | 21 | 7 | | 21 | MC | MC | 2 |
| KJ Choi | MC | 36 | | MC | 39 | 3 | 37 | 24 | | |
| Charlie Wi | | | 34 | MC | | 16 | 21 | 2 | MC | 44 |
| Steven Bowditch | | 12 | | 65 | MC | MC | | | | MC |
| Boo Weekley | MC | 3 | 29 | 6 | | MC | 10 | 13 | | MC |
| Jonas Blixt | 72 | MC | | 70 | 13 | | | | | |
| Cameron Smith | | 43 | | | | | | | | |
| Ricky Barnes | MC | MC | 52 | 42 | MC | | | MC | | |
| Matt Jones | | | | 32 | 45 | 6 | 10 | 70 | 64 | |
| Chris Stroud | 20 | 22 | MC | MC | 24 | 26 | 21 | MC | 64 | 5 |
| Brian Stuard | 1 | 65 | | MC | | | MC | | | |
| Michael Thompson | MC | 48 | 67 | MC | | MC | | | | |
| Tim Wilkinson | 64 | 48 | 52 | | | | Wd | MC | 3 | |
| Ollie Schniederjans | | | | | | | | | | |
| Richy Werenski | | | | | | | | | | |
| Ryan Ruffels | 20 | | | | | | | | | |
| Kyle Stanley | MC | | 52 | 3 | | MC | | | | |
| John Rollins | | | 74 | MC | 7 | 26 | 21 | 13 | | |
| Shawn Stefani | | | 52 | MC | | | | | | |
| Patrick Rodgers | 31 | | | | | | | | | |
| Cameron Tringale | 48 | 2 | 17 | MC | 7 | 18 | 28 | | | |
| Trey Mullinax | | | | | | | | | | |
| Bobby Wyatt | 4 | | | | | | | | | |
| Troy Merritt | 72 | MC | 48 | | | MC | 3 | | | |
| Robert Streb | 36 | MC | 2 | MC | | | | | | |
| Peter Malnati | | | MC | | | | | | | |
| Mark Wilson | | 59 | MC | | | | MC | | | |
| Andrew Loupe | MC | MC | 52 | | | MC | | | | |
| John Peterson | | 48 | MC | 8 | MC | | | | | |
| Spencer Levin | 15 | 28 | MC | | MC | MC | 28 | MC | | |
| Rocco Mediate | | | | | 57 | | MC | | 50 | 74 |
| Kelly Kraft | MC | | | | | | | | | |
| Kevin Tway | | | 48 | | | | | | | |
| Whee Kim | MC | 8 | | | | | | | | |
| Greg Owen | MC | 43 | MC | MC | 30 | | 16 | 19 | | |
| Freddie Jacobson | 36 | 28 | 29 | | | | | | MC | 56 |
| Willy Wilcox | 15 | MC | 34 | | | | | | | |
| Mackenzie Hughes | | | | | | | | | | |
| Nick Taylor | 36 | 48 | | | | | | | | |
| JJ Henry | 64 | MC | 70 | 62 | 52 | MC | MC | MC | 57 | |
| Tom Hoge | MC | MC | | | | | | | | |
| Angel Cabrera | 64 | | | | Wd | | | | | |
| Julian Etulain | | | | | | | | | | |
| Ryan Brehm | | | | | | | | | | |
| JJ Spaun | | | | | | | | | | |
| Dominic Bozzelli | | | | | | | | | | |
| JT Poston | | | | | | | | | | |
| Steven Alker | | MC | | | | | | | | |
| Seamus Power | | | | | | | | | | |
| Kyle Ramey | | | | | | | | | | |
| Phil Schmitt | | | | | | MC | 72 | MC | MC | |
| Will MacKenzie | | MC | MC | | | MC | MC | MC | MC | 28 |
| Steve Marino | Wd | | MC | Wd | | | MC | 5 | MC | MC |
| Gonzalo Fdez-Castano | | MC | | | | | | | | |
| Martin Flores | | MC | 52 | MC | MC | | MC | | | |
| Grayson Murray | | | | | | | | | | |
| Cameron Percy | 48 | MC | | MC | | MC | 43 | | | |
Discover the latest articles