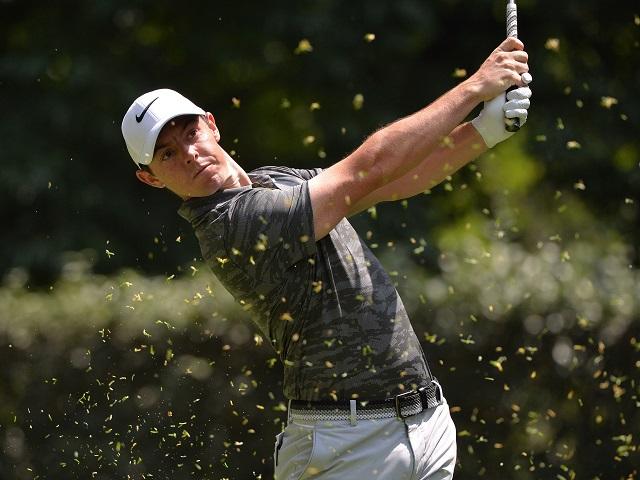 Rory McIlroy: Tied-fourth at Bay Hill on Sunday and was a semi-finalist in Texas 12 months ago
The golfing elite is in Texas for the WGC - Dell Match Play Championship. Andy Swales supplies the stats for this week's prestigious event...

"Rory McIlroy is slowly coming to the boil following a six-week injury lay-off during January and February"
The cream of world golf has arrived in Texas for the 19th staging of the WGC-Dell Match Play Championship.

For the second year in a row, the tournament is being held at Austin Country Club which is one of the oldest in the Lone Star state, and dates back to the turn of the 20th century.

However, the Pete Dye-design, which is being used for this week's World Golf Championship event, is a more recent creation built close to Colorado River.

Possibly with the Masters in mind, a number of the game's leading golfers have decided to give this tournament a miss.

Henrik Stenson, Adam Scott, Justin Rose and Rickie Fowler are all staying away, along with Adam Hadwin who recently enjoyed his maiden PGA Tour victory.

Yet the field remains exceptionally strong and, as with any match play competition, is treacherously difficult to predict.

Reigning champion Jason Day seeks a third title in four years, while Rory McIlroy - winner in 2015 - is slowly coming to the boil following a six-week injury lay-off during January and February.

The Northern Irishman, who tied-fourth at Bay Hill on Sunday, was also a semi-finalist at Austin 12 months ago and will tee-off in confident mood.

Dustin Johnson, the current world No 1, does not possess the best of match play records but did reach the quarter-finals in Texas last year and is brimming with confidence following an excellent start to the season which has yielded a brace of victories plus two other podium finishes.

Trying to locate a winner is always difficult in match play. As everyone teeing-up this week is an accomplished player, and capable of shooting in the low 60s on any given day, the difference between the best and worst over 18 holes can be small indeed.

Perhaps the quiet efficiency of a Ryan Moore or Brandt Snedeker could prove effective during the group stages. Both survived to the knockout rounds at Austin last year, with Moore reaching the quarter-finals.

But, in all probability, you might as well throw a dart at the page and hope it lands on someone who will still be around on Sunday.

Key for stats pages:
RU - runner-up; SF - semi-finalist; QF - quarter-finalist; L16 (beaten in last 16). Same applies for L32 and L64.
Gp-2 (finished second in group). Same applies for Gp-3 & Gp-4.

Courses:
2016 - Austin; 2015 - Harding Park; 2011/14 - The Golf Club at Dove Mountain; 2007/10 - The Gallery at Dove Mountain
| Player | W11 | W10 | W9 | W8 | W7 | W6 | W5 | W4 | W3 | W2 | W1 |
| --- | --- | --- | --- | --- | --- | --- | --- | --- | --- | --- | --- |
| Dustin Johnson | | | 1 | | 1 | 3 | | MC | 2 | | 6 |
| Jason Day | 23 | | | | 64 | 5 | | MC | | | 12 |
| Rory McIlroy | 4 | | 7 | | | | | | | 2 | |
| Hideki Matsuyama | 45 | | 25 | | MC | | 1 | 33 | | 27 | 2 |
| Jordan Spieth | | | 12 | | 22 | 1 | 9 | | | 3 | 3 |
| Justin Thomas | | MC | 5 | MC | 39 | | MC | | | 1 | 1 |
| Sergio Garcia | | | 12 | 14 | 49 | | 1 | | 11 | | |
| Alexander Noren | 49 | | 55 | | MC | | | 21 | 13 | | |
| Patrick Reed | | 38 | 61 | | 59 | 23 | 68 | | 12 | | 6 |
| Danny Willett | | | 69 | MC | | 5 | 54 | | MC | | |
| Paul Casey | 41 | | 16 | 11 | 39 | | | 28 | 58 | MC | |
| Tyrrell Hatton | 4 | | 10 | 4 | | | 3 | | 13 | | |
| Bubba Watson | 34 | MC | 38 | | Wd | | MC | | | | 25 |
| Phil Mickelson | | | 7 | | 34 | 65 | 16 | 14 | 21 | | |
| Branden Grace | MC | | 32 | Wd | 22 | | | | 13 | 13 | 32 |
| Matt Kuchar | | 22 | 20 | | 22 | MC | 9 | | | | |
| Russell Knox | | MC | 70 | MC | | | MC | | | 11 | 17 |
| Jimmy Walker | | | 25 | 21 | 11 | 55 | | MC | | MC | 9 |
| Brooks Koepka | MC | | 48 | MC | MC | | 42 | MC | | | |
| Brandt Snedeker | 28 | | 7 | | MC | 4 | | 9 | | MC | 14 |
| Rafa Cabrera-Bello | | 5 | 38 | 37 | | 34 | 11 | 6 | 19 | | |
| Jon Rahm | | | 3 | | | 5 | 16 | 1 | 34 | | |
| Charl Schwartzel | 45 | 6 | 38 | | MC | MC | | | | | |
| Louis Oosthuizen | 28 | | 48 | 21 | 5 | | 3 | 41 | | | |
| Thomas Pieters | MC | | 5 | MC | 2 | | 23 | | MC | | |
| Matthew Fitzpatrick | 13 | | 16 | 68 | | | 5 | | MC | | |
| JB Holmes | | | 12 | | 34 | 23 | 24 | 33 | | | |
| Emiliano Grillo | 7 | | 52 | 43 | | | 63 | 33 | MC | | |
| Francesco Molinari | 7 | | 20 | 14 | MC | | | 14 | 12 | | |
| Gary Woodland | | 58 | 38 | 2 | | 5 | MC | 20 | | 6 | |
| Tommy Fleetwood | 10 | | 2 | | | 12 | MC | MC | 1 | | |
| Ryan Moore | 34 | 18 | 28 | | MC | | 61 | | | | 3 |
| Daniel Berger | | MC | 16 | MC | | | 7 | MC | | 45 | 14 |
| Bernd Wiesberger | | | 45 | | | 3 | 32 | 37 | 4 | | |
| Yuta Ikeda | | | 61 | | | | | MC | MC | | |
| Kevin Chappell | 49 | | 55 | | MC | 48 | 75 | MC | | | |
| Scott Piercy | | MC | 32 | | MC | 55 | 73 | | 41 | 57 | |
| Zach Johnson | 66 | | 58 | 27 | | | 12 | | MC | 6 | |
| Bill Haas | | 41 | 32 | | 11 | | | | 17 | 13 | |
| Martin Kaymer | 23 | | 23 | 4 | | | 23 | 48 | 4 | | |
| Jeunghun Wang | 23 | | 71 | | | MC | MC | 1 | 11 | | |
| Kevin Kisner | 2 | | 11 | 48 | | 10 | | | 25 | 4 | |
| Kevin Na | MC | MC | 52 | | 4 | | 16 | | 70 | 36 | |
| Byeong Hun An | 49 | 49 | 48 | | 55 | | 6 | 49 | 13 | | |
| Lee Westwood | | | 28 | | 17 | 26 | 23 | | 8 | | |
| Jim Furyk | | 41 | 58 | | 39 | 66 | | | | | |
| William McGirt | MC | | 28 | MC | | 66 | 24 | | MC | 49 | 9 |
| Brendan Steele | | | 48 | 14 | 39 | | 16 | 20 | 6 | | 6 |
| Ross Fisher | | | 3 | | | MC | MC | | 19 | | |
| Chris Wood | | | 28 | | | | 19 | 11 | MC | | |
| Andy Sullivan | | | 20 | | | | MC | 28 | 73 | MC | |
| Shane Lowry | | | | | Wd | 14 | 16 | 33 | | | |
| Hideto Tanihara | | | 32 | | 15 | | | 22 | 9 | 27 | |
| Jhonattan Vegas | | | 38 | 4 | 15 | | | 28 | 34 | | 30 |
| Webb Simpson | MC | 41 | | | 39 | MC | 2 | | 66 | 13 | |
| Thongchai Jaidee | | | | | | 12 | 15 | MC | MC | | |
| Marc Leishman | 1 | | | 27 | MC | | 24 | 20 | | 20 | |
| Charles Howell | 56 | 49 | | 52 | 15 | | | 2 | 12 | 8 | |
| Soren Kjeldsen | | 27 | 32 | 37 | MC | | | MC | MC | MC | |
| Jason Dufner | | 11 | 23 | 14 | | | | | 25 | MC | 21 |
| Kyung-Tae Kim | | | 76 | | | 34 | | 3 | 39 | | |
| Joost Luiten | | | 25 | | | | 23 | 21 | 29 | | |
| Pat Perez | 17 | | 38 | | 28 | 14 | Wd | 4 | | 69 | 3 |
| Si Woo Kim | 49 | Wd | 72 | MC | MC | MC | MC | Wd | | | 30 |
| Tony Finau | 28 | 5 | | | MC | 23 | MC | 4 | | 20 | 9 |
| Player | 2016 | 2015 | 2014 | 2013 | 2012 | 2011 | 2010 | 2009 | 2008 | 2007 |
| --- | --- | --- | --- | --- | --- | --- | --- | --- | --- | --- |
| Dustin Johnson | QF | Gp-2 | L64 | L64 | L16 | L64 | L64 | L64 | | |
| Jason Day | Won | Gp-4 | Won | SF | L32 | L16 | | | | |
| Rory McIlroy | SF | Won | L32 | L64 | RU | L32 | L32 | QF | | |
| Hideki Matsuyama | Gp-2 | L16 | L32 | | | | | | | |
| Jordan Spieth | L16 | Gp-2 | QF | | | | | | | |
| Justin Thomas | Gp-4 | | | | | | | | | |
| Sergio Garcia | Gp-2 | Gp-3 | L16 | L32 | L64 | | SF | L64 | L32 | L32 |
| Alexander Noren | | | | L32 | | | L64 | | | |
| Patrick Reed | L16 | Gp-2 | L32 | | | | | | | |
| Danny Willett | Gp-2 | SF | | | | | | | | |
| Paul Casey | Gp-4 | QF | | | | L32 | RU | RU | L16 | QF |
| Tyrrell Hatton | | | | | | | | | | |
| Bubba Watson | Gp-2 | Gp-2 | L16 | L16 | L32 | SF | | | | |
| Phil Mickelson | Gp-2 | | | | | L32 | | L16 | L32 | L32 |
| Branden Grace | Gp-2 | L16 | L64 | L64 | | | | | | |
| Matt Kuchar | L16 | Gp-3 | L16 | Won | QF | SF | L32 | | | |
| Russell Knox | Gp-3 | | | | | | | | | |
| Jimmy Walker | Gp-3 | Gp-4 | L32 | | | | | | | |
| Brooks Koepka | QF | Gp-2 | | | | | | | | |
| Brandt Snedeker | L16 | Gp-4 | L32 | | L16 | | | | L64 | |
| Rafa Cabrera-Bello | SF | | | L32 | L64 | | | | | |
| Jon Rahm | | | | | | | | | | |
| Charl Schwartzel | Gp-2 | L16 | L32 | L64 | L32 | L32 | L16 | L32 | | |
| Louis Oosthuizen | RU | QF | QF | L32 | L32 | L64 | | L64 | | |
| Thomas Pieters | Gp-2 | | | | | | | | | |
| Matthew Fitzpatrick | Gp-3 | | | | | | | | | |
| JB Holmes | Gp-2 | L16 | | | | QF | | | L64 | |
| Emiliano Grillo | Gp-4 | | | | | | | | | |
| Francesco Molinari | | Gp-3 | L64 | L64 | L32 | L64 | L64 | | | |
| Gary Woodland | | RU | L64 | | L64 | | | | | |
| Tommy Fleetwood | | QF | | | | | | | | |
| Ryan Moore | QF | Gp-4 | L32 | L64 | | QF | L64 | | | |
| Daniel Berger | Gp-4 | | | | | | | | | |
| Bernd Wiesberger | Gp-3 | Gp-3 | L64 | | | | | | | |
| Yuta Ikeda | | | | | | L64 | L64 | | | |
| Kevin Chappell | | | | | | | | | | |
| Scott Piercy | Gp-2 | | L64 | L16 | | | | | | |
| Zach Johnson | L16 | Gp-2 | L64 | L64 | L64 | L64 | L32 | L32 | L64 | L64 |
| Bill Haas | L16 | Gp-2 | L32 | L64 | L64 | L64 | | | | |
| Martin Kaymer | Gp-2 | Gp-3 | L64 | L16 | L16 | RU | L32 | L32 | L64 | |
| Jeunghun Wang | | | | | | | | | | |
| Kevin Kisner | Gp-3 | | | | | | | | | |
| Kevin Na | Gp-2 | Gp-3 | | | L64 | | L64 | | | |
| Byeong Hun An | L16 | | | | | | | | | |
| Lee Westwood | Gp-3 | L16 | L64 | L64 | SF | L32 | L32 | L32 | L32 | L64 |
| Jim Furyk | | SF | QF | L32 | L64 | L64 | L32 | L16 | L64 | L32 |
| William McGirt | | | | | | | | | | |
| Brendan Steele | | | | | | | | | | |
| Ross Fisher | | | | | | L32 | L64 | SF | | |
| Chris Wood | Gp-4 | | | L64 | | | L64 | | | |
| Andy Sullivan | Gp-2 | Gp-3 | | | | | | | | |
| Shane Lowry | Gp-3 | Gp-3 | | L16 | | | | | | |
| Hideto Tanihara | | | | | | | | | | |
| Jhonattan Vegas | | | | | | | | | | |
| Webb Simpson | | Gp-2 | L16 | QF | L64 | | | | | |
| Thongchai Jaidee | Gp-2 | Gp-3 | L64 | L64 | | | QF | | | |
| Marc Leishman | Gp-4 | L16 | L64 | | | | | | | |
| Charles Howell | | | | L32 | | | | | L32 | L16 |
| Soren Kjeldsen | Gp-4 | | | | | | L64 | L64 | | |
| Jason Dufner | Gp-3 | Gp-3 | L16 | L64 | L64 | | | | | |
| Kyung-Tae Kim | | | | | L64 | L64 | | | | |
| Joost Luiten | | Gp-2 | L64 | | | | | | | |
| Pat Perez | | | | | | | | L32 | L64 | |
| Si Woo Kim | | | | | | | | | | |
| Tony Finau | | | | | | | | | | |