The Greenbrier Classic 2017: Stats for this week's PGA Tour event in West Virginia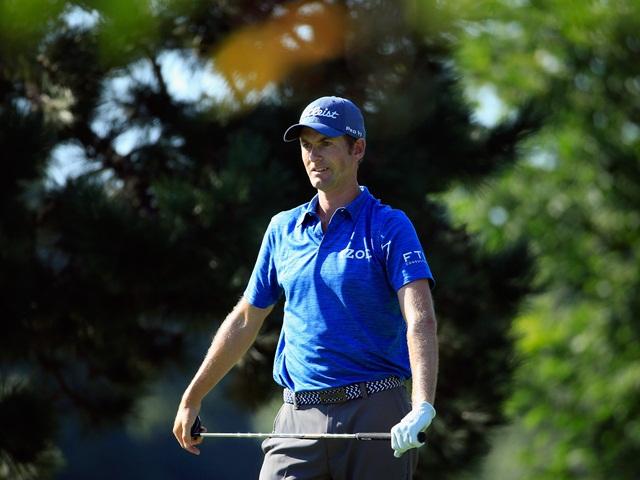 Former US Open champ Webb Simpson has posted three top-10s over The Old White.
Andy Swales supplies both course and current form stats for this week's PGA event, the Greenbrier Classic at White Sulphur Springs, West Virginia ...
"World No 21 Patrick Reed has registered seven top-25 finishes from his last eight starts. Surely his next win is just around the corner!"
The PGA Tour heads to West Virginia for the seventh staging of The Greenbrier Classic.
The Old White - one of four courses at The Greenbrier's Sporting Club complex - plays host to one of the newer tournaments on the American schedule.
Opened 103 years ago, The Old White combines generously wide fairways with undulating large greens.
Laid out in lush countryside, The Old White is also well-known as being the stomping ground for one of the game's all-time greats - Sam Snead.
Snead, who died 15 years ago and was the winner of seven Major championships between 1942 and 1954, was the former head pro at The Greenbrier Resort in White Sulphur Springs.
The Old White was substantially renovated six years ago and will be hoping it does not suffer the same fate as it experienced last year when severe flooding led to the tournament's cancellation.
Since then all of the fairways and putting surfaces have had to be re-seeded and re-grown from scratch, after suffering terrible damage in the floods.
With many of golf's leading lights preparing for this month's Open Championship, the field is a little more diluted than normal. However, there is still plenty of talent on show.
Horses for Courses

Among those who have enjoyed strong performances at The Greenbrier in the past are reigning PGA champion Jimmy Walker and former US Open winner Webb Simpson.
Both Americans have posted a trio of top-10 finishes over The Old White, with Simpson in better current shape than his compatriot.
Simpson tied-eighth last time out and will be chasing a first Tour win since The Fall of 2013.
David Lingmerth can also offer decent course and current form. The Swede, who started strongly last week in Maryland before finishing in a tie-for-fifth, has enjoyed a brace of T-10s from his last three trip to West Virginia.
One other possible contender this week is Bill Haas, a former runner-up at The Greenbrier who is currently enjoying a consistent run of top-25 finishes.
On the Rise

Patrick Reed continues to show promise, despite struggling to force his way into contention on Sunday afternoon.
Without a victory for 10 months, the world No 21 has registered seven T-25s from his last eight starts. Surely his next win is just around the corner!
Yet to Shine

Five-time major winner Phil Mickelson is also in the field, for what is probably his final Stateside event before heading across the Atlantic to prepare for The Open.
In three previous starts on The Old White, the 47-year-old has failed to make the cut, with Leftie teeing-up for the first time since early June.
Check out Andy's course and form guide to this week's European Tour event, the Dubai Duty Free Irish Open
| Player | W26 | W25 | W24 | W23 | W22 | W21 | W20 | W19 | W18 | W17 |
| --- | --- | --- | --- | --- | --- | --- | --- | --- | --- | --- |
| Patrick Reed | 17 | 5 | 13 | | 57 | | 20 | 22 | 12 | 14 |
| Kevin Kisner | | | 58 | | 6 | 1 | | 56 | MC | 2 |
| Phil Mickelson | | | | 9 | 22 | 29 | | 41 | 18 | |
| Si Woo Kim | MC | | 13 | | Wd | MC | | 1 | | MC |
| Jimmy Walker | MC | | MC | | | | | 56 | | |
| Bill Haas | 13 | | 5 | | 25 | 12 | | MC | MC | |
| Bubba Watson | | MC | MC | | 6 | | | MC | | 5 |
| Gary Woodland | | | 50 | | 49 | | 40 | 75 | | MC |
| JB Holmes | 68 | | 12 | 52 | MC | | MC | 41 | 36 | 5 |
| Russell Henley | 46 | | 27 | MC | | | MC | 35 | | MC |
| Webb Simpson | | 8 | 35 | | 67 | 5 | | 16 | MC | |
| James Hahn | 46 | | | | 6 | MC | 3 | MC | 59 | |
| Tony Finau | 29 | 17 | | | 40 | 29 | 13 | MC | | MC |
| Charles Howell | 2 | | | | | | | | | |
| Sean O`Hair | | | MC | | 52 | 2 | 5 | MC | | |
| Jim Herman | MC | MC | | | 19 | | | 35 | | MC |
| Luke Donald | | MC | | | MC | 65 | | MC | | MC |
| Hudson Swafford | 51 | 66 | | MC | MC | | MC | MC | 49 | 32 |
| Sung Kang | 5 | 75 | | 80 | 75 | 57 | 20 | 30 | | MC |
| Jamie Lovemark | | 75 | 27 | | 10 | | 18 | 75 | | MC |
| Jason Kokrak | 26 | 26 | 53 | | 35 | MC | 4 | MC | 66 | |
| Danny Lee | 22 | 3 | | 47 | 49 | 6 | 5 | MC | | 14 |
| David Lingmerth | 5 | 26 | 21 | | 15 | 12 | | 72 | 18 | 14 |
| Harris English | 22 | MC | 46 | 10 | | 29 | MC | MC | MC | 32 |
| Graham DeLaet | MC | 26 | | | 10 | 57 | MC | MC | | 22 |
| Chris Kirk | MC | | | 72 | MC | 67 | | 12 | 71 | MC |
| Mackenzie Hughes | 51 | 17 | | | 45 | MC | | 16 | 31 | MC |
| Roberto Castro | MC | | MC | 65 | MC | | | 56 | MC | MC |
| Keegan Bradley | 5 | 8 | 60 | | MC | | 27 | 60 | | MC |
| Billy Hurley | 63 | MC | | | MC | 41 | 50 | 41 | 8 | |
| Ollie Schniederjans | 63 | | | | 71 | 29 | 55 | | | MC |
| Luke List | MC | | | 18 | MC | MC | | MC | 52 | |
| JJ Spaun | MC | | | | Wd | Wd | 74 | | | MC |
| Scott Brown | | | | 52 | MC | 12 | 35 | MC | MC | 2 |
| Harold Varner | 65 | MC | | MC | 19 | MC | | 35 | MC | MC |
| Smylie Kaufman | MC | 35 | | MC | MC | | 35 | 12 | 5 | MC |
| Kevin Streelman | 17 | 8 | | | 13 | 18 | | 72 | MC | MC |
| Dominic Bozzelli | MC | MC | | 10 | | 69 | 50 | | MC | 32 |
| Grayson Murray | 74 | 26 | | 18 | 35 | | 27 | 79 | 63 | 11 |
| Stewart Cink | | | 46 | 10 | 25 | 10 | | | MC | |
| Bryson DeChambeau | 17 | 26 | MC | MC | | MC | MC | | MC | MC |
| Morgan Hoffmann | MC | 26 | | | MC | 12 | 27 | | 12 | 14 |
| Vaughn Taylor | 61 | 57 | | | 73 | 18 | | MC | 12 | MC |
| CT Pan | MC | 8 | MC | | 40 | MC | MC | | MC | MC |
| Chad Campbell | | MC | | 10 | | 34 | 13 | MC | MC | |
| Whee Kim | Wd | MC | 50 | 2 | | 34 | MC | | MC | MC |
| Xander Schauffele | 35 | 14 | 5 | 52 | | 48 | MC | | 24 | 11 |
| Patrick Rodgers | 22 | 35 | | MC | 67 | MC | 27 | MC | MC | MC |
| Kelly Kraft | 43 | MC | | | MC | 18 | MC | | | 3 |
| JT Poston | | MC | MC | MC | | 41 | MC | | 24 | 32 |
| Robert Streb | 55 | 57 | | 31 | | 34 | MC | MC | 24 | 24 |
| Seung-Yul Noh | MC | MC | | 37 | | Wd | MC | 22 | 5 | MC |
| Patton Kizzire | MC | 53 | | MC | MC | 63 | | MC | 66 | 5 |
| Nick Taylor | 29 | MC | | | 49 | 61 | 9 | | 8 | MC |
| Kyle Reifers | 51 | MC | | 31 | MC | MC | 20 | MC | 42 | 29 |
| Matt Jones | 38 | | | 18 | | 63 | MC | | 66 | 22 |
| John Huh | MC | MC | | 67 | | MC | 40 | MC | | |
| DA Points | 65 | | | MC | 57 | | 73 | MC | 12 | |
| Michael Kim | 35 | 69 | | | MC | 41 | 40 | 60 | | 36 |
| David Hearn | 73 | 8 | | 10 | MC | 70 | | 69 | MC | 22 |
| Derek Fathauer | 68 | MC | | 24 | | 48 | | MC | MC | MC |
| Geoff Ogilvy | 13 | 69 | | | | 53 | 61 | | MC | 32 |
| Ben Martin | 5 | | | 60 | 35 | 57 | | 30 | 18 | MC |
| Cameron Tringale | MC | | | 37 | | 72 | 9 | 35 | MC | MC |
| Blayne Barber | MC | | | MC | | MC | | 16 | | MC |
| Alex Cejka | MC | 84 | | 52 | 57 | | MC | 79 | Wd | 24 |
| Trey Mullinax | 46 | MC | 9 | 18 | | | MC | | MC | MC |
| Robert Garrigus | 29 | MC | | MC | | | MC | MC | | MC |
| KJ Choi | MC | 81 | | 47 | 67 | | 18 | MC | | 24 |
| Brian Gay | 43 | MC | | MC | | 34 | 50 | MC | 52 | |
| Zac Blair | 29 | MC | | 52 | 63 | MC | 40 | MC | 12 | MC |
| Vijay Singh | | MC | | 72 | MC | | | 16 | MC | |
| Jonas Blixt | MC | 62 | | | 31 | 18 | | MC | | 1 |
| Ted Potter | MC | 5 | MC | 2 | 17 | | 44 | | MC | 3 |
| Scott Stallings | 38 | MC | | 37 | | 63 | 20 | | MC | MC |
| Martin Flores | 55 | MC | | 72 | | MC | MC | | 76 | MC |
| Brandon Hagy | 68 | MC | | 31 | | MC | MC | | 18 | 36 |
| Johnson Wagner | 5 | 43 | | MC | MC | MC | | MC | MC | 14 |
| Bryce Molder | MC | 26 | | MC | | MC | MC | MC | 36 | |
| Richy Werenski | | MC | | MC | | | MC | | MC | MC |
| Ricky Barnes | 17 | 35 | | MC | 22 | 18 | 59 | 65 | 63 | 22 |
| Ryan Brehm | MC | 35 | 53 | 37 | | | 61 | | MC | MC |
| Andres Gonzales | | MC | 48 | 37 | 13 | | MC | | MC | MC |
| Tyrone Van Aswegen | 26 | MC | | 31 | | MC | MC | MC | 42 | 14 |
| Sam Saunders | 61 | | | MC | 57 | 24 | MC | | MC | MC |
| Greg Chalmers | MC | 66 | | | 52 | MC | 72 | MC | MC | |
| Jonathan Randolph | 29 | MC | 42 | 86 | | | MC | | 8 | MC |
| Seamus Power | 38 | MC | | 27 | | | 57 | | 49 | MC |
| Andrew Loupe | 35 | MC | | MC | | | MC | MC | | MC |
| Nick Watney | 13 | 73 | | 68 | | 53 | 40 | | 59 | 5 |
| Camilo Villegas | MC | | | MC | 63 | Wd | | | MC | 14 |
| Troy Merritt | MC | 8 | MC | MC | | | | MC | MC | 24 |
| Ryan Blaum | 55 | MC | | MC | | 24 | MC | | 66 | 29 |
| Chad Collins | | MC | | MC | | | MC | | 31 | MC |
| Spencer Levin | 5 | 81 | 60 | 37 | | | 66 | MC | 31 | MC |
| Cameron Percy | 46 | 75 | | MC | 7 | MC | MC | | MC | 11 |
| Tim Wilkinson | 72 | 43 | | MC | | | MC | | MC | 14 |
| Joel Dahmen | Wd | 62 | | 18 | | | 9 | | MC | |
| Sebastian Munoz | MC | 75 | | 60 | MC | | 50 | | MC | 2 |
| Boo Weekley | Wd | 5 | | MC | | MC | 40 | 48 | MC | MC |
| Mark Anderson | | MC | | MC | MC | | MC | | 24 | |
| Chris Stroud | MC | | | 65 | | 41 | MC | | MC | 11 |
| Willy Wilcox | | | Dq | 52 | | | 27 | | Wd | 14 |
| Greg Owen | MC | | | 52 | | | 61 | | 76 | MC |
| Ben Crane | 38 | MC | | 10 | | | MC | 79 | | MC |
| Ken Duke | | MC | | MC | | | 66 | | 74 | MC |
| Julian Etulain | MC | 75 | | 24 | | | MC | | 36 | 5 |
| Brett Stegmaier | 65 | 26 | | MC | | | 57 | MC | MC | |
| JJ Henry | 68 | 69 | | MC | | MC | 27 | | 66 | 24 |
| Brian Campbell | | MC | | 37 | | | MC | | MC | MC |
| Nicholas Lindheim | | MC | | Wd | MC | | 66 | | MC | |
| Steve Wheatcroft | | 83 | | 10 | 24 | | MC | | MC | |
| Jason Bohn | MC | MC | | MC | | MC | 40 | MC | 76 | MC |
| Shawn Stefani | 55 | MC | | MC | | | Dq | MC | 63 | MC |
| Yong-Eun Yang | | 20 | | 57 | | | MC | | MC | 6 |
| Peter Malnati | 38 | 75 | | 72 | | | 61 | MC | MC | MC |
| Rick Lamb | | 17 | MC | 71 | 24 | | MC | | MC | 19 |
| Ryan Armour | | MC | | 47 | MC | | 27 | | 59 | |
| Bill Lunde | | | | MC | | | | | | |
| Will MacKenzie | | 17 | | 52 | | | MC | | MC | MC |
| Stuart Appleby | MC | Wd | | MC | 39 | | MC | | MC | 6 |
| Brad Fritsch | | 43 | | MC | MC | | MC | | 71 | |
| Tom Hoge | | 35 | MC | MC | | | 55 | | MC | 24 |
| Jonathan Byrd | 59 | 38 | | MC | 13 | | MC | | 30 | 19 |
| Rory Sabbatini | | MC | | MC | | MC | MC | | Wd | MC |
| Miguel Angel Carballo | | MC | 79 | MC | 48 | | MC | | 73 | MC |
| Zack Sucher | | MC | | MC | MC | | MC | | MC | |
| Mark Hubbard | | 43 | | 47 | 60 | | MC | MC | MC | MC |
| Tag Ridings | | MC | | 68 | | | MC | | 42 | 11 |
| Gonzalo F`dez-Castano | | MC | | 78 | | | MC | | 42 | MC |
| Nicholas Thompson | 32 | | MC | Wd | MC | | 57 | | Wd | 16 |
| Max Homa | MC | | 82 | 85 | | | MC | | MC | MC |
| Brett Drewitt | | MC | 27 | 60 | 52 | | MC | | 31 | |
| Angel Cabrera | | | MC | | | 41 | MC | | MC | 5 |
| Davis Love | | | | MC | | MC | | | MC | |
| Bobby Wyatt | | MC | 32 | MC | 81 | | MC | | MC | MC |
| Steven Alker | | MC | | 68 | | | MC | | 76 | MC |
| Mark Wilson | | MC | | MC | | | | | MC | MC |
| Michael Putnam | | 23 | 35 | 37 | MC | | 40 | | MC | 32 |
| Tyler Aldridge | | | Wd | MC | MC | | MC | | 52 | |
| Brendon de Jonge | MC | | | MC | MC | | MC | | MC | |
| Andres Romero | MC | 1 | MC | MC | | | | | | |
| Matt Every | MC | 35 | | 27 | MC | MC | MC | MC | | MC |
| Steven Bowditch | | | | MC | MC | MC | MC | | MC | MC |
| Hunter Mahan | | 17 | | 82 | MC | MC | MC | | 52 | |
| Tommy Gainey | 18 | MC | MC | MC | MC | | MC | | MC | |
| Carl Pettersson | | MC | | MC | MC | | MC | | MC | MC |
| Braden Thornberry | | | | 4 | | | | | | |
| S J Park | | | | Wd | | | Wd | | | MC |
| Charlie Beljan | | Wd | MC | | | | MC | | MC | |
| Shane Bertsch | | 84 | 32 | MC | MC | | MC | | MC | MC |
| John Daly | | | | | | | | | | |
| Bob Estes | | Wd | | MC | | | 70 | | MC | |
| Dicky Pride | 56 | | | MC | | | MC | | MC | |
| John Merrick | | 70 | 40 | MC | | | MC | | 41 | Wd |
| Kevin Shields | | | | | | | | | | |
| Joaquin Niemann | | | MC | | | | | | | |
| Dru Love | MC | | MC | | | | | | | |
| Bobby Gates | MC | MC | 60 | 72 | 52 | | MC | | MC | |
| Christian Brand | MC | MC | | MC | 17 | | 17 | | | |
| Alan Cooke | | | | | | | | | | |
| Player | 2015 | 2014 | 2013 | 2012 | 2011 | 2010 |
| --- | --- | --- | --- | --- | --- | --- |
| Patrick Reed | 29 | 26 | MC | | | |
| Kevin Kisner | 2 | MC | | MC | MC | |
| Phil Mickelson | | | MC | MC | MC | |
| Si Woo Kim | | | MC | | | |
| Jimmy Walker | | MC | 2 | MC | 4 | 4 |
| Bill Haas | MC | 23 | 9 | 33 | 2 | |
| Bubba Watson | 13 | 16 | 30 | | | |
| Gary Woodland | | 72 | 62 | MC | 4 | MC |
| JB Holmes | 22 | 23 | | 27 | MC | 16 |
| Russell Henley | 5 | | 30 | | | |
| Webb Simpson | MC | 3 | 41 | 7 | 9 | MC |
| James Hahn | 6 | MC* | 41 | | | |
| Tony Finau | 13 | | | | | |
| Charles Howell | MC | 52 | MC | MC | 32 | 9 |
| Sean O`Hair | 13 | MC | MC | 7 | | |
| Jim Herman | MC | MC | 30 | | 61 | |
| Luke Donald | | | | | | |
| Hudson Swafford | 67 | 52 | | | | |
| Sung Kang | | | | MC | MC | |
| Jamie Lovemark | | MC* | | MC | | |
| Jason Kokrak | 54 | | 41 | MC | | |
| Danny Lee | 1 | 16 | | MC | | |
| David Lingmerth | 6 | 16 | 9 | | | |
| Harris English | | | | MC | | |
| Graham DeLaet | 37 | | 30 | 12 | | 45 |
| Chris Kirk | | 45 | | MC | 49 | |
| Mackenzie Hughes | | | | | | |
| Roberto Castro | | 73 | MC | 7 | | |
| Keegan Bradley | 29 | 4 | | 46 | 43 | |
| Billy Hurley | 37 | 4 | | MC | | |
| Ollie Schniederjans | | | | | | |
| Luke List | | | 59 | | | |
| JJ Spaun | | | | | | |
| Scott Brown | 37 | MC* | MC* | Wd | | |
| Harold Varner | | | | | | |
| Smylie Kaufman | | | | | | |
| Kevin Streelman | 77 | | | 56 | | MC |
| Dominic Bozzelli | | | | | | |
| Grayson Murray | | | | | | |
| Stewart Cink | | | | | | |
| Bryson DeChambeau | | | | | | |
| Morgan Hoffmann | 13 | MC | 23 | | | |
| Vaughn Taylor | | | MC | MC | MC | |
| CT Pan | | | | | | |
| Chad Campbell | 37 | MC | 41 | | | |
| Whee Kim | 67 | | | | | |
| Xander Schauffele | | | | | | |
| Patrick Rodgers | 60 | 45 | | | | |
| Kelly Kraft | | | | | | |
| JT Poston | | | | | | |
| Robert Streb | 2 | 71 | 41 | | | |
| Seung-Yul Noh | 37 | | MC | 27 | | |
| Patton Kizzire | | | | | | |
| Nick Taylor | MC | | | | | |
| Kyle Reifers | 67 | | | 56 | | |
| Matt Jones | | | 2 | MC | MC | MC |
| John Huh | 54 | MC | | 46 | | |
| DA Points | MC | MC* | 54 | 46 | 49 | 4 |
| Michael Kim | | | 38 | | | |
| David Hearn | 2 | 64 | MC | 12 | 18 | |
| Derek Fathauer | 75 | | | | | |
| Geoff Ogilvy | | | | | | |
| Ben Martin | | MC | | | MC | |
| Cameron Tringale | MC | 4 | 23 | 56 | 4 | MC |
| Blayne Barber | MC | | | | | |
| Alex Cejka | 60 | | | | | MC |
| Trey Mullinax | | | | | | |
| Robert Garrigus | 37 | | | | | MC |
| KJ Choi | | MC | 23 | 69 | | |
| Brian Gay | | Wd | MC | MC | MC | MC |
| Zac Blair | MC | | | | | |
| Vijay Singh | MC | MC | MC | 33 | | |
| Jonas Blixt | MC | 35 | 1 | | | |
| Ted Potter | | 26 | 6 | 1 | | |
| Scott Stallings | 67 | 35 | 23 | 56 | 1 | |
| Martin Flores | 67 | MC* | 54 | 6 | | MC |
| Brandon Hagy | | | | | | |
| Johnson Wagner | 32 | 26 | 2 | 64 | 11 | MC |
| Bryce Molder | 6 | MC | 17 | | | |
| Richy Werenski | | | | | | |
| Ricky Barnes | 67 | MC | MC | 38 | 39 | MC* |
| Ryan Brehm | | | | | | |
| Andres Gonzales | 37 | | 54 | | MC | |
| Tyrone Van Aswegen | MC | 57 | | | | |
| Sam Saunders | MC | | | Wd | | MC |
| Greg Chalmers | MC | MC* | MC | MC | MC | 51 |
| Jonathan Randolph | MC | | | | | |
| Seamus Power | | | | | | |
| Andrew Loupe | | 26 | | | | |
| Nick Watney | MC | MC | 23 | | | |
| Camilo Villegas | | 26 | | MC | 71 | |
| Troy Merritt | MC | 16 | | | MC | MC* |
| Ryan Blaum | | | MC | | | |
| Chad Collins | 6 | 68 | | | | 51 |
| Spencer Levin | MC | MC | | 63 | 64 | 21 |
| Cameron Percy | 60 | | 30 | | MC | 45 |
| Tim Wilkinson | MC | 57 | | | | |
| Joel Dahmen | | | | | | |
| Sebastian Munoz | | | | | | |
| Boo Weekley | | | MC | MC | | 9 |
| Mark Anderson | MC | | | MC | | |
| Chris Stroud | 37 | 4 | | MC | 18 | 9 |
| Willy Wilcox | MC | 4 | | | | |
| Greg Owen | 6 | | 23 | MC | | MC |
| Ben Crane | MC | | MC* | | | 21 |
| Ken Duke | MC | 73 | MC | 7 | | |
| Julian Etulain | | | | | | |
| Brett Stegmaier | | | | | | |
| JJ Henry | 13 | 57 | MC | MC | MC | 36 |
| Brian Campbell | | | | | | |
| Nicholas Lindheim | | | | | | |
| Steve Wheatcroft | MC | | | 22 | | MC |
| Jason Bohn | 13 | 11 | MC | MC | | |
| Shawn Stefani | 13 | 35 | 59 | | | |
| Yong-Eun Yang | | MC | | | | |
| Peter Malnati | | MC | | | | |
| Rick Lamb | | | | | | |
| Ryan Armour | 22 | | | | | |
| Bill Lunde | 73 | | 17 | | | MC* |
| Will MacKenzie | Wd | MC | | | | MC |
| Stuart Appleby | | MC | MC | MC | MC | 1 |
| Brad Fritsch | | MC | 41 | | | |
| Tom Hoge | 37 | | | | | |
| Jonathan Byrd | 22 | MC | MC | 22 | MC | 21 |
| Rory Sabbatini | MC | MC | 9 | MC | | |
| Miguel Angel Carballo | | MC | | Wd | | |
| Zack Sucher | MC | | | | | |
| Mark Hubbard | 54 | | | | | |
| Tag Ridings | | MC | 9 | | 27 | |
| Gonzalo Fdez-Castano | 37 | 64 | | | | |
| Nicholas Thompson | MC | MC | MC | | | 73 |
| Max Homa | MC | | | | | |
| Brett Drewitt | | | | | | |
| Angel Cabrera | MC | 1 | | | | |
| Davis Love | 54 | 35 | 9 | 17 | MC | 60 |
| Bobby Wyatt | | MC | | | | |
| Steven Alker | MC | | | | | |
| Mark Wilson | MC | MC* | | | | MC |
| Michael Putnam | 60 | 35 | | | Wd | |
| Tyler Aldridge | | | | | | |
| Brendon de Jonge | 60 | 64 | 17 | 52 | 4 | 3 |
| Andres Romero | 6 | 45 | 41 | MC | 4 | |
| Matt Every | | | 38 | | | 66 |
| Steven Bowditch | 13 | MC* | 2 | MC | 18 | |
| Hunter Mahan | | | | | | |
| Tommy Gainey | MC | MC | 41 | 72 | 57 | |
| Carl Pettersson | MC | 35 | 68 | 17 | 18 | 51 |
| Braden Thornberry | | | | | | |
| S J Park | 37 | | | | | |
| Charlie Beljan | MC | 11 | MC | 3 | | |
| Shane Bertsch | | | | MC | MC | |
| John Daly | MC | MC* | Wd | 12 | MC | 77 |
| Bob Estes | | | MC | 38 | 2 | 21 |
| Dicky Pride | | | MC* | | | |
| John Merrick | MC | | | 64 | 57 | MC |
| Kevin Shields | MC | | MC | | | |
| Joaquin Niemann | | | | | | |
| Dru Love | | | | | | |
| Bobby Gates | | | MC | MC | MC | |
| Christian Brand | | | | | MC | |
| Alan Cooke | | | | | | |
Discover the latest articles