RBC Canadian Open 2017: The very latest course and form guides for this week's event in Ontario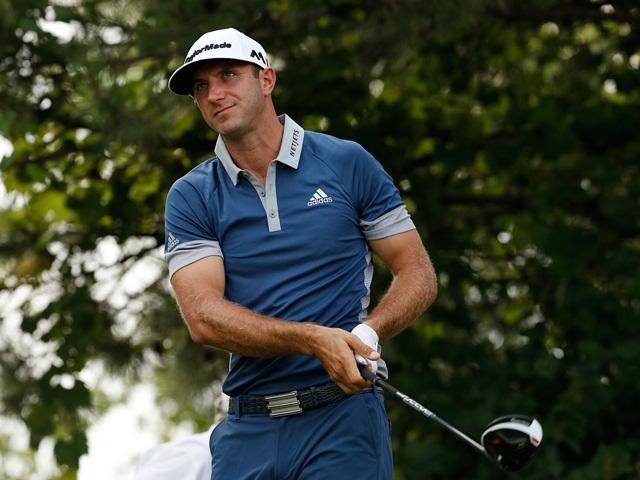 Dustin Johnson is a two-time runner-up at Glen Abbey
The PGA Tour travels across the border to Canada. Andy Swales provides course and current form stats for this week's tournament at Glen Abbey ...
"There are a sprinkling of course specialists teeing-up this Thursday, although trying to judge what state of mind they are in will be difficult."
There was a time when the Canadian Open was considered one of the most prestigious titles on the PGA Tour.
For a number of decades, tournaments such as the Canadian Open and Western Open were viewed as being just below major status.
No lesser figure than Jack Nicklaus was a regular visitor to Canada's national championship during the 1960s, 70s and 80s.
However, this was one title that remained elusive for the Golden Bear who finished runner-up as many as seven times between 1965 and 1985.
But over the years, with the advent of the Players Championship, WGC events and FedEx Cup play-offs, not to mention other big money tournaments, the Canadian and Western Opens slipped steadily down the pecking order.
This week's Canadian Open returns to Glen Abbey which was designed by Nicklaus and opened in 1976.
It was one of Jack's first creations and on Thursday the course will host the tournament for a 29th time.
Glen Abbey is a typical parkland venue in Oakville, Ontario, and has greens that were resurfaced in 2014.
Situated around 25 miles south of Toronto, the course has tree-lined fairways, large bunkers, and water coming into play on around half of its holes.
Course Form
There are a sprinkling of course specialists teeing-up this week, although trying to judge what state of mind they are in will be difficult.
Dustin Johnson has twice been a runner-up at Glen Abbey but his form of late has been disappointing.
Last week at Royal Birkdale he looked all set for a high finish before closing with a 77 which left him in a tie-for-54th.
Johnson's season has fallen away considerably following an excellent start to 2017, and the American will be desperate to find some good form ahead of next month's final major championship of the year.
Matt Kuchar's mental state could be even more frazzled than Johnson's. The 39-year-old admitted feeling 'crushed' at missing out on winning The Open and will tee-up this week having registered a hat-trick of top-10 finishes at Glen Abbey.
Brandt Snedeker, who withdrew from The Open and hasn't teed-up in five weeks, remains in the start list for Canada where he is a former champion.
Jim Furyk did not cross the Atlantic last week, and is another with a decent record at Glen Abbey, while further down the World Ranking you'll find Ricky Barnes who has enjoyed previous visits to Ontario.
Current Form
As for those in good current form: Scott Stallings has posted back-to-back top-fives, Ian Poulter has been pretty consistent of late, while Tony Finau has enjoyed a string of top-30 finishes over the past two and a half months.
As for outsiders, Chad Campbell enjoys both solid results at Glen Abbey and a trio of top-20s this month.
| Player | W29 | W28 | W27 | W26 | W25 | W24 | W23 | W22 | W21 | W20 |
| --- | --- | --- | --- | --- | --- | --- | --- | --- | --- | --- |
| Dustin Johnson | 54 | | | | | MC | | MC | | 13 |
| Matt Kuchar | 2 | 4 | | | | 16 | | 4 | 12 | 9 |
| Kevin Chappell | MC | | | MC | | 23 | 4 | 52 | | |
| Brandt Snedeker | | | | | 14 | 9 | | | 48 | MC |
| Charley Hoffman | 20 | 39 | | | 3 | 8 | | 45 | 24 | 40 |
| Gary Woodland | 70 | | 57 | | | 50 | | 49 | | 40 |
| Bubba Watson | 27 | 44 | 70 | | MC | MC | | 6 | | |
| JB Holmes | 54 | | 9 | 68 | | 12 | 52 | MC | | MC |
| Adam Hadwin | MC | | | MC | 57 | 60 | | MC | 53 | |
| William McGirt | MC | 71 | | | 43 | 55 | MC | 67 | 61 | |
| Tony Finau | 27 | | 7 | 29 | 17 | | | 40 | 29 | 13 |
| Anirban Lahiri | MC | 32 | | | 17 | | | 2 | MC | MC |
| James Hahn | 74 | | 20 | 46 | | | | 6 | MC | 3 |
| Scott Piercy | | | | | 85 | MC | MC | MC | 7 | 20 |
| Shane Lowry | MC | | 20 | MC | | 46 | | 15 | 6 | |
| Jhonattan Vegas | MC | | | MC | MC | MC | | | MC | 35 |
| Sean O`Hair | 62 | 77 | MC | | | MC | | 52 | 2 | 5 |
| Danny Lee | | Wd | 9 | 22 | 3 | | 47 | 49 | 6 | 5 |
| Ian Poulter | 14 | 9 | 42 | 45 | | | 31 | | 40 | 35 |
| Jim Furyk | 35 | | | | 26 | 23 | MC | MC | | |
| Sung Kang | 44 | | MC | 5 | 75 | | 80 | 75 | 57 | 20 |
| Jim Herman | | | MC | MC | MC | | | 19 | | |
| Hudson Swafford | | | 58 | 51 | 66 | | MC | MC | | MC |
| Daniel Summerhays | 63 | 12 | | 17 | 43 | 65 | MC | 10 | MC | 40 |
| David Lingmerth | | MC | 64 | 5 | 26 | 21 | | 15 | 12 | |
| Keegan Bradley | | | 50 | 5 | 8 | 60 | | MC | | 27 |
| Graeme McDowell | | 19 | MC | MC | | MC | 27 | | 29 | |
| Jason Kokrak | | | MC | 26 | 26 | 53 | | 35 | MC | 4 |
| Mackenzie Hughes | | | 20 | 51 | 17 | | | 45 | MC | |
| Graham DeLaet | | | 20 | MC | 26 | | | 10 | 57 | MC |
| Harris English | | | 29 | 22 | MC | 46 | 10 | | 29 | MC |
| Ryan Palmer | | MC | | | 53 | MC | 80 | | 70 | 27 |
| Patrick Rodgers | | 2 | 70 | 22 | 35 | | MC | 67 | MC | 27 |
| Patrick Cantlay | | | | | | | | 35 | | |
| Roberto Castro | MC | MC | 20 | MC | | MC | 65 | MC | | |
| Chris Kirk | | 60 | MC | MC | | | 72 | MC | 67 | |
| Chez Reavie | | 39 | | | 43 | 16 | 4 | | 48 | MC |
| Billy Hurley | | 68 | MC | 63 | MC | | | MC | 41 | 50 |
| Ollie Schniederjans | | 39 | Dq | 63 | | | | 71 | 29 | 55 |
| JJ Spaun | | MC | 29 | MC | | | | Wd | Wd | 74 |
| Scott Brown | | 25 | MC | | | | 52 | MC | 12 | 35 |
| Luke List | | 68 | MC | MC | | | 18 | MC | MC | |
| Harold Varner | | MC | 29 | 65 | MC | | MC | 19 | MC | |
| Smylie Kaufman | 12 | MC | 37 | MC | 35 | | MC | MC | | 35 |
| Grayson Murray | 1 | MC | Wd | 74 | 26 | | 18 | 35 | | 27 |
| Morgan Hoffmann | | 12 | MC | MC | 26 | | | MC | 12 | 27 |
| Cameron Smith | MC | | | | | | | 65 | MC | |
| Chad Campbell | 18 | 12 | 9 | | MC | | 10 | | 34 | 13 |
| CT Pan | | | 68 | MC | 8 | MC | | 40 | MC | MC |
| Dominic Bozzelli | MC | 25 | MC | MC | MC | | 10 | | 69 | 50 |
| Kelly Kraft | | 64 | 5 | 43 | MC | | | MC | 18 | MC |
| Stewart Cink | MC | MC | 58 | | | 46 | 10 | 25 | 10 | |
| Ryo Ishikawa | MC | MC | | | | | | MC | | MC |
| Brian Stuard | MC | MC | | | MC | MC | 82 | 52 | 24 | MC |
| Vaughn Taylor | | 19 | MC | 61 | 57 | | | 73 | 18 | |
| Andres Romero | 67 | 25 | 42 | MC | 1 | MC | MC | | | |
| Kevin Tway | | 12 | | 55 | 43 | | 31 | MC | 18 | 20 |
| Whee Kim | | | MC | Wd | MC | 50 | 2 | | 34 | MC |
| Nick Taylor | | MC | 9 | 29 | MC | | | 49 | 61 | 9 |
| David Hearn | 27 | MC | 14 | 73 | 8 | | 10 | MC | 70 | |
| Ben Martin | 6 | 39 | 37 | 5 | | | 60 | 35 | 57 | |
| JT Poston | 42 | 64 | MC | | MC | MC | MC | | 41 | MC |
| Seung-Yul Noh | 18 | | MC | MC | MC | | 37 | | Wd | MC |
| Michael Kim | | 71 | 29 | 35 | 69 | | | MC | 41 | 40 |
| Alex Cejka | 15 | MC | 9 | MC | 84 | | 52 | 57 | | MC |
| DA Points | | MC | MC | 65 | | | MC | 57 | | 73 |
| Geoff Ogilvy | | MC | 58 | 13 | 69 | | | | 53 | 61 |
| John Huh | | MC | 45 | MC | MC | | 67 | | MC | 40 |
| Kyle Reifers | 18 | 74 | MC | 51 | MC | | 31 | MC | MC | 20 |
| Trey Mullinax | 55 | 19 | 50 | 46 | MC | 9 | 18 | | | MC |
| Blayne Barber | 42 | | MC | MC | | | MC | | MC | |
| Johnson Wagner | | MC | MC | 5 | 43 | | MC | MC | MC | |
| Matt Jones | MC | MC | 64 | 38 | | | 18 | | 63 | MC |
| Brian Gay | 3 | MC | 72 | 43 | MC | | MC | | 34 | 50 |
| Derek Fathauer | 61 | 50 | MC | 68 | MC | | 24 | | 48 | |
| Cody Gribble | | MC | | MC | MC | | MC | | 41 | MC |
| Scott Stallings | 3 | 5 | 58 | 38 | MC | | 37 | | 63 | 20 |
| Cameron Tringale | 6 | 50 | MC | MC | | | 37 | | 72 | 9 |
| Robert Garrigus | 10 | Dq | 45 | 29 | MC | | MC | | | MC |
| Retief Goosen | 12 | | | | 62 | | 47 | MC | | |
| Sebastian Munoz | MC | MC | 3 | MC | 75 | | 60 | MC | | 50 |
| Ricky Barnes | 15 | 55 | MC | 17 | 35 | | MC | 22 | 18 | 59 |
| Rick Lamb | 73 | 3 | MC | | 17 | MC | 71 | 24 | | MC |
| Vijay Singh | | | MC | | MC | | 72 | MC | | |
| Brandon Hagy | 42 | 50 | 18 | 68 | MC | | 31 | | MC | MC |
| KJ Choi | 35 | 25 | MC | MC | 81 | | 47 | 67 | | 18 |
| Curtis Luck | | MC | 20 | 5 | | | MC | 73 | 34 | |
| Nick Watney | | MC | 37 | 13 | 73 | | 68 | | 53 | 40 |
| Ryan Brehm | MC | MC | 37 | MC | 35 | 53 | 37 | | | 61 |
| Boo Weekley | 52 | 60 | MC | Wd | 5 | | MC | | MC | 40 |
| Richy Werenski | 18 | 25 | MC | | MC | | MC | | | MC |
| Martin Flores | 18 | 64 | 50 | 55 | MC | | 72 | | MC | MC |
| Bryce Molder | | MC | MC | MC | 26 | | MC | | MC | MC |
| Jonathan Randolph | 77 | 68 | 20 | 29 | MC | 42 | 86 | | | MC |
| Spencer Levin | 27 | MC | MC | 5 | 81 | 60 | 37 | | | 66 |
| Troy Merritt | 35 | 60 | MC | MC | 8 | MC | MC | | | |
| Tyrone Van Aswegen | 64 | 39 | 73 | 26 | MC | | 31 | | MC | MC |
| Zac Blair | 27 | MC | 73 | 29 | MC | | 52 | 63 | MC | 40 |
| Ryan Blaum | 6 | 77 | 7 | 55 | MC | | MC | | 24 | MC |
| Sam Saunders | 55 | 25 | MC | 61 | | | MC | 57 | 24 | MC |
| Seamus Power | 18 | 25 | 50 | 38 | MC | | 27 | | | 57 |
| Andres Gonzales | 73 | MC | MC | | MC | 48 | 37 | 13 | | MC |
| Greg Chalmers | | 25 | MC | MC | 66 | | | 52 | MC | 72 |
| Cameron Percy | 12 | 12 | MC | 46 | 75 | | MC | 7 | MC | MC |
| Camilo Villegas | | 19 | 50 | MC | | | MC | 63 | Wd | |
| Andrew Loupe | 82 | 80 | MC | 35 | MC | | MC | | | MC |
| Chad Collins | 2 | MC | MC | | MC | | MC | | | MC |
| Tim Wilkinson | | MC | MC | 72 | 43 | | MC | | | MC |
| Chris Stroud | 35 | 19 | 20 | MC | | | 65 | | 41 | MC |
| Brian Campbell | MC | 12 | 45 | | MC | | 37 | | | MC |
| Ben Crane | | 25 | MC | 38 | MC | | 10 | | | MC |
| Ernie Els | 61 | | | | 59 | 55 | 60 | | 51 | 35 |
| JJ Henry | | 10 | 45 | 68 | 69 | | MC | | MC | 27 |
| Mark Anderson | MC | 50 | 50 | | MC | | MC | MC | | MC |
| Joel Dahmen | MC | MC | MC | Wd | 62 | | 18 | | | 9 |
| Brett Stegmaier | | 81 | 50 | 65 | 26 | | MC | | | 57 |
| Ryan Ruffels | | | | MC | MC | MC | 2 | MC | | |
| Julian Etulain | 27 | MC | 68 | MC | 75 | | 24 | | | MC |
| Will MacKenzie | | | | | 17 | | 52 | | | MC |
| Willy Wilcox | 52 | MC | MC | | | Dq | 52 | | | 27 |
| Greg Owen | | MC | MC | MC | | | 52 | | | 61 |
| Ken Duke | 55 | MC | MC | | MC | | MC | | | 66 |
| Nicholas Lindheim | 55 | 55 | Wd | | MC | | Wd | MC | | 66 |
| Steve Wheatcroft | 15 | MC | MC | | 83 | | 10 | 24 | | MC |
| Shawn Stefani | 11 | 44 | 37 | 55 | MC | | MC | | | Dq |
| Rory Sabbatini | 55 | 19 | 14 | | MC | | MC | | MC | MC |
| Hiroshi Iwata | MC | MC | 38 | | | | MC | 55 | 21 | Wd |
| Jason Bohn | MC | MC | MC | MC | MC | | MC | | MC | 40 |
| Brad Fritsch | MC | MC | MC | | 43 | | MC | MC | | MC |
| Ryan Armour | 27 | MC | MC | | MC | | 47 | MC | | 27 |
| Tom Hoge | 42 | MC | MC | | 35 | MC | MC | | | 55 |
| Peter Malnati | 18 | 44 | 29 | 38 | 75 | | 72 | | | 61 |
| Miguel Angel Carballo | MC | 50 | MC | | MC | 79 | MC | 48 | | MC |
| Mark Hubbard | 42 | MC | 58 | | 43 | | 47 | 60 | | MC |
| Tag Ridings | 3 | 74 | MC | | MC | | 68 | | | MC |
| Gonzalo F`dez-Castano | MC | MC | MC | | MC | | 78 | | | MC |
| Brett Drewitt | 27 | MC | MC | | MC | 27 | 60 | 52 | | MC |
| Max Homa | 71 | MC | MC | MC | | 82 | 85 | | | MC |
| Bobby Wyatt | 77 | MC | MC | | MC | 32 | MC | 81 | | MC |
| Steven Alker | 42 | MC | Wd | | MC | | 68 | | | MC |
| Hunter Mahan | 64 | MC | 37 | | 17 | | 82 | MC | MC | MC |
| Tyler Aldridge | 70 | MC | MC | | | Wd | MC | MC | | MC |
| Charlie Beljan | | | MC | | Wd | MC | | | | MC |
| Matt Every | 61 | MC | MC | MC | 35 | | 27 | MC | MC | MC |
| Carl Pettersson | 77 | Wd | MC | | MC | | MC | MC | | MC |
| Bob Estes | | MC | | | Wd | | MC | | | 70 |
| Shane Bertsch | 67 | MC | MC | | 84 | 32 | MC | MC | | MC |
| Wyndham Clark | 23 | MC | | 51 | MC | | | | | |
| Jared du Toit | 7 | 23 | 45 | | | 9 | 29 | | | |
| Bryn Parry | | | | | | | | | | |
| Garrett Rank | | | | | | | | | | |
| Matt Hill | | 28 | MC | MC | | | MC | 20 | | |
| Hugo Bernard | 7 | | | | | | | | | |
| Mike Weir | | | | | | | MC | | | 72 |
| Sam Horsfield | | 55 | | MC | | | MC | | | |
| Austin James | | | | | | | | | | |
| Player | 2016 | 2015 | 2013 | 2009 | 2008 | 2004 |
| --- | --- | --- | --- | --- | --- | --- |
| Dustin Johnson | 2 | | 2 | | Wd | |
| Matt Kuchar | 9 | 7 | 2 | | MC | |
| Kevin Chappell | | MC | 68 | | | |
| Brandt Snedeker | 5 | | 1 | 5 | | |
| Charley Hoffman | | 7 | 16 | | 28 | |
| Gary Woodland | | | 61 | | | |
| Bubba Watson | | 2 | 21 | MC | MC | |
| JB Holmes | | MC* | | 16 | | |
| Adam Hadwin | 49 | 7 | MC | | | |
| William McGirt | 59 | 34 | 2 | | | |
| Tony Finau | 70 | 22 | | | | |
| Anirban Lahiri | | | | | | |
| James Hahn | | 11 | 40 | | | |
| Scott Piercy | | MC* | 52 | 40 | | |
| Shane Lowry | | | | | | |
| Jhonattan Vegas | 1 | 48 | | | | |
| Sean O`Hair | MC | MC | | MC | 3 | |
| Danny Lee | 32 | | | | | |
| Ian Poulter | | | | | | |
| Jim Furyk | 13 | 4 | 9 | | 14 | |
| Sung Kang | MC | | | | | |
| Jim Herman | MC | 22 | MC | | | |
| Hudson Swafford | 14 | 72 | | | | |
| Daniel Summerhays | MC | 11 | MC | | | |
| David Lingmerth | | | 12 | | | |
| Keegan Bradley | | | | | | |
| Graeme McDowell | MC | MC | MC* | | | |
| Jason Kokrak | | | 31 | | | |
| Mackenzie Hughes | | | MC | | | |
| Graham DeLaet | MC | Wd | MC | 46 | | |
| Harris English | | | | | | |
| Ryan Palmer | 43 | 41 | 31 | MC | 22 | |
| Patrick Rodgers | 32 | MC | | | | |
| Patrick Cantlay | | | | | | |
| Roberto Castro | 65 | 48 | 6 | | | |
| Chris Kirk | 14 | | 21 | | | |
| Chez Reavie | 14 | 41 | 31 | MC | 1 | |
| Billy Hurley | 49 | MC | | | | |
| Ollie Schniederjans | | 22 | | | | |
| JJ Spaun | | 41 | | | | |
| Scott Brown | MC | | 61 | | | |
| Luke List | 14 | | 21 | | | |
| Harold Varner | MC | | | | | |
| Smylie Kaufman | | | | | | |
| Grayson Murray | | | | | | |
| Morgan Hoffmann | MC | MC | 52 | | | |
| Cameron Smith | MC | | | | | |
| Chad Campbell | 26 | 11 | 16 | | | 26 |
| CT Pan | | | | | | |
| Dominic Bozzelli | | | | | | |
| Kelly Kraft | 26 | | | | | |
| Stewart Cink | MC | 5 | | | | 4 |
| Ryo Ishikawa | | MC* | MC* | | | |
| Brian Stuard | MC | 22 | MC* | | | |
| Vaughn Taylor | 43 | 41 | | MC | | |
| Andres Romero | | 34 | 21 | | | |
| Kevin Tway | | | | | | |
| Whee Kim | 38 | MC | | | | |
| Nick Taylor | MC | 56 | | MC | 53 | |
| David Hearn | MC | 3 | 44 | | 58 | MC |
| Ben Martin | MC | | | | | |
| JT Poston | | | | | | |
| Seung-Yul Noh | 59 | MC* | MC* | | | |
| Michael Kim | 49 | | | | | |
| Alex Cejka | 5 | 41 | | | 58 | |
| DA Points | MC | 56 | | 46 | | |
| Geoff Ogilvy | 9 | | MC | | | |
| John Huh | MC | MC | MC | | | |
| Kyle Reifers | MC | MC | MC | | | |
| Trey Mullinax | | | | | | |
| Blayne Barber | 63 | MC* | | | | |
| Johnson Wagner | 43 | 18 | MC | MC | | |
| Matt Jones | | MC | | MC | MC | |
| Brian Gay | | | 73 | | Wd | MC |
| Derek Fathauer | 43 | 48 | | 40 | | |
| Cody Gribble | | | | | | |
| Scott Stallings | MC | | MC | | | |
| Cameron Tringale | 14 | | 44 | | | |
| Robert Garrigus | MC | MC | MC | Wd | 44 | |
| Retief Goosen | | 76 | | 2 | 30 | |
| Sebastian Munoz | | | | | | |
| Ricky Barnes | 5 | 11 | MC | | | |
| Rick Lamb | | | | | | |
| Vijay Singh | 59 | MC | 31 | | | 1 |
| Brandon Hagy | | | | | | |
| KJ Choi | 38 | 76 | | | | |
| Curtis Luck | | | | | | |
| Nick Watney | | 34 | | | MC | |
| Ryan Brehm | | | | | | |
| Boo Weekley | | | | | | |
| Richy Werenski | | | | | | |
| Martin Flores | | 63 | MC | | | |
| Bryce Molder | MC | | | 16 | | |
| Jonathan Randolph | | MC* | | | | |
| Spencer Levin | 14 | MC | | MC | | |
| Troy Merritt | 32 | MC | | | | |
| Tyrone Van Aswegen | 74 | 34 | | | | |
| Zac Blair | MC | 70 | | | | |
| Ryan Blaum | | | | | | |
| Sam Saunders | 75 | 22 | | | | |
| Seamus Power | | | | | | |
| Andres Gonzales | MC | 22 | MC | 62 | | |
| Greg Chalmers | 70 | | 40 | MC | | 40 |
| Cameron Percy | 26 | 18 | 44 | | | |
| Camilo Villegas | 49 | 22 | 52 | 24 | 53 | MC |
| Andrew Loupe | MC | MC | | | | |
| Chad Collins | MC | 41 | | | 48 | |
| Tim Wilkinson | MC | 22 | | | MC | |
| Chris Stroud | 38 | MC | MC | | Wd | |
| Brian Campbell | | | | | | |
| Ben Crane | 9 | 48 | | | | |
| Ernie Els | 65 | MC | 21 | | | |
| JJ Henry | MC | 41 | 31 | | MC | |
| Mark Anderson | | | | | | |
| Joel Dahmen | | | | | | |
| Brett Stegmaier | 49 | | | | | |
| Ryan Ruffels | | MC* | | | | |
| Julian Etulain | | | | | | |
| Will MacKenzie | MC | | | | Wd | |
| Willy Wilcox | MC | | | | | |
| Greg Owen | MC | MC | 12 | Wd | | |
| Ken Duke | 49 | MC | | 40 | 11 | MC |
| Nicholas Lindheim | | | | | | |
| Steve Wheatcroft | 5 | 58 | | | | |
| Shawn Stefani | MC | | | | | |
| Rory Sabbatini | MC | 11 | 12 | | | |
| Hiroshi Iwata | 65 | | | | | |
| Jason Bohn | | | 2 | | | 40 |
| Brad Fritsch | MC | MC | Wd | | MC | |
| Ryan Armour | | MC | | | 53 | |
| Tom Hoge | MC | 5 | | | | |
| Peter Malnati | MC | | | | | |
| Miguel Angel Carballo | 79 | | | | | |
| Mark Hubbard | 49 | MC | | | | |
| Tag Ridings | | | MC | Wd | MC | 52 |
| Gonzalo F`dez-Castano | | | | | | |
| Brett Drewitt | | | | | | |
| Max Homa | | MC | | | | |
| Bobby Wyatt | | | | | | |
| Steven Alker | | MC* | | | | |
| Hunter Mahan | MC | 63 | Wd | | | 4 |
| Tyler Aldridge | 38 | | | MC | | |
| Charlie Beljan | | MC | | | | |
| Matt Every | | MC | 28 | | | |
| Carl Pettersson | MC | | | Wd | 11 | |
| Bob Estes | | | 52 | 8 | 14 | |
| Shane Bertsch | | | | | 30 | |
| Wyndham Clark | | | | | | |
| Jared du Toit | 9 | | | | | |
| Bryn Parry | | | MC | | | |
| Garrett Rank | 77 | MC | | | | |
| Matt Hill | | | | MC | | |
| Hugo Bernard | MC | | | | | |
| Mike Weir | MC | | 49 | 24 | 5 | 2 |
| Sam Horsfield | | | | | | |
| Austin James | | | | | | |
Discover the latest articles