European Open 2017: Stats for this week's European Tour event in Germany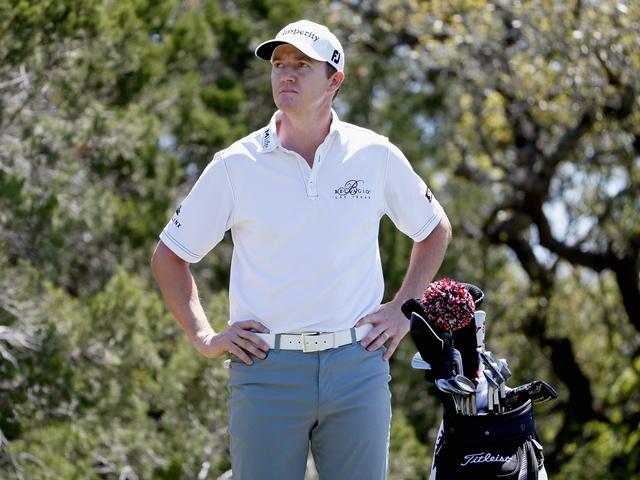 Jimmy Walker: Last year's PGA Championship winner competes at Green Eagle
The European Tour heads to Hamburg for the European Open at Green Eagle. Before placing a bet, check out the form stats supplied by Andy Swales ...
"If you take a look at the leading pros teeing-up this week, very few appear to be in great form right now."
The European Tour heads to Germany for the second time this season.
Five weeks ago it was the BMW International Open in Munich, now the golfers head to the north of the country for the European Open at Green Eagle, some 25 miles south of Hamburg.
For those driving off on Thursday, water will be a constant threat over Green Eagle's North Course which is expected to provide a stern challenge for all 156 golfers taking part.
Water comes into play on most of the holes at this nine-year old course, which is hosting a top level Tour event for the first time.
Out of Form
Strangely, if you take a look at the leading pros teeing-up this week, very few appear to be in great form right now.
One of the rare exceptions is Englishman Matthew Southgate who tied-for-sixth at Royal Birkdale on Sunday.
Southgate was also a joint runner-up in the Irish Open earlier this month, so should be full of confidence as he searches for a maiden Tour victory.
Another golfer from the home counties who looks in decent shape right now is Anthony Wall.
The Londoner failed to qualify for The Open but, after a week's rest, will be keen to continue his recent good form which yielded a top-20 finish in Ireland and tie-for-fourth at the Scottish Open.
American Challenge
PGA Tour players Patrick Reed, Jimmy Walker and Pat Perez have decided to hang about for another week in Europe, although Walker was the only one of this trio to make the cut at The Open.
German Record
Regarding golfers whose recent record in Germany looks strong, then pickings - once again - are a little thin on the ground.
Thailand's Kiradech Aphibarnrat has posted three top-12 finishes from his last four visits to the country, while Rikard Karlberg has enjoyed a brace of top-fives during the past two years.
Belgian Thomas Detry tied-second in the BMW tournament last month and Hennie Otto has had reasonable success on the parkland courses of Europe.
Two others to consider are Joost Luiten and Thorbjorn Olesen. The consistent Luiten posted top-20 finishes in his last two German events, while Olesen recently claimed a podium spot in France.
Table below shows results for last 10 weeks:
| Player | W29 | W28 | W27 | W26 | W25 | W24 | W23 | W22 | W21 | W20 |
| --- | --- | --- | --- | --- | --- | --- | --- | --- | --- | --- |
| Charl Schwartzel | 62 | | | | | MC | 2 | 35 | | Wd |
| Patrick Reed | MC | MC | 20 | 17 | 5 | 13 | | 57 | | 20 |
| Jimmy Walker | 54 | | 18 | MC | | MC | | | | |
| Pat Perez | MC | | | | | MC | | 19 | MC | |
| Alexander Levy | MC | 26 | MC | 57 | | MC | | 15 | 51 | |
| Joost Luiten | 44 | | 54 | 32 | 14 | | 7 | MC | 24 | |
| Thorbjorn Olesen | 62 | | 48 | 3 | 34 | | | 4 | MC | |
| Richard Sterne | | 19 | MC | 50 | 34 | | | 47 | MC | |
| Alexander Bjork | MC | 35 | MC | 3 | 34 | | 15 | MC | 14 | 27 |
| Bradley Dredge | | MC | 13 | 27 | | MC | | 15 | 40 | MC |
| David Lipsky | MC | MC | MC | MC | 10 | | | 30 | MC | 20 |
| Jordan Smith | | 58 | 20 | 30 | 44 | | | 21 | 40 | 48 |
| Kiradech Aphibarnrat | | MC | MC | Dq | 12 | | | 41 | 14 | 6 |
| Richard Bland | 22 | 19 | MC | MC | 2 | | 64 | 53 | MC | MC |
| Jorge Campillo | | 26 | MC | MC | 20 | | | MC | 40 | |
| Victor Dubuisson | | MC | MC | MC | 34 | | | | 24 | |
| Graeme Storm | | MC | MC | 38 | 67 | | 15 | 41 | 6 | |
| Matt Wallace | | MC | MC | MC | | MC | 10 | | MC | 38 |
| Thomas Detry | | MC | 48 | MC | 2 | | MC | MC | | 65 |
| Rikard Karlberg | | MC | 54 | 45 | 5 | | | 47 | MC | MC |
| Richie Ramsay | 22 | 35 | 2 | MC | | MC | | 36 | 30 | |
| Matthew Southgate | 6 | MC | 2 | MC | 51 | | 57 | 65 | MC | MC |
| Paul Dunne | | 26 | 54 | 13 | | MC | | MC | 30 | |
| Anthony Wall | | 4 | 20 | Wd | 31 | | MC | MC | 40 | |
| Gregory Bourdy | | MC | 30 | 57 | | MC | | 21 | 62 | |
| Bernd Ritthammer | | 15 | MC | MC | MC | | | MC | 40 | MC |
| Nacho Elvira | | MC | MC | 50 | 8 | | MC | 57 | MC | |
| Phachara Khongwatmai | MC | | | 69 | | 42 | 28 | | MC | 55 |
| Peter Hanson | | 64 | 14 | MC | 44 | | | 62 | 21 | |
| Benjamin Hebert | | 45 | 8 | MC | MC | | MC | 8 | 58 | |
| Jbe Kruger | MC | | | MC | 79 | 9 | 2 | 7 | | 11 |
| James Morrison | | MC | MC | MC | 34 | | MC | | MC | 23 |
| Alexander Knappe | | 26 | MC | MC | MC | | MC | MC | MC | MC |
| Julian Suri | MC | 23 | 27 | MC | 11 | | 23 | 3 | Won | 31 |
| Carlos Pigem | | | | MC | | 62 | 28 | | MC | |
| Alejandro Canizares | | 45 | MC | MC | MC | | MC | 30 | MC | |
| Oliver Bekker | | | | | | MC | | 3 | | 1 |
| Romain Langasque | | MC | 58 | 50 | 31 | | MC | MC | MC | MC |
| Julien Quesne | | MC | 8 | 62 | 82 | | MC | MC | MC | MC |
| Pep Angles | | MC | MC | 50 | MC | | | MC | MC | 4 |
| Lasse Jensen | | Wd | MC | 32 | MC | | | 62 | MC | MC |
| Sam Walker | | Dq | 20 | MC | MC | | MC | MC | MC | |
| Jamie Donaldson | | MC | Wd | 32 | 14 | | | 7 | MC | 58 |
| Danthai Boonma | | | | 3 | | 14 | MC | 44 | 16 | 5 |
| Alvaro Quiros | | MC | MC | MC | MC | | | | MC | 1 |
| Scott Jamieson | | MC | 14 | MC | MC | | | 21 | 14 | 38 |
| Richard McEvoy | | 23 | | 1 | 59 | | 5 | MC | | 48 |
| Dimitrios Papadatos | MC | | 11 | 5 | MC | 15 | | MC | | 1 |
| Robert Rock | | 9 | MC | 30 | | | MC | MC | MC | |
| Ricardo Gouveia | | 55 | MC | 38 | MC | | | MC | MC | |
| Adrian Otaegui | | 19 | 20 | 7 | 51 | | MC | MC | MC | MC |
| Paul Peterson | | 19 | 48 | MC | MC | | | MC | 40 | 67 |
| Maximilian Kieffer | | 45 | MC | 16 | 82 | | 20 | MC | 24 | |
| Ashun Wu | | MC | MC | MC | MC | | 10 | MC | | MC |
| Matteo Manassero | | MC | 48 | MC | MC | | | 72 | 30 | 48 |
| Jaco Ahlers | | | | | 59 | | MC | MC | | MC |
| Trevor Fisher | | | | 65 | 20 | | 52 | | | MC |
| Zander Lombard | | | | MC | 67 | MC | 43 | 65 | MC | 2 |
| Stephen Gallacher | | 45 | 36 | MC | MC | | 38 | 53 | 21 | |
| Chris Paisley | | MC | MC | MC | MC | | | MC | MC | 31 |
| Oliver Fisher | | MC | 10 | 50 | 79 | | 38 | MC | 40 | 27 |
| Shih-Chang Chan | | MC | MC | MC | MC | | MC | Wd | 56 | MC |
| Raphael Jacquelin | | MC | MC | MC | MC | | | MC | MC | 18 |
| Lucas Bjerregaard | | 61 | MC | MC | 59 | | 7 | 62 | MC | |
| Eddie Pepperell | | | | 23 | MC | 16 | 43 | 8 | | 38 |
| Chris Hanson | | MC | 36 | 57 | MC | | MC | MC | MC | MC |
| Mikko Ilonen | | 58 | MC | MC | MC | | | MC | 62 | |
| Lee Slattery | | 9 | 30 | MC | MC | | MC | MC | MC | 11 |
| Pavit Tangkamolprasert | | | 41 | 7 | MC | 58 | MC | | | 70 |
| Poom Saksansin | | | | 7 | | MC | MC | 36 | 11 | 25 |
| Ashley Hall | MC | | | | | | | | | 9 |
| Romain Wattel | | 26 | MC | MC | 51 | | | MC | 66 | 31 |
| Felipe Aguilar | | MC | 48 | 45 | MC | | 10 | 57 | MC | |
| Marcus Armitage | | MC | 36 | MC | MC | | 47 | MC | | 38 |
| Kristoffer Broberg | | 35 | MC | 16 | MC | | 57 | 30 | MC | |
| Siddikur Rahman | | | | | | 15 | | | | |
| Florian Fritsch | | MC | MC | 45 | 51 | | 28 | MC | 30 | MC |
| Prom Meesawat | | | | MC | | 21 | MC | | | 9 |
| Joel Stalter | | MC | MC | MC | 51 | MC | 34 | MC | | MC |
| Adilson Da Silva | | | | | | | | 15 | | 31 |
| Nino Bertasio | | MC | MC | 62 | 34 | | 10 | MC | 14 | MC |
| Marcel Siem | | MC | MC | 27 | MC | | | 8 | MC | 8 |
| Duncan Stewart | | 55 | 20 | MC | MC | | 34 | MC | | MC |
| Magnus A Carlsson | | 35 | MC | MC | | | | MC | MC | |
| Gregory Havret | | 32 | MC | 23 | 44 | | MC | MC | MC | |
| Justin Walters | | MC | MC | MC | MC | | | MC | MC | |
| Eduardo De La Riva | | MC | 42 | MC | 26 | | MC | 36 | MC | 18 |
| Marc Warren | | MC | MC | MC | MC | | Wd | MC | MC | |
| Austin Connelly | 14 | MC | | 52 | 22 | MC | 20 | 8 | | 31 |
| Ashley Chesters | | 43 | 20 | MC | 20 | | 28 | MC | | MC |
| Jose-Filipe Lima | | MC | MC | MC | MC | | | 26 | | 31 |
| Johan Edfors | | MC | MC | | | | MC | 36 | | MC |
| Craig Lee | 64 | MC | | MC | MC | MC | 15 | 2 | | MC |
| Richard Green | | | | | 75 | | MC | 30 | | |
| Max Orrin | | 18 | | 57 | MC | | MC | 15 | | Dq |
| Keith Horne | | | | | | 12 | MC | | | 28 |
| Daniel Brooks | | MC | MC | 38 | 67 | | MC | 57 | 54 | MC |
| David Howell | | 64 | MC | MC | Wd | | | Wd | 48 | MC |
| Thomas Bjorn | | 15 | MC | 69 | MC | | | MC | 57 | 23 |
| Jeff Winther | | | | | 44 | | MC | 53 | | 38 |
| Michael Hoey | MC | Wd | 30 | 13 | | 21 | MC | | 5 | 11 |
| Sebastian Heisele | MC | MC | MC | MC | 73 | | MC | MC | MC | 31 |
| Stuart Manley | MC | MC | MC | MC | MC | | MC | MC | | 11 |
| Damien Perrier | MC | MC | MC | 66 | MC | | MC | MC | | MC |
| Scott Henry | 66 | MC | | 64 | 12 | | MC | MC | | MC |
| Jens Dantorp | | 42 | 33 | 33 | 34 | | 28 | MC | | 38 |
| Justin Hicks | 31 | | MC | | | | | | | |
| Yan-Wei Liu | | 4 | 22 | MC | MC | | | | | 32 |
| Mark Foster | MC | MC | MC | MC | 51 | | 47 | MC | | 8 |
| Tom Lewis | | | | | 44 | | MC | 41 | | 11 |
| Sebastian Soderberg | | 25 | 45 | 60 | MC | | MC | 41 | | 18 |
| Anton Karlsson | | 35 | MC | | MC | | MC | MC | | MC |
| Nathan Holman | | | | | | | | | Wd | MC |
| Ben Evans | MC | MC | | MC | MC | MC | MC | | | 27 |
| Gary King | 20 | MC | 69 | | MC | | MC | MC | | MC |
| Thitiphun Chuayprakong | | | | | | MC | MC | | 20 | 42 |
| Nathan Kimsey | | MC | 58 | 38 | MC | | MC | 30 | | 48 |
| Jens Fahrbring | | MC | MC | 45 | 34 | | MC | 47 | | MC |
| Hennie Otto | | MC | MC | MC | 8 | | | | MC | |
| Simon Khan | | MC | MC | | MC | | 52 | | | MC |
| Niclas Fasth | | MC | MC | 32 | 20 | | | MC | 54 | MC |
| Terry Pilkadaris | | | | | | 36 | 43 | | | 6 |
| Steven Tiley | 26 | | 21 | MC | MC | | MC | MC | | MC |
| Michael Jonzon | | | | | | | MC | | | MC |
| Richard S Johnson | | | | | | | 59 | MC | | 58 |
| Roope Kakko | | MC | | MC | | 46 | 20 | | | 55 |
| Gary Stal | | 55 | MC | 16 | | | 28 | MC | MC | MC |
| Simon Dyson | | MC | 64 | MC | MC | | MC | 57 | MC | MC |
| Piya Swangarunporn | | | | MC | | 36 | | | 52 | 32 |
| Paul Maddy | 11 | MC | | MC | 59 | MC | 23 | MC | 47 | 38 |
| Daniel Fox | 19 | MC | 33 | 68 | 36 | MC | MC | | | MC |
| Laurie Canter | 37 | | | 33 | 79 | | 57 | 41 | | MC |
| Sebastien Gros | | 61 | MC | 69 | | | MC | 47 | 64 | MC |
| Luca Cianchetti | MC | | | | | | MC | 48 | | 67 |
| Clement Berardo | | | Wd | MC | 17 | Wd | | MC | MC | 58 |
| Max Kramer | 55 | | MC | | 67 | | Wd | 43 | MC | MC |
| Zane Scotland | | | | | | | | | | 21 |
| Steve Webster | | | | Wd | MC | | 63 | | | 48 |
| Benedict Staben | | | Wd | | | MC | | 31 | 18 | |
| Jake Roos | | | | | | | MC | 13 | | 28 |
| Chase Koepka | | 2 | 27 | 52 | 5 | | MC | 3 | 16 | MC |
| Ricardo Gonzalez | | | | | MC | | 10 | MC | | MC |
| Pontus Widegren | | 15 | | 48 | 59 | | MC | MC | | MC |
| Matthew Nixon | | MC | | 42 | MC | | MC | MC | | MC |
| Rafael Echenique | MC | MC | | MC | MC | | MC | MC | MC | MC |
| John Parry | | MC | 33 | MC | MC | | MC | MC | | 55 |
| Niclas Johansson | 52 | 18 | | 42 | MC | | 47 | MC | MC | 58 |
| Jamie Rutherford | MC | MC | | 70 | 51 | 21 | MC | MC | | 66 |
| Richard Finch | | MC | MC | MC | MC | | Wd | MC | | MC |
| Ryan McCarthy | MC | 35 | MC | 33 | | | 23 | 22 | MC | 25 |
| Borja Etchart | | | | | | | 57 | | | 45 |
| Andrea Maestroni | MC | MC | 72 | | | 60 | Wd | Wd | | MC |
| Sean Crocker | | | | | 78 | | | | | |
| Paul McBride | | | | | | | | | | |
| Will Zalatoris | | | | | | MC | | | | |
| Niklas Adank | | | 47 | | | | | 26 | 10 | |
| Andreas Halvorsen | | | | | | 34 | MC | 18 | | |
Discover the latest articles