Barracuda Championship 2017: All the very latest course and current form stats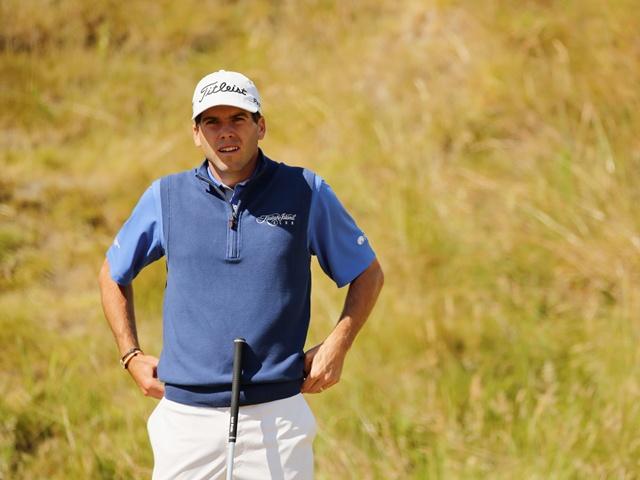 Ben Martin: Top-10s in both previous trips to Montreux
This week's event at Reno in Nevada swaps strokeplay for stableford. Check out our course and current form stats compiled by Andy Swales...
"Robert Garrigus has enjoyed back-to-back top 10s on the PGA Tour, including a tie-for-fifth at the Canadian Open on Sunday."
While golf's elite travel to Firestone for the Bridgestone Invitational in Ohio, the best of the rest on the PGA Tour have the opportunity to chase dollars in Nevada.

For a 19th successive year, the Barracuda Championship is being staged at the Jack Nicklaus-designed Montreux Country Club.

Opened in 1997 and updated five years later - when three new holes were built - Montreux is laid out more than 5,000 feet above sea level and sits within the Galena Forest at the foot of Mount Rose.

Nicklaus believes the venue is one of his best creations, with towering pine trees a key feature of this most photogenic of courses.

Once again, the tournament will be decided by a Modified Stableford format, which was first used in 2012.
Horses for Courses

Very few of those teeing-up on Thursday have a strong record at this Reno layout.

Regarding this week's field, only Kyle Reifers can boast of posting top-10s in each of the past two seasons.

The American was runner-up two years ago but he will not go into the Barracuda event in great form, although he did sneak into the top 20 at the recent low-key Barbasol Championship in Alabama.
In Form

Regarding current form, Robert Garrigus has enjoyed back-to-back top 10s on the PGA Tour, including a tie-for-fifth at the Canadian Open on Sunday.

And with a brace of top-10s at Montreux, when the tournament was still strokeplay, Garrigus could well be an enticing each-way bet.

Another player with reasonably good current and course form is Ben Martin whose two trips to Nevada have each yielded top 10 finishes.

Although he missed the cut in Canada, the world No. 194 tied-sixth the previous week and was joint-fifth at the Quicken Loans National in early July.

And from a European perspective, Seamus Power has improved steadily and his last three starts read: 25-18-10. The Irishman makes his Montreux debut this week.
Montreux Trend

One particular interesting trend about this event is that only once during the last 14 years, has the eventual champion been lower than third at the half-way stage.

And since the tournament changed from strokeplay to stableford, all five winners have been inside the top six after 18 holes - having accumulated at least 10 points on the opening day.

Points Format:
Double Eagle: 8 pts; Eagle: 5; Birdie: 2; Par: 0; Bogey: -1; Double Bogey or more: -3
| Player | W30 | W29 | W28 | W27 | W26 | W25 | W24 | W23 | W22 | W21 |
| --- | --- | --- | --- | --- | --- | --- | --- | --- | --- | --- |
| Daniel Summerhays | 42 | 63 | 12 | | 17 | 43 | 65 | MC | 10 | MC |
| Graham DeLaet | 48 | | | 20 | MC | 26 | | | 10 | 57 |
| Harris English | MC | | | 29 | 22 | MC | 46 | 10 | | 29 |
| Ryan Palmer | MC | | MC | | | 53 | MC | 80 | | 70 |
| Chris Kirk | 70 | | 60 | MC | MC | | | 72 | MC | 67 |
| Chez Reavie | 23 | | 39 | | | 43 | 16 | 4 | | 48 |
| Padraig Harrington | | MC | 4 | 42 | | 17 | | | 31 | MC |
| Ollie Schniederjans | 54 | | 39 | Dq | 63 | | | | 71 | 29 |
| JJ Spaun | MC | | MC | 29 | MC | | | | Wd | Wd |
| Luke List | 30 | | 68 | MC | MC | | | 18 | MC | MC |
| Smylie Kaufman | 27 | 12 | MC | 37 | MC | 35 | | MC | MC | |
| Aaron Baddeley | | 27 | | | MC | | | | MC | MC |
| Dominic Bozzelli | MC | MC | 25 | MC | MC | MC | | 10 | | 69 |
| Brian Stuard | MC | MC | MC | | | MC | MC | 82 | 52 | 24 |
| Vaughn Taylor | MC | | 19 | MC | 61 | 57 | | | 73 | 18 |
| Kevin Tway | 48 | | 12 | | 55 | 43 | | 31 | MC | 18 |
| David Hearn | MC | 27 | MC | 14 | 73 | 8 | | 10 | MC | 70 |
| Ben Martin | MC | 6 | 39 | 37 | 5 | | | 60 | 35 | 57 |
| JT Poston | 42 | 42 | 64 | MC | | MC | MC | MC | | 41 |
| Seung-Yul Noh | 23 | 18 | | MC | MC | MC | | 37 | | Wd |
| Patton Kizzire | | 64 | 25 | MC | MC | 53 | | MC | MC | 63 |
| Alex Cejka | MC | 15 | MC | 9 | MC | 84 | | 52 | 57 | |
| Geoff Ogilvy | MC | | MC | 58 | 13 | 69 | | | | 53 |
| John Huh | MC | | MC | 45 | MC | MC | | 67 | | MC |
| Kyle Reifers | MC | 18 | 74 | MC | 51 | MC | | 31 | MC | MC |
| Trey Mullinax | MC | 55 | 19 | 50 | 46 | MC | 9 | 18 | | |
| Blayne Barber | 30 | 42 | | MC | MC | | | MC | | MC |
| Johnson Wagner | MC | | MC | MC | 5 | 43 | | MC | MC | MC |
| Matt Jones | MC | MC | MC | 64 | 38 | | | 18 | | 63 |
| Brian Gay | MC | 3 | MC | 72 | 43 | MC | | MC | | 34 |
| Derek Fathauer | | 61 | 50 | MC | 68 | MC | | 24 | | 48 |
| Scott Stallings | 62 | 3 | 5 | 58 | 38 | MC | | 37 | | 63 |
| Cameron Tringale | MC | 6 | 50 | MC | MC | | | 37 | | 72 |
| Robert Garrigus | 5 | 10 | Dq | 45 | 29 | MC | | MC | | |
| Retief Goosen | MC | 12 | | | | 62 | | 47 | MC | |
| Chesson Hadley | | 27 | 25 | 1 | MC | 38 | 19 | MC | 2 | |
| Ricky Barnes | 42 | 15 | 55 | MC | 17 | 35 | | MC | 22 | 18 |
| Rick Lamb | MC | 73 | 3 | MC | | 17 | MC | 71 | 24 | |
| Brandon Hagy | 5 | 42 | 50 | 18 | 68 | MC | | 31 | | MC |
| KJ Choi | 58 | 35 | 25 | MC | MC | 81 | | 47 | 67 | |
| Curtis Luck | MC | | MC | 20 | 5 | | | MC | 73 | 34 |
| Nick Watney | 27 | | MC | 37 | 13 | 73 | | 68 | | 53 |
| Ryan Brehm | MC | MC | MC | 37 | MC | 35 | 53 | 37 | | |
| Richy Werenski | 42 | 18 | 25 | MC | | MC | | MC | | |
| Martin Flores | 19 | 18 | 64 | 50 | 55 | MC | | 72 | | MC |
| Bryce Molder | 62 | | MC | MC | MC | 26 | | MC | | MC |
| Jonathan Randolph | MC | 77 | 68 | 20 | 29 | MC | 42 | 86 | | |
| Spencer Levin | MC | 27 | MC | MC | 5 | 81 | 60 | 37 | | |
| Troy Merritt | MC | 35 | 60 | MC | MC | 8 | MC | MC | | |
| Tyrone Van Aswegen | 19 | 64 | 39 | 73 | 26 | MC | | 31 | | MC |
| Zac Blair | MC | 27 | MC | 73 | 29 | MC | | 52 | 63 | MC |
| Sam Saunders | 19 | 55 | 25 | MC | 61 | | | MC | 57 | 24 |
| Seamus Power | 10 | 18 | 25 | 50 | 38 | MC | | 27 | | |
| Andres Gonzales | 10 | 73 | MC | MC | | MC | 48 | 37 | 13 | |
| Greg Chalmers | MC | | 25 | MC | MC | 66 | | | 52 | MC |
| Cameron Percy | 70 | 12 | 12 | MC | 46 | 75 | | MC | 7 | MC |
| Camilo Villegas | 54 | | 19 | 50 | MC | | | MC | 63 | Wd |
| Jason Gore | Wd | | 42 | 65 | 13 | MC | | 8 | 52 | |
| Andrew Loupe | 62 | 82 | 80 | MC | 35 | MC | | MC | | |
| Chad Collins | 48 | 2 | MC | MC | | MC | | MC | | |
| Tim Wilkinson | MC | | MC | MC | 72 | 43 | | MC | | |
| Chris Stroud | MC | 35 | 19 | 20 | MC | | | 65 | | 41 |
| Brian Campbell | MC | MC | 12 | 45 | | MC | | 37 | | |
| Ben Crane | 54 | | 25 | MC | 38 | MC | | 10 | | |
| JJ Henry | MC | | 10 | 45 | 68 | 69 | | MC | | MC |
| Mark Anderson | MC | MC | 50 | 50 | | MC | | MC | MC | |
| Joel Dahmen | MC | MC | MC | MC | Wd | 62 | | 18 | | |
| Brett Stegmaier | MC | | 81 | 50 | 65 | 26 | | MC | | |
| Willy Wilcox | | 52 | MC | MC | | | Dq | 52 | | |
| Greg Owen | | | MC | MC | MC | | | 52 | | |
| Ken Duke | 67 | 55 | MC | MC | | MC | | MC | | |
| Nicholas Lindheim | MC | 55 | 55 | Wd | | MC | | Wd | MC | |
| Steve Wheatcroft | 54 | 15 | MC | MC | | 83 | | 10 | 24 | |
| Jonathan Byrd | | 42 | 5 | 58 | 59 | 38 | | MC | 13 | |
| Shawn Stefani | MC | 11 | 44 | 37 | 55 | MC | | MC | | |
| Rory Sabbatini | 23 | 55 | 19 | 14 | | MC | | MC | | MC |
| Yong-Eun Yang | | 55 | 64 | MC | | 20 | | 57 | | |
| Bill Lunde | | MC | MC | MC | | | | MC | | |
| Jason Bohn | MC | MC | MC | MC | MC | MC | | MC | | MC |
| Stuart Appleby | 66 | 77 | 25 | MC | MC | Wd | | MC | 39 | |
| Brad Fritsch | MC | MC | MC | MC | | 43 | | MC | MC | |
| Ryan Armour | 58 | 27 | MC | MC | | MC | | 47 | MC | |
| Tom Hoge | 32 | 42 | MC | MC | | 35 | MC | MC | | |
| Eric Axley | MC | MC | MC | 53 | 11 | 2 | 27 | MC | 24 | |
| Peter Malnati | 58 | 18 | 44 | 29 | 38 | 75 | | 72 | | |
| Miguel Angel Carballo | 70 | MC | 50 | MC | | MC | 79 | MC | 48 | |
| Mark Hubbard | 62 | 42 | MC | 58 | | 43 | | 47 | 60 | |
| Tag Ridings | 32 | 3 | 74 | MC | | MC | | 68 | | |
| Gonzalo F`dez-Castano | MC | MC | MC | MC | | MC | | 78 | | |
| Nicholas Thompson | 21 | MC | 60 | 59 | 32 | | MC | Wd | MC | |
| Brett Drewitt | 76 | 27 | MC | MC | | MC | 27 | 60 | 52 | |
| Max Homa | MC | 71 | MC | MC | MC | | 82 | 85 | | |
| Davis Love | | 67 | 77 | 29 | | | | MC | | MC |
| Bobby Wyatt | MC | 77 | MC | MC | | MC | 32 | MC | 81 | |
| Steven Alker | 48 | 42 | MC | Wd | | MC | | 68 | | |
| Hunter Mahan | MC | 64 | MC | 37 | | 17 | | 82 | MC | MC |
| Tim Herron | | 42 | MC | | | | | | | MC |
| Mark Wilson | | MC | MC | | | MC | | MC | | |
| John Rollins | | MC | MC | | | | | MC | | |
| Tyler Aldridge | | 70 | MC | MC | | | Wd | MC | MC | |
| Angel Cabrera | | Wd | Wd | MC | | | MC | | | 41 |
| John Merrick | MC | 18 | 73 | 59 | | 70 | 40 | MC | | |
| Carl Pettersson | 70 | 77 | Wd | MC | | MC | | MC | MC | |
| Brendon de Jonge | | MC | MC | MC | MC | | | MC | MC | |
| Arjun Atwal | | 35 | | | 55 | | | MC | | |
| Robert Allenby | MC | 27 | MC | | MC | 28 | 19 | MC | 52 | |
| Derek Ernst | 60 | MC | MC | | 54 | 63 | MC | MC | 10 | |
| Sebastian Munoz | 32 | MC | MC | 3 | MC | 75 | | 60 | MC | |
| Matt Every | 14 | 61 | MC | MC | MC | 35 | | 27 | MC | MC |
| S J Park | | | | | | | | Wd | | |
| Steven Bowditch | | MC | MC | MC | | | | MC | MC | MC |
| Shane Bertsch | MC | 67 | MC | MC | | 84 | 32 | MC | MC | |
| Wyndham Clark | MC | 23 | MC | | 51 | MC | | | | |
| Troy Matteson | | MC | 60 | | | | | | | |
| Tommy Gainey | MC | MC | 57 | 64 | 18 | MC | MC | MC | MC | |
| Tim Petrovic | | | | | | | | | | |
| Julian Etulain | MC | 27 | MC | 68 | MC | 75 | | 24 | | |
| Dru Love | | MC | | MC | MC | | MC | | | |
| Dicky Pride | MC | 18 | MC | MC | 56 | | | MC | | |
| Ted Purdy | | MC | | | | | 34 | 23 | | |
| Cameron Beckman | | MC | | | | | | | | |
| Brendon Todd | | MC | MC | | | | | | | |
| Jeff Overton | | | | | | | | | | |
| DJ Trahan | | 52 | MC | | MC | MC | MC | MC | | |
| Marc Turnesa | MC | MC | MC | | 64 | MC | 67 | MC | | |
| Craig Barlow | | 73 | | | | | | | | |
| Charlie Wi | | 35 | MC | | | | | MC | | |
| Charlie Danielson | | | 15 | 11 | | 52 | 19 | | | |
| Sam Horsfield | 48 | | 55 | | MC | | | MC | | |
| David Duval | | MC | | | | | | MC | | |
| Troy Kelly | | | | | | MC | MC | | MC | |
| Rich Berberian | | 83 | | | | | | | | |
| Hugo Leon | | MC | | | | | | | | |
| Maverick McNealy | | MC | 44 | | | | MC | | | |
| Cody Blick | | 17 | 62 | 51 | | | 2 | 3 | MC | |
| Jay McLuen | | | | | | | | | | |
| Jake Sarnoff | | | MC | | | | | | | |
| Tom Morton | | | | | | | | | | |
| Player | 2016 | 2015 | 2014 | 2013 | 2012 | 2011 | 2010 | 2009 | 2008 | 2007 |
| --- | --- | --- | --- | --- | --- | --- | --- | --- | --- | --- |
| Daniel Summerhays | | | | | | 63 | | | | |
| Graham DeLaet | 29 | | | | | | 31 | | | |
| Harris English | | | | | | | | | | |
| Ryan Palmer | | | | | | | MC | 5 | 4 | MC |
| Chris Kirk | | | | | 26 | | | | | |
| Chez Reavie | 44 | | | | | 50 | | 42 | | |
| Padraig Harrington | | | 47 | MC | 19 | | | | | |
| Ollie Schniederjans | | MC | | | | | | | | |
| JJ Spaun | | | | | | | | | | |
| Luke List | MC | | | 49 | | | | | | |
| Smylie Kaufman | | | | | | | | | | |
| Aaron Baddeley | 17 | MC | MC | MC | | | | MC | | |
| Dominic Bozzelli | | | | | | | | | | |
| Brian Stuard | | 22 | 72 | 37 | | | MC | | | |
| Vaughn Taylor | | 25 | | 61 | MC | 38 | 35 | 26 | | |
| Kevin Tway | | | 42 | | | | | | | |
| David Hearn | | | | | | MC | | | | |
| Ben Martin | 7 | | | | | 6 | | | | |
| JT Poston | | | | | | | | | | |
| Seung-Yul Noh | 57 | | | 7 | 31 | | | | | |
| Patton Kizzire | | | | | | | | | | |
| Alex Cejka | 61 | MC | MC | MC | MC | | 5 | 5 | MC | 12 |
| Geoff Ogilvy | 35 | MC | 1 | | | | | | | |
| John Huh | Wd | Wd | 3 | | | | | | | |
| Kyle Reifers | 9 | 2 | | | | | | | | 73 |
| Trey Mullinax | | | | | | | | | | |
| Blayne Barber | 25 | MC | | | | | | | | |
| Johnson Wagner | | | 27 | 10 | | | 39 | | | 12 |
| Matt Jones | | | | | Dq | 25 | | 17 | 69 | |
| Brian Gay | | | MC | | 43 | | | | | 21 |
| Derek Fathauer | | 7 | | | | | | 66 | | |
| Scott Stallings | 41 | | | | | | | | | |
| Cameron Tringale | 35 | | | | | | MC | | | |
| Robert Garrigus | 29 | 15 | | | | 38 | 10 | 9 | 21 | |
| Retief Goosen | | 6 | 25 | | | | | | | |
| Chesson Hadley | MC | | | | | | | | | |
| Ricky Barnes | 59 | 18 | 8 | 62 | 21 | | | MC | | |
| Rick Lamb | | | | | | | | | | |
| Brandon Hagy | | MC | | | | | | | | |
| KJ Choi | | 34 | | | | | | | | |
| Curtis Luck | | | | | | | | | | |
| Nick Watney | | | 8 | | | | | | 43 | |
| Ryan Brehm | | | | | | | | | | |
| Richy Werenski | | | | | | | | | | |
| Martin Flores | | 34 | | | | | 10 | | | |
| Bryce Molder | MC | 53 | 14 | MC | 69 | 10 | | MC | | 37 |
| Jonathan Randolph | | MC | | | | | | | | |
| Spencer Levin | 63 | MC | | | MC | | MC | 63 | | |
| Troy Merritt | | | | | | MC | | | | |
| Tyrone Van Aswegen | MC* | 15 | Wd | | | | | | | |
| Zac Blair | 61 | 37 | | | | | | | | |
| Sam Saunders | 9 | MC | | | | | | | | |
| Seamus Power | | | | | | | | | | |
| Andres Gonzales | MC | 4 | | MC | | MC | | | | |
| Greg Chalmers | 1 | 53 | 42 | 39 | | MC | | MC | | |
| Cameron Percy | 13 | MC | | MC | | MC | | | | |
| Camilo Villegas | 44 | | | 51 | MC | | | | | |
| Jason Gore | 53 | 15 | | MC | | | | 53 | 8 | 37 |
| Andrew Loupe | | MC | 57 | | | | | | | |
| Chad Collins | | | 74 | | | | | | MC | |
| Tim Wilkinson | 44 | MC | 8 | | | | MC | | 21 | |
| Chris Stroud | MC | | | | | | | MC | | MC |
| Brian Campbell | | | | | | | | | | |
| Ben Crane | 25 | 59 | | 49 | | | | | 29 | |
| JJ Henry | MC | 1 | 34 | MC | 1 | | 26 | 9 | | |
| Mark Anderson | | | | | MC | | | | | |
| Joel Dahmen | | | | | | | | | | |
| Brett Stegmaier | MC | | | | | | | | | |
| Willy Wilcox | MC | 10 | MC | | | | | | | |
| Greg Owen | 20 | | | MC | | | | MC | | Wd |
| Ken Duke | 44 | 20 | MC | | | | | 26 | | 12 |
| Nicholas Lindheim | | | | | | | | | | |
| Steve Wheatcroft | 5 | 47 | | | 43 | | 39 | | | MC |
| Jonathan Byrd | | 34 | 3 | 2 | | | | 17 | 14 | |
| Shawn Stefani | 66 | | | | | | | | | |
| Rory Sabbatini | MC* | | 69 | 7 | | | | | | |
| Yong-Eun Yang | | | Dq | | | | | | 21 | |
| Bill Lunde | | 25 | | MC | 18 | Wd | 10 | MC | | |
| Jason Bohn | | | | | 19 | MC | | | | |
| Stuart Appleby | MC | | MC | 16 | 16 | | 18 | | | |
| Brad Fritsch | | | MC | 20 | | | | | | |
| Ryan Armour | | MC | | | | | | | 62 | 49 |
| Tom Hoge | 66 | 10 | | | | | | | | |
| Eric Axley | 17 | MC | 12 | | MC | | MC | 72 | 4 | 73 |
| Peter Malnati | | | MC | | | | | | | |
| Miguel Angel Carballo | 9 | | 17 | | 54 | | | | | |
| Mark Hubbard | 20 | MC | | MC | | | | | | |
| Tag Ridings | | | MC | 66 | | 43 | | 22 | 37 | 66 |
| Gonzalo F`dez-Castano | | 29 | | | | | | | | |
| Nicholas Thompson | | 56 | 56 | | | | 55 | 51 | MC | |
| Brett Drewitt | | | | | | | | | | |
| Max Homa | | 45 | | | | | | | | |
| Davis Love | | | MC | 32 | | | | | | |
| Bobby Wyatt | | | MC | | | | | | | |
| Steven Alker | | MC | | | | | | | | |
| Hunter Mahan | | | | | | | | | | |
| Tim Herron | 4 | | 66 | | | 67 | | | 43 | |
| Mark Wilson | 13 | 29 | 45 | 23 | | | 21 | 22 | 8 | |
| John Rollins | MC | 45 | 66 | 20 | 43 | | 50 | 1 | 2 | |
| Tyler Aldridge | 63 | | | | | | | 66 | | |
| Angel Cabrera | | | | | | | | | | |
| John Merrick | MC | 50 | 61 | | 14 | 25 | 3 | | 8 | 4 |
| Carl Pettersson | | | | | | | | | | |
| Brendon de Jonge | MC | | | | | | | 63 | | 6 |
| Arjun Atwal | MC | MC | 53 | MC | 63 | | | MC | | |
| Robert Allenby | | 59 | MC | MC | | | | | | |
| Derek Ernst | MC | 29 | 27 | | | | | | | |
| Sebastian Munoz | | | | | | | | | | |
| Matt Every | | | | | | | 71 | | | |
| S J Park | | MC | | | | | | | | |
| Steven Bowditch | | | | MC | MC | MC | | | | |
| Shane Bertsch | | | | | 48 | 18 | | | | |
| Wyndham Clark | | | | | | | | | | |
| Troy Matteson | 32 | MC | 47 | MC | MC | 25 | | 42 | | |
| Tommy Gainey | | | 17 | | | | | 53 | MC | |
| Tim Petrovic | MC* | 72 | 53 | MC | MC | 71 | | | | 49 |
| Julian Etulain | | | | | | | | | | |
| Dru Love | | | | | | | | | | |
| Dicky Pride | MC | 68 | MC | 5 | 41 | 43 | 69 | MC | MC | MC |
| Ted Purdy | MC | 67 | MC | MC | 63 | MC | 59 | 26 | MC | 49 |
| Cameron Beckman | 71 | MC | 61 | MC | 26 | Wd | MC | | 33 | 25 |
| Brendon Todd | MC* | | | 13 | 43 | | | MC | | |
| Jeff Overton | 32 | MC | 42 | | | | | | 37 | MC |
| DJ Trahan | 53 | 59 | 39 | MC | 26 | MC | | | | 30 |
| Marc Turnesa | MC | | 47 | 56 | 31 | | | | MC | |
| Craig Barlow | MC | | MC | | MC | 25 | 5 | MC | | 25 |
| Charlie Wi | MC | MC | MC | 11 | | | | MC | | 69 |
| Charlie Danielson | 44 | | | | | | | | | |
| Sam Horsfield | | | | | | | | | | |
| David Duval | | MC | Wd | 66 | 66 | MC | | | MC | |
| Troy Kelly | | 47 | | | 48 | | | 51 | | |
| Rich Berberian | | | | | | | | | | |
| Hugo Leon | | | | | | | | | | |
| Maverick McNealy | | | | | | | | | | |
| Cody Blick | | | | | | | | | | |
| Jay McLuen | MC* | MC | | | | | | | | |
| Jake Sarnoff | | | | | 67 | | | | | |
| Tom Morton | | | | | | | | | | |
Discover the latest articles