USPGA Championship Betting: Hole-by-hole in-play betting guide for Oak Hill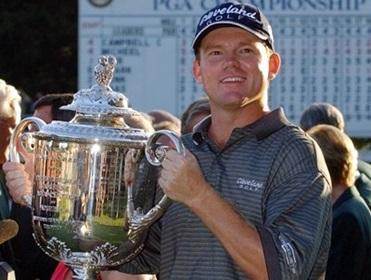 Oak Hill's demanding layout produced a shock PGA winner in Shaun Micheel
Before backing or laying players in-running, it pays to know which holes offer a good birdie opportunity and which could prove ruinous. Paul Krishnamurty marks your card with hole-by-hole trading tips...
Hole 17
Par 4, 509 yards

"Traditionally, this extremely long hole is the toughest on the course, producing the fewest birdies and most bogies."
Hole 1
Par 4, 460 yards
The opening stretch at Oak Hill will produce some markedly different scores. It is quite possible to play the opening six holes in four under, yet plenty will play them in four over. The first is a sign of things to come, presenting a pivotal, dangerous tee-shot. Trees guard both sides of the fairway and right is out of bounds. Alternatively an accurate drive should catch the downslope, leaving a good chance for birdie.
Hole 2
Par 4, 401 yards
Again, driving accuracy is the name of the game here. Penal bunkers await errant drives and a small green demands maximum precision from the fairway. On these opening two holes, it may be worth taking a chance on accurate drivers in hope they may gain, and probably won't lose, anything on the field.
Hole 3
Par 3, 214 yards
This is the first of the really tough holes. Par is an excellent score on any day, as a small, well guarded green leaves no room for error. Once a contender hits the green safely, however, this is a good time to back them as the easiest hole on the course is next.
Hole 4
Par 5, 570 yards
A definite birdie opportunity but again, there are serious penalties for straying off line with out of bounds and bunkers threatening the drive. Don't assume long-hitters will enjoy much of an advantage here, as even those choosing to play the hole conservatively should get a good sight at birdie if avoiding the hazards. 
Hole 5
Par 4, 428 yards
Following on from the easiest hole, this may well prove the toughest. Again this is all about the drive, which requires clearing a 215 yard shoot through trees and avoiding a creek crossing the fairway at 250 yards. Expect plenty of disasters and try to avoid holding risky 'back' positions here.
 
Hole 6
Par 3, 175 yards
 
This is the easiest of the short holes and an excellent scoring opportunity. Remarkably, there were four aces on this hole during the 1989 US Open.
Hole 7
Par 4, 461 yards
Another very tight tee-shot, with severe penalties awaiting errant drives. A small green adds further problems so don't expect many birdies here.
Hole 8
Par 4, 428 yards
As always, an accurate tee shot will be essential to making birdie, but this looks one of the less severe par-fours.
Hole 9
Par 4, 452 yards
A very tough finish to the front-nine, with an accurate drive essential to avoid 'Death Valley' on the right and hold a narrow fairway. Scrambling around this green is no picnic either.
Hole 10
Par 4, 429 yards
Though one of the less brutal par-fours, accuracy is once again essential off the tee and a small, tricky green won't offer up many birdies.
Hole 11
Par 3, 226 yards
Lengthened by 30 yards, what was previously a good birdie opportunity is now a hole where everyone will be happy to make par. Once your selection is close to contention and safely on the green, this is the best time to back them as we're now approaching the most generous stretch on the course.  
Hole 12
Par 4, 372 yards
This shortish par-four should yield plenty of birdies. Whilst the usual premium is placed on accuracy, the vast majority of players will leave driver in the bag, with a view towards setting up a straightforward wedge approach.
Hole 13
Par 5, 598 yards
Don't assume this par-five will offer the big-hitters an easy birdie. Nobody has ever reached this green in two during a championship, largely due to the fact a creek crosses the fairway at 300 yards, ensuring almost everyone lays up.  
Hole 14
Par 4, 323 yards
This risk-reward hole may offer big-hitters a rare advantage as some will doubtless drive the green. Whether that tactic pays off remains to be seen, however, as laying up safely off the tee should set up a good birdie chance anyway.
Hole 15
Par 3, 181 yards
Birdie chances from here on are few and far between, so this is an ideal time to start thinking about laying any open positions back. Birdie is possible if finding this narrow green, but many will find the water or struggle to scramble around a tricky surface.
Hole 16
Par 4, 439 yards
This is the last realistic chance to make birdie and, as ever on this penal layout, an accurate drive is a pre-requisite. If hitting the fairway, the hole will play much shorter than it's yardage.
Hole 17
Par 4, 509 yards
Players sitting in the clubhouse having finished their rounds will enjoy watching their rivals suffer over this closing stretch. Traditionally, this extremely long hole is the toughest on the course, producing the fewest birdies and most bogies.
Hole 18
Par 4, 497 yards
To finish, another long par-four that typifies the difficulty of this course. There is no escape for errant drives and even those finding the fairway will need a well-controlled second shot to hold the green. If anyone in contention does complete the first two tasks successfully, this is the perfect time to back them, as their odds are likely to shorten up over the next few hours as most players go backwards. 
Win more In-Play with Betfair!
If you'd backed Phil Mickelson to win The Open for £25 on Betfair – after the completion of Round 3 – you would have won £735, after 5% commission.
£25 at Ladbrokes, Bet365, Paddy Power and William Hill would have only won you £500.
That means you were £235 better off with Betfair compared to all four bookmakers.

Discover the latest articles