Golf Betting: Is now the time to side with Rory after his New Year engagement?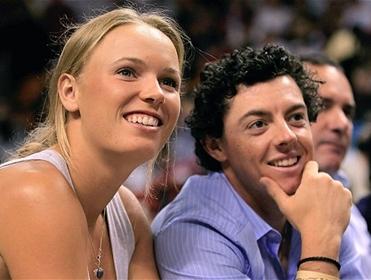 Rory and Caroline have a lot to smile about right now
Rory McIlroy has just announced his engagement to tennis star Caroline Wozniacki, and Ralph Ellis believes that bit of stability in their lives could trigger a return to top form for both...
"So there are good signs that with his head in a better place, right now could be the best time to start backing McIlroy to return to the summit of his sport."
What better way to wake up on New Year's Day, with the wind and rain howling outside, than to turn on the telly for a good news story?
Just eight short weeks ago the worlds of golf and tennis were alive with rumours that Rory McIlroy and Caroline Wozniacki, arguably sport's most glamorous couple, had split up. Neither would discuss it. "My private life is private and I would like to keep it that way," he said.
Clearly his views have changed. They are back together big time and have just got engaged. In fact once he'd popped the question to the background of Sydney Harbour's spectacular fireworks, his next action was to keep his 1.8million Twitter followers in the loop. "Happy New Year everyone! I have a feeling it's going to be a great year!! My first victory of 2014 #shesaidyes!!" was his message.
Good luck to them both. And it could just be that for both of them the first victory of 2014 could be the prelude for plenty more.
It's a sign of just how tough a year the 24-year-old from Northern Ireland has suffered that the betting in the Rory Specials market makes him odds on (between 1.232/9 and 1.8910/11) to finish 2014 without adding another Major to the 2011 US Open and 2012 USPGA titles he has held so far.
Wind the clock back two years and people were asking if he, rather than Tiger Woods, would be the man to take away the record of 18 Major titles from Jack Nicklaus. Instead 2013 began disastrously when he couldn't get on with his new Nike clubs, lurched its way through court battles with former agents, and seemed to be sliding further downhill when his relationship with Wozniacki was said to be on the rocks.
Things are changing. He proved he can play with the Nike clubs when holding off Adam Scott's challenge for the Australian Open, coming back from four shots down at the start of the final day. The legal issues with former agent Conor Ridge have been settled. And now his girl has a glittering ring on her finger.
So there are good signs that with his head in a better place, right now could be the best time to start backing McIlroy to return to the summit of his sport. He is 12.011/1 second favourite in the betting for the Masters, and somewhere between the same price and a lay of 17.5 for the US Open.
All the happiness won't hurt Wozniacki's chances either, and makes her sensational value at a current price of 140.0139/1 to win the Australian Open .
She once spent more than a year on the top of the world tennis rankings. It's probably no coincidence that her form slumped once she started on a roller coaster relationship with a fellow sporting superstar. Getting engaged and settled will help both of them work out a better way to deal with the twin demands of global sporting careers and being together. Happy New Year, indeed.
Discover the latest articles