WGC World Match Play: Aphi-go-lucky barnrat set to give Stenson a tough test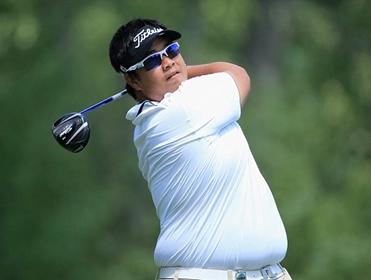 Kiradech Aphibarnrat is winning fans all over the world
With just the one main tournament on our screens this week Mike Norman's Double Delight column is on a well-earned break. Instead our man still talks golf with his subject being the increasingly popular Kiradech Aphibarnrat...
"The very early betting has Stenson available to back at just 1.384/11 to take the win with Aphibarnrat available at a generous-looking 3.02/1 - generous that is if you believe Stenson's awful course record will once again haunt him."

When you change your name to Kiradech Aphibarnrat because it's easier to pronounce, then your original name must have been quite a tongue twister.
But that's exactly what Anujit Hirunratanakorn did prior to turning professional in 2008 believing that his new name would gain him more fans, not least because his followers could actually say it!
But changing your name in Thailand isn't at all unusual, in fact it's perceived to be good fortune if you have a family name, or change your family name, to one that is unique, hence why Thai surnames are often extremely long and in most cases unpronounceable to most of us.
And there's no doubting that Aphibarnrat has had his share of good fortune in recent weeks. Starting the year just inside the world's top 60 the 24-year-old Thai knew that only a good start to his season would get him in to this week's WGC - Accenture World Match Play (the top 64 players in the world automatically qualify) at Dove Mountain in Arizona.
With both Adam Scott and Phil Mickelson already announced as non-starters, Arn - as he is known in some quarters - could effectively slip to number 66 in the world and still get in.
A missed cut in Abu Dhabi meant that Aphibarnrat was one of the 'bubble' guys as he flew to America to play two consecutive events on the PGA Tour. An opening round 66 at the Phoenix Open looked set to seal his place in the first 'big' tournament of the season, especially as he walked off the course to the news that world number one Tiger Woods had joined Scott and Mickelson in turning down their place in the field.
But with the knowledge that the 67th ranked player in the Official World Golf Ranking come Monday February 10 would now get a ticket to Dove Mountain, the Thai's game got progressively worse as the week went on.
A final round 76 dropped Aphibarnrat tumbling down the Phoenix Open field like a stone through water, and with it, he was down to 66 in the OWGR. Next stop, Pebble Beach.
Another good start would ultimately end in disappointment - effectively a missed cut meant no ranking points and an anxious wait to see if he was in the World Match Play field.
But as events transpired, with the men immediately behind Aphibarnrat in the world rankings not playing on either the European or PGA Tour that week, the only man who could have overtaken the current holder of the Asian Order of Merit was DA Points. And that's where Arn's luck really kicked in.
With Points sitting just outside the top 30 after completing his second round, and with the tree-lined Spyglass Hill to play on Saturday (the other two venues being exposed to high winds), the American could conceivably have moved up the leaderboard. But he wasn't afforded the opportunity; Points was disqualified for placing a sponge ball under his arm during a practice swing in round two. Aphibarnrat was safe.
Although not in the greatest of form Kiradech can thank his lucky stars - or his name change - that three of the biggest names in golf have chosen not to play this week. But when a door opens you have to walk through it, and this current Malaysian Open champion is no slouch.
Being the lowest ranked player in the 64-man field in Arizona means Asia's John Daly - so called because of his burly physique and attacking style of play - will play Henrik Stenson in the first round at Dove Mountain, so some will say it's not all good news for Aphibarnrat. But consider this...
Last year's Race to Dubai and Fedex Cup champion has had a stuttering start to 2014, finishing no better than tied 28th during the recent Desert Swing. The Swede also has a dreadful record around the Ritz-Carlton Golf Club, losing all four of his first round matches that he has played at the venue. An opening day upset is ripe.
The very early betting has Stenson available to back at just 1.384/11 to take the win with Aphibarnrat available at a generous-looking 3.02/1 - generous that is if you believe Stenson's awful course record will once again haunt him.
Or even generous-looking if you believe the Barn Rat's luck will hold out for another day at least when the first round commences on Wednesday afternoon UK time.
But however his luck unfolds in a few days time Aphibarnrat needn't worry too much. He is winning fans everywhere he plays, his happy-go-lucky attitude is infectious, and that name change has certainly done him no harm.
Whether he is lifting his first WGC trophy come Sunday night or not (he is 230.0229/1 to do so), Aphibarnrat, Hirunratanakorn, Arn, or whatever he wants to be called will certainly be winning tournaments in the future - and it won't all be down to just plain old good fortune.

*For a full comprehensive guide to this week's WGC World Match Play then click here for Steve Rawlings' unmissable in-depth preview of the tournament
Discover the latest articles