WGC Mexico Championship: Dave Tindall rates the top 10 for current, course, WGC and long-term form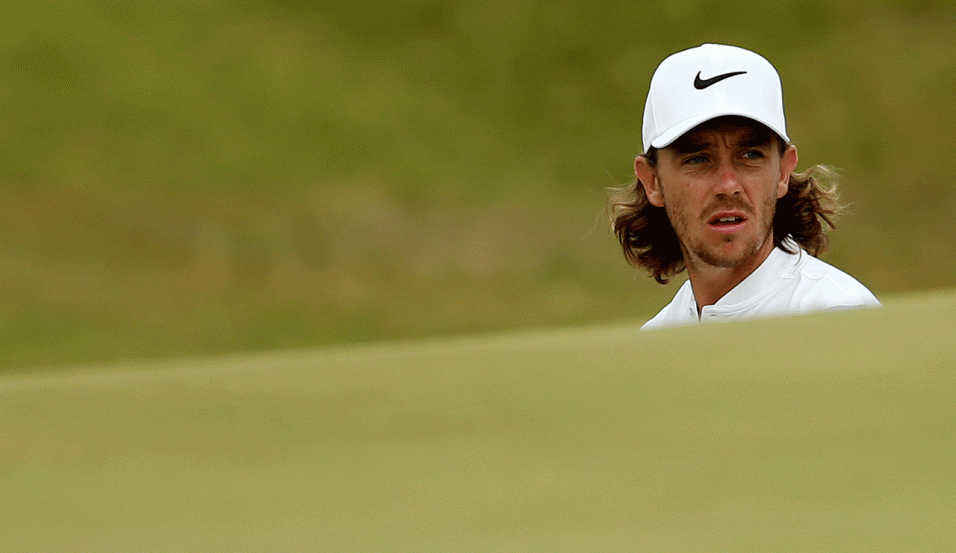 Tommy Fleetwood has been racking up the top 10s
Dave Tindall arms you with the stats that matter for a punt on the Top 5 and Top 10 Finish markets ahead of the WGC Mexico Championship...
"The best stat to highlight his excellent play is the All-Around which he's topped in three of his last four starts (Honda, Dubai and Abu Dhabi)."
Dustin Johnson
"Even the first time I played the course I liked it. I hit 2-iron on a lot of holes, 2-, 3- and 4-irons off a lot of tees here, but the ball here goes so far, so the key is hitting in the fairway. It doesn't really matter what you have in. As long as you have less than 200 yards, you still have a short iron in your hand. And you've got to be in the right side of the fairway, too, because there's a lot of doglegs. And then obviously being at altitude is really about controlling your ball because these greens are very difficult and you don't want to leave yourself downhill putts all day." Who says DJ doesn't think about much?! He won this last year in his first start as World No. 1 and, given a decent week with the putter, it's hard to think he won't be a big factor again. Finishes top five in nearly half of his starts these days.
Last 4 events: 16-2-9-1
Course form: 1
WGC form: 2-17-1-1-35-1-QF-14
Last 50 starts - Win: 16%, Top 5: 44%, Top 10: 58%
Justin Thomas
"I'm very excited and very thrilled where my game's at. I feel like I'm playing very, very well. I feel like I have a lot more control over my game than maybe I did last year. I had more wins obviously coming into this event than last year. But in terms of a consistency factor, just everything is tightened up a lot more, which I really like." Thomas was the 54-hole leader here last year and added in Tuesday's press conference: "I like the course, it's a fun little track. The course reminds me a lot of the Web events I played down in South America. I played really well for what I had here last year, I think I putted pretty well, which is big, these greens can be difficult to read and to putt." When he's on, he's on so Thomas could be the most reliable option this week.
Last 4 events: 1-9-17-14
Course form: 5
WGC form: 28-39-5-23-33-61-35-27
Last 50 starts - Win: 14%, Top 5: 26%, Top 10: 40%
Jon Rahm
"I didn't play great every day and still had a chance to win the tournament," said Rahm after leading with a few holes to play but finishing third last year. "My first chance here on this golf course, first time I played this kind of event and to actually have a chance and be in it the first time, it's really nothing but positive." As for the course: "You have so many different options, so many different strategies off the tee that you learn something every day. These are tough greens, small greens with many short and quick breaks. The way the fans have welcomed us has been amazing. Those who realise or know that I'm from Spain, because my name is not that Spaniard, they cheered for me." He's been just a little off his best on the West Coast since winning the CareerBuilder but a WGC event should get those fierce competitive juices flowing.
Last 4 events: 26-11-29-1
Course form: 3
WGC form: 36-28-2-3
Last 50 starts - Win: 9%, Top 5: 34%, Top 10: 43%
Jordan Spieth
Spieth had to settle for T12 here last year but he did post a course-record 63 in round three. "I hit a couple foul balls the first two days and a couple out-of-bounds balls, a couple unplayables. Hit it a little straighter today and then really just stayed aggressive. I think the more rounds you play out here, the more you can kind of get dialled into trusting your numbers in this altitude. We hit quite a few shots really close to the hole today and I didn't have to work too much with the putter to get to 63." Spieth hasn't had his best stuff so far this year but, with the Masters on the horizon, looks to be slowly piecing it together given his improving results after a missed cut in Phoenix.
Last 4 events: 9-20-MC-18
Course form: 12
WGC form: 13-30-12-3-R16-17-7-10
Last 50 starts - Win: 10%, Top 5: 26%, Top 10: 46%
Tommy Fleetwood
Runner-up last year, that performance got Fleetwood into the Masters and gave him a huge dose of belief that he could thrive at this level. Speaking on Tuesday, he reflected: "I've got a good eye for the course, I feel, so hopefully it will stand me in good stead. It is a very European layout. Last year it just reminded us of playing in Italy or some of the courses that we play. A bit of an old-school golf course and ones we're kind of used to playing a little bit." As for the current form which helped him take T4 at the Honda Classic on Sunday: "My game is getting better all the time. I'm consistently working hard and I feel like I'm always doing the right things. My confidence is up. I'm just very, very comfortable with where I'm at."
Last 4 events: 4-37-6-1
Course form: 2
WGC form: 20-28-39-2-30-QF-71-24
Last 50 starts - Win: 6%, Top 5: 18%, Top 10: 38%
Rickie Fowler
Many were predicting a monster start to the year for Fowler but it's been a bit hit-and-miss so far with unexpected missed cuts at Torrey Pines and the Honda Classic. A T11 in Phoenix between those two early exits suggests nothing too much is wrong and he shot three good rounds here last year (pair of opening 69s and a closing 67) for T16. He came to Mexico last year straight after winning the Honda Classic and said on arrival: "I'm excited about being down here. It is a different style of golf. It's similar to Honda in a way, it's still kind of placing your ball, and placing it around this golf course is not exactly bomb and gouge." Fowler likes a creative test and a bounceback top 10 would be no surprise.
Last 4 events: MC-11-MC-4
Course form: 16
WGC form: 9-16-6-10-38-8-17-10
Last 50 starts - Win: 4%, Top 5: 26%, Top 10: 42%
Justin Rose
"It's interesting, it's a fun golf course. Obviously with the altitude, there's also those calculations you're trying to figure out, how far is the ball going. There was a lot of learning last year. I feel like I set up a very defensive game plan to start with, and by the end of the week I was hitting driver everywhere, so my game plan evolved as I got to know and understand the golf course. I believe I also was actually No. 1 strokes gained tee to green last year even though I finished in the 30s (T38), means I putted pretty poorly, I guess, last year." Rose spent Tuesday with his putting coach "putted really well, looking forward to it" so if he gets the hang of the greens there's every chance we'll see him build upon his T8 at Torrey Pines on his last start.
Last 4 events: 8-22-1-10
Course form: 38
WGC form: 1-63-38-46-28-17-3-17
Last 50 starts - Win: 10%, Top 5: 26%, Top 10: 46%
Phil Mickelson
Mickelson hit it all over the place last year but rode his magic short game to a top seven finish. "I've been driving the ball very well, and to come out today and totally lose it and just lose the sense of it is very disappointing," he said after round three. But he looks more in control this year and is a definite fan of the test this week. He said 12 months ago: "I really like the golf course. What's so fun about this course and I think the reason I've really fallen for it so quickly is that you have alternate ways to play every hole. You can play aggressive on some holes, conservative on others based on how you feel, and that's like that on every single hole out here." If Mickelson can keep it in play a little more, it's a great chance for him to rack up a fourth straight top 10 finish.
Last 4 events: 6-2-5-45
Course form: 7
WGC form: 15-39-QF-7-27-18-5-63
Last 50 starts - Win: 0%, Top 5: 18%, Top 10: 28%
Alex Noren
The Swede was only just finding his feet this side of the Atlantic when turning up here last year and finishing down in T55. He returns for a second crack as one of Europeans making big waves on the PGA Tour after losing a play-off at Torrey Pines and finishing third (just one back) at last week's Honda Classic. "I feel good. It's great being able to play against the best players in the world. That was my goal coming into the season, just to be able to play with these guys on these courses, and you know, prove to myself that I can do it and I'm just going to try to get that win." Noren admits he prefers bermuda greens so the poa/bent this week adds to his challenge but his results are speaking for themselves and he's more than justifying his position in the world rankings (14th).
Last 4 events: 3-16-21-2
Course form: 55
WGC form: 31-28-QF-55-12-54-56-R32
Last 50 starts - Win: 10%, Top 5: 18%, Top 10: 32%
Paul Casey
It's still no win on the PGA Tour since 2009 for Casey but since last March he's been averaging a top 10 in over 50% of his starts so this has been a profitable market to play him in. He didn't add to that tally at Riviera last time but that was after T8 at Pebble and T9 in Abu Dhabi. The World No. 17 seemed to figure this course out better and better each day last year, shooting 74-71-67-66 for tied 16th and he should be licking his lips at the chance of getting stuck back into it again. Casey has been sniffing around the top 10 in every WGC event he's contested in the last two years and should be again this week at a decent price.
Last 4 events: 49-8-9-11
Course form: 16
WGC form: 11-5-R16-16-12-16-51-7
Last 50 starts - Win: 0%, Top 5: 20%, Top 10: 38%
Conclusion
The two players who look to be absolutely striping it right now also happen to have made the top five here last year - Justin Thomas and Tommy Fleetwood.
The market knows this and Thomas looks a restrictive back price but I think the 2.6413/8 for a Fleetwood top 10 is worth a play.
While the snow comes down in the UK, he's having an absolute ball across the pond and the best stat to highlight his excellent play is the All-Around which he's topped in three of his last four starts (Honda, Dubai and Abu Dhabi).
Expect the good times to flow again for the 2017 runner-up, who has cracked the top 10 in four of his last five worldwide starts.
I also expect a big run from his fellow Englishman Paul Casey.
Casey's top 10 numbers over the last year easily justify a punt at 3.613/5 and his results show a couple of T11s and a T13 in there too so he really is giving backers a great run just about every time he pegs it up.
His weekend scores of 67-66 at this event last year meant he played the final two rounds one stroke lower than winner Dustin Johnson so he can definitely make hay around this track.
Dave's 2017 Top 5/10 P/L (based on £10 per selection)
Staked: £20
Returned: £0
P/L: -£20
Recommended bets
Back Tommy Fleetwood for top 10 at 2.6413/8
Back Paul Casey for top 10 at 3.613/5
Discover the latest articles
Read past articles