Wells Fargo Championship: Dave Tindall rates the top 10 for course, current and North Carolina form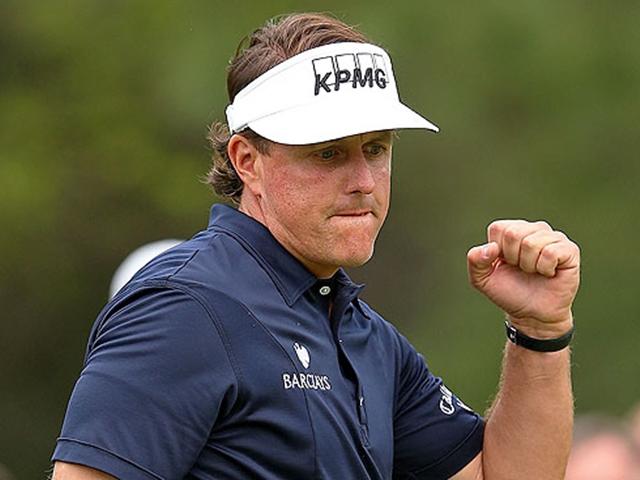 Phil Mickelson is fancied to go well at one of his favourite venues this week
Dave Tindall arms you with the stats that matter for a punt on the Top 5 and Top 10 Finish markets ahead of this week's PGA Tour event at Quail Hollow...

"Strike a line through the Players Championship and instead focus on the fact that he finished runner-up at Augusta. If Phil likes a venue, he can still thrive there."
Rory McIlroy
This is the event where Rory famously went from surviving the cut on the number to winning the tournament after an incredible 66-62 weekend finish in 2010. Apart from a missed cut the following year, he's been prominent ever since and also made a playoff in 2012 before losing to no longer over-rated Rickie Fowler. Last year he said: "This is one of my favourite stops on the tour. Obviously love the golf course, got fond memories of Quail Hollow, winning my first PGA Tour event here. I feel very comfortable here." After a T8 at Sawgrass - a course he says still frustrates him - McIlroy said: "I'm really happy with where everything is from tee to green. Just need to hole a few more putts."
Last four events: 8-1-4-11
Quail Hollow record: 8-10-2-MC-1
North Carolina form: 23-8-10-2-MC-1
Last 50 starts - Win: 14%, Top 5: 34%, Top 10: 58%

Jim Furyk
"Everyone likes the tournament. The golf course is wonderful. Charlotte is a great city," says Furyk, who has a win (2006) and two second places (2014 and 2005) in this event. Overall, he's not finished worse than T26 in his last nine visits so he's very much a course specialist. After a win at Heritage and a run to the semi-finals of the WGC-Cadillac Match Play, the American dipped at Sawgrass, finishing a disappointing T56. If that was a slight reaction to playing seven rounds the week before in San Francisco, you'd expect him to be back on it here. Furyk actually admitted he felt tired "both a little physically and a little mentally" last week so it's a fair presumption.
Last four events: 56-4-1-MC
Quail Hollow record: 2-26-24-7-11-7-MC-1-2-MC
North Carolina form: 12-2-26-9-24-7-11-MC-1-2
Last 50 starts - Win: 2%, Top 5: 26%, Top 10: 42%

Henrik Stenson
After illness problems in the run-up to the Masters, Stenson still isn't quite at his fighting best. At Sawgrass, where he finished T17, the Swede admitted: "Physically I'm in pretty good shape. In terms of golf practice I'm a little bit shy on that front. I'm trying to make up some ground on that, but again, you can't do it all at once, so I'm just trying to slowly build again, and looking at the long-term things, and hopefully I'll be in good shape coming into the U.S. Open." As he's got a terrible record in this event - he's broken par just once in 10 laps - perhaps this is just a stepping stone and he's worth taking on. That said, his long-term Top 5 and Top 10 percentages are very impressive.
Last four events: 17-T17-19-2
Quail Hollow record: MC-MC-MC-69
North Carolina form: 4-MC-WD-MC-MC-MC-MC-69
Last 50 starts - Win: 8%, Top 5: 42%, Top 10: 48%

Hideki Matsuyama
The Japanese youngster is starting to add consistency to his game and scored a fifth straight strokeplay top 25 when T17 at Sawgrass last week. He's also had four top fives this year so is becoming a good proposition for backers in this market. Matsuyama said he didn't take his A game to the Players so a top 20 was a decent effort. He's only had one look at this course and couldn't build on an opening 69 (he shot 72-72-73 to finish T38). That lack of experience at Quail Hollow makes him hard to assess so he's probably best left alone.
Last four events: 17-T9-5-21
Quail Hollow record: 38
North Carolina form: MC-35-38-15
Last 50 starts - Win: 8%, Top 5: 22%, Top 10: 32%

Phil Mickelson
Quite simply, this is one of Mickelson's favourite venues as seven top 10s in 11 appearances testifies. "I've always loved it, tee to green. I just think it's one of the best I've seen, and it requires such great shot-making in all different directions off the tee, as well as onto the greens. The greens now are just stupendous. They match up perfectly with the beauty and the simplicity of the design, and I believe it's one of the best golf courses I've played," he said last year when topping the Greens in Regulation stats for the week. That's a stark contrast to his thoughts on Sawgrass (he said during last week's missed cut he wondered how on earth he'd ever won there). Strike a line through the Players Championship and instead focus on the fact that he finished runner-up at Augusta. If Phil likes a venue, he can still thrive there.
Last four events: MC-2-17-30
Quail Hollow record: 11-3-26-9-2-5-12-3-35-7-5
North Carolina form: 28-11-3-26-9-2-5-12-3-35
Last 50 starts - Win: 4%, Top 5: 18%, Top 10: 20%

Bill Haas
"I look forward to this event every year. This course is a place that when I was growing up my dad would say, let's go play - it would be a trip, let's go play Quail tomorrow. It was a bigger deal than just playing at home. I've got good feelings around this place." Haas gave that insight in 2011 after shooting an opening 64 (R1 lead) that helped him to a second fourth place finish here (also 2006). However, seven of his last eight results at Quail Hollow have been T29 or worse so tread with caution if you think he's a must back given his local connections and fine play when T4 at The Players Championship last week.
Last four events: 4-T17-31-12
Quail Hollow record: 44-MC-MC-4-29-22-MC-MC-4-22-MC
North Carolina form: 2-35-44-20-MC-7-MC-MC-4-28
Last 50 starts - Win: 4%, Top 5: 8%, Top 10: 22%

Adam Scott
Since switching back and forth between putters, the indecision appears to have had a negative effect on Scott, who has been churning out finishes in the mid-30s - not what you expect from a player who was cracking the top 10 in over 50% of his starts before that. He had some early success at Quail Hollow (3rd 2006 and 8th 2008) but hasn't been back since a second straight missed cut in 2010. At Sawgrass, he said: "There's plenty of good stuff in there, I just have to limit those errors." Of his putting, he said after round two: "I putted okay. I made a few the last couple days. Not making everything, but making just enough, maybe." Not exactly convincing!
Last four events: 38-T17-38-35
Quail Hollow record: MC-MC-8-24-3-16
North Carolina form: 9-MC-MC-MC-8-24-3-64-28-16
Last 50 starts - Win: 12%, Top 5: 36%, Top 10: 50%

J.B. Holmes
Holmes has had a great season with victory at the Houston Open and a pair of second places at Torrey Pines and the WGC-Cadillac. Much of that good play is down to him feeling healthy again but is also explained by the confidence he gained from winning this event last year - his first PGA Tour success for six years. Apart from that win, his form at Quail Hollow is iffy to say the least and it was interesting to hear him talk about last year's win in Tuesday's press conference: "I was hitting it really well and was able to thread it on few holes that don't set up well for me." He also said he made more putts than normal so perhaps it was more a case of him just having a great week rather than any underlying liking for the course.
Last four events: 51-T9-MC-1
Quail Hollow record: 1-57-9-MC-MC-17-34-WD
North Carolina form: 17-1-MC-57-9-MC-MC-17-34-WD
Last 50 starts - Win: 4%, Top 5: 8%, Top 10: 14%

Patrick Reed
We've come to expect big things from Reed after all his wins and boasts of being a top five player. But perhaps the slight feeling of disappointment in his recent efforts is a tad harsh as finishes of T22 at Augusta and T24 at Sawgrass were hardly flops. He gave his own assessment in Tuesday's press conference. "One day I'll be hitting the driver well, and I'll be hitting the irons well and won't be putting as well as I want to and then other days I'll be putting really well but not hitting the ball very well. I need everything to kind of click at the same time. I felt like I haven't really played very well but still figure out a way to finish inside the top 25." That's golf, but maybe he's close. Reed has finished T32 on both his starts here, his debut in 2012 including an opening 66.
Last four events: 24-T17-MC-22
Quail Hollow record: 32-32
North Carolina form: 24-35-1-32-32-66
Last 50 starts - Win: 8%, Top 5: 14%, Top 10: 22%

Kevin Kisner
Who would have thought that Kisner would be in the top 10 in the betting?! He's attained that status due to runners-up finishes in two of his last three starts, the latest courtesy of a superb display at Sawgrass last week. The other element here is that he was T6 at this venue last year - his best finish of the season. He certainly seems full of confidence as to what lies ahead. "I've always won every level I've played at, I've always been good under the gun," he said after his playoff loss on Sunday. "If I believe in myself and I know what I'm doing, I know I can do it. I think all that hard work - we're only a year and a half into it (swing changes with coach John Tillery), and I'm starting to see some pretty good things, and hopefully we're just scratching the surface on where we're going to go, and you'll see my name up there every week."
Last four events: 2-28-2-MC
Quail Hollow record: 6-MC-MC
North Carolina form: 8-MC-6-MC-MC-46-MC-59-MC-MC
Last 50 starts - Win: 0%, Top 5: 8%, Top 10: 16%

Conclusion
No-one could ever accuse Phil Mickelson of being consistent but when he's on, he's on.
We saw that and profited from it at Augusta by backing him in the top five market and that's the play again here on one his other favourite courses.
Nine of Mickelson's last 10 top 10s have actually been top fives (actually top threes!) so it makes far more sense to play him in the Top 5 market at 6.25/1 than the safer Top 10 at 3.39/4.
He loves this venue and five of his seven top 10s at Quail Hollow have been top fives so again that supports our strategy.
Rory will surely go well but just over even money for a top five is giving nothing away for backers while you wouldn't want to be a layer either.
A lay of Henrik Stenson could be an option given his poor course form and the idea that he's still a bit undercooked but his long-term top 10 rates (48%) suggest caution.

Recommended Bet
Back Phil Mickelson for Top 5 @ 6.25/1
Dave's 2015 P/L on Top 5/10s (based on £10 per selection)
Staked: £210
Returned: £252.6
P/L: +£42.6
Discover the latest articles