USPGA 2015: Who's currently the best player without a major?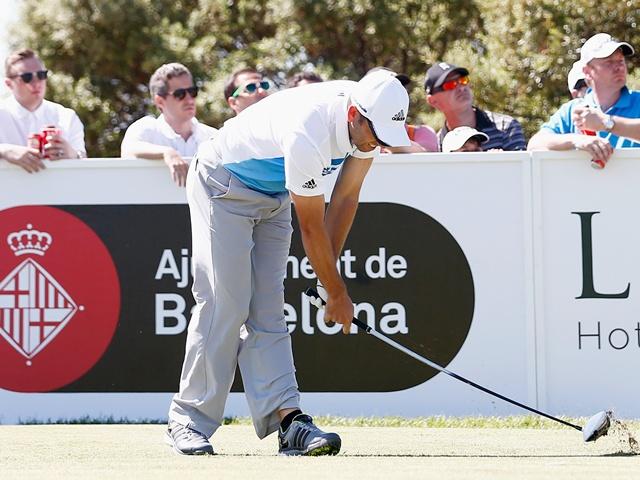 Keeping the faith: Sergio's attitude has rebounded from petulant to hopeful
Romilly Evans takes a look at the top players never to have won a major, and wonders if one of them can finally break their duck in the final chance of 2015?

"It is well to remember that the book is not yet written on these various shades of Nearly Men"
The philosopher Albert Camus thought that anticipation was the purest form of pleasure. Better than the moment, better than the memory. For while the things that actually happen to you can often live down to expectations, those that never come to pass become engraved upon your heart with a bittersweet sadness.
Accordingly, Camus argued that Sisyphus, Ancient Greece's poster boy for a bad day at the office, took satisfaction from his eternal labour of pushing a boulder up a mountain, only for it to tumble back to the bottom as it crested the summit. The gods of Olympus had intended for Sisyphus to endure eternal frustration. Camus countered that there was joy to be found in this seemingly pointless struggle.
If Camus was right, players like Lee Westwood and Sergio Garcia must be having the time of their lives at the majors. Great players halted a fag paper shy of greatness. But I've a sneaky suspicion they're not buying the premise.
"Best Player Never To Have Won A Major" is the biggest backhanded compliment going in golf. It implies you're like a Ferrari where they forgot to install the carburetor. Consequently, it's a label the game's foremost have-nots are desperate to trade in.
But they've only got one more chance this year at the USPGA Championship. Roll up, roll up for Glory's Last Shot... who's in the queue? Some familiar faces and one or two new ones:-

Lee Westwood: - 190.0189/1
Seventy majors and counting for The Worksop Wonder, and still no joy. Every time he posts his name near the top of the Sunday leaderboard, down it falls. The near-misses have stacked up like planes approaching Heathrow, with 11 top 10 finishes in the last 25 Majors. Can he land one? Don't rule it out, even at 42. Ernie Els, Phil Mickelson and Westy's great mate Darren Clarke have all won majors recently in their roaring forties. Westwood is finally settled after some protracted personal problems, and his game is returning.

Sergio Garcia: - 48.047/1
After another near miss at St Andrews last month (his ninth Top-10 in the Open alone) Garcia could be forgiven for falling back on his old hang-dog-woe-is-me routine. Not a bit of it, though. "I'm loving it. Just going to keep giving myself chances until things happen, and then hopefully I manage to win at least one of these." That can-do enthusiasm has been absent from the Spaniard's game for too long. Ben Hogan and Mickelson were 34 when they finally shook the major monkey off their back nines. Serg is still just 35. The clock is ticking but time is on his side.

Jason Day: - 17.5
It's getting a little bit repetitive for the affable Aussie, who's already made a habit of winding up short in majors with three runner-up finishes. The recent US and British Opens then saw him blow successive 54-hole leads, and Day was on the verge of tears at the home of golf. Wants it so badly. Too badly?

Henrik Stenson: - 34.033/1
Was in the driver's seat for a while at the PGA last year, before Rory McIlroy wrested back the wheel. Stenson knows all about recovering from adversity (dusted himself off from two spiralling dips career at 230th and 621st in the world rankings) so is one of the least likely lads to mistake one more chance to succeed as another opportunity to fail. The Swede is in form, fit and firing.

Rickie Fowler: - 27.026/1
At the tender age of 26, Rickie is the youngest of this majorless crew but it's never too soon to build up baggage. Much was made of Fowler's efforts last year where he became one of only three players to have posted top-fives in all the majors during a single season. Trouble is the other duo, Jack Nicklaus and Tiger Woods, actually won one of those majors. Winning early is typically the key to multiple majors, lest the trauma kicks in. Jack, Tiger, Rory and now Jordan Spieth (four years Fowler's junior) have proved that. Rickie has bagged the "fifth major" but now it's time to make his mark in the Big Four.

There's a fine line between making history or hysteria at the majors. These players may occasionally feel like walking punchlines, but it is well to remember that the book is not yet written on these various shades of Nearly Men. Indeed, I've devoted my very own chapter on the subject to Dustin Johnson elsewhere.
Like Sisyphus before them, they should keep rolling their rocks up the major mountain. Although the golfing gods appear against them, this sport can be as fickle as the fates which govern it. There could be some palpable joy in the struggle coming soon.
Discover the latest articles