US Open 2015: Weather warning for Rory punters at Chambers Bay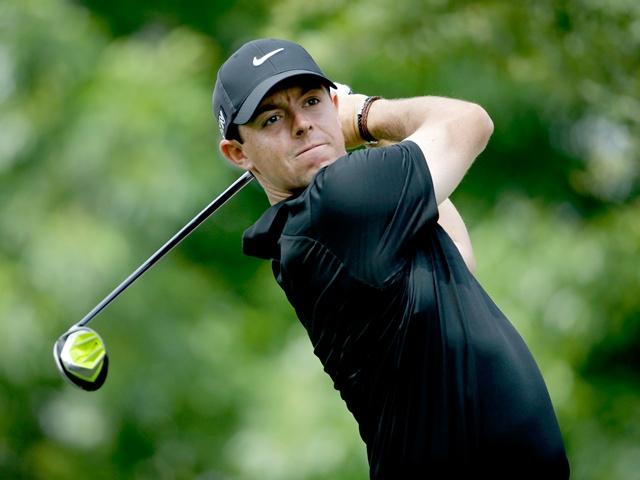 Ticking the right boxes? Rory will be keen for benign conditions to prevail
Romilly Evans ponders two contrasting sides to Rory McIlroy's golfing character, and wonders if the winds round Puget Sound this week will determine which one comes out to play...

"the forecast appears to suggest gales that would rival the combined might of two harnessed hamsters"
It appears Rory McIlroy can flip the switch between man and superman faster than Clark Kent in a phone box.
After a fast-finishing fourth in the Masters dented his grand-slam run, McIlroy swiftly regained the winning thread at the WGC Matchplay, before routing a world-class field on a major-style course (featuring a stellar 61 in his third round) at Quail Holllow. The world number one looked invincible.
He next made the trip home to the UK, but it only resulted in a transatlantic sea of tears with successive missed cuts at two flagships tournaments on the European Tour, including his own event at the Irish Open.
Since then, golf's Man of Steel has taken a break to regroup at his fortress of solitude and seek guidance from his mentor Jor-El - more commonly known as eternal swing-coach Michael Bannon. Have they restored his powers ahead of the US Open at Chambers Bay, and what should be expect from McIlroy this week: man or Superman?
Well, back-to-back majors, not back-to-back MCs is what we've come to expect from Rory. He delivered the former brace at The Open and USPGA last term. Those more recent unplanned weekends off have done nothing to dispel his dominance. Rather, they have only highlighted the game's capricious winds of form, and demonstrated that he's got a long way to go if he's to ever rival Jack Nickaus or Tiger Woods (who made 142 consecutive cuts between 1998 and 2005) in terms of top-table consistency.
Nevertheless, the fact remains that when Rors is roaring, no-one would even dare to touch him. His bullwhip swing cracks the ball for miles off the tee, while his laser irons could be picked up on charges of molesting flagsticks. His short-game remains the key variable, but at both Valhalla (site of the PGA) and Harding Park (the WGC) it was his greenside touch that unlocked the gates and got McIlroy out of jail.
More detrimental to, or rather informative of, McIlroy's championship chances have been the elements. He found himself on the more difficult side of the draw at an admittedly benign Wentworth, before going on to card an ugly opening 80 at his home track of Royal Portrush - in front of his adoring public, too. It was a train wreck. The breezes blew and the closer Rory got to the pin, the worse his game became.
Indeed, it seems his putting on steep, sloping links-type greens (which he'll again encounter at Chambers Bay) is a surprising victim of blustery conditions. McIlroy's high-trajectory arc is usually the first casualty, but it is well to remember that this Holywood star struggles to maintain a consistent stroke in twisting tradewinds over slippery cambers.
So the one major flaw in Rory's CV of dazzling credentials remains his apparent inability to deliver when the elements are against him. His major titles have all arrived at wet, windless venues. Valhalla (PGA) and Congressional (US Open) eloquently emboldened that trend, while the seaside layouts of Hoylake (The Open) and Kiawah Island (PGA) also welcomed bizarrely benevolent weather.
Conversely, McIlroy's booming bombing and dart-like approaches will find any tranquil target. He is a still-air specialist. It's just when the gusts get up, the jury remains out - perhaps recalling his 2011 testimony that he might never win an Open because of his towering ball-flight.
More recently, after Royal County Down, Rory reasserted this bias: "Quail Hollow, that's my game, what I do best. This (links golf) isn't." So while there's a natural ebb and flow to golf, the ebb and flow of McIlroy's own golf is dictated by Nature herself.
Chambers Bay is accordingly a worrying venue for McIlroy fans. Likened by Phil Mickelson to St Andrews (okay, more for its underwhelming appearance) and described by Tiger as the closet thing to a links Uncle Sam has to offer, this US Open host could certainly derail McIlroy, overlooking as it does the changing tides of Puget Sound.
More encouraging for Rors backers - the 9.08/1 favourite on the Exchange - though, is the long-range forecast which appears to suggest gales that would rival the combined might of two harnessed hamsters. If the winds lie flat (predicted at up to 8mph) this brute of a course should favour McIlroy's heavy-artillery assault. If they unexpectedly kick up, he will struggle.
Rory and The Elements may sound like a bad Irish folk band, yet any punter should be all ears for McIlroy's tee-times and their corresponding meteorology this week. The US Open's time-honoured pledge is "never to embarrass the best players, only to identify them." In Chambers Bay, however, they have created a monster which will either prove master or servant to the most powerful player on the planet.
Now there's a comical do-or-die story any Superman could embrace.
Other US Open 2015 Betting Articles from the betting.betfair Golf team:
The Punter's full 2015 US Open Betting Preview
Jordan Spieth's caddy can be his secret weapon says Ralph Ellis
The oldies can strike back at Chambers Bay argues Paul Krishnamurty
Paul Krishnamurty also chips in on in-play betting at the 2015 US Open
A comprehensive US Open Preview from golf writer Dave Tindall
The fourth man of the b.b. editorial team Mike Norman looks at the early US Open Market Movers
Our weekly each-way tipsters make their US Open 2015 each-way tips
Paul Krishmamurty looks at the 100/1+ options on the Betfair Exchange
Look at how the big names are doing on the Betfair Exchange
Dave Tindall brings his historical data to the fore as he makes his US Open 2015 picks
New Customer Offer:
Enjoy £30 in Free Bets when you sign-up and bet £10 on the US Open. To enjoy this offer then please click on this link (New Customers only)
Discover the latest articles